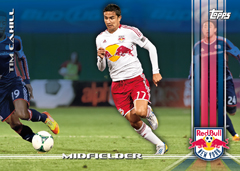 By Susan Lulgjuraj | Beckett Sports Card Monthly Editor
As soccer grows in the United States, card companies are looking to tap into the market.
Topps has secured a licensed with Major League Soccer and will produce its first MLS cards this summer.
Each hobby box will have 24 packs with 10 cards in each pack. In addition, there will be two autographs and three relic cards in every box.
Autographs will include players from the MLS SuperDraft and top stars from the league on cards called MLS Maestros Autographs. Each autograph will feature four different parallels, including a Golazo parallel numbered 1-of-1.
Other autographs include Golden Boot Die-Cut Autographs with current and former goal scorers.
In addition, the set will include Extra Time Redemptions for transfers who make their debut during the 2013 season.
Some relic cards will also bear signatures with different levels of parallels.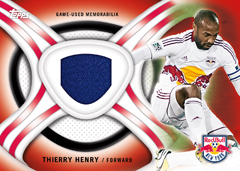 Topps will also feature MLS Kit Relics and Official MLS Soccer Ball Redemption Cards.
The inserts will utilize action shots and unique designs.
– This Is Soccer: Action photos of players (autographs numbered to 25)
– 1978 Topps EPL Soccer: Top MLS players on the 1978 Topps English Premier League design
– Topps Mini
– MLS Rivalries
The base set will feature 200 cards including short-prints and variations. There will be Blue (numbered to 50), Gold (/25), Black (/10), Golazo (1-of-1) and Printing Plate parallels.
The set is scheduled to come out in mid-July.
Update: Topps announced today is has formed multi-year partnership with the MLS. Future products include trading cards, sticker, sticker albums and other MLS collectables.
"MLS is excited about this new partnership with Topps," said Maribeth Towers, MLS senior vice president of consumer products. "We regularly hear from MLS supporters that they want a variety of cards and collectibles and this new relationship will allow us to super-serve our incredibly supportive fans."
Susan Lulgjuraj is an editor of Beckett Sports Card Monthly. You can email her here with questions, comments or ideas. Follow her on Twitter here. Follow Beckett Media on Facebook and Twitter.
---
2013 Topps MLS Checklist
BASE
Veterans and Rookies
Thierry Henry New York Red Bulls
Robbie Keane LA Galaxy
Tim Cahill New York Red Bulls
Chris Wondolowski San Jose Earthquakes
Graham Zusi Sporting Kansas City
Dwayne De Rosario D.C. United
Alessandro Nesta Montreal Impact
John Bostock Toronto FC
Osvaldo Alonso Seattle Sounders FC
Omar Gonzalez LA Galaxy
Chris Pontius D.C. United
Will Bruin Houston Dynamo
Eddie Johnson Seattle Sounders FC
Mike Magee LA Galaxy
Juninho LA Galaxy
Kyle Beckerman Real Salt Lake
Brad Davis Houston Dynamo
Austin Berry Chicago Fire
Jimmy Nielsen Sporting Kansas City
Aurelien Collin Sporting Kansas City
Matt Besler Sporting Kansas City
Victor Bernardez San Jose Earthquakes
Nick DeLeon D.C. United
Darlington Nagbe Portland Timbers
Tally Hall Houston Dynamo
Federico Higuain Columbus Crew
Alvaro Saborio Real Salt Lake
Brian Ching Houston Dynamo
Mauro Rosales Seattle Sounders FC
Jose Villarreal LA Galaxy
Juan Agudelo Chivas USA
Kenny Cooper FC Dallas
Nick Rimando Real Salt Lake
Chris Rolfe Chicago Fire
Sean Johnson Chicago Fire
Joel Lindpere Chicago Fire
Steve Zakuani Seattle Sounders FC
Ramiro Corrales San Jose EarthquakesDrew Moor Colorado Rapids
Jairo Arrieta Columbus Crew
Chad Marshall Columbus Crew
Justin Morrow San Jose Earthquakes
Zach Loyd FC Dallas
Carlo Cudicini LA Galaxy
Patrice Bernier Montreal Impact
Davy Arnaud Montreal Impact
Heath Pearce New York Red Bulls
Jeff Parke Philadelphia Union
Michael Gspurning Seattle Sounders FC
Darren Mattocks Vancouver Whitecaps FC
Michael Farfan Philadelphia Union
Ryan Johnson Portland Timbers
Fabian Espindola New York Red Bulls
Kevin Alston New England Revolution
Dan Kennedy Chivas USA
Robert Earnshaw Toronto FC
Claudio Bieler Sporting Kansas City
Jack McInerney Philadelphia Union
Sebastien Le Toux Philadelphia Union
David Ferreira FC Dallas
Diego Valeri Portland Timbers
Deshorn Brown Colorado Rapids
Edgar Mejia Chivas USA
Joaquin Velazquez Chivas USA
Mario de Luna Chivas USA
Bobby Burling Chivas USA
Eric Avila Chivas USA
Walter Vilchez Chivas USA
Laurent Courtois Chivas USA
Oswaldo Minda Chivas USA
Tristan Bowen Chivas USA
Dilly Duka Chicago Fire
Gonzalo Segares Chicago Fire
Jalil Anibaba Chicago Fire
Jeff Larentowicz Chicago Fire
Patrick Nyarko Chicago Fire
Sherjill MacDonald Chicago Fire
Atiba Harris Colorado Rapids
Brian Mullan Colorado RapidsDiego Calderon Colorado Rapids
Dillon Powers Colorado Rapids
Hendry Thomas Colorado Rapids
Marvell Wynne Colorado Rapids
Matt Pickens Colorado Rapids
Agustin Viana Columbus Crew
Andy Gruenebaum Columbus Crew
Danny O'Rourke Columbus Crew
Dominic Oduro Columbus Crew
Glauber Columbus Crew
Josh Williams Columbus Crew
Tyson Wahl Columbus Crew
Bill Hamid D.C. United
Brandon McDonald D.C. United
Chris Korb D.C. United
Dejan Jakovic D.C. United
Lionard Pajoy D.C. United
Perry Kitchen D.C. United
James Riley D.C. United
Andrew Jacobson FC Dallas
George John FC Dallas
Jackson FC Dallas
Matt Hedges FC Dallas
Raul Fernandez FC Dallas
Fabian Castillo FC Dallas
Michel FC Dallas
Bobby Boswell Houston Dynamo
Boniek Garcia Houston Dynamo
Corey Ashe Houston Dynamo
Jermaine Taylor Houston Dynamo
Kofi Sarkodie Houston Dynamo
Ricardo Clark Houston Dynamo
A.J. DeLaGarza LA Galaxy
Jack McBean LA Galaxy
Marcelo Sarvas LA Galaxy
Sean Franklin LA Galaxy
Todd Dunivant LA Galaxy
Andrea Pisanu Montreal Impact
Felipe Martins Montreal Impact
Hassoun Camara Montreal Impact
Jeb Brovsky Montreal ImpactMarco Di Vaio Montreal Impact
Matteo Ferrari Montreal Impact
Troy Perkins Montreal Impact
A.J. Soares New England Revolution
Andrew Farrell New England Revolution
Clyde Simms New England Revolution
Jerry Bengtson New England Revolution
Jose Goncalves New England Revolution
Juan Toja New England Revolution
Lee Nguyen New England Revolution
Matt Reis New England Revolution
Saer Sene New England Revolution
Dax McCarty New York Red Bulls
Jamison Olave New York Red Bulls
Luis Robles New York Red Bulls
Brandon Barklage New York Red Bulls
Eric Alexander New York Red Bulls
Juninho New York Red Bulls
Amobi Okugo Philadelphia Union
Brian Carroll Philadelphia Union
Keon Daniel Philadelphia Union
Raymon Gaddis Philadelphia Union
Sheanon Williams Philadelphia Union
Zac MacMath Philadelphia Union
Andrew Jean-Baptiste Portland Timbers
Diego Chara Portland Timbers
Donovan Ricketts Portland Timbers
Michael Harrington Portland Timbers
Mikael Silvestre Portland Timbers
Will Johnson Portland Timbers
Jack Jewsbury Portland Timbers
Chris Schuler Real Salt Lake
Khari Stephenson Real Salt Lake
Kwame Watson-Siriboe Real Salt Lake
Luis Gil Real Salt Lake
Robbie Findley Real Salt Lake
Sebastian Velasquez Real Salt Lake
Tony Beltran Real Salt Lake
Jason Hernandez San Jose Earthquakes
Jon Busch San Jose Earthquakes
Rafael Baca San Jose EarthquakesSam Cronin San Jose Earthquakes
Ty Harden San Jose Earthquakes
Jhon Kennedy Hurtado Seattle Sounders FC
DeAndre Yedlin Seattle Sounders FC
Mario Martinez Seattle Sounders FC
Andy Rose Seattle Sounders FC
Benny Feilhaber Sporting Kansas City
Oriol Rosell Sporting Kansas City
Paulo Nagamura Sporting Kansas City
Seth Sinovic Sporting Kansas City
C.J. Sapong Sporting Kansas City
Ashtone Morgan Toronto FC
Danny Califf Toronto FC
Darren O'Dea Toronto FC
Hogan Ephraim Toronto FC
Joseph Bendik Toronto FC
Reggie Lambe Toronto FC
Richard Eckersley Toronto FC
Terry Dunfield Toronto FC
Alain Rochat Vancouver Whitecaps FC
Andy O'Brien Vancouver Whitecaps FC
Daigo Kobayashi Vancouver Whitecaps FC
Gershon Koffie Vancouver Whitecaps FC
Joe Cannon Vancouver Whitecaps FC
Jun Marques Davidson Vancouver Whitecaps FC
Kenny Miller Vancouver Whitecaps FC
Young-Pyo Lee Vancouver Whitecaps FC
Jay DeMerit Vancouver Whitecaps FC
Edson Buddle Colorado Rapids
Danny Mwanga Colorado Rapids
Logan Pause Chicago Fire
Blas Perez FC Dallas
Steven Beitashour San Jose Earthquakes
Steven Lenhart San Jose Earthquakes
Teal Bunbury Sporting Kansas City
Danny Koevermans Toronto FC
Landon Donovan LA Galaxy
Obafemi Martins Seattle Sounders FC
Giles Barnes Houston Dynamo
INSERTS
This Is Soccer Insert
Dwayne De Rosario D.C. United
Victor Bernardez San Jose Earthquakes
Aurelien Collin Sporting Kansas City
Ramiro Corrales San Jose Earthquakes
Deshorn Brown Colorado Rapids
Obafemi Martins Seattle Sounders FC
Justin Morrow San Jose Earthquakes
Austin Berry Chicago Fire
Jose Villarreal LA Galaxy
Dan Kennedy Chivas USA
Jhon Kennedy Hurtado Seattle Sounders FC
Hassoun Camara Montreal Impact
Mario Martinez Seattle Sounders FC
Robert Earnshaw Toronto FC
Fabian Espindola New York Red Bulls
Brian Ching Houston Dynamo
Topps 1978 EPL Soccer Insert
Thierry Henry New York Red Bulls
Robbie Keane LA Galaxy
Tim Cahill New York Red Bulls
Chris Wondolowski San Jose Earthquakes
Graham Zusi Sporting Kansas City
Dwayne De Rosario D.C. United
Alessandro Nesta Montreal Impact
John Bostock Toronto FC
Osvaldo Alonso Seattle Sounders FC
Omar Gonzalez LA Galaxy
Chris Pontius D.C. United
Will Bruin Houston Dynamo
Eddie Johnson Seattle Sounders FC
Mike Magee LA Galaxy
Juninho LA Galaxy
Kyle Beckerman Real Salt Lake
Brad Davis Houston DynamoAustin Berry Chicago Fire
Jimmy Nielsen Sporting Kansas City
Aurelien Collin Sporting Kansas City
Matt Besler Sporting Kansas City
Victor Bernardez San Jose Earthquakes
Nick DeLeon D.C. United
Darlington Nagbe Portland Timbers
Tally Hall Houston Dynamo
Federico Higuain Columbus Crew
Alvaro Saborio Real Salt Lake
Brian Ching Houston Dynamo
Mauro Rosales Seattle Sounders FC
Jose Villarreal LA Galaxy
Juan Agudelo Chivas USA
Kenny Cooper FC Dallas
Nick Rimando Real Salt Lake
Chris Rolfe Chicago Fire
Sean Johnson Chicago Fire
Joel Lindpere Chicago Fire
Steve Zakuani Seattle Sounders FC
Ramiro Corrales San Jose Earthquakes
Drew Moor Colorado Rapids
Jairo Arrieta Columbus Crew
Chad Marshall Columbus Crew
Justin Morrow San Jose Earthquakes
Carlo Cudicini LA Galaxy
Patrice Bernier Montreal Impact
Davy Arnaud Montreal Impact
Heath Pearce New York Red Bulls
Jeff Parke Philadelphia Union
Michael Gspurning Seattle Sounders FC
Darren Mattocks Vancouver Whitecaps FC
Michael Farfan Philadelphia Union
Ryan Johnson Portland Timbers
Fabian Espindola New York Red Bulls
Kevin Alston New England Revolution
Dan Kennedy Chivas USA
Robert Earnshaw Toronto FC
Claudio Bieler Sporting Kansas City
Jack McInerney Philadelphia Union
Sebastien Le Toux Philadelphia UnionLandon Donovan LA Galaxy
Jay DeMerit Vancouver Whitecaps FC
Topps Minis
Thierry Henry New York Red Bulls
Robbie Keane LA Galaxy
Tim Cahill New York Red Bulls
Chris Wondolowski San Jose Earthquakes
Graham Zusi Sporting Kansas City
Dwayne De Rosario D.C. United
Alessandro Nesta Montreal Impact
John Bostock Toronto FC
Osvaldo Alonso Seattle Sounders FC
Omar Gonzalez LA Galaxy
Chris Pontius D.C. United
Will Bruin Houston Dynamo
Eddie Johnson Seattle Sounders FC
Kyle Beckerman Real Salt Lake
Landon Donovan LA Galaxy
MLS Rivalries
LA Galaxy Chivas USA
Seattle Sounders Portland Timbers
D.C. United New York Red Bulls
Colorado Rapids Real Salt Lake
Toronto FC Montreal Impact
New England Revolution New York Red Bulls
D.C. United Philaelphia Union
Houston Dynamo FC Dallas
AUTOS
SuperDraft Auto
Kyle Bekker Toronto FC
Emery Welshman Toronto FCRyan Finley Columbus Crew
Taylor Kemp D.C. United
Dillon Powers Colorado Rapids
Andrew Farrell New England Revolution
Carlos Alvarez Chivas USA
Mikey Lopez Sporting Kansas City
MLS Maestros
John Bostock Toronto FC
Danny Koevermans Toronto FC
Federico Higuain Columbus Crew
Danny Mwanga Colorado Rapids
Nick DeLeon D.C. United
Chris Pontius D.C. United
Drew Moor Colorado Rapids
Teal Bunbury Sporting Kansas City
Aurelien Collin Sporting Kansas City
Graham Zusi Sporting Kansas City
Matt Besler Sporting Kansas City
Jimmy Nielsen Sporting Kansas City
Michael Farfan Philadelphia Union
RELICS
MLS Kits
Osvaldo Alonso Seattle Sounders FC
Will Bruin Houston Dynamo
Brad Davis Houston Dynamo
Tim Cahill New York Red Bulls
Jimmy Nielsen Sporting Kansas City
Chris Pontius D.C. United
Jack Jewsbury Portland Timbers
Sean Johnson Chicago Fire
Michael Farfan Philadelphia Union
Nick Rimando Real Salt Lake
Matt Besler Sporting Kansas City
Steven Beitashour San Jose EarthquakesGraham Zusi Sporting Kansas City
Chris Wondolowski San Jose Earthquakes
Teal Bunbury Sporting Kansas City
Mauro Rosales Seattle Sounders FC
Blas Perez FC Dallas
Nick DeLeon D.C. United
Steven Lenhart San Jose Earthquakes
Alvaro Saborio Real Salt Lake
Zach Loyd FC Dallas
Heath Pearce New York Red Bulls
Kyle Beckerman Real Salt Lake
Drew Moor Colorado Rapids
Eddie Johnson Seattle Sounders FC
Chris Rolfe Chicago Fire
Brian Ching Houston Dynamo
Austin Berry Chicago Fire
Thierry Henry New York Red Bulls
Danny Koevermans Toronto FC
Dwayne De Rosario D.C. United
** CHECKLIST SUBJECT TO CHANGE **