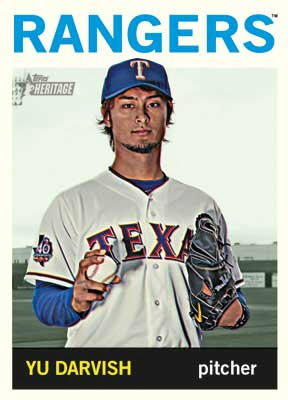 By Chris Olds | Beckett Baseball Editor
If you wanted more Heritage this year, you're getting more Heritage this year.
Well, it's next year's … at least for now.
Topps revealed on Friday the first full look at a card design you might remember from back in 1964 if you're old enough — the 2013 edition of Topps Heritage. If not, you'll get to live it all over again next year in the 13th installment of the retro-designed brand.
Set to arrive on March 6, Heritage will include autographed cards at twice the previous rates, according to the company, though there will be just one autograph or Relic found in every 24-pack hobby box.
—
Loading ...
—
The base set will consist of 425 cards capped by 75 short-prints found one in every three packs. This time around, there will be other types of variations to be  found, and Topps is announcing them in advance — base card variations will be based on errors in the 1964 set along with Throwback Colt .45s variations for Houston players. Those will be limited but found in all packs, while Action Image variations will have different photos and there will be color variations to search for — but only in hobby packs.
There will be three types of parallels in this one, a Venezuelan parallel in the style of the regional issue from 1964, mini parallels — a new inclusion — and the standard Chromes that have been done the last several years with the typical Refractors (standard and Black) joined by new Gold Chromes limited to just five copies.
Box-toppers will include a three-card ad panel and 1964 Topps buybacks as has been the norm, while new this year will be 1964 Jumbo toppers with Relic versions for 20 players limited to 25 and autographs for 10 players limited to 10.
The insert card lineup will include recent standards — New Age Performers, Then and Now, Baseball Flashbacks and News Flashbacks — along with a Memorable Moments set highlighting a dozen notables from this season. (Example: Matt Cain's perfect game.) New for this one will be a redemption card good for a complete 1964 Topps set, Topps Tattoos buybacks and 1964 Bazooka Stamps buybacks.
Among the autograph selections are Real Ones — players whose last appearances came in the 1964 Topps set — limited to just 64 copies, Real One Duals with two sigs limited to 25 or less, Real One Triples with three sigs limited to five or less and a selection of 1/1 cut autographs.
Autographed Relics will include Baseball Flashbacks with highlights from 1964, Clubhouse Collection autos and Clubhouse Collection Duals, which will only be found in hobby packs and be limited to 10 or fewer copies.
On the Relics-only side, Topps has added a but of high-end to the mix with Esteemed Heritage book cards — 1/1s showcasing premium pieces such as bat knobs, bat nameplates or patches. Players listed here on the preliminary checklist include Ernie Banks, Felix Hernandez, Evan Longoria, Yoenis Cespedes and Red Schoendienst.
Meanwhile the standard coin (different quantities for different coins) and stamp Relic offerings come along with Clubhouse Collection and Clubhouse Collection Duals. The standard Relics will have Gold parallels limited to 99 copies.
New this year will be 1964 Topps Coin Relic cards that use the 1964 Topps Coins embedded into the cards. These will be limited to five or fewer copies.
Among the retired players listed on the preliminary autograph checklist are Bob Gibson, Dick Groat, Ernie Banks, Frank Robinson, Andre Dawson, Juan Marichal, Luis Tiant, Maury Wills, Stan Musial, Billy Williams, Al Kaline and Willie Mays.
Notable current signers listed on the preliminary autograph list include Jose Bautista, Will Middlebrooks, Jay Bruce and CC Sabathia. Others include David Freese, Paul Goldschmidt, Todd Frazier, Starling Marte and Madison Bumgarner.
Chris Olds is the editor of Beckett Baseball magazine. Have a comment, question or idea? Send an email to him at colds@beckett.com. Follow him on Twitter by clicking here.