2013 Topps Chrome Baseball Cards Details
2013 Topps Chrome Baseball brings a new array of rainbows to the masses.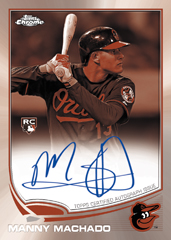 Each 24-pack hobby box will include, as usual, two autographs per box with four cards per pack.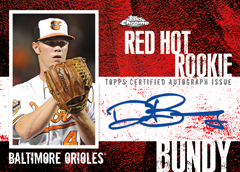 The base set will consist of an undisclosed number of standard cards — Topps did not release a preliminary checklist for this product — a mix of veterans and Rookie Cards. Some cards will have variations, while all will have 13 parallels — a standard Refractor, Xfractor as well as Blue (/199), Black (/100), Sepia (/75), Gold (/50), Red (/25) and Atomic (10)  Refractors as well as 1/1 Superfractors and printing plates. Atomics, Supers and plates will be hobby-only cards.
Autographed Rookie Cards will include 12 parallels with the standard Refractors limited to 499 copies. The other shades will be limited to the same quantities as the unsigned versions.
For other autographs, there will be a new batch of Ultimate Chase cards — which will be high-end cards found starting with Series 1 Topps, along with Chrome buybacks (/10) and triple autos limited to just five copies. This year, a hobby-only option will be back-to-back diecut autos (/5) and 10 Red Hot Rookie autos limited to just 25 copies.
For insert card collectors, there will be Chrome Connections diecuts — cards that can be pieced together — with autographed versions limited to 24 or fewer copies as well as Relic versions.  Continuing with what was found in standard Topps, there also will be a 1972 Topps Chrome set with autos also limited to 25.
Also to be found are Division diecut boxloader cards, a foilboard creation with five autos from players on a single team. These will be capped at 25 copies per card.
Also to be found will be Refractor Hot Boxes along with redemptions for uncut sheets as well as autographed patch Relic variations for base cards.