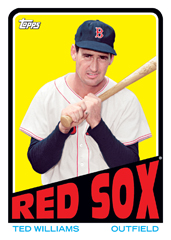 By Chris Olds | Beckett Baseball Editor
Topps is opening up its archives once again.
The company offered the first looks and basic information about its 2013 Topps Archives baseball card set on Friday, and the second consecutive release for the retro-styled product will arrive on May 29.
The brand is one that includes today's players on past designs from Topps' 60-plus year history in the baseball card market along with autographs of fan favorites from the recent past — also featuring photography and designs from past decades.
And for 2013? Some of the designs will be from past Topps releases in other sports, too.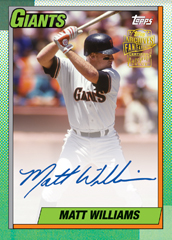 Each 24-pack hobby box will include two autographs inside along with a selection of inserts and base cards all featuring nods to the past. The Fan Favorites autographs will be reproductions of past base card designs, while a triple autograph design will modify the 1987 Topps look, and the Relic set will feature the 1960 design.
The base set appears to be comprised of designs from 1972, 1982, 1990 and 1985 (50 cards per design), while short-printed cards will use designs from all years and be found one in every four packs. Each standard card will also have printing plates only found in hobby packs, while Archives Gold cards will be back but serial-numbered to 199.
Also to be found, just like 2012, will be Topps Originals autographs — buybacks signed and serial-numbered to 10 copies — while framed autographs will turn back the clock to 1973 and a small selection of cut autographs also will be found.
New for 2013 will be 1965 Topps mini tallboy autographs — a nod to the football design from that year — while there will be unsigned versions of those cards as well. The autographs will be limited to 25 or fewer copies.
Also set to be utilized is the 1972-73 basketball design for one insert as well as a 1969 Topps design adjusted to be on 4-in-1 stickers. The 1983 Topps set's All-Star subset design will be used for standard cards as well as autographs.
Also to be included in this one will be Originals — buyback cards — Originals redemptions for larger items that can't be placed into packs, Topps Vault redemptions for even better items.
Box-topper and case-topper bonuses will be back for 2013 as well with Topps Vault player contracts topping some cases as a bonus, a 1971 Topps Greatest Moments box-topper — which will have autographed versions — and Touched by Greatness handprint cards as well.
According to the preliminary checklist, some of the signers for this one will include Dave Parker, Mookie Wilson, Ellis Burks, Eric Davis, Denny McLain, Howard Johnson, Kent Hrbek and Matt Williams to name a few. The 1973 autographs will showcase some bigger names with David Wright, R.A. Dickey, Nolan Ryan, Mike Schmidt, Bob Gibson and Will Middlebrooks among them.
Players slated to appear on 1983 All-Stars autographs will include Cal Ripken Jr., Johnny Bench, Tony Gwynn, George Brett and Gary Carter, while the Tall Boys set will tentatively include Davis, Williams, Wright, David Freese and Mike Schmidt among others.
Among the players slated to appear on Relics will be Bryce Harper, Bench, Ken Griffey Sr., Gary Sheffield, Justin Verlander, Evan Longoria and Prince Fielder.
Chris Olds is the editor of Beckett Baseball magazine. Have a comment, question or idea? Send an email to him at colds@beckett.com. Follow him on Twitter by clicking here.