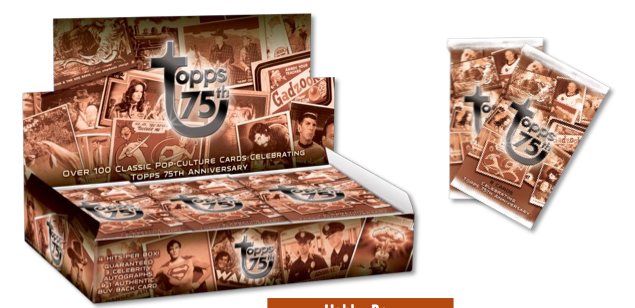 By Chris Olds | Beckett Sports Card Monthly Editor
Topps is celebrating an anniversary this December — its 75th anniversary of making cardboard of any kind — and it's all culminating in a single take-a-look back product that's all about pop culture and Topps' place in it documenting it via cardboard.
It's 2013 Topps 75th Anniversary.
Since 1938, Topps has existed — first as a chewing gum company. Then, in 1947 Bazooka arrived and then in 1949 so did its cardboard. This one will take a look back at more than 100 classic sets from the past with some new inclusions, too.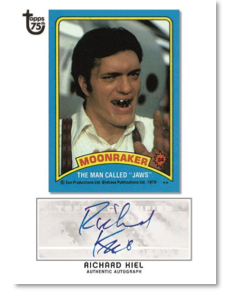 Each 24-pack box will include three autographs and one stamped buyback card for about $100 when it arrives on Dec. 11. The autographs will be from more than 20 iconic people from past Topps sets.  The autos will have Rainbow and Diamond versions limited to 75 and 10 copies apiece, while the buybacks will be stamped with a Topps 75 logo. There also will be a selection of cut autos in the product as well as autographed buyback cards.
The standard set will consist of 100 cards each with three parallels (Rainbow foil, a Diamond version limited to 75 copies and "modern gloss") and 1/1 printing plates.  In addition there will be eight mini cards and eight test issue cards among the offerings.
Each card in the set will look back at a different past Topps release — a literal nod to its cardboard legacy that includes everything from presidents to Star Trek to the Teenage Mutant Ninja Turtles and Operation Desert Storm.
Among the confirmed signers for the product right now are Roger Moore (James Bond), Richard Kiel (Moonraker), Ernie Hudson (Ghostbusters), Corey Feldman (The Goonies), Lou Ferrigno (Incredible Hulk), Ed Gale (Howard The Duck) and Joyce DeWitt (Three's Company) to name a few.
As part of its release, the company will have 75 prizes in 75 days available to collectors online via its Facebook and Twitter pages.
Click here to view the preliminary checklist as released by Topps.
Chris Olds is the editor of Beckett Baseball and Beckett Sports Card Monthly magazines. Have a comment, question or idea? Send an email to him at colds@beckett.com. Follow him on Twitter by clicking here.