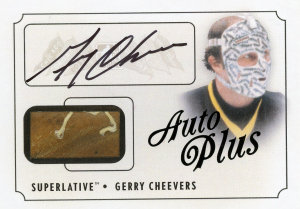 By Susan Lulgjuraj | Beckett Hockey Editor
In The Game's Superlative will focus on the original teams this year.
Superlative – The First Six is scheduled to come out Nov. 8 when a focus on Chicago, Toronto, Boston, Detroit, New York and Montreal.
Each box will have seven cards of all hits, including at least three autographs, three game-used memorabilia cards and either an extra memorabilia card, cut autographs or LumberGraph.
Autographs will be color-coded to team. Toronto and New York players will sign in blue ink, Montreal and Detroit players will sign in red and Chicago and Boston players will sign in black ink. There are only 20 copies of each base autograph and five Gold versions of the Superlative Autograph Card.
In addition, the autographed game-used jersey will have the same run of 20 base and 5 Gold with 60 players on the checklist.
There is one Auto Plus card in every box as well. These cards feature an autograph with a piece of game-used memorabilia.
The interesting part about the game-used jersey cards is that collectors cannot only find memorabilia of modern players, but ITG has included vintage jersey as well. Some players include Maurice Richard and Jacques Plante.
The Game-Used Memorabilia cards subsets include Franchises, Enshrined, Memorable Moments, Draft Highlights, Lord Stanley's Mug, Captain-C and Raised to the Rafters.
The Trophy Case Game-Used Memorabilia will also fall one per box – and have a print of 1,500.
Susan Lulgjuraj is an editor at Beckett Media. You can email her here with questions, comments or ideas. Follow her on Twitter here. Follow Beckett Media on Facebook and Twitter.