2013 Panini Spectra Football Card Details
A new football product is coming from Panini America.
The card company will debut 2013 Spectra in early March featuring what Panini calls "Optichrome" printing technology.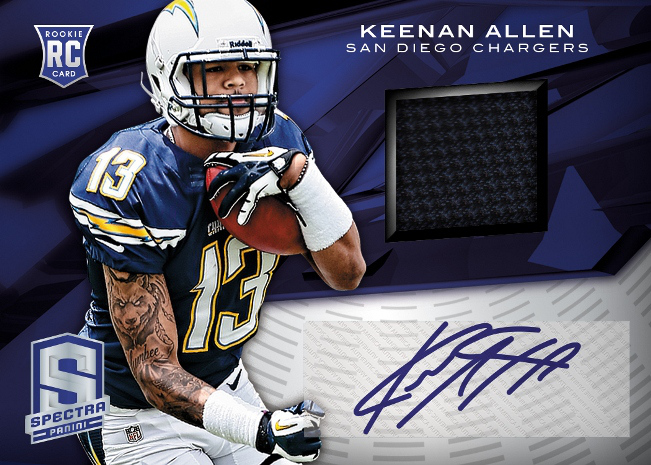 Spectra football boxes will come loaded with hits. There will be six autographs and six memorabilia cards (numbered to 299 or less) in every six-pack box. Each pack will have five cards, including two base cards.
Spectra Signatures will feature current NFL stars with five parallels: Blue (numbered to 25 or less), Red (numbered to 10 or less), Gold (numbered to five or less), Green (numbered to five or less) and Atomic Black (one-of-one).
Spectra Signature Materials will highlight ten players with on-card autographs and jersey swatches with six parallels, including Prizm.
When it comes to rookies, Panini will highlight the class through a number of autographs and memorabilia subsets.
Spectra Rookie Signature Materials will be numbered to 99 or less with Blue, Red, Gold, Green and Atomic Black parallels. In addition, there will also be Green Laundry Tag Nike Swoosh and Green Laundry Tag NFL Players parallels.
The Rookie Combo Materials will have a pair of 2013 rookie swatches numbered to 99 or less with seven parallels, including NFL Shield and NFL Players tags.
The Rookie Materials memorabilia cards will feature 60 players, including several game-worn pieces from players that were not at the NFLPA Rookie Premiere.
Inserts include Rookie Premiere Date featuring the NFL debut dates of 2013 rookies. The insert will include Blue, Red, Gold, Green, Atomic Black and Prizm parallels.
Panini is utilizing its Pro Football Hall of Fame license with 50th Anniversary Class Autographs, numbered to 50 or less. These cards will be featured in several products throughout the years.