2013 Panini Rookies & Stars Football Details
Panini America is starting up the crusades again in 2013 Panini Rookies and Stars Football.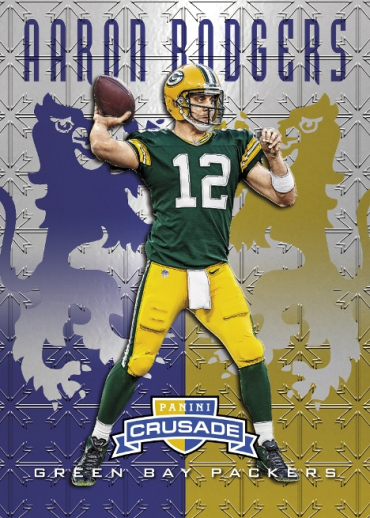 "For starters, there's the return to glory of the landmark Crusade insert, which will bring back the authentic hypnotic designs and printing technology that made those original 1998 gems instant classics," Panini's Tracy Hackler wrote on the company blog.
Rookies & Stars debuted 15 years ago and Panini is bringing back some of what collectors enjoyed about the set.
Each hobby box will contain 24 packs with eight cards in each pack, including at least one Rookie Card.
Two Crusades cards will be in every hobby box, on average. Crusades will be featured with different colored parallels numbered to either 99, 49, five or one.
In addition to Crusade, Panini is returning:
– Rookie Premiere Slideshow Signatures (numbered to 125 or less)
– Team Chemistry dual-signed cards (numbered to 99 or less)
– Rookie Materials Signatures (Longevity and Team Logo foil background parallels available)
– Game Plan insert
– Touchdown Club insert
Panini will add some new elements as well, including Cross Training Materials with standard and prime material inserts featuring top performers from the NFL Combine.