First look: 2013 Prestige Football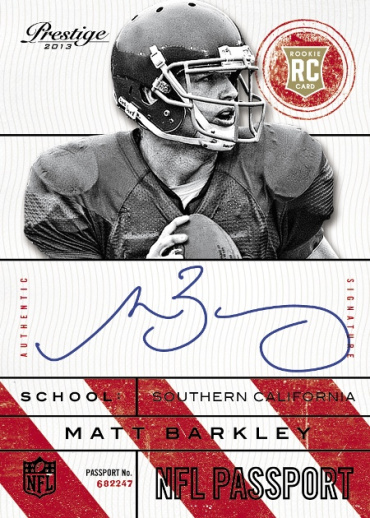 By Susan Lulgjuraj | Beckett Football Editor
The next season of football product is creeping up.
Panini America previewed 2013 Prestige football cards, revealing a breakdown of the one of the first NFL-licensed cards on the market.
Prestige will be Panini's second football product with late-June release. Each hobby box will have four hits with at least two autographs in every box.
The newest rookies will also appear and will be the first Panini product to have updated rookie photos from the 2013 NFL Players Association Rookie Premiere.
There will be at least one Rookie Card in every pack with a number of inserts highlighting the newest draft class.
Highlights include:
– NFL Draft Picks, NFL Draft Tickets, NFL Draft City Destinations, NFL Passports.
– Acetate will have a big presence in Prestige with four die-cut inserts: NFL Shield, Stars of the NFL, Inside the Numbers and Fantasy Team.
– Two micro-etched inserts for the 2013 rookie class
Susan Lulgjuraj is an editor of Beckett Football. You can email her here with questions, comments or ideas. Follow her on Twitter here. Follow Beckett Media on Facebook.
---
Card Set Number Player Team Seq.
1st Impressions 1 Robert Griffin III Washington Redskins 25
1st Impressions 2 Andrew Luck Indianapolis Colts 1
1st Impressions 3 Russell Wilson Seattle Seahawks 5
1st Impressions 4 Trent Richardson Cleveland Browns 10
1st Impressions 5 Doug Martin Tampa Bay Buccaneers 99
1st Impressions 6 Alfred Morris Washington Redskins 99
1st Impressions 7 Ryan Tannehill Miami Dolphins 49
1st Impressions 8 Nick Foles Philadelphia Eagles 99
1st Impressions 10 Justin Blackmon Jacksonville Jaguars 49
1st Impressions 11 David Wilson New York Giants 99
1st Impressions 12 Bryce Brown Philadelphia Eagles 99
1st Impressions 14 T.Y. Hilton Indianapolis Colts 99
1st Impressions 15 Lavonte David Tampa Bay Buccaneers 25
1st Impressions 16 Luke Kuechly Carolina Panthers 99
1st Impressions 19 Ronnie Hillman Denver Broncos 10
Commons 1 Carson Palmer Arizona Cardinals
Commons 2 Larry Fitzgerald Arizona Cardinals
Commons 3 Michael Floyd Arizona Cardinals
Commons 4 Ryan Williams Arizona Cardinals
Commons 5 Rashard Mendenhall Arizona Cardinals
Commons 6 Patrick Peterson Arizona Cardinals
Commons 7 Matt Ryan Atlanta Falcons
Commons 8 Roddy White Atlanta Falcons
Commons 9 Julio Jones Atlanta Falcons
Commons 10 Steven Jackson Atlanta Falcons
Commons 11 Jacquizz Rodgers Atlanta Falcons
Commons 12 Sean Weatherspoon Atlanta Falcons
Commons 13 Joe Flacco Baltimore Ravens
Commons 14 Haloti Ngata Baltimore Ravens
Commons 15 Torrey Smith Baltimore Ravens
Commons 16 Ray Rice Baltimore Ravens
Commons 17 Dennis Pitta Baltimore Ravens
Commons 18 Jacoby Jones Baltimore Ravens
Commons 19 Terrell Suggs Baltimore Ravens
Commons 20 Tarvaris Jackson Buffalo Bills
Commons 21 Steve Johnson Buffalo Bills
Commons 22 Kevin Kolb Buffalo Bills
Commons 23 C.J. Spiller Buffalo Bills
Commons 24 Fred Jackson Buffalo Bills
Commons 25 Scott Chandler Buffalo Bills
Commons 26 Cam Newton Carolina Panthers
Commons 27 Steve Smith Carolina Panthers
Commons 28 Brandon LaFell Carolina Panthers
Commons 29 DeAngelo Williams Carolina Panthers
Commons 30 Jonathan Stewart Carolina Panthers
Commons 31 Greg Olsen Carolina Panthers
Commons 32 Jay Cutler Chicago Bears
Commons 33 Brandon Marshall Chicago Bears
Commons 34 Devin Hester Chicago Bears
Commons 35 Matt Forte Chicago Bears
Commons 36 Michael Bush Chicago Bears
Commons 37 Charles Tillman Chicago Bears
Commons 38 Lance Briggs Chicago Bears
Commons 39 Andy Dalton Cincinnati Bengals
Commons 40 A.J. Green Cincinnati Bengals
Commons 41 Andrew Hawkins Cincinnati Bengals
Commons 42 BenJarvus Green-Ellis Cincinnati Bengals
Commons 43 Jermaine Gresham Cincinnati Bengals
Commons 44 Rey Maualuga Cincinnati Bengals
Commons 45 Brandon Weeden Cleveland Browns
Commons 46 Greg Little Cleveland Browns
Commons 47 Josh Gordon Cleveland Browns
Commons 48 Josh Cribbs Cleveland Browns
Commons 49 Trent Richardson Cleveland Browns
Commons 50 Joe Haden Cleveland Browns
Commons 51 Tony Romo Dallas Cowboys
Commons 52 Dez Bryant Dallas Cowboys
Commons 53 Miles Austin Dallas Cowboys
Commons 54 DeMarco Murray Dallas Cowboys
Commons 55 Jason Witten Dallas Cowboys
Commons 56 DeMarcus Ware Dallas Cowboys
Commons 57 Sean Lee Dallas Cowboys
Commons 58 Peyton Manning Denver Broncos
Commons 59 Demaryius Thomas Denver Broncos
Commons 60 Eric Decker Denver Broncos
Commons 61 Willis McGahee Denver Broncos
Commons 62 Wes Welker Denver Broncos
Commons 63 Von Miller Denver Broncos
Commons 64 Matthew Stafford Detroit Lions
Commons 65 Calvin Johnson Jr. Detroit Lions
Commons 66 Ryan Broyles Detroit Lions
Commons 67 Mikel Leshoure Detroit Lions
Commons 68 Brandon Pettigrew Detroit Lions
Commons 69 Ndamukong Suh Detroit Lions
Commons 70 Reggie Bush Detroit Lions
Commons 71 Aaron Rodgers Green Bay Packers
Commons 72 James Jones Green Bay Packers
Commons 73 Jordy Nelson Green Bay Packers
Commons 74 Randall Cobb Green Bay Packers
Commons 75 Jermichael Finley Green Bay Packers
Commons 76 Clay Matthews Green Bay Packers
Commons 77 Matt Schaub Houston Texans
Commons 78 Andre Johnson Houston Texans
Commons 79 DeVier Posey Houston Texans
Commons 80 Arian Foster Houston Texans
Commons 81 Owen Daniels Houston Texans
Commons 82 J.J. Watt Houston Texans
Commons 83 Andrew Luck Indianapolis Colts
Commons 84 Reggie Wayne Indianapolis Colts
Commons 85 T.Y. Hilton Indianapolis Colts
Commons 86 Vick Ballard Indianapolis Colts
Commons 87 Donald Brown Indianapolis Colts
Commons 88 Jerrell Freeman Indianapolis Colts
Commons 89 Blaine Gabbert Jacksonville Jaguars
Commons 90 Cecil Shorts III Jacksonville Jaguars
Commons 91 Justin Blackmon Jacksonville Jaguars
Commons 92 Maurice Jones-Drew Jacksonville Jaguars
Commons 93 Rashad Jennings Jacksonville Jaguars
Commons 94 Marcedes Lewis Jacksonville Jaguars
Commons 95 Dwayne Bowe Kansas City Chiefs
Commons 96 Jonathan Baldwin Kansas City Chiefs
Commons 97 Jamaal Charles Kansas City Chiefs
Commons 98 Alex Smith Kansas City Chiefs
Commons 99 Tony Moeaki Kansas City Chiefs
Commons 100 Tamba Hali Kansas City Chiefs
Commons 101 Ryan Tannehill Miami Dolphins
Commons 102 Brian Hartline Miami Dolphins
Commons 103 Mike Wallace Miami Dolphins
Commons 104 Daniel Thomas Miami Dolphins
Commons 105 Dustin Keller Miami Dolphins
Commons 106 Cameron Wake Miami Dolphins
Commons 107 Christian Ponder Minnesota Vikings
Commons 108 Greg Jennings Minnesota Vikings
Commons 109 Jarius Wright Minnesota Vikings
Commons 110 Adrian Peterson Minnesota Vikings
Commons 111 Kyle Rudolph Minnesota Vikings
Commons 112 Jared Allen Minnesota Vikings
Commons 113 Tom Brady New England Patriots
Commons 114 Danny Amendola New England Patriots
Commons 115 Shane Vereen New England Patriots
Commons 116 Stevan Ridley New England Patriots
Commons 117 Rob Gronkowski New England Patriots
Commons 118 Aaron Hernandez New England Patriots
Commons 119 Vince Wilfork New England Patriots
Commons 120 Drew Brees New Orleans Saints
Commons 121 Marques Colston New Orleans Saints
Commons 122 Lance Moore New Orleans Saints
Commons 123 Darren Sproles New Orleans Saints
Commons 124 Mark Ingram New Orleans Saints
Commons 125 Jimmy Graham New Orleans Saints
Commons 126 Eli Manning New York Giants
Commons 127 Hakeem Nicks New York Giants
Commons 128 Victor Cruz New York Giants
Commons 129 Andre Brown New York Giants
Commons 130 David Wilson New York Giants
Commons 131 Brandon Myers New York Giants
Commons 132 Mark Sanchez New York Jets
Commons 133 Santonio Holmes New York Jets
Commons 134 Joe McKnight New York Jets
Commons 135 Bilal Powell New York Jets
Commons 136 Jeremy Kerley New York Jets
Commons 137 Darrelle Revis New York Jets
Commons 138 Matt Flynn Oakland Raiders
Commons 139 Jacoby Ford Oakland Raiders
Commons 140 Denarius Moore Oakland Raiders
Commons 141 Darren McFadden Oakland Raiders
Commons 142 Richard Seymour Oakland Raiders
Commons 143 Marcel Reece Oakland Raiders
Commons 144 Nick Foles Philadelphia Eagles
Commons 145 DeSean Jackson Philadelphia Eagles
Commons 146 Jeremy Maclin Philadelphia Eagles
Commons 147 LeSean McCoy Philadelphia Eagles
Commons 148 Brent Celek Philadelphia Eagles
Commons 149 Bryce Brown Philadelphia Eagles
Commons 150 Michael Vick Philadelphia Eagles
Commons 151 Ben Roethlisberger Pittsburgh Steelers
Commons 152 Plaxico Burress Pittsburgh Steelers
Commons 153 Antonio Brown Pittsburgh Steelers
Commons 154 Jonathan Dwyer Pittsburgh Steelers
Commons 155 Isaac Redman Pittsburgh Steelers
Commons 156 Heath Miller Pittsburgh Steelers
Commons 157 Troy Polamalu Pittsburgh Steelers
Commons 158 Sam Bradford St. Louis Rams
Commons 159 Jared Cook St. Louis Rams
Commons 160 Chris Givens St. Louis Rams
Commons 161 Isaiah Pead St. Louis Rams
Commons 162 Daryl Richardson St. Louis Rams
Commons 163 James Laurinaitis St. Louis Rams
Commons 164 Philip Rivers San Diego Chargers
Commons 165 Malcom Floyd San Diego Chargers
Commons 166 Robert Meachem San Diego Chargers
Commons 167 Vincent Brown San Diego Chargers
Commons 168 Ryan Mathews San Diego Chargers
Commons 169 Antonio Gates San Diego Chargers
Commons 170 Colin Kaepernick San Francisco 49ers
Commons 171 Michael Crabtree San Francisco 49ers
Commons 172 Frank Gore San Francisco 49ers
Commons 173 Vernon Davis San Francisco 49ers
Commons 174 Patrick Willis San Francisco 49ers
Commons 175 Anquan Boldin San Francisco 49ers
Commons 176 Russell Wilson Seattle Seahawks
Commons 177 Sidney Rice Seattle Seahawks
Commons 178 Golden Tate Seattle Seahawks
Commons 179 Marshawn Lynch Seattle Seahawks
Commons 180 Percy Harvin Seattle Seahawks
Commons 181 Richard Sherman Seattle Seahawks
Commons 182 Josh Freeman Tampa Bay Buccaneers
Commons 183 Vincent Jackson Tampa Bay Buccaneers
Commons 184 Mike Williams Tampa Bay Buccaneers
Commons 185 Doug Martin Tampa Bay Buccaneers
Commons 186 Dallas Clark Tampa Bay Buccaneers
Commons 187 Lavonte David Tampa Bay Buccaneers
Commons 188 Jake Locker Tennessee Titans
Commons 189 Kenny Britt Tennessee Titans
Commons 190 Kendall Wright Tennessee Titans
Commons 191 Nate Washington Tennessee Titans
Commons 192 Chris Johnson Tennessee Titans
Commons 193 Shonn Greene Tennessee Titans
Commons 194 Robert Griffin III Washington Redskins
Commons 195 Pierre Garcon Washington Redskins
Commons 196 Santana Moss Washington Redskins
Commons 197 Alfred Morris Washington Redskins
Commons 198 Fred Davis Washington Redskins
Commons 199 Brian Orakpo Washington Redskins
Commons 200 Ryan Kerrigan Washington Redskins
Commons Printing Plates Black 1 Carson Palmer Arizona Cardinals 1
Commons Printing Plates Black 2 Larry Fitzgerald Arizona Cardinals 1
Commons Printing Plates Black 3 Michael Floyd Arizona Cardinals 1
Commons Printing Plates Black 4 Ryan Williams Arizona Cardinals 1
Commons Printing Plates Black 5 Rashard Mendenhall Arizona Cardinals 1
Commons Printing Plates Black 6 Patrick Peterson Arizona Cardinals 1
Commons Printing Plates Black 7 Matt Ryan Atlanta Falcons 1
Commons Printing Plates Black 8 Roddy White Atlanta Falcons 1
Commons Printing Plates Black 9 Julio Jones Atlanta Falcons 1
Commons Printing Plates Black 10 Steven Jackson Atlanta Falcons 1
Commons Printing Plates Black 11 Jacquizz Rodgers Atlanta Falcons 1
Commons Printing Plates Black 12 Sean Weatherspoon Atlanta Falcons 1
Commons Printing Plates Black 13 Joe Flacco Baltimore Ravens 1
Commons Printing Plates Black 14 Haloti Ngata Baltimore Ravens 1
Commons Printing Plates Black 15 Torrey Smith Baltimore Ravens 1
Commons Printing Plates Black 16 Ray Rice Baltimore Ravens 1
Commons Printing Plates Black 17 Dennis Pitta Baltimore Ravens 1
Commons Printing Plates Black 18 Jacoby Jones Baltimore Ravens 1
Commons Printing Plates Black 19 Terrell Suggs Baltimore Ravens 1
Commons Printing Plates Black 20 Tarvaris Jackson Buffalo Bills 1
Commons Printing Plates Black 21 Steve Johnson Buffalo Bills 1
Commons Printing Plates Black 22 Kevin Kolb Buffalo Bills 1
Commons Printing Plates Black 23 C.J. Spiller Buffalo Bills 1
Commons Printing Plates Black 24 Fred Jackson Buffalo Bills 1
Commons Printing Plates Black 25 Scott Chandler Buffalo Bills 1
Commons Printing Plates Black 26 Cam Newton Carolina Panthers 1
Commons Printing Plates Black 27 Steve Smith Carolina Panthers 1
Commons Printing Plates Black 28 Brandon LaFell Carolina Panthers 1
Commons Printing Plates Black 29 DeAngelo Williams Carolina Panthers 1
Commons Printing Plates Black 30 Jonathan Stewart Carolina Panthers 1
Commons Printing Plates Black 31 Greg Olsen Carolina Panthers 1
Commons Printing Plates Black 32 Jay Cutler Chicago Bears 1
Commons Printing Plates Black 33 Brandon Marshall Chicago Bears 1
Commons Printing Plates Black 34 Devin Hester Chicago Bears 1
Commons Printing Plates Black 35 Matt Forte Chicago Bears 1
Commons Printing Plates Black 36 Michael Bush Chicago Bears 1
Commons Printing Plates Black 37 Charles Tillman Chicago Bears 1
Commons Printing Plates Black 38 Lance Briggs Chicago Bears 1
Commons Printing Plates Black 39 Andy Dalton Cincinnati Bengals 1
Commons Printing Plates Black 40 A.J. Green Cincinnati Bengals 1
Commons Printing Plates Black 41 Andrew Hawkins Cincinnati Bengals 1
Commons Printing Plates Black 42 BenJarvus Green-Ellis Cincinnati Bengals 1
Commons Printing Plates Black 43 Jermaine Gresham Cincinnati Bengals 1
Commons Printing Plates Black 44 Rey Maualuga Cincinnati Bengals 1
Commons Printing Plates Black 45 Brandon Weeden Cleveland Browns 1
Commons Printing Plates Black 46 Greg Little Cleveland Browns 1
Commons Printing Plates Black 47 Josh Gordon Cleveland Browns 1
Commons Printing Plates Black 48 Josh Cribbs Cleveland Browns 1
Commons Printing Plates Black 49 Trent Richardson Cleveland Browns 1
Commons Printing Plates Black 50 Joe Haden Cleveland Browns 1
Commons Printing Plates Black 51 Tony Romo Dallas Cowboys 1
Commons Printing Plates Black 52 Dez Bryant Dallas Cowboys 1
Commons Printing Plates Black 53 Miles Austin Dallas Cowboys 1
Commons Printing Plates Black 54 DeMarco Murray Dallas Cowboys 1
Commons Printing Plates Black 55 Jason Witten Dallas Cowboys 1
Commons Printing Plates Black 56 DeMarcus Ware Dallas Cowboys 1
Commons Printing Plates Black 57 Sean Lee Dallas Cowboys 1
Commons Printing Plates Black 58 Peyton Manning Denver Broncos 1
Commons Printing Plates Black 59 Demaryius Thomas Denver Broncos 1
Commons Printing Plates Black 60 Eric Decker Denver Broncos 1
Commons Printing Plates Black 61 Willis McGahee Denver Broncos 1
Commons Printing Plates Black 62 Wes Welker Denver Broncos 1
Commons Printing Plates Black 63 Von Miller Denver Broncos 1
Commons Printing Plates Black 64 Matthew Stafford Detroit Lions 1
Commons Printing Plates Black 65 Calvin Johnson Jr. Detroit Lions 1
Commons Printing Plates Black 66 Ryan Broyles Detroit Lions 1
Commons Printing Plates Black 67 Mikel Leshoure Detroit Lions 1
Commons Printing Plates Black 68 Brandon Pettigrew Detroit Lions 1
Commons Printing Plates Black 69 Ndamukong Suh Detroit Lions 1
Commons Printing Plates Black 70 Reggie Bush Detroit Lions 1
Commons Printing Plates Black 71 Aaron Rodgers Green Bay Packers 1
Commons Printing Plates Black 72 James Jones Green Bay Packers 1
Commons Printing Plates Black 73 Jordy Nelson Green Bay Packers 1
Commons Printing Plates Black 74 Randall Cobb Green Bay Packers 1
Commons Printing Plates Black 75 Jermichael Finley Green Bay Packers 1
Commons Printing Plates Black 76 Clay Matthews Green Bay Packers 1
Commons Printing Plates Black 77 Matt Schaub Houston Texans 1
Commons Printing Plates Black 78 Andre Johnson Houston Texans 1
Commons Printing Plates Black 79 DeVier Posey Houston Texans 1
Commons Printing Plates Black 80 Arian Foster Houston Texans 1
Commons Printing Plates Black 81 Owen Daniels Houston Texans 1
Commons Printing Plates Black 82 J.J. Watt Houston Texans 1
Commons Printing Plates Black 83 Andrew Luck Indianapolis Colts 1
Commons Printing Plates Black 84 Reggie Wayne Indianapolis Colts 1
Commons Printing Plates Black 85 T.Y. Hilton Indianapolis Colts 1
Commons Printing Plates Black 86 Vick Ballard Indianapolis Colts 1
Commons Printing Plates Black 87 Donald Brown Indianapolis Colts 1
Commons Printing Plates Black 88 Jerrell Freeman Indianapolis Colts 1
Commons Printing Plates Black 89 Blaine Gabbert Jacksonville Jaguars 1
Commons Printing Plates Black 90 Cecil Shorts III Jacksonville Jaguars 1
Commons Printing Plates Black 91 Justin Blackmon Jacksonville Jaguars 1
Commons Printing Plates Black 92 Maurice Jones-Drew Jacksonville Jaguars 1
Commons Printing Plates Black 93 Rashad Jennings Jacksonville Jaguars 1
Commons Printing Plates Black 94 Marcedes Lewis Jacksonville Jaguars 1
Commons Printing Plates Black 95 Dwayne Bowe Kansas City Chiefs 1
Commons Printing Plates Black 96 Jonathan Baldwin Kansas City Chiefs 1
Commons Printing Plates Black 97 Jamaal Charles Kansas City Chiefs 1
Commons Printing Plates Black 98 Alex Smith Kansas City Chiefs 1
Commons Printing Plates Black 99 Tony Moeaki Kansas City Chiefs 1
Commons Printing Plates Black 100 Tamba Hali Kansas City Chiefs 1
Commons Printing Plates Black 101 Ryan Tannehill Miami Dolphins 1
Commons Printing Plates Black 102 Brian Hartline Miami Dolphins 1
Commons Printing Plates Black 103 Mike Wallace Miami Dolphins 1
Commons Printing Plates Black 104 Daniel Thomas Miami Dolphins 1
Commons Printing Plates Black 105 Dustin Keller Miami Dolphins 1
Commons Printing Plates Black 106 Cameron Wake Miami Dolphins 1
Commons Printing Plates Black 107 Christian Ponder Minnesota Vikings 1
Commons Printing Plates Black 108 Greg Jennings Minnesota Vikings 1
Commons Printing Plates Black 109 Jarius Wright Minnesota Vikings 1
Commons Printing Plates Black 110 Adrian Peterson Minnesota Vikings 1
Commons Printing Plates Black 111 Kyle Rudolph Minnesota Vikings 1
Commons Printing Plates Black 112 Jared Allen Minnesota Vikings 1
Commons Printing Plates Black 113 Tom Brady New England Patriots 1
Commons Printing Plates Black 114 Danny Amendola New England Patriots 1
Commons Printing Plates Black 115 Shane Vereen New England Patriots 1
Commons Printing Plates Black 116 Stevan Ridley New England Patriots 1
Commons Printing Plates Black 117 Rob Gronkowski New England Patriots 1
Commons Printing Plates Black 118 Aaron Hernandez New England Patriots 1
Commons Printing Plates Black 119 Vince Wilfork New England Patriots 1
Commons Printing Plates Black 120 Drew Brees New Orleans Saints 1
Commons Printing Plates Black 121 Marques Colston New Orleans Saints 1
Commons Printing Plates Black 122 Lance Moore New Orleans Saints 1
Commons Printing Plates Black 123 Darren Sproles New Orleans Saints 1
Commons Printing Plates Black 124 Mark Ingram New Orleans Saints 1
Commons Printing Plates Black 125 Jimmy Graham New Orleans Saints 1
Commons Printing Plates Black 126 Eli Manning New York Giants 1
Commons Printing Plates Black 127 Hakeem Nicks New York Giants 1
Commons Printing Plates Black 128 Victor Cruz New York Giants 1
Commons Printing Plates Black 129 Andre Brown New York Giants 1
Commons Printing Plates Black 130 David Wilson New York Giants 1
Commons Printing Plates Black 131 Brandon Myers New York Giants 1
Commons Printing Plates Black 132 Mark Sanchez New York Jets 1
Commons Printing Plates Black 133 Santonio Holmes New York Jets 1
Commons Printing Plates Black 134 Joe McKnight New York Jets 1
Commons Printing Plates Black 135 Bilal Powell New York Jets 1
Commons Printing Plates Black 136 Jeremy Kerley New York Jets 1
Commons Printing Plates Black 137 Darrelle Revis New York Jets 1
Commons Printing Plates Black 138 Matt Flynn Oakland Raiders 1
Commons Printing Plates Black 139 Jacoby Ford Oakland Raiders 1
Commons Printing Plates Black 140 Denarius Moore Oakland Raiders 1
Commons Printing Plates Black 141 Darren McFadden Oakland Raiders 1
Commons Printing Plates Black 142 Richard Seymour Oakland Raiders 1
Commons Printing Plates Black 143 Marcel Reece Oakland Raiders 1
Commons Printing Plates Black 144 Nick Foles Philadelphia Eagles 1
Commons Printing Plates Black 145 DeSean Jackson Philadelphia Eagles 1
Commons Printing Plates Black 146 Jeremy Maclin Philadelphia Eagles 1
Commons Printing Plates Black 147 LeSean McCoy Philadelphia Eagles 1
Commons Printing Plates Black 148 Brent Celek Philadelphia Eagles 1
Commons Printing Plates Black 149 Bryce Brown Philadelphia Eagles 1
Commons Printing Plates Black 150 Michael Vick Philadelphia Eagles 1
Commons Printing Plates Black 151 Ben Roethlisberger Pittsburgh Steelers 1
Commons Printing Plates Black 152 Plaxico Burress Pittsburgh Steelers 1
Commons Printing Plates Black 153 Antonio Brown Pittsburgh Steelers 1
Commons Printing Plates Black 154 Jonathan Dwyer Pittsburgh Steelers 1
Commons Printing Plates Black 155 Isaac Redman Pittsburgh Steelers 1
Commons Printing Plates Black 156 Heath Miller Pittsburgh Steelers 1
Commons Printing Plates Black 157 Troy Polamalu Pittsburgh Steelers 1
Commons Printing Plates Black 158 Sam Bradford St. Louis Rams 1
Commons Printing Plates Black 159 Jared Cook St. Louis Rams 1
Commons Printing Plates Black 160 Chris Givens St. Louis Rams 1
Commons Printing Plates Black 161 Isaiah Pead St. Louis Rams 1
Commons Printing Plates Black 162 Daryl Richardson St. Louis Rams 1
Commons Printing Plates Black 163 James Laurinaitis St. Louis Rams 1
Commons Printing Plates Black 164 Philip Rivers San Diego Chargers 1
Commons Printing Plates Black 165 Malcom Floyd San Diego Chargers 1
Commons Printing Plates Black 166 Robert Meachem San Diego Chargers 1
Commons Printing Plates Black 167 Vincent Brown San Diego Chargers 1
Commons Printing Plates Black 168 Ryan Mathews San Diego Chargers 1
Commons Printing Plates Black 169 Antonio Gates San Diego Chargers 1
Commons Printing Plates Black 170 Colin Kaepernick San Francisco 49ers 1
Commons Printing Plates Black 171 Michael Crabtree San Francisco 49ers 1
Commons Printing Plates Black 172 Frank Gore San Francisco 49ers 1
Commons Printing Plates Black 173 Vernon Davis San Francisco 49ers 1
Commons Printing Plates Black 174 Patrick Willis San Francisco 49ers 1
Commons Printing Plates Black 175 Anquan Boldin San Francisco 49ers 1
Commons Printing Plates Black 176 Russell Wilson Seattle Seahawks 1
Commons Printing Plates Black 177 Sidney Rice Seattle Seahawks 1
Commons Printing Plates Black 178 Golden Tate Seattle Seahawks 1
Commons Printing Plates Black 179 Marshawn Lynch Seattle Seahawks 1
Commons Printing Plates Black 180 Percy Harvin Seattle Seahawks 1
Commons Printing Plates Black 181 Richard Sherman Seattle Seahawks 1
Commons Printing Plates Black 182 Josh Freeman Tampa Bay Buccaneers 1
Commons Printing Plates Black 183 Vincent Jackson Tampa Bay Buccaneers 1
Commons Printing Plates Black 184 Mike Williams Tampa Bay Buccaneers 1
Commons Printing Plates Black 185 Doug Martin Tampa Bay Buccaneers 1
Commons Printing Plates Black 186 Dallas Clark Tampa Bay Buccaneers 1
Commons Printing Plates Black 187 Lavonte David Tampa Bay Buccaneers 1
Commons Printing Plates Black 188 Jake Locker Tennessee Titans 1
Commons Printing Plates Black 189 Kenny Britt Tennessee Titans 1
Commons Printing Plates Black 190 Kendall Wright Tennessee Titans 1
Commons Printing Plates Black 191 Nate Washington Tennessee Titans 1
Commons Printing Plates Black 192 Chris Johnson Tennessee Titans 1
Commons Printing Plates Black 193 Shonn Greene Tennessee Titans 1
Commons Printing Plates Black 194 Robert Griffin III Washington Redskins 1
Commons Printing Plates Black 195 Pierre Garcon Washington Redskins 1
Commons Printing Plates Black 196 Santana Moss Washington Redskins 1
Commons Printing Plates Black 197 Alfred Morris Washington Redskins 1
Commons Printing Plates Black 198 Fred Davis Washington Redskins 1
Commons Printing Plates Black 199 Brian Orakpo Washington Redskins 1
Commons Printing Plates Black 200 Ryan Kerrigan Washington Redskins 1
Commons Printing Plates Cyan 1 Carson Palmer Arizona Cardinals 1
Commons Printing Plates Cyan 2 Larry Fitzgerald Arizona Cardinals 1
Commons Printing Plates Cyan 3 Michael Floyd Arizona Cardinals 1
Commons Printing Plates Cyan 4 Ryan Williams Arizona Cardinals 1
Commons Printing Plates Cyan 5 Rashard Mendenhall Arizona Cardinals 1
Commons Printing Plates Cyan 6 Patrick Peterson Arizona Cardinals 1
Commons Printing Plates Cyan 7 Matt Ryan Atlanta Falcons 1
Commons Printing Plates Cyan 8 Roddy White Atlanta Falcons 1
Commons Printing Plates Cyan 9 Julio Jones Atlanta Falcons 1
Commons Printing Plates Cyan 10 Steven Jackson Atlanta Falcons 1
Commons Printing Plates Cyan 11 Jacquizz Rodgers Atlanta Falcons 1
Commons Printing Plates Cyan 12 Sean Weatherspoon Atlanta Falcons 1
Commons Printing Plates Cyan 13 Joe Flacco Baltimore Ravens 1
Commons Printing Plates Cyan 14 Haloti Ngata Baltimore Ravens 1
Commons Printing Plates Cyan 15 Torrey Smith Baltimore Ravens 1
Commons Printing Plates Cyan 16 Ray Rice Baltimore Ravens 1
Commons Printing Plates Cyan 17 Dennis Pitta Baltimore Ravens 1
Commons Printing Plates Cyan 18 Jacoby Jones Baltimore Ravens 1
Commons Printing Plates Cyan 19 Terrell Suggs Baltimore Ravens 1
Commons Printing Plates Cyan 20 Tarvaris Jackson Buffalo Bills 1
Commons Printing Plates Cyan 21 Steve Johnson Buffalo Bills 1
Commons Printing Plates Cyan 22 T.J. Graham Buffalo Bills 1
Commons Printing Plates Cyan 23 C.J. Spiller Buffalo Bills 1
Commons Printing Plates Cyan 24 Fred Jackson Buffalo Bills 1
Commons Printing Plates Cyan 25 Scott Chandler Buffalo Bills 1
Commons Printing Plates Cyan 26 Cam Newton Carolina Panthers 1
Commons Printing Plates Cyan 27 Steve Smith Carolina Panthers 1
Commons Printing Plates Cyan 28 Brandon LaFell Carolina Panthers 1
Commons Printing Plates Cyan 29 DeAngelo Williams Carolina Panthers 1
Commons Printing Plates Cyan 30 Jonathan Stewart Carolina Panthers 1
Commons Printing Plates Cyan 31 Greg Olsen Carolina Panthers 1
Commons Printing Plates Cyan 32 Jay Cutler Chicago Bears 1
Commons Printing Plates Cyan 33 Brandon Marshall Chicago Bears 1
Commons Printing Plates Cyan 34 Devin Hester Chicago Bears 1
Commons Printing Plates Cyan 35 Matt Forte Chicago Bears 1
Commons Printing Plates Cyan 36 Michael Bush Chicago Bears 1
Commons Printing Plates Cyan 37 Charles Tillman Chicago Bears 1
Commons Printing Plates Cyan 38 Lance Briggs Chicago Bears 1
Commons Printing Plates Cyan 39 Andy Dalton Cincinnati Bengals 1
Commons Printing Plates Cyan 40 A.J. Green Cincinnati Bengals 1
Commons Printing Plates Cyan 41 Andrew Hawkins Cincinnati Bengals 1
Commons Printing Plates Cyan 42 BenJarvus Green-Ellis Cincinnati Bengals 1
Commons Printing Plates Cyan 43 Jermaine Gresham Cincinnati Bengals 1
Commons Printing Plates Cyan 44 Rey Maualuga Cincinnati Bengals 1
Commons Printing Plates Cyan 45 Brandon Weeden Cleveland Browns 1
Commons Printing Plates Cyan 46 Greg Little Cleveland Browns 1
Commons Printing Plates Cyan 47 Josh Gordon Cleveland Browns 1
Commons Printing Plates Cyan 48 Josh Cribbs Cleveland Browns 1
Commons Printing Plates Cyan 49 Trent Richardson Cleveland Browns 1
Commons Printing Plates Cyan 50 Joe Haden Cleveland Browns 1
Commons Printing Plates Cyan 51 Tony Romo Dallas Cowboys 1
Commons Printing Plates Cyan 52 Dez Bryant Dallas Cowboys 1
Commons Printing Plates Cyan 53 Miles Austin Dallas Cowboys 1
Commons Printing Plates Cyan 54 DeMarco Murray Dallas Cowboys 1
Commons Printing Plates Cyan 55 Jason Witten Dallas Cowboys 1
Commons Printing Plates Cyan 56 DeMarcus Ware Dallas Cowboys 1
Commons Printing Plates Cyan 57 Sean Lee Dallas Cowboys 1
Commons Printing Plates Cyan 58 Peyton Manning Denver Broncos 1
Commons Printing Plates Cyan 59 Demaryius Thomas Denver Broncos 1
Commons Printing Plates Cyan 60 Eric Decker Denver Broncos 1
Commons Printing Plates Cyan 61 Willis McGahee Denver Broncos 1
Commons Printing Plates Cyan 62 Wes Welker Denver Broncos 1
Commons Printing Plates Cyan 63 Von Miller Denver Broncos 1
Commons Printing Plates Cyan 64 Matthew Stafford Detroit Lions 1
Commons Printing Plates Cyan 65 Calvin Johnson Jr. Detroit Lions 1
Commons Printing Plates Cyan 66 Ryan Broyles Detroit Lions 1
Commons Printing Plates Cyan 67 Mikel Leshoure Detroit Lions 1
Commons Printing Plates Cyan 68 Brandon Pettigrew Detroit Lions 1
Commons Printing Plates Cyan 69 Ndamukong Suh Detroit Lions 1
Commons Printing Plates Cyan 70 Reggie Bush Detroit Lions 1
Commons Printing Plates Cyan 71 Aaron Rodgers Green Bay Packers 1
Commons Printing Plates Cyan 72 James Jones Green Bay Packers 1
Commons Printing Plates Cyan 73 Jordy Nelson Green Bay Packers 1
Commons Printing Plates Cyan 74 Randall Cobb Green Bay Packers 1
Commons Printing Plates Cyan 75 Jermichael Finley Green Bay Packers 1
Commons Printing Plates Cyan 76 Clay Matthews Green Bay Packers 1
Commons Printing Plates Cyan 77 Matt Schaub Houston Texans 1
Commons Printing Plates Cyan 78 Andre Johnson Houston Texans 1
Commons Printing Plates Cyan 79 DeVier Posey Houston Texans 1
Commons Printing Plates Cyan 80 Arian Foster Houston Texans 1
Commons Printing Plates Cyan 81 Owen Daniels Houston Texans 1
Commons Printing Plates Cyan 82 J.J. Watt Houston Texans 1
Commons Printing Plates Cyan 83 Andrew Luck Indianapolis Colts 1
Commons Printing Plates Cyan 84 Reggie Wayne Indianapolis Colts 1
Commons Printing Plates Cyan 85 T.Y. Hilton Indianapolis Colts 1
Commons Printing Plates Cyan 86 Vick Ballard Indianapolis Colts 1
Commons Printing Plates Cyan 87 Donald Brown Indianapolis Colts 1
Commons Printing Plates Cyan 88 Jerrell Freeman Indianapolis Colts 1
Commons Printing Plates Cyan 89 Blaine Gabbert Jacksonville Jaguars 1
Commons Printing Plates Cyan 90 Cecil Shorts III Jacksonville Jaguars 1
Commons Printing Plates Cyan 91 Justin Blackmon Jacksonville Jaguars 1
Commons Printing Plates Cyan 92 Maurice Jones-Drew Jacksonville Jaguars 1
Commons Printing Plates Cyan 93 Rashad Jennings Jacksonville Jaguars 1
Commons Printing Plates Cyan 94 Marcedes Lewis Jacksonville Jaguars 1
Commons Printing Plates Cyan 95 Dwayne Bowe Kansas City Chiefs 1
Commons Printing Plates Cyan 96 Jonathan Baldwin Kansas City Chiefs 1
Commons Printing Plates Cyan 97 Jamaal Charles Kansas City Chiefs 1
Commons Printing Plates Cyan 98 Alex Smith Kansas City Chiefs 1
Commons Printing Plates Cyan 99 Tony Moeaki Kansas City Chiefs 1
Commons Printing Plates Cyan 100 Tamba Hali Kansas City Chiefs 1
Commons Printing Plates Cyan 101 Ryan Tannehill Miami Dolphins 1
Commons Printing Plates Cyan 102 Brian Hartline Miami Dolphins 1
Commons Printing Plates Cyan 103 Mike Wallace Miami Dolphins 1
Commons Printing Plates Cyan 104 Daniel Thomas Miami Dolphins 1
Commons Printing Plates Cyan 105 Dustin Keller Miami Dolphins 1
Commons Printing Plates Cyan 106 Cameron Wake Miami Dolphins 1
Commons Printing Plates Cyan 107 Christian Ponder Minnesota Vikings 1
Commons Printing Plates Cyan 108 Greg Jennings Minnesota Vikings 1
Commons Printing Plates Cyan 109 Jarius Wright Minnesota Vikings 1
Commons Printing Plates Cyan 110 Adrian Peterson Minnesota Vikings 1
Commons Printing Plates Cyan 111 Kyle Rudolph Minnesota Vikings 1
Commons Printing Plates Cyan 112 Jared Allen Minnesota Vikings 1
Commons Printing Plates Cyan 113 Tom Brady New England Patriots 1
Commons Printing Plates Cyan 114 Danny Amendola New England Patriots 1
Commons Printing Plates Cyan 115 Shane Vereen New England Patriots 1
Commons Printing Plates Cyan 116 Stevan Ridley New England Patriots 1
Commons Printing Plates Cyan 117 Rob Gronkowski New England Patriots 1
Commons Printing Plates Cyan 118 Aaron Hernandez New England Patriots 1
Commons Printing Plates Cyan 119 Vince Wilfork New England Patriots 1
Commons Printing Plates Cyan 120 Drew Brees New Orleans Saints 1
Commons Printing Plates Cyan 121 Marques Colston New Orleans Saints 1
Commons Printing Plates Cyan 122 Lance Moore New Orleans Saints 1
Commons Printing Plates Cyan 123 Darren Sproles New Orleans Saints 1
Commons Printing Plates Cyan 124 Mark Ingram New Orleans Saints 1
Commons Printing Plates Cyan 125 Jimmy Graham New Orleans Saints 1
Commons Printing Plates Cyan 126 Eli Manning New York Giants 1
Commons Printing Plates Cyan 127 Hakeem Nicks New York Giants 1
Commons Printing Plates Cyan 128 Victor Cruz New York Giants 1
Commons Printing Plates Cyan 129 Andre Brown New York Giants 1
Commons Printing Plates Cyan 130 David Wilson New York Giants 1
Commons Printing Plates Cyan 131 Brandon Myers New York Giants 1
Commons Printing Plates Cyan 132 Mark Sanchez New York Jets 1
Commons Printing Plates Cyan 133 Santonio Holmes New York Jets 1
Commons Printing Plates Cyan 134 Joe McKnight New York Jets 1
Commons Printing Plates Cyan 135 Bilal Powell New York Jets 1
Commons Printing Plates Cyan 136 Jeremy Kerley New York Jets 1
Commons Printing Plates Cyan 137 Darrelle Revis New York Jets 1
Commons Printing Plates Cyan 138 Matt Flynn Oakland Raiders 1
Commons Printing Plates Cyan 139 Jacoby Ford Oakland Raiders 1
Commons Printing Plates Cyan 140 Denarius Moore Oakland Raiders 1
Commons Printing Plates Cyan 141 Darren McFadden Oakland Raiders 1
Commons Printing Plates Cyan 142 Richard Seymour Oakland Raiders 1
Commons Printing Plates Cyan 143 Marcel Reece Oakland Raiders 1
Commons Printing Plates Cyan 144 Nick Foles Philadelphia Eagles 1
Commons Printing Plates Cyan 145 DeSean Jackson Philadelphia Eagles 1
Commons Printing Plates Cyan 146 Jeremy Maclin Philadelphia Eagles 1
Commons Printing Plates Cyan 147 LeSean McCoy Philadelphia Eagles 1
Commons Printing Plates Cyan 148 Brent Celek Philadelphia Eagles 1
Commons Printing Plates Cyan 149 Bryce Brown Philadelphia Eagles 1
Commons Printing Plates Cyan 150 Michael Vick Philadelphia Eagles 1
Commons Printing Plates Cyan 151 Ben Roethlisberger Pittsburgh Steelers 1
Commons Printing Plates Cyan 152 Plaxico Burress Pittsburgh Steelers 1
Commons Printing Plates Cyan 153 Antonio Brown Pittsburgh Steelers 1
Commons Printing Plates Cyan 154 Jonathan Dwyer Pittsburgh Steelers 1
Commons Printing Plates Cyan 155 Isaac Redman Pittsburgh Steelers 1
Commons Printing Plates Cyan 156 Heath Miller Pittsburgh Steelers 1
Commons Printing Plates Cyan 157 Troy Polamalu Pittsburgh Steelers 1
Commons Printing Plates Cyan 158 Sam Bradford St. Louis Rams 1
Commons Printing Plates Cyan 159 Jared Cook St. Louis Rams 1
Commons Printing Plates Cyan 160 Chris Givens St. Louis Rams 1
Commons Printing Plates Cyan 161 Isaiah Pead St. Louis Rams 1
Commons Printing Plates Cyan 162 Daryl Richardson St. Louis Rams 1
Commons Printing Plates Cyan 163 James Laurinaitis St. Louis Rams 1
Commons Printing Plates Cyan 164 Philip Rivers San Diego Chargers 1
Commons Printing Plates Cyan 165 Malcom Floyd San Diego Chargers 1
Commons Printing Plates Cyan 166 Robert Meachem San Diego Chargers 1
Commons Printing Plates Cyan 167 Vincent Brown San Diego Chargers 1
Commons Printing Plates Cyan 168 Ryan Mathews San Diego Chargers 1
Commons Printing Plates Cyan 169 Antonio Gates San Diego Chargers 1
Commons Printing Plates Cyan 170 Colin Kaepernick San Francisco 49ers 1
Commons Printing Plates Cyan 171 Michael Crabtree San Francisco 49ers 1
Commons Printing Plates Cyan 172 Frank Gore San Francisco 49ers 1
Commons Printing Plates Cyan 173 Vernon Davis San Francisco 49ers 1
Commons Printing Plates Cyan 174 Patrick Willis San Francisco 49ers 1
Commons Printing Plates Cyan 175 Anquan Boldin San Francisco 49ers 1
Commons Printing Plates Cyan 176 Russell Wilson Seattle Seahawks 1
Commons Printing Plates Cyan 177 Sidney Rice Seattle Seahawks 1
Commons Printing Plates Cyan 178 Golden Tate Seattle Seahawks 1
Commons Printing Plates Cyan 179 Marshawn Lynch Seattle Seahawks 1
Commons Printing Plates Cyan 180 Percy Harvin Seattle Seahawks 1
Commons Printing Plates Cyan 181 Richard Sherman Seattle Seahawks 1
Commons Printing Plates Cyan 182 Josh Freeman Tampa Bay Buccaneers 1
Commons Printing Plates Cyan 183 Vincent Jackson Tampa Bay Buccaneers 1
Commons Printing Plates Cyan 184 Mike Williams Tampa Bay Buccaneers 1
Commons Printing Plates Cyan 185 Doug Martin Tampa Bay Buccaneers 1
Commons Printing Plates Cyan 186 Dallas Clark Tampa Bay Buccaneers 1
Commons Printing Plates Cyan 187 Lavonte David Tampa Bay Buccaneers 1
Commons Printing Plates Cyan 188 Jake Locker Tennessee Titans 1
Commons Printing Plates Cyan 189 Kenny Britt Tennessee Titans 1
Commons Printing Plates Cyan 190 Kendall Wright Tennessee Titans 1
Commons Printing Plates Cyan 191 Nate Washington Tennessee Titans 1
Commons Printing Plates Cyan 192 Chris Johnson Tennessee Titans 1
Commons Printing Plates Cyan 193 Shonn Greene Tennessee Titans 1
Commons Printing Plates Cyan 194 Robert Griffin III Washington Redskins 1
Commons Printing Plates Cyan 195 Pierre Garcon Washington Redskins 1
Commons Printing Plates Cyan 196 Santana Moss Washington Redskins 1
Commons Printing Plates Cyan 197 Alfred Morris Washington Redskins 1
Commons Printing Plates Cyan 198 Fred Davis Washington Redskins 1
Commons Printing Plates Cyan 199 Brian Orakpo Washington Redskins 1
Commons Printing Plates Cyan 200 Ryan Kerrigan Washington Redskins 1
Commons Printing Plates Magenta 1 Carson Palmer Arizona Cardinals 1
Commons Printing Plates Magenta 2 Larry Fitzgerald Arizona Cardinals 1
Commons Printing Plates Magenta 3 Michael Floyd Arizona Cardinals 1
Commons Printing Plates Magenta 4 Ryan Williams Arizona Cardinals 1
Commons Printing Plates Magenta 5 Rashard Mendenhall Arizona Cardinals 1
Commons Printing Plates Magenta 6 Patrick Peterson Arizona Cardinals 1
Commons Printing Plates Magenta 7 Matt Ryan Atlanta Falcons 1
Commons Printing Plates Magenta 8 Roddy White Atlanta Falcons 1
Commons Printing Plates Magenta 9 Julio Jones Atlanta Falcons 1
Commons Printing Plates Magenta 10 Steven Jackson Atlanta Falcons 1
Commons Printing Plates Magenta 11 Jacquizz Rodgers Atlanta Falcons 1
Commons Printing Plates Magenta 12 Sean Weatherspoon Atlanta Falcons 1
Commons Printing Plates Magenta 13 Joe Flacco Baltimore Ravens 1
Commons Printing Plates Magenta 14 Haloti Ngata Baltimore Ravens 1
Commons Printing Plates Magenta 15 Torrey Smith Baltimore Ravens 1
Commons Printing Plates Magenta 16 Ray Rice Baltimore Ravens 1
Commons Printing Plates Magenta 17 Dennis Pitta Baltimore Ravens 1
Commons Printing Plates Magenta 18 Jacoby Jones Baltimore Ravens 1
Commons Printing Plates Magenta 19 Terrell Suggs Baltimore Ravens 1
Commons Printing Plates Magenta 20 Tarvaris Jackson Buffalo Bills 1
Commons Printing Plates Magenta 21 Steve Johnson Buffalo Bills 1
Commons Printing Plates Magenta 22 Kevin Kolb Buffalo Bills 1
Commons Printing Plates Magenta 23 C.J. Spiller Buffalo Bills 1
Commons Printing Plates Magenta 24 Fred Jackson Buffalo Bills 1
Commons Printing Plates Magenta 25 Scott Chandler Buffalo Bills 1
Commons Printing Plates Magenta 26 Cam Newton Carolina Panthers 1
Commons Printing Plates Magenta 27 Steve Smith Carolina Panthers 1
Commons Printing Plates Magenta 28 Brandon LaFell Carolina Panthers 1
Commons Printing Plates Magenta 29 DeAngelo Williams Carolina Panthers 1
Commons Printing Plates Magenta 30 Jonathan Stewart Carolina Panthers 1
Commons Printing Plates Magenta 31 Greg Olsen Carolina Panthers 1
Commons Printing Plates Magenta 32 Jay Cutler Chicago Bears 1
Commons Printing Plates Magenta 33 Brandon Marshall Chicago Bears 1
Commons Printing Plates Magenta 34 Devin Hester Chicago Bears 1
Commons Printing Plates Magenta 35 Matt Forte Chicago Bears 1
Commons Printing Plates Magenta 36 Michael Bush Chicago Bears 1
Commons Printing Plates Magenta 37 Charles Tillman Chicago Bears 1
Commons Printing Plates Magenta 38 Lance Briggs Chicago Bears 1
Commons Printing Plates Magenta 39 Andy Dalton Cincinnati Bengals 1
Commons Printing Plates Magenta 40 A.J. Green Cincinnati Bengals 1
Commons Printing Plates Magenta 41 Andrew Hawkins Cincinnati Bengals 1
Commons Printing Plates Magenta 42 BenJarvus Green-Ellis Cincinnati Bengals 1
Commons Printing Plates Magenta 43 Jermaine Gresham Cincinnati Bengals 1
Commons Printing Plates Magenta 44 Rey Maualuga Cincinnati Bengals 1
Commons Printing Plates Magenta 45 Brandon Weeden Cleveland Browns 1
Commons Printing Plates Magenta 46 Greg Little Cleveland Browns 1
Commons Printing Plates Magenta 47 Josh Gordon Cleveland Browns 1
Commons Printing Plates Magenta 48 Josh Cribbs Cleveland Browns 1
Commons Printing Plates Magenta 49 Trent Richardson Cleveland Browns 1
Commons Printing Plates Magenta 50 Joe Haden Cleveland Browns 1
Commons Printing Plates Magenta 51 Tony Romo Dallas Cowboys 1
Commons Printing Plates Magenta 52 Dez Bryant Dallas Cowboys 1
Commons Printing Plates Magenta 53 Miles Austin Dallas Cowboys 1
Commons Printing Plates Magenta 54 DeMarco Murray Dallas Cowboys 1
Commons Printing Plates Magenta 55 Jason Witten Dallas Cowboys 1
Commons Printing Plates Magenta 56 DeMarcus Ware Dallas Cowboys 1
Commons Printing Plates Magenta 57 Sean Lee Dallas Cowboys 1
Commons Printing Plates Magenta 58 Peyton Manning Denver Broncos 1
Commons Printing Plates Magenta 59 Demaryius Thomas Denver Broncos 1
Commons Printing Plates Magenta 60 Eric Decker Denver Broncos 1
Commons Printing Plates Magenta 61 Willis McGahee Denver Broncos 1
Commons Printing Plates Magenta 62 Wes Welker Denver Broncos 1
Commons Printing Plates Magenta 63 Von Miller Denver Broncos 1
Commons Printing Plates Magenta 64 Matthew Stafford Detroit Lions 1
Commons Printing Plates Magenta 65 Calvin Johnson Jr. Detroit Lions 1
Commons Printing Plates Magenta 66 Ryan Broyles Detroit Lions 1
Commons Printing Plates Magenta 67 Mikel Leshoure Detroit Lions 1
Commons Printing Plates Magenta 68 Brandon Pettigrew Detroit Lions 1
Commons Printing Plates Magenta 69 Ndamukong Suh Detroit Lions 1
Commons Printing Plates Magenta 70 Reggie Bush Detroit Lions 1
Commons Printing Plates Magenta 71 Aaron Rodgers Green Bay Packers 1
Commons Printing Plates Magenta 72 James Jones Green Bay Packers 1
Commons Printing Plates Magenta 73 Jordy Nelson Green Bay Packers 1
Commons Printing Plates Magenta 74 Randall Cobb Green Bay Packers 1
Commons Printing Plates Magenta 75 Jermichael Finley Green Bay Packers 1
Commons Printing Plates Magenta 76 Clay Matthews Green Bay Packers 1
Commons Printing Plates Magenta 77 Matt Schaub Houston Texans 1
Commons Printing Plates Magenta 78 Andre Johnson Houston Texans 1
Commons Printing Plates Magenta 79 DeVier Posey Houston Texans 1
Commons Printing Plates Magenta 80 Arian Foster Houston Texans 1
Commons Printing Plates Magenta 81 Owen Daniels Houston Texans 1
Commons Printing Plates Magenta 82 J.J. Watt Houston Texans 1
Commons Printing Plates Magenta 83 Andrew Luck Indianapolis Colts 1
Commons Printing Plates Magenta 84 Reggie Wayne Indianapolis Colts 1
Commons Printing Plates Magenta 85 T.Y. Hilton Indianapolis Colts 1
Commons Printing Plates Magenta 86 Vick Ballard Indianapolis Colts 1
Commons Printing Plates Magenta 87 Donald Brown Indianapolis Colts 1
Commons Printing Plates Magenta 88 Jerrell Freeman Indianapolis Colts 1
Commons Printing Plates Magenta 89 Blaine Gabbert Jacksonville Jaguars 1
Commons Printing Plates Magenta 90 Cecil Shorts III Jacksonville Jaguars 1
Commons Printing Plates Magenta 91 Justin Blackmon Jacksonville Jaguars 1
Commons Printing Plates Magenta 92 Maurice Jones-Drew Jacksonville Jaguars 1
Commons Printing Plates Magenta 93 Rashad Jennings Jacksonville Jaguars 1
Commons Printing Plates Magenta 94 Marcedes Lewis Jacksonville Jaguars 1
Commons Printing Plates Magenta 95 Dwayne Bowe Kansas City Chiefs 1
Commons Printing Plates Magenta 96 Jonathan Baldwin Kansas City Chiefs 1
Commons Printing Plates Magenta 97 Jamaal Charles Kansas City Chiefs 1
Commons Printing Plates Magenta 98 Alex Smith Kansas City Chiefs 1
Commons Printing Plates Magenta 99 Tony Moeaki Kansas City Chiefs 1
Commons Printing Plates Magenta 100 Tamba Hali Kansas City Chiefs 1
Commons Printing Plates Magenta 101 Ryan Tannehill Miami Dolphins 1
Commons Printing Plates Magenta 102 Brian Hartline Miami Dolphins 1
Commons Printing Plates Magenta 103 Mike Wallace Miami Dolphins 1
Commons Printing Plates Magenta 104 Daniel Thomas Miami Dolphins 1
Commons Printing Plates Magenta 105 Dustin Keller Miami Dolphins 1
Commons Printing Plates Magenta 106 Cameron Wake Miami Dolphins 1
Commons Printing Plates Magenta 107 Christian Ponder Minnesota Vikings 1
Commons Printing Plates Magenta 108 Greg Jennings Minnesota Vikings 1
Commons Printing Plates Magenta 109 Jarius Wright Minnesota Vikings 1
Commons Printing Plates Magenta 110 Adrian Peterson Minnesota Vikings 1
Commons Printing Plates Magenta 111 Kyle Rudolph Minnesota Vikings 1
Commons Printing Plates Magenta 112 Jared Allen Minnesota Vikings 1
Commons Printing Plates Magenta 113 Tom Brady New England Patriots 1
Commons Printing Plates Magenta 114 Danny Amendola New England Patriots 1
Commons Printing Plates Magenta 115 Shane Vereen New England Patriots 1
Commons Printing Plates Magenta 116 Stevan Ridley New England Patriots 1
Commons Printing Plates Magenta 117 Rob Gronkowski New England Patriots 1
Commons Printing Plates Magenta 118 Aaron Hernandez New England Patriots 1
Commons Printing Plates Magenta 119 Vince Wilfork New England Patriots 1
Commons Printing Plates Magenta 120 Drew Brees New Orleans Saints 1
Commons Printing Plates Magenta 121 Marques Colston New Orleans Saints 1
Commons Printing Plates Magenta 122 Lance Moore New Orleans Saints 1
Commons Printing Plates Magenta 123 Darren Sproles New Orleans Saints 1
Commons Printing Plates Magenta 124 Mark Ingram New Orleans Saints 1
Commons Printing Plates Magenta 125 Jimmy Graham New Orleans Saints 1
Commons Printing Plates Magenta 126 Eli Manning New York Giants 1
Commons Printing Plates Magenta 127 Hakeem Nicks New York Giants 1
Commons Printing Plates Magenta 128 Victor Cruz New York Giants 1
Commons Printing Plates Magenta 129 Andre Brown New York Giants 1
Commons Printing Plates Magenta 130 David Wilson New York Giants 1
Commons Printing Plates Magenta 131 Brandon Myers New York Giants 1
Commons Printing Plates Magenta 132 Mark Sanchez New York Jets 1
Commons Printing Plates Magenta 133 Santonio Holmes New York Jets 1
Commons Printing Plates Magenta 134 Joe McKnight New York Jets 1
Commons Printing Plates Magenta 135 Bilal Powell New York Jets 1
Commons Printing Plates Magenta 136 Jeremy Kerley New York Jets 1
Commons Printing Plates Magenta 137 Darrelle Revis New York Jets 1
Commons Printing Plates Magenta 138 Matt Flynn Oakland Raiders 1
Commons Printing Plates Magenta 139 Jacoby Ford Oakland Raiders 1
Commons Printing Plates Magenta 140 Denarius Moore Oakland Raiders 1
Commons Printing Plates Magenta 141 Darren McFadden Oakland Raiders 1
Commons Printing Plates Magenta 142 Richard Seymour Oakland Raiders 1
Commons Printing Plates Magenta 143 Marcel Reece Oakland Raiders 1
Commons Printing Plates Magenta 144 Nick Foles Philadelphia Eagles 1
Commons Printing Plates Magenta 145 DeSean Jackson Philadelphia Eagles 1
Commons Printing Plates Magenta 146 Jeremy Maclin Philadelphia Eagles 1
Commons Printing Plates Magenta 147 LeSean McCoy Philadelphia Eagles 1
Commons Printing Plates Magenta 148 Brent Celek Philadelphia Eagles 1
Commons Printing Plates Magenta 149 Bryce Brown Philadelphia Eagles 1
Commons Printing Plates Magenta 150 Michael Vick Philadelphia Eagles 1
Commons Printing Plates Magenta 151 Ben Roethlisberger Pittsburgh Steelers 1
Commons Printing Plates Magenta 152 Plaxico Burress Pittsburgh Steelers 1
Commons Printing Plates Magenta 153 Antonio Brown Pittsburgh Steelers 1
Commons Printing Plates Magenta 154 Jonathan Dwyer Pittsburgh Steelers 1
Commons Printing Plates Magenta 155 Isaac Redman Pittsburgh Steelers 1
Commons Printing Plates Magenta 156 Heath Miller Pittsburgh Steelers 1
Commons Printing Plates Magenta 157 Troy Polamalu Pittsburgh Steelers 1
Commons Printing Plates Magenta 158 Sam Bradford St. Louis Rams 1
Commons Printing Plates Magenta 159 Jared Cook St. Louis Rams 1
Commons Printing Plates Magenta 160 Chris Givens St. Louis Rams 1
Commons Printing Plates Magenta 161 Isaiah Pead St. Louis Rams 1
Commons Printing Plates Magenta 162 Daryl Richardson St. Louis Rams 1
Commons Printing Plates Magenta 163 James Laurinaitis St. Louis Rams 1
Commons Printing Plates Magenta 164 Philip Rivers San Diego Chargers 1
Commons Printing Plates Magenta 165 Malcom Floyd San Diego Chargers 1
Commons Printing Plates Magenta 166 Robert Meachem San Diego Chargers 1
Commons Printing Plates Magenta 167 Vincent Brown San Diego Chargers 1
Commons Printing Plates Magenta 168 Ryan Mathews San Diego Chargers 1
Commons Printing Plates Magenta 169 Antonio Gates San Diego Chargers 1
Commons Printing Plates Magenta 170 Colin Kaepernick San Francisco 49ers 1
Commons Printing Plates Magenta 171 Michael Crabtree San Francisco 49ers 1
Commons Printing Plates Magenta 172 Frank Gore San Francisco 49ers 1
Commons Printing Plates Magenta 173 Vernon Davis San Francisco 49ers 1
Commons Printing Plates Magenta 174 Patrick Willis San Francisco 49ers 1
Commons Printing Plates Magenta 175 Anquan Boldin San Francisco 49ers 1
Commons Printing Plates Magenta 176 Russell Wilson Seattle Seahawks 1
Commons Printing Plates Magenta 177 Sidney Rice Seattle Seahawks 1
Commons Printing Plates Magenta 178 Golden Tate Seattle Seahawks 1
Commons Printing Plates Magenta 179 Marshawn Lynch Seattle Seahawks 1
Commons Printing Plates Magenta 180 Percy Harvin Seattle Seahawks 1
Commons Printing Plates Magenta 181 Richard Sherman Seattle Seahawks 1
Commons Printing Plates Magenta 182 Josh Freeman Tampa Bay Buccaneers 1
Commons Printing Plates Magenta 183 Vincent Jackson Tampa Bay Buccaneers 1
Commons Printing Plates Magenta 184 Mike Williams Tampa Bay Buccaneers 1
Commons Printing Plates Magenta 185 Doug Martin Tampa Bay Buccaneers 1
Commons Printing Plates Magenta 186 Dallas Clark Tampa Bay Buccaneers 1
Commons Printing Plates Magenta 187 Lavonte David Tampa Bay Buccaneers 1
Commons Printing Plates Magenta 188 Jake Locker Tennessee Titans 1
Commons Printing Plates Magenta 189 Kenny Britt Tennessee Titans 1
Commons Printing Plates Magenta 190 Kendall Wright Tennessee Titans 1
Commons Printing Plates Magenta 191 Nate Washington Tennessee Titans 1
Commons Printing Plates Magenta 192 Chris Johnson Tennessee Titans 1
Commons Printing Plates Magenta 193 Shonn Greene Tennessee Titans 1
Commons Printing Plates Magenta 194 Robert Griffin III Washington Redskins 1
Commons Printing Plates Magenta 195 Pierre Garcon Washington Redskins 1
Commons Printing Plates Magenta 196 Santana Moss Washington Redskins 1
Commons Printing Plates Magenta 197 Alfred Morris Washington Redskins 1
Commons Printing Plates Magenta 198 Fred Davis Washington Redskins 1
Commons Printing Plates Magenta 199 Brian Orakpo Washington Redskins 1
Commons Printing Plates Magenta 200 Ryan Kerrigan Washington Redskins 1
Commons Printing Plates Yellow 1 Carson Palmer Arizona Cardinals 1
Commons Printing Plates Yellow 2 Larry Fitzgerald Arizona Cardinals 1
Commons Printing Plates Yellow 3 Michael Floyd Arizona Cardinals 1
Commons Printing Plates Yellow 4 Ryan Williams Arizona Cardinals 1
Commons Printing Plates Yellow 5 Rashard Mendenhall Arizona Cardinals 1
Commons Printing Plates Yellow 6 Patrick Peterson Arizona Cardinals 1
Commons Printing Plates Yellow 7 Matt Ryan Atlanta Falcons 1
Commons Printing Plates Yellow 8 Roddy White Atlanta Falcons 1
Commons Printing Plates Yellow 9 Julio Jones Atlanta Falcons 1
Commons Printing Plates Yellow 10 Steven Jackson Atlanta Falcons 1
Commons Printing Plates Yellow 11 Jacquizz Rodgers Atlanta Falcons 1
Commons Printing Plates Yellow 12 Sean Weatherspoon Atlanta Falcons 1
Commons Printing Plates Yellow 13 Joe Flacco Baltimore Ravens 1
Commons Printing Plates Yellow 14 Haloti Ngata Baltimore Ravens 1
Commons Printing Plates Yellow 15 Torrey Smith Baltimore Ravens 1
Commons Printing Plates Yellow 16 Ray Rice Baltimore Ravens 1
Commons Printing Plates Yellow 17 Dennis Pitta Baltimore Ravens 1
Commons Printing Plates Yellow 18 Jacoby Jones Baltimore Ravens 1
Commons Printing Plates Yellow 19 Terrell Suggs Baltimore Ravens 1
Commons Printing Plates Yellow 20 Tarvaris Jackson Buffalo Bills 1
Commons Printing Plates Yellow 21 Steve Johnson Buffalo Bills 1
Commons Printing Plates Yellow 22 Kevin Kolb Buffalo Bills 1
Commons Printing Plates Yellow 23 C.J. Spiller Buffalo Bills 1
Commons Printing Plates Yellow 24 Fred Jackson Buffalo Bills 1
Commons Printing Plates Yellow 25 Scott Chandler Buffalo Bills 1
Commons Printing Plates Yellow 26 Cam Newton Carolina Panthers 1
Commons Printing Plates Yellow 27 Steve Smith Carolina Panthers 1
Commons Printing Plates Yellow 28 Brandon LaFell Carolina Panthers 1
Commons Printing Plates Yellow 29 DeAngelo Williams Carolina Panthers 1
Commons Printing Plates Yellow 30 Jonathan Stewart Carolina Panthers 1
Commons Printing Plates Yellow 31 Greg Olsen Carolina Panthers 1
Commons Printing Plates Yellow 32 Jay Cutler Chicago Bears 1
Commons Printing Plates Yellow 33 Brandon Marshall Chicago Bears 1
Commons Printing Plates Yellow 34 Devin Hester Chicago Bears 1
Commons Printing Plates Yellow 35 Matt Forte Chicago Bears 1
Commons Printing Plates Yellow 36 Michael Bush Chicago Bears 1
Commons Printing Plates Yellow 37 Charles Tillman Chicago Bears 1
Commons Printing Plates Yellow 38 Lance Briggs Chicago Bears 1
Commons Printing Plates Yellow 39 Andy Dalton Cincinnati Bengals 1
Commons Printing Plates Yellow 40 A.J. Green Cincinnati Bengals 1
Commons Printing Plates Yellow 41 Andrew Hawkins Cincinnati Bengals 1
Commons Printing Plates Yellow 42 BenJarvus Green-Ellis Cincinnati Bengals 1
Commons Printing Plates Yellow 43 Jermaine Gresham Cincinnati Bengals 1
Commons Printing Plates Yellow 44 Rey Maualuga Cincinnati Bengals 1
Commons Printing Plates Yellow 45 Brandon Weeden Cleveland Browns 1
Commons Printing Plates Yellow 46 Greg Little Cleveland Browns 1
Commons Printing Plates Yellow 47 Josh Gordon Cleveland Browns 1
Commons Printing Plates Yellow 48 Josh Cribbs Cleveland Browns 1
Commons Printing Plates Yellow 49 Trent Richardson Cleveland Browns 1
Commons Printing Plates Yellow 50 Joe Haden Cleveland Browns 1
Commons Printing Plates Yellow 51 Tony Romo Dallas Cowboys 1
Commons Printing Plates Yellow 52 Dez Bryant Dallas Cowboys 1
Commons Printing Plates Yellow 53 Miles Austin Dallas Cowboys 1
Commons Printing Plates Yellow 54 DeMarco Murray Dallas Cowboys 1
Commons Printing Plates Yellow 55 Jason Witten Dallas Cowboys 1
Commons Printing Plates Yellow 56 DeMarcus Ware Dallas Cowboys 1
Commons Printing Plates Yellow 57 Sean Lee Dallas Cowboys 1
Commons Printing Plates Yellow 58 Peyton Manning Denver Broncos 1
Commons Printing Plates Yellow 59 Demaryius Thomas Denver Broncos 1
Commons Printing Plates Yellow 60 Eric Decker Denver Broncos 1
Commons Printing Plates Yellow 61 Willis McGahee Denver Broncos 1
Commons Printing Plates Yellow 62 Wes Welker Denver Broncos 1
Commons Printing Plates Yellow 63 Von Miller Denver Broncos 1
Commons Printing Plates Yellow 64 Matthew Stafford Detroit Lions 1
Commons Printing Plates Yellow 65 Calvin Johnson Jr. Detroit Lions 1
Commons Printing Plates Yellow 66 Ryan Broyles Detroit Lions 1
Commons Printing Plates Yellow 67 Mikel Leshoure Detroit Lions 1
Commons Printing Plates Yellow 68 Brandon Pettigrew Detroit Lions 1
Commons Printing Plates Yellow 69 Ndamukong Suh Detroit Lions 1
Commons Printing Plates Yellow 70 Reggie Bush Detroit Lions 1
Commons Printing Plates Yellow 71 Aaron Rodgers Green Bay Packers 1
Commons Printing Plates Yellow 72 James Jones Green Bay Packers 1
Commons Printing Plates Yellow 73 Jordy Nelson Green Bay Packers 1
Commons Printing Plates Yellow 74 Randall Cobb Green Bay Packers 1
Commons Printing Plates Yellow 75 Jermichael Finley Green Bay Packers 1
Commons Printing Plates Yellow 76 Clay Matthews Green Bay Packers 1
Commons Printing Plates Yellow 77 Matt Schaub Houston Texans 1
Commons Printing Plates Yellow 78 Andre Johnson Houston Texans 1
Commons Printing Plates Yellow 79 DeVier Posey Houston Texans 1
Commons Printing Plates Yellow 80 Arian Foster Houston Texans 1
Commons Printing Plates Yellow 81 Owen Daniels Houston Texans 1
Commons Printing Plates Yellow 82 J.J. Watt Houston Texans 1
Commons Printing Plates Yellow 83 Andrew Luck Indianapolis Colts 1
Commons Printing Plates Yellow 84 Reggie Wayne Indianapolis Colts 1
Commons Printing Plates Yellow 85 T.Y. Hilton Indianapolis Colts 1
Commons Printing Plates Yellow 86 Vick Ballard Indianapolis Colts 1
Commons Printing Plates Yellow 87 Donald Brown Indianapolis Colts 1
Commons Printing Plates Yellow 88 Jerrell Freeman Indianapolis Colts 1
Commons Printing Plates Yellow 89 Blaine Gabbert Jacksonville Jaguars 1
Commons Printing Plates Yellow 90 Cecil Shorts III Jacksonville Jaguars 1
Commons Printing Plates Yellow 91 Justin Blackmon Jacksonville Jaguars 1
Commons Printing Plates Yellow 92 Maurice Jones-Drew Jacksonville Jaguars 1
Commons Printing Plates Yellow 93 Rashad Jennings Jacksonville Jaguars 1
Commons Printing Plates Yellow 94 Marcedes Lewis Jacksonville Jaguars 1
Commons Printing Plates Yellow 95 Dwayne Bowe Kansas City Chiefs 1
Commons Printing Plates Yellow 96 Jonathan Baldwin Kansas City Chiefs 1
Commons Printing Plates Yellow 97 Jamaal Charles Kansas City Chiefs 1
Commons Printing Plates Yellow 98 Alex Smith Kansas City Chiefs 1
Commons Printing Plates Yellow 99 Tony Moeaki Kansas City Chiefs 1
Commons Printing Plates Yellow 100 Tamba Hali Kansas City Chiefs 1
Commons Printing Plates Yellow 101 Ryan Tannehill Miami Dolphins 1
Commons Printing Plates Yellow 102 Brian Hartline Miami Dolphins 1
Commons Printing Plates Yellow 103 Mike Wallace Miami Dolphins 1
Commons Printing Plates Yellow 104 Daniel Thomas Miami Dolphins 1
Commons Printing Plates Yellow 105 Dustin Keller Miami Dolphins 1
Commons Printing Plates Yellow 106 Cameron Wake Miami Dolphins 1
Commons Printing Plates Yellow 107 Christian Ponder Minnesota Vikings 1
Commons Printing Plates Yellow 108 Greg Jennings Minnesota Vikings 1
Commons Printing Plates Yellow 109 Jarius Wright Minnesota Vikings 1
Commons Printing Plates Yellow 110 Adrian Peterson Minnesota Vikings 1
Commons Printing Plates Yellow 111 Kyle Rudolph Minnesota Vikings 1
Commons Printing Plates Yellow 112 Jared Allen Minnesota Vikings 1
Commons Printing Plates Yellow 113 Tom Brady New England Patriots 1
Commons Printing Plates Yellow 114 Danny Amendola New England Patriots 1
Commons Printing Plates Yellow 115 Shane Vereen New England Patriots 1
Commons Printing Plates Yellow 116 Stevan Ridley New England Patriots 1
Commons Printing Plates Yellow 117 Rob Gronkowski New England Patriots 1
Commons Printing Plates Yellow 118 Aaron Hernandez New England Patriots 1
Commons Printing Plates Yellow 119 Vince Wilfork New England Patriots 1
Commons Printing Plates Yellow 120 Drew Brees New Orleans Saints 1
Commons Printing Plates Yellow 121 Marques Colston New Orleans Saints 1
Commons Printing Plates Yellow 122 Lance Moore New Orleans Saints 1
Commons Printing Plates Yellow 123 Darren Sproles New Orleans Saints 1
Commons Printing Plates Yellow 124 Mark Ingram New Orleans Saints 1
Commons Printing Plates Yellow 125 Jimmy Graham New Orleans Saints 1
Commons Printing Plates Yellow 126 Eli Manning New York Giants 1
Commons Printing Plates Yellow 127 Hakeem Nicks New York Giants 1
Commons Printing Plates Yellow 128 Victor Cruz New York Giants 1
Commons Printing Plates Yellow 129 Andre Brown New York Giants 1
Commons Printing Plates Yellow 130 David Wilson New York Giants 1
Commons Printing Plates Yellow 131 Brandon Myers New York Giants 1
Commons Printing Plates Yellow 132 Mark Sanchez New York Jets 1
Commons Printing Plates Yellow 133 Santonio Holmes New York Jets 1
Commons Printing Plates Yellow 134 Joe McKnight New York Jets 1
Commons Printing Plates Yellow 135 Bilal Powell New York Jets 1
Commons Printing Plates Yellow 136 Jeremy Kerley New York Jets 1
Commons Printing Plates Yellow 137 Darrelle Revis New York Jets 1
Commons Printing Plates Yellow 138 Matt Flynn Oakland Raiders 1
Commons Printing Plates Yellow 139 Jacoby Ford Oakland Raiders 1
Commons Printing Plates Yellow 140 Denarius Moore Oakland Raiders 1
Commons Printing Plates Yellow 141 Darren McFadden Oakland Raiders 1
Commons Printing Plates Yellow 142 Richard Seymour Oakland Raiders 1
Commons Printing Plates Yellow 143 Marcel Reece Oakland Raiders 1
Commons Printing Plates Yellow 144 Nick Foles Philadelphia Eagles 1
Commons Printing Plates Yellow 145 DeSean Jackson Philadelphia Eagles 1
Commons Printing Plates Yellow 146 Jeremy Maclin Philadelphia Eagles 1
Commons Printing Plates Yellow 147 LeSean McCoy Philadelphia Eagles 1
Commons Printing Plates Yellow 148 Brent Celek Philadelphia Eagles 1
Commons Printing Plates Yellow 149 Bryce Brown Philadelphia Eagles 1
Commons Printing Plates Yellow 150 Michael Vick Philadelphia Eagles 1
Commons Printing Plates Yellow 151 Ben Roethlisberger Pittsburgh Steelers 1
Commons Printing Plates Yellow 152 Plaxico Burress Pittsburgh Steelers 1
Commons Printing Plates Yellow 153 Antonio Brown Pittsburgh Steelers 1
Commons Printing Plates Yellow 154 Jonathan Dwyer Pittsburgh Steelers 1
Commons Printing Plates Yellow 155 Isaac Redman Pittsburgh Steelers 1
Commons Printing Plates Yellow 156 Heath Miller Pittsburgh Steelers 1
Commons Printing Plates Yellow 157 Troy Polamalu Pittsburgh Steelers 1
Commons Printing Plates Yellow 158 Sam Bradford St. Louis Rams 1
Commons Printing Plates Yellow 159 Jared Cook St. Louis Rams 1
Commons Printing Plates Yellow 160 Chris Givens St. Louis Rams 1
Commons Printing Plates Yellow 161 Isaiah Pead St. Louis Rams 1
Commons Printing Plates Yellow 162 Daryl Richardson St. Louis Rams 1
Commons Printing Plates Yellow 163 James Laurinaitis St. Louis Rams 1
Commons Printing Plates Yellow 164 Philip Rivers San Diego Chargers 1
Commons Printing Plates Yellow 165 Malcom Floyd San Diego Chargers 1
Commons Printing Plates Yellow 166 Robert Meachem San Diego Chargers 1
Commons Printing Plates Yellow 167 Vincent Brown San Diego Chargers 1
Commons Printing Plates Yellow 168 Ryan Mathews San Diego Chargers 1
Commons Printing Plates Yellow 169 Antonio Gates San Diego Chargers 1
Commons Printing Plates Yellow 170 Colin Kaepernick San Francisco 49ers 1
Commons Printing Plates Yellow 171 Michael Crabtree San Francisco 49ers 1
Commons Printing Plates Yellow 172 Frank Gore San Francisco 49ers 1
Commons Printing Plates Yellow 173 Vernon Davis San Francisco 49ers 1
Commons Printing Plates Yellow 174 Patrick Willis San Francisco 49ers 1
Commons Printing Plates Yellow 175 Anquan Boldin San Francisco 49ers 1
Commons Printing Plates Yellow 176 Russell Wilson Seattle Seahawks 1
Commons Printing Plates Yellow 177 Sidney Rice Seattle Seahawks 1
Commons Printing Plates Yellow 178 Golden Tate Seattle Seahawks 1
Commons Printing Plates Yellow 179 Marshawn Lynch Seattle Seahawks 1
Commons Printing Plates Yellow 180 Percy Harvin Seattle Seahawks 1
Commons Printing Plates Yellow 181 Richard Sherman Seattle Seahawks 1
Commons Printing Plates Yellow 182 Josh Freeman Tampa Bay Buccaneers 1
Commons Printing Plates Yellow 183 Vincent Jackson Tampa Bay Buccaneers 1
Commons Printing Plates Yellow 184 Mike Williams Tampa Bay Buccaneers 1
Commons Printing Plates Yellow 185 Doug Martin Tampa Bay Buccaneers 1
Commons Printing Plates Yellow 186 Dallas Clark Tampa Bay Buccaneers 1
Commons Printing Plates Yellow 187 Lavonte David Tampa Bay Buccaneers 1
Commons Printing Plates Yellow 188 Jake Locker Tennessee Titans 1
Commons Printing Plates Yellow 189 Kenny Britt Tennessee Titans 1
Commons Printing Plates Yellow 190 Kendall Wright Tennessee Titans 1
Commons Printing Plates Yellow 191 Nate Washington Tennessee Titans 1
Commons Printing Plates Yellow 192 Chris Johnson Tennessee Titans 1
Commons Printing Plates Yellow 193 Shonn Greene Tennessee Titans 1
Commons Printing Plates Yellow 194 Robert Griffin III Washington Redskins 1
Commons Printing Plates Yellow 195 Pierre Garcon Washington Redskins 1
Commons Printing Plates Yellow 196 Santana Moss Washington Redskins 1
Commons Printing Plates Yellow 197 Alfred Morris Washington Redskins 1
Commons Printing Plates Yellow 198 Fred Davis Washington Redskins 1
Commons Printing Plates Yellow 199 Brian Orakpo Washington Redskins 1
Commons Printing Plates Yellow 200 Ryan Kerrigan Washington Redskins 1
Connections Materials 1 Tom Brady New England Patriots 299
Wes Welker New England Patriots
Connections Materials 2 Joe Flacco Baltimore Ravens 199
Torrey Smith Baltimore Ravens
Connections Materials 3 Mark Sanchez New York Jets 299
Santonio Holmes New York Jets
Connections Materials 4 Carson Palmer Oakland Raiders 299
Darrius Heyward-Bey Oakland Raiders
Connections Materials 5 Antonio Gates San Diego Chargers 199
Philip Rivers San Diego Chargers
Connections Materials 6 Brandon Marshall Chicago Bears 99
Jay Cutler Chicago Bears
Connections Materials 7 Christian Ponder Minnesota Vikings 299
Percy Harvin Minnesota Vikings
Connections Materials 8 Julio Jones Atlanta Falcons 199
Matt Ryan Atlanta Falcons
Connections Materials 9 Dez Bryant Dallas Cowboys 299
Tony Romo Dallas Cowboys
Connections Materials 10 Drew Brees New Orleans Saints 299
Marques Colston New Orleans Saints
Connections Materials 11 Eli Manning New York Giants 199
Hakeem Nicks New York Giants
Connections Materials 12 DeSean Jackson Philadelphia Eagles 299
Michael Vick Philadelphia Eagles
Connections Materials 13 Andre Johnson Houston Texans 25
Arian Foster Houston Texans
Connections Materials 14 Daniel Thomas Miami Dolphins 299
Reggie Bush Miami Dolphins
Connections Materials 15 Demaryius Thomas Denver Broncos 299
Eric Decker Denver Broncos
Connections Materials 16 Fred Davis Washington Redskins 299
Santana Moss Washington Redskins
Connections Materials 17 Beanie Wells Arizona Cardinals 299
Larry Fitzgerald Arizona Cardinals
Connections Materials 18 Michael Crabtree San Francisco 49ers 199
Vernon Davis San Francisco 49ers
Connections Materials 19 Andrew Luck Indianapolis Colts 299
Coby Fleener Indianapolis Colts
Connections Materials 20 DeAngelo Williams Carolina Panthers 199
Jonathan Stewart Carolina Panthers
Connections Materials Prime 1 Tom Brady New England Patriots 5
Wes Welker New England Patriots
Connections Materials Prime 2 Joe Flacco Baltimore Ravens 25
Torrey Smith Baltimore Ravens
Connections Materials Prime 3 Mark Sanchez New York Jets 25
Santonio Holmes New York Jets
Connections Materials Prime 4 Carson Palmer Oakland Raiders 25
Darrius Heyward-Bey Oakland Raiders
Connections Materials Prime 5 Antonio Gates San Diego Chargers 25
Philip Rivers San Diego Chargers
Connections Materials Prime 6 Brandon Marshall Chicago Bears 25
Jay Cutler Chicago Bears
Connections Materials Prime 7 Christian Ponder Minnesota Vikings 25
Percy Harvin Minnesota Vikings
Connections Materials Prime 8 Julio Jones Atlanta Falcons 25
Matt Ryan Atlanta Falcons
Connections Materials Prime 9 Dez Bryant Dallas Cowboys 25
Tony Romo Dallas Cowboys
Connections Materials Prime 10 Drew Brees New Orleans Saints 25
Marques Colston New Orleans Saints
Connections Materials Prime 11 Eli Manning New York Giants 25
Hakeem Nicks New York Giants
Connections Materials Prime 12 DeSean Jackson Philadelphia Eagles 25
Michael Vick Philadelphia Eagles
Connections Materials Prime 14 Daniel Thomas Miami Dolphins 25
Reggie Bush Miami Dolphins
Connections Materials Prime 15 Demaryius Thomas Denver Broncos 25
Eric Decker Denver Broncos
Connections Materials Prime 16 Fred Davis Washington Redskins 25
Santana Moss Washington Redskins
Connections Materials Prime 17 Beanie Wells Arizona Cardinals 25
Larry Fitzgerald Arizona Cardinals
Connections Materials Prime 18 Michael Crabtree San Francisco 49ers 25
Vernon Davis San Francisco 49ers
Connections Materials Prime 19 Andrew Luck Indianapolis Colts 25
Coby Fleener Indianapolis Colts
Connections Materials Prime 20 DeAngelo Williams Carolina Panthers 25
Jonathan Stewart Carolina Panthers
Draft City Destination 1 Cordarrelle Patterson Minnesota Vikings
Draft City Destination 2 Tavon Austin St. Louis Rams
Draft City Destination 3 DeAndre Hopkins Houston Texans
Draft City Destination 4 EJ Manuel Buffalo Bills
Draft City Destination 5 Tyler Eifert Cincinnati Bengals
Draft City Destination 6 Geno Smith New York Jets
Draft City Destination 7 Keenan Allen San Diego Chargers
Draft City Destination 8 Eddie Lacy Green Bay Packers
Draft City Destination 9 Mike Glennon Tampa Bay Buccaneers
Draft City Destination 10 Robert Woods Buffalo Bills
Draft City Destination 11 Giovani Bernard Cincinnati Bengals
Draft City Destination 12 Justin Hunter Tennessee Titans
Draft City Destination 13 Terrance Williams Dallas Cowboys
Draft City Destination 14 Markus Wheaton Pittsburgh Steelers
Draft City Destination 15 Montee Ball Denver Broncos
Draft City Destination 16 Zach Ertz Philadelphia Eagles
Draft City Destination 17 Aaron Dobson New England Patriots
Draft City Destination 18 Le'Veon Bell Pittsburgh Steelers
Draft City Destination 19 Stedman Bailey St. Louis Rams
Draft City Destination 20 Christine Michael Seattle Seahawks
Draft City Destination Holokote 1 Cordarrelle Patterson Minnesota Vikings 100
Draft City Destination Holokote 2 Tavon Austin St. Louis Rams 100
Draft City Destination Holokote 3 DeAndre Hopkins Houston Texans 100
Draft City Destination Holokote 4 EJ Manuel Buffalo Bills 100
Draft City Destination Holokote 5 Tyler Eifert Cincinnati Bengals 100
Draft City Destination Holokote 6 Geno Smith New York Jets 100
Draft City Destination Holokote 7 Keenan Allen San Diego Chargers 100
Draft City Destination Holokote 8 Eddie Lacy Green Bay Packers 100
Draft City Destination Holokote 9 Mike Glennon Tampa Bay Buccaneers 100
Draft City Destination Holokote 10 Robert Woods Buffalo Bills 100
Draft City Destination Holokote 11 Giovani Bernard Cincinnati Bengals 100
Draft City Destination Holokote 12 Justin Hunter Tennessee Titans 100
Draft City Destination Holokote 13 Terrance Williams Dallas Cowboys 100
Draft City Destination Holokote 14 Markus Wheaton Pittsburgh Steelers 100
Draft City Destination Holokote 15 Montee Ball Denver Broncos 100
Draft City Destination Holokote 16 Zach Ertz Philadelphia Eagles 100
Draft City Destination Holokote 17 Aaron Dobson New England Patriots 100
Draft City Destination Holokote 18 Le'Veon Bell Pittsburgh Steelers 100
Draft City Destination Holokote 19 Stedman Bailey St. Louis Rams 100
Draft City Destination Holokote 20 Christine Michael Seattle Seahawks 100
Draft City Destination Signatures 1 Cordarrelle Patterson Minnesota Vikings
Draft City Destination Signatures 2 Tavon Austin St. Louis Rams
Draft City Destination Signatures 3 DeAndre Hopkins Houston Texans
Draft City Destination Signatures 4 EJ Manuel Buffalo Bills
Draft City Destination Signatures 5 Tyler Eifert Cincinnati Bengals
Draft City Destination Signatures 6 Geno Smith New York Jets
Draft City Destination Signatures 7 Keenan Allen San Diego Chargers
Draft City Destination Signatures 8 Eddie Lacy Green Bay Packers
Draft City Destination Signatures 9 Mike Glennon Tampa Bay Buccaneers
Draft City Destination Signatures 10 Robert Woods Buffalo Bills
Draft City Destination Signatures 11 Giovani Bernard Cincinnati Bengals
Draft City Destination Signatures 12 Justin Hunter Tennessee Titans
Draft City Destination Signatures 13 Terrance Williams Dallas Cowboys
Draft City Destination Signatures 14 Markus Wheaton Pittsburgh Steelers
Draft City Destination Signatures 15 Montee Ball Denver Broncos
Draft City Destination Signatures 16 Zach Ertz Philadelphia Eagles
Draft City Destination Signatures 17 Aaron Dobson New England Patriots
Draft City Destination Signatures 18 Le'Veon Bell Pittsburgh Steelers
Draft City Destination Signatures 19 Stedman Bailey St. Louis Rams
Draft City Destination Signatures 20 Christine Michael Seattle Seahawks
Draft Pick Rights 1 Tavon Austin St. Louis Rams 25
Draft Pick Rights 2 EJ Manuel Buffalo Bills 25
Draft Pick Rights 3 Tyler Eifert Cincinnati Bengals 25
Draft Pick Rights 4 DeAndre Hopkins Houston Texans 25
Draft Pick Rights 5 Cordarrelle Patterson Minnesota Vikings 25
Draft Pick Rights 6 Geno Smith New York Jets 5
Draft Pick Rights 7 Eddie Lacy Green Bay Packers 25
Draft Pick Rights 8 Montee Ball Denver Broncos 25
Draft Pick Rights 9 Robert Woods Buffalo Bills 25
Draft Pick Rights 10 Zach Ertz Philadelphia Eagles 25
Draft Pick Rights 11 Manti Te'o San Diego Chargers 25
Draft Pick Rights 12 Justin Hunter Tennessee Titans 25
Draft Pick Rights 13 Giovani Bernard Cincinnati Bengals 25
Draft Pick Rights 14 Gavin Escobar Dallas Cowboys 25
Draft Pick Rights 15 Le'Veon Bell Pittsburgh Steelers 25
Extra Points Black Signatures 1 Aaron Hernandez New England Patriots 49
Extra Points Black Signatures 2 Adrian Peterson Minnesota Vikings 10
Extra Points Black Signatures 4 Anquan Boldin San Francisco 49ers 10
Extra Points Black Signatures 5 Antoine Bethea Indianapolis Colts 49
Extra Points Black Signatures 6 Antonio Brown Pittsburgh Steelers 5
Extra Points Black Signatures 7 Antonio Gates San Diego Chargers 1
Extra Points Black Signatures 8 Ben Roethlisberger Pittsburgh Steelers 20
Extra Points Black Signatures 9 Brandon LaFell Carolina Panthers 10
Extra Points Black Signatures 10 Brandon Lloyd New England Patriots 10
Extra Points Black Signatures 11 Brandon Pettigrew Detroit Lions 25
Extra Points Black Signatures 12 Brent Celek Philadelphia Eagles 99
Extra Points Black Signatures 13 Brian Orakpo Washington Redskins 1
Extra Points Black Signatures 14 Cam Newton Carolina Panthers 10
Extra Points Black Signatures 15 Champ Bailey Denver Broncos 99
Extra Points Black Signatures 16 David Nelson Buffalo Bills 49
Extra Points Black Signatures 17 DeMarcus Ware Dallas Cowboys 5
Extra Points Black Signatures 18 Demaryius Thomas Denver Broncos 25
Extra Points Black Signatures 19 Denarius Moore Oakland Raiders 99
Extra Points Black Signatures 20 Derrick Johnson Kansas City Chiefs 99
Extra Points Black Signatures 21 DeSean Jackson Philadelphia Eagles 25
Extra Points Black Signatures 22 Dexter McCluster Kansas City Chiefs 99
Extra Points Black Signatures 23 Drew Brees New Orleans Saints 10
Extra Points Black Signatures 24 Dustin Keller Miami Dolphins 99
Extra Points Black Signatures 25 Greg Olsen Carolina Panthers 49
Extra Points Black Signatures 26 Jared Allen Minnesota Vikings 25
Extra Points Black Signatures 27 Jared Cook St. Louis Rams 49
Extra Points Black Signatures 28 Jason Pierre-Paul New York Giants 5
Extra Points Black Signatures 29 Jeremy Maclin Philadelphia Eagles 49
Extra Points Black Signatures 30 Jermaine Gresham Cincinnati Bengals 10
Extra Points Black Signatures 31 Jermichael Finley Green Bay Packers 10
Extra Points Black Signatures 32 Jerod Mayo New England Patriots 49
Extra Points Black Signatures 33 J.J. Watt Houston Texans 25
Extra Points Black Signatures 34 Jonathan Baldwin Kansas City Chiefs 99
Extra Points Black Signatures 35 Jonathan Stewart Carolina Panthers 49
Extra Points Black Signatures 36 Josh Freeman Tampa Bay Buccaneers 25
Extra Points Black Signatures 37 Kenny Britt Tennessee Titans 99
Extra Points Black Signatures 38 Kevin Walter Tennessee Titans 49
Extra Points Black Signatures 39 Knowshon Moreno Denver Broncos 49
Extra Points Black Signatures 40 Kyle Rudolph Minnesota Vikings 99
Extra Points Black Signatures 41 Matt Ryan Atlanta Falcons 10
Extra Points Black Signatures 42 Mike Wallace Miami Dolphins 25
Extra Points Black Signatures 43 Owen Daniels Houston Texans 49
Extra Points Black Signatures 44 Patrick Peterson Arizona Cardinals 49
Extra Points Black Signatures 45 Reggie Wayne Indianapolis Colts 10
Extra Points Black Signatures 46 Randall Cobb Green Bay Packers 49
Extra Points Black Signatures 47 Sean Lee Dallas Cowboys 49
Extra Points Black Signatures 48 Torrey Smith Baltimore Ravens 5
Extra Points Black Signatures 49 Von Miller Denver Broncos 10
Extra Points Black Signatures 50 Christian Ponder Minnesota Vikings 25
Extra Points Green 1 Carson Palmer Arizona Cardinals 25
Extra Points Green 2 Larry Fitzgerald Arizona Cardinals 25
Extra Points Green 3 Michael Floyd Arizona Cardinals 25
Extra Points Green 4 Ryan Williams Arizona Cardinals 25
Extra Points Green 5 Rashard Mendenhall Arizona Cardinals 25
Extra Points Green 6 Patrick Peterson Arizona Cardinals 25
Extra Points Green 7 Matt Ryan Atlanta Falcons 25
Extra Points Green 8 Roddy White Atlanta Falcons 25
Extra Points Green 9 Julio Jones Atlanta Falcons 25
Extra Points Green 10 Steven Jackson Atlanta Falcons 25
Extra Points Green 11 Jacquizz Rodgers Atlanta Falcons 25
Extra Points Green 12 Sean Weatherspoon Atlanta Falcons 25
Extra Points Green 13 Joe Flacco Baltimore Ravens 25
Extra Points Green 14 Haloti Ngata Baltimore Ravens 25
Extra Points Green 15 Torrey Smith Baltimore Ravens 25
Extra Points Green 16 Ray Rice Baltimore Ravens 25
Extra Points Green 17 Dennis Pitta Baltimore Ravens 25
Extra Points Green 18 Jacoby Jones Baltimore Ravens 25
Extra Points Green 19 Terrell Suggs Baltimore Ravens 25
Extra Points Green 20 Tarvaris Jackson Buffalo Bills 25
Extra Points Green 21 Steve Johnson Buffalo Bills 25
Extra Points Green 22 Kevin Kolb Buffalo Bills 25
Extra Points Green 23 C.J. Spiller Buffalo Bills 25
Extra Points Green 24 Fred Jackson Buffalo Bills 25
Extra Points Green 25 Scott Chandler Buffalo Bills 25
Extra Points Green 26 Cam Newton Carolina Panthers 25
Extra Points Green 27 Steve Smith Carolina Panthers 25
Extra Points Green 28 Brandon LaFell Carolina Panthers 25
Extra Points Green 29 DeAngelo Williams Carolina Panthers 25
Extra Points Green 30 Jonathan Stewart Carolina Panthers 25
Extra Points Green 31 Greg Olsen Carolina Panthers 25
Extra Points Green 32 Jay Cutler Chicago Bears 25
Extra Points Green 33 Brandon Marshall Chicago Bears 25
Extra Points Green 34 Devin Hester Chicago Bears 25
Extra Points Green 35 Matt Forte Chicago Bears 25
Extra Points Green 36 Michael Bush Chicago Bears 25
Extra Points Green 37 Charles Tillman Chicago Bears 25
Extra Points Green 38 Lance Briggs Chicago Bears 25
Extra Points Green 39 Andy Dalton Cincinnati Bengals 25
Extra Points Green 40 A.J. Green Cincinnati Bengals 25
Extra Points Green 41 Andrew Hawkins Cincinnati Bengals 25
Extra Points Green 42 BenJarvus Green-Ellis Cincinnati Bengals 25
Extra Points Green 43 Jermaine Gresham Cincinnati Bengals 25
Extra Points Green 44 Rey Maualuga Cincinnati Bengals 25
Extra Points Green 45 Brandon Weeden Cleveland Browns 25
Extra Points Green 46 Greg Little Cleveland Browns 25
Extra Points Green 47 Josh Gordon Cleveland Browns 25
Extra Points Green 48 Josh Cribbs Cleveland Browns 25
Extra Points Green 49 Trent Richardson Cleveland Browns 25
Extra Points Green 50 Joe Haden Cleveland Browns 25
Extra Points Green 51 Tony Romo Dallas Cowboys 25
Extra Points Green 52 Dez Bryant Dallas Cowboys 25
Extra Points Green 53 Miles Austin Dallas Cowboys 25
Extra Points Green 54 DeMarco Murray Dallas Cowboys 25
Extra Points Green 55 Jason Witten Dallas Cowboys 25
Extra Points Green 56 DeMarcus Ware Dallas Cowboys 25
Extra Points Green 57 Sean Lee Dallas Cowboys 25
Extra Points Green 58 Peyton Manning Denver Broncos 25
Extra Points Green 59 Demaryius Thomas Denver Broncos 25
Extra Points Green 60 Eric Decker Denver Broncos 25
Extra Points Green 61 Willis McGahee Denver Broncos 25
Extra Points Green 62 Wes Welker Denver Broncos 25
Extra Points Green 63 Von Miller Denver Broncos 25
Extra Points Green 64 Matthew Stafford Detroit Lions 25
Extra Points Green 65 Calvin Johnson Jr. Detroit Lions 25
Extra Points Green 66 Ryan Broyles Detroit Lions 25
Extra Points Green 67 Mikel Leshoure Detroit Lions 25
Extra Points Green 68 Brandon Pettigrew Detroit Lions 25
Extra Points Green 69 Ndamukong Suh Detroit Lions 25
Extra Points Green 70 Reggie Bush Detroit Lions 25
Extra Points Green 71 Aaron Rodgers Green Bay Packers 25
Extra Points Green 72 James Jones Green Bay Packers 25
Extra Points Green 73 Jordy Nelson Green Bay Packers 25
Extra Points Green 74 Randall Cobb Green Bay Packers 25
Extra Points Green 75 Jermichael Finley Green Bay Packers 25
Extra Points Green 76 Clay Matthews Green Bay Packers 25
Extra Points Green 77 Matt Schaub Houston Texans 25
Extra Points Green 78 Andre Johnson Houston Texans 25
Extra Points Green 79 DeVier Posey Houston Texans 25
Extra Points Green 80 Arian Foster Houston Texans 25
Extra Points Green 81 Owen Daniels Houston Texans 25
Extra Points Green 82 J.J. Watt Houston Texans 25
Extra Points Green 83 Andrew Luck Indianapolis Colts 25
Extra Points Green 84 Reggie Wayne Indianapolis Colts 25
Extra Points Green 85 T.Y. Hilton Indianapolis Colts 25
Extra Points Green 86 Vick Ballard Indianapolis Colts 25
Extra Points Green 87 Donald Brown Indianapolis Colts 25
Extra Points Green 88 Jerrell Freeman Indianapolis Colts 25
Extra Points Green 89 Blaine Gabbert Jacksonville Jaguars 25
Extra Points Green 90 Cecil Shorts III Jacksonville Jaguars 25
Extra Points Green 91 Justin Blackmon Jacksonville Jaguars 25
Extra Points Green 92 Maurice Jones-Drew Jacksonville Jaguars 25
Extra Points Green 93 Rashad Jennings Jacksonville Jaguars 25
Extra Points Green 94 Marcedes Lewis Jacksonville Jaguars 25
Extra Points Green 95 Dwayne Bowe Kansas City Chiefs 25
Extra Points Green 96 Jonathan Baldwin Kansas City Chiefs 25
Extra Points Green 97 Jamaal Charles Kansas City Chiefs 25
Extra Points Green 98 Alex Smith Kansas City Chiefs 25
Extra Points Green 99 Tony Moeaki Kansas City Chiefs 25
Extra Points Green 100 Tamba Hali Kansas City Chiefs 25
Extra Points Green 101 Ryan Tannehill Miami Dolphins 25
Extra Points Green 102 Brian Hartline Miami Dolphins 25
Extra Points Green 103 Mike Wallace Miami Dolphins 25
Extra Points Green 104 Daniel Thomas Miami Dolphins 25
Extra Points Green 105 Dustin Keller Miami Dolphins 25
Extra Points Green 106 Cameron Wake Miami Dolphins 25
Extra Points Green 107 Christian Ponder Minnesota Vikings 25
Extra Points Green 108 Greg Jennings Minnesota Vikings 25
Extra Points Green 109 Jarius Wright Minnesota Vikings 25
Extra Points Green 110 Adrian Peterson Minnesota Vikings 25
Extra Points Green 111 Kyle Rudolph Minnesota Vikings 25
Extra Points Green 112 Jared Allen Minnesota Vikings 25
Extra Points Green 113 Tom Brady New England Patriots 25
Extra Points Green 114 Danny Amendola New England Patriots 25
Extra Points Green 115 Shane Vereen New England Patriots 25
Extra Points Green 116 Stevan Ridley New England Patriots 25
Extra Points Green 117 Rob Gronkowski New England Patriots 25
Extra Points Green 118 Aaron Hernandez New England Patriots 25
Extra Points Green 119 Vince Wilfork New England Patriots 25
Extra Points Green 120 Drew Brees New Orleans Saints 25
Extra Points Green 121 Marques Colston New Orleans Saints 25
Extra Points Green 122 Lance Moore New Orleans Saints 25
Extra Points Green 123 Darren Sproles New Orleans Saints 25
Extra Points Green 124 Mark Ingram New Orleans Saints 25
Extra Points Green 125 Jimmy Graham New Orleans Saints 25
Extra Points Green 126 Eli Manning New York Giants 25
Extra Points Green 127 Hakeem Nicks New York Giants 25
Extra Points Green 128 Victor Cruz New York Giants 25
Extra Points Green 129 Andre Brown New York Giants 25
Extra Points Green 130 David Wilson New York Giants 25
Extra Points Green 131 Brandon Myers New York Giants 25
Extra Points Green 132 Mark Sanchez New York Jets 25
Extra Points Green 133 Santonio Holmes New York Jets 25
Extra Points Green 134 Joe McKnight New York Jets 25
Extra Points Green 135 Bilal Powell New York Jets 25
Extra Points Green 136 Jeremy Kerley New York Jets 25
Extra Points Green 137 Darrelle Revis New York Jets 25
Extra Points Green 138 Matt Flynn Oakland Raiders 25
Extra Points Green 139 Jacoby Ford Oakland Raiders 25
Extra Points Green 140 Denarius Moore Oakland Raiders 25
Extra Points Green 141 Darren McFadden Oakland Raiders 25
Extra Points Green 142 Richard Seymour Oakland Raiders 25
Extra Points Green 143 Marcel Reece Oakland Raiders 25
Extra Points Green 144 Nick Foles Philadelphia Eagles 25
Extra Points Green 145 DeSean Jackson Philadelphia Eagles 25
Extra Points Green 146 Jeremy Maclin Philadelphia Eagles 25
Extra Points Green 147 LeSean McCoy Philadelphia Eagles 25
Extra Points Green 148 Brent Celek Philadelphia Eagles 25
Extra Points Green 149 Bryce Brown Philadelphia Eagles 25
Extra Points Green 150 Michael Vick Philadelphia Eagles 25
Extra Points Green 151 Ben Roethlisberger Pittsburgh Steelers 25
Extra Points Green 152 Plaxico Burress Pittsburgh Steelers 25
Extra Points Green 153 Antonio Brown Pittsburgh Steelers 25
Extra Points Green 154 Jonathan Dwyer Pittsburgh Steelers 25
Extra Points Green 155 Isaac Redman Pittsburgh Steelers 25
Extra Points Green 156 Heath Miller Pittsburgh Steelers 25
Extra Points Green 157 Troy Polamalu Pittsburgh Steelers 25
Extra Points Green 158 Sam Bradford St. Louis Rams 25
Extra Points Green 159 Jared Cook St. Louis Rams 25
Extra Points Green 160 Chris Givens St. Louis Rams 25
Extra Points Green 161 Isaiah Pead St. Louis Rams 25
Extra Points Green 162 Daryl Richardson St. Louis Rams 25
Extra Points Green 163 James Laurinaitis St. Louis Rams 25
Extra Points Green 164 Philip Rivers San Diego Chargers 25
Extra Points Green 165 Malcom Floyd San Diego Chargers 25
Extra Points Green 166 Robert Meachem San Diego Chargers 25
Extra Points Green 167 Vincent Brown San Diego Chargers 25
Extra Points Green 168 Ryan Mathews San Diego Chargers 25
Extra Points Green 169 Antonio Gates San Diego Chargers 25
Extra Points Green 170 Colin Kaepernick San Francisco 49ers 25
Extra Points Green 171 Michael Crabtree San Francisco 49ers 25
Extra Points Green 172 Frank Gore San Francisco 49ers 25
Extra Points Green 173 Vernon Davis San Francisco 49ers 25
Extra Points Green 174 Patrick Willis San Francisco 49ers 25
Extra Points Green 175 Anquan Boldin San Francisco 49ers 25
Extra Points Green 176 Russell Wilson Seattle Seahawks 25
Extra Points Green 177 Sidney Rice Seattle Seahawks 25
Extra Points Green 178 Golden Tate Seattle Seahawks 25
Extra Points Green 179 Marshawn Lynch Seattle Seahawks 25
Extra Points Green 180 Percy Harvin Seattle Seahawks 25
Extra Points Green 181 Richard Sherman Seattle Seahawks 25
Extra Points Green 182 Josh Freeman Tampa Bay Buccaneers 25
Extra Points Green 183 Vincent Jackson Tampa Bay Buccaneers 25
Extra Points Green 184 Mike Williams Tampa Bay Buccaneers 25
Extra Points Green 185 Doug Martin Tampa Bay Buccaneers 25
Extra Points Green 186 Dallas Clark Tampa Bay Buccaneers 25
Extra Points Green 187 Lavonte David Tampa Bay Buccaneers 25
Extra Points Green 188 Jake Locker Tennessee Titans 25
Extra Points Green 189 Kenny Britt Tennessee Titans 25
Extra Points Green 190 Kendall Wright Tennessee Titans 25
Extra Points Green 191 Nate Washington Tennessee Titans 25
Extra Points Green 192 Chris Johnson Tennessee Titans 25
Extra Points Green 193 Shonn Greene Tennessee Titans 25
Extra Points Green 194 Robert Griffin III Washington Redskins 25
Extra Points Green 195 Pierre Garcon Washington Redskins 25
Extra Points Green 196 Santana Moss Washington Redskins 25
Extra Points Green 197 Alfred Morris Washington Redskins 25
Extra Points Green 198 Fred Davis Washington Redskins 25
Extra Points Green 199 Brian Orakpo Washington Redskins 25
Extra Points Green 200 Ryan Kerrigan Washington Redskins 25
Extra Points Purple 1 Carson Palmer Arizona Cardinals 100
Extra Points Purple 2 Larry Fitzgerald Arizona Cardinals 100
Extra Points Purple 3 Michael Floyd Arizona Cardinals 100
Extra Points Purple 4 Ryan Williams Arizona Cardinals 100
Extra Points Purple 5 Rashard Mendenhall Arizona Cardinals 100
Extra Points Purple 6 Patrick Peterson Arizona Cardinals 100
Extra Points Purple 7 Matt Ryan Atlanta Falcons 100
Extra Points Purple 8 Roddy White Atlanta Falcons 100
Extra Points Purple 9 Julio Jones Atlanta Falcons 100
Extra Points Purple 10 Steven Jackson Atlanta Falcons 100
Extra Points Purple 11 Jacquizz Rodgers Atlanta Falcons 100
Extra Points Purple 12 Sean Weatherspoon Atlanta Falcons 100
Extra Points Purple 13 Joe Flacco Baltimore Ravens 100
Extra Points Purple 14 Haloti Ngata Baltimore Ravens 100
Extra Points Purple 15 Torrey Smith Baltimore Ravens 100
Extra Points Purple 16 Ray Rice Baltimore Ravens 100
Extra Points Purple 17 Dennis Pitta Baltimore Ravens 100
Extra Points Purple 18 Jacoby Jones Baltimore Ravens 100
Extra Points Purple 19 Terrell Suggs Baltimore Ravens 100
Extra Points Purple 20 Tarvaris Jackson Buffalo Bills 100
Extra Points Purple 21 Steve Johnson Buffalo Bills 100
Extra Points Purple 22 Kevin Kolb Buffalo Bills 100
Extra Points Purple 23 C.J. Spiller Buffalo Bills 100
Extra Points Purple 24 Fred Jackson Buffalo Bills 100
Extra Points Purple 25 Scott Chandler Buffalo Bills 100
Extra Points Purple 26 Cam Newton Carolina Panthers 100
Extra Points Purple 27 Steve Smith Carolina Panthers 100
Extra Points Purple 28 Brandon LaFell Carolina Panthers 100
Extra Points Purple 29 DeAngelo Williams Carolina Panthers 100
Extra Points Purple 30 Jonathan Stewart Carolina Panthers 100
Extra Points Purple 31 Greg Olsen Carolina Panthers 100
Extra Points Purple 32 Jay Cutler Chicago Bears 100
Extra Points Purple 33 Brandon Marshall Chicago Bears 100
Extra Points Purple 34 Devin Hester Chicago Bears 100
Extra Points Purple 35 Matt Forte Chicago Bears 100
Extra Points Purple 36 Michael Bush Chicago Bears 100
Extra Points Purple 37 Charles Tillman Chicago Bears 100
Extra Points Purple 38 Lance Briggs Chicago Bears 100
Extra Points Purple 39 Andy Dalton Cincinnati Bengals 100
Extra Points Purple 40 A.J. Green Cincinnati Bengals 100
Extra Points Purple 41 Andrew Hawkins Cincinnati Bengals 100
Extra Points Purple 42 BenJarvus Green-Ellis Cincinnati Bengals 100
Extra Points Purple 43 Jermaine Gresham Cincinnati Bengals 100
Extra Points Purple 44 Rey Maualuga Cincinnati Bengals 100
Extra Points Purple 45 Brandon Weeden Cleveland Browns 100
Extra Points Purple 46 Greg Little Cleveland Browns 100
Extra Points Purple 47 Josh Gordon Cleveland Browns 100
Extra Points Purple 48 Josh Cribbs Cleveland Browns 100
Extra Points Purple 49 Trent Richardson Cleveland Browns 100
Extra Points Purple 50 Joe Haden Cleveland Browns 100
Extra Points Purple 51 Tony Romo Dallas Cowboys 100
Extra Points Purple 52 Dez Bryant Dallas Cowboys 100
Extra Points Purple 53 Miles Austin Dallas Cowboys 100
Extra Points Purple 54 DeMarco Murray Dallas Cowboys 100
Extra Points Purple 55 Jason Witten Dallas Cowboys 100
Extra Points Purple 56 DeMarcus Ware Dallas Cowboys 100
Extra Points Purple 57 Sean Lee Dallas Cowboys 100
Extra Points Purple 58 Peyton Manning Denver Broncos 100
Extra Points Purple 59 Demaryius Thomas Denver Broncos 100
Extra Points Purple 60 Eric Decker Denver Broncos 100
Extra Points Purple 61 Willis McGahee Denver Broncos 100
Extra Points Purple 62 Wes Welker Denver Broncos 100
Extra Points Purple 63 Von Miller Denver Broncos 100
Extra Points Purple 64 Matthew Stafford Detroit Lions 100
Extra Points Purple 65 Calvin Johnson Jr. Detroit Lions 100
Extra Points Purple 66 Ryan Broyles Detroit Lions 100
Extra Points Purple 67 Mikel Leshoure Detroit Lions 100
Extra Points Purple 68 Brandon Pettigrew Detroit Lions 100
Extra Points Purple 69 Ndamukong Suh Detroit Lions 100
Extra Points Purple 70 Reggie Bush Detroit Lions 100
Extra Points Purple 71 Aaron Rodgers Green Bay Packers 100
Extra Points Purple 72 James Jones Green Bay Packers 100
Extra Points Purple 73 Jordy Nelson Green Bay Packers 100
Extra Points Purple 74 Randall Cobb Green Bay Packers 100
Extra Points Purple 75 Jermichael Finley Green Bay Packers 100
Extra Points Purple 76 Clay Matthews Green Bay Packers 100
Extra Points Purple 77 Matt Schaub Houston Texans 100
Extra Points Purple 78 Andre Johnson Houston Texans 100
Extra Points Purple 79 DeVier Posey Houston Texans 100
Extra Points Purple 80 Arian Foster Houston Texans 100
Extra Points Purple 81 Owen Daniels Houston Texans 100
Extra Points Purple 82 J.J. Watt Houston Texans 100
Extra Points Purple 83 Andrew Luck Indianapolis Colts 100
Extra Points Purple 84 Reggie Wayne Indianapolis Colts 100
Extra Points Purple 85 T.Y. Hilton Indianapolis Colts 100
Extra Points Purple 86 Vick Ballard Indianapolis Colts 100
Extra Points Purple 87 Donald Brown Indianapolis Colts 100
Extra Points Purple 88 Jerrell Freeman Indianapolis Colts 100
Extra Points Purple 89 Blaine Gabbert Jacksonville Jaguars 100
Extra Points Purple 90 Cecil Shorts III Jacksonville Jaguars 100
Extra Points Purple 91 Justin Blackmon Jacksonville Jaguars 100
Extra Points Purple 92 Maurice Jones-Drew Jacksonville Jaguars 100
Extra Points Purple 93 Rashad Jennings Jacksonville Jaguars 100
Extra Points Purple 94 Marcedes Lewis Jacksonville Jaguars 100
Extra Points Purple 95 Dwayne Bowe Kansas City Chiefs 100
Extra Points Purple 96 Jonathan Baldwin Kansas City Chiefs 100
Extra Points Purple 97 Jamaal Charles Kansas City Chiefs 100
Extra Points Purple 98 Alex Smith Kansas City Chiefs 100
Extra Points Purple 99 Tony Moeaki Kansas City Chiefs 100
Extra Points Purple 100 Tamba Hali Kansas City Chiefs 100
Extra Points Purple 101 Ryan Tannehill Miami Dolphins 100
Extra Points Purple 102 Brian Hartline Miami Dolphins 100
Extra Points Purple 103 Mike Wallace Miami Dolphins 100
Extra Points Purple 104 Daniel Thomas Miami Dolphins 100
Extra Points Purple 105 Dustin Keller Miami Dolphins 100
Extra Points Purple 106 Cameron Wake Miami Dolphins 100
Extra Points Purple 107 Christian Ponder Minnesota Vikings 100
Extra Points Purple 108 Greg Jennings Minnesota Vikings 100
Extra Points Purple 109 Jarius Wright Minnesota Vikings 100
Extra Points Purple 110 Adrian Peterson Minnesota Vikings 100
Extra Points Purple 111 Kyle Rudolph Minnesota Vikings 100
Extra Points Purple 112 Jared Allen Minnesota Vikings 100
Extra Points Purple 113 Tom Brady New England Patriots 100
Extra Points Purple 114 Danny Amendola New England Patriots 100
Extra Points Purple 115 Shane Vereen New England Patriots 100
Extra Points Purple 116 Stevan Ridley New England Patriots 100
Extra Points Purple 117 Rob Gronkowski New England Patriots 100
Extra Points Purple 118 Aaron Hernandez New England Patriots 100
Extra Points Purple 119 Vince Wilfork New England Patriots 100
Extra Points Purple 120 Drew Brees New Orleans Saints 100
Extra Points Purple 121 Marques Colston New Orleans Saints 100
Extra Points Purple 122 Lance Moore New Orleans Saints 100
Extra Points Purple 123 Darren Sproles New Orleans Saints 100
Extra Points Purple 124 Mark Ingram New Orleans Saints 100
Extra Points Purple 125 Jimmy Graham New Orleans Saints 100
Extra Points Purple 126 Eli Manning New York Giants 100
Extra Points Purple 127 Hakeem Nicks New York Giants 100
Extra Points Purple 128 Victor Cruz New York Giants 100
Extra Points Purple 129 Andre Brown New York Giants 100
Extra Points Purple 130 David Wilson New York Giants 100
Extra Points Purple 131 Brandon Myers New York Giants 100
Extra Points Purple 132 Mark Sanchez New York Jets 100
Extra Points Purple 133 Santonio Holmes New York Jets 100
Extra Points Purple 134 Joe McKnight New York Jets 100
Extra Points Purple 135 Bilal Powell New York Jets 100
Extra Points Purple 136 Jeremy Kerley New York Jets 100
Extra Points Purple 137 Darrelle Revis New York Jets 100
Extra Points Purple 138 Matt Flynn Oakland Raiders 100
Extra Points Purple 139 Jacoby Ford Oakland Raiders 100
Extra Points Purple 140 Denarius Moore Oakland Raiders 100
Extra Points Purple 141 Darren McFadden Oakland Raiders 100
Extra Points Purple 142 Richard Seymour Oakland Raiders 100
Extra Points Purple 143 Marcel Reece Oakland Raiders 100
Extra Points Purple 144 Nick Foles Philadelphia Eagles 100
Extra Points Purple 145 DeSean Jackson Philadelphia Eagles 100
Extra Points Purple 146 Jeremy Maclin Philadelphia Eagles 100
Extra Points Purple 147 LeSean McCoy Philadelphia Eagles 100
Extra Points Purple 148 Brent Celek Philadelphia Eagles 100
Extra Points Purple 149 Bryce Brown Philadelphia Eagles 100
Extra Points Purple 150 Michael Vick Philadelphia Eagles 100
Extra Points Purple 151 Ben Roethlisberger Pittsburgh Steelers 100
Extra Points Purple 152 Plaxico Burress Pittsburgh Steelers 100
Extra Points Purple 153 Antonio Brown Pittsburgh Steelers 100
Extra Points Purple 154 Jonathan Dwyer Pittsburgh Steelers 100
Extra Points Purple 155 Isaac Redman Pittsburgh Steelers 100
Extra Points Purple 156 Heath Miller Pittsburgh Steelers 100
Extra Points Purple 157 Troy Polamalu Pittsburgh Steelers 100
Extra Points Purple 158 Sam Bradford St. Louis Rams 100
Extra Points Purple 159 Jared Cook St. Louis Rams 100
Extra Points Purple 160 Chris Givens St. Louis Rams 100
Extra Points Purple 161 Isaiah Pead St. Louis Rams 100
Extra Points Purple 162 Daryl Richardson St. Louis Rams 100
Extra Points Purple 163 James Laurinaitis St. Louis Rams 100
Extra Points Purple 164 Philip Rivers San Diego Chargers 100
Extra Points Purple 165 Malcom Floyd San Diego Chargers 100
Extra Points Purple 166 Robert Meachem San Diego Chargers 100
Extra Points Purple 167 Vincent Brown San Diego Chargers 100
Extra Points Purple 168 Ryan Mathews San Diego Chargers 100
Extra Points Purple 169 Antonio Gates San Diego Chargers 100
Extra Points Purple 170 Colin Kaepernick San Francisco 49ers 100
Extra Points Purple 171 Michael Crabtree San Francisco 49ers 100
Extra Points Purple 172 Frank Gore San Francisco 49ers 100
Extra Points Purple 173 Vernon Davis San Francisco 49ers 100
Extra Points Purple 174 Patrick Willis San Francisco 49ers 100
Extra Points Purple 175 Anquan Boldin San Francisco 49ers 100
Extra Points Purple 176 Russell Wilson Seattle Seahawks 100
Extra Points Purple 177 Sidney Rice Seattle Seahawks 100
Extra Points Purple 178 Golden Tate Seattle Seahawks 100
Extra Points Purple 179 Marshawn Lynch Seattle Seahawks 100
Extra Points Purple 180 Percy Harvin Seattle Seahawks 100
Extra Points Purple 181 Richard Sherman Seattle Seahawks 100
Extra Points Purple 182 Josh Freeman Tampa Bay Buccaneers 100
Extra Points Purple 183 Vincent Jackson Tampa Bay Buccaneers 100
Extra Points Purple 184 Mike Williams Tampa Bay Buccaneers 100
Extra Points Purple 185 Doug Martin Tampa Bay Buccaneers 100
Extra Points Purple 186 Dallas Clark Tampa Bay Buccaneers 100
Extra Points Purple 187 Lavonte David Tampa Bay Buccaneers 100
Extra Points Purple 188 Jake Locker Tennessee Titans 100
Extra Points Purple 189 Kenny Britt Tennessee Titans 100
Extra Points Purple 190 Kendall Wright Tennessee Titans 100
Extra Points Purple 191 Nate Washington Tennessee Titans 100
Extra Points Purple 192 Chris Johnson Tennessee Titans 100
Extra Points Purple 193 Shonn Greene Tennessee Titans 100
Extra Points Purple 194 Robert Griffin III Washington Redskins 100
Extra Points Purple 195 Pierre Garcon Washington Redskins 100
Extra Points Purple 196 Santana Moss Washington Redskins 100
Extra Points Purple 197 Alfred Morris Washington Redskins 100
Extra Points Purple 198 Fred Davis Washington Redskins 100
Extra Points Purple 199 Brian Orakpo Washington Redskins 100
Extra Points Purple 200 Ryan Kerrigan Washington Redskins 100
Fantasy Team 1 Drew Brees New Orleans Saints
Fantasy Team 2 Aaron Rodgers Green Bay Packers
Fantasy Team 3 Tom Brady New England Patriots
Fantasy Team 4 Cam Newton Carolina Panthers
Fantasy Team 5 Robert Griffin III Washington Redskins
Fantasy Team 6 Peyton Manning Denver Broncos
Fantasy Team 7 Matt Ryan Atlanta Falcons
Fantasy Team 8 Tony Romo Dallas Cowboys
Fantasy Team 9 Andrew Luck Indianapolis Colts
Fantasy Team 10 Russell Wilson Seattle Seahawks
Fantasy Team 11 Adrian Peterson Minnesota Vikings
Fantasy Team 12 Doug Martin Tampa Bay Buccaneers
Fantasy Team 13 Arian Foster Houston Texans
Fantasy Team 14 Marshawn Lynch Seattle Seahawks
Fantasy Team 15 Alfred Morris Washington Redskins
Fantasy Team 16 Calvin Johnson Jr. Detroit Lions
Fantasy Team 17 Brandon Marshall Chicago Bears
Fantasy Team 18 Dez Bryant Dallas Cowboys
Fantasy Team 19 A.J. Green Cincinnati Bengals
Fantasy Team 20 Demaryius Thomas Denver Broncos
Fantasy Team 21 Jimmy Graham New Orleans Saints
Fantasy Team 22 Rob Gronkowski New England Patriots
Fantasy Team 23 Tony Gonzalez Atlanta Falcons
Fantasy Team 24 Heath Miller Pittsburgh Steelers
Fantasy Team 25 Jason Witten Dallas Cowboys
Gamers 1 A.J. Green Cincinnati Bengals
Gamers 2 Adrian Peterson Minnesota Vikings
Gamers 3 Ahmad Bradshaw New York Giants
Gamers 4 Andy Dalton Cincinnati Bengals
Gamers 5 Anquan Boldin San Francisco 49ers
Gamers 6 Anthony Fasano Kansas City Chiefs
Gamers 7 Antonio Gates San Diego Chargers
Gamers 8 Arian Foster Houston Texans
Gamers 9 Beanie Wells Arizona Cardinals
Gamers 10 BenJarvus Green-Ellis Cincinnati Bengals
Gamers 11 Brian Orakpo Washington Redskins
Gamers 12 Brian Urlacher Chicago Bears
Gamers 13 C.J. Spiller Buffalo Bills
Gamers 14 Carson Palmer Oakland Raiders
Gamers 15 Champ Bailey Denver Broncos
Gamers 16 Chris Long St. Louis Rams
Gamers 17 Christian Ponder Minnesota Vikings
Gamers 18 Darrelle Revis New York Jets
Gamers 19 Darren McFadden Oakland Raiders
Gamers 20 Darren Sproles New Orleans Saints
Gamers 21 Darrius Heyward-Bey Oakland Raiders
Gamers 22 Davone Bess Miami Dolphins
Gamers 23 DeAngelo Hall Washington Redskins
Gamers 24 DeAngelo Williams Carolina Panthers
Gamers 25 DeMarco Murray Dallas Cowboys
Gamers 26 DeMarcus Ware Dallas Cowboys
Gamers 27 Demaryius Thomas Denver Broncos
Gamers 28 Denarius Moore Oakland Raiders
Gamers 29 DeSean Jackson Philadelphia Eagles
Gamers 30 Devin Hester Chicago Bears
Gamers 31 Dez Bryant Dallas Cowboys
Gamers 32 Drew Brees New Orleans Saints
Gamers 33 Dustin Keller Miami Dolphins
Gamers 34 Dwayne Bowe Kansas City Chiefs
Gamers 35 Earl Bennett Chicago Bears
Gamers 36 Eli Manning New York Giants
Gamers 37 Eric Decker Denver Broncos
Gamers 38 Fred Davis Washington Redskins
Gamers 39 Fred Jackson Buffalo Bills
Gamers 40 Hakeem Nicks New York Giants
Gamers 41 Jamaal Charles Kansas City Chiefs
Gamers 42 James Laurinaitis St. Louis Rams
Gamers 43 Jared Allen Minnesota Vikings
Gamers 44 Jason Witten Dallas Cowboys
Gamers 45 Jay Cutler Chicago Bears
Gamers 46 Jeremy Maclin Philadelphia Eagles
Gamers 47 Jermaine Gresham Cincinnati Bengals
Gamers 48 Jimmy Graham New Orleans Saints
Gamers 49 Joe Flacco Baltimore Ravens
Gamers 50 Jonathan Stewart Carolina Panthers
Gamers 51 Josh Freeman Tampa Bay Buccaneers
Gamers 52 Julio Jones Atlanta Falcons
Gamers 53 Julius Peppers Chicago Bears
Gamers 54 Justin Tuck New York Giants
Gamers 55 Karlos Dansby Miami Dolphins
Gamers 56 Kenny Britt Tennessee Titans
Gamers 57 Knowshon Moreno Denver Broncos
Gamers 58 Kyle Rudolph Minnesota Vikings
Gamers 59 Lance Briggs Chicago Bears
Gamers 60 Larry Fitzgerald Arizona Cardinals
Gamers 61 London Fletcher Washington Redskins
Gamers 62 Malcom Floyd San Diego Chargers
Gamers 63 Marcedes Lewis Jacksonville Jaguars
Gamers 64 Mark Sanchez New York Jets
Gamers 65 Marques Colston New Orleans Saints
Gamers 66 Matt Forte Chicago Bears
Gamers 67 Matt Ryan Atlanta Falcons
Gamers 68 Maurice Jones-Drew Jacksonville Jaguars
Gamers 69 Michael Crabtree San Francisco 49ers
Gamers 70 Michael Turner Atlanta Falcons
Gamers 71 Michael Vick Philadelphia Eagles
Gamers 72 Mike Wallace Pittsburgh Steelers
Gamers 73 Miles Austin Dallas Cowboys
Gamers 74 Osi Umenyiora New York Giants
Gamers 75 Percy Harvin Seattle Seahawks
Gamers 76 Philip Rivers San Diego Chargers
Gamers 77 Ray Lewis Baltimore Ravens
Gamers 78 Ray Rice Baltimore Ravens
Gamers 79 Reggie Bush Detroit Lions
Gamers 80 Richard Seymour Oakland Raiders
Gamers 81 Roddy White Atlanta Falcons
Gamers 82 Ryan Fitzpatrick Tennessee Titans
Gamers 83 Ryan Mathews San Diego Chargers
Gamers 84 Sam Bradford St. Louis Rams
Gamers 85 Santana Moss Washington Redskins
Gamers 86 Santonio Holmes New York Jets
Gamers 87 Shonn Greene Tennessee Titans
Gamers 88 Sidney Rice Seattle Seahawks
Gamers 89 Steve Johnson Buffalo Bills
Gamers 90 Steve Smith Carolina Panthers
Gamers 91 Steven Jackson Atlanta Falcons
Gamers 92 Tamba Hali Kansas City Chiefs
Gamers 93 Tom Brady New England Patriots
Gamers 94 Tony Gonzalez Atlanta Falcons
Gamers 95 Torrey Smith Baltimore Ravens
Gamers 96 Vernon Davis San Francisco 49ers
Gamers 97 Von Miller Denver Broncos
Gamers 98 Wes Welker Denver Broncos
Gamers 99 Willis McGahee Denver Broncos
Gamers 100 Zach Miller Seattle Seahawks
Gamers Prime 1 A.J. Green Cincinnati Bengals
Gamers Prime 2 Adrian Peterson Minnesota Vikings
Gamers Prime 3 Ahmad Bradshaw New York Giants
Gamers Prime 4 Andy Dalton Cincinnati Bengals
Gamers Prime 5 Anquan Boldin San Francisco 49ers
Gamers Prime 6 Anthony Fasano Kansas City Chiefs
Gamers Prime 7 Antonio Gates San Diego Chargers
Gamers Prime 8 Arian Foster Houston Texans
Gamers Prime 9 Beanie Wells Arizona Cardinals
Gamers Prime 10 BenJarvus Green-Ellis Cincinnati Bengals
Gamers Prime 11 Brian Orakpo Washington Redskins
Gamers Prime 12 Brian Urlacher Chicago Bears
Gamers Prime 13 C.J. Spiller Buffalo Bills
Gamers Prime 14 Carson Palmer Oakland Raiders
Gamers Prime 15 Champ Bailey Denver Broncos
Gamers Prime 16 Chris Long St. Louis Rams
Gamers Prime 17 Christian Ponder Minnesota Vikings
Gamers Prime 18 Darrelle Revis New York Jets
Gamers Prime 19 Darren McFadden Oakland Raiders
Gamers Prime 20 Darren Sproles New Orleans Saints
Gamers Prime 21 Darrius Heyward-Bey Oakland Raiders
Gamers Prime 22 Davone Bess Miami Dolphins
Gamers Prime 23 DeAngelo Hall Washington Redskins
Gamers Prime 24 DeAngelo Williams Carolina Panthers
Gamers Prime 25 DeMarco Murray Dallas Cowboys
Gamers Prime 26 DeMarcus Ware Dallas Cowboys
Gamers Prime 27 Demaryius Thomas Denver Broncos
Gamers Prime 28 Denarius Moore Oakland Raiders
Gamers Prime 29 DeSean Jackson Philadelphia Eagles
Gamers Prime 30 Devin Hester Chicago Bears
Gamers Prime 31 Dez Bryant Dallas Cowboys
Gamers Prime 32 Drew Brees New Orleans Saints
Gamers Prime 33 Dustin Keller Miami Dolphins
Gamers Prime 34 Dwayne Bowe Kansas City Chiefs
Gamers Prime 35 Earl Bennett Chicago Bears
Gamers Prime 36 Eli Manning New York Giants
Gamers Prime 37 Eric Decker Denver Broncos
Gamers Prime 38 Fred Davis Washington Redskins
Gamers Prime 39 Fred Jackson Buffalo Bills
Gamers Prime 40 Hakeem Nicks New York Giants
Gamers Prime 41 Jamaal Charles Kansas City Chiefs
Gamers Prime 42 James Laurinaitis St. Louis Rams
Gamers Prime 43 Jared Allen Minnesota Vikings
Gamers Prime 44 Jason Witten Dallas Cowboys
Gamers Prime 45 Jay Cutler Chicago Bears
Gamers Prime 46 Jeremy Maclin Philadelphia Eagles
Gamers Prime 47 Jermaine Gresham Cincinnati Bengals
Gamers Prime 48 Jimmy Graham New Orleans Saints
Gamers Prime 49 Joe Flacco Baltimore Ravens
Gamers Prime 50 Jonathan Stewart Carolina Panthers
Gamers Prime 51 Josh Freeman Tampa Bay Buccaneers
Gamers Prime 52 Julio Jones Atlanta Falcons
Gamers Prime 53 Julius Peppers Chicago Bears
Gamers Prime 54 Justin Tuck New York Giants
Gamers Prime 55 Karlos Dansby Miami Dolphins
Gamers Prime 56 Kenny Britt Tennessee Titans
Gamers Prime 57 Knowshon Moreno Denver Broncos
Gamers Prime 58 Kyle Rudolph Minnesota Vikings
Gamers Prime 59 Lance Briggs Chicago Bears
Gamers Prime 60 Larry Fitzgerald Arizona Cardinals
Gamers Prime 61 London Fletcher Washington Redskins
Gamers Prime 62 Malcom Floyd San Diego Chargers
Gamers Prime 63 Marcedes Lewis Jacksonville Jaguars
Gamers Prime 64 Mark Sanchez New York Jets
Gamers Prime 65 Marques Colston New Orleans Saints
Gamers Prime 66 Matt Forte Chicago Bears
Gamers Prime 67 Matt Ryan Atlanta Falcons
Gamers Prime 68 Maurice Jones-Drew Jacksonville Jaguars
Gamers Prime 69 Michael Crabtree San Francisco 49ers
Gamers Prime 70 Michael Turner Atlanta Falcons
Gamers Prime 71 Michael Vick Philadelphia Eagles
Gamers Prime 72 Mike Wallace Pittsburgh Steelers
Gamers Prime 73 Miles Austin Dallas Cowboys
Gamers Prime 74 Osi Umenyiora New York Giants
Gamers Prime 75 Percy Harvin Seattle Seahawks
Gamers Prime 76 Philip Rivers San Diego Chargers
Gamers Prime 77 Ray Lewis Baltimore Ravens
Gamers Prime 78 Ray Rice Baltimore Ravens
Gamers Prime 79 Reggie Bush Detroit Lions
Gamers Prime 80 Richard Seymour Oakland Raiders
Gamers Prime 81 Roddy White Atlanta Falcons
Gamers Prime 82 Ryan Fitzpatrick Tennessee Titans
Gamers Prime 83 Ryan Mathews San Diego Chargers
Gamers Prime 84 Sam Bradford St. Louis Rams
Gamers Prime 85 Santana Moss Washington Redskins
Gamers Prime 86 Santonio Holmes New York Jets
Gamers Prime 87 Shonn Greene Tennessee Titans
Gamers Prime 88 Sidney Rice Seattle Seahawks
Gamers Prime 89 Steve Johnson Buffalo Bills
Gamers Prime 90 Steve Smith Carolina Panthers
Gamers Prime 91 Steven Jackson Atlanta Falcons
Gamers Prime 92 Tamba Hali Kansas City Chiefs
Gamers Prime 93 Tom Brady New England Patriots
Gamers Prime 94 Tony Gonzalez Atlanta Falcons
Gamers Prime 95 Torrey Smith Baltimore Ravens
Gamers Prime 96 Vernon Davis San Francisco 49ers
Gamers Prime 97 Von Miller Denver Broncos
Gamers Prime 98 Wes Welker Denver Broncos
Gamers Prime 99 Willis McGahee Denver Broncos
Gamers Prime 100 Zach Miller Seattle Seahawks
Inside the Numbers 1 Aaron Rodgers Green Bay Packers
Inside the Numbers 2 Eli Manning New York Giants
Inside the Numbers 3 Matt Schaub Houston Texans
Inside the Numbers 4 Matthew Stafford Detroit Lions
Inside the Numbers 5 Drew Brees New Orleans Saints
Inside the Numbers 6 Peyton Manning Denver Broncos
Inside the Numbers 7 Andy Dalton Cincinnati Bengals
Inside the Numbers 8 Cam Newton Carolina Panthers
Inside the Numbers 9 Tom Brady New England Patriots
Inside the Numbers 10 Tony Romo Dallas Cowboys
Inside the Numbers 11 Adrian Peterson Minnesota Vikings
Inside the Numbers 12 DeMarco Murray Dallas Cowboys
Inside the Numbers 13 Ray Rice Baltimore Ravens
Inside the Numbers 14 C.J. Spiller Buffalo Bills
Inside the Numbers 15 LeSean McCoy Philadelphia Eagles
Inside the Numbers 16 Calvin Johnson Jr. Detroit Lions
Inside the Numbers 17 Andre Johnson Houston Texans
Inside the Numbers 18 Julio Jones Atlanta Falcons
Inside the Numbers 19 Eric Decker Denver Broncos
Inside the Numbers 20 Michael Crabtree San Francisco 49ers
Inside the Numbers 21 Jimmy Graham New Orleans Saints
Inside the Numbers 22 Antonio Gates San Diego Chargers
Inside the Numbers 23 Aaron Hernandez New England Patriots
Inside the Numbers 24 Frank Gore San Francisco 49ers
Inside the Numbers 25 Chris Johnson Tennessee Titans
League Leaders Combo Materials 1 Jason Witten Dallas Cowboys 49
Tony Gonzalez Atlanta Falcons
League Leaders Combo Materials 2 BenJarvus Green-Ellis Cincinnati Bengals 199
Ray Rice Baltimore Ravens
League Leaders Combo Materials 3 C.J. Spiller Buffalo Bills 299
DeMarco Murray Dallas Cowboys
League Leaders Combo Materials 4 Michael Crabtree San Francisco 49ers 199
Mike Wallace Pittsburgh Steelers
League Leaders Combo Materials 5 Jay Cutler Chicago Bears 299
Tony Romo Dallas Cowboys
League Leaders Combo Materials Prime 1 Jason Witten Dallas Cowboys 25
Tony Gonzalez Atlanta Falcons
League Leaders Combo Materials Prime 2 BenJarvus Green-Ellis Cincinnati Bengals 25
Ray Rice Baltimore Ravens
League Leaders Combo Materials Prime 3 C.J. Spiller Buffalo Bills 25
DeMarco Murray Dallas Cowboys
League Leaders Combo Materials Prime 4 Michael Crabtree San Francisco 49ers 25
Mike Wallace Pittsburgh Steelers
League Leaders Combo Materials Prime 5 Jay Cutler Chicago Bears 25
Tony Romo Dallas Cowboys
League Leaders Materials 1 Adrian Peterson Minnesota Vikings 299
League Leaders Materials 2 Alfred Morris Washington Redskins 299
League Leaders Materials 3 Jamaal Charles Kansas City Chiefs 299
League Leaders Materials 4 Doug Martin Tampa Bay Buccaneers 299
League Leaders Materials 5 Drew Brees New Orleans Saints 299
League Leaders Materials 6 Tom Brady New England Patriots 199
League Leaders Materials 7 Matt Ryan Atlanta Falcons 299
League Leaders Materials 8 Eli Manning New York Giants 299
League Leaders Materials 9 Andy Dalton Cincinnati Bengals 299
League Leaders Materials 10 Demaryius Thomas Denver Broncos 299
League Leaders Materials 11 Dez Bryant Dallas Cowboys 199
League Leaders Materials 12 Wes Welker New England Patriots 299
League Leaders Materials 13 Roddy White Atlanta Falcons 99
League Leaders Materials 14 A.J. Green Cincinnati Bengals 299
League Leaders Materials 15 Von Miller Denver Broncos 299
League Leaders Materials 16 Cameron Wake Miami Dolphins 299
League Leaders Materials 18 James Laurinaitis St. Louis Rams 299
League Leaders Materials 19 Ed Reed Baltimore Ravens 299
League Leaders Materials 20 Jimmy Graham New Orleans Saints 199
League Leaders Materials Prime 1 Adrian Peterson Minnesota Vikings 25
League Leaders Materials Prime 2 Alfred Morris Washington Redskins 25
League Leaders Materials Prime 3 Jamaal Charles Kansas City Chiefs 25
League Leaders Materials Prime 4 Doug Martin Tampa Bay Buccaneers 25
League Leaders Materials Prime 5 Drew Brees New Orleans Saints 25
League Leaders Materials Prime 6 Tom Brady New England Patriots 5
League Leaders Materials Prime 7 Matt Ryan Atlanta Falcons 25
League Leaders Materials Prime 8 Eli Manning New York Giants 25
League Leaders Materials Prime 9 Andy Dalton Cincinnati Bengals 25
League Leaders Materials Prime 10 Demaryius Thomas Denver Broncos 25
League Leaders Materials Prime 11 Dez Bryant Dallas Cowboys 25
League Leaders Materials Prime 12 Wes Welker New England Patriots 10
League Leaders Materials Prime 13 Roddy White Atlanta Falcons 25
League Leaders Materials Prime 14 A.J. Green Cincinnati Bengals 25
League Leaders Materials Prime 15 Von Miller Denver Broncos 25
League Leaders Materials Prime 16 Cameron Wake Miami Dolphins 25
League Leaders Materials Prime 18 James Laurinaitis St. Louis Rams 25
League Leaders Materials Prime 19 Ed Reed Baltimore Ravens 25
League Leaders Materials Prime 20 Jimmy Graham New Orleans Saints 25
League Leaders Quad Materials 1 Drew Brees New Orleans Saints 299
Joe Flacco Baltimore Ravens
Matt Ryan Atlanta Falcons
Tom Brady New England Patriots
League Leaders Quad Materials 2 Ahmad Bradshaw New York Giants 299
Matt Forte Chicago Bears
Reggie Bush Miami Dolphins
Shonn Greene New York Jets
League Leaders Quad Materials 3 Eric Decker Denver Broncos 299
Julio Jones Atlanta Falcons
Marques Colston New Orleans Saints
Torrey Smith Baltimore Ravens
League Leaders Quad Materials 4 Jermaine Gresham Cincinnati Bengals 199
Jimmy Graham New Orleans Saints
Kyle Rudolph Minnesota Vikings
Vernon Davis San Francisco 49ers
League Leaders Quad Materials 5 Christian Ponder Minnesota Vikings 299
Eli Manning New York Giants
Hakeem Nicks New York Giants
Percy Harvin Minnesota Vikings
League Leaders Quad Materials Prime 1 Drew Brees New Orleans Saints 5
Joe Flacco Baltimore Ravens
Matt Ryan Atlanta Falcons
Tom Brady New England Patriots
League Leaders Quad Materials Prime 2 Ahmad Bradshaw New York Giants 25
Matt Forte Chicago Bears
Reggie Bush Miami Dolphins
Shonn Greene New York Jets
League Leaders Quad Materials Prime 3 Eric Decker Denver Broncos 25
Julio Jones Atlanta Falcons
Marques Colston New Orleans Saints
Torrey Smith Baltimore Ravens
League Leaders Quad Materials Prime 4 Jermaine Gresham Cincinnati Bengals 25
Jimmy Graham New Orleans Saints
Kyle Rudolph Minnesota Vikings
Vernon Davis San Francisco 49ers
League Leaders Quad Materials Prime 5 Christian Ponder Minnesota Vikings 25
Eli Manning New York Giants
Hakeem Nicks New York Giants
Percy Harvin Minnesota Vikings
NFL Draft Combo Materials 1 EJ Manuel Buffalo Bills 299
Tavon Austin St. Louis Rams
NFL Draft Combo Materials 2 Cordarrelle Patterson Minnesota Vikings 299
Tavon Austin St. Louis Rams
NFL Draft Combo Materials 3 Eric Fisher Kansas City Chiefs 299
Luke Joeckel Jacksonville Jaguars
NFL Draft Combo Materials 4 Dion Jordan Miami Dolphins 299
Ezekiel Ansah Detroit Lions
NFL Draft Combo Materials 5 Chance Warmack Tennessee Titans 299
Jonathan Cooper Arizona Cardinals
NFL Draft Combo Materials 6 Eric Reid San Francisco 49ers 299
Kenny Vaccaro New Orleans Saints
NFL Draft Combo Materials 7 Dee Milliner New York Jets 299
Xavier Rhodes Minnesota Vikings
NFL Draft Combo Materials 8 Sharrif Floyd Minnesota Vikings 299
Sheldon Richardson New York Jets
NFL Draft Combo Materials 9 Dee Milliner New York Jets 299
Sheldon Richardson New York Jets
NFL Draft Combo Materials 10 D.J. Fluker San Diego Chargers 299
Lane Johnson Philadelphia Eagles
NFL Draft Combo Materials 11 Barkevious Mingo Cleveland Browns 299
Bjoern Werner Indianapolis Colts
NFL Draft Combo Prime Materials 1 EJ Manuel Buffalo Bills 25
Tavon Austin St. Louis Rams
NFL Draft Combo Prime Materials 2 Cordarrelle Patterson Minnesota Vikings 25
Tavon Austin St. Louis Rams
NFL Draft Combo Prime Materials 3 Eric Fisher Kansas City Chiefs 25
Luke Joeckel Jacksonville Jaguars
NFL Draft Combo Prime Materials 4 Dion Jordan Miami Dolphins 25
Ezekiel Ansah Detroit Lions
NFL Draft Combo Prime Materials 5 Chance Warmack Tennessee Titans 25
Jonathan Cooper Arizona Cardinals
NFL Draft Combo Prime Materials 6 Eric Reid San Francisco 49ers 25
Kenny Vaccaro New Orleans Saints
NFL Draft Combo Prime Materials 7 Dee Milliner New York Jets 25
Xavier Rhodes Minnesota Vikings
NFL Draft Combo Prime Materials 8 Sharrif Floyd Minnesota Vikings 25
Sheldon Richardson New York Jets
NFL Draft Combo Prime Materials 9 Dee Milliner New York Jets 25
Sheldon Richardson New York Jets
NFL Draft Combo Prime Materials 10 D.J. Fluker San Diego Chargers 25
Lane Johnson Philadelphia Eagles
NFL Draft Combo Prime Materials 11 Barkevious Mingo Cleveland Browns 25
Bjoern Werner Indianapolis Colts
NFL Draft Materials 1 Eric Fisher Kansas City Chiefs 299
NFL Draft Materials 2 Luke Joeckel Jacksonville Jaguars 299
NFL Draft Materials 3 Dion Jordan Miami Dolphins 299
NFL Draft Materials 4 Lane Johnson Philadelphia Eagles 299
NFL Draft Materials 5 Ezekiel Ansah Detroit Lions 299
NFL Draft Materials 6 Barkevious Mingo Cleveland Browns 299
NFL Draft Materials 7 Jonathan Cooper Arizona Cardinals 299
NFL Draft Materials 8 Tavon Austin St. Louis Rams 299
NFL Draft Materials 9 Dee Milliner New York Jets 299
NFL Draft Materials 10 Chance Warmack Tennessee Titans 299
NFL Draft Materials 11 D.J. Fluker San Diego Chargers 299
NFL Draft Materials 12 Sheldon Richardson New York Jets 299
NFL Draft Materials 13 Kenny Vaccaro New Orleans Saints 299
NFL Draft Materials 14 EJ Manuel Buffalo Bills 299
NFL Draft Materials 15 Eric Reid San Francisco 49ers 299
NFL Draft Materials 16 Sharrif Floyd Minnesota Vikings 299
NFL Draft Materials 17 Bjoern Werner Indianapolis Colts 299
NFL Draft Materials 18 Xavier Rhodes Minnesota Vikings 299
NFL Draft Materials 19 Cordarrelle Patterson Minnesota Vikings 299
NFL Draft Picks – Black 1 Cordarrelle Patterson Minnesota Vikings 25
NFL Draft Picks – Black 2 Tavon Austin St. Louis Rams 25
NFL Draft Picks – Black 3 DeAndre Hopkins Houston Texans 25
NFL Draft Picks – Black 4 EJ Manuel Buffalo Bills 25
NFL Draft Picks – Black 5 Tyler Eifert Cincinnati Bengals 25
NFL Draft Picks – Black 6 Geno Smith New York Jets 25
NFL Draft Picks – Black 7 Keenan Allen San Diego Chargers 25
NFL Draft Picks – Black 8 Eddie Lacy Green Bay Packers 25
NFL Draft Picks – Black 9 Mike Glennon Tampa Bay Buccaneers 25
NFL Draft Picks – Black 10 Robert Woods Buffalo Bills 25
NFL Draft Picks – Black 11 Giovani Bernard Cincinnati Bengals 25
NFL Draft Picks – Black 12 Justin Hunter Tennessee Titans 25
NFL Draft Picks – Black 13 Terrance Williams Dallas Cowboys 25
NFL Draft Picks – Black 14 Markus Wheaton Pittsburgh Steelers 25
NFL Draft Picks – Black 15 Montee Ball Denver Broncos 25
NFL Draft Picks – Black 16 Zach Ertz Philadelphia Eagles 25
NFL Draft Picks – Black 17 Aaron Dobson New England Patriots 25
NFL Draft Picks – Black 18 Le'Veon Bell Pittsburgh Steelers 25
NFL Draft Picks – Black 19 Stedman Bailey St. Louis Rams 25
NFL Draft Picks – Black 20 Christine Michael Seattle Seahawks 25
NFL Draft Picks – Gold 1 Cordarrelle Patterson Minnesota Vikings
NFL Draft Picks – Gold 2 Tavon Austin St. Louis Rams
NFL Draft Picks – Gold 3 DeAndre Hopkins Houston Texans
NFL Draft Picks – Gold 4 EJ Manuel Buffalo Bills
NFL Draft Picks – Gold 5 Tyler Eifert Cincinnati Bengals
NFL Draft Picks – Gold 6 Geno Smith New York Jets
NFL Draft Picks – Gold 7 Keenan Allen San Diego Chargers
NFL Draft Picks – Gold 8 Eddie Lacy Green Bay Packers
NFL Draft Picks – Gold 9 Mike Glennon Tampa Bay Buccaneers
NFL Draft Picks – Gold 10 Robert Woods Buffalo Bills
NFL Draft Picks – Gold 11 Giovani Bernard Cincinnati Bengals
NFL Draft Picks – Gold 12 Justin Hunter Tennessee Titans
NFL Draft Picks – Gold 13 Terrance Williams Dallas Cowboys
NFL Draft Picks – Gold 14 Markus Wheaton Pittsburgh Steelers
NFL Draft Picks – Gold 15 Montee Ball Denver Broncos
NFL Draft Picks – Gold 16 Zach Ertz Philadelphia Eagles
NFL Draft Picks – Gold 17 Aaron Dobson New England Patriots
NFL Draft Picks – Gold 18 Le'Veon Bell Pittsburgh Steelers
NFL Draft Picks – Gold 19 Stedman Bailey St. Louis Rams
NFL Draft Picks – Gold 20 Christine Michael Seattle Seahawks
NFL Draft Picks – Platinum 1 Cordarrelle Patterson Minnesota Vikings 10
NFL Draft Picks – Platinum 2 Tavon Austin St. Louis Rams 10
NFL Draft Picks – Platinum 3 DeAndre Hopkins Houston Texans 10
NFL Draft Picks – Platinum 4 EJ Manuel Buffalo Bills 10
NFL Draft Picks – Platinum 5 Tyler Eifert Cincinnati Bengals 10
NFL Draft Picks – Platinum 6 Geno Smith New York Jets 10
NFL Draft Picks – Platinum 7 Keenan Allen San Diego Chargers 10
NFL Draft Picks – Platinum 8 Eddie Lacy Green Bay Packers 10
NFL Draft Picks – Platinum 9 Mike Glennon Tampa Bay Buccaneers 10
NFL Draft Picks – Platinum 10 Robert Woods Buffalo Bills 10
NFL Draft Picks – Platinum 11 Giovani Bernard Cincinnati Bengals 10
NFL Draft Picks – Platinum 12 Justin Hunter Tennessee Titans 10
NFL Draft Picks – Platinum 13 Terrance Williams Dallas Cowboys 10
NFL Draft Picks – Platinum 14 Markus Wheaton Pittsburgh Steelers 10
NFL Draft Picks – Platinum 15 Montee Ball Denver Broncos 10
NFL Draft Picks – Platinum 16 Zach Ertz Philadelphia Eagles 10
NFL Draft Picks – Platinum 17 Aaron Dobson New England Patriots 10
NFL Draft Picks – Platinum 18 Le'Veon Bell Pittsburgh Steelers 10
NFL Draft Picks – Platinum 19 Stedman Bailey St. Louis Rams 10
NFL Draft Picks – Platinum 20 Christine Michael Seattle Seahawks 10
NFL Draft Prime Materials 1 Eric Fisher Kansas City Chiefs 25
NFL Draft Prime Materials 2 Luke Joeckel Jacksonville Jaguars 25
NFL Draft Prime Materials 3 Dion Jordan Miami Dolphins 25
NFL Draft Prime Materials 4 Lane Johnson Philadelphia Eagles 25
NFL Draft Prime Materials 5 Ezekiel Ansah Detroit Lions 25
NFL Draft Prime Materials 6 Barkevious Mingo Cleveland Browns 25
NFL Draft Prime Materials 7 Jonathan Cooper Arizona Cardinals 25
NFL Draft Prime Materials 8 Tavon Austin St. Louis Rams 25
NFL Draft Prime Materials 9 Dee Milliner New York Jets 25
NFL Draft Prime Materials 10 Chance Warmack Tennessee Titans 25
NFL Draft Prime Materials 11 D.J. Fluker San Diego Chargers 25
NFL Draft Prime Materials 12 Sheldon Richardson New York Jets 25
NFL Draft Prime Materials 13 Kenny Vaccaro New Orleans Saints 25
NFL Draft Prime Materials 14 EJ Manuel Buffalo Bills 25
NFL Draft Prime Materials 15 Eric Reid San Francisco 49ers 25
NFL Draft Prime Materials 16 Sharrif Floyd Minnesota Vikings 25
NFL Draft Prime Materials 17 Bjoern Werner Indianapolis Colts 25
NFL Draft Prime Materials 18 Xavier Rhodes Minnesota Vikings 25
NFL Draft Prime Materials 19 Cordarrelle Patterson Minnesota Vikings 25
NFL Draft Tickets 1 Cordarrelle Patterson Minnesota Vikings
NFL Draft Tickets 2 Tavon Austin St. Louis Rams
NFL Draft Tickets 3 DeAndre Hopkins Houston Texans
NFL Draft Tickets 4 EJ Manuel Buffalo Bills
NFL Draft Tickets 5 Tyler Eifert Cincinnati Bengals
NFL Draft Tickets 6 Geno Smith New York Jets
NFL Draft Tickets 7 Keenan Allen San Diego Chargers
NFL Draft Tickets 8 Eddie Lacy Green Bay Packers
NFL Draft Tickets 9 Mike Glennon Tampa Bay Buccaneers
NFL Draft Tickets 10 Robert Woods Buffalo Bills
NFL Draft Tickets 11 Giovani Bernard Cincinnati Bengals
NFL Draft Tickets 12 Justin Hunter Tennessee Titans
NFL Draft Tickets 13 Terrance Williams Dallas Cowboys
NFL Draft Tickets 14 Markus Wheaton Pittsburgh Steelers
NFL Draft Tickets 15 Montee Ball Denver Broncos
NFL Draft Tickets 16 Zach Ertz Philadelphia Eagles
NFL Draft Tickets 17 Aaron Dobson New England Patriots
NFL Draft Tickets 18 Le'Veon Bell Pittsburgh Steelers
NFL Draft Tickets 19 Stepfan Taylor Arizona Cardinals
NFL Draft Tickets 20 Christine Michael Seattle Seahawks
NFL Draft Tickets 21 Marquise Goodwin Buffalo Bills
NFL Draft Tickets 22 Matt Barkley Philadelphia Eagles
NFL Draft Tickets 23 Tyler Wilson Oakland Raiders
NFL Draft Tickets 24 Quinton Patton San Francisco 49ers
NFL Draft Tickets 25 Ryan Nassib New York Giants
NFL Draft Tickets 26 Johnathan Franklin Green Bay Packers
NFL Draft Tickets 27 Marcus Lattimore San Francisco 49ers
NFL Draft Tickets 28 Landry Jones Pittsburgh Steelers
NFL Draft Tickets 29 Joseph Randle Dallas Cowboys
NFL Draft Tickets 30 Stedman Bailey St. Louis Rams
NFL Draft Tickets 31 Manti Te'o San Diego Chargers
NFL Draft Tickets 32 Vance McDonald San Francisco 49ers
NFL Draft Tickets 33 Denard Robinson Jacksonville Jaguars
NFL Draft Tickets 34 Andre Ellington Arizona Cardinals
NFL Draft Tickets 35 Kenny Stills New Orleans Saints
NFL Draft Tickets 36 Knile Davis Kansas City Chiefs
NFL Draft Tickets 37 Jordan Reed Washington Redskins
NFL Draft Tickets 38 Mike Gillislee Miami Dolphins
NFL Draft Tickets 39 Gavin Escobar Dallas Cowboys
NFL Draft Tickets 40 Dion Jordan Miami Dolphins
NFL Draft Tickets Holokote 1 Cordarrelle Patterson Minnesota Vikings 100
NFL Draft Tickets Holokote 2 Tavon Austin St. Louis Rams 100
NFL Draft Tickets Holokote 3 DeAndre Hopkins Houston Texans 100
NFL Draft Tickets Holokote 4 EJ Manuel Buffalo Bills 100
NFL Draft Tickets Holokote 5 Tyler Eifert Cincinnati Bengals 100
NFL Draft Tickets Holokote 6 Geno Smith New York Jets 100
NFL Draft Tickets Holokote 7 Keenan Allen San Diego Chargers 100
NFL Draft Tickets Holokote 8 Eddie Lacy Green Bay Packers 100
NFL Draft Tickets Holokote 9 Mike Glennon Tampa Bay Buccaneers 100
NFL Draft Tickets Holokote 10 Robert Woods Buffalo Bills 100
NFL Draft Tickets Holokote 11 Giovani Bernard Cincinnati Bengals 100
NFL Draft Tickets Holokote 12 Justin Hunter Tennessee Titans 100
NFL Draft Tickets Holokote 13 Terrance Williams Dallas Cowboys 100
NFL Draft Tickets Holokote 14 Markus Wheaton Pittsburgh Steelers 100
NFL Draft Tickets Holokote 15 Montee Ball Denver Broncos 100
NFL Draft Tickets Holokote 16 Zach Ertz Philadelphia Eagles 100
NFL Draft Tickets Holokote 17 Aaron Dobson New England Patriots 100
NFL Draft Tickets Holokote 18 Le'Veon Bell Pittsburgh Steelers 100
NFL Draft Tickets Holokote 19 Stepfan Taylor Arizona Cardinals 100
NFL Draft Tickets Holokote 20 Christine Michael Seattle Seahawks 100
NFL Draft Tickets Holokote 21 Marquise Goodwin Buffalo Bills 100
NFL Draft Tickets Holokote 22 Matt Barkley Philadelphia Eagles 100
NFL Draft Tickets Holokote 23 Tyler Wilson Oakland Raiders 100
NFL Draft Tickets Holokote 24 Quinton Patton San Francisco 49ers 100
NFL Draft Tickets Holokote 25 Ryan Nassib New York Giants 100
NFL Draft Tickets Holokote 26 Johnathan Franklin Green Bay Packers 100
NFL Draft Tickets Holokote 27 Marcus Lattimore San Francisco 49ers 100
NFL Draft Tickets Holokote 28 Landry Jones Pittsburgh Steelers 100
NFL Draft Tickets Holokote 29 Joseph Randle Dallas Cowboys 100
NFL Draft Tickets Holokote 30 Stedman Bailey St. Louis Rams 100
NFL Draft Tickets Holokote 31 Manti Te'o San Diego Chargers 100
NFL Draft Tickets Holokote 32 Vance McDonald San Francisco 49ers 100
NFL Draft Tickets Holokote 33 Denard Robinson Jacksonville Jaguars 100
NFL Draft Tickets Holokote 34 Andre Ellington Arizona Cardinals 100
NFL Draft Tickets Holokote 35 Kenny Stills New Orleans Saints 100
NFL Draft Tickets Holokote 36 Knile Davis Kansas City Chiefs 100
NFL Draft Tickets Holokote 37 Jordan Reed Washington Redskins 100
NFL Draft Tickets Holokote 38 Mike Gillislee Miami Dolphins 100
NFL Draft Tickets Holokote 39 Gavin Escobar Dallas Cowboys 100
NFL Draft Tickets Holokote 40 Dion Jordan Miami Dolphins 100
NFL Draft Tickets Signatures 1 Cordarrelle Patterson Minnesota Vikings
NFL Draft Tickets Signatures 2 Tavon Austin St. Louis Rams
NFL Draft Tickets Signatures 3 DeAndre Hopkins Houston Texans
NFL Draft Tickets Signatures 4 EJ Manuel Buffalo Bills
NFL Draft Tickets Signatures 5 Tyler Eifert Cincinnati Bengals
NFL Draft Tickets Signatures 6 Geno Smith New York Jets
NFL Draft Tickets Signatures 7 Keenan Allen San Diego Chargers
NFL Draft Tickets Signatures 8 Eddie Lacy Green Bay Packers
NFL Draft Tickets Signatures 9 Mike Glennon Tampa Bay Buccaneers
NFL Draft Tickets Signatures 10 Robert Woods Buffalo Bills
NFL Draft Tickets Signatures 11 Giovani Bernard Cincinnati Bengals
NFL Draft Tickets Signatures 12 Justin Hunter Tennessee Titans
NFL Draft Tickets Signatures 13 Terrance Williams Dallas Cowboys
NFL Draft Tickets Signatures 14 Markus Wheaton Pittsburgh Steelers
NFL Draft Tickets Signatures 15 Montee Ball Denver Broncos
NFL Draft Tickets Signatures 16 Zach Ertz Philadelphia Eagles
NFL Draft Tickets Signatures 17 Aaron Dobson New England Patriots
NFL Draft Tickets Signatures 18 Le'Veon Bell Pittsburgh Steelers
NFL Draft Tickets Signatures 19 Stepfan Taylor Arizona Cardinals
NFL Draft Tickets Signatures 20 Christine Michael Seattle Seahawks
NFL Draft Tickets Signatures 21 Marquise Goodwin Buffalo Bills
NFL Draft Tickets Signatures 22 Matt Barkley Philadelphia Eagles
NFL Draft Tickets Signatures 23 Tyler Wilson Oakland Raiders
NFL Draft Tickets Signatures 24 Quinton Patton San Francisco 49ers
NFL Draft Tickets Signatures 25 Ryan Nassib New York Giants
NFL Draft Tickets Signatures 26 Johnathan Franklin Green Bay Packers
NFL Draft Tickets Signatures 27 Marcus Lattimore San Francisco 49ers
NFL Draft Tickets Signatures 28 Landry Jones Pittsburgh Steelers
NFL Draft Tickets Signatures 29 Joseph Randle Dallas Cowboys
NFL Draft Tickets Signatures 30 Stedman Bailey St. Louis Rams
NFL Draft Tickets Signatures 31 Manti Te'o San Diego Chargers
NFL Draft Tickets Signatures 32 Vance McDonald San Francisco 49ers
NFL Draft Tickets Signatures 33 Denard Robinson Jacksonville Jaguars
NFL Draft Tickets Signatures 34 Andre Ellington Arizona Cardinals
NFL Draft Tickets Signatures 35 Kenny Stills New Orleans Saints
NFL Draft Tickets Signatures 36 Knile Davis Kansas City Chiefs
NFL Draft Tickets Signatures 37 Jordan Reed Washington Redskins
NFL Draft Tickets Signatures 38 Mike Gillislee Miami Dolphins
NFL Draft Tickets Signatures 39 Gavin Escobar Dallas Cowboys
NFL Draft Tickets Signatures 40 Dion Jordan Miami Dolphins
NFL Passport 1 Cordarrelle Patterson Minnesota Vikings
NFL Passport 2 Tavon Austin St. Louis Rams
NFL Passport 3 DeAndre Hopkins Houston Texans
NFL Passport 4 EJ Manuel Buffalo Bills
NFL Passport 5 Tyler Eifert Cincinnati Bengals
NFL Passport 6 Geno Smith New York Jets
NFL Passport 7 Keenan Allen San Diego Chargers
NFL Passport 8 Eddie Lacy Green Bay Packers
NFL Passport 9 Mike Glennon Tampa Bay Buccaneers
NFL Passport 10 Robert Woods Buffalo Bills
NFL Passport 11 Giovani Bernard Cincinnati Bengals
NFL Passport 12 Justin Hunter Tennessee Titans
NFL Passport 13 Terrance Williams Dallas Cowboys
NFL Passport 14 Markus Wheaton Pittsburgh Steelers
NFL Passport 15 Montee Ball Denver Broncos
NFL Passport 16 Zach Ertz Philadelphia Eagles
NFL Passport 17 Aaron Dobson New England Patriots
NFL Passport 18 Le'Veon Bell Pittsburgh Steelers
NFL Passport 19 Stepfan Taylor Arizona Cardinals
NFL Passport 20 Christine Michael Seattle Seahawks
NFL Passport 21 Marquise Goodwin Buffalo Bills
NFL Passport 22 Matt Barkley Philadelphia Eagles
NFL Passport 23 Tyler Wilson Oakland Raiders
NFL Passport 24 Quinton Patton San Francisco 49ers
NFL Passport 25 Ryan Nassib New York Giants
NFL Passport 26 Johnathan Franklin Green Bay Packers
NFL Passport 27 Marcus Lattimore San Francisco 49ers
NFL Passport 28 Landry Jones Pittsburgh Steelers
NFL Passport 29 Joseph Randle Dallas Cowboys
NFL Passport 30 Stedman Bailey St. Louis Rams
NFL Passport 31 Manti Te'o San Diego Chargers
NFL Passport 32 Vance McDonald San Francisco 49ers
NFL Passport 33 Denard Robinson Jacksonville Jaguars
NFL Passport 34 Andre Ellington Arizona Cardinals
NFL Passport 35 Kenny Stills New Orleans Saints
NFL Passport 36 Knile Davis Kansas City Chiefs
NFL Passport 37 Jordan Reed Washington Redskins
NFL Passport 38 Mike Gillislee Miami Dolphins
NFL Passport 39 Gavin Escobar Dallas Cowboys
NFL Passport 40 Dion Jordan Miami Dolphins
NFL Passport Holokote 1 Cordarrelle Patterson Minnesota Vikings 100
NFL Passport Holokote 2 Tavon Austin St. Louis Rams 100
NFL Passport Holokote 3 DeAndre Hopkins Houston Texans 100
NFL Passport Holokote 4 EJ Manuel Buffalo Bills 100
NFL Passport Holokote 5 Tyler Eifert Cincinnati Bengals 100
NFL Passport Holokote 6 Geno Smith New York Jets 100
NFL Passport Holokote 7 Keenan Allen San Diego Chargers 100
NFL Passport Holokote 8 Eddie Lacy Green Bay Packers 100
NFL Passport Holokote 9 Mike Glennon Tampa Bay Buccaneers 100
NFL Passport Holokote 10 Robert Woods Buffalo Bills 100
NFL Passport Holokote 11 Giovani Bernard Cincinnati Bengals 100
NFL Passport Holokote 12 Justin Hunter Tennessee Titans 100
NFL Passport Holokote 13 Terrance Williams Dallas Cowboys 100
NFL Passport Holokote 14 Markus Wheaton Pittsburgh Steelers 100
NFL Passport Holokote 15 Montee Ball Denver Broncos 100
NFL Passport Holokote 16 Zach Ertz Philadelphia Eagles 100
NFL Passport Holokote 17 Aaron Dobson New England Patriots 100
NFL Passport Holokote 18 Le'Veon Bell Pittsburgh Steelers 100
NFL Passport Holokote 19 Stepfan Taylor Arizona Cardinals 100
NFL Passport Holokote 20 Christine Michael Seattle Seahawks 100
NFL Passport Holokote 21 Marquise Goodwin Buffalo Bills 100
NFL Passport Holokote 22 Matt Barkley Philadelphia Eagles 100
NFL Passport Holokote 23 Tyler Wilson Oakland Raiders 100
NFL Passport Holokote 24 Quinton Patton San Francisco 49ers 100
NFL Passport Holokote 25 Ryan Nassib New York Giants 100
NFL Passport Holokote 26 Johnathan Franklin Green Bay Packers 100
NFL Passport Holokote 27 Marcus Lattimore San Francisco 49ers 100
NFL Passport Holokote 28 Landry Jones Pittsburgh Steelers 100
NFL Passport Holokote 29 Joseph Randle Dallas Cowboys 100
NFL Passport Holokote 30 Stedman Bailey St. Louis Rams 100
NFL Passport Holokote 31 Manti Te'o San Diego Chargers 100
NFL Passport Holokote 32 Vance McDonald San Francisco 49ers 100
NFL Passport Holokote 33 Denard Robinson Jacksonville Jaguars 100
NFL Passport Holokote 34 Andre Ellington Arizona Cardinals 100
NFL Passport Holokote 35 Kenny Stills New Orleans Saints 100
NFL Passport Holokote 36 Knile Davis Kansas City Chiefs 100
NFL Passport Holokote 37 Jordan Reed Washington Redskins 100
NFL Passport Holokote 38 Mike Gillislee Miami Dolphins 100
NFL Passport Holokote 39 Gavin Escobar Dallas Cowboys 100
NFL Passport Holokote 40 Dion Jordan Miami Dolphins 100
NFL Passport Signatures 1 Cordarrelle Patterson Minnesota Vikings
NFL Passport Signatures 2 Tavon Austin St. Louis Rams
NFL Passport Signatures 3 DeAndre Hopkins Houston Texans
NFL Passport Signatures 4 EJ Manuel Buffalo Bills
NFL Passport Signatures 5 Tyler Eifert Cincinnati Bengals
NFL Passport Signatures 6 Geno Smith New York Jets
NFL Passport Signatures 7 Keenan Allen San Diego Chargers
NFL Passport Signatures 8 Eddie Lacy Green Bay Packers
NFL Passport Signatures 9 Mike Glennon Tampa Bay Buccaneers
NFL Passport Signatures 10 Robert Woods Buffalo Bills
NFL Passport Signatures 11 Giovani Bernard Cincinnati Bengals
NFL Passport Signatures 12 Justin Hunter Tennessee Titans
NFL Passport Signatures 13 Terrance Williams Dallas Cowboys
NFL Passport Signatures 14 Markus Wheaton Pittsburgh Steelers
NFL Passport Signatures 15 Montee Ball Denver Broncos
NFL Passport Signatures 16 Zach Ertz Philadelphia Eagles
NFL Passport Signatures 17 Aaron Dobson New England Patriots
NFL Passport Signatures 18 Le'Veon Bell Pittsburgh Steelers
NFL Passport Signatures 19 Stepfan Taylor Arizona Cardinals
NFL Passport Signatures 20 Christine Michael Seattle Seahawks
NFL Passport Signatures 21 Marquise Goodwin Buffalo Bills
NFL Passport Signatures 22 Matt Barkley Philadelphia Eagles
NFL Passport Signatures 23 Tyler Wilson Oakland Raiders
NFL Passport Signatures 24 Quinton Patton San Francisco 49ers
NFL Passport Signatures 25 Ryan Nassib New York Giants
NFL Passport Signatures 26 Johnathan Franklin Green Bay Packers
NFL Passport Signatures 27 Marcus Lattimore San Francisco 49ers
NFL Passport Signatures 28 Landry Jones Pittsburgh Steelers
NFL Passport Signatures 29 Joseph Randle Dallas Cowboys
NFL Passport Signatures 30 Stedman Bailey St. Louis Rams
NFL Passport Signatures 31 Manti Te'o San Diego Chargers
NFL Passport Signatures 32 Vance McDonald San Francisco 49ers
NFL Passport Signatures 33 Denard Robinson Jacksonville Jaguars
NFL Passport Signatures 34 Andre Ellington Arizona Cardinals
NFL Passport Signatures 35 Kenny Stills New Orleans Saints
NFL Passport Signatures 36 Knile Davis Kansas City Chiefs
NFL Passport Signatures 37 Jordan Reed Washington Redskins
NFL Passport Signatures 38 Mike Gillislee Miami Dolphins
NFL Passport Signatures 39 Gavin Escobar Dallas Cowboys
NFL Passport Signatures 40 Dion Jordan Miami Dolphins
NFL Shield 1 Peyton Manning Denver Broncos
NFL Shield 2 Larry Fitzgerald Arizona Cardinals
NFL Shield 3 Roddy White Atlanta Falcons
NFL Shield 4 Ray Rice Baltimore Ravens
NFL Shield 5 C.J. Spiller Buffalo Bills
NFL Shield 6 Cam Newton Carolina Panthers
NFL Shield 7 Jay Cutler Chicago Bears
NFL Shield 8 A.J. Green Cincinnati Bengals
NFL Shield 9 Dez Bryant Dallas Cowboys
NFL Shield 10 Calvin Johnson Jr. Detroit Lions
NFL Shield 11 Aaron Rodgers Green Bay Packers
NFL Shield 12 Arian Foster Houston Texans
NFL Shield 13 Andrew Luck Indianapolis Colts
NFL Shield 14 Adrian Peterson Minnesota Vikings
NFL Shield 15 Rob Gronkowski New England Patriots
NFL Shield 16 Drew Brees New Orleans Saints
NFL Shield 17 Victor Cruz New York Giants
NFL Shield 18 LeSean McCoy Philadelphia Eagles
NFL Shield 19 Ben Roethlisberger Pittsburgh Steelers
NFL Shield 20 Colin Kaepernick San Francisco 49ers
NFL Shield 21 Marshawn Lynch Seattle Seahawks
NFL Shield 22 Doug Martin Tampa Bay Buccaneers
NFL Shield 23 Chris Johnson Tennessee Titans
NFL Shield 24 Robert Griffin III Washington Redskins
NFL Shield 25 Darren McFadden Oakland Raiders
Prestigious Picks – Black 1 Cordarrelle Patterson Minnesota Vikings 25
Prestigious Picks – Black 2 Tavon Austin St. Louis Rams 25
Prestigious Picks – Black 3 DeAndre Hopkins Houston Texans 25
Prestigious Picks – Black 4 EJ Manuel Buffalo Bills 25
Prestigious Picks – Black 5 Tyler Eifert Cincinnati Bengals 25
Prestigious Picks – Black 6 Geno Smith New York Jets 25
Prestigious Picks – Black 7 Keenan Allen San Diego Chargers 25
Prestigious Picks – Black 8 Eddie Lacy Green Bay Packers 25
Prestigious Picks – Black 9 Mike Glennon Tampa Bay Buccaneers 25
Prestigious Picks – Black 10 Robert Woods Buffalo Bills 25
Prestigious Picks – Black 11 Giovani Bernard Cincinnati Bengals 25
Prestigious Picks – Black 12 Justin Hunter Tennessee Titans 25
Prestigious Picks – Black 13 Terrance Williams Dallas Cowboys 25
Prestigious Picks – Black 14 Markus Wheaton Pittsburgh Steelers 25
Prestigious Picks – Black 15 Montee Ball Denver Broncos 25
Prestigious Picks – Black 16 Zach Ertz Philadelphia Eagles 25
Prestigious Picks – Black 17 Aaron Dobson New England Patriots 25
Prestigious Picks – Black 18 Le'Veon Bell Pittsburgh Steelers 25
Prestigious Picks – Black 19 Stepfan Taylor Arizona Cardinals 25
Prestigious Picks – Black 20 Christine Michael Seattle Seahawks 25
Prestigious Picks – Black 21 Marquise Goodwin Buffalo Bills 25
Prestigious Picks – Black 22 Matt Barkley Philadelphia Eagles 25
Prestigious Picks – Black 23 Tyler Wilson Oakland Raiders 25
Prestigious Picks – Black 24 Quinton Patton San Francisco 49ers 25
Prestigious Picks – Black 25 Ryan Nassib New York Giants 25
Prestigious Picks – Black 26 Johnathan Franklin Green Bay Packers 25
Prestigious Picks – Black 27 Marcus Lattimore San Francisco 49ers 25
Prestigious Picks – Black 28 Landry Jones Pittsburgh Steelers 25
Prestigious Picks – Black 29 Joseph Randle Dallas Cowboys 25
Prestigious Picks – Black 30 Stedman Bailey St. Louis Rams 25
Prestigious Picks – Black 31 Manti Te'o San Diego Chargers 25
Prestigious Picks – Black 32 Vance McDonald San Francisco 49ers 25
Prestigious Picks – Black 33 Denard Robinson Jacksonville Jaguars 25
Prestigious Picks – Black 34 Andre Ellington Arizona Cardinals 25
Prestigious Picks – Black 35 Kenny Stills New Orleans Saints 25
Prestigious Picks – Black 36 Knile Davis Kansas City Chiefs 25
Prestigious Picks – Black 37 Jordan Reed Washington Redskins 25
Prestigious Picks – Black 38 Mike Gillislee Miami Dolphins 25
Prestigious Picks – Black 39 Gavin Escobar Dallas Cowboys 25
Prestigious Picks – Black 40 Dion Jordan Miami Dolphins 25
Prestigious Picks – Gold 1 Cordarrelle Patterson Minnesota Vikings
Prestigious Picks – Gold 2 Tavon Austin St. Louis Rams
Prestigious Picks – Gold 3 DeAndre Hopkins Houston Texans
Prestigious Picks – Gold 4 EJ Manuel Buffalo Bills
Prestigious Picks – Gold 5 Tyler Eifert Cincinnati Bengals
Prestigious Picks – Gold 6 Geno Smith New York Jets
Prestigious Picks – Gold 7 Keenan Allen San Diego Chargers
Prestigious Picks – Gold 8 Eddie Lacy Green Bay Packers
Prestigious Picks – Gold 9 Mike Glennon Tampa Bay Buccaneers
Prestigious Picks – Gold 10 Robert Woods Buffalo Bills
Prestigious Picks – Gold 11 Giovani Bernard Cincinnati Bengals
Prestigious Picks – Gold 12 Justin Hunter Tennessee Titans
Prestigious Picks – Gold 13 Terrance Williams Dallas Cowboys
Prestigious Picks – Gold 14 Markus Wheaton Pittsburgh Steelers
Prestigious Picks – Gold 15 Montee Ball Denver Broncos
Prestigious Picks – Gold 16 Zach Ertz Philadelphia Eagles
Prestigious Picks – Gold 17 Aaron Dobson New England Patriots
Prestigious Picks – Gold 18 Le'Veon Bell Pittsburgh Steelers
Prestigious Picks – Gold 19 Stepfan Taylor Arizona Cardinals
Prestigious Picks – Gold 20 Christine Michael Seattle Seahawks
Prestigious Picks – Gold 21 Marquise Goodwin Buffalo Bills
Prestigious Picks – Gold 22 Matt Barkley Philadelphia Eagles
Prestigious Picks – Gold 23 Tyler Wilson Oakland Raiders
Prestigious Picks – Gold 24 Quinton Patton San Francisco 49ers
Prestigious Picks – Gold 25 Ryan Nassib New York Giants
Prestigious Picks – Gold 26 Johnathan Franklin Green Bay Packers
Prestigious Picks – Gold 27 Marcus Lattimore San Francisco 49ers
Prestigious Picks – Gold 28 Landry Jones Pittsburgh Steelers
Prestigious Picks – Gold 29 Joseph Randle Dallas Cowboys
Prestigious Picks – Gold 30 Stedman Bailey St. Louis Rams
Prestigious Picks – Gold 31 Manti Te'o San Diego Chargers
Prestigious Picks – Gold 32 Vance McDonald San Francisco 49ers
Prestigious Picks – Gold 33 Denard Robinson Jacksonville Jaguars
Prestigious Picks – Gold 34 Andre Ellington Arizona Cardinals
Prestigious Picks – Gold 35 Kenny Stills New Orleans Saints
Prestigious Picks – Gold 36 Knile Davis Kansas City Chiefs
Prestigious Picks – Gold 37 Jordan Reed Washington Redskins
Prestigious Picks – Gold 38 Mike Gillislee Miami Dolphins
Prestigious Picks – Gold 39 Gavin Escobar Dallas Cowboys
Prestigious Picks – Gold 40 Dion Jordan Miami Dolphins
Prestigious Picks – Platinum 1 Cordarrelle Patterson Minnesota Vikings 10
Prestigious Picks – Platinum 2 Tavon Austin St. Louis Rams 10
Prestigious Picks – Platinum 3 DeAndre Hopkins Houston Texans 10
Prestigious Picks – Platinum 4 EJ Manuel Buffalo Bills 10
Prestigious Picks – Platinum 5 Tyler Eifert Cincinnati Bengals 10
Prestigious Picks – Platinum 6 Geno Smith New York Jets 10
Prestigious Picks – Platinum 7 Keenan Allen San Diego Chargers 10
Prestigious Picks – Platinum 8 Eddie Lacy Green Bay Packers 10
Prestigious Picks – Platinum 9 Mike Glennon Tampa Bay Buccaneers 10
Prestigious Picks – Platinum 10 Robert Woods Buffalo Bills 10
Prestigious Picks – Platinum 11 Giovani Bernard Cincinnati Bengals 10
Prestigious Picks – Platinum 12 Justin Hunter Tennessee Titans 10
Prestigious Picks – Platinum 13 Terrance Williams Dallas Cowboys 10
Prestigious Picks – Platinum 14 Markus Wheaton Pittsburgh Steelers 10
Prestigious Picks – Platinum 15 Montee Ball Denver Broncos 10
Prestigious Picks – Platinum 16 Zach Ertz Philadelphia Eagles 10
Prestigious Picks – Platinum 17 Aaron Dobson New England Patriots 10
Prestigious Picks – Platinum 18 Le'Veon Bell Pittsburgh Steelers 10
Prestigious Picks – Platinum 19 Stepfan Taylor Arizona Cardinals 10
Prestigious Picks – Platinum 20 Christine Michael Seattle Seahawks 10
Prestigious Picks – Platinum 21 Marquise Goodwin Buffalo Bills 10
Prestigious Picks – Platinum 22 Matt Barkley Philadelphia Eagles 10
Prestigious Picks – Platinum 23 Tyler Wilson Oakland Raiders 10
Prestigious Picks – Platinum 24 Quinton Patton San Francisco 49ers 10
Prestigious Picks – Platinum 25 Ryan Nassib New York Giants 10
Prestigious Picks – Platinum 26 Johnathan Franklin Green Bay Packers 10
Prestigious Picks – Platinum 27 Marcus Lattimore San Francisco 49ers 10
Prestigious Picks – Platinum 28 Landry Jones Pittsburgh Steelers 10
Prestigious Picks – Platinum 29 Joseph Randle Dallas Cowboys 10
Prestigious Picks – Platinum 30 Stedman Bailey St. Louis Rams 10
Prestigious Picks – Platinum 31 Manti Te'o San Diego Chargers 10
Prestigious Picks – Platinum 32 Vance McDonald San Francisco 49ers 10
Prestigious Picks – Platinum 33 Denard Robinson Jacksonville Jaguars 10
Prestigious Picks – Platinum 34 Andre Ellington Arizona Cardinals 10
Prestigious Picks – Platinum 35 Kenny Stills New Orleans Saints 10
Prestigious Picks – Platinum 36 Knile Davis Kansas City Chiefs 10
Prestigious Picks – Platinum 37 Jordan Reed Washington Redskins 10
Prestigious Picks – Platinum 38 Mike Gillislee Miami Dolphins 10
Prestigious Picks – Platinum 39 Gavin Escobar Dallas Cowboys 10
Prestigious Picks – Platinum 40 Dion Jordan Miami Dolphins 10
Prestigious Picks Materials – Black 1 Cordarrelle Patterson Minnesota Vikings 199
Prestigious Picks Materials – Black 2 Tavon Austin St. Louis Rams 199
Prestigious Picks Materials – Black 3 DeAndre Hopkins Houston Texans 199
Prestigious Picks Materials – Black 4 EJ Manuel Buffalo Bills 199
Prestigious Picks Materials – Black 5 Tyler Eifert Cincinnati Bengals 199
Prestigious Picks Materials – Black 6 Geno Smith New York Jets 199
Prestigious Picks Materials – Black 7 Keenan Allen San Diego Chargers 199
Prestigious Picks Materials – Black 8 Eddie Lacy Green Bay Packers 199
Prestigious Picks Materials – Black 9 Mike Glennon Tampa Bay Buccaneers 199
Prestigious Picks Materials – Black 10 Robert Woods Buffalo Bills 199
Prestigious Picks Materials – Black 11 Giovani Bernard Cincinnati Bengals 199
Prestigious Picks Materials – Black 12 Justin Hunter Tennessee Titans 199
Prestigious Picks Materials – Black 13 Terrance Williams Dallas Cowboys 199
Prestigious Picks Materials – Black 14 Markus Wheaton Pittsburgh Steelers 199
Prestigious Picks Materials – Black 15 Montee Ball Denver Broncos 199
Prestigious Picks Materials – Black 16 Zach Ertz Philadelphia Eagles 199
Prestigious Picks Materials – Black 17 Aaron Dobson New England Patriots 199
Prestigious Picks Materials – Black 18 Le'Veon Bell Pittsburgh Steelers 199
Prestigious Picks Materials – Black 19 Stepfan Taylor Arizona Cardinals 199
Prestigious Picks Materials – Black 20 Christine Michael Seattle Seahawks 199
Prestigious Picks Materials – Black 21 Marquise Goodwin Buffalo Bills 199
Prestigious Picks Materials – Black 22 Matt Barkley Philadelphia Eagles 199
Prestigious Picks Materials – Black 23 Tyler Wilson Oakland Raiders 199
Prestigious Picks Materials – Black 24 Quinton Patton San Francisco 49ers 199
Prestigious Picks Materials – Black 25 Ryan Nassib New York Giants 199
Prestigious Picks Materials – Black 26 Johnathan Franklin Green Bay Packers 199
Prestigious Picks Materials – Black 27 Marcus Lattimore San Francisco 49ers 199
Prestigious Picks Materials – Black 28 Landry Jones Pittsburgh Steelers 199
Prestigious Picks Materials – Black 29 Joseph Randle Dallas Cowboys 199
Prestigious Picks Materials – Black 30 Stedman Bailey St. Louis Rams 199
Prestigious Picks Materials – Black 31 Manti Te'o San Diego Chargers 199
Prestigious Picks Materials – Black 32 Vance McDonald San Francisco 49ers 199
Prestigious Picks Materials – Black 33 Denard Robinson Jacksonville Jaguars 199
Prestigious Picks Materials – Black 34 Andre Ellington Arizona Cardinals 199
Prestigious Picks Materials – Black 35 Kenny Stills New Orleans Saints 199
Prestigious Picks Materials – Black 36 Knile Davis Kansas City Chiefs 199
Prestigious Picks Materials – Black 37 Jordan Reed Washington Redskins 199
Prestigious Picks Materials – Black 38 Mike Gillislee Miami Dolphins 199
Prestigious Picks Materials – Black 39 Gavin Escobar Dallas Cowboys 199
Prestigious Picks Materials – Black 40 Dion Jordan Miami Dolphins 199
Prestigious Picks Materials – Gold 1 Cordarrelle Patterson Minnesota Vikings 399
Prestigious Picks Materials – Gold 2 Tavon Austin St. Louis Rams 399
Prestigious Picks Materials – Gold 3 DeAndre Hopkins Houston Texans 399
Prestigious Picks Materials – Gold 4 EJ Manuel Buffalo Bills 399
Prestigious Picks Materials – Gold 5 Tyler Eifert Cincinnati Bengals 399
Prestigious Picks Materials – Gold 6 Geno Smith New York Jets 399
Prestigious Picks Materials – Gold 7 Keenan Allen San Diego Chargers 399
Prestigious Picks Materials – Gold 8 Eddie Lacy Green Bay Packers 399
Prestigious Picks Materials – Gold 9 Mike Glennon Tampa Bay Buccaneers 399
Prestigious Picks Materials – Gold 10 Robert Woods Buffalo Bills 399
Prestigious Picks Materials – Gold 11 Giovani Bernard Cincinnati Bengals 399
Prestigious Picks Materials – Gold 12 Justin Hunter Tennessee Titans 399
Prestigious Picks Materials – Gold 13 Terrance Williams Dallas Cowboys 399
Prestigious Picks Materials – Gold 14 Markus Wheaton Pittsburgh Steelers 399
Prestigious Picks Materials – Gold 15 Montee Ball Denver Broncos 399
Prestigious Picks Materials – Gold 16 Zach Ertz Philadelphia Eagles 399
Prestigious Picks Materials – Gold 17 Aaron Dobson New England Patriots 399
Prestigious Picks Materials – Gold 18 Le'Veon Bell Pittsburgh Steelers 399
Prestigious Picks Materials – Gold 19 Stepfan Taylor Arizona Cardinals 399
Prestigious Picks Materials – Gold 20 Christine Michael Seattle Seahawks 399
Prestigious Picks Materials – Gold 21 Marquise Goodwin Buffalo Bills 399
Prestigious Picks Materials – Gold 22 Matt Barkley Philadelphia Eagles 399
Prestigious Picks Materials – Gold 23 Tyler Wilson Oakland Raiders 399
Prestigious Picks Materials – Gold 24 Quinton Patton San Francisco 49ers 399
Prestigious Picks Materials – Gold 25 Ryan Nassib New York Giants 399
Prestigious Picks Materials – Gold 26 Johnathan Franklin Green Bay Packers 399
Prestigious Picks Materials – Gold 27 Marcus Lattimore San Francisco 49ers 399
Prestigious Picks Materials – Gold 28 Landry Jones Pittsburgh Steelers 399
Prestigious Picks Materials – Gold 29 Joseph Randle Dallas Cowboys 399
Prestigious Picks Materials – Gold 30 Stedman Bailey St. Louis Rams 399
Prestigious Picks Materials – Gold 31 Manti Te'o San Diego Chargers 399
Prestigious Picks Materials – Gold 32 Vance McDonald San Francisco 49ers 399
Prestigious Picks Materials – Gold 33 Denard Robinson Jacksonville Jaguars 399
Prestigious Picks Materials – Gold 34 Andre Ellington Arizona Cardinals 399
Prestigious Picks Materials – Gold 35 Kenny Stills New Orleans Saints 399
Prestigious Picks Materials – Gold 36 Knile Davis Kansas City Chiefs 399
Prestigious Picks Materials – Gold 37 Jordan Reed Washington Redskins 399
Prestigious Picks Materials – Gold 38 Mike Gillislee Miami Dolphins 399
Prestigious Picks Materials – Gold 39 Gavin Escobar Dallas Cowboys 399
Prestigious Picks Materials – Gold 40 Dion Jordan Miami Dolphins 399
Prestigious Picks Patches – Platinum 1 Cordarrelle Patterson Minnesota Vikings 49
Prestigious Picks Patches – Platinum 2 Tavon Austin St. Louis Rams 49
Prestigious Picks Patches – Platinum 3 DeAndre Hopkins Houston Texans 49
Prestigious Picks Patches – Platinum 4 EJ Manuel Buffalo Bills 49
Prestigious Picks Patches – Platinum 5 Tyler Eifert Cincinnati Bengals 49
Prestigious Picks Patches – Platinum 6 Geno Smith New York Jets 49
Prestigious Picks Patches – Platinum 7 Keenan Allen San Diego Chargers 49
Prestigious Picks Patches – Platinum 8 Eddie Lacy Green Bay Packers 49
Prestigious Picks Patches – Platinum 9 Mike Glennon Tampa Bay Buccaneers 49
Prestigious Picks Patches – Platinum 10 Robert Woods Buffalo Bills 49
Prestigious Picks Patches – Platinum 11 Giovani Bernard Cincinnati Bengals 49
Prestigious Picks Patches – Platinum 12 Justin Hunter Tennessee Titans 49
Prestigious Picks Patches – Platinum 13 Terrance Williams Dallas Cowboys 49
Prestigious Picks Patches – Platinum 14 Markus Wheaton Pittsburgh Steelers 49
Prestigious Picks Patches – Platinum 15 Montee Ball Denver Broncos 49
Prestigious Picks Patches – Platinum 16 Zach Ertz Philadelphia Eagles 49
Prestigious Picks Patches – Platinum 17 Aaron Dobson New England Patriots 49
Prestigious Picks Patches – Platinum 18 Le'Veon Bell Pittsburgh Steelers 49
Prestigious Picks Patches – Platinum 19 Stepfan Taylor Arizona Cardinals 49
Prestigious Picks Patches – Platinum 20 Christine Michael Seattle Seahawks 49
Prestigious Picks Patches – Platinum 21 Marquise Goodwin Buffalo Bills 49
Prestigious Picks Patches – Platinum 22 Matt Barkley Philadelphia Eagles 49
Prestigious Picks Patches – Platinum 23 Tyler Wilson Oakland Raiders 49
Prestigious Picks Patches – Platinum 24 Quinton Patton San Francisco 49ers 49
Prestigious Picks Patches – Platinum 25 Ryan Nassib New York Giants 49
Prestigious Picks Patches – Platinum 26 Johnathan Franklin Green Bay Packers 49
Prestigious Picks Patches – Platinum 27 Marcus Lattimore San Francisco 49ers 49
Prestigious Picks Patches – Platinum 28 Landry Jones Pittsburgh Steelers 49
Prestigious Picks Patches – Platinum 29 Joseph Randle Dallas Cowboys 49
Prestigious Picks Patches – Platinum 30 Stedman Bailey St. Louis Rams 49
Prestigious Picks Patches – Platinum 31 Manti Te'o San Diego Chargers 49
Prestigious Picks Patches – Platinum 32 Vance McDonald San Francisco 49ers 49
Prestigious Picks Patches – Platinum 33 Denard Robinson Jacksonville Jaguars 49
Prestigious Picks Patches – Platinum 34 Andre Ellington Arizona Cardinals 49
Prestigious Picks Patches – Platinum 35 Kenny Stills New Orleans Saints 49
Prestigious Picks Patches – Platinum 36 Knile Davis Kansas City Chiefs 49
Prestigious Picks Patches – Platinum 37 Jordan Reed Washington Redskins 49
Prestigious Picks Patches – Platinum 38 Mike Gillislee Miami Dolphins 49
Prestigious Picks Patches – Platinum 39 Gavin Escobar Dallas Cowboys 49
Prestigious Picks Patches – Platinum 40 Dion Jordan Miami Dolphins 49
Rookie 201 Aaron Dobson New England Patriots
Rookie 202 Aaron Mellette Baltimore Ravens
Rookie 203 Ace Sanders Jacksonville Jaguars
Rookie 204 Alec Lemon Houston Texans
Rookie 205 Alec Ogletree St. Louis Rams
Rookie 206 Alex Okafor Arizona Cardinals
Rookie 207 Andre Ellington Arizona Cardinals
Rookie 208 Barkevious Mingo Cleveland Browns
Rookie 209 Bjoern Werner Indianapolis Colts
Rookie 210 Darius Slay Detroit Lions
Rookie 211 Eric Fisher Kansas City Chiefs
Rookie 212 Chris Gragg Buffalo Bills
Rookie 213 Chris Harper Seattle Seahawks
Rookie 214 Christine Michael Seattle Seahawks
Rookie 215 Cierre Wood Houston Texans
Rookie 216 Cobi Hamilton Cincinnati Bengals
Rookie 217 Knile Davis Kansas City Chiefs
Rookie 218 Chance Warmack Tennessee Titans
Rookie 219 Conner Vernon Oakland Raiders
Rookie 220 Cordarrelle Patterson Minnesota Vikings
Rookie 221 Corey Fuller Detroit Lions
Rookie 222 Damontre Moore New York Giants
Rookie 223 Da'Rick Rogers Buffalo Bills
Rookie 224 Datone Jones Green Bay Packers
Rookie 225 DeAndre Hopkins Houston Texans
Rookie 226 Dee Milliner New York Jets
Rookie 227 Denard Robinson Jacksonville Jaguars
Rookie 228 Dion Jordan Miami Dolphins
Rookie 229 Dion Sims Miami Dolphins
Rookie 230 Eddie Lacy Green Bay Packers
Rookie 231 EJ Manuel Buffalo Bills
Rookie 232 Eric Reid San Francisco 49ers
Rookie 233 Gavin Escobar Dallas Cowboys
Rookie 234 Geno Smith New York Jets
Rookie 235 Giovani Bernard Cincinnati Bengals
Rookie 236 Jamar Taylor Miami Dolphins
Rookie 237 Jarvis Jones Pittsburgh Steelers
Rookie 238 Jawan Jamison Washington Redskins
Rookie 239 Ezekiel Ansah Detroit Lions
Rookie 240 Johnthan Banks Tampa Bay Buccaneers
Rookie 241 Johnathan Hankins New York Giants
Rookie 242 Johnathan Franklin Green Bay Packers
Rookie 243 Jordan Poyer Philadelphia Eagles
Rookie 244 Jordan Reed Washington Redskins
Rookie 245 Joseph Randle Dallas Cowboys
Rookie 246 Josh Boyce New England Patriots
Rookie 247 Justin Hunter Tennessee Titans
Rookie 248 Keenan Allen San Diego Chargers
Rookie 249 Kenjon Barner Carolina Panthers
Rookie 250 Kenny Stills New Orleans Saints
Rookie 251 Kenny Vaccaro New Orleans Saints
Rookie 252 Kerwynn Williams Indianapolis Colts
Rookie 253 Kevin Minter Arizona Cardinals
Rookie 254 Landry Jones Pittsburgh Steelers
Rookie 255 Le'Veon Bell Pittsburgh Steelers
Rookie 256 Logan Ryan New England Patriots
Rookie 257 Luke Joeckel Jacksonville Jaguars
Rookie 258 Manti Te'o San Diego Chargers
Rookie 259 Marcus Davis New York Jets
Rookie 260 Marcus Lattimore San Francisco 49ers
Rookie 261 Margus Hunt Cincinnati Bengals
Rookie 262 Desmond Trufant Atlanta Falcons
Rookie 263 Vance McDonald San Francisco 49ers
Rookie 264 Markus Wheaton Pittsburgh Steelers
Rookie 265 Marquess Wilson Chicago Bears
Rookie 266 Marquise Goodwin Buffalo Bills
Rookie 267 Matt Barkley Philadelphia Eagles
Rookie 268 Matt Elam Baltimore Ravens
Rookie 269 Matt Scott Jacksonville Jaguars
Rookie 270 Mike Gillislee Miami Dolphins
Rookie 271 Mike Glennon Tampa Bay Buccaneers
Rookie 272 Montee Ball Denver Broncos
Rookie 273 Nick Kasa Oakland Raiders
Rookie 274 Phillip Thomas Washington Redskins
Rookie 275 Quinton Patton San Francisco 49ers
Rookie 276 Ray Graham Houston Texans
Rookie 277 Ryan Otten Jacksonville Jaguars
Rookie 278 Rex Burkhead Cincinnati Bengals
Rookie 279 Tyrann Mathieu Arizona Cardinals
Rookie 280 Robert Woods Buffalo Bills
Rookie 281 Rodney Smith Minnesota Vikings
Rookie 282 Ryan Nassib New York Giants
Rookie 283 Ryan Swope Arizona Cardinals
Rookie 284 Sam Montgomery Houston Texans
Rookie 285 Sheldon Richardson New York Jets
Rookie 286 Star Lotulelei Carolina Panthers
Rookie 287 Stedman Bailey St. Louis Rams
Rookie 288 Stepfan Taylor Arizona Cardinals
Rookie 289 Tavarres King Denver Broncos
Rookie 290 Tavon Austin St. Louis Rams
Rookie 291 Terrance Williams Dallas Cowboys
Rookie 292 Theo Riddick Detroit Lions
Rookie 293 Travis Kelce Kansas City Chiefs
Rookie 294 Tyler Bray Kansas City Chiefs
Rookie 295 Tyler Eifert Cincinnati Bengals
Rookie 296 Tyler Wilson Oakland Raiders
Rookie 297 Arthur Brown Baltimore Ravens
Rookie 298 Xavier Rhodes Minnesota Vikings
Rookie 299 Zac Dysert Denver Broncos
Rookie 300 Zach Ertz Philadelphia Eagles
Rookie Extra Points Black 201 Aaron Dobson New England Patriots 10
Rookie Extra Points Black 202 Aaron Mellette Baltimore Ravens 10
Rookie Extra Points Black 203 Ace Sanders Jacksonville Jaguars 10
Rookie Extra Points Black 204 Alec Lemon Houston Texans 10
Rookie Extra Points Black 205 Alec Ogletree St. Louis Rams 10
Rookie Extra Points Black 206 Alex Okafor Arizona Cardinals 10
Rookie Extra Points Black 207 Andre Ellington Arizona Cardinals 10
Rookie Extra Points Black 208 Barkevious Mingo Cleveland Browns 10
Rookie Extra Points Black 209 Bjoern Werner Indianapolis Colts 10
Rookie Extra Points Black 210 Darius Slay Detroit Lions 10
Rookie Extra Points Black 211 Eric Fisher Kansas City Chiefs 10
Rookie Extra Points Black 212 Chris Gragg Buffalo Bills 10
Rookie Extra Points Black 213 Chris Harper Seattle Seahawks 10
Rookie Extra Points Black 214 Christine Michael Seattle Seahawks 10
Rookie Extra Points Black 215 Cierre Wood Houston Texans 10
Rookie Extra Points Black 216 Cobi Hamilton Cincinnati Bengals 10
Rookie Extra Points Black 217 Knile Davis Kansas City Chiefs 10
Rookie Extra Points Black 218 Chance Warmack Tennessee Titans 10
Rookie Extra Points Black 219 Conner Vernon Oakland Raiders 10
Rookie Extra Points Black 220 Cordarrelle Patterson Minnesota Vikings 10
Rookie Extra Points Black 221 Corey Fuller Detroit Lions 10
Rookie Extra Points Black 222 Damontre Moore New York Giants 10
Rookie Extra Points Black 223 Da'Rick Rogers Buffalo Bills 10
Rookie Extra Points Black 224 Datone Jones Green Bay Packers 10
Rookie Extra Points Black 225 DeAndre Hopkins Houston Texans 10
Rookie Extra Points Black 226 Dee Milliner New York Jets 10
Rookie Extra Points Black 227 Denard Robinson Jacksonville Jaguars 10
Rookie Extra Points Black 228 Dion Jordan Miami Dolphins 10
Rookie Extra Points Black 229 Dion Sims Miami Dolphins 10
Rookie Extra Points Black 230 Eddie Lacy Green Bay Packers 10
Rookie Extra Points Black 231 EJ Manuel Buffalo Bills 10
Rookie Extra Points Black 232 Eric Reid San Francisco 49ers 10
Rookie Extra Points Black 233 Gavin Escobar Dallas Cowboys 10
Rookie Extra Points Black 234 Geno Smith New York Jets 10
Rookie Extra Points Black 235 Giovani Bernard Cincinnati Bengals 10
Rookie Extra Points Black 236 Jamar Taylor Miami Dolphins 10
Rookie Extra Points Black 237 Jarvis Jones Pittsburgh Steelers 10
Rookie Extra Points Black 238 Jawan Jamison Washington Redskins 10
Rookie Extra Points Black 239 Ezekiel Ansah Detroit Lions 10
Rookie Extra Points Black 240 Johnthan Banks Tampa Bay Buccaneers 10
Rookie Extra Points Black 241 Johnathan Hankins New York Giants 10
Rookie Extra Points Black 242 Johnathan Franklin Green Bay Packers 10
Rookie Extra Points Black 243 Jordan Poyer Philadelphia Eagles 10
Rookie Extra Points Black 244 Jordan Reed Washington Redskins 10
Rookie Extra Points Black 245 Joseph Randle Dallas Cowboys 10
Rookie Extra Points Black 246 Josh Boyce New England Patriots 10
Rookie Extra Points Black 247 Justin Hunter Tennessee Titans 10
Rookie Extra Points Black 248 Keenan Allen San Diego Chargers 10
Rookie Extra Points Black 249 Kenjon Barner Carolina Panthers 10
Rookie Extra Points Black 250 Kenny Stills New Orleans Saints 10
Rookie Extra Points Black 251 Kenny Vaccaro New Orleans Saints 10
Rookie Extra Points Black 252 Kerwynn Williams Indianapolis Colts 10
Rookie Extra Points Black 253 Kevin Minter Arizona Cardinals 10
Rookie Extra Points Black 254 Landry Jones Pittsburgh Steelers 10
Rookie Extra Points Black 255 Le'Veon Bell Pittsburgh Steelers 10
Rookie Extra Points Black 256 Logan Ryan New England Patriots 10
Rookie Extra Points Black 257 Luke Joeckel Jacksonville Jaguars 10
Rookie Extra Points Black 258 Manti Te'o San Diego Chargers 10
Rookie Extra Points Black 259 Marcus Davis New York Jets 10
Rookie Extra Points Black 260 Marcus Lattimore San Francisco 49ers 10
Rookie Extra Points Black 261 Margus Hunt Cincinnati Bengals 10
Rookie Extra Points Black 262 Desmond Trufant Atlanta Falcons 10
Rookie Extra Points Black 263 Vance McDonald San Francisco 49ers 10
Rookie Extra Points Black 264 Markus Wheaton Pittsburgh Steelers 10
Rookie Extra Points Black 265 Marquess Wilson Chicago Bears 10
Rookie Extra Points Black 266 Marquise Goodwin Buffalo Bills 10
Rookie Extra Points Black 267 Matt Barkley Philadelphia Eagles 10
Rookie Extra Points Black 268 Matt Elam Baltimore Ravens 10
Rookie Extra Points Black 269 Matt Scott Jacksonville Jaguars 10
Rookie Extra Points Black 270 Mike Gillislee Miami Dolphins 10
Rookie Extra Points Black 271 Mike Glennon Tampa Bay Buccaneers 10
Rookie Extra Points Black 272 Montee Ball Denver Broncos 10
Rookie Extra Points Black 273 Nick Kasa Oakland Raiders 10
Rookie Extra Points Black 274 Phillip Thomas Washington Redskins 10
Rookie Extra Points Black 275 Quinton Patton San Francisco 49ers 10
Rookie Extra Points Black 276 Ray Graham Houston Texans 10
Rookie Extra Points Black 277 Ryan Otten Jacksonville Jaguars 10
Rookie Extra Points Black 278 Rex Burkhead Cincinnati Bengals 10
Rookie Extra Points Black 279 Tyrann Mathieu Arizona Cardinals 10
Rookie Extra Points Black 280 Robert Woods Buffalo Bills 10
Rookie Extra Points Black 281 Rodney Smith Minnesota Vikings 10
Rookie Extra Points Black 282 Ryan Nassib New York Giants 10
Rookie Extra Points Black 283 Ryan Swope Arizona Cardinals 10
Rookie Extra Points Black 284 Sam Montgomery Houston Texans 10
Rookie Extra Points Black 285 Sheldon Richardson New York Jets 10
Rookie Extra Points Black 286 Star Lotulelei Carolina Panthers 10
Rookie Extra Points Black 287 Stedman Bailey St. Louis Rams 10
Rookie Extra Points Black 288 Stepfan Taylor Arizona Cardinals 10
Rookie Extra Points Black 289 Tavarres King Denver Broncos 10
Rookie Extra Points Black 290 Tavon Austin St. Louis Rams 10
Rookie Extra Points Black 291 Terrance Williams Dallas Cowboys 10
Rookie Extra Points Black 292 Theo Riddick Detroit Lions 10
Rookie Extra Points Black 293 Travis Kelce Kansas City Chiefs 10
Rookie Extra Points Black 294 Tyler Bray Kansas City Chiefs 10
Rookie Extra Points Black 295 Tyler Eifert Cincinnati Bengals 10
Rookie Extra Points Black 296 Tyler Wilson Oakland Raiders 10
Rookie Extra Points Black 297 Arthur Brown Baltimore Ravens 10
Rookie Extra Points Black 298 Xavier Rhodes Minnesota Vikings 10
Rookie Extra Points Black 299 Zac Dysert Denver Broncos 10
Rookie Extra Points Black 300 Zach Ertz Philadelphia Eagles 10
Rookie Extra Points Black Signatures 201 Aaron Dobson New England Patriots 10
Rookie Extra Points Black Signatures 202 Aaron Mellette Baltimore Ravens 10
Rookie Extra Points Black Signatures 203 Ace Sanders Jacksonville Jaguars 10
Rookie Extra Points Black Signatures 205 Alec Ogletree St. Louis Rams 10
Rookie Extra Points Black Signatures 206 Alex Okafor Arizona Cardinals 10
Rookie Extra Points Black Signatures 207 Andre Ellington Arizona Cardinals 10
Rookie Extra Points Black Signatures 208 Barkevious Mingo Cleveland Browns 10
Rookie Extra Points Black Signatures 209 Bjoern Werner Indianapolis Colts 10
Rookie Extra Points Black Signatures 210 Darius Slay Detroit Lions 10
Rookie Extra Points Black Signatures 211 Eric Fisher Kansas City Chiefs 10
Rookie Extra Points Black Signatures 212 Chris Gragg Buffalo Bills 10
Rookie Extra Points Black Signatures 213 Chris Harper Seattle Seahawks 10
Rookie Extra Points Black Signatures 214 Christine Michael Seattle Seahawks 10
Rookie Extra Points Black Signatures 216 Cobi Hamilton Cincinnati Bengals 10
Rookie Extra Points Black Signatures 217 Knile Davis Kansas City Chiefs 10
Rookie Extra Points Black Signatures 218 Chance Warmack Tennessee Titans 10
Rookie Extra Points Black Signatures 219 Conner Vernon Oakland Raiders 10
Rookie Extra Points Black Signatures 220 Cordarrelle Patterson Minnesota Vikings 10
Rookie Extra Points Black Signatures 221 Corey Fuller Detroit Lions 10
Rookie Extra Points Black Signatures 222 Damontre Moore New York Giants 10
Rookie Extra Points Black Signatures 223 Da'Rick Rogers Buffalo Bills 10
Rookie Extra Points Black Signatures 224 Datone Jones Green Bay Packers 10
Rookie Extra Points Black Signatures 225 DeAndre Hopkins Houston Texans 10
Rookie Extra Points Black Signatures 226 Dee Milliner New York Jets 10
Rookie Extra Points Black Signatures 227 Denard Robinson Jacksonville Jaguars 10
Rookie Extra Points Black Signatures 228 Dion Jordan Miami Dolphins 10
Rookie Extra Points Black Signatures 229 Dion Sims Miami Dolphins 10
Rookie Extra Points Black Signatures 230 Eddie Lacy Green Bay Packers 10
Rookie Extra Points Black Signatures 231 EJ Manuel Buffalo Bills 10
Rookie Extra Points Black Signatures 232 Eric Reid San Francisco 49ers 10
Rookie Extra Points Black Signatures 233 Gavin Escobar Dallas Cowboys 10
Rookie Extra Points Black Signatures 234 Geno Smith New York Jets 10
Rookie Extra Points Black Signatures 235 Giovani Bernard Cincinnati Bengals 10
Rookie Extra Points Black Signatures 236 Jamar Taylor Miami Dolphins 10
Rookie Extra Points Black Signatures 237 Jarvis Jones Pittsburgh Steelers 10
Rookie Extra Points Black Signatures 238 Jawan Jamison Washington Redskins 10
Rookie Extra Points Black Signatures 239 Ezekiel Ansah Detroit Lions 10
Rookie Extra Points Black Signatures 240 Johnthan Banks Tampa Bay Buccaneers 10
Rookie Extra Points Black Signatures 242 Johnathan Franklin Green Bay Packers 10
Rookie Extra Points Black Signatures 243 Jordan Poyer Philadelphia Eagles 10
Rookie Extra Points Black Signatures 244 Jordan Reed Washington Redskins 10
Rookie Extra Points Black Signatures 245 Joseph Randle Dallas Cowboys 10
Rookie Extra Points Black Signatures 246 Josh Boyce New England Patriots 10
Rookie Extra Points Black Signatures 247 Justin Hunter Tennessee Titans 10
Rookie Extra Points Black Signatures 248 Keenan Allen San Diego Chargers 10
Rookie Extra Points Black Signatures 249 Kenjon Barner Carolina Panthers 10
Rookie Extra Points Black Signatures 250 Kenny Stills New Orleans Saints 10
Rookie Extra Points Black Signatures 251 Kenny Vaccaro New Orleans Saints 10
Rookie Extra Points Black Signatures 252 Kerwynn Williams Indianapolis Colts 10
Rookie Extra Points Black Signatures 253 Kevin Minter Arizona Cardinals 10
Rookie Extra Points Black Signatures 254 Landry Jones Pittsburgh Steelers 10
Rookie Extra Points Black Signatures 255 Le'Veon Bell Pittsburgh Steelers 10
Rookie Extra Points Black Signatures 257 Luke Joeckel Jacksonville Jaguars 10
Rookie Extra Points Black Signatures 258 Manti Te'o San Diego Chargers 10
Rookie Extra Points Black Signatures 259 Marcus Davis New York Jets 10
Rookie Extra Points Black Signatures 260 Marcus Lattimore San Francisco 49ers 10
Rookie Extra Points Black Signatures 261 Margus Hunt Cincinnati Bengals 10
Rookie Extra Points Black Signatures 262 Desmond Trufant Atlanta Falcons 10
Rookie Extra Points Black Signatures 263 Vance McDonald San Francisco 49ers 10
Rookie Extra Points Black Signatures 264 Markus Wheaton Pittsburgh Steelers 10
Rookie Extra Points Black Signatures 265 Marquess Wilson Chicago Bears 10
Rookie Extra Points Black Signatures 266 Marquise Goodwin Buffalo Bills 10
Rookie Extra Points Black Signatures 267 Matt Barkley Philadelphia Eagles 10
Rookie Extra Points Black Signatures 268 Matt Elam Baltimore Ravens 10
Rookie Extra Points Black Signatures 269 Matt Scott Jacksonville Jaguars 10
Rookie Extra Points Black Signatures 270 Mike Gillislee Miami Dolphins 10
Rookie Extra Points Black Signatures 271 Mike Glennon Tampa Bay Buccaneers 10
Rookie Extra Points Black Signatures 272 Montee Ball Denver Broncos 10
Rookie Extra Points Black Signatures 273 Nick Kasa Oakland Raiders 10
Rookie Extra Points Black Signatures 274 Phillip Thomas Washington Redskins 10
Rookie Extra Points Black Signatures 275 Quinton Patton San Francisco 49ers 10
Rookie Extra Points Black Signatures 276 Ray Graham Houston Texans 10
Rookie Extra Points Black Signatures 277 Ryan Otten Jacksonville Jaguars 10
Rookie Extra Points Black Signatures 278 Rex Burkhead Cincinnati Bengals 10
Rookie Extra Points Black Signatures 279 Tyrann Mathieu Arizona Cardinals 10
Rookie Extra Points Black Signatures 280 Robert Woods Buffalo Bills 10
Rookie Extra Points Black Signatures 281 Rodney Smith Minnesota Vikings 10
Rookie Extra Points Black Signatures 282 Ryan Nassib New York Giants 10
Rookie Extra Points Black Signatures 283 Ryan Swope Arizona Cardinals 10
Rookie Extra Points Black Signatures 284 Sam Montgomery Houston Texans 10
Rookie Extra Points Black Signatures 285 Sheldon Richardson New York Jets 10
Rookie Extra Points Black Signatures 287 Stedman Bailey St. Louis Rams 10
Rookie Extra Points Black Signatures 288 Stepfan Taylor Arizona Cardinals 10
Rookie Extra Points Black Signatures 289 Tavarres King Denver Broncos 10
Rookie Extra Points Black Signatures 290 Tavon Austin St. Louis Rams 10
Rookie Extra Points Black Signatures 291 Terrance Williams Dallas Cowboys 10
Rookie Extra Points Black Signatures 292 Theo Riddick Detroit Lions 10
Rookie Extra Points Black Signatures 293 Travis Kelce Kansas City Chiefs 10
Rookie Extra Points Black Signatures 294 Tyler Bray Kansas City Chiefs 10
Rookie Extra Points Black Signatures 295 Tyler Eifert Cincinnati Bengals 10
Rookie Extra Points Black Signatures 296 Tyler Wilson Oakland Raiders 10
Rookie Extra Points Black Signatures 297 Arthur Brown Baltimore Ravens 10
Rookie Extra Points Black Signatures 298 Xavier Rhodes Minnesota Vikings 10
Rookie Extra Points Black Signatures 299 Zac Dysert Denver Broncos 10
Rookie Extra Points Black Signatures 300 Zach Ertz Philadelphia Eagles 10
Rookie Extra Points Blue 201 Aaron Dobson New England Patriots
Rookie Extra Points Blue 202 Aaron Mellette Baltimore Ravens
Rookie Extra Points Blue 203 Ace Sanders Jacksonville Jaguars
Rookie Extra Points Blue 204 Alec Lemon Houston Texans
Rookie Extra Points Blue 205 Alec Ogletree St. Louis Rams
Rookie Extra Points Blue 206 Alex Okafor Arizona Cardinals
Rookie Extra Points Blue 207 Andre Ellington Arizona Cardinals
Rookie Extra Points Blue 208 Barkevious Mingo Cleveland Browns
Rookie Extra Points Blue 209 Bjoern Werner Indianapolis Colts
Rookie Extra Points Blue 210 Darius Slay Detroit Lions
Rookie Extra Points Blue 211 Eric Fisher Kansas City Chiefs
Rookie Extra Points Blue 212 Chris Gragg Buffalo Bills
Rookie Extra Points Blue 213 Chris Harper Seattle Seahawks
Rookie Extra Points Blue 214 Christine Michael Seattle Seahawks
Rookie Extra Points Blue 215 Cierre Wood Houston Texans
Rookie Extra Points Blue 216 Cobi Hamilton Cincinnati Bengals
Rookie Extra Points Blue 217 Knile Davis Kansas City Chiefs
Rookie Extra Points Blue 218 Chance Warmack Tennessee Titans
Rookie Extra Points Blue 219 Conner Vernon Oakland Raiders
Rookie Extra Points Blue 220 Cordarrelle Patterson Minnesota Vikings
Rookie Extra Points Blue 221 Corey Fuller Detroit Lions
Rookie Extra Points Blue 222 Damontre Moore New York Giants
Rookie Extra Points Blue 223 Da'Rick Rogers Buffalo Bills
Rookie Extra Points Blue 224 Datone Jones Green Bay Packers
Rookie Extra Points Blue 225 DeAndre Hopkins Houston Texans
Rookie Extra Points Blue 226 Dee Milliner New York Jets
Rookie Extra Points Blue 227 Denard Robinson Jacksonville Jaguars
Rookie Extra Points Blue 228 Dion Jordan Miami Dolphins
Rookie Extra Points Blue 229 Dion Sims Miami Dolphins
Rookie Extra Points Blue 230 Eddie Lacy Green Bay Packers
Rookie Extra Points Blue 231 EJ Manuel Buffalo Bills
Rookie Extra Points Blue 232 Eric Reid San Francisco 49ers
Rookie Extra Points Blue 233 Gavin Escobar Dallas Cowboys
Rookie Extra Points Blue 234 Geno Smith New York Jets
Rookie Extra Points Blue 235 Giovani Bernard Cincinnati Bengals
Rookie Extra Points Blue 236 Jamar Taylor Miami Dolphins
Rookie Extra Points Blue 237 Jarvis Jones Pittsburgh Steelers
Rookie Extra Points Blue 238 Jawan Jamison Washington Redskins
Rookie Extra Points Blue 239 Ezekiel Ansah Detroit Lions
Rookie Extra Points Blue 240 Johnthan Banks Tampa Bay Buccaneers
Rookie Extra Points Blue 241 Johnathan Hankins New York Giants
Rookie Extra Points Blue 242 Johnathan Franklin Green Bay Packers
Rookie Extra Points Blue 243 Jordan Poyer Philadelphia Eagles
Rookie Extra Points Blue 244 Jordan Reed Washington Redskins
Rookie Extra Points Blue 245 Joseph Randle Dallas Cowboys
Rookie Extra Points Blue 246 Josh Boyce New England Patriots
Rookie Extra Points Blue 247 Justin Hunter Tennessee Titans
Rookie Extra Points Blue 248 Keenan Allen San Diego Chargers
Rookie Extra Points Blue 249 Kenjon Barner Carolina Panthers
Rookie Extra Points Blue 250 Kenny Stills New Orleans Saints
Rookie Extra Points Blue 251 Kenny Vaccaro New Orleans Saints
Rookie Extra Points Blue 252 Kerwynn Williams Indianapolis Colts
Rookie Extra Points Blue 253 Kevin Minter Arizona Cardinals
Rookie Extra Points Blue 254 Landry Jones Pittsburgh Steelers
Rookie Extra Points Blue 255 Le'Veon Bell Pittsburgh Steelers
Rookie Extra Points Blue 256 Logan Ryan New England Patriots
Rookie Extra Points Blue 257 Luke Joeckel Jacksonville Jaguars
Rookie Extra Points Blue 258 Manti Te'o San Diego Chargers
Rookie Extra Points Blue 259 Marcus Davis New York Jets
Rookie Extra Points Blue 260 Marcus Lattimore San Francisco 49ers
Rookie Extra Points Blue 261 Margus Hunt Cincinnati Bengals
Rookie Extra Points Blue 262 Desmond Trufant Atlanta Falcons
Rookie Extra Points Blue 263 Vance McDonald San Francisco 49ers
Rookie Extra Points Blue 264 Markus Wheaton Pittsburgh Steelers
Rookie Extra Points Blue 265 Marquess Wilson Chicago Bears
Rookie Extra Points Blue 266 Marquise Goodwin Buffalo Bills
Rookie Extra Points Blue 267 Matt Barkley Philadelphia Eagles
Rookie Extra Points Blue 268 Matt Elam Baltimore Ravens
Rookie Extra Points Blue 269 Matt Scott Jacksonville Jaguars
Rookie Extra Points Blue 270 Mike Gillislee Miami Dolphins
Rookie Extra Points Blue 271 Mike Glennon Tampa Bay Buccaneers
Rookie Extra Points Blue 272 Montee Ball Denver Broncos
Rookie Extra Points Blue 273 Nick Kasa Oakland Raiders
Rookie Extra Points Blue 274 Phillip Thomas Washington Redskins
Rookie Extra Points Blue 275 Quinton Patton San Francisco 49ers
Rookie Extra Points Blue 276 Ray Graham Houston Texans
Rookie Extra Points Blue 277 Ryan Otten Jacksonville Jaguars
Rookie Extra Points Blue 278 Rex Burkhead Cincinnati Bengals
Rookie Extra Points Blue 279 Tyrann Mathieu Arizona Cardinals
Rookie Extra Points Blue 280 Robert Woods Buffalo Bills
Rookie Extra Points Blue 281 Rodney Smith Minnesota Vikings
Rookie Extra Points Blue 282 Ryan Nassib New York Giants
Rookie Extra Points Blue 283 Ryan Swope Arizona Cardinals
Rookie Extra Points Blue 284 Sam Montgomery Houston Texans
Rookie Extra Points Blue 285 Sheldon Richardson New York Jets
Rookie Extra Points Blue 286 Star Lotulelei Carolina Panthers
Rookie Extra Points Blue 287 Stedman Bailey St. Louis Rams
Rookie Extra Points Blue 288 Stepfan Taylor Arizona Cardinals
Rookie Extra Points Blue 289 Tavarres King Denver Broncos
Rookie Extra Points Blue 290 Tavon Austin St. Louis Rams
Rookie Extra Points Blue 291 Terrance Williams Dallas Cowboys
Rookie Extra Points Blue 292 Theo Riddick Detroit Lions
Rookie Extra Points Blue 293 Travis Kelce Kansas City Chiefs
Rookie Extra Points Blue 294 Tyler Bray Kansas City Chiefs
Rookie Extra Points Blue 295 Tyler Eifert Cincinnati Bengals
Rookie Extra Points Blue 296 Tyler Wilson Oakland Raiders
Rookie Extra Points Blue 297 Arthur Brown Baltimore Ravens
Rookie Extra Points Blue 298 Xavier Rhodes Minnesota Vikings
Rookie Extra Points Blue 299 Zac Dysert Denver Broncos
Rookie Extra Points Blue 300 Zach Ertz Philadelphia Eagles
Rookie Extra Points Blue Signatures 201 Aaron Dobson New England Patriots
Rookie Extra Points Blue Signatures 202 Aaron Mellette Baltimore Ravens
Rookie Extra Points Blue Signatures 203 Ace Sanders Jacksonville Jaguars
Rookie Extra Points Blue Signatures 205 Alec Ogletree St. Louis Rams
Rookie Extra Points Blue Signatures 206 Alex Okafor Arizona Cardinals
Rookie Extra Points Blue Signatures 207 Andre Ellington Arizona Cardinals
Rookie Extra Points Blue Signatures 208 Barkevious Mingo Cleveland Browns
Rookie Extra Points Blue Signatures 209 Bjoern Werner Indianapolis Colts
Rookie Extra Points Blue Signatures 210 Darius Slay Detroit Lions
Rookie Extra Points Blue Signatures 211 Eric Fisher Kansas City Chiefs
Rookie Extra Points Blue Signatures 212 Chris Gragg Buffalo Bills
Rookie Extra Points Blue Signatures 213 Chris Harper Seattle Seahawks
Rookie Extra Points Blue Signatures 214 Christine Michael Seattle Seahawks
Rookie Extra Points Blue Signatures 217 Knile Davis Kansas City Chiefs
Rookie Extra Points Blue Signatures 218 Chance Warmack Tennessee Titans
Rookie Extra Points Blue Signatures 219 Conner Vernon Oakland Raiders
Rookie Extra Points Blue Signatures 220 Cordarrelle Patterson Minnesota Vikings
Rookie Extra Points Blue Signatures 221 Corey Fuller Detroit Lions
Rookie Extra Points Blue Signatures 222 Damontre Moore New York Giants
Rookie Extra Points Blue Signatures 223 Da'Rick Rogers Buffalo Bills
Rookie Extra Points Blue Signatures 224 Datone Jones Green Bay Packers
Rookie Extra Points Blue Signatures 225 DeAndre Hopkins Houston Texans
Rookie Extra Points Blue Signatures 226 Dee Milliner New York Jets
Rookie Extra Points Blue Signatures 227 Denard Robinson Jacksonville Jaguars
Rookie Extra Points Blue Signatures 228 Dion Jordan Miami Dolphins
Rookie Extra Points Blue Signatures 229 Dion Sims Miami Dolphins
Rookie Extra Points Blue Signatures 230 Eddie Lacy Green Bay Packers
Rookie Extra Points Blue Signatures 231 EJ Manuel Buffalo Bills
Rookie Extra Points Blue Signatures 232 Eric Reid San Francisco 49ers
Rookie Extra Points Blue Signatures 233 Gavin Escobar Dallas Cowboys
Rookie Extra Points Blue Signatures 234 Geno Smith New York Jets
Rookie Extra Points Blue Signatures 235 Giovani Bernard Cincinnati Bengals
Rookie Extra Points Blue Signatures 237 Jarvis Jones Pittsburgh Steelers
Rookie Extra Points Blue Signatures 242 Johnathan Franklin Green Bay Packers
Rookie Extra Points Blue Signatures 243 Jordan Poyer Philadelphia Eagles
Rookie Extra Points Blue Signatures 245 Joseph Randle Dallas Cowboys
Rookie Extra Points Blue Signatures 246 Josh Boyce New England Patriots
Rookie Extra Points Blue Signatures 247 Justin Hunter Tennessee Titans
Rookie Extra Points Blue Signatures 248 Keenan Allen San Diego Chargers
Rookie Extra Points Blue Signatures 249 Kenjon Barner Carolina Panthers
Rookie Extra Points Blue Signatures 250 Kenny Stills New Orleans Saints
Rookie Extra Points Blue Signatures 251 Kenny Vaccaro New Orleans Saints
Rookie Extra Points Blue Signatures 253 Kevin Minter Arizona Cardinals
Rookie Extra Points Blue Signatures 254 Landry Jones Pittsburgh Steelers
Rookie Extra Points Blue Signatures 255 Le'Veon Bell Pittsburgh Steelers
Rookie Extra Points Blue Signatures 257 Luke Joeckel Jacksonville Jaguars
Rookie Extra Points Blue Signatures 258 Manti Te'o San Diego Chargers
Rookie Extra Points Blue Signatures 259 Marcus Davis New York Jets
Rookie Extra Points Blue Signatures 260 Marcus Lattimore San Francisco 49ers
Rookie Extra Points Blue Signatures 261 Margus Hunt Cincinnati Bengals
Rookie Extra Points Blue Signatures 262 Desmond Trufant Atlanta Falcons
Rookie Extra Points Blue Signatures 264 Markus Wheaton Pittsburgh Steelers
Rookie Extra Points Blue Signatures 266 Marquise Goodwin Buffalo Bills
Rookie Extra Points Blue Signatures 267 Matt Barkley Philadelphia Eagles
Rookie Extra Points Blue Signatures 268 Matt Elam Baltimore Ravens
Rookie Extra Points Blue Signatures 269 Matt Scott Jacksonville Jaguars
Rookie Extra Points Blue Signatures 271 Mike Glennon Tampa Bay Buccaneers
Rookie Extra Points Blue Signatures 272 Montee Ball Denver Broncos
Rookie Extra Points Blue Signatures 273 Nick Kasa Oakland Raiders
Rookie Extra Points Blue Signatures 274 Phillip Thomas Washington Redskins
Rookie Extra Points Blue Signatures 275 Quinton Patton San Francisco 49ers
Rookie Extra Points Blue Signatures 277 Ryan Otten Jacksonville Jaguars
Rookie Extra Points Blue Signatures 278 Rex Burkhead Cincinnati Bengals
Rookie Extra Points Blue Signatures 279 Tyrann Mathieu Arizona Cardinals
Rookie Extra Points Blue Signatures 280 Robert Woods Buffalo Bills
Rookie Extra Points Blue Signatures 281 Rodney Smith Minnesota Vikings
Rookie Extra Points Blue Signatures 282 Ryan Nassib New York Giants
Rookie Extra Points Blue Signatures 283 Ryan Swope Arizona Cardinals
Rookie Extra Points Blue Signatures 284 Sam Montgomery Houston Texans
Rookie Extra Points Blue Signatures 287 Stedman Bailey St. Louis Rams
Rookie Extra Points Blue Signatures 288 Stepfan Taylor Arizona Cardinals
Rookie Extra Points Blue Signatures 289 Tavarres King Denver Broncos
Rookie Extra Points Blue Signatures 290 Tavon Austin St. Louis Rams
Rookie Extra Points Blue Signatures 291 Terrance Williams Dallas Cowboys
Rookie Extra Points Blue Signatures 293 Travis Kelce Kansas City Chiefs
Rookie Extra Points Blue Signatures 294 Tyler Bray Kansas City Chiefs
Rookie Extra Points Blue Signatures 295 Tyler Eifert Cincinnati Bengals
Rookie Extra Points Blue Signatures 296 Tyler Wilson Oakland Raiders
Rookie Extra Points Blue Signatures 297 Arthur Brown Baltimore Ravens
Rookie Extra Points Blue Signatures 298 Xavier Rhodes Minnesota Vikings
Rookie Extra Points Blue Signatures 299 Zac Dysert Denver Broncos
Rookie Extra Points Blue Signatures 300 Zach Ertz Philadelphia Eagles
Rookie Extra Points Gold 201 Aaron Dobson New England Patriots 50
Rookie Extra Points Gold 202 Aaron Mellette Baltimore Ravens 50
Rookie Extra Points Gold 203 Ace Sanders Jacksonville Jaguars 50
Rookie Extra Points Gold 204 Alec Lemon Houston Texans 50
Rookie Extra Points Gold 205 Alec Ogletree St. Louis Rams 50
Rookie Extra Points Gold 206 Alex Okafor Arizona Cardinals 50
Rookie Extra Points Gold 207 Andre Ellington Arizona Cardinals 50
Rookie Extra Points Gold 208 Barkevious Mingo Cleveland Browns 50
Rookie Extra Points Gold 209 Bjoern Werner Indianapolis Colts 50
Rookie Extra Points Gold 210 Darius Slay Detroit Lions 50
Rookie Extra Points Gold 211 Eric Fisher Kansas City Chiefs 50
Rookie Extra Points Gold 212 Chris Gragg Buffalo Bills 50
Rookie Extra Points Gold 213 Chris Harper Seattle Seahawks 50
Rookie Extra Points Gold 214 Christine Michael Seattle Seahawks 50
Rookie Extra Points Gold 215 Cierre Wood Houston Texans 50
Rookie Extra Points Gold 216 Cobi Hamilton Cincinnati Bengals 50
Rookie Extra Points Gold 217 Knile Davis Kansas City Chiefs 50
Rookie Extra Points Gold 218 Chance Warmack Tennessee Titans 50
Rookie Extra Points Gold 219 Conner Vernon Oakland Raiders 50
Rookie Extra Points Gold 220 Cordarrelle Patterson Minnesota Vikings 50
Rookie Extra Points Gold 221 Corey Fuller Detroit Lions 50
Rookie Extra Points Gold 222 Damontre Moore New York Giants 50
Rookie Extra Points Gold 223 Da'Rick Rogers Buffalo Bills 50
Rookie Extra Points Gold 224 Datone Jones Green Bay Packers 50
Rookie Extra Points Gold 225 DeAndre Hopkins Houston Texans 50
Rookie Extra Points Gold 226 Dee Milliner New York Jets 50
Rookie Extra Points Gold 227 Denard Robinson Jacksonville Jaguars 50
Rookie Extra Points Gold 228 Dion Jordan Miami Dolphins 50
Rookie Extra Points Gold 229 Dion Sims Miami Dolphins 50
Rookie Extra Points Gold 230 Eddie Lacy Green Bay Packers 50
Rookie Extra Points Gold 231 EJ Manuel Buffalo Bills 50
Rookie Extra Points Gold 232 Eric Reid San Francisco 49ers 50
Rookie Extra Points Gold 233 Gavin Escobar Dallas Cowboys 50
Rookie Extra Points Gold 234 Geno Smith New York Jets 50
Rookie Extra Points Gold 235 Giovani Bernard Cincinnati Bengals 50
Rookie Extra Points Gold 236 Jamar Taylor Miami Dolphins 50
Rookie Extra Points Gold 237 Jarvis Jones Pittsburgh Steelers 50
Rookie Extra Points Gold 238 Jawan Jamison Washington Redskins 50
Rookie Extra Points Gold 239 Ezekiel Ansah Detroit Lions 50
Rookie Extra Points Gold 240 Johnthan Banks Tampa Bay Buccaneers 50
Rookie Extra Points Gold 241 Johnathan Hankins New York Giants 50
Rookie Extra Points Gold 242 Johnathan Franklin Green Bay Packers 50
Rookie Extra Points Gold 243 Jordan Poyer Philadelphia Eagles 50
Rookie Extra Points Gold 244 Jordan Reed Washington Redskins 50
Rookie Extra Points Gold 245 Joseph Randle Dallas Cowboys 50
Rookie Extra Points Gold 246 Josh Boyce New England Patriots 50
Rookie Extra Points Gold 247 Justin Hunter Tennessee Titans 50
Rookie Extra Points Gold 248 Keenan Allen San Diego Chargers 50
Rookie Extra Points Gold 249 Kenjon Barner Carolina Panthers 50
Rookie Extra Points Gold 250 Kenny Stills New Orleans Saints 50
Rookie Extra Points Gold 251 Kenny Vaccaro New Orleans Saints 50
Rookie Extra Points Gold 252 Kerwynn Williams Indianapolis Colts 50
Rookie Extra Points Gold 253 Kevin Minter Arizona Cardinals 50
Rookie Extra Points Gold 254 Landry Jones Pittsburgh Steelers 50
Rookie Extra Points Gold 255 Le'Veon Bell Pittsburgh Steelers 50
Rookie Extra Points Gold 256 Logan Ryan New England Patriots 50
Rookie Extra Points Gold 257 Luke Joeckel Jacksonville Jaguars 50
Rookie Extra Points Gold 258 Manti Te'o San Diego Chargers 50
Rookie Extra Points Gold 259 Marcus Davis New York Jets 50
Rookie Extra Points Gold 260 Marcus Lattimore San Francisco 49ers 50
Rookie Extra Points Gold 261 Margus Hunt Cincinnati Bengals 50
Rookie Extra Points Gold 262 Desmond Trufant Atlanta Falcons 50
Rookie Extra Points Gold 263 Vance McDonald San Francisco 49ers 50
Rookie Extra Points Gold 264 Markus Wheaton Pittsburgh Steelers 50
Rookie Extra Points Gold 265 Marquess Wilson Chicago Bears 50
Rookie Extra Points Gold 266 Marquise Goodwin Buffalo Bills 50
Rookie Extra Points Gold 267 Matt Barkley Philadelphia Eagles 50
Rookie Extra Points Gold 268 Matt Elam Baltimore Ravens 50
Rookie Extra Points Gold 269 Matt Scott Jacksonville Jaguars 50
Rookie Extra Points Gold 270 Mike Gillislee Miami Dolphins 50
Rookie Extra Points Gold 271 Mike Glennon Tampa Bay Buccaneers 50
Rookie Extra Points Gold 272 Montee Ball Denver Broncos 50
Rookie Extra Points Gold 273 Nick Kasa Oakland Raiders 50
Rookie Extra Points Gold 274 Phillip Thomas Washington Redskins 50
Rookie Extra Points Gold 275 Quinton Patton San Francisco 49ers 50
Rookie Extra Points Gold 276 Ray Graham Houston Texans 50
Rookie Extra Points Gold 277 Ryan Otten Jacksonville Jaguars 50
Rookie Extra Points Gold 278 Rex Burkhead Cincinnati Bengals 50
Rookie Extra Points Gold 279 Tyrann Mathieu Arizona Cardinals 50
Rookie Extra Points Gold 280 Robert Woods Buffalo Bills 50
Rookie Extra Points Gold 281 Rodney Smith Minnesota Vikings 50
Rookie Extra Points Gold 282 Ryan Nassib New York Giants 50
Rookie Extra Points Gold 283 Ryan Swope Arizona Cardinals 50
Rookie Extra Points Gold 284 Sam Montgomery Houston Texans 50
Rookie Extra Points Gold 285 Sheldon Richardson New York Jets 50
Rookie Extra Points Gold 286 Star Lotulelei Carolina Panthers 50
Rookie Extra Points Gold 287 Stedman Bailey St. Louis Rams 50
Rookie Extra Points Gold 288 Stepfan Taylor Arizona Cardinals 50
Rookie Extra Points Gold 289 Tavarres King Denver Broncos 50
Rookie Extra Points Gold 290 Tavon Austin St. Louis Rams 50
Rookie Extra Points Gold 291 Terrance Williams Dallas Cowboys 50
Rookie Extra Points Gold 292 Theo Riddick Detroit Lions 50
Rookie Extra Points Gold 293 Travis Kelce Kansas City Chiefs 50
Rookie Extra Points Gold 294 Tyler Bray Kansas City Chiefs 50
Rookie Extra Points Gold 295 Tyler Eifert Cincinnati Bengals 50
Rookie Extra Points Gold 296 Tyler Wilson Oakland Raiders 50
Rookie Extra Points Gold 297 Arthur Brown Baltimore Ravens 50
Rookie Extra Points Gold 298 Xavier Rhodes Minnesota Vikings 50
Rookie Extra Points Gold 299 Zac Dysert Denver Broncos 50
Rookie Extra Points Gold 300 Zach Ertz Philadelphia Eagles 50
Rookie Extra Points Gold Signatures 201 Aaron Dobson New England Patriots 50
Rookie Extra Points Gold Signatures 202 Aaron Mellette Baltimore Ravens 50
Rookie Extra Points Gold Signatures 203 Ace Sanders Jacksonville Jaguars 50
Rookie Extra Points Gold Signatures 205 Alec Ogletree St. Louis Rams 50
Rookie Extra Points Gold Signatures 206 Alex Okafor Arizona Cardinals 50
Rookie Extra Points Gold Signatures 207 Andre Ellington Arizona Cardinals 50
Rookie Extra Points Gold Signatures 208 Barkevious Mingo Cleveland Browns 50
Rookie Extra Points Gold Signatures 209 Bjoern Werner Indianapolis Colts 50
Rookie Extra Points Gold Signatures 210 Darius Slay Detroit Lions 50
Rookie Extra Points Gold Signatures 211 Eric Fisher Kansas City Chiefs 50
Rookie Extra Points Gold Signatures 212 Chris Gragg Buffalo Bills 50
Rookie Extra Points Gold Signatures 213 Chris Harper Seattle Seahawks 50
Rookie Extra Points Gold Signatures 214 Christine Michael Seattle Seahawks 50
Rookie Extra Points Gold Signatures 216 Cobi Hamilton Cincinnati Bengals 50
Rookie Extra Points Gold Signatures 217 Knile Davis Kansas City Chiefs 50
Rookie Extra Points Gold Signatures 218 Chance Warmack Tennessee Titans 50
Rookie Extra Points Gold Signatures 219 Conner Vernon Oakland Raiders 50
Rookie Extra Points Gold Signatures 220 Cordarrelle Patterson Minnesota Vikings 50
Rookie Extra Points Gold Signatures 221 Corey Fuller Detroit Lions 50
Rookie Extra Points Gold Signatures 222 Damontre Moore New York Giants 50
Rookie Extra Points Gold Signatures 223 Da'Rick Rogers Buffalo Bills 50
Rookie Extra Points Gold Signatures 224 Datone Jones Green Bay Packers 50
Rookie Extra Points Gold Signatures 225 DeAndre Hopkins Houston Texans 50
Rookie Extra Points Gold Signatures 226 Dee Milliner New York Jets 50
Rookie Extra Points Gold Signatures 227 Denard Robinson Jacksonville Jaguars 50
Rookie Extra Points Gold Signatures 228 Dion Jordan Miami Dolphins 50
Rookie Extra Points Gold Signatures 229 Dion Sims Miami Dolphins 50
Rookie Extra Points Gold Signatures 230 Eddie Lacy Green Bay Packers 50
Rookie Extra Points Gold Signatures 231 EJ Manuel Buffalo Bills 50
Rookie Extra Points Gold Signatures 232 Eric Reid San Francisco 49ers 50
Rookie Extra Points Gold Signatures 233 Gavin Escobar Dallas Cowboys 50
Rookie Extra Points Gold Signatures 234 Geno Smith New York Jets 50
Rookie Extra Points Gold Signatures 235 Giovani Bernard Cincinnati Bengals 50
Rookie Extra Points Gold Signatures 236 Jamar Taylor Miami Dolphins 50
Rookie Extra Points Gold Signatures 237 Jarvis Jones Pittsburgh Steelers 50
Rookie Extra Points Gold Signatures 238 Jawan Jamison Washington Redskins 50
Rookie Extra Points Gold Signatures 239 Ezekiel Ansah Detroit Lions 50
Rookie Extra Points Gold Signatures 240 Johnthan Banks Tampa Bay Buccaneers 50
Rookie Extra Points Gold Signatures 242 Johnathan Franklin Green Bay Packers 50
Rookie Extra Points Gold Signatures 243 Jordan Poyer Philadelphia Eagles 50
Rookie Extra Points Gold Signatures 244 Jordan Reed Washington Redskins 50
Rookie Extra Points Gold Signatures 245 Joseph Randle Dallas Cowboys 50
Rookie Extra Points Gold Signatures 246 Josh Boyce New England Patriots 50
Rookie Extra Points Gold Signatures 247 Justin Hunter Tennessee Titans 50
Rookie Extra Points Gold Signatures 248 Keenan Allen San Diego Chargers 50
Rookie Extra Points Gold Signatures 249 Kenjon Barner Carolina Panthers 50
Rookie Extra Points Gold Signatures 250 Kenny Stills New Orleans Saints 50
Rookie Extra Points Gold Signatures 251 Kenny Vaccaro New Orleans Saints 50
Rookie Extra Points Gold Signatures 252 Kerwynn Williams Indianapolis Colts 50
Rookie Extra Points Gold Signatures 253 Kevin Minter Arizona Cardinals 50
Rookie Extra Points Gold Signatures 254 Landry Jones Pittsburgh Steelers 50
Rookie Extra Points Gold Signatures 255 Le'Veon Bell Pittsburgh Steelers 50
Rookie Extra Points Gold Signatures 257 Luke Joeckel Jacksonville Jaguars 50
Rookie Extra Points Gold Signatures 258 Manti Te'o San Diego Chargers 50
Rookie Extra Points Gold Signatures 259 Marcus Davis New York Jets 50
Rookie Extra Points Gold Signatures 260 Marcus Lattimore San Francisco 49ers 50
Rookie Extra Points Gold Signatures 261 Margus Hunt Cincinnati Bengals 50
Rookie Extra Points Gold Signatures 262 Desmond Trufant Atlanta Falcons 50
Rookie Extra Points Gold Signatures 263 Vance McDonald San Francisco 49ers 50
Rookie Extra Points Gold Signatures 264 Markus Wheaton Pittsburgh Steelers 50
Rookie Extra Points Gold Signatures 265 Marquess Wilson Chicago Bears 50
Rookie Extra Points Gold Signatures 266 Marquise Goodwin Buffalo Bills 50
Rookie Extra Points Gold Signatures 267 Matt Barkley Philadelphia Eagles 50
Rookie Extra Points Gold Signatures 268 Matt Elam Baltimore Ravens 50
Rookie Extra Points Gold Signatures 269 Matt Scott Jacksonville Jaguars 50
Rookie Extra Points Gold Signatures 270 Mike Gillislee Miami Dolphins 50
Rookie Extra Points Gold Signatures 271 Mike Glennon Tampa Bay Buccaneers 50
Rookie Extra Points Gold Signatures 272 Montee Ball Denver Broncos 50
Rookie Extra Points Gold Signatures 273 Nick Kasa Oakland Raiders 50
Rookie Extra Points Gold Signatures 274 Phillip Thomas Washington Redskins 50
Rookie Extra Points Gold Signatures 275 Quinton Patton San Francisco 49ers 50
Rookie Extra Points Gold Signatures 276 Ray Graham Houston Texans 50
Rookie Extra Points Gold Signatures 277 Ryan Otten Jacksonville Jaguars 50
Rookie Extra Points Gold Signatures 278 Rex Burkhead Cincinnati Bengals 50
Rookie Extra Points Gold Signatures 279 Tyrann Mathieu Arizona Cardinals 50
Rookie Extra Points Gold Signatures 280 Robert Woods Buffalo Bills 50
Rookie Extra Points Gold Signatures 281 Rodney Smith Minnesota Vikings 50
Rookie Extra Points Gold Signatures 282 Ryan Nassib New York Giants 50
Rookie Extra Points Gold Signatures 283 Ryan Swope Arizona Cardinals 50
Rookie Extra Points Gold Signatures 284 Sam Montgomery Houston Texans 50
Rookie Extra Points Gold Signatures 285 Sheldon Richardson New York Jets 50
Rookie Extra Points Gold Signatures 287 Stedman Bailey St. Louis Rams 50
Rookie Extra Points Gold Signatures 288 Stepfan Taylor Arizona Cardinals 50
Rookie Extra Points Gold Signatures 289 Tavarres King Denver Broncos 50
Rookie Extra Points Gold Signatures 290 Tavon Austin St. Louis Rams 50
Rookie Extra Points Gold Signatures 291 Terrance Williams Dallas Cowboys 50
Rookie Extra Points Gold Signatures 292 Theo Riddick Detroit Lions 50
Rookie Extra Points Gold Signatures 293 Travis Kelce Kansas City Chiefs 50
Rookie Extra Points Gold Signatures 294 Tyler Bray Kansas City Chiefs 50
Rookie Extra Points Gold Signatures 295 Tyler Eifert Cincinnati Bengals 50
Rookie Extra Points Gold Signatures 296 Tyler Wilson Oakland Raiders 50
Rookie Extra Points Gold Signatures 297 Arthur Brown Baltimore Ravens 50
Rookie Extra Points Gold Signatures 298 Xavier Rhodes Minnesota Vikings 50
Rookie Extra Points Gold Signatures 299 Zac Dysert Denver Broncos 50
Rookie Extra Points Gold Signatures 300 Zach Ertz Philadelphia Eagles 50
Rookie Extra Points Green 201 Aaron Dobson New England Patriots 25
Rookie Extra Points Green 202 Aaron Mellette Baltimore Ravens 25
Rookie Extra Points Green 203 Ace Sanders Jacksonville Jaguars 25
Rookie Extra Points Green 204 Alec Lemon Houston Texans 25
Rookie Extra Points Green 205 Alec Ogletree St. Louis Rams 25
Rookie Extra Points Green 206 Alex Okafor Arizona Cardinals 25
Rookie Extra Points Green 207 Andre Ellington Arizona Cardinals 25
Rookie Extra Points Green 208 Barkevious Mingo Cleveland Browns 25
Rookie Extra Points Green 209 Bjoern Werner Indianapolis Colts 25
Rookie Extra Points Green 210 Darius Slay Detroit Lions 25
Rookie Extra Points Green 211 Eric Fisher Kansas City Chiefs 25
Rookie Extra Points Green 212 Chris Gragg Buffalo Bills 25
Rookie Extra Points Green 213 Chris Harper Seattle Seahawks 25
Rookie Extra Points Green 214 Christine Michael Seattle Seahawks 25
Rookie Extra Points Green 215 Cierre Wood Houston Texans 25
Rookie Extra Points Green 216 Cobi Hamilton Cincinnati Bengals 25
Rookie Extra Points Green 217 Knile Davis Kansas City Chiefs 25
Rookie Extra Points Green 218 Chance Warmack Tennessee Titans 25
Rookie Extra Points Green 219 Conner Vernon Oakland Raiders 25
Rookie Extra Points Green 220 Cordarrelle Patterson Minnesota Vikings 25
Rookie Extra Points Green 221 Corey Fuller Detroit Lions 25
Rookie Extra Points Green 222 Damontre Moore New York Giants 25
Rookie Extra Points Green 223 Da'Rick Rogers Buffalo Bills 25
Rookie Extra Points Green 224 Datone Jones Green Bay Packers 25
Rookie Extra Points Green 225 DeAndre Hopkins Houston Texans 25
Rookie Extra Points Green 226 Dee Milliner New York Jets 25
Rookie Extra Points Green 227 Denard Robinson Jacksonville Jaguars 25
Rookie Extra Points Green 228 Dion Jordan Miami Dolphins 25
Rookie Extra Points Green 229 Dion Sims Miami Dolphins 25
Rookie Extra Points Green 230 Eddie Lacy Green Bay Packers 25
Rookie Extra Points Green 231 EJ Manuel Buffalo Bills 25
Rookie Extra Points Green 232 Eric Reid San Francisco 49ers 25
Rookie Extra Points Green 233 Gavin Escobar Dallas Cowboys 25
Rookie Extra Points Green 234 Geno Smith New York Jets 25
Rookie Extra Points Green 235 Giovani Bernard Cincinnati Bengals 25
Rookie Extra Points Green 236 Jamar Taylor Miami Dolphins 25
Rookie Extra Points Green 237 Jarvis Jones Pittsburgh Steelers 25
Rookie Extra Points Green 238 Jawan Jamison Washington Redskins 25
Rookie Extra Points Green 239 Ezekiel Ansah Detroit Lions 25
Rookie Extra Points Green 240 Johnthan Banks Tampa Bay Buccaneers 25
Rookie Extra Points Green 241 Johnathan Hankins New York Giants 25
Rookie Extra Points Green 242 Johnathan Franklin Green Bay Packers 25
Rookie Extra Points Green 243 Jordan Poyer Philadelphia Eagles 25
Rookie Extra Points Green 244 Jordan Reed Washington Redskins 25
Rookie Extra Points Green 245 Joseph Randle Dallas Cowboys 25
Rookie Extra Points Green 246 Josh Boyce New England Patriots 25
Rookie Extra Points Green 247 Justin Hunter Tennessee Titans 25
Rookie Extra Points Green 248 Keenan Allen San Diego Chargers 25
Rookie Extra Points Green 249 Kenjon Barner Carolina Panthers 25
Rookie Extra Points Green 250 Kenny Stills New Orleans Saints 25
Rookie Extra Points Green 251 Kenny Vaccaro New Orleans Saints 25
Rookie Extra Points Green 252 Kerwynn Williams Indianapolis Colts 25
Rookie Extra Points Green 253 Kevin Minter Arizona Cardinals 25
Rookie Extra Points Green 254 Landry Jones Pittsburgh Steelers 25
Rookie Extra Points Green 255 Le'Veon Bell Pittsburgh Steelers 25
Rookie Extra Points Green 256 Logan Ryan New England Patriots 25
Rookie Extra Points Green 257 Luke Joeckel Jacksonville Jaguars 25
Rookie Extra Points Green 258 Manti Te'o San Diego Chargers 25
Rookie Extra Points Green 259 Marcus Davis New York Jets 25
Rookie Extra Points Green 260 Marcus Lattimore San Francisco 49ers 25
Rookie Extra Points Green 261 Margus Hunt Cincinnati Bengals 25
Rookie Extra Points Green 262 Desmond Trufant Atlanta Falcons 25
Rookie Extra Points Green 263 Vance McDonald San Francisco 49ers 25
Rookie Extra Points Green 264 Markus Wheaton Pittsburgh Steelers 25
Rookie Extra Points Green 265 Marquess Wilson Chicago Bears 25
Rookie Extra Points Green 266 Marquise Goodwin Buffalo Bills 25
Rookie Extra Points Green 267 Matt Barkley Philadelphia Eagles 25
Rookie Extra Points Green 268 Matt Elam Baltimore Ravens 25
Rookie Extra Points Green 269 Matt Scott Jacksonville Jaguars 25
Rookie Extra Points Green 270 Mike Gillislee Miami Dolphins 25
Rookie Extra Points Green 271 Mike Glennon Tampa Bay Buccaneers 25
Rookie Extra Points Green 272 Montee Ball Denver Broncos 25
Rookie Extra Points Green 273 Nick Kasa Oakland Raiders 25
Rookie Extra Points Green 274 Phillip Thomas Washington Redskins 25
Rookie Extra Points Green 275 Quinton Patton San Francisco 49ers 25
Rookie Extra Points Green 276 Ray Graham Houston Texans 25
Rookie Extra Points Green 277 Ryan Otten Jacksonville Jaguars 25
Rookie Extra Points Green 278 Rex Burkhead Cincinnati Bengals 25
Rookie Extra Points Green 279 Tyrann Mathieu Arizona Cardinals 25
Rookie Extra Points Green 280 Robert Woods Buffalo Bills 25
Rookie Extra Points Green 281 Rodney Smith Minnesota Vikings 25
Rookie Extra Points Green 282 Ryan Nassib New York Giants 25
Rookie Extra Points Green 283 Ryan Swope Arizona Cardinals 25
Rookie Extra Points Green 284 Sam Montgomery Houston Texans 25
Rookie Extra Points Green 285 Sheldon Richardson New York Jets 25
Rookie Extra Points Green 286 Star Lotulelei Carolina Panthers 25
Rookie Extra Points Green 287 Stedman Bailey St. Louis Rams 25
Rookie Extra Points Green 288 Stepfan Taylor Arizona Cardinals 25
Rookie Extra Points Green 289 Tavarres King Denver Broncos 25
Rookie Extra Points Green 290 Tavon Austin St. Louis Rams 25
Rookie Extra Points Green 291 Terrance Williams Dallas Cowboys 25
Rookie Extra Points Green 292 Theo Riddick Detroit Lions 25
Rookie Extra Points Green 293 Travis Kelce Kansas City Chiefs 25
Rookie Extra Points Green 294 Tyler Bray Kansas City Chiefs 25
Rookie Extra Points Green 295 Tyler Eifert Cincinnati Bengals 25
Rookie Extra Points Green 296 Tyler Wilson Oakland Raiders 25
Rookie Extra Points Green 297 Arthur Brown Baltimore Ravens 25
Rookie Extra Points Green 298 Xavier Rhodes Minnesota Vikings 25
Rookie Extra Points Green 299 Zac Dysert Denver Broncos 25
Rookie Extra Points Green 300 Zach Ertz Philadelphia Eagles 25
Rookie Extra Points Green Signatures 201 Aaron Dobson New England Patriots 25
Rookie Extra Points Green Signatures 202 Aaron Mellette Baltimore Ravens 25
Rookie Extra Points Green Signatures 203 Ace Sanders Jacksonville Jaguars 25
Rookie Extra Points Green Signatures 205 Alec Ogletree St. Louis Rams 25
Rookie Extra Points Green Signatures 206 Alex Okafor Arizona Cardinals 25
Rookie Extra Points Green Signatures 207 Andre Ellington Arizona Cardinals 25
Rookie Extra Points Green Signatures 208 Barkevious Mingo Cleveland Browns 25
Rookie Extra Points Green Signatures 209 Bjoern Werner Indianapolis Colts 25
Rookie Extra Points Green Signatures 210 Darius Slay Detroit Lions 25
Rookie Extra Points Green Signatures 211 Eric Fisher Kansas City Chiefs 25
Rookie Extra Points Green Signatures 212 Chris Gragg Buffalo Bills 25
Rookie Extra Points Green Signatures 213 Chris Harper Seattle Seahawks 25
Rookie Extra Points Green Signatures 214 Christine Michael Seattle Seahawks 25
Rookie Extra Points Green Signatures 216 Cobi Hamilton Cincinnati Bengals 25
Rookie Extra Points Green Signatures 217 Knile Davis Kansas City Chiefs 25
Rookie Extra Points Green Signatures 218 Chance Warmack Tennessee Titans 25
Rookie Extra Points Green Signatures 219 Conner Vernon Oakland Raiders 25
Rookie Extra Points Green Signatures 220 Cordarrelle Patterson Minnesota Vikings 25
Rookie Extra Points Green Signatures 221 Corey Fuller Detroit Lions 25
Rookie Extra Points Green Signatures 222 Damontre Moore New York Giants 25
Rookie Extra Points Green Signatures 223 Da'Rick Rogers Buffalo Bills 25
Rookie Extra Points Green Signatures 224 Datone Jones Green Bay Packers 25
Rookie Extra Points Green Signatures 225 DeAndre Hopkins Houston Texans 25
Rookie Extra Points Green Signatures 226 Dee Milliner New York Jets 25
Rookie Extra Points Green Signatures 227 Denard Robinson Jacksonville Jaguars 25
Rookie Extra Points Green Signatures 228 Dion Jordan Miami Dolphins 25
Rookie Extra Points Green Signatures 229 Dion Sims Miami Dolphins 25
Rookie Extra Points Green Signatures 230 Eddie Lacy Green Bay Packers 25
Rookie Extra Points Green Signatures 231 EJ Manuel Buffalo Bills 25
Rookie Extra Points Green Signatures 232 Eric Reid San Francisco 49ers 25
Rookie Extra Points Green Signatures 233 Gavin Escobar Dallas Cowboys 25
Rookie Extra Points Green Signatures 234 Geno Smith New York Jets 25
Rookie Extra Points Green Signatures 235 Giovani Bernard Cincinnati Bengals 25
Rookie Extra Points Green Signatures 236 Jamar Taylor Miami Dolphins 25
Rookie Extra Points Green Signatures 237 Jarvis Jones Pittsburgh Steelers 25
Rookie Extra Points Green Signatures 238 Jawan Jamison Washington Redskins 25
Rookie Extra Points Green Signatures 239 Ezekiel Ansah Detroit Lions 25
Rookie Extra Points Green Signatures 240 Johnthan Banks Tampa Bay Buccaneers 25
Rookie Extra Points Green Signatures 242 Johnathan Franklin Green Bay Packers 25
Rookie Extra Points Green Signatures 243 Jordan Poyer Philadelphia Eagles 25
Rookie Extra Points Green Signatures 244 Jordan Reed Washington Redskins 25
Rookie Extra Points Green Signatures 245 Joseph Randle Dallas Cowboys 25
Rookie Extra Points Green Signatures 246 Josh Boyce New England Patriots 25
Rookie Extra Points Green Signatures 247 Justin Hunter Tennessee Titans 25
Rookie Extra Points Green Signatures 248 Keenan Allen San Diego Chargers 25
Rookie Extra Points Green Signatures 249 Kenjon Barner Carolina Panthers 25
Rookie Extra Points Green Signatures 250 Kenny Stills New Orleans Saints 25
Rookie Extra Points Green Signatures 251 Kenny Vaccaro New Orleans Saints 25
Rookie Extra Points Green Signatures 252 Kerwynn Williams Indianapolis Colts 25
Rookie Extra Points Green Signatures 253 Kevin Minter Arizona Cardinals 25
Rookie Extra Points Green Signatures 254 Landry Jones Pittsburgh Steelers 25
Rookie Extra Points Green Signatures 255 Le'Veon Bell Pittsburgh Steelers 25
Rookie Extra Points Green Signatures 257 Luke Joeckel Jacksonville Jaguars 25
Rookie Extra Points Green Signatures 258 Manti Te'o San Diego Chargers 25
Rookie Extra Points Green Signatures 259 Marcus Davis New York Jets 25
Rookie Extra Points Green Signatures 260 Marcus Lattimore San Francisco 49ers 25
Rookie Extra Points Green Signatures 261 Margus Hunt Cincinnati Bengals 25
Rookie Extra Points Green Signatures 262 Desmond Trufant Atlanta Falcons 25
Rookie Extra Points Green Signatures 263 Vance McDonald San Francisco 49ers 25
Rookie Extra Points Green Signatures 264 Markus Wheaton Pittsburgh Steelers 25
Rookie Extra Points Green Signatures 265 Marquess Wilson Chicago Bears 25
Rookie Extra Points Green Signatures 266 Marquise Goodwin Buffalo Bills 25
Rookie Extra Points Green Signatures 267 Matt Barkley Philadelphia Eagles 25
Rookie Extra Points Green Signatures 268 Matt Elam Baltimore Ravens 25
Rookie Extra Points Green Signatures 269 Matt Scott Jacksonville Jaguars 25
Rookie Extra Points Green Signatures 270 Mike Gillislee Miami Dolphins 25
Rookie Extra Points Green Signatures 271 Mike Glennon Tampa Bay Buccaneers 25
Rookie Extra Points Green Signatures 272 Montee Ball Denver Broncos 25
Rookie Extra Points Green Signatures 273 Nick Kasa Oakland Raiders 25
Rookie Extra Points Green Signatures 274 Phillip Thomas Washington Redskins 25
Rookie Extra Points Green Signatures 275 Quinton Patton San Francisco 49ers 25
Rookie Extra Points Green Signatures 276 Ray Graham Houston Texans 25
Rookie Extra Points Green Signatures 277 Ryan Otten Jacksonville Jaguars 25
Rookie Extra Points Green Signatures 278 Rex Burkhead Cincinnati Bengals 25
Rookie Extra Points Green Signatures 279 Tyrann Mathieu Arizona Cardinals 25
Rookie Extra Points Green Signatures 280 Robert Woods Buffalo Bills 25
Rookie Extra Points Green Signatures 281 Rodney Smith Minnesota Vikings 25
Rookie Extra Points Green Signatures 282 Ryan Nassib New York Giants 25
Rookie Extra Points Green Signatures 283 Ryan Swope Arizona Cardinals 25
Rookie Extra Points Green Signatures 284 Sam Montgomery Houston Texans 25
Rookie Extra Points Green Signatures 285 Sheldon Richardson New York Jets 25
Rookie Extra Points Green Signatures 287 Stedman Bailey St. Louis Rams 25
Rookie Extra Points Green Signatures 288 Stepfan Taylor Arizona Cardinals 25
Rookie Extra Points Green Signatures 289 Tavarres King Denver Broncos 25
Rookie Extra Points Green Signatures 290 Tavon Austin St. Louis Rams 25
Rookie Extra Points Green Signatures 291 Terrance Williams Dallas Cowboys 25
Rookie Extra Points Green Signatures 292 Theo Riddick Detroit Lions 25
Rookie Extra Points Green Signatures 293 Travis Kelce Kansas City Chiefs 25
Rookie Extra Points Green Signatures 294 Tyler Bray Kansas City Chiefs 25
Rookie Extra Points Green Signatures 295 Tyler Eifert Cincinnati Bengals 25
Rookie Extra Points Green Signatures 296 Tyler Wilson Oakland Raiders 25
Rookie Extra Points Green Signatures 297 Arthur Brown Baltimore Ravens 25
Rookie Extra Points Green Signatures 298 Xavier Rhodes Minnesota Vikings 25
Rookie Extra Points Green Signatures 299 Zac Dysert Denver Broncos 25
Rookie Extra Points Green Signatures 300 Zach Ertz Philadelphia Eagles 25
Rookie Extra Points Purple 201 Aaron Dobson New England Patriots 100
Rookie Extra Points Purple 202 Aaron Mellette Baltimore Ravens 100
Rookie Extra Points Purple 203 Ace Sanders Jacksonville Jaguars 100
Rookie Extra Points Purple 204 Alec Lemon Houston Texans 100
Rookie Extra Points Purple 205 Alec Ogletree St. Louis Rams 100
Rookie Extra Points Purple 206 Alex Okafor Arizona Cardinals 100
Rookie Extra Points Purple 207 Andre Ellington Arizona Cardinals 100
Rookie Extra Points Purple 208 Barkevious Mingo Cleveland Browns 100
Rookie Extra Points Purple 209 Bjoern Werner Indianapolis Colts 100
Rookie Extra Points Purple 210 Darius Slay Detroit Lions 100
Rookie Extra Points Purple 211 Eric Fisher Kansas City Chiefs 100
Rookie Extra Points Purple 212 Chris Gragg Buffalo Bills 100
Rookie Extra Points Purple 213 Chris Harper Seattle Seahawks 100
Rookie Extra Points Purple 214 Christine Michael Seattle Seahawks 100
Rookie Extra Points Purple 215 Cierre Wood Houston Texans 100
Rookie Extra Points Purple 216 Cobi Hamilton Cincinnati Bengals 100
Rookie Extra Points Purple 217 Knile Davis Kansas City Chiefs 100
Rookie Extra Points Purple 218 Chance Warmack Tennessee Titans 100
Rookie Extra Points Purple 219 Conner Vernon Oakland Raiders 100
Rookie Extra Points Purple 220 Cordarrelle Patterson Minnesota Vikings 100
Rookie Extra Points Purple 221 Corey Fuller Detroit Lions 100
Rookie Extra Points Purple 222 Damontre Moore New York Giants 100
Rookie Extra Points Purple 223 Da'Rick Rogers Buffalo Bills 100
Rookie Extra Points Purple 224 Datone Jones Green Bay Packers 100
Rookie Extra Points Purple 225 DeAndre Hopkins Houston Texans 100
Rookie Extra Points Purple 226 Dee Milliner New York Jets 100
Rookie Extra Points Purple 227 Denard Robinson Jacksonville Jaguars 100
Rookie Extra Points Purple 228 Dion Jordan Miami Dolphins 100
Rookie Extra Points Purple 229 Dion Sims Miami Dolphins 100
Rookie Extra Points Purple 230 Eddie Lacy Green Bay Packers 100
Rookie Extra Points Purple 231 EJ Manuel Buffalo Bills 100
Rookie Extra Points Purple 232 Eric Reid San Francisco 49ers 100
Rookie Extra Points Purple 233 Gavin Escobar Dallas Cowboys 100
Rookie Extra Points Purple 234 Geno Smith New York Jets 100
Rookie Extra Points Purple 235 Giovani Bernard Cincinnati Bengals 100
Rookie Extra Points Purple 236 Jamar Taylor Miami Dolphins 100
Rookie Extra Points Purple 237 Jarvis Jones Pittsburgh Steelers 100
Rookie Extra Points Purple 238 Jawan Jamison Washington Redskins 100
Rookie Extra Points Purple 239 Ezekiel Ansah Detroit Lions 100
Rookie Extra Points Purple 240 Johnthan Banks Tampa Bay Buccaneers 100
Rookie Extra Points Purple 241 Johnathan Hankins New York Giants 100
Rookie Extra Points Purple 242 Johnathan Franklin Green Bay Packers 100
Rookie Extra Points Purple 243 Jordan Poyer Philadelphia Eagles 100
Rookie Extra Points Purple 244 Jordan Reed Washington Redskins 100
Rookie Extra Points Purple 245 Joseph Randle Dallas Cowboys 100
Rookie Extra Points Purple 246 Josh Boyce New England Patriots 100
Rookie Extra Points Purple 247 Justin Hunter Tennessee Titans 100
Rookie Extra Points Purple 248 Keenan Allen San Diego Chargers 100
Rookie Extra Points Purple 249 Kenjon Barner Carolina Panthers 100
Rookie Extra Points Purple 250 Kenny Stills New Orleans Saints 100
Rookie Extra Points Purple 251 Kenny Vaccaro New Orleans Saints 100
Rookie Extra Points Purple 252 Kerwynn Williams Indianapolis Colts 100
Rookie Extra Points Purple 253 Kevin Minter Arizona Cardinals 100
Rookie Extra Points Purple 254 Landry Jones Pittsburgh Steelers 100
Rookie Extra Points Purple 255 Le'Veon Bell Pittsburgh Steelers 100
Rookie Extra Points Purple 256 Logan Ryan New England Patriots 100
Rookie Extra Points Purple 257 Luke Joeckel Jacksonville Jaguars 100
Rookie Extra Points Purple 258 Manti Te'o San Diego Chargers 100
Rookie Extra Points Purple 259 Marcus Davis New York Jets 100
Rookie Extra Points Purple 260 Marcus Lattimore San Francisco 49ers 100
Rookie Extra Points Purple 261 Margus Hunt Cincinnati Bengals 100
Rookie Extra Points Purple 262 Desmond Trufant Atlanta Falcons 100
Rookie Extra Points Purple 263 Vance McDonald San Francisco 49ers 100
Rookie Extra Points Purple 264 Markus Wheaton Pittsburgh Steelers 100
Rookie Extra Points Purple 265 Marquess Wilson Chicago Bears 100
Rookie Extra Points Purple 266 Marquise Goodwin Buffalo Bills 100
Rookie Extra Points Purple 267 Matt Barkley Philadelphia Eagles 100
Rookie Extra Points Purple 268 Matt Elam Baltimore Ravens 100
Rookie Extra Points Purple 269 Matt Scott Jacksonville Jaguars 100
Rookie Extra Points Purple 270 Mike Gillislee Miami Dolphins 100
Rookie Extra Points Purple 271 Mike Glennon Tampa Bay Buccaneers 100
Rookie Extra Points Purple 272 Montee Ball Denver Broncos 100
Rookie Extra Points Purple 273 Nick Kasa Oakland Raiders 100
Rookie Extra Points Purple 274 Phillip Thomas Washington Redskins 100
Rookie Extra Points Purple 275 Quinton Patton San Francisco 49ers 100
Rookie Extra Points Purple 276 Ray Graham Houston Texans 100
Rookie Extra Points Purple 277 Ryan Otten Jacksonville Jaguars 100
Rookie Extra Points Purple 278 Rex Burkhead Cincinnati Bengals 100
Rookie Extra Points Purple 279 Tyrann Mathieu Arizona Cardinals 100
Rookie Extra Points Purple 280 Robert Woods Buffalo Bills 100
Rookie Extra Points Purple 281 Rodney Smith Minnesota Vikings 100
Rookie Extra Points Purple 282 Ryan Nassib New York Giants 100
Rookie Extra Points Purple 283 Ryan Swope Arizona Cardinals 100
Rookie Extra Points Purple 284 Sam Montgomery Houston Texans 100
Rookie Extra Points Purple 285 Sheldon Richardson New York Jets 100
Rookie Extra Points Purple 286 Star Lotulelei Carolina Panthers 100
Rookie Extra Points Purple 287 Stedman Bailey St. Louis Rams 100
Rookie Extra Points Purple 288 Stepfan Taylor Arizona Cardinals 100
Rookie Extra Points Purple 289 Tavarres King Denver Broncos 100
Rookie Extra Points Purple 290 Tavon Austin St. Louis Rams 100
Rookie Extra Points Purple 291 Terrance Williams Dallas Cowboys 100
Rookie Extra Points Purple 292 Theo Riddick Detroit Lions 100
Rookie Extra Points Purple 293 Travis Kelce Kansas City Chiefs 100
Rookie Extra Points Purple 294 Tyler Bray Kansas City Chiefs 100
Rookie Extra Points Purple 295 Tyler Eifert Cincinnati Bengals 100
Rookie Extra Points Purple 296 Tyler Wilson Oakland Raiders 100
Rookie Extra Points Purple 297 Arthur Brown Baltimore Ravens 100
Rookie Extra Points Purple 298 Xavier Rhodes Minnesota Vikings 100
Rookie Extra Points Purple 299 Zac Dysert Denver Broncos 100
Rookie Extra Points Purple 300 Zach Ertz Philadelphia Eagles 100
Rookie Extra Points Purple Signatures 201 Aaron Dobson New England Patriots 100
Rookie Extra Points Purple Signatures 202 Aaron Mellette Baltimore Ravens 100
Rookie Extra Points Purple Signatures 203 Ace Sanders Jacksonville Jaguars 100
Rookie Extra Points Purple Signatures 205 Alec Ogletree St. Louis Rams 100
Rookie Extra Points Purple Signatures 206 Alex Okafor Arizona Cardinals 100
Rookie Extra Points Purple Signatures 207 Andre Ellington Arizona Cardinals 100
Rookie Extra Points Purple Signatures 208 Barkevious Mingo Cleveland Browns 100
Rookie Extra Points Purple Signatures 209 Bjoern Werner Indianapolis Colts 100
Rookie Extra Points Purple Signatures 210 Darius Slay Detroit Lions 100
Rookie Extra Points Purple Signatures 211 Eric Fisher Kansas City Chiefs 100
Rookie Extra Points Purple Signatures 212 Chris Gragg Buffalo Bills 100
Rookie Extra Points Purple Signatures 213 Chris Harper Seattle Seahawks 100
Rookie Extra Points Purple Signatures 214 Christine Michael Seattle Seahawks 100
Rookie Extra Points Purple Signatures 217 Knile Davis Kansas City Chiefs 100
Rookie Extra Points Purple Signatures 218 Chance Warmack Tennessee Titans 100
Rookie Extra Points Purple Signatures 219 Conner Vernon Oakland Raiders 100
Rookie Extra Points Purple Signatures 220 Cordarrelle Patterson Minnesota Vikings 100
Rookie Extra Points Purple Signatures 221 Corey Fuller Detroit Lions 100
Rookie Extra Points Purple Signatures 222 Damontre Moore New York Giants 100
Rookie Extra Points Purple Signatures 223 Da'Rick Rogers Buffalo Bills 100
Rookie Extra Points Purple Signatures 224 Datone Jones Green Bay Packers 100
Rookie Extra Points Purple Signatures 225 DeAndre Hopkins Houston Texans 100
Rookie Extra Points Purple Signatures 226 Dee Milliner New York Jets 100
Rookie Extra Points Purple Signatures 228 Dion Jordan Miami Dolphins 100
Rookie Extra Points Purple Signatures 229 Dion Sims Miami Dolphins 100
Rookie Extra Points Purple Signatures 230 Eddie Lacy Green Bay Packers 100
Rookie Extra Points Purple Signatures 231 EJ Manuel Buffalo Bills 100
Rookie Extra Points Purple Signatures 232 Eric Reid San Francisco 49ers 100
Rookie Extra Points Purple Signatures 233 Gavin Escobar Dallas Cowboys 100
Rookie Extra Points Purple Signatures 234 Geno Smith New York Jets 100
Rookie Extra Points Purple Signatures 235 Giovani Bernard Cincinnati Bengals 100
Rookie Extra Points Purple Signatures 237 Jarvis Jones Pittsburgh Steelers 100
Rookie Extra Points Purple Signatures 242 Johnathan Franklin Green Bay Packers 100
Rookie Extra Points Purple Signatures 243 Jordan Poyer Philadelphia Eagles 100
Rookie Extra Points Purple Signatures 245 Joseph Randle Dallas Cowboys 100
Rookie Extra Points Purple Signatures 246 Josh Boyce New England Patriots 100
Rookie Extra Points Purple Signatures 247 Justin Hunter Tennessee Titans 100
Rookie Extra Points Purple Signatures 248 Keenan Allen San Diego Chargers 100
Rookie Extra Points Purple Signatures 249 Kenjon Barner Carolina Panthers 100
Rookie Extra Points Purple Signatures 250 Kenny Stills New Orleans Saints 100
Rookie Extra Points Purple Signatures 251 Kenny Vaccaro New Orleans Saints 100
Rookie Extra Points Purple Signatures 253 Kevin Minter Arizona Cardinals 100
Rookie Extra Points Purple Signatures 254 Landry Jones Pittsburgh Steelers 100
Rookie Extra Points Purple Signatures 255 Le'Veon Bell Pittsburgh Steelers 100
Rookie Extra Points Purple Signatures 257 Luke Joeckel Jacksonville Jaguars 100
Rookie Extra Points Purple Signatures 258 Manti Te'o San Diego Chargers 100
Rookie Extra Points Purple Signatures 259 Marcus Davis New York Jets 100
Rookie Extra Points Purple Signatures 260 Marcus Lattimore San Francisco 49ers 100
Rookie Extra Points Purple Signatures 261 Margus Hunt Cincinnati Bengals 100
Rookie Extra Points Purple Signatures 262 Desmond Trufant Atlanta Falcons 100
Rookie Extra Points Purple Signatures 264 Markus Wheaton Pittsburgh Steelers 100
Rookie Extra Points Purple Signatures 266 Marquise Goodwin Buffalo Bills 100
Rookie Extra Points Purple Signatures 267 Matt Barkley Philadelphia Eagles 100
Rookie Extra Points Purple Signatures 268 Matt Elam Baltimore Ravens 100
Rookie Extra Points Purple Signatures 269 Matt Scott Jacksonville Jaguars 100
Rookie Extra Points Purple Signatures 271 Mike Glennon Tampa Bay Buccaneers 100
Rookie Extra Points Purple Signatures 272 Montee Ball Denver Broncos 100
Rookie Extra Points Purple Signatures 273 Nick Kasa Oakland Raiders 100
Rookie Extra Points Purple Signatures 274 Phillip Thomas Washington Redskins 100
Rookie Extra Points Purple Signatures 275 Quinton Patton San Francisco 49ers 100
Rookie Extra Points Purple Signatures 277 Ryan Otten Jacksonville Jaguars 100
Rookie Extra Points Purple Signatures 278 Rex Burkhead Cincinnati Bengals 100
Rookie Extra Points Purple Signatures 279 Tyrann Mathieu Arizona Cardinals 100
Rookie Extra Points Purple Signatures 280 Robert Woods Buffalo Bills 100
Rookie Extra Points Purple Signatures 281 Rodney Smith Minnesota Vikings 100
Rookie Extra Points Purple Signatures 282 Ryan Nassib New York Giants 100
Rookie Extra Points Purple Signatures 283 Ryan Swope Arizona Cardinals 100
Rookie Extra Points Purple Signatures 284 Sam Montgomery Houston Texans 100
Rookie Extra Points Purple Signatures 287 Stedman Bailey St. Louis Rams 100
Rookie Extra Points Purple Signatures 288 Stepfan Taylor Arizona Cardinals 100
Rookie Extra Points Purple Signatures 289 Tavarres King Denver Broncos 100
Rookie Extra Points Purple Signatures 290 Tavon Austin St. Louis Rams 100
Rookie Extra Points Purple Signatures 291 Terrance Williams Dallas Cowboys 100
Rookie Extra Points Purple Signatures 293 Travis Kelce Kansas City Chiefs 100
Rookie Extra Points Purple Signatures 294 Tyler Bray Kansas City Chiefs 100
Rookie Extra Points Purple Signatures 295 Tyler Eifert Cincinnati Bengals 100
Rookie Extra Points Purple Signatures 296 Tyler Wilson Oakland Raiders 100
Rookie Extra Points Purple Signatures 297 Arthur Brown Baltimore Ravens 100
Rookie Extra Points Purple Signatures 298 Xavier Rhodes Minnesota Vikings 100
Rookie Extra Points Purple Signatures 299 Zac Dysert Denver Broncos 100
Rookie Extra Points Purple Signatures 300 Zach Ertz Philadelphia Eagles 100
Rookie Extra Points Red 201 Aaron Dobson New England Patriots
Rookie Extra Points Red 202 Aaron Mellette Baltimore Ravens
Rookie Extra Points Red 203 Ace Sanders Jacksonville Jaguars
Rookie Extra Points Red 204 Alec Lemon Houston Texans
Rookie Extra Points Red 205 Alec Ogletree St. Louis Rams
Rookie Extra Points Red 206 Alex Okafor Arizona Cardinals
Rookie Extra Points Red 207 Andre Ellington Arizona Cardinals
Rookie Extra Points Red 208 Barkevious Mingo Cleveland Browns
Rookie Extra Points Red 209 Bjoern Werner Indianapolis Colts
Rookie Extra Points Red 210 Darius Slay Detroit Lions
Rookie Extra Points Red 211 Eric Fisher Kansas City Chiefs
Rookie Extra Points Red 212 Chris Gragg Buffalo Bills
Rookie Extra Points Red 213 Chris Harper Seattle Seahawks
Rookie Extra Points Red 214 Christine Michael Seattle Seahawks
Rookie Extra Points Red 215 Cierre Wood Houston Texans
Rookie Extra Points Red 216 Cobi Hamilton Cincinnati Bengals
Rookie Extra Points Red 217 Knile Davis Kansas City Chiefs
Rookie Extra Points Red 218 Chance Warmack Tennessee Titans
Rookie Extra Points Red 219 Conner Vernon Oakland Raiders
Rookie Extra Points Red 220 Cordarrelle Patterson Minnesota Vikings
Rookie Extra Points Red 221 Corey Fuller Detroit Lions
Rookie Extra Points Red 222 Damontre Moore New York Giants
Rookie Extra Points Red 223 Da'Rick Rogers Buffalo Bills
Rookie Extra Points Red 224 Datone Jones Green Bay Packers
Rookie Extra Points Red 225 DeAndre Hopkins Houston Texans
Rookie Extra Points Red 226 Dee Milliner New York Jets
Rookie Extra Points Red 227 Denard Robinson Jacksonville Jaguars
Rookie Extra Points Red 228 Dion Jordan Miami Dolphins
Rookie Extra Points Red 229 Dion Sims Miami Dolphins
Rookie Extra Points Red 230 Eddie Lacy Green Bay Packers
Rookie Extra Points Red 231 EJ Manuel Buffalo Bills
Rookie Extra Points Red 232 Eric Reid San Francisco 49ers
Rookie Extra Points Red 233 Gavin Escobar Dallas Cowboys
Rookie Extra Points Red 234 Geno Smith New York Jets
Rookie Extra Points Red 235 Giovani Bernard Cincinnati Bengals
Rookie Extra Points Red 236 Jamar Taylor Miami Dolphins
Rookie Extra Points Red 237 Jarvis Jones Pittsburgh Steelers
Rookie Extra Points Red 238 Jawan Jamison Washington Redskins
Rookie Extra Points Red 239 Ezekiel Ansah Detroit Lions
Rookie Extra Points Red 240 Johnthan Banks Tampa Bay Buccaneers
Rookie Extra Points Red 241 Johnathan Hankins New York Giants
Rookie Extra Points Red 242 Johnathan Franklin Green Bay Packers
Rookie Extra Points Red 243 Jordan Poyer Philadelphia Eagles
Rookie Extra Points Red 244 Jordan Reed Washington Redskins
Rookie Extra Points Red 245 Joseph Randle Dallas Cowboys
Rookie Extra Points Red 246 Josh Boyce New England Patriots
Rookie Extra Points Red 247 Justin Hunter Tennessee Titans
Rookie Extra Points Red 248 Keenan Allen San Diego Chargers
Rookie Extra Points Red 249 Kenjon Barner Carolina Panthers
Rookie Extra Points Red 250 Kenny Stills New Orleans Saints
Rookie Extra Points Red 251 Kenny Vaccaro New Orleans Saints
Rookie Extra Points Red 252 Kerwynn Williams Indianapolis Colts
Rookie Extra Points Red 253 Kevin Minter Arizona Cardinals
Rookie Extra Points Red 254 Landry Jones Pittsburgh Steelers
Rookie Extra Points Red 255 Le'Veon Bell Pittsburgh Steelers
Rookie Extra Points Red 256 Logan Ryan New England Patriots
Rookie Extra Points Red 257 Luke Joeckel Jacksonville Jaguars
Rookie Extra Points Red 258 Manti Te'o San Diego Chargers
Rookie Extra Points Red 259 Marcus Davis New York Jets
Rookie Extra Points Red 260 Marcus Lattimore San Francisco 49ers
Rookie Extra Points Red 261 Margus Hunt Cincinnati Bengals
Rookie Extra Points Red 262 Desmond Trufant Atlanta Falcons
Rookie Extra Points Red 263 Vance McDonald San Francisco 49ers
Rookie Extra Points Red 264 Markus Wheaton Pittsburgh Steelers
Rookie Extra Points Red 265 Marquess Wilson Chicago Bears
Rookie Extra Points Red 266 Marquise Goodwin Buffalo Bills
Rookie Extra Points Red 267 Matt Barkley Philadelphia Eagles
Rookie Extra Points Red 268 Matt Elam Baltimore Ravens
Rookie Extra Points Red 269 Matt Scott Jacksonville Jaguars
Rookie Extra Points Red 270 Mike Gillislee Miami Dolphins
Rookie Extra Points Red 271 Mike Glennon Tampa Bay Buccaneers
Rookie Extra Points Red 272 Montee Ball Denver Broncos
Rookie Extra Points Red 273 Nick Kasa Oakland Raiders
Rookie Extra Points Red 274 Phillip Thomas Washington Redskins
Rookie Extra Points Red 275 Quinton Patton San Francisco 49ers
Rookie Extra Points Red 276 Ray Graham Houston Texans
Rookie Extra Points Red 277 Ryan Otten Jacksonville Jaguars
Rookie Extra Points Red 278 Rex Burkhead Cincinnati Bengals
Rookie Extra Points Red 279 Tyrann Mathieu Arizona Cardinals
Rookie Extra Points Red 280 Robert Woods Buffalo Bills
Rookie Extra Points Red 281 Rodney Smith Minnesota Vikings
Rookie Extra Points Red 282 Ryan Nassib New York Giants
Rookie Extra Points Red 283 Ryan Swope Arizona Cardinals
Rookie Extra Points Red 284 Sam Montgomery Houston Texans
Rookie Extra Points Red 285 Sheldon Richardson New York Jets
Rookie Extra Points Red 286 Star Lotulelei Carolina Panthers
Rookie Extra Points Red 287 Stedman Bailey St. Louis Rams
Rookie Extra Points Red 288 Stepfan Taylor Arizona Cardinals
Rookie Extra Points Red 289 Tavarres King Denver Broncos
Rookie Extra Points Red 290 Tavon Austin St. Louis Rams
Rookie Extra Points Red 291 Terrance Williams Dallas Cowboys
Rookie Extra Points Red 292 Theo Riddick Detroit Lions
Rookie Extra Points Red 293 Travis Kelce Kansas City Chiefs
Rookie Extra Points Red 294 Tyler Bray Kansas City Chiefs
Rookie Extra Points Red 295 Tyler Eifert Cincinnati Bengals
Rookie Extra Points Red 296 Tyler Wilson Oakland Raiders
Rookie Extra Points Red 297 Arthur Brown Baltimore Ravens
Rookie Extra Points Red 298 Xavier Rhodes Minnesota Vikings
Rookie Extra Points Red 299 Zac Dysert Denver Broncos
Rookie Extra Points Red 300 Zach Ertz Philadelphia Eagles
Rookie Extra Points Red Signatures 201 Aaron Dobson New England Patriots
Rookie Extra Points Red Signatures 202 Aaron Mellette Baltimore Ravens
Rookie Extra Points Red Signatures 203 Ace Sanders Jacksonville Jaguars
Rookie Extra Points Red Signatures 205 Alec Ogletree St. Louis Rams
Rookie Extra Points Red Signatures 206 Alex Okafor Arizona Cardinals
Rookie Extra Points Red Signatures 207 Andre Ellington Arizona Cardinals
Rookie Extra Points Red Signatures 208 Barkevious Mingo Cleveland Browns
Rookie Extra Points Red Signatures 209 Bjoern Werner Indianapolis Colts
Rookie Extra Points Red Signatures 210 Darius Slay Detroit Lions
Rookie Extra Points Red Signatures 211 Eric Fisher Kansas City Chiefs
Rookie Extra Points Red Signatures 212 Chris Gragg Buffalo Bills
Rookie Extra Points Red Signatures 213 Chris Harper Seattle Seahawks
Rookie Extra Points Red Signatures 214 Christine Michael Seattle Seahawks
Rookie Extra Points Red Signatures 217 Knile Davis Kansas City Chiefs
Rookie Extra Points Red Signatures 218 Chance Warmack Tennessee Titans
Rookie Extra Points Red Signatures 219 Conner Vernon Oakland Raiders
Rookie Extra Points Red Signatures 220 Cordarrelle Patterson Minnesota Vikings
Rookie Extra Points Red Signatures 221 Corey Fuller Detroit Lions
Rookie Extra Points Red Signatures 222 Damontre Moore New York Giants
Rookie Extra Points Red Signatures 223 Da'Rick Rogers Buffalo Bills
Rookie Extra Points Red Signatures 224 Datone Jones Green Bay Packers
Rookie Extra Points Red Signatures 225 DeAndre Hopkins Houston Texans
Rookie Extra Points Red Signatures 226 Dee Milliner New York Jets
Rookie Extra Points Red Signatures 227 Denard Robinson Jacksonville Jaguars
Rookie Extra Points Red Signatures 228 Dion Jordan Miami Dolphins
Rookie Extra Points Red Signatures 229 Dion Sims Miami Dolphins
Rookie Extra Points Red Signatures 230 Eddie Lacy Green Bay Packers
Rookie Extra Points Red Signatures 231 EJ Manuel Buffalo Bills
Rookie Extra Points Red Signatures 232 Eric Reid San Francisco 49ers
Rookie Extra Points Red Signatures 233 Gavin Escobar Dallas Cowboys
Rookie Extra Points Red Signatures 234 Geno Smith New York Jets
Rookie Extra Points Red Signatures 235 Giovani Bernard Cincinnati Bengals
Rookie Extra Points Red Signatures 237 Jarvis Jones Pittsburgh Steelers
Rookie Extra Points Red Signatures 242 Johnathan Franklin Green Bay Packers
Rookie Extra Points Red Signatures 243 Jordan Poyer Philadelphia Eagles
Rookie Extra Points Red Signatures 245 Joseph Randle Dallas Cowboys
Rookie Extra Points Red Signatures 246 Josh Boyce New England Patriots
Rookie Extra Points Red Signatures 247 Justin Hunter Tennessee Titans
Rookie Extra Points Red Signatures 248 Keenan Allen San Diego Chargers
Rookie Extra Points Red Signatures 249 Kenjon Barner Carolina Panthers
Rookie Extra Points Red Signatures 250 Kenny Stills New Orleans Saints
Rookie Extra Points Red Signatures 251 Kenny Vaccaro New Orleans Saints
Rookie Extra Points Red Signatures 253 Kevin Minter Arizona Cardinals
Rookie Extra Points Red Signatures 254 Landry Jones Pittsburgh Steelers
Rookie Extra Points Red Signatures 255 Le'Veon Bell Pittsburgh Steelers
Rookie Extra Points Red Signatures 257 Luke Joeckel Jacksonville Jaguars
Rookie Extra Points Red Signatures 258 Manti Te'o San Diego Chargers
Rookie Extra Points Red Signatures 259 Marcus Davis New York Jets
Rookie Extra Points Red Signatures 260 Marcus Lattimore San Francisco 49ers
Rookie Extra Points Red Signatures 261 Margus Hunt Cincinnati Bengals
Rookie Extra Points Red Signatures 262 Desmond Trufant Atlanta Falcons
Rookie Extra Points Red Signatures 263 Vance McDonald San Francisco 49ers
Rookie Extra Points Red Signatures 264 Markus Wheaton Pittsburgh Steelers
Rookie Extra Points Red Signatures 266 Marquise Goodwin Buffalo Bills
Rookie Extra Points Red Signatures 267 Matt Barkley Philadelphia Eagles
Rookie Extra Points Red Signatures 268 Matt Elam Baltimore Ravens
Rookie Extra Points Red Signatures 269 Matt Scott Jacksonville Jaguars
Rookie Extra Points Red Signatures 271 Mike Glennon Tampa Bay Buccaneers
Rookie Extra Points Red Signatures 272 Montee Ball Denver Broncos
Rookie Extra Points Red Signatures 273 Nick Kasa Oakland Raiders
Rookie Extra Points Red Signatures 274 Phillip Thomas Washington Redskins
Rookie Extra Points Red Signatures 275 Quinton Patton San Francisco 49ers
Rookie Extra Points Red Signatures 277 Ryan Otten Jacksonville Jaguars
Rookie Extra Points Red Signatures 278 Rex Burkhead Cincinnati Bengals
Rookie Extra Points Red Signatures 279 Tyrann Mathieu Arizona Cardinals
Rookie Extra Points Red Signatures 280 Robert Woods Buffalo Bills
Rookie Extra Points Red Signatures 281 Rodney Smith Minnesota Vikings
Rookie Extra Points Red Signatures 282 Ryan Nassib New York Giants
Rookie Extra Points Red Signatures 283 Ryan Swope Arizona Cardinals
Rookie Extra Points Red Signatures 284 Sam Montgomery Houston Texans
Rookie Extra Points Red Signatures 287 Stedman Bailey St. Louis Rams
Rookie Extra Points Red Signatures 288 Stepfan Taylor Arizona Cardinals
Rookie Extra Points Red Signatures 289 Tavarres King Denver Broncos
Rookie Extra Points Red Signatures 290 Tavon Austin St. Louis Rams
Rookie Extra Points Red Signatures 291 Terrance Williams Dallas Cowboys
Rookie Extra Points Red Signatures 293 Travis Kelce Kansas City Chiefs
Rookie Extra Points Red Signatures 294 Tyler Bray Kansas City Chiefs
Rookie Extra Points Red Signatures 295 Tyler Eifert Cincinnati Bengals
Rookie Extra Points Red Signatures 296 Tyler Wilson Oakland Raiders
Rookie Extra Points Red Signatures 297 Arthur Brown Baltimore Ravens
Rookie Extra Points Red Signatures 298 Xavier Rhodes Minnesota Vikings
Rookie Extra Points Red Signatures 299 Zac Dysert Denver Broncos
Rookie Extra Points Red Signatures 300 Zach Ertz Philadelphia Eagles
Rookie League Leaders Combo Materials 1 Justin Blackmon Jacksonville Jaguars 299
Kendall Wright Tennessee Titans
Rookie League Leaders Combo Materials 2 Andrew Luck Indianapolis Colts 299
Russell Wilson Seattle Seahawks
Rookie League Leaders Combo Materials 3 Doug Martin Tampa Bay Buccaneers 299
Trent Richardson Cleveland Browns
Rookie League Leaders Combo Materials 4 Justin Blackmon Jacksonville Jaguars 299
Mohamed Sanu Cincinnati Bengals
Rookie League Leaders Combo Materials 5 Andrew Luck Indianapolis Colts 299
Nick Foles Philadelphia Eagles
Rookie League Leaders Combo Materials Prime 1 Justin Blackmon Jacksonville Jaguars 25
Kendall Wright Tennessee Titans
Rookie League Leaders Combo Materials Prime 2 Andrew Luck Indianapolis Colts 25
Russell Wilson Seattle Seahawks
Rookie League Leaders Combo Materials Prime 3 Doug Martin Tampa Bay Buccaneers 25
Trent Richardson Cleveland Browns
Rookie League Leaders Combo Materials Prime 4 Justin Blackmon Jacksonville Jaguars 24
Mohamed Sanu Cincinnati Bengals
Rookie League Leaders Combo Materials Prime 5 Andrew Luck Indianapolis Colts 10
Nick Foles Philadelphia Eagles
Rookie League Leaders Materials 1 Andrew Luck Indianapolis Colts 299
Rookie League Leaders Materials 2 Brandon Weeden Cleveland Browns 299
Rookie League Leaders Materials 3 Ryan Tannehill Miami Dolphins 299
Rookie League Leaders Materials 4 Robert Griffin III Washington Redskins 299
Rookie League Leaders Materials 5 Russell Wilson Seattle Seahawks 299
Rookie League Leaders Materials 6 Doug Martin Tampa Bay Buccaneers 299
Rookie League Leaders Materials 7 Trent Richardson Cleveland Browns 299
Rookie League Leaders Materials 8 Justin Blackmon Jacksonville Jaguars 299
Rookie League Leaders Materials 9 Kendall Wright Tennessee Titans 299
Rookie League Leaders Materials 10 David Wilson New York Giants 299
Rookie League Leaders Materials Prime 1 Andrew Luck Indianapolis Colts 25
Rookie League Leaders Materials Prime 2 Brandon Weeden Cleveland Browns 25
Rookie League Leaders Materials Prime 3 Ryan Tannehill Miami Dolphins 25
Rookie League Leaders Materials Prime 4 Robert Griffin III Washington Redskins 25
Rookie League Leaders Materials Prime 5 Russell Wilson Seattle Seahawks 25
Rookie League Leaders Materials Prime 6 Doug Martin Tampa Bay Buccaneers 25
Rookie League Leaders Materials Prime 7 Trent Richardson Cleveland Browns 25
Rookie League Leaders Materials Prime 8 Justin Blackmon Jacksonville Jaguars 25
Rookie League Leaders Materials Prime 9 Kendall Wright Tennessee Titans 25
Rookie League Leaders Materials Prime 10 David Wilson New York Giants 25
Rookie League Leaders Quad Materials 1 Andrew Luck Indianapolis Colts 299
Brandon Weeden Cleveland Browns
Robert Griffin III Washington Redskins
Ryan Tannehill Miami Dolphins
Rookie League Leaders Quad Materials 2 Andrew Luck Indianapolis Colts 299
Brandon Weeden Cleveland Browns
Robert Griffin III Washington Redskins
Russell Wilson Seattle Seahawks
Rookie League Leaders Quad Materials 3 Doug Martin Tampa Bay Buccaneers 299
Justin Blackmon Jacksonville Jaguars
Kendall Wright Tennessee Titans
Trent Richardson Cleveland Browns
Rookie League Leaders Quad Materials 4 Chris Givens St. Louis Rams 299
Justin Blackmon Jacksonville Jaguars
Kendall Wright Tennessee Titans
Michael Floyd Arizona Cardinals
Rookie League Leaders Quad Materials 5 Andrew Luck Indianapolis Colts 299
David Wilson New York Giants
Doug Martin Tampa Bay Buccaneers
Justin Blackmon Jacksonville Jaguars
Rookie League Leaders Quad Materials Prime 1 Andrew Luck Indianapolis Colts 10
Brandon Weeden Cleveland Browns
Robert Griffin III Washington Redskins
Ryan Tannehill Miami Dolphins
Rookie League Leaders Quad Materials Prime 2 Andrew Luck Indianapolis Colts 10
Brandon Weeden Cleveland Browns
Robert Griffin III Washington Redskins
Russell Wilson Seattle Seahawks
Rookie League Leaders Quad Materials Prime 3 Doug Martin Tampa Bay Buccaneers 25
Justin Blackmon Jacksonville Jaguars
Kendall Wright Tennessee Titans
Trent Richardson Cleveland Browns
Rookie League Leaders Quad Materials Prime 4 Chris Givens St. Louis Rams 25
Justin Blackmon Jacksonville Jaguars
Kendall Wright Tennessee Titans
Michael Floyd Arizona Cardinals
Rookie League Leaders Quad Materials Prime 5 Andrew Luck Indianapolis Colts 20
David Wilson New York Giants
Doug Martin Tampa Bay Buccaneers
Justin Blackmon Jacksonville Jaguars
Rookie Printing Plates Black 201 Aaron Dobson New England Patriots 1
Rookie Printing Plates Black 202 Aaron Mellette Baltimore Ravens 1
Rookie Printing Plates Black 203 Ace Sanders Jacksonville Jaguars 1
Rookie Printing Plates Black 204 Alec Lemon Houston Texans 1
Rookie Printing Plates Black 205 Alec Ogletree St. Louis Rams 1
Rookie Printing Plates Black 206 Alex Okafor Arizona Cardinals 1
Rookie Printing Plates Black 207 Andre Ellington Arizona Cardinals 1
Rookie Printing Plates Black 208 Barkevious Mingo Cleveland Browns 1
Rookie Printing Plates Black 209 Bjoern Werner Indianapolis Colts 1
Rookie Printing Plates Black 210 Darius Slay Detroit Lions 1
Rookie Printing Plates Black 211 Eric Fisher Kansas City Chiefs 1
Rookie Printing Plates Black 212 Chris Gragg Buffalo Bills 1
Rookie Printing Plates Black 213 Chris Harper Seattle Seahawks 1
Rookie Printing Plates Black 214 Christine Michael Seattle Seahawks 1
Rookie Printing Plates Black 215 Cierre Wood Houston Texans 1
Rookie Printing Plates Black 216 Cobi Hamilton Cincinnati Bengals 1
Rookie Printing Plates Black 217 Knile Davis Kansas City Chiefs 1
Rookie Printing Plates Black 218 Chance Warmack Tennessee Titans 1
Rookie Printing Plates Black 219 Conner Vernon Oakland Raiders 1
Rookie Printing Plates Black 220 Cordarrelle Patterson Minnesota Vikings 1
Rookie Printing Plates Black 221 Corey Fuller Detroit Lions 1
Rookie Printing Plates Black 222 Damontre Moore New York Giants 1
Rookie Printing Plates Black 223 Da'Rick Rogers Buffalo Bills 1
Rookie Printing Plates Black 224 Datone Jones Green Bay Packers 1
Rookie Printing Plates Black 225 DeAndre Hopkins Houston Texans 1
Rookie Printing Plates Black 226 Dee Milliner New York Jets 1
Rookie Printing Plates Black 227 Denard Robinson Jacksonville Jaguars 1
Rookie Printing Plates Black 228 Dion Jordan Miami Dolphins 1
Rookie Printing Plates Black 229 Dion Sims Miami Dolphins 1
Rookie Printing Plates Black 230 Eddie Lacy Green Bay Packers 1
Rookie Printing Plates Black 231 EJ Manuel Buffalo Bills 1
Rookie Printing Plates Black 232 Eric Reid San Francisco 49ers 1
Rookie Printing Plates Black 233 Gavin Escobar Dallas Cowboys 1
Rookie Printing Plates Black 234 Geno Smith New York Jets 1
Rookie Printing Plates Black 235 Giovani Bernard Cincinnati Bengals 1
Rookie Printing Plates Black 236 Jamar Taylor Miami Dolphins 1
Rookie Printing Plates Black 237 Jarvis Jones Pittsburgh Steelers 1
Rookie Printing Plates Black 238 Jawan Jamison Washington Redskins 1
Rookie Printing Plates Black 239 Ezekiel Ansah Detroit Lions 1
Rookie Printing Plates Black 240 Johnthan Banks Tampa Bay Buccaneers 1
Rookie Printing Plates Black 241 Johnathan Hankins New York Giants 1
Rookie Printing Plates Black 242 Johnathan Franklin Green Bay Packers 1
Rookie Printing Plates Black 243 Jordan Poyer Philadelphia Eagles 1
Rookie Printing Plates Black 244 Jordan Reed Washington Redskins 1
Rookie Printing Plates Black 245 Joseph Randle Dallas Cowboys 1
Rookie Printing Plates Black 246 Josh Boyce New England Patriots 1
Rookie Printing Plates Black 247 Justin Hunter Tennessee Titans 1
Rookie Printing Plates Black 248 Keenan Allen San Diego Chargers 1
Rookie Printing Plates Black 249 Kenjon Barner Carolina Panthers 1
Rookie Printing Plates Black 250 Kenny Stills New Orleans Saints 1
Rookie Printing Plates Black 251 Kenny Vaccaro New Orleans Saints 1
Rookie Printing Plates Black 252 Kerwynn Williams Indianapolis Colts 1
Rookie Printing Plates Black 253 Kevin Minter Arizona Cardinals 1
Rookie Printing Plates Black 254 Landry Jones Pittsburgh Steelers 1
Rookie Printing Plates Black 255 Le'Veon Bell Pittsburgh Steelers 1
Rookie Printing Plates Black 256 Logan Ryan New England Patriots 1
Rookie Printing Plates Black 257 Luke Joeckel Jacksonville Jaguars 1
Rookie Printing Plates Black 258 Manti Te'o San Diego Chargers 1
Rookie Printing Plates Black 259 Marcus Davis New York Jets 1
Rookie Printing Plates Black 260 Marcus Lattimore San Francisco 49ers 1
Rookie Printing Plates Black 261 Margus Hunt Cincinnati Bengals 1
Rookie Printing Plates Black 262 Desmond Trufant Atlanta Falcons 1
Rookie Printing Plates Black 263 Vance McDonald San Francisco 49ers 1
Rookie Printing Plates Black 264 Markus Wheaton Pittsburgh Steelers 1
Rookie Printing Plates Black 265 Marquess Wilson Chicago Bears 1
Rookie Printing Plates Black 266 Marquise Goodwin Buffalo Bills 1
Rookie Printing Plates Black 267 Matt Barkley Philadelphia Eagles 1
Rookie Printing Plates Black 268 Matt Elam Baltimore Ravens 1
Rookie Printing Plates Black 269 Matt Scott Jacksonville Jaguars 1
Rookie Printing Plates Black 270 Mike Gillislee Miami Dolphins 1
Rookie Printing Plates Black 271 Mike Glennon Tampa Bay Buccaneers 1
Rookie Printing Plates Black 272 Montee Ball Denver Broncos 1
Rookie Printing Plates Black 273 Nick Kasa Oakland Raiders 1
Rookie Printing Plates Black 274 Phillip Thomas Washington Redskins 1
Rookie Printing Plates Black 275 Quinton Patton San Francisco 49ers 1
Rookie Printing Plates Black 276 Ray Graham Houston Texans 1
Rookie Printing Plates Black 277 Ryan Otten Jacksonville Jaguars 1
Rookie Printing Plates Black 278 Rex Burkhead Cincinnati Bengals 1
Rookie Printing Plates Black 279 Tyrann Mathieu Arizona Cardinals 1
Rookie Printing Plates Black 280 Robert Woods Buffalo Bills 1
Rookie Printing Plates Black 281 Rodney Smith Minnesota Vikings 1
Rookie Printing Plates Black 282 Ryan Nassib New York Giants 1
Rookie Printing Plates Black 283 Ryan Swope Arizona Cardinals 1
Rookie Printing Plates Black 284 Sam Montgomery Houston Texans 1
Rookie Printing Plates Black 285 Sheldon Richardson New York Jets 1
Rookie Printing Plates Black 286 Star Lotulelei Carolina Panthers 1
Rookie Printing Plates Black 287 Stedman Bailey St. Louis Rams 1
Rookie Printing Plates Black 288 Stepfan Taylor Arizona Cardinals 1
Rookie Printing Plates Black 289 Tavarres King Denver Broncos 1
Rookie Printing Plates Black 290 Tavon Austin St. Louis Rams 1
Rookie Printing Plates Black 291 Terrance Williams Dallas Cowboys 1
Rookie Printing Plates Black 292 Theo Riddick Detroit Lions 1
Rookie Printing Plates Black 293 Travis Kelce Kansas City Chiefs 1
Rookie Printing Plates Black 294 Tyler Bray Kansas City Chiefs 1
Rookie Printing Plates Black 295 Tyler Eifert Cincinnati Bengals 1
Rookie Printing Plates Black 296 Tyler Wilson Oakland Raiders 1
Rookie Printing Plates Black 297 Arthur Brown Baltimore Ravens 1
Rookie Printing Plates Black 298 Xavier Rhodes Minnesota Vikings 1
Rookie Printing Plates Black 299 Zac Dysert Denver Broncos 1
Rookie Printing Plates Black 300 Zach Ertz Philadelphia Eagles 1
Rookie Printing Plates Cyan 201 Aaron Dobson New England Patriots 1
Rookie Printing Plates Cyan 202 Aaron Mellette Baltimore Ravens 1
Rookie Printing Plates Cyan 203 Ace Sanders Jacksonville Jaguars 1
Rookie Printing Plates Cyan 204 Alec Lemon Houston Texans 1
Rookie Printing Plates Cyan 205 Alec Ogletree St. Louis Rams 1
Rookie Printing Plates Cyan 206 Alex Okafor Arizona Cardinals 1
Rookie Printing Plates Cyan 207 Andre Ellington Arizona Cardinals 1
Rookie Printing Plates Cyan 208 Barkevious Mingo Cleveland Browns 1
Rookie Printing Plates Cyan 209 Bjoern Werner Indianapolis Colts 1
Rookie Printing Plates Cyan 210 Darius Slay Detroit Lions 1
Rookie Printing Plates Cyan 211 Eric Fisher Kansas City Chiefs 1
Rookie Printing Plates Cyan 212 Chris Gragg Buffalo Bills 1
Rookie Printing Plates Cyan 213 Chris Harper Seattle Seahawks 1
Rookie Printing Plates Cyan 214 Christine Michael Seattle Seahawks 1
Rookie Printing Plates Cyan 215 Cierre Wood Houston Texans 1
Rookie Printing Plates Cyan 216 Cobi Hamilton Cincinnati Bengals 1
Rookie Printing Plates Cyan 217 Knile Davis Kansas City Chiefs 1
Rookie Printing Plates Cyan 218 Chance Warmack Tennessee Titans 1
Rookie Printing Plates Cyan 219 Conner Vernon Oakland Raiders 1
Rookie Printing Plates Cyan 220 Cordarrelle Patterson Minnesota Vikings 1
Rookie Printing Plates Cyan 221 Corey Fuller Detroit Lions 1
Rookie Printing Plates Cyan 222 Damontre Moore New York Giants 1
Rookie Printing Plates Cyan 223 Da'Rick Rogers Buffalo Bills 1
Rookie Printing Plates Cyan 224 Datone Jones Green Bay Packers 1
Rookie Printing Plates Cyan 225 DeAndre Hopkins Houston Texans 1
Rookie Printing Plates Cyan 226 Dee Milliner New York Jets 1
Rookie Printing Plates Cyan 227 Denard Robinson Jacksonville Jaguars 1
Rookie Printing Plates Cyan 228 Dion Jordan Miami Dolphins 1
Rookie Printing Plates Cyan 229 Dion Sims Miami Dolphins 1
Rookie Printing Plates Cyan 230 Eddie Lacy Green Bay Packers 1
Rookie Printing Plates Cyan 231 EJ Manuel Buffalo Bills 1
Rookie Printing Plates Cyan 232 Eric Reid San Francisco 49ers 1
Rookie Printing Plates Cyan 233 Gavin Escobar Dallas Cowboys 1
Rookie Printing Plates Cyan 234 Geno Smith New York Jets 1
Rookie Printing Plates Cyan 235 Giovani Bernard Cincinnati Bengals 1
Rookie Printing Plates Cyan 236 Jamar Taylor Miami Dolphins 1
Rookie Printing Plates Cyan 237 Jarvis Jones Pittsburgh Steelers 1
Rookie Printing Plates Cyan 238 Jawan Jamison Washington Redskins 1
Rookie Printing Plates Cyan 239 Ezekiel Ansah Detroit Lions 1
Rookie Printing Plates Cyan 240 Johnthan Banks Tampa Bay Buccaneers 1
Rookie Printing Plates Cyan 241 Johnathan Hankins New York Giants 1
Rookie Printing Plates Cyan 242 Johnathan Franklin Green Bay Packers 1
Rookie Printing Plates Cyan 243 Jordan Poyer Philadelphia Eagles 1
Rookie Printing Plates Cyan 244 Jordan Reed Washington Redskins 1
Rookie Printing Plates Cyan 245 Joseph Randle Dallas Cowboys 1
Rookie Printing Plates Cyan 246 Josh Boyce New England Patriots 1
Rookie Printing Plates Cyan 247 Justin Hunter Tennessee Titans 1
Rookie Printing Plates Cyan 248 Keenan Allen San Diego Chargers 1
Rookie Printing Plates Cyan 249 Kenjon Barner Carolina Panthers 1
Rookie Printing Plates Cyan 250 Kenny Stills New Orleans Saints 1
Rookie Printing Plates Cyan 251 Kenny Vaccaro New Orleans Saints 1
Rookie Printing Plates Cyan 252 Kerwynn Williams Indianapolis Colts 1
Rookie Printing Plates Cyan 253 Kevin Minter Arizona Cardinals 1
Rookie Printing Plates Cyan 254 Landry Jones Pittsburgh Steelers 1
Rookie Printing Plates Cyan 255 Le'Veon Bell Pittsburgh Steelers 1
Rookie Printing Plates Cyan 256 Logan Ryan New England Patriots 1
Rookie Printing Plates Cyan 257 Luke Joeckel Jacksonville Jaguars 1
Rookie Printing Plates Cyan 258 Manti Te'o San Diego Chargers 1
Rookie Printing Plates Cyan 259 Marcus Davis New York Jets 1
Rookie Printing Plates Cyan 260 Marcus Lattimore San Francisco 49ers 1
Rookie Printing Plates Cyan 261 Margus Hunt Cincinnati Bengals 1
Rookie Printing Plates Cyan 262 Desmond Trufant Atlanta Falcons 1
Rookie Printing Plates Cyan 263 Vance McDonald San Francisco 49ers 1
Rookie Printing Plates Cyan 264 Markus Wheaton Pittsburgh Steelers 1
Rookie Printing Plates Cyan 265 Marquess Wilson Chicago Bears 1
Rookie Printing Plates Cyan 266 Marquise Goodwin Buffalo Bills 1
Rookie Printing Plates Cyan 267 Matt Barkley Philadelphia Eagles 1
Rookie Printing Plates Cyan 268 Matt Elam Baltimore Ravens 1
Rookie Printing Plates Cyan 269 Matt Scott Jacksonville Jaguars 1
Rookie Printing Plates Cyan 270 Mike Gillislee Miami Dolphins 1
Rookie Printing Plates Cyan 271 Mike Glennon Tampa Bay Buccaneers 1
Rookie Printing Plates Cyan 272 Montee Ball Denver Broncos 1
Rookie Printing Plates Cyan 273 Nick Kasa Oakland Raiders 1
Rookie Printing Plates Cyan 274 Phillip Thomas Washington Redskins 1
Rookie Printing Plates Cyan 275 Quinton Patton San Francisco 49ers 1
Rookie Printing Plates Cyan 276 Ray Graham Houston Texans 1
Rookie Printing Plates Cyan 277 Ryan Otten Jacksonville Jaguars 1
Rookie Printing Plates Cyan 278 Rex Burkhead Cincinnati Bengals 1
Rookie Printing Plates Cyan 279 Tyrann Mathieu Arizona Cardinals 1
Rookie Printing Plates Cyan 280 Robert Woods Buffalo Bills 1
Rookie Printing Plates Cyan 281 Rodney Smith Minnesota Vikings 1
Rookie Printing Plates Cyan 282 Ryan Nassib New York Giants 1
Rookie Printing Plates Cyan 283 Ryan Swope Arizona Cardinals 1
Rookie Printing Plates Cyan 284 Sam Montgomery Houston Texans 1
Rookie Printing Plates Cyan 285 Sheldon Richardson New York Jets 1
Rookie Printing Plates Cyan 286 Star Lotulelei Carolina Panthers 1
Rookie Printing Plates Cyan 287 Stedman Bailey St. Louis Rams 1
Rookie Printing Plates Cyan 288 Stepfan Taylor Arizona Cardinals 1
Rookie Printing Plates Cyan 289 Tavarres King Denver Broncos 1
Rookie Printing Plates Cyan 290 Tavon Austin St. Louis Rams 1
Rookie Printing Plates Cyan 291 Terrance Williams Dallas Cowboys 1
Rookie Printing Plates Cyan 292 Theo Riddick Detroit Lions 1
Rookie Printing Plates Cyan 293 Travis Kelce Kansas City Chiefs 1
Rookie Printing Plates Cyan 294 Tyler Bray Kansas City Chiefs 1
Rookie Printing Plates Cyan 295 Tyler Eifert Cincinnati Bengals 1
Rookie Printing Plates Cyan 296 Tyler Wilson Oakland Raiders 1
Rookie Printing Plates Cyan 297 Arthur Brown Baltimore Ravens 1
Rookie Printing Plates Cyan 298 Xavier Rhodes Minnesota Vikings 1
Rookie Printing Plates Cyan 299 Zac Dysert Denver Broncos 1
Rookie Printing Plates Cyan 300 Zach Ertz Philadelphia Eagles 1
Rookie Printing Plates Magenta 201 Aaron Dobson New England Patriots 1
Rookie Printing Plates Magenta 202 Aaron Mellette Baltimore Ravens 1
Rookie Printing Plates Magenta 203 Ace Sanders Jacksonville Jaguars 1
Rookie Printing Plates Magenta 204 Alec Lemon Houston Texans 1
Rookie Printing Plates Magenta 205 Alec Ogletree St. Louis Rams 1
Rookie Printing Plates Magenta 206 Alex Okafor Arizona Cardinals 1
Rookie Printing Plates Magenta 207 Andre Ellington Arizona Cardinals 1
Rookie Printing Plates Magenta 208 Barkevious Mingo Cleveland Browns 1
Rookie Printing Plates Magenta 209 Bjoern Werner Indianapolis Colts 1
Rookie Printing Plates Magenta 210 Darius Slay Detroit Lions 1
Rookie Printing Plates Magenta 211 Eric Fisher Kansas City Chiefs 1
Rookie Printing Plates Magenta 212 Chris Gragg Buffalo Bills 1
Rookie Printing Plates Magenta 213 Chris Harper Seattle Seahawks 1
Rookie Printing Plates Magenta 214 Christine Michael Seattle Seahawks 1
Rookie Printing Plates Magenta 215 Cierre Wood Houston Texans 1
Rookie Printing Plates Magenta 216 Cobi Hamilton Cincinnati Bengals 1
Rookie Printing Plates Magenta 217 Knile Davis Kansas City Chiefs 1
Rookie Printing Plates Magenta 218 Chance Warmack Tennessee Titans 1
Rookie Printing Plates Magenta 219 Conner Vernon Oakland Raiders 1
Rookie Printing Plates Magenta 220 Cordarrelle Patterson Minnesota Vikings 1
Rookie Printing Plates Magenta 221 Corey Fuller Detroit Lions 1
Rookie Printing Plates Magenta 222 Damontre Moore New York Giants 1
Rookie Printing Plates Magenta 223 Da'Rick Rogers Buffalo Bills 1
Rookie Printing Plates Magenta 224 Datone Jones Green Bay Packers 1
Rookie Printing Plates Magenta 225 DeAndre Hopkins Houston Texans 1
Rookie Printing Plates Magenta 226 Dee Milliner New York Jets 1
Rookie Printing Plates Magenta 227 Denard Robinson Jacksonville Jaguars 1
Rookie Printing Plates Magenta 228 Dion Jordan Miami Dolphins 1
Rookie Printing Plates Magenta 229 Dion Sims Miami Dolphins 1
Rookie Printing Plates Magenta 230 Eddie Lacy Green Bay Packers 1
Rookie Printing Plates Magenta 231 EJ Manuel Buffalo Bills 1
Rookie Printing Plates Magenta 232 Eric Reid San Francisco 49ers 1
Rookie Printing Plates Magenta 233 Gavin Escobar Dallas Cowboys 1
Rookie Printing Plates Magenta 234 Geno Smith New York Jets 1
Rookie Printing Plates Magenta 235 Giovani Bernard Cincinnati Bengals 1
Rookie Printing Plates Magenta 236 Jamar Taylor Miami Dolphins 1
Rookie Printing Plates Magenta 237 Jarvis Jones Pittsburgh Steelers 1
Rookie Printing Plates Magenta 238 Jawan Jamison Washington Redskins 1
Rookie Printing Plates Magenta 239 Ezekiel Ansah Detroit Lions 1
Rookie Printing Plates Magenta 240 Johnthan Banks Tampa Bay Buccaneers 1
Rookie Printing Plates Magenta 241 Johnathan Hankins New York Giants 1
Rookie Printing Plates Magenta 242 Johnathan Franklin Green Bay Packers 1
Rookie Printing Plates Magenta 243 Jordan Poyer Philadelphia Eagles 1
Rookie Printing Plates Magenta 244 Jordan Reed Washington Redskins 1
Rookie Printing Plates Magenta 245 Joseph Randle Dallas Cowboys 1
Rookie Printing Plates Magenta 246 Josh Boyce New England Patriots 1
Rookie Printing Plates Magenta 247 Justin Hunter Tennessee Titans 1
Rookie Printing Plates Magenta 248 Keenan Allen San Diego Chargers 1
Rookie Printing Plates Magenta 249 Kenjon Barner Carolina Panthers 1
Rookie Printing Plates Magenta 250 Kenny Stills New Orleans Saints 1
Rookie Printing Plates Magenta 251 Kenny Vaccaro New Orleans Saints 1
Rookie Printing Plates Magenta 252 Kerwynn Williams Indianapolis Colts 1
Rookie Printing Plates Magenta 253 Kevin Minter Arizona Cardinals 1
Rookie Printing Plates Magenta 254 Landry Jones Pittsburgh Steelers 1
Rookie Printing Plates Magenta 255 Le'Veon Bell Pittsburgh Steelers 1
Rookie Printing Plates Magenta 256 Logan Ryan New England Patriots 1
Rookie Printing Plates Magenta 257 Luke Joeckel Jacksonville Jaguars 1
Rookie Printing Plates Magenta 258 Manti Te'o San Diego Chargers 1
Rookie Printing Plates Magenta 259 Marcus Davis New York Jets 1
Rookie Printing Plates Magenta 260 Marcus Lattimore San Francisco 49ers 1
Rookie Printing Plates Magenta 261 Margus Hunt Cincinnati Bengals 1
Rookie Printing Plates Magenta 262 Desmond Trufant Atlanta Falcons 1
Rookie Printing Plates Magenta 263 Vance McDonald San Francisco 49ers 1
Rookie Printing Plates Magenta 264 Markus Wheaton Pittsburgh Steelers 1
Rookie Printing Plates Magenta 265 Marquess Wilson Chicago Bears 1
Rookie Printing Plates Magenta 266 Marquise Goodwin Buffalo Bills 1
Rookie Printing Plates Magenta 267 Matt Barkley Philadelphia Eagles 1
Rookie Printing Plates Magenta 268 Matt Elam Baltimore Ravens 1
Rookie Printing Plates Magenta 269 Matt Scott Jacksonville Jaguars 1
Rookie Printing Plates Magenta 270 Mike Gillislee Miami Dolphins 1
Rookie Printing Plates Magenta 271 Mike Glennon Tampa Bay Buccaneers 1
Rookie Printing Plates Magenta 272 Montee Ball Denver Broncos 1
Rookie Printing Plates Magenta 273 Nick Kasa Oakland Raiders 1
Rookie Printing Plates Magenta 274 Phillip Thomas Washington Redskins 1
Rookie Printing Plates Magenta 275 Quinton Patton San Francisco 49ers 1
Rookie Printing Plates Magenta 276 Ray Graham Houston Texans 1
Rookie Printing Plates Magenta 277 Ryan Otten Jacksonville Jaguars 1
Rookie Printing Plates Magenta 278 Rex Burkhead Cincinnati Bengals 1
Rookie Printing Plates Magenta 279 Tyrann Mathieu Arizona Cardinals 1
Rookie Printing Plates Magenta 280 Robert Woods Buffalo Bills 1
Rookie Printing Plates Magenta 281 Rodney Smith Minnesota Vikings 1
Rookie Printing Plates Magenta 282 Ryan Nassib New York Giants 1
Rookie Printing Plates Magenta 283 Ryan Swope Arizona Cardinals 1
Rookie Printing Plates Magenta 284 Sam Montgomery Houston Texans 1
Rookie Printing Plates Magenta 285 Sheldon Richardson New York Jets 1
Rookie Printing Plates Magenta 286 Star Lotulelei Carolina Panthers 1
Rookie Printing Plates Magenta 287 Stedman Bailey St. Louis Rams 1
Rookie Printing Plates Magenta 288 Stepfan Taylor Arizona Cardinals 1
Rookie Printing Plates Magenta 289 Tavarres King Denver Broncos 1
Rookie Printing Plates Magenta 290 Tavon Austin St. Louis Rams 1
Rookie Printing Plates Magenta 291 Terrance Williams Dallas Cowboys 1
Rookie Printing Plates Magenta 292 Theo Riddick Detroit Lions 1
Rookie Printing Plates Magenta 293 Travis Kelce Kansas City Chiefs 1
Rookie Printing Plates Magenta 294 Tyler Bray Kansas City Chiefs 1
Rookie Printing Plates Magenta 295 Tyler Eifert Cincinnati Bengals 1
Rookie Printing Plates Magenta 296 Tyler Wilson Oakland Raiders 1
Rookie Printing Plates Magenta 297 Arthur Brown Baltimore Ravens 1
Rookie Printing Plates Magenta 298 Xavier Rhodes Minnesota Vikings 1
Rookie Printing Plates Magenta 299 Zac Dysert Denver Broncos 1
Rookie Printing Plates Magenta 300 Zach Ertz Philadelphia Eagles 1
Rookie Printing Plates Yellow 201 Aaron Dobson New England Patriots 1
Rookie Printing Plates Yellow 202 Aaron Mellette Baltimore Ravens 1
Rookie Printing Plates Yellow 203 Ace Sanders Jacksonville Jaguars 1
Rookie Printing Plates Yellow 204 Alec Lemon Houston Texans 1
Rookie Printing Plates Yellow 205 Alec Ogletree St. Louis Rams 1
Rookie Printing Plates Yellow 206 Alex Okafor Arizona Cardinals 1
Rookie Printing Plates Yellow 207 Andre Ellington Arizona Cardinals 1
Rookie Printing Plates Yellow 208 Barkevious Mingo Cleveland Browns 1
Rookie Printing Plates Yellow 209 Bjoern Werner Indianapolis Colts 1
Rookie Printing Plates Yellow 210 Darius Slay Detroit Lions 1
Rookie Printing Plates Yellow 211 Eric Fisher Kansas City Chiefs 1
Rookie Printing Plates Yellow 212 Chris Gragg Buffalo Bills 1
Rookie Printing Plates Yellow 213 Chris Harper Seattle Seahawks 1
Rookie Printing Plates Yellow 214 Christine Michael Seattle Seahawks 1
Rookie Printing Plates Yellow 215 Cierre Wood Houston Texans 1
Rookie Printing Plates Yellow 216 Cobi Hamilton Cincinnati Bengals 1
Rookie Printing Plates Yellow 217 Knile Davis Kansas City Chiefs 1
Rookie Printing Plates Yellow 218 Chance Warmack Tennessee Titans 1
Rookie Printing Plates Yellow 219 Conner Vernon Oakland Raiders 1
Rookie Printing Plates Yellow 220 Cordarrelle Patterson Minnesota Vikings 1
Rookie Printing Plates Yellow 221 Corey Fuller Detroit Lions 1
Rookie Printing Plates Yellow 222 Damontre Moore New York Giants 1
Rookie Printing Plates Yellow 223 Da'Rick Rogers Buffalo Bills 1
Rookie Printing Plates Yellow 224 Datone Jones Green Bay Packers 1
Rookie Printing Plates Yellow 225 DeAndre Hopkins Houston Texans 1
Rookie Printing Plates Yellow 226 Dee Milliner New York Jets 1
Rookie Printing Plates Yellow 227 Denard Robinson Jacksonville Jaguars 1
Rookie Printing Plates Yellow 228 Dion Jordan Miami Dolphins 1
Rookie Printing Plates Yellow 229 Dion Sims Miami Dolphins 1
Rookie Printing Plates Yellow 230 Eddie Lacy Green Bay Packers 1
Rookie Printing Plates Yellow 231 EJ Manuel Buffalo Bills 1
Rookie Printing Plates Yellow 232 Eric Reid San Francisco 49ers 1
Rookie Printing Plates Yellow 233 Gavin Escobar Dallas Cowboys 1
Rookie Printing Plates Yellow 234 Geno Smith New York Jets 1
Rookie Printing Plates Yellow 235 Giovani Bernard Cincinnati Bengals 1
Rookie Printing Plates Yellow 236 Jamar Taylor Miami Dolphins 1
Rookie Printing Plates Yellow 237 Jarvis Jones Pittsburgh Steelers 1
Rookie Printing Plates Yellow 238 Jawan Jamison Washington Redskins 1
Rookie Printing Plates Yellow 239 Ezekiel Ansah Detroit Lions 1
Rookie Printing Plates Yellow 240 Johnthan Banks Tampa Bay Buccaneers 1
Rookie Printing Plates Yellow 241 Johnathan Hankins New York Giants 1
Rookie Printing Plates Yellow 242 Johnathan Franklin Green Bay Packers 1
Rookie Printing Plates Yellow 243 Jordan Poyer Philadelphia Eagles 1
Rookie Printing Plates Yellow 244 Jordan Reed Washington Redskins 1
Rookie Printing Plates Yellow 245 Joseph Randle Dallas Cowboys 1
Rookie Printing Plates Yellow 246 Josh Boyce New England Patriots 1
Rookie Printing Plates Yellow 247 Justin Hunter Tennessee Titans 1
Rookie Printing Plates Yellow 248 Keenan Allen San Diego Chargers 1
Rookie Printing Plates Yellow 249 Kenjon Barner Carolina Panthers 1
Rookie Printing Plates Yellow 250 Kenny Stills New Orleans Saints 1
Rookie Printing Plates Yellow 251 Kenny Vaccaro New Orleans Saints 1
Rookie Printing Plates Yellow 252 Kerwynn Williams Indianapolis Colts 1
Rookie Printing Plates Yellow 253 Kevin Minter Arizona Cardinals 1
Rookie Printing Plates Yellow 254 Landry Jones Pittsburgh Steelers 1
Rookie Printing Plates Yellow 255 Le'Veon Bell Pittsburgh Steelers 1
Rookie Printing Plates Yellow 256 Logan Ryan New England Patriots 1
Rookie Printing Plates Yellow 257 Luke Joeckel Jacksonville Jaguars 1
Rookie Printing Plates Yellow 258 Manti Te'o San Diego Chargers 1
Rookie Printing Plates Yellow 259 Marcus Davis New York Jets 1
Rookie Printing Plates Yellow 260 Marcus Lattimore San Francisco 49ers 1
Rookie Printing Plates Yellow 261 Margus Hunt Cincinnati Bengals 1
Rookie Printing Plates Yellow 262 Desmond Trufant Atlanta Falcons 1
Rookie Printing Plates Yellow 263 Vance McDonald San Francisco 49ers 1
Rookie Printing Plates Yellow 264 Markus Wheaton Pittsburgh Steelers 1
Rookie Printing Plates Yellow 265 Marquess Wilson Chicago Bears 1
Rookie Printing Plates Yellow 266 Marquise Goodwin Buffalo Bills 1
Rookie Printing Plates Yellow 267 Matt Barkley Philadelphia Eagles 1
Rookie Printing Plates Yellow 268 Matt Elam Baltimore Ravens 1
Rookie Printing Plates Yellow 269 Matt Scott Jacksonville Jaguars 1
Rookie Printing Plates Yellow 270 Mike Gillislee Miami Dolphins 1
Rookie Printing Plates Yellow 271 Mike Glennon Tampa Bay Buccaneers 1
Rookie Printing Plates Yellow 272 Montee Ball Denver Broncos 1
Rookie Printing Plates Yellow 273 Nick Kasa Oakland Raiders 1
Rookie Printing Plates Yellow 274 Phillip Thomas Washington Redskins 1
Rookie Printing Plates Yellow 275 Quinton Patton San Francisco 49ers 1
Rookie Printing Plates Yellow 276 Ray Graham Houston Texans 1
Rookie Printing Plates Yellow 277 Ryan Otten Jacksonville Jaguars 1
Rookie Printing Plates Yellow 278 Rex Burkhead Cincinnati Bengals 1
Rookie Printing Plates Yellow 279 Tyrann Mathieu Arizona Cardinals 1
Rookie Printing Plates Yellow 280 Robert Woods Buffalo Bills 1
Rookie Printing Plates Yellow 281 Rodney Smith Minnesota Vikings 1
Rookie Printing Plates Yellow 282 Ryan Nassib New York Giants 1
Rookie Printing Plates Yellow 283 Ryan Swope Arizona Cardinals 1
Rookie Printing Plates Yellow 284 Sam Montgomery Houston Texans 1
Rookie Printing Plates Yellow 285 Sheldon Richardson New York Jets 1
Rookie Printing Plates Yellow 286 Star Lotulelei Carolina Panthers 1
Rookie Printing Plates Yellow 287 Stedman Bailey St. Louis Rams 1
Rookie Printing Plates Yellow 288 Stepfan Taylor Arizona Cardinals 1
Rookie Printing Plates Yellow 289 Tavarres King Denver Broncos 1
Rookie Printing Plates Yellow 290 Tavon Austin St. Louis Rams 1
Rookie Printing Plates Yellow 291 Terrance Williams Dallas Cowboys 1
Rookie Printing Plates Yellow 292 Theo Riddick Detroit Lions 1
Rookie Printing Plates Yellow 293 Travis Kelce Kansas City Chiefs 1
Rookie Printing Plates Yellow 294 Tyler Bray Kansas City Chiefs 1
Rookie Printing Plates Yellow 295 Tyler Eifert Cincinnati Bengals 1
Rookie Printing Plates Yellow 296 Tyler Wilson Oakland Raiders 1
Rookie Printing Plates Yellow 297 Arthur Brown Baltimore Ravens 1
Rookie Printing Plates Yellow 298 Xavier Rhodes Minnesota Vikings 1
Rookie Printing Plates Yellow 299 Zac Dysert Denver Broncos 1
Rookie Printing Plates Yellow 300 Zach Ertz Philadelphia Eagles 1
Rookie Signature Printing Plates Black 201 Aaron Dobson New England Patriots 1
Rookie Signature Printing Plates Black 202 Aaron Mellette Baltimore Ravens 1
Rookie Signature Printing Plates Black 203 Ace Sanders Jacksonville Jaguars 1
Rookie Signature Printing Plates Black 205 Alec Ogletree St. Louis Rams 1
Rookie Signature Printing Plates Black 206 Alex Okafor Arizona Cardinals 1
Rookie Signature Printing Plates Black 207 Andre Ellington Arizona Cardinals 1
Rookie Signature Printing Plates Black 208 Barkevious Mingo Cleveland Browns 1
Rookie Signature Printing Plates Black 209 Bjoern Werner Indianapolis Colts 1
Rookie Signature Printing Plates Black 210 Darius Slay Detroit Lions 1
Rookie Signature Printing Plates Black 211 Eric Fisher Kansas City Chiefs 1
Rookie Signature Printing Plates Black 212 Chris Gragg Buffalo Bills 1
Rookie Signature Printing Plates Black 213 Chris Harper Seattle Seahawks 1
Rookie Signature Printing Plates Black 214 Christine Michael Seattle Seahawks 1
Rookie Signature Printing Plates Black 216 Cobi Hamilton Cincinnati Bengals 1
Rookie Signature Printing Plates Black 217 Knile Davis Kansas City Chiefs 1
Rookie Signature Printing Plates Black 218 Chance Warmack Tennessee Titans 1
Rookie Signature Printing Plates Black 219 Conner Vernon Oakland Raiders 1
Rookie Signature Printing Plates Black 220 Cordarrelle Patterson Minnesota Vikings 1
Rookie Signature Printing Plates Black 221 Corey Fuller Detroit Lions 1
Rookie Signature Printing Plates Black 222 Damontre Moore New York Giants 1
Rookie Signature Printing Plates Black 223 Da'Rick Rogers Buffalo Bills 1
Rookie Signature Printing Plates Black 224 Datone Jones Green Bay Packers 1
Rookie Signature Printing Plates Black 225 DeAndre Hopkins Houston Texans 1
Rookie Signature Printing Plates Black 226 Dee Milliner New York Jets 1
Rookie Signature Printing Plates Black 227 Denard Robinson Jacksonville Jaguars 1
Rookie Signature Printing Plates Black 228 Dion Jordan Miami Dolphins 1
Rookie Signature Printing Plates Black 229 Dion Sims Miami Dolphins 1
Rookie Signature Printing Plates Black 230 Eddie Lacy Green Bay Packers 1
Rookie Signature Printing Plates Black 231 EJ Manuel Buffalo Bills 1
Rookie Signature Printing Plates Black 232 Eric Reid San Francisco 49ers 1
Rookie Signature Printing Plates Black 233 Gavin Escobar Dallas Cowboys 1
Rookie Signature Printing Plates Black 234 Geno Smith New York Jets 1
Rookie Signature Printing Plates Black 235 Giovani Bernard Cincinnati Bengals 1
Rookie Signature Printing Plates Black 236 Jamar Taylor Miami Dolphins 1
Rookie Signature Printing Plates Black 237 Jarvis Jones Pittsburgh Steelers 1
Rookie Signature Printing Plates Black 238 Jawan Jamison Washington Redskins 1
Rookie Signature Printing Plates Black 239 Ezekiel Ansah Detroit Lions 1
Rookie Signature Printing Plates Black 240 Johnthan Banks Tampa Bay Buccaneers 1
Rookie Signature Printing Plates Black 242 Johnathan Franklin Green Bay Packers 1
Rookie Signature Printing Plates Black 243 Jordan Poyer Philadelphia Eagles 1
Rookie Signature Printing Plates Black 244 Jordan Reed Washington Redskins 1
Rookie Signature Printing Plates Black 245 Joseph Randle Dallas Cowboys 1
Rookie Signature Printing Plates Black 246 Josh Boyce New England Patriots 1
Rookie Signature Printing Plates Black 247 Justin Hunter Tennessee Titans 1
Rookie Signature Printing Plates Black 248 Keenan Allen San Diego Chargers 1
Rookie Signature Printing Plates Black 249 Kenjon Barner Carolina Panthers 1
Rookie Signature Printing Plates Black 250 Kenny Stills New Orleans Saints 1
Rookie Signature Printing Plates Black 251 Kenny Vaccaro New Orleans Saints 1
Rookie Signature Printing Plates Black 252 Kerwynn Williams Indianapolis Colts 1
Rookie Signature Printing Plates Black 253 Kevin Minter Arizona Cardinals 1
Rookie Signature Printing Plates Black 254 Landry Jones Pittsburgh Steelers 1
Rookie Signature Printing Plates Black 255 Le'Veon Bell Pittsburgh Steelers 1
Rookie Signature Printing Plates Black 257 Luke Joeckel Jacksonville Jaguars 1
Rookie Signature Printing Plates Black 258 Manti Te'o San Diego Chargers 1
Rookie Signature Printing Plates Black 259 Marcus Davis New York Jets 1
Rookie Signature Printing Plates Black 260 Marcus Lattimore San Francisco 49ers 1
Rookie Signature Printing Plates Black 261 Margus Hunt Cincinnati Bengals 1
Rookie Signature Printing Plates Black 262 Desmond Trufant Atlanta Falcons 1
Rookie Signature Printing Plates Black 263 Vance McDonald San Francisco 49ers 1
Rookie Signature Printing Plates Black 264 Markus Wheaton Pittsburgh Steelers 1
Rookie Signature Printing Plates Black 265 Marquess Wilson Chicago Bears 1
Rookie Signature Printing Plates Black 266 Marquise Goodwin Buffalo Bills 1
Rookie Signature Printing Plates Black 267 Matt Barkley Philadelphia Eagles 1
Rookie Signature Printing Plates Black 268 Matt Elam Baltimore Ravens 1
Rookie Signature Printing Plates Black 269 Matt Scott Jacksonville Jaguars 1
Rookie Signature Printing Plates Black 270 Mike Gillislee Miami Dolphins 1
Rookie Signature Printing Plates Black 271 Mike Glennon Tampa Bay Buccaneers 1
Rookie Signature Printing Plates Black 272 Montee Ball Denver Broncos 1
Rookie Signature Printing Plates Black 273 Nick Kasa Oakland Raiders 1
Rookie Signature Printing Plates Black 274 Phillip Thomas Washington Redskins 1
Rookie Signature Printing Plates Black 275 Quinton Patton San Francisco 49ers 1
Rookie Signature Printing Plates Black 276 Ray Graham Houston Texans 1
Rookie Signature Printing Plates Black 277 Ryan Otten Jacksonville Jaguars 1
Rookie Signature Printing Plates Black 278 Rex Burkhead Cincinnati Bengals 1
Rookie Signature Printing Plates Black 279 Tyrann Mathieu Arizona Cardinals 1
Rookie Signature Printing Plates Black 280 Robert Woods Buffalo Bills 1
Rookie Signature Printing Plates Black 281 Rodney Smith Minnesota Vikings 1
Rookie Signature Printing Plates Black 282 Ryan Nassib New York Giants 1
Rookie Signature Printing Plates Black 283 Ryan Swope Arizona Cardinals 1
Rookie Signature Printing Plates Black 284 Sam Montgomery Houston Texans 1
Rookie Signature Printing Plates Black 285 Sheldon Richardson New York Jets 1
Rookie Signature Printing Plates Black 287 Stedman Bailey St. Louis Rams 1
Rookie Signature Printing Plates Black 288 Stepfan Taylor Arizona Cardinals 1
Rookie Signature Printing Plates Black 289 Tavarres King Denver Broncos 1
Rookie Signature Printing Plates Black 290 Tavon Austin St. Louis Rams 1
Rookie Signature Printing Plates Black 291 Terrance Williams Dallas Cowboys 1
Rookie Signature Printing Plates Black 292 Theo Riddick Detroit Lions 1
Rookie Signature Printing Plates Black 293 Travis Kelce Kansas City Chiefs 1
Rookie Signature Printing Plates Black 294 Tyler Bray Kansas City Chiefs 1
Rookie Signature Printing Plates Black 295 Tyler Eifert Cincinnati Bengals 1
Rookie Signature Printing Plates Black 296 Tyler Wilson Oakland Raiders 1
Rookie Signature Printing Plates Black 297 Arthur Brown Baltimore Ravens 1
Rookie Signature Printing Plates Black 298 Xavier Rhodes Minnesota Vikings 1
Rookie Signature Printing Plates Black 299 Zac Dysert Denver Broncos 1
Rookie Signature Printing Plates Black 300 Zach Ertz Philadelphia Eagles 1
Rookie Signature Printing Plates Cyan 201 Aaron Dobson New England Patriots 1
Rookie Signature Printing Plates Cyan 202 Aaron Mellette Baltimore Ravens 1
Rookie Signature Printing Plates Cyan 203 Ace Sanders Jacksonville Jaguars 1
Rookie Signature Printing Plates Cyan 205 Alec Ogletree St. Louis Rams 1
Rookie Signature Printing Plates Cyan 206 Alex Okafor Arizona Cardinals 1
Rookie Signature Printing Plates Cyan 207 Andre Ellington Arizona Cardinals 1
Rookie Signature Printing Plates Cyan 208 Barkevious Mingo Cleveland Browns 1
Rookie Signature Printing Plates Cyan 209 Bjoern Werner Indianapolis Colts 1
Rookie Signature Printing Plates Cyan 210 Darius Slay Detroit Lions 1
Rookie Signature Printing Plates Cyan 211 Eric Fisher Kansas City Chiefs 1
Rookie Signature Printing Plates Cyan 212 Chris Gragg Buffalo Bills 1
Rookie Signature Printing Plates Cyan 213 Chris Harper Seattle Seahawks 1
Rookie Signature Printing Plates Cyan 214 Christine Michael Seattle Seahawks 1
Rookie Signature Printing Plates Cyan 216 Cobi Hamilton Cincinnati Bengals 1
Rookie Signature Printing Plates Cyan 217 Knile Davis Kansas City Chiefs 1
Rookie Signature Printing Plates Cyan 218 Chance Warmack Tennessee Titans 1
Rookie Signature Printing Plates Cyan 219 Conner Vernon Oakland Raiders 1
Rookie Signature Printing Plates Cyan 220 Cordarrelle Patterson Minnesota Vikings 1
Rookie Signature Printing Plates Cyan 221 Corey Fuller Detroit Lions 1
Rookie Signature Printing Plates Cyan 222 Damontre Moore New York Giants 1
Rookie Signature Printing Plates Cyan 223 Da'Rick Rogers Buffalo Bills 1
Rookie Signature Printing Plates Cyan 224 Datone Jones Green Bay Packers 1
Rookie Signature Printing Plates Cyan 225 DeAndre Hopkins Houston Texans 1
Rookie Signature Printing Plates Cyan 226 Dee Milliner New York Jets 1
Rookie Signature Printing Plates Cyan 227 Denard Robinson Jacksonville Jaguars 1
Rookie Signature Printing Plates Cyan 228 Dion Jordan Miami Dolphins 1
Rookie Signature Printing Plates Cyan 229 Dion Sims Miami Dolphins 1
Rookie Signature Printing Plates Cyan 230 Eddie Lacy Green Bay Packers 1
Rookie Signature Printing Plates Cyan 231 EJ Manuel Buffalo Bills 1
Rookie Signature Printing Plates Cyan 232 Eric Reid San Francisco 49ers 1
Rookie Signature Printing Plates Cyan 233 Gavin Escobar Dallas Cowboys 1
Rookie Signature Printing Plates Cyan 234 Geno Smith New York Jets 1
Rookie Signature Printing Plates Cyan 235 Giovani Bernard Cincinnati Bengals 1
Rookie Signature Printing Plates Cyan 236 Jamar Taylor Miami Dolphins 1
Rookie Signature Printing Plates Cyan 237 Jarvis Jones Pittsburgh Steelers 1
Rookie Signature Printing Plates Cyan 238 Jawan Jamison Washington Redskins 1
Rookie Signature Printing Plates Cyan 239 Ezekiel Ansah Detroit Lions 1
Rookie Signature Printing Plates Cyan 240 Johnthan Banks Tampa Bay Buccaneers 1
Rookie Signature Printing Plates Cyan 242 Johnathan Franklin Green Bay Packers 1
Rookie Signature Printing Plates Cyan 243 Jordan Poyer Philadelphia Eagles 1
Rookie Signature Printing Plates Cyan 244 Jordan Reed Washington Redskins 1
Rookie Signature Printing Plates Cyan 245 Joseph Randle Dallas Cowboys 1
Rookie Signature Printing Plates Cyan 246 Josh Boyce New England Patriots 1
Rookie Signature Printing Plates Cyan 247 Justin Hunter Tennessee Titans 1
Rookie Signature Printing Plates Cyan 248 Keenan Allen San Diego Chargers 1
Rookie Signature Printing Plates Cyan 249 Kenjon Barner Carolina Panthers 1
Rookie Signature Printing Plates Cyan 250 Kenny Stills New Orleans Saints 1
Rookie Signature Printing Plates Cyan 251 Kenny Vaccaro New Orleans Saints 1
Rookie Signature Printing Plates Cyan 252 Kerwynn Williams Indianapolis Colts 1
Rookie Signature Printing Plates Cyan 253 Kevin Minter Arizona Cardinals 1
Rookie Signature Printing Plates Cyan 254 Landry Jones Pittsburgh Steelers 1
Rookie Signature Printing Plates Cyan 255 Le'Veon Bell Pittsburgh Steelers 1
Rookie Signature Printing Plates Cyan 257 Luke Joeckel Jacksonville Jaguars 1
Rookie Signature Printing Plates Cyan 258 Manti Te'o San Diego Chargers 1
Rookie Signature Printing Plates Cyan 259 Marcus Davis New York Jets 1
Rookie Signature Printing Plates Cyan 260 Marcus Lattimore San Francisco 49ers 1
Rookie Signature Printing Plates Cyan 261 Margus Hunt Cincinnati Bengals 1
Rookie Signature Printing Plates Cyan 262 Desmond Trufant Atlanta Falcons 1
Rookie Signature Printing Plates Cyan 263 Vance McDonald San Francisco 49ers 1
Rookie Signature Printing Plates Cyan 264 Markus Wheaton Pittsburgh Steelers 1
Rookie Signature Printing Plates Cyan 265 Marquess Wilson Chicago Bears 1
Rookie Signature Printing Plates Cyan 266 Marquise Goodwin Buffalo Bills 1
Rookie Signature Printing Plates Cyan 267 Matt Barkley Philadelphia Eagles 1
Rookie Signature Printing Plates Cyan 268 Matt Elam Baltimore Ravens 1
Rookie Signature Printing Plates Cyan 269 Matt Scott Jacksonville Jaguars 1
Rookie Signature Printing Plates Cyan 270 Mike Gillislee Miami Dolphins 1
Rookie Signature Printing Plates Cyan 271 Mike Glennon Tampa Bay Buccaneers 1
Rookie Signature Printing Plates Cyan 272 Montee Ball Denver Broncos 1
Rookie Signature Printing Plates Cyan 273 Nick Kasa Oakland Raiders 1
Rookie Signature Printing Plates Cyan 274 Phillip Thomas Washington Redskins 1
Rookie Signature Printing Plates Cyan 275 Quinton Patton San Francisco 49ers 1
Rookie Signature Printing Plates Cyan 276 Ray Graham Houston Texans 1
Rookie Signature Printing Plates Cyan 277 Ryan Otten Jacksonville Jaguars 1
Rookie Signature Printing Plates Cyan 278 Rex Burkhead Cincinnati Bengals 1
Rookie Signature Printing Plates Cyan 279 Tyrann Mathieu Arizona Cardinals 1
Rookie Signature Printing Plates Cyan 280 Robert Woods Buffalo Bills 1
Rookie Signature Printing Plates Cyan 281 Rodney Smith Minnesota Vikings 1
Rookie Signature Printing Plates Cyan 282 Ryan Nassib New York Giants 1
Rookie Signature Printing Plates Cyan 283 Ryan Swope Arizona Cardinals 1
Rookie Signature Printing Plates Cyan 284 Sam Montgomery Houston Texans 1
Rookie Signature Printing Plates Cyan 285 Sheldon Richardson New York Jets 1
Rookie Signature Printing Plates Cyan 287 Stedman Bailey St. Louis Rams 1
Rookie Signature Printing Plates Cyan 288 Stepfan Taylor Arizona Cardinals 1
Rookie Signature Printing Plates Cyan 289 Tavarres King Denver Broncos 1
Rookie Signature Printing Plates Cyan 290 Tavon Austin St. Louis Rams 1
Rookie Signature Printing Plates Cyan 291 Terrance Williams Dallas Cowboys 1
Rookie Signature Printing Plates Cyan 292 Theo Riddick Detroit Lions 1
Rookie Signature Printing Plates Cyan 293 Travis Kelce Kansas City Chiefs 1
Rookie Signature Printing Plates Cyan 294 Tyler Bray Kansas City Chiefs 1
Rookie Signature Printing Plates Cyan 295 Tyler Eifert Cincinnati Bengals 1
Rookie Signature Printing Plates Cyan 296 Tyler Wilson Oakland Raiders 1
Rookie Signature Printing Plates Cyan 297 Arthur Brown Baltimore Ravens 1
Rookie Signature Printing Plates Cyan 298 Xavier Rhodes Minnesota Vikings 1
Rookie Signature Printing Plates Cyan 299 Zac Dysert Denver Broncos 1
Rookie Signature Printing Plates Cyan 300 Zach Ertz Philadelphia Eagles 1
Rookie Signature Printing Plates Magenta 201 Aaron Dobson New England Patriots 1
Rookie Signature Printing Plates Magenta 202 Aaron Mellette Baltimore Ravens 1
Rookie Signature Printing Plates Magenta 203 Ace Sanders Jacksonville Jaguars 1
Rookie Signature Printing Plates Magenta 205 Alec Ogletree St. Louis Rams 1
Rookie Signature Printing Plates Magenta 206 Alex Okafor Arizona Cardinals 1
Rookie Signature Printing Plates Magenta 207 Andre Ellington Arizona Cardinals 1
Rookie Signature Printing Plates Magenta 208 Barkevious Mingo Cleveland Browns 1
Rookie Signature Printing Plates Magenta 209 Bjoern Werner Indianapolis Colts 1
Rookie Signature Printing Plates Magenta 210 Darius Slay Detroit Lions 1
Rookie Signature Printing Plates Magenta 211 Eric Fisher Kansas City Chiefs 1
Rookie Signature Printing Plates Magenta 212 Chris Gragg Buffalo Bills 1
Rookie Signature Printing Plates Magenta 213 Chris Harper Seattle Seahawks 1
Rookie Signature Printing Plates Magenta 214 Christine Michael Seattle Seahawks 1
Rookie Signature Printing Plates Magenta 216 Cobi Hamilton Cincinnati Bengals 1
Rookie Signature Printing Plates Magenta 217 Knile Davis Kansas City Chiefs 1
Rookie Signature Printing Plates Magenta 218 Chance Warmack Tennessee Titans 1
Rookie Signature Printing Plates Magenta 219 Conner Vernon Oakland Raiders 1
Rookie Signature Printing Plates Magenta 220 Cordarrelle Patterson Minnesota Vikings 1
Rookie Signature Printing Plates Magenta 221 Corey Fuller Detroit Lions 1
Rookie Signature Printing Plates Magenta 222 Damontre Moore New York Giants 1
Rookie Signature Printing Plates Magenta 223 Da'Rick Rogers Buffalo Bills 1
Rookie Signature Printing Plates Magenta 224 Datone Jones Green Bay Packers 1
Rookie Signature Printing Plates Magenta 225 DeAndre Hopkins Houston Texans 1
Rookie Signature Printing Plates Magenta 226 Dee Milliner New York Jets 1
Rookie Signature Printing Plates Magenta 227 Denard Robinson Jacksonville Jaguars 1
Rookie Signature Printing Plates Magenta 228 Dion Jordan Miami Dolphins 1
Rookie Signature Printing Plates Magenta 229 Dion Sims Miami Dolphins 1
Rookie Signature Printing Plates Magenta 230 Eddie Lacy Green Bay Packers 1
Rookie Signature Printing Plates Magenta 231 EJ Manuel Buffalo Bills 1
Rookie Signature Printing Plates Magenta 232 Eric Reid San Francisco 49ers 1
Rookie Signature Printing Plates Magenta 233 Gavin Escobar Dallas Cowboys 1
Rookie Signature Printing Plates Magenta 234 Geno Smith New York Jets 1
Rookie Signature Printing Plates Magenta 235 Giovani Bernard Cincinnati Bengals 1
Rookie Signature Printing Plates Magenta 236 Jamar Taylor Miami Dolphins 1
Rookie Signature Printing Plates Magenta 237 Jarvis Jones Pittsburgh Steelers 1
Rookie Signature Printing Plates Magenta 238 Jawan Jamison Washington Redskins 1
Rookie Signature Printing Plates Magenta 239 Ezekiel Ansah Detroit Lions 1
Rookie Signature Printing Plates Magenta 240 Johnthan Banks Tampa Bay Buccaneers 1
Rookie Signature Printing Plates Magenta 242 Johnathan Franklin Green Bay Packers 1
Rookie Signature Printing Plates Magenta 243 Jordan Poyer Philadelphia Eagles 1
Rookie Signature Printing Plates Magenta 244 Jordan Reed Washington Redskins 1
Rookie Signature Printing Plates Magenta 245 Joseph Randle Dallas Cowboys 1
Rookie Signature Printing Plates Magenta 246 Josh Boyce New England Patriots 1
Rookie Signature Printing Plates Magenta 247 Justin Hunter Tennessee Titans 1
Rookie Signature Printing Plates Magenta 248 Keenan Allen San Diego Chargers 1
Rookie Signature Printing Plates Magenta 249 Kenjon Barner Carolina Panthers 1
Rookie Signature Printing Plates Magenta 250 Kenny Stills New Orleans Saints 1
Rookie Signature Printing Plates Magenta 251 Kenny Vaccaro New Orleans Saints 1
Rookie Signature Printing Plates Magenta 252 Kerwynn Williams Indianapolis Colts 1
Rookie Signature Printing Plates Magenta 253 Kevin Minter Arizona Cardinals 1
Rookie Signature Printing Plates Magenta 254 Landry Jones Pittsburgh Steelers 1
Rookie Signature Printing Plates Magenta 255 Le'Veon Bell Pittsburgh Steelers 1
Rookie Signature Printing Plates Magenta 257 Luke Joeckel Jacksonville Jaguars 1
Rookie Signature Printing Plates Magenta 258 Manti Te'o San Diego Chargers 1
Rookie Signature Printing Plates Magenta 259 Marcus Davis New York Jets 1
Rookie Signature Printing Plates Magenta 260 Marcus Lattimore San Francisco 49ers 1
Rookie Signature Printing Plates Magenta 261 Margus Hunt Cincinnati Bengals 1
Rookie Signature Printing Plates Magenta 262 Desmond Trufant Atlanta Falcons 1
Rookie Signature Printing Plates Magenta 263 Vance McDonald San Francisco 49ers 1
Rookie Signature Printing Plates Magenta 264 Markus Wheaton Pittsburgh Steelers 1
Rookie Signature Printing Plates Magenta 265 Marquess Wilson Chicago Bears 1
Rookie Signature Printing Plates Magenta 266 Marquise Goodwin Buffalo Bills 1
Rookie Signature Printing Plates Magenta 267 Matt Barkley Philadelphia Eagles 1
Rookie Signature Printing Plates Magenta 268 Matt Elam Baltimore Ravens 1
Rookie Signature Printing Plates Magenta 269 Matt Scott Jacksonville Jaguars 1
Rookie Signature Printing Plates Magenta 270 Mike Gillislee Miami Dolphins 1
Rookie Signature Printing Plates Magenta 271 Mike Glennon Tampa Bay Buccaneers 1
Rookie Signature Printing Plates Magenta 272 Montee Ball Denver Broncos 1
Rookie Signature Printing Plates Magenta 273 Nick Kasa Oakland Raiders 1
Rookie Signature Printing Plates Magenta 274 Phillip Thomas Washington Redskins 1
Rookie Signature Printing Plates Magenta 275 Quinton Patton San Francisco 49ers 1
Rookie Signature Printing Plates Magenta 276 Ray Graham Houston Texans 1
Rookie Signature Printing Plates Magenta 277 Ryan Otten Jacksonville Jaguars 1
Rookie Signature Printing Plates Magenta 278 Rex Burkhead Cincinnati Bengals 1
Rookie Signature Printing Plates Magenta 279 Tyrann Mathieu Arizona Cardinals 1
Rookie Signature Printing Plates Magenta 280 Robert Woods Buffalo Bills 1
Rookie Signature Printing Plates Magenta 281 Rodney Smith Minnesota Vikings 1
Rookie Signature Printing Plates Magenta 282 Ryan Nassib New York Giants 1
Rookie Signature Printing Plates Magenta 283 Ryan Swope Arizona Cardinals 1
Rookie Signature Printing Plates Magenta 284 Sam Montgomery Houston Texans 1
Rookie Signature Printing Plates Magenta 285 Sheldon Richardson New York Jets 1
Rookie Signature Printing Plates Magenta 287 Stedman Bailey St. Louis Rams 1
Rookie Signature Printing Plates Magenta 288 Stepfan Taylor Arizona Cardinals 1
Rookie Signature Printing Plates Magenta 289 Tavarres King Denver Broncos 1
Rookie Signature Printing Plates Magenta 290 Tavon Austin St. Louis Rams 1
Rookie Signature Printing Plates Magenta 291 Terrance Williams Dallas Cowboys 1
Rookie Signature Printing Plates Magenta 292 Theo Riddick Detroit Lions 1
Rookie Signature Printing Plates Magenta 293 Travis Kelce Kansas City Chiefs 1
Rookie Signature Printing Plates Magenta 294 Tyler Bray Kansas City Chiefs 1
Rookie Signature Printing Plates Magenta 295 Tyler Eifert Cincinnati Bengals 1
Rookie Signature Printing Plates Magenta 296 Tyler Wilson Oakland Raiders 1
Rookie Signature Printing Plates Magenta 297 Arthur Brown Baltimore Ravens 1
Rookie Signature Printing Plates Magenta 298 Xavier Rhodes Minnesota Vikings 1
Rookie Signature Printing Plates Magenta 299 Zac Dysert Denver Broncos 1
Rookie Signature Printing Plates Magenta 300 Zach Ertz Philadelphia Eagles 1
Rookie Signature Printing Plates Yellow 201 Aaron Dobson New England Patriots 1
Rookie Signature Printing Plates Yellow 202 Aaron Mellette Baltimore Ravens 1
Rookie Signature Printing Plates Yellow 203 Ace Sanders Jacksonville Jaguars 1
Rookie Signature Printing Plates Yellow 205 Alec Ogletree St. Louis Rams 1
Rookie Signature Printing Plates Yellow 206 Alex Okafor Arizona Cardinals 1
Rookie Signature Printing Plates Yellow 207 Andre Ellington Arizona Cardinals 1
Rookie Signature Printing Plates Yellow 208 Barkevious Mingo Cleveland Browns 1
Rookie Signature Printing Plates Yellow 209 Bjoern Werner Indianapolis Colts 1
Rookie Signature Printing Plates Yellow 210 Darius Slay Detroit Lions 1
Rookie Signature Printing Plates Yellow 211 Eric Fisher Kansas City Chiefs 1
Rookie Signature Printing Plates Yellow 212 Chris Gragg Buffalo Bills 1
Rookie Signature Printing Plates Yellow 213 Chris Harper Seattle Seahawks 1
Rookie Signature Printing Plates Yellow 214 Christine Michael Seattle Seahawks 1
Rookie Signature Printing Plates Yellow 216 Cobi Hamilton Cincinnati Bengals 1
Rookie Signature Printing Plates Yellow 217 Knile Davis Kansas City Chiefs 1
Rookie Signature Printing Plates Yellow 218 Chance Warmack Tennessee Titans 1
Rookie Signature Printing Plates Yellow 219 Conner Vernon Oakland Raiders 1
Rookie Signature Printing Plates Yellow 220 Cordarrelle Patterson Minnesota Vikings 1
Rookie Signature Printing Plates Yellow 221 Corey Fuller Detroit Lions 1
Rookie Signature Printing Plates Yellow 222 Damontre Moore New York Giants 1
Rookie Signature Printing Plates Yellow 223 Da'Rick Rogers Buffalo Bills 1
Rookie Signature Printing Plates Yellow 224 Datone Jones Green Bay Packers 1
Rookie Signature Printing Plates Yellow 225 DeAndre Hopkins Houston Texans 1
Rookie Signature Printing Plates Yellow 226 Dee Milliner New York Jets 1
Rookie Signature Printing Plates Yellow 227 Denard Robinson Jacksonville Jaguars 1
Rookie Signature Printing Plates Yellow 228 Dion Jordan Miami Dolphins 1
Rookie Signature Printing Plates Yellow 229 Dion Sims Miami Dolphins 1
Rookie Signature Printing Plates Yellow 230 Eddie Lacy Green Bay Packers 1
Rookie Signature Printing Plates Yellow 231 EJ Manuel Buffalo Bills 1
Rookie Signature Printing Plates Yellow 232 Eric Reid San Francisco 49ers 1
Rookie Signature Printing Plates Yellow 233 Gavin Escobar Dallas Cowboys 1
Rookie Signature Printing Plates Yellow 234 Geno Smith New York Jets 1
Rookie Signature Printing Plates Yellow 235 Giovani Bernard Cincinnati Bengals 1
Rookie Signature Printing Plates Yellow 236 Jamar Taylor Miami Dolphins 1
Rookie Signature Printing Plates Yellow 237 Jarvis Jones Pittsburgh Steelers 1
Rookie Signature Printing Plates Yellow 238 Jawan Jamison Washington Redskins 1
Rookie Signature Printing Plates Yellow 239 Ezekiel Ansah Detroit Lions 1
Rookie Signature Printing Plates Yellow 240 Johnthan Banks Tampa Bay Buccaneers 1
Rookie Signature Printing Plates Yellow 242 Johnathan Franklin Green Bay Packers 1
Rookie Signature Printing Plates Yellow 243 Jordan Poyer Philadelphia Eagles 1
Rookie Signature Printing Plates Yellow 244 Jordan Reed Washington Redskins 1
Rookie Signature Printing Plates Yellow 245 Joseph Randle Dallas Cowboys 1
Rookie Signature Printing Plates Yellow 246 Josh Boyce New England Patriots 1
Rookie Signature Printing Plates Yellow 247 Justin Hunter Tennessee Titans 1
Rookie Signature Printing Plates Yellow 248 Keenan Allen San Diego Chargers 1
Rookie Signature Printing Plates Yellow 249 Kenjon Barner Carolina Panthers 1
Rookie Signature Printing Plates Yellow 250 Kenny Stills New Orleans Saints 1
Rookie Signature Printing Plates Yellow 251 Kenny Vaccaro New Orleans Saints 1
Rookie Signature Printing Plates Yellow 252 Kerwynn Williams Indianapolis Colts 1
Rookie Signature Printing Plates Yellow 253 Kevin Minter Arizona Cardinals 1
Rookie Signature Printing Plates Yellow 254 Landry Jones Pittsburgh Steelers 1
Rookie Signature Printing Plates Yellow 255 Le'Veon Bell Pittsburgh Steelers 1
Rookie Signature Printing Plates Yellow 257 Luke Joeckel Jacksonville Jaguars 1
Rookie Signature Printing Plates Yellow 258 Manti Te'o San Diego Chargers 1
Rookie Signature Printing Plates Yellow 259 Marcus Davis New York Jets 1
Rookie Signature Printing Plates Yellow 260 Marcus Lattimore San Francisco 49ers 1
Rookie Signature Printing Plates Yellow 261 Margus Hunt Cincinnati Bengals 1
Rookie Signature Printing Plates Yellow 262 Desmond Trufant Atlanta Falcons 1
Rookie Signature Printing Plates Yellow 263 Vance McDonald San Francisco 49ers 1
Rookie Signature Printing Plates Yellow 264 Markus Wheaton Pittsburgh Steelers 1
Rookie Signature Printing Plates Yellow 265 Marquess Wilson Chicago Bears 1
Rookie Signature Printing Plates Yellow 266 Marquise Goodwin Buffalo Bills 1
Rookie Signature Printing Plates Yellow 267 Matt Barkley Philadelphia Eagles 1
Rookie Signature Printing Plates Yellow 268 Matt Elam Baltimore Ravens 1
Rookie Signature Printing Plates Yellow 269 Matt Scott Jacksonville Jaguars 1
Rookie Signature Printing Plates Yellow 270 Mike Gillislee Miami Dolphins 1
Rookie Signature Printing Plates Yellow 271 Mike Glennon Tampa Bay Buccaneers 1
Rookie Signature Printing Plates Yellow 272 Montee Ball Denver Broncos 1
Rookie Signature Printing Plates Yellow 273 Nick Kasa Oakland Raiders 1
Rookie Signature Printing Plates Yellow 274 Phillip Thomas Washington Redskins 1
Rookie Signature Printing Plates Yellow 275 Quinton Patton San Francisco 49ers 1
Rookie Signature Printing Plates Yellow 276 Ray Graham Houston Texans 1
Rookie Signature Printing Plates Yellow 277 Ryan Otten Jacksonville Jaguars 1
Rookie Signature Printing Plates Yellow 278 Rex Burkhead Cincinnati Bengals 1
Rookie Signature Printing Plates Yellow 279 Tyrann Mathieu Arizona Cardinals 1
Rookie Signature Printing Plates Yellow 280 Robert Woods Buffalo Bills 1
Rookie Signature Printing Plates Yellow 281 Rodney Smith Minnesota Vikings 1
Rookie Signature Printing Plates Yellow 282 Ryan Nassib New York Giants 1
Rookie Signature Printing Plates Yellow 283 Ryan Swope Arizona Cardinals 1
Rookie Signature Printing Plates Yellow 284 Sam Montgomery Houston Texans 1
Rookie Signature Printing Plates Yellow 285 Sheldon Richardson New York Jets 1
Rookie Signature Printing Plates Yellow 287 Stedman Bailey St. Louis Rams 1
Rookie Signature Printing Plates Yellow 288 Stepfan Taylor Arizona Cardinals 1
Rookie Signature Printing Plates Yellow 289 Tavarres King Denver Broncos 1
Rookie Signature Printing Plates Yellow 290 Tavon Austin St. Louis Rams 1
Rookie Signature Printing Plates Yellow 291 Terrance Williams Dallas Cowboys 1
Rookie Signature Printing Plates Yellow 292 Theo Riddick Detroit Lions 1
Rookie Signature Printing Plates Yellow 293 Travis Kelce Kansas City Chiefs 1
Rookie Signature Printing Plates Yellow 294 Tyler Bray Kansas City Chiefs 1
Rookie Signature Printing Plates Yellow 295 Tyler Eifert Cincinnati Bengals 1
Rookie Signature Printing Plates Yellow 296 Tyler Wilson Oakland Raiders 1
Rookie Signature Printing Plates Yellow 297 Arthur Brown Baltimore Ravens 1
Rookie Signature Printing Plates Yellow 298 Xavier Rhodes Minnesota Vikings 1
Rookie Signature Printing Plates Yellow 299 Zac Dysert Denver Broncos 1
Rookie Signature Printing Plates Yellow 300 Zach Ertz Philadelphia Eagles 1
SP Rookie 217 Knile Davis Kansas City Chiefs
SP Rookie 220 Cordarrelle Patterson Minnesota Vikings
SP Rookie 225 DeAndre Hopkins Houston Texans
SP Rookie 230 Eddie Lacy Green Bay Packers
SP Rookie 231 EJ Manuel Buffalo Bills
SP Rookie 234 Geno Smith New York Jets
SP Rookie 258 Manti Te'o San Diego Chargers
SP Rookie 290 Tavon Austin St. Louis Rams
SP Rookie 301 Leon Sandcastle Kansas City Chiefs
SP Rookie Autographs 217 Knile Davis Kansas City Chiefs 25
SP Rookie Autographs 220 Cordarrelle Patterson Minnesota Vikings 25
SP Rookie Autographs 225 DeAndre Hopkins Houston Texans 25
SP Rookie Autographs 230 Eddie Lacy Green Bay Packers 25
SP Rookie Autographs 231 EJ Manuel Buffalo Bills 25
SP Rookie Autographs 234 Geno Smith New York Jets 5
SP Rookie Autographs 258 Manti Te'o San Diego Chargers 25
SP Rookie Autographs 290 Tavon Austin St. Louis Rams 25
SP Rookie Autographs 301 Leon Sandcastle Kansas City Chiefs 21
Stars of the NFL 1 Tony Romo Dallas Cowboys
Stars of the NFL 2 Ray Rice Baltimore Ravens
Stars of the NFL 3 A.J. Green Cincinnati Bengals
Stars of the NFL 4 Trent Richardson Cleveland Browns
Stars of the NFL 5 Mike Wallace Miami Dolphins
Stars of the NFL 6 Arian Foster Houston Texans
Stars of the NFL 7 Reggie Wayne Indianapolis Colts
Stars of the NFL 8 C.J. Spiller Buffalo Bills
Stars of the NFL 9 Tom Brady New England Patriots
Stars of the NFL 10 Peyton Manning Denver Broncos
Stars of the NFL 11 Robert Griffin III Washington Redskins
Stars of the NFL 12 Brandon Marshall Chicago Bears
Stars of the NFL 13 Calvin Johnson Jr. Detroit Lions
Stars of the NFL 14 Aaron Rodgers Green Bay Packers
Stars of the NFL 15 Adrian Peterson Minnesota Vikings
Stars of the NFL 16 Julio Jones Atlanta Falcons
Stars of the NFL 17 Cam Newton Carolina Panthers
Stars of the NFL 18 Drew Brees New Orleans Saints
Stars of the NFL 19 Victor Cruz New York Giants
Stars of the NFL 20 LeSean McCoy Philadelphia Eagles
Stars of the NFL 21 Andrew Luck Indianapolis Colts
Stars of the NFL 22 Larry Fitzgerald Arizona Cardinals
Stars of the NFL 23 Colin Kaepernick San Francisco 49ers
Stars of the NFL 24 Marshawn Lynch Seattle Seahawks
Stars of the NFL 25 Chris Johnson Tennessee Titans
Turning Pro Signatures 1 Tavon Austin St. Louis Rams 25
Turning Pro Signatures 2 EJ Manuel Buffalo Bills 25
Turning Pro Signatures 3 Tyler Eifert Cincinnati Bengals 25
Turning Pro Signatures 4 Cordarrelle Patterson Minnesota Vikings 25
Turning Pro Signatures 5 Eric Fisher Kansas City Chiefs 25
Turning Pro Signatures 6 Dion Jordan Miami Dolphins 25
Turning Pro Signatures 7 Barkevious Mingo Cleveland Browns 25
Turning Pro Signatures 8 Chance Warmack Tennessee Titans 25
Turning Pro Signatures 9 Kenny Vaccaro New Orleans Saints 25
Turning Pro Signatures 10 Dee Milliner New York Jets 25
Turning Pro Signatures 11 Jarvis Jones Pittsburgh Steelers 25
Turning Pro Signatures 12 Eric Reid San Francisco 49ers 25
Turning Pro Signatures 13 Geno Smith New York Jets 5
Turning Pro Signatures 14 Xavier Rhodes Minnesota Vikings 25
Turning Pro Signatures 15 Bjoern Werner Indianapolis Colts 25