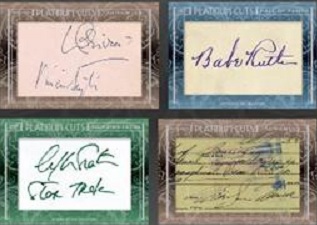 By Susan Lulgjuraj | Beckett Sports Card Monthly Editor
Autographs of Babe Ruth, Lou Gehrig and Cy Young could be hard to find. Even signatures of Abraham Lincoln, Princess Diana and Harry Houdini are limited.
However, Press Pass is making the autographs of these sports and historical figures available in a new product – 2013 Press Pass Platinum Cuts Inscription Edition.
Cut cards will come from people from a variety of areas. People such as Elvis, Davy Jones and William Shatner will be included.
Press Pass will also have some favorites coupled together on cards such as Clint Eastwood, Lee Van Cleef and Eli Wallach (The Good, The Bad and the Ugly), and Buddy Ebsen and Irene Ryan (Jed Clampett and Granny from Beverly Hillbillies).
However, to go with the name "Inscription Edition", cut signatures with extras have to be included in the set.
Davy Jones will have cut autos with "Daydream Believer," "The Monkees," and "Brady Bunch" inscribed. Lou Ferrigno will have "Hulk," "I love you, man" and "Pumping Iron" inscriptions.
There will be nearly 2,000 1/1 cuts encapsulated for this set.
Susan Lulgjuraj is an editor of Beckett Sports Card Monthly. You can email her here with questions, comments or ideas. Follow her on Twitter here.