First look: 2013 Museum Collection Football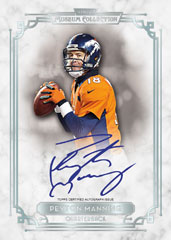 By Susan Lulgjuraj | Beckett Football Editor
Topps is bringing Museum Collection to football.
The high-end product will be out in mid-February, featuring one on-card Autograph, one Autograph Relic, one Quad Relic and one Jumbo Relic in every box. 2013 Museum Collection Football will have four five-card packs in every box.
The on-card autographs will highlight rookies, veterans and retired stars. The single auto cards will have five parallels. Topps is also including Dual Signature Series Autographed Cards with up to 10 different combinations of players.
The Autographed Relics will feature Signature Swatches Dual Relics, Signature Swatches Triple Relics and Pro Bowl Signature Swatches Dual Relics.
The Quad Relics can come in three different subsets with Rookie Quad Relics, Pro Bowl Quad Relics and Four-Player Quad Relics. The relics will also come in Copper, Gold or Emerald parallels.
The Jumbo Relics will have up to 45 subjects with an oversized piece of jersey. Along with the base Jumbo Relics, collectors will be able to find Museum Pro Bowl Jumbo Relics, Jumbo Bowl Nike Swoosh, Museum Laundry Tag, Dual Jumbo Relic Books and Museum NFL Shield Cards.
Case hits include Jumbo Patch Autographed Cards with up to 20 subjects with on-card signatures, and Museum Collection Framed Autographs with up to 35 subjects of rookies, veterans and retired players.
The base set will have 100 cards on the checklist with Copper, Sapphire, Ruby and Emerald parallels.
Collectors will also be able to find Canvas Collection inserts with reproductions of original pieces of artwork along with Canvas Collections Originals, the 1-of-1 art card.
Museum Collection Football, a hobby-only product, is scheduled to come out Feb. 12, 2014.
Susan Lulgjuraj is an editor of Beckett Football. You can email her here with questions, comments or ideas. Follow her on Twitter here. Follow Beckett Media on Facebook and Twitter.