2013 Upper Deck Goodwin Champions Details
With golf, baseball, football and Olympic athletes in 2013 Goodwin Champions, Upper Deck has a wild assortment of sports stars.
Set for a July release, Goodwin Champions is coming back with basics that make the product popular and adding a bunch of extras to make it unique. It Came From Outer Space! Cards are back again with Museum Collection Wild West Relics or new Element Booklet Relics.
Some of the cards collectors will have to see believe.
Goodwin Champions will come with five cards in each pack with 20 cards in a box. Collectors can expect to find three hits in every box ranging from unique memorabilia to autographs.
There are 150 regular base cards with an additional 60 short-printed cards. In addition, there will be 14 high series mini short prints. Base cards will have back variations with unnumbered Magician and Presidential parallels.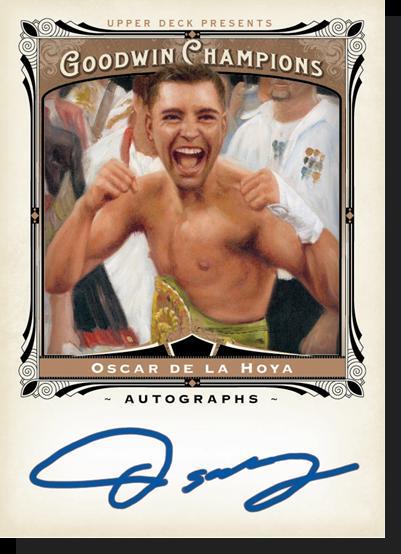 Autographs will came from a range of athletes including Ray Allen, Mario Andretti, Oscar de la Hoya, Juan Gonzalez, Tony Hawk, Allen Iverson, Reggie Jackson, Nicklas Lidstrom, Shannon Miller and Manti Te'o.
The Animal Kingdom Patches are back once again. These manufactured patches have been popular with collectors with cards selling for hundreds of dollars at times on the secondary market.
Also to Goodwin Champions this year are End of Days 3-D cards and Goodwin Masterpieces – Art of the Ages.
Check out the preview gallery below.