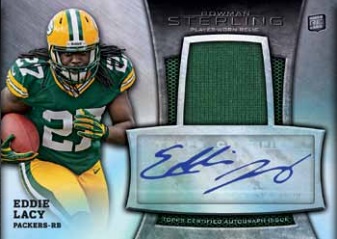 By Susan Lulgjuraj | Beckett Football Editor
Collectors who are on the search for 2013 Bowman Sterling football will have to head to the nearest hobby shop.
The hobby-exclusive product hit shelves in late October featuring a slew of new rookies with a few veterans sprinkled in.
Each box of 2013 Bowman Sterling comes with six packs and five cards in each pack. Each pack will typically contain five cards with one autograph, a jumbo relic and three base cards. Every box will also have at least one patch card, one autograph relic and one autograph patch inside.
In addition, there will be a box topper.
The autograph checklist will feature up to 80 names of rookies and many veterans, many of them second- and third-year players. The autographs will come with six parallels: Blue (numbered to 99), Black (#'d to 50), Gold (#'d to 25), Prism (#'d to 15), Superfractor (1-of-1) and Printing Plates (1-of-1).
Up to 40 subjects will be featured on the Autographed Rookie Relic cards. In addition to single autographs, collectors can find cards signed by up to six rookies.
Each pack will contain at least a Jumbo Relic Card, but with more than just rookies this year. There will also be veteran Jumbo Relic Cards as well with the cards coming in a number of parallel versions.
Topps is including box toppers once again. These will feature Jumbo Rookie Patch cards similar to last year's product. However, some box toppers will feature a Multiple Rookie Autograph Patch with up to four rookies. There will also be one Prism Refracor Dual Autographs Dual Relic card in every case.
The base set will be rookie heavy, which is expected for a Bowman product. Of the 100 cards in the base set, 80 of them will be rookies. The base set will come with Blue Refractor, Black Refractor, Gold Refractor, Prism Refractor, Superfractor and Printing Plate parallels.
Susan Lulgjuraj is an editor of Beckett Football. You can email her here with questions, comments or ideas. Follow her on Twitter here. Follow Beckett Media on Facebook and Twitter.
---
BASE CARD CHECKLIST
1 Peyton Manning Denver Broncos 51 Vance McDonald San Francisco 49ers – RC
2 Cordarrelle Patterson Minnesota Vikings – RC 52 Montee Ball Denver Broncos – RC
3 Denard Robinson Jacksonville Jaguars – RC 53 A.J. Green Cincinnati Bengals
4 LeSean McCoy Philadelphia Eagles 54 Matt Barkley Philadelphia Eagles – RC
5 DeAndre Hopkins Houston Texans – RC 55 Manti Te'o San Diego Chargers – RC
6 Lonnie Pryor Jacksonville Jaguars – RC 56 Kerwynn Williams Indianapolis Colts – RC
7 Eric Fisher Kansas City Chiefs – RC 57 Gavin Escobar Dallas Cowboys – RC
8 Tyler Wilson Oakland Raiders – RC 58 Aaron Mellette Baltimore Ravens – RC
9 Dez Bryant Dallas Cowboys 59 Cam Newton Carolina Panthers
10 Tom Brady New England Patriots 60 Adrian Peterson Minnesota Vikings
11 Josh Boyce New England Patriots – RC 61 Markus Wheaton Pittsburgh Steelers – RC
12 Eli Manning New York Giants 62 Alex Okafor Arizona Cardinals – RC
13 Luke Joeckel Jacksonville Jaguars – RC 63 Xavier Rhodes Minnesota Vikings – RC
14 Tyler Eifert Cincinnati Bengals – RC 64 Eddie Lacy Green Bay Packers – RC
15 Andre Ellington Arizona Cardinals – RC 65 Aaron Dobson New England Patriots – RC
16 Le'Veon Bell Pittsburgh Steelers – RC 66 Chris Gragg Buffalo Bills – RC
17 Stepfan Taylor Arizona Cardinals – RC 67 Ryan Nassib New York Giants – RC
18 Chris Harper Seattle Seahawks – RC 68 Rodney Smith Minnesota Vikings – RC
19 Ezekiel Ansah Detroit Lions – RC 69 Ace Sanders Jacksonville Jaguars – RC
20 Aaron Rodgers Green Bay Packers 70 Calvin Johnson Jr. Detroit Lions
21 Kenny Vaccaro New Orleans Saints – RC 71 Cobi Hamilton Cincinnati Bengals – RC
22 Desmond Trufant Atlanta Falcons – RC 72 Jamaal Charles Kansas City Chiefs
23 Barkevious Mingo Cleveland Browns – RC 73 Marcus Lattimore San Francisco 49ers – RC
24 Knile Davis Kansas City Chiefs – RC 74 Chris Thompson Washington Redskins – RC
25 Geno Smith New York Jets – RC 75 E.J. Manuel Buffalo Bills – RC
26 Jamar Taylor Miami Dolphins – RC 76 Jarvis Jones Pittsburgh Steelers – RC
27 Jordan Reed Washington Redskins – RC 77 Da'Rick Rogers Buffalo Bills – RC
28 Theo Riddick Detroit Lions – RC 78 Marquise Goodwin Buffalo Bills – RC
29 Tyler Bray Kansas City Chiefs – RC 79 Blidi Wreh-Wilson Tennessee Titans – RC
30 Drew Brees New Orleans Saints 80 Russell Wilson Seattle Seahawks
31 Ryan Swope Arizona Cardinals – RC 81 Brandon Marshall Chicago Bears
32 J.J. Watt Houston Texans 82 Miguel Maysonet Philadelphia Eagles – RC
33 Ray Graham Houston Texans – RC 83 Jordan Poyer Philadelphia Eagles – RC
34 Zach Ertz Philadelphia Eagles – RC 84 Matt Ryan Atlanta Falcons
35 D.J. Hayden Oakland Raiders – RC 85 Mike Glennon Tampa Bay Buccaneers – RC
36 Stedman Bailey St. Louis Rams – RC 86 Giovani Bernard Cincinnati Bengals – RC
37 Kenjon Barner Carolina Panthers – RC 87 Sheldon Richardson New York Jets – RC
38 Damontre Moore New York Giants – RC 88 Dan Buckner Arizona Cardinals – RC
39 Keenan Allen San Diego Chargers – RC 89 Eric Reid San Francisco 49ers – RC
40 Joe Flacco Baltimore Ravens 90 Colin Kaepernick San Francisco 49ers
41 Corey Fuller Detroit Lions – RC 91 Mike Gillislee Miami Dolphins – RC
42 Kenny Stills New Orleans Saints – RC 92 Tavon Austin St. Louis Rams – RC
43 John Jenkins New Orleans Saints – RC 93 Quinton Patton San Francisco 49ers – RC
44 Zac Dysert Denver Broncos – RC 94 Dee Milliner New York Jets – RC
45 Dion Jordan Miami Dolphins – RC 95 Johnathan Franklin Green Bay Packers – RC
46 Robert Woods Buffalo Bills – RC 96 Terrance Williams Dallas Cowboys – RC
47 Christine Michael Seattle Seahawks – RC 97 Landry Jones Pittsburgh Steelers – RC
48 Tavarres King Denver Broncos – RC 98 Joseph Randle Dallas Cowboys – RC
49 Justin Hunter Tennessee Titans – RC 99 Dion Sims Miami Dolphins – RC
50 Andrew Luck Indianapolis Colts 100 RobertGriffin III Washington Redskins