First look: 2013 Bowman Inception baseball cards (with preliminary checklist)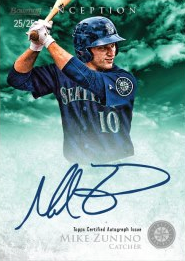 By Chris Olds | Beckett Baseball Editor
First it starred on the gridiron, now it's coming to the land of prospecting.
Topps teased its forthcoming 2013 Bowman Inception brand on Tuesday, the first release for the brand in baseball that will bring a new look to the prospecting field.
Set to arrive on June 21, Inception will include four autographs and one autographed Relic in every pack — so mark it down as a hits-driven, high-end product.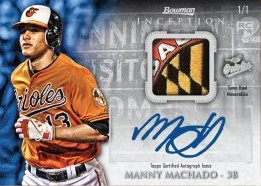 Each Rookie Autograph will include eight parallels — Gold (/99), Blue (/75), Orange (/50), Green (/25), Red (/10), Purple (/5) and 1/1 Inception and 1/1 printing plates. That's 269 autos per player.
Each Prospect Autograph in Inception will have the same number of parallels in the same quantities.
Also to be found are Silver Signings cards — metallic ink on a black card — limited to 25, while a Gold parallel of those cads will be limited to just five copies. Dual Rise autographs will pair notable players from the same franchise and be limited to 25 copies, while a triple autograph will be limited to just five.
For autographed Relics, there will be three versions each with three parallels. The versions are standard Relics, patches and then jumbo patches. The Relics will be paralleled with Red (/50), Blue (/25) and 1/1 Inception cards, while the patches will have the same and be limited to 10, five and one.
Also to be found on the auto Relic side will be autographed logo patches — the logoman patch from their jerseys along with a sticker autograph, each 1/1 cards, a triple auto patch limited to five and Asension Collection auto Relics will include an auto and swatches from several steps in the minors. These will be limited to 25 and have a 1/1 patch parallel as well.
There will be three continuity releases in 2013 Bowman brands with Bowman Black returning here along with the Blue Sapphire Refractors as well. A third inclusion will be Little League autographs — signed cards of players in their younger days, along with a contest that will include a Baseball Factory tryout and a trip to the Under Armour All-American Game.
Chris Olds is the editor of Beckett Baseball magazine. Have a comment, question or idea? Send an email to him at colds@beckett.com. Follow him on Twitter by clicking here.
—
Preliminary (partial) checklist as provided by Topps:
Prospect Autographs (40-plus players)
Addison Russell
Albert Almora
Barrett Barnes
Billy Hamilton
Brad Miller
Byron Buxton
Carlos Correa
Christian Bethancourt
Corey Seager
Courtney Hawkins
David Dahl
Eddie Butler
Jake Marisnick
Jonathan Singleton
Jorge Soler
Kevin Gausman
Kyle Zimmer
Lucas Giolito
Max Fried
Mike Zunino
Miles Head
Nick Castellanos
Stefen Romero
Stryker Trahan
Tyler Austin
Rookie Autographs (15 players)
Avisail Garcia
Dylan Bundy
Jurickson Profar
Manny Machado
Mike Olt
Tyler Skaggs
Autographed Relics (25-plus players)
Anthony Rendon
Billy Hamilton
Carlos Martinez
Jake Marisnick
Joe Panik
Jonathan Schoop
Jonathan Singleton
Manny Machado
Michael Choice
Mike Olt
Mike Zunino
Nick Castellanos
Nolan Arenado
Oswaldo Arcia
Richie Shaffer
Tommy Joseph
Tyler Skaggs
Autographed Patches (15-plus players)
Billy Hamilton
Carlos Martinez
Christian Yelich
Dylan Bundy
Gerrit Cole
Jonathan Singleton
Jurickson Profar
Manny Machado
Mike Zunino
Nick Castellanos
Nolan Arenado