First look: 2013 Bowman Draft Picks & Prospects baseball cards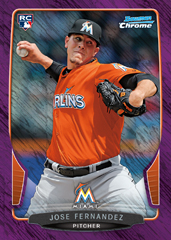 By Chris Olds | Beckett Baseball Editor
The MLB Draft is not that far away — and now their cards may not seem that way, either.
Topps unveiled the basic information and preview images for 2013 Bowman Draft on Friday, the Bowman-capping, prospect-laden release that often includes the first licensed cards of top MLB prospects.
Set to arrive on Nov. 13, it will include one Chrome auto per 24-pack hobby box, and new this year will be chances to own draft-worn memorabilia and a chance to attend the event. For the second consecutive year, it also will be a hobby-only release.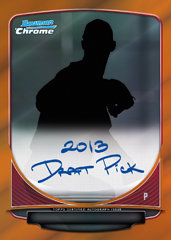 Topps promises 130 draft picks in the basic set offerings along with 45 additional prospects and 45 rookies. Each will have five parallels — Blue (/500), Orange (/250), Red (/5) and 1/1 Black and printing plate versions.
On the Chrome side, there will be the same offerings but with some new shades and tweaks in the Bowman rainbow. New are Black Refractors limited to 35 and Greens, which will be numbered to 75. Each will have standard, Blue (/99), Gold (/50), Orange (/35), Red (/5) and 1/1 Superfractors and printing plates.
Also new will be 1/1 Black Ice parallels joining the one-per-box Silvers, and the Reds, which will be limited to 25 and the Purples limited to 10.
New for inserts will be Dual Draftees cards that pair new picks from the same teams. These will have autographed versions limited to 25 as well as Purples limited to 10 and 1/1 Blacks. Topps also will introduce Diecut Refractors that can also be found with Xfractor versions (/99), autos (/24) and 1/1 Atomic and Super versions.
For the autographs no players were announced — nor was a checklist released — but each prospect signer will be found with standard Chrome autos as well as Refractors and a rainbow that includes Blue (/99), Green (/75), Gold (/50), Black (/35), Orange (/25), Purple (/10), Red (/5) and 1/1 Supers as well as printing plates.
New on the autograph side will be Draft Night autos — cards with images of players from the draft event and found on Chrome stock. They will be limited to just 10 copies.  A draft day redemption card will be good for player-worn hats, shirts or other items from the draft studio as well.  A Draft Ticket will give a collector a chance to win two tickets to the 2014 draft.
Rounding out the offerings are the Best Bowman Blue Refractors, 25 Bowman Black cards limited to 25 as well as a selection of Aflac, Perfect Game and Under-Armour All-American autos as well as Futures Game Relics, which will be limited to 99 with Purple parallels limited to 10 and 1/1 Blacks as well.
Chris Olds is the editor of Beckett Baseball magazine. Have a comment, question or idea? Send an email to him at colds@beckett.com. Follow him on Twitter by clicking here.