First look: 2013 Bowman baseball cards (with final autograph & relic checklists)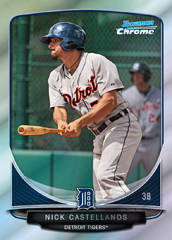 By Chris Olds| Beckett Baseball Editor
Think small.
Topps unveiled its plans for 2013 Bowman on Wednesday, and one downplayed — or downsized? — inclusion just might grab the attention of some collectors out there.
Two words: Bowman Minis.
Set to arrive on May 3, the 65th anniversary release of Bowman will include Chrome Refractor Minis as one insert set —  a 150-card offering showcasing five prospects per franchise. Not only that, but there will be Blue (/250), Red (/5) and SuperFractor (1/1) parallels of these cards, too.
Each 24-pack hobby box will guarantee one autograph inside, while each 12-pack HTA Jumbo box will include more.
The base set will include a selection of veterans — set size not yet announced — while the prospect set will include 110 players. Each of these sets will have state and hometown parallels along with Blue (/500), Orange (/250) and Red (1/1) cards as well as Ice parallels that were introduced this year. There will be Red (/25) Purple (/10) and White (1/1) Ice cards for each player.
Chrome Prospect cards will have the standard array of Refractors — standard, Blue, Gold, Orange, Red and Super — while the Hobby-only autographs will be found in those shades along with Purples (/10) and printing plates found only in HTA Jumbo boxes.
New for 2013 will be 1948 Bowman jumbo box-toppers, limited to just 20, while the Bowman Golden Debut contract is back (a signed ball for contract finders with a chance at a 2014 Bowman card appearance) and a Lucky Five redemption that will be good for a particular bonus cards.
The autographed rookie lineup will include the standard Refractor shades and quantities along with printing plates. Some of the signers there will include Darin Ruf, Tyler Skaggs and Dylan Bundy.
Over on the insert side, there will be the Bowman Top 100 prospects — diecut cards showcasing top players of promise with Refractors (/99), Xfractor autographs (/24) and Atomic autos (1/1s).
New for 2013 will be a Blue Sapphire Refractor continuity program, where, as part of the 65th anniversary, reprints of past cards will be printed on blue Refractor stock. Also in that area will be the return of Bowman Black autographs, which will be found throughout Bowman brands just as they were this year.
Other notable inserts will include Dual Franchise Refractor autos — two prospects with a max of 25 copies per card — Futures Game Relics also limited to 25, Ultimate Prospect autos — a monster featuring 25 prospect autos on a single card — and Aflac/Perfect Game All-American autos as well as Under Armour All-American autos of players who are eligible.
Among the prospects presently signed on to sign for this one are Byron Buxton, No. 1 pick Carlos Correa, Lucas Giolito, Christian Bethancourt and Kevin Pillar. Correa, Giolito and Bethancourt also are slated to appear on Black autos, while the Bowman Top 100 autos will include Gerrit Cole, Oscar Tavaras, Javier Baez, Miguel Sano, Carlos Martinez and Jameson Taillon.
Dual Franchise Refractor auto players so far will include Mike Zunino, Danny Hultzen, Buxton and Oswaldo Arcia, while Blue Sapphire autos already planned will include Al Kaline and Josh Hamilton.
Chris Olds is the editor of Beckett Basketball magazine. Have a comment, question or idea? Send an email to him at colds@beckett.com. Follow him on Twitter by clicking here.
—
—
Here is the raw preliminary checklist as released by Topps (no card numbers)
Base Cards
Yu Darvish Ryan Braun R.A. Dickey Mike Trout Miguel Cabrera Justin Verlander Josh Hamilton Joey Votto Joe Mauer Giancarlo Stanton Derek Jeter David Price Bryce Harper Albert Pujols Adrian Beltre Buster Posey Stephen Strasburg Robinson Cano Prince Fielder Andrew McCutchen Felix Hernandez Yoenis Cespedes Matt Kemp Clayton Kershaw David Freese Dylan Bundy Jurickson Profar Shelby Miller Mike Olt Manny Machado Adam Eaton Avisail Garcia Jake Odorizzi Tyler Skaggs Casey Kelly Trevor Rosenthal L.J. Hoes Darin Ruf Brock Holt
Bowman Prospects
Byron Buxton Carlos Correa Mark Montgomery Gioskar Amaya Lucas Giolito Danny Salazar Jesse Hahn Tayler Scott Ji-Man Choi Tony Renda
AUTOGRAPHS
Bowman Chrome Autograph Prospects
Byron Buxton Carlos Correa Lucas Giolito Christian Bethancourt Kevin Pillar
Bowman Chrome Autograph Rookies
Dylan Bundy  Tyler Skaggs Darin Ruf
Bowman Black Collection
Carlos Correa Lucas Giolito Christian Bethancourt
"Bowman Top 100 Prospects" Autograph Die Cut Refractor
Gerrit Cole Oscar Taveras Javier Baez Miguel Sano Carlos Martinez Jameson Taillon
Dual Franchise Refractor Autographs
1- Mike Zunino 2-Danny Hultzen 1-Byron Buxton 2-Oswaldo Arcia
Autographed Blue Sapphie Refractor "Best Bowman Players of All-Time"
Al Kaline Josh Hamilton
RELICS
Futures Game Relics
Christian Yelich Enny Romero Felipe Rivero Jake Odorizzi Jameson Taillon Jonathan Singleton Julio Rodriguez Kolten Wong Michael Choice Oswaldo Arcia Rymer Liriano Scooter Gennett Taijuan Walker Tommy Joseph Wilmer Flores Zack Wheeler
INSERTS
"Cream of the Crop" Chrome Mini Cards
Trevor Bauer Tyler Skaggs Archie Bradley Adam Eaton Stryker Trahan Gerrit Cole Alen Hanson Gregory Polanco Jameson Taillon Josh Bell Oscar Taveras Shelby Miller Carlos Martinez Matt Adams Trevor Rosenthal
FINAL AUTOGRAPH AND RELIC CHECKLISTS
AUTOGRAPHS
Autographed Chrome Prospects
BCP-AA Andrew Aplin
BCP-AH Alen Hanson
BCP-AM Alex Meyer
BCP-BB Byron Buxton
BCP-BG Brian Goodwin
BCP-CB Christian Bethancourt
BCP-CBL Clayton Blackburn
BCP-CC Carlos Correa
BCP-CE C.J. Edwards
BCP-DC Daniel Corcino
BCP-DH Dilson Herrera
BCP-DP Dorssys Paulino
BCP-EB Eddie Butler
BCP-GA Gioskar Amaya
BCP-GP Gregory Polanco
BCP-JA Jayson Aquino
BCP-JB Jorge Bonifacio
BCP-JBE Jairo Beras
BCP-JBI Jesse Biddle
BCP-JM Julio Morban
BCP-JN Justin Nicolino
BCP-KP Kevin Pillar
BCP-LG Lucas Giolito
BCP-LS Luis Sardinas
BCP-MM Mark Montgomery
BCP-MO Matt Olson
BCP-MS Matthew Skole
BCP-OA Oswaldo Arcia
BCP-PK Patrick Kivlehan
BCP-PW Patrick Wisdom
BCP-RN Renato Nunez
BCP-RQ Roman Quinn
BCP-RR Rio Ruiz
BCP-RRO Ronny Rodriguez
BCP-SP Stephen Piscotty
BCP-SR Stefen Romero
BCP-SS Sam Selman
BCP-TP Tyler Pike
BCP-TW Taijuan Walker
BCP-VS Victor Sanchez
BCP-WM Wyatt Mathisen
BCP-YV Yordano Ventura
Autographed Chrome Rookies
ACR-AE Adam Eaton
ACR-AG Avisail Garcia
ACR-CK Casey Kelly
ACR-DB Dylan Bundy
ACR-DR Darin Ruf
ACR-JF Jeurys Familia
ACR-JO Jake Odorizzi
ACR-JP Jurickson Profar
ACR-MM Manny Machado
ACR-MO Mike Olt
ACR-NM Nick Maronde
ACR-PR Paco Rodriguez
ACR-SM Shelby Miller
ACR-TS Tyler Skaggs
Retail Autographs
BPA-AM Anthony Meo
BPA-AW Aaron West
BPA-BB Byron Buxton
BPA-BL Barret Loux
BPA-BR Ben Rowen
BPA-CC Carlos Correa
BPA-CK Carson Kelly
BPA-CW Collin Wiles
BPA-DP Dane Phillips
BPA-DS Danny Salazar
BPA-JB Josh Bowman
BPA-JC Ji-Man Choi
BPA-JCA Jamie Callahan
BPA-JG Jeff Gelalich
BPA-JH Jesse Hahn
BPA-KD Khris Davis
BPA-KM Kurtis Muller
BPA-LL Lenny Linsky
BPA-MM Matt Magill
BPA-MMQ Mike McQuillan
BPA-MW Max White
BPA-OC Orlando Calixte
BPA-TG Tyler Gonzales
BPA-TR Tanner Rahier
BPA-TS Tayler Scott
Bowman Black Collection
BBC-AME Alex Meyer
BBC-BG Brian Goodwin
BBC-CB Clayton Blackburn
BBC-CC Carlos Correa
BBC-DP Dorssys Paulino
BBC-GA Gioskar Amaya
BBC-GP Gregory Polanco
BBC-JB Jesse Biddle
BBC-JM Julio Morban
BBC-JN Justin Nicolino
BBC-JS Jorge Soler
BBC-KP Kevin Pillar
BBC-LG Lucas Giolito
BBC-LS Luis Sardinas
BBC-MS Matthew Skole
BBC-OA Oswaldo Arcia
BBC-RN Renato Nunez
BBC-RQ Roman Quinn
BBC-RR Rio Ruiz
BBC-RRO Ronny Rodriguez
BBC-SR Stefen Romero
BBC-TP Tyler Pike
BBC-VS Victor Sanchez
BBC-WM Wyatt Mathisen
BBC-YV Yordano Ventura
Dual Franchise Autographs
DFA-BA Oswaldo Arcia
DFA-BA Byron Buxton
DFA-BQ Roman Quinn
DFA-BQ Jesse Biddle
DFA-CB Carlos Correa
DFA-CB Byron Buxton
DFA-CR Rio Ruiz
DFA-CR Carlos Correa
DFA-RA Andrew Aplin
DFA-RA Rio Ruiz
DFA-RG Gabriel Guerrero
DFA-RG Stefen Romero
DFA-RP Ronny Rodriguez
DFA-RP Dorssys Paulino
DFA-SG Brian Goodwin
DFA-SG Matthew Skole
DFA-ZH Danny Hultzen
DFA-ZH Mike Zunino
Autograph Top 100 Die Cuts
Archie Bradley
Carlos Correa
Matt Barnes
Francisco Lindor
George Springer
Miguel Sano
Carlos Martinez
Gerrit Cole
Oscar Taveras
Byron Buxton
Jameson Taillon
Javier Baez
Auto Blue Sapphire Best Bowman Players of All Time
Hank Aaron
Matt Holliday
Josh Hamilton
Bryce Harper
Al Kaline
Autographed 1948 Oversized Boxloader
Bryce Harper
Mike Trout
Dylan Bundy
Carlos Correa
Byron Buxton
Ultimate Prospect Autograph Card
1 Kolten Wong
1 Kevin Gausman
1 Delino DeShields
1 C.J. Cron
1 Jonathan Singleton
1 Taylor Guerrieri
1 Taijuan Walker
1 David Dahl
1 Mike Zunino
1 Byron Buxton
1 Jameson Taillon
1 Dante Bichette Jr.
1 Corey Seager
1 Albert Almora
1 Nick Castellanos
1 Rymer Liriano
1 Oscar Taveras
1 Jurickson Profar
1 Billy Hamilton
1 Carlos Correa
1 Kaleb Cowart
1 Anthony Rendon
1 Javier Baez
1 Francisco Lindor
1 Dylan Bundy
Autograph Black Ice
ABI1 Zack Wheeler
ABI2 Nick Castellanos
ABI3 C.J. Cron
ABI4 David Dahl
ABI5 Delino DeShields
ABI6 Joey Gallo
ABI7 Taylor Guerrieri
ABI8 Billy Hamilton
ABI9 Anthony Rendon
ABI10 Mike Zunino
ABI11 Max Fried
ABI12 Manny Machado
ABI13 Albert Almora
ABI14 Kevin Gausman
ABI15 Dylan Bundy
ABI16 Kolten Wong
ABI17 Francisco Lindor
ABI18 Javier Baez
ABI19 Kaleb Cowart
ABI20 Jameson Taillon
ABI21 Tyler Skaggs
ABI22 Kyle Zimmer
ABI23 Jonathan Singleton
ABI24 Andrew Heaney
ABI25 Courtney Hawkins
ABI26 Trevor Story
ABI27 Eddie Rosario
ABI28 Josh Bell
ABI29 Daniel Vogelbach
ABI30 Blake Swihart
AFLAC/Perfect Game Autographs
Lance McCullers
Tanner Rahier
Jesse Winker
Under Armour Autographs
Nick Travieso
Jose Berrios
Jamie Callahan
Jesmuel Valentin
Matt Olsen
Carson Kelly
Tyler Gonzales
RELICS
Futures Game Relics
FGR-AG Anthony Gose
FGR-AM Alfredo Marte
FGR-AP Ariel Pena
FGR-AS Ali Solis
FGR-BR Bruce Rondon
FGR-CY Christian Yelich
FGR-ER Enny Romero
FGR-FR Felipe Rivero
FGR-JH Jae-Hoon Ha
FGR-JO Jake Odorizzi
FGR-JR Julio Rodriguez
FGR-JS Jonathan Singleton
FGR-JT Jameson Taillon
FGR-KL Kyle Lotzkar
FGR-KW Kolten Wong
FGR-MC Michael Choice
FGR-OA Oswaldo Arcia
FGR-RB Rob Brantly
FGR-RL Rymer Liriano
FGR-SG Scooter Gennett
FGR-TJ Tommy Joseph
FGR-TS Tyler Skaggs
FGR-TW Taijuan Walker
FGR-WF Wilmer Flores
FGR-ZW Zack Wheeler