First look: 2013-14 Upper Deck Trilogy Hockey (with checklist)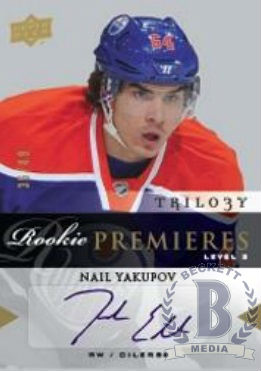 By Susan Lulgjuraj | Beckett Hockey Editor
Upper Deck is wasting no time in getting Rookie Cards for this season's NHL call-ups ready.
2013-14 Upper Deck Trilogy releases on July 2, the earliest rookies from the 2012-13 season could be put on cards. There will be at least 30 rookies from this year's class in Trilogy with the likes of Nail Yakupov, Vladimir Tarasenko, Alex Galchenyuk, Dougie Hamilton and Jonathan Huberdeau.
Trilogy hasn't been on the market since 2009-10, but this seemed like a good time to revive the brand with a double rookie class on tap for next season's cards.
Trilogy will come with five cards in each pack and three packs in each mini box.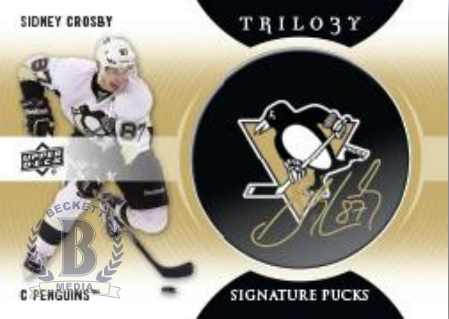 The packs will come with specific configurations:
– One autographed Rookie Card, one additional autograph, one UD Crystal
– One autographed RC, one Plexi Auto, one triple jersey
– One autographed RC, one Signature Puck, one triple jersey
As noticed, the big push in Trilogy will be for the autographed Rookie Cards where there are three levels: numbered to 699, 399 and 99. Each of the players included from this season will have three different autographs in the set.
The base set will consist of 100 cards and there are a few different inserts.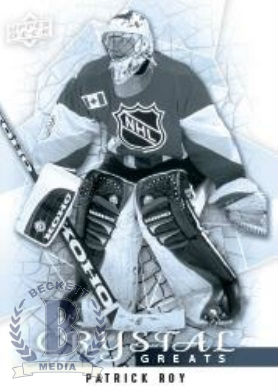 Upper Deck is bringing back Ice Scripts and adding Clear Cut Combos and UD Crystal, both of which will utilize clear plexi-glass to create unique cards. UD Crystal has been described to have a more dramatic look than acetate, and will feature rookies, stars and retired players.
Susan Lulgjuraj is an editor of Beckett Hockey. You can email her here with questions, comments or ideas. Follow her on Twitter here. Follow Beckett Media on Facebook and Twitter.
---
Set Name Card Description Team City Team Name Odds Serial #d Auto Mem Rookie Retired
Base Set 1 Bobby Ryan Anaheim Ducks
Base Set 2 Ryan Getzlaf Anaheim Ducks
Base Set 3 Jonas Hiller Anaheim Ducks
Base Set 4 Teemu Selanne Anaheim Ducks
Base Set 5 Bobby Orr Boston Bruins Retired
Base Set 6 Cam Neely Boston Bruins Retired
Base Set 7 Brad Marchand Boston Bruins
Base Set 8 Tuukka Rask Boston Bruins
Base Set 9 Patrice Bergeron Boston Bruins
Base Set 10 Ray Bourque Boston Bruins Retired
Base Set 11 Terry O'Reilly Boston Bruins Retired
Base Set 12 Tyler Seguin Boston Bruins
Base Set 13 Zdeno Chara Boston Bruins
Base Set 14 Ryan Miller Buffalo Sabres
Base Set 15 Dominik Hasek Buffalo Sabres Retired
Base Set 16 Doug Gilmour Calgary Flames Retired
Base Set 17 Jarome Iginla Pittsburgh Penguins
Base Set 18 Jeff Skinner Carolina Hurricanes
Base Set 19 Eric Staal Carolina Hurricanes
Base Set 20 Jordan Staal Carolina Hurricanes
Base Set 21 Denis Savard Chicago Blackhawks Retired
Base Set 22 Doug Wilson Chicago Blackhawks Retired
Base Set 23 Ed Belfour Chicago Blackhawks Retired
Base Set 24 Jonathan Toews Chicago Blackhawks
Base Set 25 Marian Hossa Chicago Blackhawks
Base Set 26 Patrick Kane Chicago Blackhawks
Base Set 27 Joe Sakic Colorado Avalanche Retired
Base Set 28 Matt Duchene Colorado Avalanche
Base Set 29 Gabriel Landeskog Colorado Avalanche
Base Set 30 Derek Roy Vancouver Canucks
Base Set 31 Jamie Benn Dallas Stars
Base Set 32 Jaromir Jagr Boston Bruins
Base Set 33 Johan Franzen Detroit Red Wings
Base Set 34 Nicklas Lidstrom Detroit Red Wings Retired
Base Set 35 Pavel Datsyuk Detroit Red Wings
Base Set 36 Grant Fuhr Edmonton Oilers Retired
Base Set 37 Bill Ranford Edmonton Oilers Retired
Base Set 38 Jordan Eberle Edmonton Oilers
Base Set 39 Jari Kurri Edmonton Oilers Retired
Base Set 40 Paul Coffey Edmonton Oilers Retired
Base Set 41 Ryan Nugent-Hopkins Edmonton Oilers
Base Set 42 Taylor Hall Edmonton Oilers
Base Set 43 Wayne Gretzky Edmonton Oilers Retired
Base Set 44 Stephen Weiss Florida Panthers
Base Set 45 Ron Francis Hartford Whalers Retired
Base Set 46 Anze Kopitar Los Angeles Kings
Base Set 47 Drew Doughty Los Angeles Kings
Base Set 48 Mike Richards Los Angeles Kings
Base Set 49 Luc Robitaille Los Angeles Kings Retired
Base Set 50 Jonathan Quick Los Angeles Kings
Base Set 51 Dino Ciccarelli Minnesota North stars Retired
Base Set 52 Mike Modano Minnesota Wild Retired
Base Set 53 Jean Beliveau Montreal Canadiens Retired
Base Set 54 Larry Robinson Montreal Canadiens Retired
Base Set 55 P.K. Subban Montreal Canadiens
Base Set 56 Carey Price Montreal Canadiens
Base Set 57 Pekka Rinne Nashville Predators
Base Set 58 Ilya Kovalchuk New Jersey Devils
Base Set 59 Martin Brodeur New Jersey Devils
Base Set 60 Mike Bossy New York Islanders Retired
Base Set 61 John Tavares New York Islanders
Base Set 62 Bryan Trottier New York Islanders Retired
Base Set 63 Rick Nash New York Rangers
Base Set 64 Brad Richards New York Rangers
Base Set 65 Theoren Fleury New York Rangers Retired
Base Set 66 Marian Gaborik Columbus Blue Jackets
Base Set 67 Mark Messier New York Rangers Retired
Base Set 68 Henrik Lundqvist New York Rangers
Base Set 69 Erik Karlsson Ottawa Senators
Base Set 70 Jason Spezza Ottawa Senators
Base Set 71 Claude Giroux Philadelphia Flyers
Base Set 72 Eric Lindros Philadelphia Flyers Retired
Base Set 73 Bernie Parent Philadelphia Flyers Retired
Base Set 74 Brayden Schenn Philadelphia Flyers
Base Set 75 Dave Schultz Philadelphia Flyers Retired
Base Set 76 Shane Doan Phoenix Coyotes
Base Set 77 Evgeni Malkin Pittsburgh Penguins
Base Set 78 Marc-Andre Fleury Pittsburgh Penguins
Base Set 79 Mario Lemieux Pittsburgh Penguins Retired
Base Set 80 Sidney Crosby Pittsburgh Penguins
Base Set 81 Patrick Marleau San Jose Sharks
Base Set 82 Joe Pavelski San Jose Sharks
Base Set 83 Antti Niemi San Jose Sharks
Base Set 84 Logan Couture San Jose Sharks
Base Set 85 Curtis Joseph St. Louis Blues Retired
Base Set 86 Brett Hull St. Louis Blues Retired
Base Set 87 David Backes St. Louis Blues
Base Set 88 Jaroslav Halak St. Louis Blues
Base Set 89 Steven Stamkos Tampa Bay Lightning
Base Set 90 Vincent Lecavalier Tampa Bay Lightning
Base Set 91 Dion Phaneuf Toronto Maple Leafs
Base Set 92 Phil Kessel Toronto Maple Leafs
Base Set 93 Markus Naslund Vancouver Canucks Retired
Base Set 94 Ryan Kesler Vancouver Canucks
Base Set 95 Trevor Linden Vancouver Canucks Retired
Base Set 96 Alexander Ovechkin Washington Capitals
Base Set 97 Braden Holtby Washington Capitals
Base Set 98 Nicklas Backstrom Washington Capitals
Base Set 99 Dale Hawerchuk Winnipeg Jets Retired
Base Set 100 Evander Kane Winnipeg Jets
Signature Rookie Premieres – Level 1 101 Nail Yakupov Edmonton Oilers 699 Auto Rookie
Signature Rookie Premieres – Level 2 102 Nail Yakupov Edmonton Oilers 399 Auto Rookie
Signature Rookie Premieres – Level 3 103 Nail Yakupov Edmonton Oilers 49 Auto Rookie
Signature Rookie Premieres – Level 1 104 Vladimir Tarasenko St. Louis Blues 699 Auto Rookie
Signature Rookie Premieres – Level 2 105 Vladimir Tarasenko St. Louis Blues 399 Auto Rookie
Signature Rookie Premieres – Level 3 106 Vladimir Tarasenko St. Louis Blues 49 Auto Rookie
Signature Rookie Premieres – Level 1 107 Alex Galchenyuk Montreal Canadiens 699 Auto Rookie
Signature Rookie Premieres – Level 2 108 Alex Galchenyuk Montreal Canadiens 399 Auto Rookie
Signature Rookie Premieres – Level 3 109 Alex Galchenyuk Montreal Canadiens 49 Auto Rookie
Signature Rookie Premieres – Level 1 110 Justin Schultz Edmonton Oilers 699 Auto Rookie
Signature Rookie Premieres – Level 2 111 Justin Schultz Edmonton Oilers 399 Auto Rookie
Signature Rookie Premieres – Level 3 112 Justin Schultz Edmonton Oilers 49 Auto Rookie
Signature Rookie Premieres – Level 1 113 Mikael Granlund Minnesota Wild 699 Auto Rookie
Signature Rookie Premieres – Level 2 114 Mikael Granlund Minnesota Wild 399 Auto Rookie
Signature Rookie Premieres – Level 3 115 Mikael Granlund Minnesota Wild 49 Auto Rookie
Signature Rookie Premieres – Level 1 116 Mikhail Grigorenko Buffalo Sabres 699 Auto Rookie
Signature Rookie Premieres – Level 2 117 Mikhail Grigorenko Buffalo Sabres 399 Auto Rookie
Signature Rookie Premieres – Level 3 118 Mikhail Grigorenko Buffalo Sabres 49 Auto Rookie
Signature Rookie Premieres – Level 1 119 Jonathan Huberdeau Florida Panthers 699 Auto Rookie
Signature Rookie Premieres – Level 2 120 Jonathan Huberdeau Florida Panthers 399 Auto Rookie
Signature Rookie Premieres – Level 3 121 Jonathan Huberdeau Florida Panthers 49 Auto Rookie
Signature Rookie Premieres – Level 1 122 Nathan Beaulieu Montreal Canadiens 699 Auto Rookie
Signature Rookie Premieres – Level 2 123 Nathan Beaulieu Montreal Canadiens 399 Auto Rookie
Signature Rookie Premieres – Level 3 124 Nathan Beaulieu Montreal Canadiens 49 Auto Rookie
Signature Rookie Premieres – Level 1 125 Brendan Gallagher Montreal Canadiens 699 Auto Rookie
Signature Rookie Premieres – Level 2 126 Brendan Gallagher Montreal Canadiens 399 Auto Rookie
Signature Rookie Premieres – Level 3 127 Brendan Gallagher Montreal Canadiens 49 Auto Rookie
Signature Rookie Premieres – Level 1 128 Charlie Coyle Minnesota Wild 699 Auto Rookie
Signature Rookie Premieres – Level 2 129 Charlie Coyle Minnesota Wild 399 Auto Rookie
Signature Rookie Premieres – Level 3 130 Charlie Coyle Minnesota Wild 49 Auto Rookie
Signature Rookie Premieres – Level 1 131 Cory Conacher Ottawa Senators 699 Auto Rookie
Signature Rookie Premieres – Level 2 132 Cory Conacher Ottawa Senators 399 Auto Rookie
Signature Rookie Premieres – Level 3 133 Cory Conacher Ottawa Senators 49 Auto Rookie
Signature Rookie Premieres – Level 1 134 Damien Brunner Detroit Red Wings 699 Auto Rookie
Signature Rookie Premieres – Level 2 135 Damien Brunner Detroit Red Wings 399 Auto Rookie
Signature Rookie Premieres – Level 3 136 Damien Brunner Detroit Red Wings 49 Auto Rookie
Signature Rookie Premieres – Level 1 137 Dougie Hamilton Boston Bruins 699 Auto Rookie
Signature Rookie Premieres – Level 2 138 Dougie Hamilton Boston Bruins 399 Auto Rookie
Signature Rookie Premieres – Level 3 139 Dougie Hamilton Boston Bruins 49 Auto Rookie
Signature Rookie Premieres – Level 1 140 Emerson Etem Anaheim Ducks 699 Auto Rookie
Signature Rookie Premieres – Level 2 141 Emerson Etem Anaheim Ducks 399 Auto Rookie
Signature Rookie Premieres – Level 3 142 Emerson Etem Anaheim Ducks 49 Auto Rookie
Signature Rookie Premieres – Level 1 143 Jonas Brodin Minnesota Wild 699 Auto Rookie
Signature Rookie Premieres – Level 2 144 Jonas Brodin Minnesota Wild 399 Auto Rookie
Signature Rookie Premieres – Level 3 145 Jonas Brodin Minnesota Wild 49 Auto Rookie
Signature Rookie Premieres – Level 1 146 Jordan Schroeder Vancouver Canucks 699 Auto Rookie
Signature Rookie Premieres – Level 2 147 Jordan Schroeder Vancouver Canucks 399 Auto Rookie
Signature Rookie Premieres – Level 3 148 Jordan Schroeder Vancouver Canucks 49 Auto Rookie
Signature Rookie Premieres – Level 1 149 Petr Mrazek Detroit Red Wings 699 Auto Rookie
Signature Rookie Premieres – Level 2 150 Petr Mrazek Detroit Red Wings 399 Auto Rookie
Signature Rookie Premieres – Level 3 151 Petr Mrazek Detroit Red Wings 49 Auto Rookie
Signature Rookie Premieres – Level 1 152 Quinton Howden Florida Panthers 699 Auto Rookie
Signature Rookie Premieres – Level 2 153 Quinton Howden Florida Panthers 399 Auto Rookie
Signature Rookie Premieres – Level 3 154 Quinton Howden Florida Panthers 49 Auto Rookie
Signature Rookie Premieres – Level 1 155 Ryan Spooner Boston Bruins 699 Auto Rookie
Signature Rookie Premieres – Level 2 156 Ryan Spooner Boston Bruins 399 Auto Rookie
Signature Rookie Premieres – Level 3 157 Ryan Spooner Boston Bruins 49 Auto Rookie
Signature Rookie Premieres – Level 1 158 Scott Laughton Philadelphia Flyers 699 Auto Rookie
Signature Rookie Premieres – Level 2 159 Scott Laughton Philadelphia Flyers 399 Auto Rookie
Signature Rookie Premieres – Level 3 160 Scott Laughton Philadelphia Flyers 49 Auto Rookie
Signature Rookie Premieres – Level 1 161 Stefan Matteau New Jersey Devils 699 Auto Rookie
Signature Rookie Premieres – Level 2 162 Stefan Matteau New Jersey Devils 399 Auto Rookie
Signature Rookie Premieres – Level 3 163 Stefan Matteau New Jersey Devils 49 Auto Rookie
Signature Rookie Premieres – Level 1 164 Viktor Fasth Anaheim Ducks 699 Auto Rookie
Signature Rookie Premieres – Level 2 165 Viktor Fasth Anaheim Ducks 399 Auto Rookie
Signature Rookie Premieres – Level 3 166 Viktor Fasth Anaheim Ducks 49 Auto Rookie
Signature Rookie Premieres – Level 1 167 Jarred Tinordi Montreal Canadiens 699 Auto Rookie
Signature Rookie Premieres – Level 2 168 Jarred Tinordi Montreal Canadiens 399 Auto Rookie
Signature Rookie Premieres – Level 3 169 Jarred Tinordi Montreal Canadiens 49 Auto Rookie
Signature Rookie Premieres – Level 1 170 Roman Cervenka Calgary Flames 699 Auto Rookie
Signature Rookie Premieres – Level 2 171 Roman Cervenka Calgary Flames 399 Auto Rookie
Signature Rookie Premieres – Level 3 172 Roman Cervenka Calgary Flames 49 Auto Rookie
Signature Rookie Premieres – Level 1 173 Jamie Oleksiak Dallas Stars 699 Auto Rookie
Signature Rookie Premieres – Level 2 174 Jamie Oleksiak Dallas Stars 399 Auto Rookie
Signature Rookie Premieres – Level 3 175 Jamie Oleksiak Dallas Stars 49 Auto Rookie
Signature Rookie Premieres – Level 1 176 Beau Bennett Pittsburgh Penguins 699 Auto Rookie
Signature Rookie Premieres – Level 2 177 Beau Bennett Pittsburgh Penguins 399 Auto Rookie
Signature Rookie Premieres – Level 3 178 Beau Bennett Pittsburgh Penguins 49 Auto Rookie
Signature Rookie Premieres – Level 1 179 Jack Campbell Dallas Stars 699 Auto Rookie
Signature Rookie Premieres – Level 2 180 Jack Campbell Dallas Stars 399 Auto Rookie
Signature Rookie Premieres – Level 3 181 Jack Campbell Dallas Stars 49 Auto Rookie
Signature Rookie Premieres – Level 1 182 Leo Komarov Toronto Maple Leafs 699 Auto Rookie
Signature Rookie Premieres – Level 2 183 Leo Komarov Toronto Maple Leafs 399 Auto Rookie
Signature Rookie Premieres – Level 3 184 Leo Komarov Toronto Maple Leafs 49 Auto Rookie
Signature Rookie Premieres – Level 1 185 Ryan Murphy Carolina Hurricanes 699 Auto Rookie
Signature Rookie Premieres – Level 2 186 Ryan Murphy Carolina Hurricanes 399 Auto Rookie
Signature Rookie Premieres – Level 3 187 Ryan Murphy Carolina Hurricanes 49 Auto Rookie
Signature Rookie Premieres – Level 1 188 Nick Petrecki San Jose Sharks 699 Auto Rookie
Signature Rookie Premieres – Level 2 189 Nick Petrecki San Jose Sharks 399 Auto Rookie
Signature Rookie Premieres – Level 3 190 Nick Petrecki San Jose Sharks 49 Auto Rookie
Signature Rookie Premieres – Level 1 191 Rickard Rakell Anaheim Ducks 699 Auto Rookie
Signature Rookie Premieres – Level 2 192 Rickard Rakell Anaheim Ducks 399 Auto Rookie
Signature Rookie Premieres – Level 3 193 Rickard Rakell Anaheim Ducks 49 Auto Rookie
Signature Rookie Premieres – Level 1 194 Thomas Hickey New York Islanders 699 Auto Rookie
Signature Rookie Premieres – Level 2 195 Thomas Hickey New York Islanders 399 Auto Rookie
Signature Rookie Premieres – Level 3 196 Thomas Hickey New York Islanders 49 Auto Rookie
Signature Rookie Premieres – Level 1 197 Tyler Toffoli Los Angeles Kings 699 Auto Rookie
Signature Rookie Premieres – Level 2 198 Tyler Toffoli Los Angeles Kings 399 Auto Rookie
Signature Rookie Premieres – Level 3 199 Tyler Toffoli Los Angeles Kings 49 Auto Rookie
Signature Rookie Premieres – Triple 200 Nail Yakupov/Vladimir Tarasenko/Alex Galchenyuk Edmonton/St. Louis/Montreal Oilers/Blues/Canadiens 25 Auto Rookie
Base Set Printing Plates 1 Bobby Ryan Anaheim Ducks 4
Base Set Printing Plates 2 Ryan Getzlaf Anaheim Ducks 4
Base Set Printing Plates 3 Jonas Hiller Anaheim Ducks 4
Base Set Printing Plates 4 Teemu Selanne Anaheim Ducks 4
Base Set Printing Plates 5 Bobby Orr Boston Bruins 4 Retired
Base Set Printing Plates 6 Cam Neely Boston Bruins 4 Retired
Base Set Printing Plates 7 Brad Marchand Boston Bruins 4
Base Set Printing Plates 8 Tuukka Rask Boston Bruins 4
Base Set Printing Plates 9 Patrice Bergeron Boston Bruins 4
Base Set Printing Plates 10 Ray Bourque Boston Bruins 4 Retired
Base Set Printing Plates 11 Terry O'Reilly Boston Bruins 4 Retired
Base Set Printing Plates 12 Tyler Seguin Boston Bruins 4
Base Set Printing Plates 13 Zdeno Chara Boston Bruins 4
Base Set Printing Plates 14 Ryan Miller Buffalo Sabres 4
Base Set Printing Plates 15 Dominik Hasek Buffalo Sabres 4 Retired
Base Set Printing Plates 16 Doug Gilmour Calgary Flames 4 Retired
Base Set Printing Plates 17 Jarome Iginla Pittsburgh Penguins 4
Base Set Printing Plates 18 Jeff Skinner Carolina Hurricanes 4
Base Set Printing Plates 19 Eric Staal Carolina Hurricanes 4
Base Set Printing Plates 20 Jordan Staal Carolina Hurricanes 4
Base Set Printing Plates 21 Denis Savard Chicago Blackhawks 4 Retired
Base Set Printing Plates 22 Doug Wilson Chicago Blackhawks 4 Retired
Base Set Printing Plates 23 Ed Belfour Chicago Blackhawks 4 Retired
Base Set Printing Plates 24 Jonathan Toews Chicago Blackhawks 4
Base Set Printing Plates 25 Marian Hossa Chicago Blackhawks 4
Base Set Printing Plates 26 Patrick Kane Chicago Blackhawks 4
Base Set Printing Plates 27 Joe Sakic Colorado Avalanche 4 Retired
Base Set Printing Plates 28 Matt Duchene Colorado Avalanche 4
Base Set Printing Plates 29 Gabriel Landeskog Colorado Avalanche 4
Base Set Printing Plates 30 Derek Roy Vancouver Canucks 4
Base Set Printing Plates 31 Jamie Benn Dallas Stars 4
Base Set Printing Plates 32 Jaromir Jagr Boston Bruins 4
Base Set Printing Plates 33 Johan Franzen Detroit Red Wings 4
Base Set Printing Plates 34 Nicklas Lidstrom Detroit Red Wings 4 Retired
Base Set Printing Plates 35 Pavel Datsyuk Detroit Red Wings 4
Base Set Printing Plates 36 Grant Fuhr Edmonton Oilers 4 Retired
Base Set Printing Plates 37 Bill Ranford Edmonton Oilers 4 Retired
Base Set Printing Plates 38 Jordan Eberle Edmonton Oilers 4
Base Set Printing Plates 39 Jari Kurri Edmonton Oilers 4 Retired
Base Set Printing Plates 40 Paul Coffey Edmonton Oilers 4 Retired
Base Set Printing Plates 41 Ryan Nugent-Hopkins Edmonton Oilers 4
Base Set Printing Plates 42 Taylor Hall Edmonton Oilers 4
Base Set Printing Plates 43 Wayne Gretzky Edmonton Oilers 4 Retired
Base Set Printing Plates 44 Stephen Weiss Florida Panthers 4
Base Set Printing Plates 45 Ron Francis Hartford Whalers 4 Retired
Base Set Printing Plates 46 Anze Kopitar Los Angeles Kings 4
Base Set Printing Plates 47 Drew Doughty Los Angeles Kings 4
Base Set Printing Plates 48 Mike Richards Los Angeles Kings 4
Base Set Printing Plates 49 Luc Robitaille Los Angeles Kings 4 Retired
Base Set Printing Plates 50 Jonathan Quick Los Angeles Kings 4
Base Set Printing Plates 51 Dino Ciccarelli Minnesota North stars 4 Retired
Base Set Printing Plates 52 Mike Modano Minnesota Wild 4 Retired
Base Set Printing Plates 53 Jean Beliveau Montreal Canadiens 4 Retired
Base Set Printing Plates 54 Larry Robinson Montreal Canadiens 4 Retired
Base Set Printing Plates 55 P.K. Subban Montreal Canadiens 4
Base Set Printing Plates 56 Carey Price Montreal Canadiens 4
Base Set Printing Plates 57 Pekka Rinne Nashville Predators 4
Base Set Printing Plates 58 Ilya Kovalchuk New Jersey Devils 4
Base Set Printing Plates 59 Martin Brodeur New Jersey Devils 4
Base Set Printing Plates 60 Mike Bossy New York Islanders 4 Retired
Base Set Printing Plates 61 John Tavares New York Islanders 4
Base Set Printing Plates 62 Bryan Trottier New York Islanders 4 Retired
Base Set Printing Plates 63 Rick Nash New York Rangers 4
Base Set Printing Plates 64 Brad Richards New York Rangers 4
Base Set Printing Plates 65 Theoren Fleury New York Rangers 4 Retired
Base Set Printing Plates 66 Marian Gaborik Columbus Blue Jackets 4
Base Set Printing Plates 67 Mark Messier New York Rangers 4 Retired
Base Set Printing Plates 68 Henrik Lundqvist New York Rangers 4
Base Set Printing Plates 69 Erik Karlsson Ottawa Senators 4
Base Set Printing Plates 70 Jason Spezza Ottawa Senators 4
Base Set Printing Plates 71 Claude Giroux Philadelphia Flyers 4
Base Set Printing Plates 72 Eric Lindros Philadelphia Flyers 4 Retired
Base Set Printing Plates 73 Bernie Parent Philadelphia Flyers 4 Retired
Base Set Printing Plates 74 Brayden Schenn Philadelphia Flyers 4
Base Set Printing Plates 75 Dave Schultz Philadelphia Flyers 4 Retired
Base Set Printing Plates 76 Shane Doan Phoenix Coyotes 4
Base Set Printing Plates 77 Evgeni Malkin Pittsburgh Penguins 4
Base Set Printing Plates 78 Marc-Andre Fleury Pittsburgh Penguins 4
Base Set Printing Plates 79 Mario Lemieux Pittsburgh Penguins 4 Retired
Base Set Printing Plates 80 Sidney Crosby Pittsburgh Penguins 4
Base Set Printing Plates 81 Patrick Marleau San Jose Sharks 4
Base Set Printing Plates 82 Joe Pavelski San Jose Sharks 4
Base Set Printing Plates 83 Antti Niemi San Jose Sharks 4
Base Set Printing Plates 84 Logan Couture San Jose Sharks 4
Base Set Printing Plates 85 Curtis Joseph St. Louis Blues 4 Retired
Base Set Printing Plates 86 Brett Hull St. Louis Blues 4 Retired
Base Set Printing Plates 87 David Backes St. Louis Blues 4
Base Set Printing Plates 88 Jaroslav Halak St. Louis Blues 4
Base Set Printing Plates 89 Steven Stamkos Tampa Bay Lightning 4
Base Set Printing Plates 90 Vincent Lecavalier Tampa Bay Lightning 4
Base Set Printing Plates 91 Dion Phaneuf Toronto Maple Leafs 4
Base Set Printing Plates 92 Phil Kessel Toronto Maple Leafs 4
Base Set Printing Plates 93 Markus Naslund Vancouver Canucks 4 Retired
Base Set Printing Plates 94 Ryan Kesler Vancouver Canucks 4
Base Set Printing Plates 95 Trevor Linden Vancouver Canucks 4 Retired
Base Set Printing Plates 96 Alexander Ovechkin Washington Capitals 4
Base Set Printing Plates 97 Braden Holtby Washington Capitals 4
Base Set Printing Plates 98 Nicklas Backstrom Washington Capitals 4
Base Set Printing Plates 99 Dale Hawerchuk Winnipeg Jets 4 Retired
Base Set Printing Plates 100 Evander Kane Winnipeg Jets 4
Base Set Auto Parallel 1 Bobby Ryan Anaheim Ducks Group C 1:56 (Overall Base Autos 1:30) Auto
Base Set Auto Parallel 2 Ryan Getzlaf Anaheim Ducks Group B 1:159 (Overall Base Autos 1:30) Auto
Base Set Auto Parallel 3 Jonas Hiller Anaheim Ducks Group C 1:56 (Overall Base Autos 1:30) Auto
Base Set Auto Parallel 5 Bobby Orr Boston Bruins Group D 1:76 (Overall Base Autos 1:30) Auto Retired
Base Set Auto Parallel 6 Cam Neely Boston Bruins Group B 1:159 (Overall Base Autos 1:30) Auto Retired
Base Set Auto Parallel 7 Brad Marchand Boston Bruins Group B 1:159 (Overall Base Autos 1:30) Auto
Base Set Auto Parallel 8 Tuukka Rask Boston Bruins Group C 1:56 (Overall Base Autos 1:30) Auto
Base Set Auto Parallel 10 Ray Bourque Boston Bruins Group B 1:159 (Overall Base Autos 1:30) Auto Retired
Base Set Auto Parallel 11 Terry O'Reilly Boston Bruins Group C 1:56 (Overall Base Autos 1:30) Auto Retired
Base Set Auto Parallel 12 Tyler Seguin Boston Bruins Group C 1:56 (Overall Base Autos 1:30) Auto
Base Set Auto Parallel 14 Ryan Miller Buffalo Sabres Group C 1:56 (Overall Base Autos 1:30) Auto
Base Set Auto Parallel 15 Dominik Hasek Buffalo Sabres Group B 1:159 (Overall Base Autos 1:30) Auto Retired
Base Set Auto Parallel 16 Doug Gilmour Calgary Flames Group B 1:159 (Overall Base Autos 1:30) Auto Retired
Base Set Auto Parallel 17 Jarome Iginla Pittsburgh Penguins Group B 1:159 (Overall Base Autos 1:30) Auto
Base Set Auto Parallel 18 Jeff Skinner Carolina Hurricanes Group C 1:56 (Overall Base Autos 1:30) Auto
Base Set Auto Parallel 19 Eric Staal Carolina Hurricanes Group D 1:76 (Overall Base Autos 1:30) Auto
Base Set Auto Parallel 20 Jordan Staal Carolina Hurricanes Group C 1:56 (Overall Base Autos 1:30) Auto
Base Set Auto Parallel 21 Denis Savard Chicago Blackhawks Group D 1:76 (Overall Base Autos 1:30) Auto Retired
Base Set Auto Parallel 22 Doug Wilson Chicago Blackhawks Group C 1:56 (Overall Base Autos 1:30) Auto Retired
Base Set Auto Parallel 23 Ed Belfour Chicago Blackhawks Group C 1:56 (Overall Base Autos 1:30) Auto Retired
Base Set Auto Parallel 24 Jonathan Toews Chicago Blackhawks Group B 1:159 (Overall Base Autos 1:30) Auto
Base Set Auto Parallel 26 Patrick Kane Chicago Blackhawks Group C 1:56 (Overall Base Autos 1:30) Auto
Base Set Auto Parallel 27 Joe Sakic Colorado Avalanche Group A 1:1,859 (Overall Base Autos 1:30) Auto Retired
Base Set Auto Parallel 28 Matt Duchene Colorado Avalanche Group C 1:56 (Overall Base Autos 1:30) Auto
Base Set Auto Parallel 29 Gabriel Landeskog Colorado Avalanche Group C 1:56 (Overall Base Autos 1:30) Auto
Base Set Auto Parallel 30 Derek Roy Vancouver Canucks Group D 1:76 (Overall Base Autos 1:30) Auto
Base Set Auto Parallel 31 Jamie Benn Dallas Stars Group C 1:56 (Overall Base Autos 1:30) Auto
Base Set Auto Parallel 32 Jaromir Jagr Boston Bruins Group B 1:159 (Overall Base Autos 1:30) Auto
Base Set Auto Parallel 33 Johan Franzen Detroit Red Wings Group C 1:56 (Overall Base Autos 1:30) Auto
Base Set Auto Parallel 34 Nicklas Lidstrom Detroit Red Wings Group D 1:76 (Overall Base Autos 1:30) Auto Retired
Base Set Auto Parallel 35 Pavel Datsyuk Detroit Red Wings Group B 1:159 (Overall Base Autos 1:30) Auto
Base Set Auto Parallel 36 Grant Fuhr Edmonton Oilers Group C 1:56 (Overall Base Autos 1:30) Auto Retired
Base Set Auto Parallel 37 Bill Ranford Edmonton Oilers Group C 1:56 (Overall Base Autos 1:30) Auto Retired
Base Set Auto Parallel 39 Jari Kurri Edmonton Oilers Group C 1:56 (Overall Base Autos 1:30) Auto Retired
Base Set Auto Parallel 40 Paul Coffey Edmonton Oilers Group B 1:159 (Overall Base Autos 1:30) Auto Retired
Base Set Auto Parallel 41 Ryan Nugent-Hopkins Edmonton Oilers Group C 1:56 (Overall Base Autos 1:30) Auto
Base Set Auto Parallel 42 Taylor Hall Edmonton Oilers Group B 1:159 (Overall Base Autos 1:30) Auto
Base Set Auto Parallel 43 Wayne Gretzky Edmonton Oilers Group C 1:56 (Overall Base Autos 1:30) Auto Retired
Base Set Auto Parallel 44 Stephen Weiss Florida Panthers Group C 1:56 (Overall Base Autos 1:30) Auto
Base Set Auto Parallel 45 Ron Francis Hartford Whalers Group B 1:159 (Overall Base Autos 1:30) Auto Retired
Base Set Auto Parallel 46 Anze Kopitar Los Angeles Kings Group C 1:56 (Overall Base Autos 1:30) Auto
Base Set Auto Parallel 48 Mike Richards Los Angeles Kings Group B 1:159 (Overall Base Autos 1:30) Auto
Base Set Auto Parallel 49 Luc Robitaille Los Angeles Kings Group B 1:159 (Overall Base Autos 1:30) Auto Retired
Base Set Auto Parallel 50 Jonathan Quick Los Angeles Kings Group C 1:56 (Overall Base Autos 1:30) Auto
Base Set Auto Parallel 52 Mike Modano Minnesota Wild Group B 1:159 (Overall Base Autos 1:30) Auto Retired
Base Set Auto Parallel 53 Jean Beliveau Montreal Canadiens Group B 1:159 (Overall Base Autos 1:30) Auto Retired
Base Set Auto Parallel 54 Larry Robinson Montreal Canadiens Group D 1:76 (Overall Base Autos 1:30) Auto Retired
Base Set Auto Parallel 55 P.K. Subban Montreal Canadiens Group C 1:56 (Overall Base Autos 1:30) Auto
Base Set Auto Parallel 56 Carey Price Montreal Canadiens Group C 1:56 (Overall Base Autos 1:30) Auto
Base Set Auto Parallel 57 Pekka Rinne Nashville Predators Group C 1:56 (Overall Base Autos 1:30) Auto
Base Set Auto Parallel 58 Ilya Kovalchuk New Jersey Devils Group A 1:1,859 (Overall Base Autos 1:30) Auto
Base Set Auto Parallel 59 Martin Brodeur New Jersey Devils Group B 1:159 (Overall Base Autos 1:30) Auto
Base Set Auto Parallel 60 Mike Bossy New York Islanders Group D 1:76 (Overall Base Autos 1:30) Auto Retired
Base Set Auto Parallel 61 John Tavares New York Islanders Group D 1:76 (Overall Base Autos 1:30) Auto
Base Set Auto Parallel 62 Bryan Trottier New York Islanders Group C 1:56 (Overall Base Autos 1:30) Auto Retired
Base Set Auto Parallel 63 Rick Nash New York Rangers Group B 1:159 (Overall Base Autos 1:30) Auto
Base Set Auto Parallel 65 Theoren Fleury New York Rangers Group D 1:76 (Overall Base Autos 1:30) Auto Retired
Base Set Auto Parallel 67 Mark Messier New York Rangers Group B 1:159 (Overall Base Autos 1:30) Auto Retired
Base Set Auto Parallel 69 Erik Karlsson Ottawa Senators Group C 1:56 (Overall Base Autos 1:30) Auto
Base Set Auto Parallel 72 Eric Lindros Philadelphia Flyers Group A 1:1,859 (Overall Base Autos 1:30) Auto Retired
Base Set Auto Parallel 74 Brayden Schenn Philadelphia Flyers Group D 1:76 (Overall Base Autos 1:30) Auto
Base Set Auto Parallel 75 Dave Schultz Philadelphia Flyers Group C 1:56 (Overall Base Autos 1:30) Auto Retired
Base Set Auto Parallel 77 Evgeni Malkin Pittsburgh Penguins Group C 1:56 (Overall Base Autos 1:30) Auto
Base Set Auto Parallel 78 Marc-Andre Fleury Pittsburgh Penguins Group C 1:56 (Overall Base Autos 1:30) Auto
Base Set Auto Parallel 79 Mario Lemieux Pittsburgh Penguins Group A 1:1,859 (Overall Base Autos 1:30) Auto Retired
Base Set Auto Parallel 80 Sidney Crosby Pittsburgh Penguins Group A 1:1,859 (Overall Base Autos 1:30) Auto
Base Set Auto Parallel 81 Patrick Marleau San Jose Sharks Group C 1:56 (Overall Base Autos 1:30) Auto
Base Set Auto Parallel 82 Joe Pavelski San Jose Sharks Group C 1:56 (Overall Base Autos 1:30) Auto
Base Set Auto Parallel 84 Logan Couture San Jose Sharks Group C 1:56 (Overall Base Autos 1:30) Auto
Base Set Auto Parallel 85 Curtis Joseph St. Louis Blues Group C 1:56 (Overall Base Autos 1:30) Auto Retired
Base Set Auto Parallel 86 Brett Hull St. Louis Blues Group B 1:159 (Overall Base Autos 1:30) Auto Retired
Base Set Auto Parallel 87 David Backes St. Louis Blues Group C 1:56 (Overall Base Autos 1:30) Auto
Base Set Auto Parallel 88 Jaroslav Halak St. Louis Blues Group C 1:56 (Overall Base Autos 1:30) Auto
Base Set Auto Parallel 89 Steven Stamkos Tampa Bay Lightning Group C 1:56 (Overall Base Autos 1:30) Auto
Base Set Auto Parallel 91 Dion Phaneuf Toronto Maple Leafs Group B 1:159 (Overall Base Autos 1:30) Auto
Base Set Auto Parallel 92 Phil Kessel Toronto Maple Leafs Group C 1:56 (Overall Base Autos 1:30) Auto
Base Set Auto Parallel 93 Markus Naslund Vancouver Canucks Group D 1:76 (Overall Base Autos 1:30) Auto Retired
Base Set Auto Parallel 94 Ryan Kesler Vancouver Canucks Group C 1:56 (Overall Base Autos 1:30) Auto
Base Set Auto Parallel 95 Trevor Linden Vancouver Canucks Group C 1:56 (Overall Base Autos 1:30) Auto Retired
Base Set Auto Parallel 96 Alexander Ovechkin Washington Capitals Group B 1:159 (Overall Base Autos 1:30) Auto
Base Set Auto Parallel 97 Braden Holtby Washington Capitals Group C 1:56 (Overall Base Autos 1:30) Auto
Base Set Auto Parallel 98 Nicklas Backstrom Washington Capitals Group C 1:56 (Overall Base Autos 1:30) Auto
Base Set Auto Parallel 99 Dale Hawerchuk Winnipeg Jets Group C 1:56 (Overall Base Autos 1:30) Auto Retired
Base Set Auto Parallel 100 Evander Kane Winnipeg Jets Group C 1:56 (Overall Base Autos 1:30) Auto
Ice Scripts IS-AO Alexander Ovechkin Washington Capitals Group A 1:186 (Overall Ice Script 1:9) Auto
Ice Scripts IS-BB Bill Barber Philadelphia Flyers Group D 1:13 (Overall Ice Script 1:9) Auto Retired
Ice Scripts IS-BC Bobby Clarke Philadelphia Flyers Group B 1:130 (Overall Ice Script 1:9) Auto Retired
Ice Scripts IS-BH Brett Hull St. Louis Blues Group A 1:186 (Overall Ice Script 1:9) Auto Retired
Ice Scripts IS-BM Brad Marchand Boston Bruins Group D 1:13 (Overall Ice Script 1:9) Auto
Ice Scripts IS-BO Bobby Orr Boston Bruins Group C 1:56 (Overall Ice Script 1:9) Auto Retired
Ice Scripts IS-BR Martin Brodeur New Jersey Devils Group A 1:186 (Overall Ice Script 1:9) Auto
Ice Scripts IS-CG Claude Giroux Philadelphia Flyers Group C 1:56 (Overall Ice Script 1:9) Auto
Ice Scripts IS-CH Cody Hodgson Buffalo Sabres Group D 1:13 (Overall Ice Script 1:9) Auto
Ice Scripts IS-CJ Curtis Joseph Toronto Maple Leafs Group B 1:130 (Overall Ice Script 1:9) Auto Retired
Ice Scripts IS-CK Chris Kreider New York Rangers Group D 1:13 (Overall Ice Script 1:9) Auto
Ice Scripts IS-CP Carey Price Montreal Canadiens Group B 1:130 (Overall Ice Script 1:9) Auto
Ice Scripts IS-CS Cory Schneider Vancouver Canucks Group D 1:13 (Overall Ice Script 1:9) Auto
Ice Scripts IS-DG Doug Gilmour Toronto Maple Leafs Group A 1:186 (Overall Ice Script 1:9) Auto Retired
Ice Scripts IS-DH Dominik Hasek Buffalo Sabres Group A 1:186 (Overall Ice Script 1:9) Auto Retired
Ice Scripts IS-EB Ed Belfour Chicago Blackhawks Group A 1:186 (Overall Ice Script 1:9) Auto Retired
Ice Scripts IS-EK Erik Karlsson Ottawa Senators Group D 1:13 (Overall Ice Script 1:9) Auto
Ice Scripts IS-EL Eric Lindros Philadelphia Flyers Group A 1:186 (Overall Ice Script 1:9) Auto Retired
Ice Scripts IS-JA Jake Allen St. Louis Blues Group D 1:13 (Overall Ice Script 1:9) Auto
Ice Scripts IS-JB Jean Beliveau Montreal Canadiens Group A 1:186 (Overall Ice Script 1:9) Auto Retired
Ice Scripts IS-JE Jordan Eberle Edmonton Oilers Group D 1:13 (Overall Ice Script 1:9) Auto
Ice Scripts IS-JH Jaroslav Halak St. Louis Blues Group D 1:13 (Overall Ice Script 1:9) Auto
Ice Scripts IS-JI Jarome Iginla Calgary Flames Group A 1:186 (Overall Ice Script 1:9) Auto
Ice Scripts IS-JJ Jaromir Jagr Pittsburgh Penguins Group A 1:186 (Overall Ice Script 1:9) Auto
Ice Scripts IS-JM Jacob Markstrom Florida Panthers Group D 1:13 (Overall Ice Script 1:9) Auto
Ice Scripts IS-JS Joe Sakic Colorado Avalanche Group A 1:186 (Overall Ice Script 1:9) Auto Retired
Ice Scripts IS-KA Evander Kane Winnipeg Jets Group D 1:13 (Overall Ice Script 1:9) Auto
Ice Scripts IS-KN Patrick Kane Chicago Blackhawks Group B 1:130 (Overall Ice Script 1:9) Auto
Ice Scripts IS-LE Lars Eller Montreal Canadiens Group D 1:13 (Overall Ice Script 1:9) Auto
Ice Scripts IS-MB Mike Bossy New York Islanders Group A 1:186 (Overall Ice Script 1:9) Auto Retired
Ice Scripts IS-MF Marc-Andre Fleury Pittsburgh Penguins Group C 1:56 (Overall Ice Script 1:9) Auto
Ice Scripts IS-MG Mike Gartner Washington Capitals Group D 1:13 (Overall Ice Script 1:9) Auto Retired
Ice Scripts IS-ML Mario Lemieux Pittsburgh Penguins Group A 1:186 (Overall Ice Script 1:9) Auto Retired
Ice Scripts IS-MM Mark Messier New York Rangers Group A 1:186 (Overall Ice Script 1:9) Auto Retired
Ice Scripts IS-PB Patrice Bergeron Boston Bruins Group C 1:56 (Overall Ice Script 1:9) Auto
Ice Scripts IS-PD Pavel Datsyuk Detroit Red Wings Group B 1:130 (Overall Ice Script 1:9) Auto
Ice Scripts IS-PK Phil Kessel Toronto Maple Leafs Group C 1:56 (Overall Ice Script 1:9) Auto
Ice Scripts IS-PR Patrick Roy Montreal Canadiens Group A 1:186 (Overall Ice Script 1:9) Auto Retired
Ice Scripts IS-PS P.K. Subban Montreal Canadiens Group C 1:56 (Overall Ice Script 1:9) Auto
Ice Scripts IS-RA Bill Ranford Edmonton Oilers Group C 1:56 (Overall Ice Script 1:9) Auto Retired
Ice Scripts IS-RB Ray Bourque Boston Bruins Group A 1:186 (Overall Ice Script 1:9) Auto Retired
Ice Scripts IS-RF Ron Francis Hartford Whalers Group A 1:186 (Overall Ice Script 1:9) Auto Retired
Ice Scripts IS-RK Ryan Kesler Vancouver Canucks Group D 1:13 (Overall Ice Script 1:9) Auto
Ice Scripts IS-RN Ryan Nugent-Hopkins Edmonton Oilers Group B 1:130 (Overall Ice Script 1:9) Auto
Ice Scripts IS-SB Sven Baertschi Calgary Flames Group D 1:13 (Overall Ice Script 1:9) Auto
Ice Scripts IS-SC Sean Couturier Philadelphia Flyers Group D 1:13 (Overall Ice Script 1:9) Auto
Ice Scripts IS-SD Sidney Crosby Pittsburgh Penguins Group A 1:186 (Overall Ice Script 1:9) Auto
Ice Scripts IS-SW Jaden Schwartz St. Louis Blues Group D 1:13 (Overall Ice Script 1:9) Auto
Ice Scripts IS-TA Maxime Talbot Philadelphia Flyers Group D 1:13 (Overall Ice Script 1:9) Auto
Ice Scripts IS-TH Taylor Hall Edmonton Oilers Group C 1:56 (Overall Ice Script 1:9) Auto
Ice Scripts IS-TL Trevor Linden Vancouver Canucks Group D 1:13 (Overall Ice Script 1:9) Auto Retired
Ice Scripts IS-TO Terry O'Reilly Boston Bruins Group C 1:56 (Overall Ice Script 1:9) Auto Retired
Ice Scripts IS-TS Tyler Seguin Boston Bruins Group B 1:130 (Overall Ice Script 1:9) Auto
Ice Scripts IS-TV John Tavares New York Islanders Group C 1:56 (Overall Ice Script 1:9) Auto
Ice Scripts IS-TW Jonathan Toews Chicago Blackhawks Group B 1:130 (Overall Ice Script 1:9) Auto
Ice Scripts IS-WC Wendel Clark Toronto Maple Leafs Group B 1:130 (Overall Ice Script 1:9) Auto Retired
Ice Scripts IS-WG Wayne Gretzky Edmonton Oilers Group A 1:186 (Overall Ice Script 1:9) Auto Retired
Ice Scripts IS-ZK Zack Kassian Vancouver Canucks Group D 1:13 (Overall Ice Script 1:9) Auto
1-2 Clear Cut Combos CCC-BH Jaroslav Halak/David Backes St. Louis/St. Louis Blues/Blues Group C 1:183 (Overall 1-2 Combos 1:132) Auto
1-2 Clear Cut Combos CCC-BS Tyler Seguin/Patrice Bergeron Boston/Boston Bruins/Bruins Group C 1:183 (Overall 1-2 Combos 1:132) Auto
1-2 Clear Cut Combos CCC-BT Mike Bossy/John Tavares New York/New York Islanders/Islanders Group B 1:610 (Overall 1-2 Combos 1:132) Auto Retired
1-2 Clear Cut Combos CCC-CG Bobby Clarke/Claude Giroux Philadelphia/Philadelphia Flyers/Flyers Group B 1:610 (Overall 1-2 Combos 1:132) Auto Retired
1-2 Clear Cut Combos CCC-GO Wayne Gretzky/Bobby Orr Edmonton/Boston Oilers/Bruins Group A 1:2,286 (Overall 1-2 Combos 1:132) Auto Retired
1-2 Clear Cut Combos CCC-HE Taylor Hall/Jordan Eberle Edmonton/Edmonton Oilers/Oilers Group B 1:610 (Overall 1-2 Combos 1:132) Auto
1-2 Clear Cut Combos CCC-LB Reggie Leach/Bill Barber Philadelphia/Philadelphia Flyers/Flyers Group C 1:183 (Overall 1-2 Combos 1:132) Auto Retired
1-2 Clear Cut Combos CCC-LJ Mario Lemieux/Jaromir Jagr Pittsburgh/Pittsburgh Penguins/Penguins Group A 1:2,286 (Overall 1-2 Combos 1:132) Auto Retired
1-2 Clear Cut Combos CCC-ML Mark Messier/Eric Lindros New York/New York Rangers/Rangers Group A 1:2,286 (Overall 1-2 Combos 1:132) Auto Retired
1-2 Clear Cut Combos CCC-MR Brad Marchand/Tuukka Rask Boston/Boston Bruins/Bruins Group C 1:183 (Overall 1-2 Combos 1:132) Auto
1-2 Clear Cut Combos CCC-NS Ryan Nugent-Hopkins/Ryan Smyth Edmonton/Edmonton Oilers/Oilers Group C 1:183 (Overall 1-2 Combos 1:132) Auto
1-2 Clear Cut Combos CCC-RP Patrick Roy/Carey Price Montreal/Montreal Canadiens/Canadiens Group A 1:2,286 (Overall 1-2 Combos 1:132) Auto Retired
1-2 Clear Cut Combos CCC-SC Brayden Schenn/Sean Couturier Philadelphia/Philadelphia Flyers/Flyers Group C 1:183 (Overall 1-2 Combos 1:132) Auto
1-2 Clear Cut Combos CCC-SK Cory Schneider/Zack Kassian Vancouver/Vancouver Canucks/Canucks Group C 1:183 (Overall 1-2 Combos 1:132) Auto
1-2 Clear Cut Combos CCC-SL P.K. Subban/Louis Leblanc Montreal/Montreal Canadiens/Canadiens Group C 1:183 (Overall 1-2 Combos 1:132) Auto
1-2 Clear Cut Combos CCC-SO Dave Schultz/Terry O'Reilly Philadelphia/Boston Flyers/Bruins Group C 1:183 (Overall 1-2 Combos 1:132) Auto Retired
1-2 Clear Cut Combos CCC-TK Jonathan Toews/Patrick Kane Chicago/Chicago Blackhawks/Blackhawks Group B 1:610 (Overall 1-2 Combos 1:132) Auto
Signature Pucks SP-AG Alex Galchenyuk Montreal Canadiens Group E 1:24 (Overall Puck 1:9) Auto Rookie
Signature Pucks SP-AL Anders Lindback Tampa Bay Lightning Group E 1:24 (Overall Puck 1:9) Auto
Signature Pucks SP-AO Alexander Ovechkin Washington Capitals Group A 1:200 (Overall Puck 1:9) Auto
Signature Pucks SP-AS Andrew Shaw Chicago Blackhawks Group E 1:24 (Overall Puck 1:9) Auto
Signature Pucks SP-BE Jean Beliveau Montreal Canadiens Group A 1:200 (Overall Puck 1:9) Auto Retired
Signature Pucks SP-BG Brendan Gallagher Montreal Canadiens Group D 1:38 (Overall Puck 1:9) Auto Rookie
Signature Pucks SP-BH Bobby Hull Chicago Blackhawks Group B 1:92 (Overall Puck 1:9) Auto Retired
Signature Pucks SP-BM Brad Marchand Boston Bruins Group E 1:24 (Overall Puck 1:9) Auto
Signature Pucks SP-BO Bobby Orr Boston Bruins Group C 1:70 (Overall Puck 1:9) Auto Retired
Signature Pucks SP-BR Bobby Ryan Anaheim Ducks Group D 1:38 (Overall Puck 1:9) Auto
Signature Pucks SP-BS Brayden Schenn Philadelphia Flyers Group D 1:38 (Overall Puck 1:9) Auto
Signature Pucks SP-BT Bryan Trottier New York Islanders Group C 1:70 (Overall Puck 1:9) Auto Retired
Signature Pucks SP-CA Carl Hagelin New York Rangers Group D 1:38 (Overall Puck 1:9) Auto
Signature Pucks SP-CC Cory Conacher Tampa Bay Lightning Group E 1:24 (Overall Puck 1:9) Auto Rookie
Signature Pucks SP-CH Cody Hodgson Buffalo Sabres Group E 1:24 (Overall Puck 1:9) Auto
Signature Pucks SP-CK Chris Kreider New York Rangers Group D 1:38 (Overall Puck 1:9) Auto
Signature Pucks SP-CN Cam Neely Boston Bruins Group B 1:92 (Overall Puck 1:9) Auto Retired
Signature Pucks SP-CP Carey Price Montreal Canadiens Group B 1:92 (Overall Puck 1:9) Auto
Signature Pucks SP-CS Cory Schneider Vancouver Canucks Group B 1:92 (Overall Puck 1:9) Auto
Signature Pucks SP-DA Dale Hawerchuk Winnipeg Jets Group B 1:92 (Overall Puck 1:9) Auto Retired
Signature Pucks SP-DG Doug Gilmour Toronto Maple Leafs Group B 1:92 (Overall Puck 1:9) Auto Retired
Signature Pucks SP-DH Dougie Hamilton Boston Bruins Group E 1:24 (Overall Puck 1:9) Auto Rookie
Signature Pucks SP-DS Darryl Sittler Toronto Maple Leafs Group B 1:92 (Overall Puck 1:9) Auto Retired
Signature Pucks SP-EK Erik Karlsson Ottawa Senators Group A 1:200 (Overall Puck 1:9) Auto
Signature Pucks SP-EL Eric Lindros Philadelphia Flyers Group A 1:200 (Overall Puck 1:9) Auto Retired
Signature Pucks SP-GA Jake Gardiner Toronto Maple Leafs Group E 1:24 (Overall Puck 1:9) Auto
Signature Pucks SP-GF Grant Fuhr Edmonton Oilers Group B 1:92 (Overall Puck 1:9) Auto Retired
Signature Pucks SP-GG Mikhail Grigorenko Buffalo Sabres Group E 1:24 (Overall Puck 1:9) Auto Rookie
Signature Pucks SP-GL Gabriel Landeskog Colorado Avalanche Group E 1:24 (Overall Puck 1:9) Auto
Signature Pucks SP-GR Mikael Granlund Minnesota Wild Group E 1:24 (Overall Puck 1:9) Auto Rookie
Signature Pucks SP-HA Dominik Hasek Buffalo Sabres Group A 1:200 (Overall Puck 1:9) Auto Retired
Signature Pucks SP-HB Jonathan Huberdeau Florida Panthers Group D 1:38 (Overall Puck 1:9) Auto Rookie
Signature Pucks SP-HU Brett Hull St. Louis Blues Group A 1:200 (Overall Puck 1:9) Auto Retired
Signature Pucks SP-JA Jaden Schwartz St. Louis Blues Group E 1:24 (Overall Puck 1:9) Auto
Signature Pucks SP-JB Jamie Benn Dallas Stars Group E 1:24 (Overall Puck 1:9) Auto
Signature Pucks SP-JD Jordan Schroeder Vancouver Canucks Group D 1:38 (Overall Puck 1:9) Auto Rookie
Signature Pucks SP-JE Jordan Eberle Edmonton Oilers Group C 1:70 (Overall Puck 1:9) Auto
Signature Pucks SP-JG Josh Gorges Montreal Canadiens Group A 1:200 (Overall Puck 1:9) Auto
Signature Pucks SP-JH Jaroslav Halak St. Louis Blues Group D 1:38 (Overall Puck 1:9) Auto
Signature Pucks SP-JI Jarome Iginla Calgary Flames Group A 1:200 (Overall Puck 1:9) Auto
Signature Pucks SP-JJ Jaromir Jagr Dallas Stars Group A 1:200 (Overall Puck 1:9) Auto
Signature Pucks SP-JK Jake Allen St. Louis Blues Group E 1:24 (Overall Puck 1:9) Auto
Signature Pucks SP-JQ Jonathan Quick Los Angeles Kings Group D 1:38 (Overall Puck 1:9) Auto
Signature Pucks SP-JS Jeff Skinner Carolina Hurricanes Group D 1:38 (Overall Puck 1:9) Auto
Signature Pucks SP-JT Jonathan Toews Chicago Blackhawks Group B 1:92 (Overall Puck 1:9) Auto
Signature Pucks SP-KE Phil Kessel Toronto Maple Leafs Group C 1:70 (Overall Puck 1:9) Auto
Signature Pucks SP-KU Jari Kurri Los Angeles Kings Group A 1:200 (Overall Puck 1:9) Auto Retired
Signature Pucks SP-LA Guy Lafleur Montreal Canadiens Group A 1:200 (Overall Puck 1:9) Auto Retired
Signature Pucks SP-LC Logan Couture San Jose Sharks Group D 1:38 (Overall Puck 1:9) Auto
Signature Pucks SP-LL Louis Leblanc Montreal Canadiens Group C 1:70 (Overall Puck 1:9) Auto
Signature Pucks SP-MB Mikkel Boedker Phoenix Coyotes Group C 1:70 (Overall Puck 1:9) Auto
Signature Pucks SP-MF Marc-Andre Fleury Pittsburgh Penguins Group C 1:70 (Overall Puck 1:9) Auto
Signature Pucks SP-MG Mike Gartner Washington Capitals Group E 1:24 (Overall Puck 1:9) Auto Retired
Signature Pucks SP-MI Mike Bossy New York Islanders Group B 1:92 (Overall Puck 1:9) Auto Retired
Signature Pucks SP-ML Mario Lemieux Pittsburgh Penguins Group A 1:200 (Overall Puck 1:9) Auto Retired
Signature Pucks SP-MM Mark Messier New York Rangers Group A 1:200 (Overall Puck 1:9) Auto Retired
Signature Pucks SP-MS Marc Staal New York Rangers Group D 1:38 (Overall Puck 1:9) Auto
Signature Pucks SP-NH Ryan Nugent-Hopkins Edmonton Oilers Group B 1:92 (Overall Puck 1:9) Auto
Signature Pucks SP-NL Nicklas Lidstrom Detroit Red Wings Group A 1:200 (Overall Puck 1:9) Auto Retired
Signature Pucks SP-NY Nail Yakupov Edmonton Oilers Group E 1:24 (Overall Puck 1:9) Auto Rookie
Signature Pucks SP-PB Patrice Bergeron Boston Bruins Group C 1:70 (Overall Puck 1:9) Auto
Signature Pucks SP-PC Paul Coffey Edmonton Oilers Group A 1:200 (Overall Puck 1:9) Auto Retired
Signature Pucks SP-PD Pavel Datsyuk Detroit Red Wings Group B 1:92 (Overall Puck 1:9) Auto
Signature Pucks SP-PR Patrick Roy Colorado Avalanche Group A 1:200 (Overall Puck 1:9) Auto Retired
Signature Pucks SP-PS P.K. Subban Montreal Canadiens Group C 1:70 (Overall Puck 1:9) Auto
Signature Pucks SP-RA Bill Ranford Edmonton Oilers Group C 1:70 (Overall Puck 1:9) Auto Retired
Signature Pucks SP-RD Raphael Diaz Montreal Canadiens Group C 1:70 (Overall Puck 1:9) Auto
Signature Pucks SP-RE Ryan Ellis Nashville Predators Group D 1:38 (Overall Puck 1:9) Auto
Signature Pucks SP-RF Ron Francis Hartford Whalers Group B 1:92 (Overall Puck 1:9) Auto Retired
Signature Pucks SP-RH Ron Hextall Philadelphia Flyers Group B 1:92 (Overall Puck 1:9) Auto Retired
Signature Pucks SP-RI Pekka Rinne Nashville Predators Group C 1:70 (Overall Puck 1:9) Auto
Signature Pucks SP-RJ Ryan Johansen Columbus Blue Jackets Group D 1:38 (Overall Puck 1:9) Auto
Signature Pucks SP-RN Rick Nash New York Rangers Group C 1:70 (Overall Puck 1:9) Auto
Signature Pucks SP-RS Ryan Spooner Boston Bruins Group D 1:38 (Overall Puck 1:9) Auto Rookie
Signature Pucks SP-RY Ryan Smyth Edmonton Oilers Group B 1:92 (Overall Puck 1:9) Auto
Signature Pucks SP-SA Joe Sakic Colorado Avalanche Group A 1:200 (Overall Puck 1:9) Auto Retired
Signature Pucks SP-SB Sven Baertschi Calgary Flames Group E 1:24 (Overall Puck 1:9) Auto
Signature Pucks SP-SC Sidney Crosby Pittsburgh Penguins Group A 1:200 (Overall Puck 1:9) Auto
Signature Pucks SP-SH Brendan Smith Detroit Red Wings Group E 1:24 (Overall Puck 1:9) Auto
Signature Pucks SP-SM Stan Mikita Chicago Blackhawks Group B 1:92 (Overall Puck 1:9) Auto Retired
Signature Pucks SP-SV Jakob Silfverberg Ottawa Senators Group E 1:24 (Overall Puck 1:9) Auto
Signature Pucks SP-SZ Justin Schultz Edmonton Oilers Group E 1:24 (Overall Puck 1:9) Auto Rookie
Signature Pucks SP-TA John Tavares New York Islanders Group E 1:24 (Overall Puck 1:9) Auto
Signature Pucks SP-TH Taylor Hall Edmonton Oilers Group B 1:92 (Overall Puck 1:9) Auto
Signature Pucks SP-TL Trevor Linden Vancouver Canucks Group A 1:200 (Overall Puck 1:9) Auto Retired
Signature Pucks SP-TS Tyler Seguin Boston Bruins Group C 1:70 (Overall Puck 1:9) Auto
Signature Pucks SP-TT Tony Tanti Vancouver Canucks Group B 1:92 (Overall Puck 1:9) Auto Retired
Signature Pucks SP-VT Vladimir Tarasenko St. Louis Blues Group E 1:24 (Overall Puck 1:9) Auto Rookie
Signature Pucks SP-WG Wayne Gretzky Los Angeles Kings Group A 1:200 (Overall Puck 1:9) Auto Retired
Signature Pucks SP-ZP Zach Parise Minnesota Wild Group B 1:92 (Overall Puck 1:9) Auto
Signature Pucks – Retro Logo SP-AG Alex Galchenyuk Montreal Canadiens Overall Puck 1:9 13 Auto Rookie
Signature Pucks – Retro Logo SP-AL Anders Lindback Tampa Bay Lightning Overall Puck 1:9 13 Auto
Signature Pucks – Retro Logo SP-AO Alexander Ovechkin Washington Capitals Overall Puck 1:9 13 Auto
Signature Pucks – Retro Logo SP-AS Andrew Shaw Chicago Blackhawks Overall Puck 1:9 13 Auto
Signature Pucks – Retro Logo SP-BE Jean Beliveau Montreal Canadiens Overall Puck 1:9 13 Auto Retired
Signature Pucks – Retro Logo SP-BG Brendan Gallagher Montreal Canadiens Overall Puck 1:9 13 Auto Rookie
Signature Pucks – Retro Logo SP-BH Bobby Hull Chicago Blackhawks Overall Puck 1:9 13 Auto Retired
Signature Pucks – Retro Logo SP-BM Brad Marchand Boston Bruins Overall Puck 1:9 13 Auto
Signature Pucks – Retro Logo SP-BO Bobby Orr Boston Bruins Overall Puck 1:9 13 Auto Retired
Signature Pucks – Retro Logo SP-BR Bobby Ryan Anaheim Ducks Overall Puck 1:9 13 Auto
Signature Pucks – Retro Logo SP-BS Brayden Schenn Philadelphia Flyers Overall Puck 1:9 13 Auto
Signature Pucks – Retro Logo SP-BT Bryan Trottier New York Islanders Overall Puck 1:9 13 Auto Retired
Signature Pucks – Retro Logo SP-CA Carl Hagelin New York Rangers Overall Puck 1:9 13 Auto
Signature Pucks – Retro Logo SP-CC Cory Conacher Tampa Bay Lightning Overall Puck 1:9 13 Auto Rookie
Signature Pucks – Retro Logo SP-CK Chris Kreider New York Rangers Overall Puck 1:9 13 Auto
Signature Pucks – Retro Logo SP-CN Cam Neely Boston Bruins Overall Puck 1:9 13 Auto Retired
Signature Pucks – Retro Logo SP-CP Carey Price Montreal Canadiens Overall Puck 1:9 13 Auto
Signature Pucks – Retro Logo SP-CS Cory Schneider Vancouver Canucks Overall Puck 1:9 13 Auto
Signature Pucks – Retro Logo SP-DA Dale Hawerchuk Winnipeg Jets Overall Puck 1:9 13 Auto Retired
Signature Pucks – Retro Logo SP-DG Doug Gilmour Toronto Maple Leafs Overall Puck 1:9 13 Auto Retired
Signature Pucks – Retro Logo SP-DH Dougie Hamilton Boston Bruins Overall Puck 1:9 13 Auto Rookie
Signature Pucks – Retro Logo SP-DS Darryl Sittler Toronto Maple Leafs Overall Puck 1:9 13 Auto Retired
Signature Pucks – Retro Logo SP-EK Erik Karlsson Ottawa Senators Overall Puck 1:9 13 Auto
Signature Pucks – Retro Logo SP-EL Eric Lindros Philadelphia Flyers Overall Puck 1:9 13 Auto Retired
Signature Pucks – Retro Logo SP-GA Jake Gardiner Toronto Maple Leafs Overall Puck 1:9 13 Auto
Signature Pucks – Retro Logo SP-GF Grant Fuhr Edmonton Oilers Overall Puck 1:9 13 Auto Retired
Signature Pucks – Retro Logo SP-GL Gabriel Landeskog Colorado Avalanche Overall Puck 1:9 13 Auto
Signature Pucks – Retro Logo SP-GR Mikael Granlund Minnesota Wild Overall Puck 1:9 13 Auto Rookie
Signature Pucks – Retro Logo SP-HB Jonathan Huberdeau Florida Panthers Overall Puck 1:9 13 Auto Rookie
Signature Pucks – Retro Logo SP-HU Brett Hull St. Louis Blues Overall Puck 1:9 13 Auto Retired
Signature Pucks – Retro Logo SP-JA Jaden Schwartz St. Louis Blues Overall Puck 1:9 13 Auto
Signature Pucks – Retro Logo SP-JB Jamie Benn Dallas Stars Overall Puck 1:9 13 Auto
Signature Pucks – Retro Logo SP-JD Jordan Schroeder Vancouver Canucks Overall Puck 1:9 13 Auto Rookie
Signature Pucks – Retro Logo SP-JE Jordan Eberle Edmonton Oilers Overall Puck 1:9 13 Auto
Signature Pucks – Retro Logo SP-JG Josh Gorges Montreal Canadiens Overall Puck 1:9 13 Auto
Signature Pucks – Retro Logo SP-JH Jaroslav Halak St. Louis Blues Overall Puck 1:9 13 Auto
Signature Pucks – Retro Logo SP-JI Jarome Iginla Calgary Flames Overall Puck 1:9 13 Auto
Signature Pucks – Retro Logo SP-JJ Jaromir Jagr Dallas Stars Overall Puck 1:9 13 Auto
Signature Pucks – Retro Logo SP-JK Jake Allen St. Louis Blues Overall Puck 1:9 13 Auto
Signature Pucks – Retro Logo SP-JQ Jonathan Quick Los Angeles Kings Overall Puck 1:9 13 Auto
Signature Pucks – Retro Logo SP-JS Jeff Skinner Carolina Hurricanes Overall Puck 1:9 13 Auto
Signature Pucks – Retro Logo SP-JT Jonathan Toews Chicago Blackhawks Overall Puck 1:9 13 Auto
Signature Pucks – Retro Logo SP-KE Phil Kessel Toronto Maple Leafs Overall Puck 1:9 13 Auto
Signature Pucks – Retro Logo SP-LA Guy Lafleur Montreal Canadiens Overall Puck 1:9 13 Auto Retired
Signature Pucks – Retro Logo SP-LC Logan Couture San Jose Sharks Overall Puck 1:9 13 Auto
Signature Pucks – Retro Logo SP-LL Louis Leblanc Montreal Canadiens Overall Puck 1:9 13 Auto
Signature Pucks – Retro Logo SP-MB Mikkel Boedker Phoenix Coyotes Overall Puck 1:9 13 Auto
Signature Pucks – Retro Logo SP-MF Marc-Andre Fleury Pittsburgh Penguins Overall Puck 1:9 13 Auto
Signature Pucks – Retro Logo SP-MG Mike Gartner Washington Capitals Overall Puck 1:9 13 Auto Retired
Signature Pucks – Retro Logo SP-MI Mike Bossy New York Islanders Overall Puck 1:9 13 Auto Retired
Signature Pucks – Retro Logo SP-ML Mario Lemieux Pittsburgh Penguins Overall Puck 1:9 13 Auto Retired
Signature Pucks – Retro Logo SP-MM Mark Messier New York Rangers Overall Puck 1:9 13 Auto Retired
Signature Pucks – Retro Logo SP-MS Marc Staal New York Rangers Overall Puck 1:9 13 Auto
Signature Pucks – Retro Logo SP-NH Ryan Nugent-Hopkins Edmonton Oilers Overall Puck 1:9 13 Auto
Signature Pucks – Retro Logo SP-NL Nicklas Lidstrom Detroit Red Wings Overall Puck 1:9 13 Auto Retired
Signature Pucks – Retro Logo SP-NY Nail Yakupov Edmonton Oilers Overall Puck 1:9 13 Auto Rookie
Signature Pucks – Retro Logo SP-PB Patrice Bergeron Boston Bruins Overall Puck 1:9 13 Auto
Signature Pucks – Retro Logo SP-PC Paul Coffey Edmonton Oilers Overall Puck 1:9 13 Auto Retired
Signature Pucks – Retro Logo SP-PD Pavel Datsyuk Detroit Red Wings Overall Puck 1:9 13 Auto
Signature Pucks – Retro Logo SP-PR Patrick Roy Colorado Avalanche Overall Puck 1:9 13 Auto Retired
Signature Pucks – Retro Logo SP-PS P.K. Subban Montreal Canadiens Overall Puck 1:9 13 Auto
Signature Pucks – Retro Logo SP-RA Bill Ranford Edmonton Oilers Overall Puck 1:9 13 Auto Retired
Signature Pucks – Retro Logo SP-RD Raphael Diaz Montreal Canadiens Overall Puck 1:9 13 Auto
Signature Pucks – Retro Logo SP-RE Ryan Ellis Nashville Predators Overall Puck 1:9 13 Auto
Signature Pucks – Retro Logo SP-RF Ron Francis Hartford Whalers Overall Puck 1:9 13 Auto Retired
Signature Pucks – Retro Logo SP-RH Ron Hextall Philadelphia Flyers Overall Puck 1:9 13 Auto Retired
Signature Pucks – Retro Logo SP-RI Pekka Rinne Nashville Predators Overall Puck 1:9 13 Auto
Signature Pucks – Retro Logo SP-RJ Ryan Johansen Columbus Blue Jackets Overall Puck 1:9 13 Auto
Signature Pucks – Retro Logo SP-RN Rick Nash New York Rangers Overall Puck 1:9 13 Auto
Signature Pucks – Retro Logo SP-RS Ryan Spooner Boston Bruins Overall Puck 1:9 13 Auto Rookie
Signature Pucks – Retro Logo SP-RY Ryan Smyth Edmonton Oilers Overall Puck 1:9 13 Auto
Signature Pucks – Retro Logo SP-SA Joe Sakic Colorado Avalanche Overall Puck 1:9 13 Auto Retired
Signature Pucks – Retro Logo SP-SB Sven Baertschi Calgary Flames Overall Puck 1:9 13 Auto
Signature Pucks – Retro Logo SP-SC Sidney Crosby Pittsburgh Penguins Overall Puck 1:9 13 Auto
Signature Pucks – Retro Logo SP-SH Brendan Smith Detroit Red Wings Overall Puck 1:9 13 Auto
Signature Pucks – Retro Logo SP-SM Stan Mikita Chicago Blackhawks Overall Puck 1:9 13 Auto Retired
Signature Pucks – Retro Logo SP-SV Jakob Silfverberg Ottawa Senators Overall Puck 1:9 13 Auto
Signature Pucks – Retro Logo SP-SZ Justin Schultz Edmonton Oilers Overall Puck 1:9 13 Auto Rookie
Signature Pucks – Retro Logo SP-TA John Tavares New York Islanders Overall Puck 1:9 13 Auto
Signature Pucks – Retro Logo SP-TH Taylor Hall Edmonton Oilers Overall Puck 1:9 13 Auto
Signature Pucks – Retro Logo SP-TL Trevor Linden Vancouver Canucks Overall Puck 1:9 13 Auto Retired
Signature Pucks – Retro Logo SP-TS Tyler Seguin Boston Bruins Overall Puck 1:9 13 Auto
Signature Pucks – Retro Logo SP-TT Tony Tanti Vancouver Canucks Overall Puck 1:9 13 Auto Retired
Signature Pucks – Retro Logo SP-VT Vladimir Tarasenko St. Louis Blues Overall Puck 1:9 13 Auto Rookie
Signature Pucks – Retro Logo SP-WG Wayne Gretzky Los Angeles Kings Overall Puck 1:9 13 Auto Retired
Signature Pucks – Retro Logo SP-ZP Zach Parise Minnesota Wild Overall Puck 1:9 13 Auto
Signature Pucks – NHL Shield Logo SP-AG Alex Galchenyuk Montreal Canadiens Overall Puck 1:9 3 Auto Rookie
Signature Pucks – NHL Shield Logo SP-AL Anders Lindback Tampa Bay Lightning Overall Puck 1:9 3 Auto
Signature Pucks – NHL Shield Logo SP-AO Alexander Ovechkin Washington Capitals Overall Puck 1:9 3 Auto
Signature Pucks – NHL Shield Logo SP-AS Andrew Shaw Chicago Blackhawks Overall Puck 1:9 3 Auto
Signature Pucks – NHL Shield Logo SP-BE Jean Beliveau Montreal Canadiens Overall Puck 1:9 3 Auto Retired
Signature Pucks – NHL Shield Logo SP-BG Brendan Gallagher Montreal Canadiens Overall Puck 1:9 3 Auto Rookie
Signature Pucks – NHL Shield Logo SP-BH Bobby Hull Chicago Blackhawks Overall Puck 1:9 3 Auto Retired
Signature Pucks – NHL Shield Logo SP-BM Brad Marchand Boston Bruins Overall Puck 1:9 3 Auto
Signature Pucks – NHL Shield Logo SP-BO Bobby Orr Boston Bruins Overall Puck 1:9 3 Auto Retired
Signature Pucks – NHL Shield Logo SP-BR Bobby Ryan Anaheim Ducks Overall Puck 1:9 3 Auto
Signature Pucks – NHL Shield Logo SP-BS Brayden Schenn Philadelphia Flyers Overall Puck 1:9 3 Auto
Signature Pucks – NHL Shield Logo SP-BT Bryan Trottier New York Islanders Overall Puck 1:9 3 Auto Retired
Signature Pucks – NHL Shield Logo SP-CA Carl Hagelin New York Rangers Overall Puck 1:9 3 Auto
Signature Pucks – NHL Shield Logo SP-CC Cory Conacher Tampa Bay Lightning Overall Puck 1:9 3 Auto Rookie
Signature Pucks – NHL Shield Logo SP-CH Cody Hodgson Buffalo Sabres Overall Puck 1:9 3 Auto
Signature Pucks – NHL Shield Logo SP-CK Chris Kreider New York Rangers Overall Puck 1:9 3 Auto
Signature Pucks – NHL Shield Logo SP-CN Cam Neely Boston Bruins Overall Puck 1:9 3 Auto Retired
Signature Pucks – NHL Shield Logo SP-CP Carey Price Montreal Canadiens Overall Puck 1:9 3 Auto
Signature Pucks – NHL Shield Logo SP-CS Cory Schneider Vancouver Canucks Overall Puck 1:9 3 Auto
Signature Pucks – NHL Shield Logo SP-DA Dale Hawerchuk Winnipeg Jets Overall Puck 1:9 3 Auto Retired
Signature Pucks – NHL Shield Logo SP-DG Doug Gilmour Toronto Maple Leafs Overall Puck 1:9 3 Auto Retired
Signature Pucks – NHL Shield Logo SP-DH Dougie Hamilton Boston Bruins Overall Puck 1:9 3 Auto Rookie
Signature Pucks – NHL Shield Logo SP-DS Darryl Sittler Toronto Maple Leafs Overall Puck 1:9 3 Auto Retired
Signature Pucks – NHL Shield Logo SP-EK Erik Karlsson Ottawa Senators Overall Puck 1:9 3 Auto
Signature Pucks – NHL Shield Logo SP-EL Eric Lindros Philadelphia Flyers Overall Puck 1:9 3 Auto Retired
Signature Pucks – NHL Shield Logo SP-GA Jake Gardiner Toronto Maple Leafs Overall Puck 1:9 3 Auto
Signature Pucks – NHL Shield Logo SP-GF Grant Fuhr Edmonton Oilers Overall Puck 1:9 3 Auto Retired
Signature Pucks – NHL Shield Logo SP-GG Mikhail Grigorenko Buffalo Sabres Overall Puck 1:9 3 Auto Rookie
Signature Pucks – NHL Shield Logo SP-GL Gabriel Landeskog Colorado Avalanche Overall Puck 1:9 3 Auto
Signature Pucks – NHL Shield Logo SP-GR Mikael Granlund Minnesota Wild Overall Puck 1:9 3 Auto Rookie
Signature Pucks – NHL Shield Logo SP-HA Dominik Hasek Buffalo Sabres Overall Puck 1:9 3 Auto Retired
Signature Pucks – NHL Shield Logo SP-HB Jonathan Huberdeau Florida Panthers Overall Puck 1:9 3 Auto Rookie
Signature Pucks – NHL Shield Logo SP-HU Brett Hull St. Louis Blues Overall Puck 1:9 3 Auto Retired
Signature Pucks – NHL Shield Logo SP-JA Jaden Schwartz St. Louis Blues Overall Puck 1:9 3 Auto
Signature Pucks – NHL Shield Logo SP-JB Jamie Benn Dallas Stars Overall Puck 1:9 3 Auto
Signature Pucks – NHL Shield Logo SP-JD Jordan Schroeder Vancouver Canucks Overall Puck 1:9 3 Auto Rookie
Signature Pucks – NHL Shield Logo SP-JE Jordan Eberle Edmonton Oilers Overall Puck 1:9 3 Auto
Signature Pucks – NHL Shield Logo SP-JH Jaroslav Halak St. Louis Blues Overall Puck 1:9 3 Auto
Signature Pucks – NHL Shield Logo SP-JI Jarome Iginla Calgary Flames Overall Puck 1:9 3 Auto
Signature Pucks – NHL Shield Logo SP-JJ Jaromir Jagr Dallas Stars Overall Puck 1:9 3 Auto
Signature Pucks – NHL Shield Logo SP-JK Jake Allen St. Louis Blues Overall Puck 1:9 3 Auto
Signature Pucks – NHL Shield Logo SP-JQ Jonathan Quick Los Angeles Kings Overall Puck 1:9 3 Auto
Signature Pucks – NHL Shield Logo SP-JS Jeff Skinner Carolina Hurricanes Overall Puck 1:9 3 Auto
Signature Pucks – NHL Shield Logo SP-JT Jonathan Toews Chicago Blackhawks Overall Puck 1:9 3 Auto
Signature Pucks – NHL Shield Logo SP-KE Phil Kessel Toronto Maple Leafs Overall Puck 1:9 3 Auto
Signature Pucks – NHL Shield Logo SP-KU Jari Kurri Los Angeles Kings Overall Puck 1:9 3 Auto Retired
Signature Pucks – NHL Shield Logo SP-LA Guy Lafleur Montreal Canadiens Overall Puck 1:9 3 Auto Retired
Signature Pucks – NHL Shield Logo SP-LC Logan Couture San Jose Sharks Overall Puck 1:9 3 Auto
Signature Pucks – NHL Shield Logo SP-LL Louis Leblanc Montreal Canadiens Overall Puck 1:9 3 Auto
Signature Pucks – NHL Shield Logo SP-MB Mikkel Boedker Phoenix Coyotes Overall Puck 1:9 3 Auto
Signature Pucks – NHL Shield Logo SP-MF Marc-Andre Fleury Pittsburgh Penguins Overall Puck 1:9 3 Auto
Signature Pucks – NHL Shield Logo SP-MG Mike Gartner Washington Capitals Overall Puck 1:9 3 Auto Retired
Signature Pucks – NHL Shield Logo SP-MI Mike Bossy New York Islanders Overall Puck 1:9 3 Auto Retired
Signature Pucks – NHL Shield Logo SP-ML Mario Lemieux Pittsburgh Penguins Overall Puck 1:9 3 Auto Retired
Signature Pucks – NHL Shield Logo SP-MM Mark Messier New York Rangers Overall Puck 1:9 3 Auto Retired
Signature Pucks – NHL Shield Logo SP-MS Marc Staal New York Rangers Overall Puck 1:9 3 Auto
Signature Pucks – NHL Shield Logo SP-NH Ryan Nugent-Hopkins Edmonton Oilers Overall Puck 1:9 3 Auto
Signature Pucks – NHL Shield Logo SP-NL Nicklas Lidstrom Detroit Red Wings Overall Puck 1:9 3 Auto Retired
Signature Pucks – NHL Shield Logo SP-NY Nail Yakupov Edmonton Oilers Overall Puck 1:9 3 Auto Rookie
Signature Pucks – NHL Shield Logo SP-PB Patrice Bergeron Boston Bruins Overall Puck 1:9 3 Auto
Signature Pucks – NHL Shield Logo SP-PC Paul Coffey Edmonton Oilers Overall Puck 1:9 3 Auto Retired
Signature Pucks – NHL Shield Logo SP-PD Pavel Datsyuk Detroit Red Wings Overall Puck 1:9 3 Auto
Signature Pucks – NHL Shield Logo SP-PR Patrick Roy Colorado Avalanche Overall Puck 1:9 3 Auto Retired
Signature Pucks – NHL Shield Logo SP-PS P.K. Subban Montreal Canadiens Overall Puck 1:9 3 Auto
Signature Pucks – NHL Shield Logo SP-RA Bill Ranford Edmonton Oilers Overall Puck 1:9 3 Auto Retired
Signature Pucks – NHL Shield Logo SP-RD Raphael Diaz Montreal Canadiens Overall Puck 1:9 3 Auto
Signature Pucks – NHL Shield Logo SP-RE Ryan Ellis Nashville Predators Overall Puck 1:9 3 Auto
Signature Pucks – NHL Shield Logo SP-RF Ron Francis Hartford Whalers Overall Puck 1:9 3 Auto Retired
Signature Pucks – NHL Shield Logo SP-RH Ron Hextall Philadelphia Flyers Overall Puck 1:9 3 Auto Retired
Signature Pucks – NHL Shield Logo SP-RI Pekka Rinne Nashville Predators Overall Puck 1:9 3 Auto
Signature Pucks – NHL Shield Logo SP-RJ Ryan Johansen Columbus Blue Jackets Overall Puck 1:9 3 Auto
Signature Pucks – NHL Shield Logo SP-RN Rick Nash New York Rangers Overall Puck 1:9 3 Auto
Signature Pucks – NHL Shield Logo SP-RS Ryan Spooner Boston Bruins Overall Puck 1:9 3 Auto Rookie
Signature Pucks – NHL Shield Logo SP-RY Ryan Smyth Edmonton Oilers Overall Puck 1:9 3 Auto
Signature Pucks – NHL Shield Logo SP-SA Joe Sakic Colorado Avalanche Overall Puck 1:9 3 Auto Retired
Signature Pucks – NHL Shield Logo SP-SB Sven Baertschi Calgary Flames Overall Puck 1:9 3 Auto
Signature Pucks – NHL Shield Logo SP-SC Sidney Crosby Pittsburgh Penguins Overall Puck 1:9 3 Auto
Signature Pucks – NHL Shield Logo SP-SH Brendan Smith Detroit Red Wings Overall Puck 1:9 3 Auto
Signature Pucks – NHL Shield Logo SP-SM Stan Mikita Chicago Blackhawks Overall Puck 1:9 3 Auto Retired
Signature Pucks – NHL Shield Logo SP-SV Jakob Silfverberg Ottawa Senators Overall Puck 1:9 3 Auto
Signature Pucks – NHL Shield Logo SP-SZ Justin Schultz Edmonton Oilers Overall Puck 1:9 3 Auto Rookie
Signature Pucks – NHL Shield Logo SP-TA John Tavares New York Islanders Overall Puck 1:9 3 Auto
Signature Pucks – NHL Shield Logo SP-TH Taylor Hall Edmonton Oilers Overall Puck 1:9 3 Auto
Signature Pucks – NHL Shield Logo SP-TL Trevor Linden Vancouver Canucks Overall Puck 1:9 3 Auto Retired
Signature Pucks – NHL Shield Logo SP-TS Tyler Seguin Boston Bruins Overall Puck 1:9 3 Auto
Signature Pucks – NHL Shield Logo SP-TT Tony Tanti Vancouver Canucks Overall Puck 1:9 3 Auto Retired
Signature Pucks – NHL Shield Logo SP-VT Vladimir Tarasenko St. Louis Blues Overall Puck 1:9 3 Auto Rookie
Signature Pucks – NHL Shield Logo SP-WG Wayne Gretzky Los Angeles Kings Overall Puck 1:9 3 Auto Retired
Signature Pucks – NHL Shield Logo SP-ZP Zach Parise Minnesota Wild Overall Puck 1:9 3 Auto
Three Star Spotlight – International Trios CAN-GR8 Wayne Gretzky/Mario Lemieux/Joe Sakic Los Angeles/Pittsburgh/Colorado Kings/Penguins/Avalanche Group A 1:555 (Overall Int'l 1:9) Jsy Retired
Three Star Spotlight – International Trios CAN-NET Roberto Luongo/Martin Brodeur/Marc-Andre Fleury Vancouver/New Jersey/Pittsburgh Canucks/Devils/Penguins Group D 1:17 (Overall Int'l 1:9) Jsy
Three Star Spotlight – International Trios CAN-ROOKD Dougie Hamilton/Jamie Oleksiak/Justin Schultz Boston/Dallas/Edmonton Bruins/Stars/Oilers Group D 1:17 (Overall Int'l 1:9) Jsy Rookie
Three Star Spotlight – International Trios CAN-ROOKF Jonathan Huberdeau/Scott Laughton/Ryan Spooner Florida/Philadelphia/Boston Panthers/Flyers/Bruins Group D 1:17 (Overall Int'l 1:9) Jsy Rookie
Three Star Spotlight – International Trios CAN-YNG Jonathan Huberdeau/Scott Laughton/Cory Conacher Florida/Philadelphia/Ottawa Panthers/Flyers/Senators Group D 1:17 (Overall Int'l 1:9) Jsy Rookie
Three Star Spotlight – International Trios CZR-FWD Jaromir Jagr/Tomas Plekanec/Patrik Elias Boston/Montreal/New Jersey Bruins/Canadiens/Devils Group D 1:17 (Overall Int'l 1:9) Jsy
Three Star Spotlight – International Trios CZR-NET Tomas Vokoun/Dominik Hasek/Ondrej Pavelec Pittsburgh/Detroit/Winnipeg Penguins/Red Wings/Jets Group C 1:30 (Overall Int'l 1:9) Jsy Retired
Three Star Spotlight – International Trios FIN-NET Pekka Rinne/Miikka Kiprusoff/Kari Lehtonen Nashville/Calgary/Dallas Predators/Flames/Stars Group C 1:30 (Overall Int'l 1:9) Jsy
Three Star Spotlight – International Trios RUS-FWD Alexander Ovechkin/Pavel Datsyuk/Nail Yakupov Washington/Detroit/Edmonton Capitals/Red Wings/Oilers Group D 1:17 (Overall Int'l 1:9) Jsy Rookie
Three Star Spotlight – International Trios RUS-NET Ilya Bryzgalov/Semyon Varlamov/Nikolai Khabibulin Philadelphia/Colorado/Edmonton Flyers/Avalanche/Oilers Group B 1:52 (Overall Int'l 1:9) Jsy
Three Star Spotlight – International Trios RUS-STAR Pavel Bure/Alexander Ovechkin/Evgeni Malkin Vancouver/Washington/Pittsburgh Canucks/Capitals/Penguins Group C 1:30 (Overall Int'l 1:9) Jsy Retired
Three Star Spotlight – International Trios SLV-GR8 Marian Hossa/Marian Gaborik/Zdeno Chara Chicago/Columbus/Boston Blackhawks/Blue Jackets/Bruins Group C 1:30 (Overall Int'l 1:9) Jsy
Three Star Spotlight – International Trios SWE-DEF Borje Salming/Nicklas Lidstrom/Oliver Ekman-Larsson Toronto/Detroit/Phoenix Maple Leafs/Red Wings/Coyotes Group D 1:17 (Overall Int'l 1:9) Jsy Retired
Three Star Spotlight – International Trios SWE-DET Henrik Zetterberg/Nicklas Lidstrom/Johan Franzen Detroit/Detroit/Detroit Red Wings/Red Wings/Red Wings Group B 1:52 (Overall Int'l 1:9) Jsy Retired
Three Star Spotlight – International Trios SWE-FWD Gabriel Landeskog/Patrik Berglund/Magnus Paajarvi Colorado/St. Louis/Edmonton Avalanche/Blues/Oilers Group D 1:17 (Overall Int'l 1:9) Jsy
Three Star Spotlight – International Trios SWE-PTS Mats Sundin/Nicklas Lidstrom/Daniel Alfredsson Toronto/Detroit/Ottawa Maple Leafs/Red Wings/Senators Group A 1:555 (Overall Int'l 1:9) Jsy Retired
Three Star Spotlight – International Trios SWE-ROOK Viktor Fasth/Jonas Brodin/Rickard Rakell Anaheim/Minnesota/Anaheim Ducks/Wild/Ducks Group C 1:30 (Overall Int'l 1:9) Jsy Rookie Retired
Three Star Spotlight – International Trios SWE-STAR Erik Karlsson/Nicklas Backstrom/Henrik Zetterberg Ottawa/Washington/Detroit Senators/Capitals/Red Wings Group B 1:52 (Overall Int'l 1:9) Jsy
Three Star Spotlight – International Trios SWE-YDEF Oliver Ekman-Larsson/Adam Larsson/Jonas Brodin Phoenix/New Jersey/Minnesota Coyotes/Devils/Wild Group B 1:52 (Overall Int'l 1:9) Jsy Rookie
Three Star Spotlight – International Trios USA-FWD Paul Stastny/Chris Drury/Dustin Brown Colorado/New York/Los Angeles Avalanche/Rangers/Kings Group B 1:52 (Overall Int'l 1:9) Jsy
Three Star Spotlight – International Trios USA-NET Jonathan Quick/Ryan Miller/Tim Thomas Los Angeles/Buffalo/Boston Kings/Sabres/Bruins Group C 1:30 (Overall Int'l 1:9) Jsy Retired
Three Star Spotlight – International Trios USA-STAR Patrick Kane/Joe Pavelski/Zach Parise Chicago/San Jose/Minnesota Blackhawks/Sharks/Wild Group A 1:555 (Overall Int'l 1:9) Jsy
Three Star Spotlight – International Trios USA-YNG Alex Galchenyuk/Charlie Coyle/Emerson Etem Montreal/Minnesota/Anaheim Canadiens/Wild/Ducks Group D 1:17 (Overall Int'l 1:9) Jsy Rookie
Three Star Spotlight – Past Present Future PPF-ANA Scott Niedermayer/Ryan Getzlaf/Rickard Rakell Anaheim/Anaheim/Anaheim Ducks/Ducks/Ducks Group F 1:16 (Overall PPF 1:9) Jsy Rookie Retired
Three Star Spotlight – Past Present Future PPF-BEES Johnny Bucyk/Nathan Horton/Ryan Spooner Boston/Boston/Boston Bruins/Bruins/Bruins Group F 1:16 (Overall PPF 1:9) Jsy Rookie Retired
Three Star Spotlight – Past Present Future PPF-BOS Phil Esposito/Patrice Bergeron/Tyler Seguin Boston/Boston/Boston Bruins/Bruins/Bruins Group F 1:16 (Overall PPF 1:9) Jsy Retired
Three Star Spotlight – Past Present Future PPF-BOST Ray Bourque/Zdeno Chara/Dougie Hamilton Boston/Boston/Boston Bruins/Bruins/Bruins Group D 1:51 (Overall PPF 1:9) Jsy Rookie Retired
Three Star Spotlight – Past Present Future PPF-CAR Ron Francis/Eric Staal/Jeff Skinner Carolina/Carolina/Carolina Hurricanes/Hurricanes/Hurricanes Group D 1:51 (Overall PPF 1:9) Jsy Retired
Three Star Spotlight – Past Present Future PPF-CGY Lanny McDonald/Jarome Iginla/Roman Cervenka Calgary/Calgary/Calgary Flames/Flames/Flames Group F 1:16 (Overall PPF 1:9) Jsy Rookie Retired
Three Star Spotlight – Past Present Future PPF-DAL Mike Modano/Jamie Benn/Jamie Oleksiak Dallas/Dallas/Dallas Stars/Stars/Stars Group D 1:51 (Overall PPF 1:9) Jsy Rookie Retired
Three Star Spotlight – Past Present Future PPF-DRW Dominik Hasek/Jim Howard/Petr Mrazek Detroit/Detroit/Detroit Red Wings/Red Wings/Red Wings Group E 1:35 (Overall PPF 1:9) Jsy Rookie Retired
Three Star Spotlight – Past Present Future PPF-DUCKS Jean-Sebastien Giguere/Jonas Hiller/Viktor Fasth Anaheim/Anaheim/Anaheim Ducks/Ducks/Ducks Group F 1:16 (Overall PPF 1:9) Jsy Rookie
Three Star Spotlight – Past Present Future PPF-EDM Wayne Gretzky/Taylor Hall/Nail Yakupov Edmonton/Edmonton/Edmonton Oilers/Oilers/Oilers Group B 1:1,822 (Overall PPF 1:9) Jsy Rookie Retired
Three Star Spotlight – Past Present Future PPF-EDMF Jari Kurri/Ryan Smyth/Jordan Eberle Edmonton/Edmonton/Edmonton Oilers/Oilers/Oilers Group D 1:51 (Overall PPF 1:9) Jsy Retired
Three Star Spotlight – Past Present Future PPF-FLA Pavel Bure/Kris Versteeg/Quinton Howden Florida/Florida/Florida Panthers/Panthers/Panthers Group C 1:1,001 (Overall PPF 1:9) Jsy Rookie Retired
Three Star Spotlight – Past Present Future PPF-MINN Marian Gaborik/Zach Parise/Charlie Coyle Minnesota/Minnesota/Minnesota Wild/Wild/Wild Group E 1:35 (Overall PPF 1:9) Jsy Rookie
Three Star Spotlight – Past Present Future PPF-MON Saku Koivu/Lars Eller/Alex Galchenyuk Montreal/Montreal/Montreal Canadiens/Canadiens/Canadiens Group E 1:35 (Overall PPF 1:9) Jsy Rookie Retired
Three Star Spotlight – Past Present Future PPF-MTL Larry Robinson/Andrei Markov/P.K. Subban Montreal/Montreal/Montreal Canadiens/Canadiens/Canadiens Group F 1:16 (Overall PPF 1:9) Jsy Rookie Retired
Three Star Spotlight – Past Present Future PPF-OIL Paul Coffey/Ryan Whitney/Justin Schultz Edmonton/Edmonton/Edmonton Oilers/Oilers/Oilers Group F 1:16 (Overall PPF 1:9) Jsy Rookie Retired
Three Star Spotlight – Past Present Future PPF-PHI Eric Lindros/Claude Giroux/Scott Laughton Philadelphia/Philadelphia/Philadelphia Flyers/Flyers/Flyers Group E 1:35 (Overall PPF 1:9) Jsy Rookie Retired
Three Star Spotlight – Past Present Future PPF-PNTHR Pavel Bure/Tomas Fleischmann/Jonathan Huberdeau Florida/Florida/Florida Panthers/Panthers/Panthers Group A 1:7,006 (Overall PPF 1:9) Jsy Rookie Retired
Three Star Spotlight – Past Present Future PPF-SJS Joe Thornton/Logan Couture/Nick Petrecki San Jose/San Jose/San Jose Sharks/Sharks/Sharks Group E 1:35 (Overall PPF 1:9) Jsy Rookie
Three Star Spotlight – Past Present Future PPF-STL Bernie Federko/Patrik Berglund/Vladimir Tarasenko St. Louis/St. Louis/St. Louis Blues/Blues/Blues Group D 1:51 (Overall PPF 1:9) Jsy Rookie Retired
Three Star Spotlight – Past Present Future PPF-VAN Pavel Bure/Daniel Sedin/Jordan Schroeder Vancouver/Vancouver/Vancouver Canucks/Canucks/Canucks Group F 1:16 (Overall PPF 1:9) Jsy Rookie Retired
Three Star Spotlight – Past Present Future PPF-WINGS Nicklas Lidstrom/Henrik Zetterberg/Damien Brunner Detroit/Detroit/Detroit Red Wings/Red Wings/Red Wings Group D 1:51 (Overall PPF 1:9) Jsy Rookie Retired
Upper Deck Crystal – Stars C1 Patrick Kane Chicago Blackhawks Tier 1 Stars 1:33 (Overall Crystal 1:9)
Upper Deck Crystal – Stars C2 Tyler Seguin Boston Bruins Tier 1 Stars 1:33 (Overall Crystal 1:9)
Upper Deck Crystal – Stars C3 Ryan Nugent-Hopkins Edmonton Oilers Tier 1 Stars 1:33 (Overall Crystal 1:9)
Upper Deck Crystal – Stars C4 Drew Doughty Los Angeles Kings Tier 1 Stars 1:33 (Overall Crystal 1:9)
Upper Deck Crystal – Stars C5 Phil Kessel Toronto Maple Leafs Tier 1 Stars 1:33 (Overall Crystal 1:9)
Upper Deck Crystal – Stars C6 Erik Karlsson Ottawa Senators Tier 1 Stars 1:33 (Overall Crystal 1:9)
Upper Deck Crystal – Stars C7 James Neal Pittsburgh Penguins Tier 1 Stars 1:33 (Overall Crystal 1:9)
Upper Deck Crystal – Stars C8 Jonathan Quick Los Angeles Kings Tier 1 Stars 1:33 (Overall Crystal 1:9)
Upper Deck Crystal – Stars C9 Corey Perry Anaheim Ducks Tier 1 Stars 1:33 (Overall Crystal 1:9)
Upper Deck Crystal – Stars C10 Jeff Skinner Carolina Hurricanes Tier 1 Stars 1:33 (Overall Crystal 1:9)
Upper Deck Crystal – Stars C11 Henrik Lundqvist New York Rangers Tier 2 Stars 1:90 (Overall Crystal 1:9)
Upper Deck Crystal – Stars C12 Evgeni Malkin Pittsburgh Penguins Tier 2 Stars 1:90 (Overall Crystal 1:9)
Upper Deck Crystal – Stars C13 Taylor Hall Edmonton Oilers Tier 2 Stars 1:90 (Overall Crystal 1:9)
Upper Deck Crystal – Stars C14 Jordan Eberle Edmonton Oilers Tier 2 Stars 1:90 (Overall Crystal 1:9)
Upper Deck Crystal – Stars C15 Martin Brodeur New Jersey Devils Tier 2 Stars 1:90 (Overall Crystal 1:9)
Upper Deck Crystal – Stars C16 Sidney Crosby Pittsburgh Penguins Tier 3 Stars 1:145 (Overall Crystal 1:9)
Upper Deck Crystal – Stars C17 Carey Price Montreal Canadiens Tier 3 Stars 1:145 (Overall Crystal 1:9)
Upper Deck Crystal – Stars C18 Alexander Ovechkin Washington Capitals Tier 3 Stars 1:145 (Overall Crystal 1:9)
Upper Deck Crystal – Stars C19 Steven Stamkos Tampa Bay Lightning Tier 3 Stars 1:145 (Overall Crystal 1:9)
Upper Deck Crystal – Stars C20 Jonathan Toews Chicago Blackhawks Tier 3 Stars 1:145 (Overall Crystal 1:9)
Upper Deck Crystal – Greats C21 Paul Coffey Edmonton Oilers Tier 1 Greats 1:66 (Overall Crystal 1:9) Retired
Upper Deck Crystal – Greats C22 Nicklas Lidstrom Detroit Red Wings Tier 1 Greats 1:66 (Overall Crystal 1:9) Retired
Upper Deck Crystal – Greats C23 Mats Sundin Toronto Maple Leafs Tier 1 Greats 1:66 (Overall Crystal 1:9) Retired
Upper Deck Crystal – Greats C24 Ray Bourque Boston Bruins Tier 1 Greats 1:66 (Overall Crystal 1:9) Retired
Upper Deck Crystal – Greats C25 Larry Robinson Montreal Canadiens Tier 1 Greats 1:66 (Overall Crystal 1:9) Retired
Upper Deck Crystal – Greats C26 Jean Beliveau Montreal Canadiens Tier 2 Greats 1:45 (Overall Crystal 1:9) Retired
Upper Deck Crystal – Greats C27 Guy Lafleur Montreal Canadiens Tier 2 Greats 1:45 (Overall Crystal 1:9) Retired
Upper Deck Crystal – Greats C28 Howie Morenz Montreal Canadiens Tier 2 Greats 1:45 (Overall Crystal 1:9) Retired
Upper Deck Crystal – Greats C29 Pelle Lindbergh Philadelphia Flyers Tier 2 Greats 1:45 (Overall Crystal 1:9) Retired
Upper Deck Crystal – Greats C30 Mark Messier New York Rangers Tier 2 Greats 1:45 (Overall Crystal 1:9) Retired
Upper Deck Crystal – Greats C31 Eric Lindros Philadelphia Flyers Tier 2 Greats 1:45 (Overall Crystal 1:9) Retired
Upper Deck Crystal – Greats C32 Brett Hull St. Louis Blues Tier 2 Greats 1:45 (Overall Crystal 1:9) Retired
Upper Deck Crystal – Greats C33 Bobby Hull Chicago Blackhawks Tier 2 Greats 1:45 (Overall Crystal 1:9) Retired
Upper Deck Crystal – Greats C34 Ron Francis Hartford Whalers Tier 2 Greats 1:45 (Overall Crystal 1:9) Retired
Upper Deck Crystal – Greats C35 Pavel Bure Vancouver Canucks Tier 2 Greats 1:45 (Overall Crystal 1:9) Retired
Upper Deck Crystal – Greats C36 Patrick Roy Montreal Canadiens Tier 3 Greats 1:145 (Overall Crystal 1:9) Retired
Upper Deck Crystal – Greats C37 Joe Sakic Colorado Avalanche Tier 3 Greats 1:145 (Overall Crystal 1:9) Retired
Upper Deck Crystal – Greats C38 Mario Lemieux Pittsburgh Penguins Tier 3 Greats 1:145 (Overall Crystal 1:9) Retired
Upper Deck Crystal – Greats C39 Bobby Orr Boston Bruins Tier 3 Greats 1:145 (Overall Crystal 1:9) Retired
Upper Deck Crystal – Greats C40 Wayne Gretzky Edmonton Oilers Tier 3 Greats 1:145 (Overall Crystal 1:9) Retired
Upper Deck Crystal – Premieres Tier 1 C41 Petr Mrazek Detroit Red Wings Overall Crystal 1:9 225 Rookie
Upper Deck Crystal – Premieres Tier 1 C42 Viktor Fasth Anaheim Ducks Overall Crystal 1:9 225 Rookie
Upper Deck Crystal – Premieres Tier 1 C43 Quinton Howden Florida Panthers Overall Crystal 1:9 225 Rookie
Upper Deck Crystal – Premieres Tier 1 C44 Jonas Brodin Minnesota Wild Overall Crystal 1:9 225 Rookie
Upper Deck Crystal – Premieres Tier 1 C45 Emerson Etem Anaheim Ducks Overall Crystal 1:9 225 Rookie
Upper Deck Crystal – Premieres Tier 2 C46 Charlie Coyle Minnesota Wild Overall Crystal 1:9 125 Rookie
Upper Deck Crystal – Premieres Tier 2 C47 Brendan Gallagher Montreal Canadiens Overall Crystal 1:9 125 Rookie
Upper Deck Crystal – Premieres Tier 2 C48 Ryan Spooner Boston Bruins Overall Crystal 1:9 125 Rookie
Upper Deck Crystal – Premieres Tier 2 C49 Scott Laughton Philadelphia Flyers Overall Crystal 1:9 125 Rookie
Upper Deck Crystal – Premieres Tier 2 C50 Damien Brunner Detroit Red Wings Overall Crystal 1:9 125 Rookie
Upper Deck Crystal – Premieres Tier 3 C51 Cory Conacher Tampa Bay Lightning Overall Crystal 1:9 75 Rookie
Upper Deck Crystal – Premieres Tier 3 C52 J.T. Miller New York Rangers Overall Crystal 1:9 75 Rookie
Upper Deck Crystal – Premieres Tier 3 C53 Dougie Hamilton Boston Bruins Overall Crystal 1:9 75 Rookie
Upper Deck Crystal – Premieres Tier 3 C54 Mikhail Grigorenko Buffalo Sabres Overall Crystal 1:9 75 Rookie
Upper Deck Crystal – Premieres Tier 3 C55 Jonathan Huberdeau Florida Panthers Overall Crystal 1:9 75 Rookie
Upper Deck Crystal – Premieres Tier 3 C56 Mikael Granlund Minnesota Wild Overall Crystal 1:9 75 Rookie
Upper Deck Crystal – Premieres Tier 3 C57 Justin Schultz Edmonton Oilers Overall Crystal 1:9 75 Rookie
Upper Deck Crystal – Premieres Tier 3 C58 Alex Galchenyuk Montreal Canadiens Overall Crystal 1:9 75 Rookie
Upper Deck Crystal – Premieres Tier 3 C59 Vladimir Tarasenko St. Louis Blues Overall Crystal 1:9 75 Rookie
Upper Deck Crystal – Premieres Tier 3 C60 Nail Yakupov Edmonton Oilers Overall Crystal 1:9 75 Rookie