First look: 2013-14 Upper Deck Series 1 hockey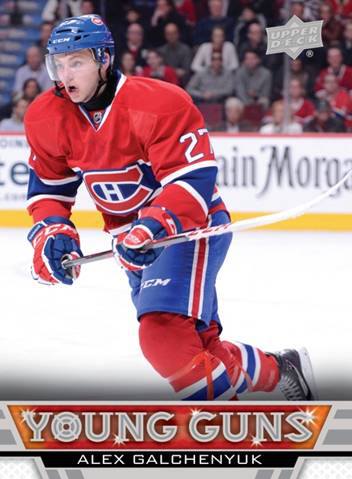 By Susan Lulgjuraj | Beckett Hockey Editor
The Young Guns will be here in November, brandishing a crop of Rookie Cards that hasn't been seen since Sidney Crosby and Alexander Ovechkin first graced NHL cards.
Upper Deck Series 1 will feature the top rookies from last season such as Nail Yakupov, Alex Galchenyuk, Jonathan Huberdeau and Vladimir Tarasenko along with this year's draft class of players that make the NHL roster.
Upper Deck Series 1 is a basic set with several inserts and a base set made for set collectors. But the heavy focus this year will likely be on the Rookie Cards.
There will be six Young Guns in every box and Young Guns Canvas cards will fall at a rate of 1 in every 48 packs. The Young Guns Rookie Cards are not too tough to pull, but rare enough to get collectors chasing.
Upper Deck Series 1 will feature 24 eight-card packs. MVP Rookies will fall at a rate of one per box with a chance to find UD Exclusives and MVP Script parallels. Overall, collectors can expect to find four UD Canvas cards, two jersey cards, two Hockey Heroes 1980s and two Shining Stars inserts in every box, on average.
Each case will also have one Clear Cut acetate and one Signature Sensations.
Download the 2013-14 Upper Deck Series 1 checklist.
Susan Lulgjuraj is an editor of Beckett Hockey. You can email her here with questions, comments or ideas. Follow her on Twitter here. Follow Beckett Media on Facebook and Twitter.