First Look: 2013-14 Upper Deck Exquisite Basketball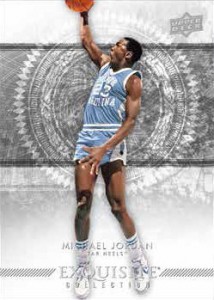 By Stephen Laroche | Beckett Basketball Editor
The passage of time can have an interesting impact on even the most valuable and coveted of trading cards and Upper Deck created something special a little over a decade ago when they released their Exquisite Basketball product for the first time. Today, that issue is regarded with even more reverence by collectors and its success carries forward with the final release of the company's 2013-14 schedule.
Expected on store shelves in early November, 2013-14 Upper Deck Exquisite Basketball is a bonafide high-end release that offers up a solid mix of autographs and memorabilia along with plenty of innovation that is sure to make some waves.
What can collectors expect to find in boxes of this product? Find out after the jump.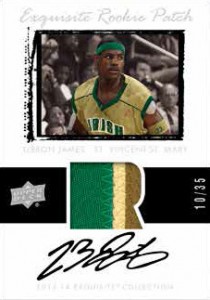 For fans of the first product from 2003-04, there is a special collection of Exquisite Rookie Tribute cards that depicts several of today's top stars and legends from the past on the iconic design utilized that year. The product's information sheet shows a card of LeBron James with a photo from his high school days and the company confirmed that they are actually using a game-used jersey from his days with St. Vincent-St. Mary on these cards. Needless to say, there will be a lot of interest in this cards, along with others in the set which will have either an autograph or an autograph with a piece of memorabilia.
The hunt for hobby treasures continues with an extremely limited base set where each card is numbered to 75. Upper Deck decided to add some incredibly tough parallel versions of each of those cards and it will be incredibly challenging to complete a true rainbow that features backgrounds that are Red (numbered to 7), Orange (numbered to 6), Yellow (numbered to 5), Green (numbered to 4), Blue (numbered to 3), Indigo (numbered to 2) and Violet (1/1).
There will also be an Exquisite Rookie Card subset that features some of this season's bright prospects in their collegiate uniforms. Autographed and limited to 99 copies each, they will be among the first signed cards for several of these young talents to hit the market.
Every box of Exquisite is expected to deliver at least one Autographed Rookie Patch card as part of the five autographs that are seeded into every box on average. There are some major hits of this nature to be pulled, including Game Face Autographs and Year of the Horse booklets and the always-popular Dimensions shadowbox cards.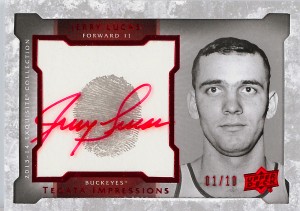 Where Upper Deck really brought their game to a new level with autographs this time are the Tegata Signature Impressions. Each card will contain the depicted player's thumbprint along with an autograph and they will be extremely limited. The Tegata concept has been brought over from Upper Deck Authenticated's popular line of framed pieces and the chase for these cards will be intense.
If that was not enough, the company also added UD Signature Kicks to the lineup and these will feature pieces of soles, heels, laces and logos from iconic shoes along with an autograph. These beautiful pieces are sure to appeal to sneakerheads everywhere and the company revealed 18 players that will be depicted along with the type of shoe that is being cut up and placed into the cards. In addition to modern stars like James Harden and Paul George, look for pieces from Michael Jordan, Larry Bird, Magic Johnson and even Bill Russell.
Stephen Laroche is the Editor of Beckett Basketball and Beckett Hockey magazines. Have a comment, question or idea? Send an e-mail to him at slaroche@beckett.com. Follow him on Twitter @Stephen_Laroche.