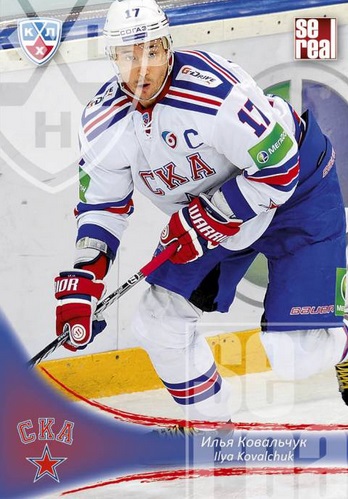 By Susan Lulgjuraj | Beckett Hockey Editor
Missing out on Ilya Kovalchuk cards?
You will be able to find some in Sereal's KHL collection sixth season of cards.
The new set will come out in January with 20 different types of cards for collectors. Each box will come with 34 packs with five players in each pack. Each box will come with four hits and 10 parallels.
Last year's KHL cards featured many NHL players who were overseas during the lockout. Sereal is bringing back highlights from last season to have cards of Evgeni Malkin and Sergei Bobrovsky again.
The base set will highlight the different teams of the KHL with plenty parallels of each.
Inserts will feature Playoff Battles from 2013, KHL Under the Flag, League's Finest, a focus on the KHL Draft and Sharks on Ice.
Susan Lulgjuraj is an editor at Beckett Media. You can email her here with questions, comments or ideas. Follow her on Twitter here. Follow Beckett Media on Facebook and Twitter.