First look: 2013-14 Dominion Hockey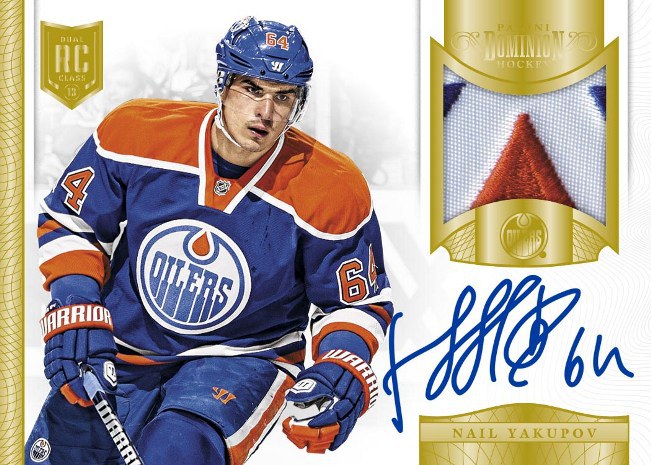 By Susan Lulgjuraj | Beckett Hockey Editor
Dominion Hockey is getting its own home again.
The popular hockey release was only found in boxes of Prime in 2012-13 due to the shortened NHL season. This time, 2013-14 Dominion will be back and is scheduled for a Dec. 6 release.
Each hobby box will come with six cards, including four hits.
This product will feature the first autographed patch rookies from Panini America, including players such as Nail Yakupov, Alex Galchenyuk and many of the top rookies from last that weren't included in last season's products. These cards will be numbered to 299 or less.
Panini is bringing back Stickside Signatures, Tape to Tape Autographs, Engravatures, Peerless Patches and Silver Ensigns.
However, there are new components to Dominion this year including game-worn glove leather pieces and Ice Level Autograph Booklets, acetate booklets with an autograph and memorabilia piece numbered to 50 or less. The game-worn gear in Dominion will include jerseys, patches, fight straps, sticks and more.
Chicago Blackhawks fans will want to take a peek at Dominion. One of the Engravatures sets will celebrate the Stanley Cup champions with cards numbered to just 15.
Some of the images show cards before they have been signed.
Susan Lulgjuraj is an editor at Beckett Media. You can email her here with questions, comments or ideas. Follow her on Twitter here. Follow Beckett Media on Facebook and Twitter.