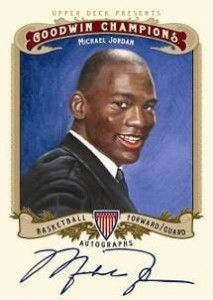 By Susan Lulgjuraj | Contributing Editor
Bugs, meteorites and Mars.
That's not your typical assortment of finds in a hobby box, but Goodwin Champions has never been typical with its hits. This is a product that started a craze with its Entomology Cards where actual bugs were inside shadow boxes.
This year's Upper Deck Goodwin Champions brings back the entomology cards, but also collectors will have an opportunity to find rocks from meteorites and Mars, and memorabilia pieces from museums, including Civil War and Presidential memorabilia.
This year's installment is due out in May with 20-pack (five cards in each pack) hobby boxes yielding three hits of either on-card autographs, memorabilia cards, animal kingdom patch cards or printing plates. There are also 10 Goodwin Champions mini and numbered parallels. Early presales are going around $75 a box.
The set won't be easy to complete. There are 231 cards of different sports figures from over the years, but there are 150 base cards with 40 short-prints, 20 super short-prints and 21 high series minis to complete the set.
The inserts will include: minis, minis with Lady Luck backs, Magician backs (numbered to 10), Presidential backs (1/1), Military Machines and a World Traveler oversized card (one per box).
However, Upper Deck doesn't end there. For fans of the original, Upper Deck has made it so they would be able to collect the 1888 Goodwin Masterpieces originals, which were 50 hand-painted images.
The Entomology Cards, which have been a big hit for Upper Deck, have returned. In the past, the cards have featured beautiful multi-colored moths, butterflies with spotted wings and a bug that looks like a stick. Fan of these could expect to find more butterflies, beetles and different variations of bugs this year.
Susan Lulgjuraj is a contributing editor for Beckett Media. You can email Susan here. Follow her on Twitter here.