2012 Upper Deck All-Time Greats Sports Edition Details
The best of the best. The greatest athletes of generations are making their way into an Upper Deck set featuring men and women at the top of their games.
Upper Deck was very select in picking the athletes to appear in 2012 All-Time Great Sports Edition. Just 20 superstars made the cut.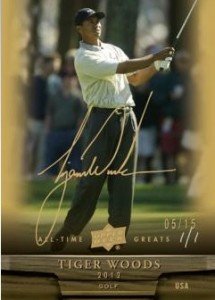 Four cards will come in one tin with three base cards and one autograph, all of which are on-card signatures. The base set consists of 100 cards.
The checklist includes Michael Jordan, Tiger Woods, Dan Marino, Jerry Rice, Annika Sorenstam, Larry Bird, LeBron James, Bobby Orr, Landon Donovan, Barry Sanders, Richard Petty, Kelly Slater, Joe Sakic, Wayne Gretzky, Bo Jackson, Mario Lemieux, Pete Rose, Hulk Hogan, Mike Tyson and Troy Aikman.
Some of the dual autographs in the set include living athletes paired with cut signatures such as Mike Tyson and Joe Frazier on a card.
Other Legacy Book Cards include:
・ Tiger Woods/Ben Hogan
・ Barry Sanders/Red Grange
・ Wayne Gretzky/Maurice Richard
・ Jerry Rice/Walter Payton
Beyond just base and autograph cards, there are hologram cards as well.
Some of the hologram cards will feature dual autographs and favorites from the set such as Wayne Gretzky and Michael Jordan on one card.
All-Time Greats Sports Edition is scheduled to be released in July. There is no price point yet. Check back at Beckett.com for future updates.