First look: 2012 Topps Tribute baseball cards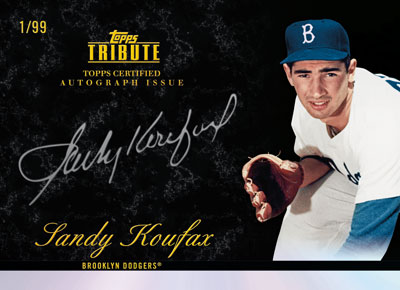 By Chris Olds | Beckett Baseball Editor
Topps unveiled its first high-end product of the 2012 baseball card season Tuesday evening, and it's the newest edition of the product that might have been the runaway hit of the high-end offerings this year.
It's Topps Tribute.
Back for its fourth straight year, Tribute will include an autograph or Relic card in every $50 pack with every six-pack box of this hobby-only line including three on-card autographs. Every autograph and Relic card will be limited to 99 or fewer copies, and there will be a parallel card also found in every pack when it arrives on Feb. 7.
The base set will consist of 100 cards mixed between active and retired players with seven parallels and printing plates for each card, while seven Relic insert sets and an additional set of autograph cards — Tribute to the Stars (signed on stickers) will also be found.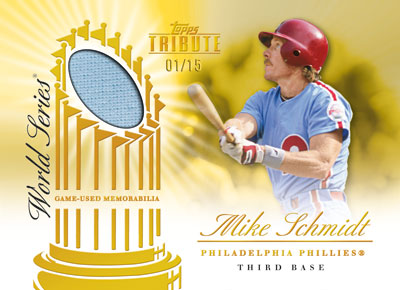 The Relic lineup will include World Series Swatches — retired World Series winners — as well as Championship Material cards that will showcase two swatches from active players who have World Series rings. Others include Retired Remnants, Positions of Power, Superstar Swatches (each with a rather Triple Threadsian diecut window), Debut Digits (first uniform number) and Prime Patches. All cards also will be paralleled with versions limited to 50 copies or less, while the patches will be limited to just 24.
Among the players on the preliminary checklist who are slated to sign for the product are: Hank Aaron, Willie Mays, Sandy Koufax — three pretty big names — along with Albert Belle, Johnny Bench, Robinson Cano, Carlton Fisk, Reggie Jackson, Matt Kemp, Clayton Kershaw, Evan Longoria, Don Mattingly, Joe Mauer, Stan Musial, Mike Schmidt, Frank Robinson, Nolan Ryan and many others.
The autographed cards will be paralleled seven times apiece with new additions being Onyx parallels — signed with silver ink — Purples (1/1s) and Oranges limited to 25. Others will include Blues (/50), Golds (/15) and Reds (/5) along with printing plates.
Among the Tribute to the Stars signers are Jose Bautista, Buster Posey, Musial, Schmidt, Jackson, Bob Gibson, Kemp and others. These cards will be found as a bonus hit in the packs, are limited to just 24, and also can be found with a Purple parallel limited to just one copy..
Over on the Relic side, some of the notable names include Derek Jeter, Ryan Howard, Tim Lincecum, Albert Pujols, Mickey Mantle, Roger Maris, Joe DiMaggio, Willie McCovey, Al Kaline and more.
Chris Olds is the editor of Beckett Baseball magazine. Have a comment, question or idea? Send an email to him at colds@beckett.com. Follow him on Twitter by clicking here.