First Look: 2012 Topps Museum Collection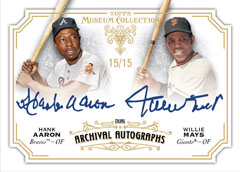 By Chris Olds | Beckett Baseball Editor
Topps unveiled a new baseball card line for 2012 on Friday — but if you've seen it before you're not crazy.
It's 2012 Topps Museum Collection — a high-end line with four packs per box and one Relic or autographed Relic in every pack. Where's the crazy part come in? Earlier this year — actually less than a month ago — the company teased 2012 Topps Marquee.
It appears this offering has since been re-named since then as it aims to feature "the most-striking cards of 2011 … now the centerpiece of their own product."
Each pack also will have three base cards and one blue parallel in every pack, while each box is guaranteed to include one on-card autograph, one autographed Relic, one jumbo Relic and one quad Relic. Meanwhile, every case will include an autographed jumbo Relic and one framed Museum Collection on-card auto as well when it arrives on April 6.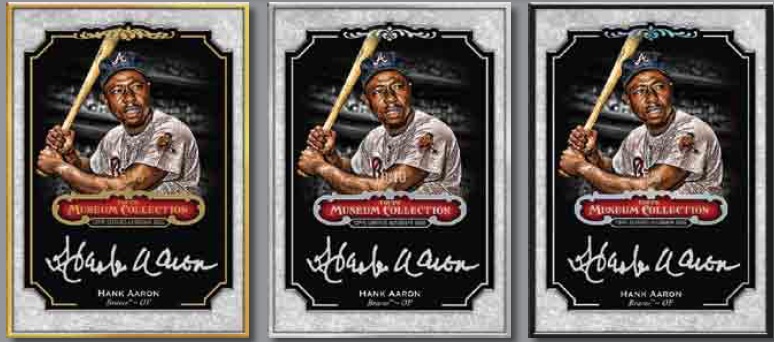 The Museum Collection framed autos will now come in three colors — Gold, Silver and Black. Golds will be limited to 15, while Silvers will be limited to 10 and Blacks will be limited to just five copies.
Meanwhile, the dual on-card autograph checklist will include 25 cards and pair big names — each limited to just 15 — while there will be 15 cut cards that showcase legendary ink from the past. Each of those will be 1/1s.
Insert cards in the set will include Canvas Collection Originals — players on original paintings with each card limited to 10 copies — while those paintings also will be seen on one-per-box reproductions as well. Some of the players in that one? Babe Ruth, Ty Cobb, Mickey Mantle, Joe DiMaggio, Sandy Koufax, Roberto Clemente, Nolan Ryan, Ichiro Suzuki, Joe Mauer, Alex Rodriguez, Albert Pujols and Reggie Jackson to name a few.

Among the autographed Relic offerings are eight different sets. Signature Swatches will have dual Relics, dual patches and red parallels; meanwhile Signature Swatches single-player triple Relics will have standard, red and patch versions. Rounding out the lineup are Momentous Materials jumbo Relic autos and Primary Pieces quad Relic autos, which will be booklet cards limited to just 10 copies apiece.
The one-per-box jumbo Relics will come from one of 12 sets in the product — none more plentiful than 50 copies apiece. The Momentous Materials jumbo checklist will include more than 100 players with each of them paralleled as Blue (/35), Red (/10) and Gold 1/1s. Jumbo Lumber Relics will be limited to 30 or less with 75 players also found on Blue (/20), Red (/5) and Gold 1/1s. The Dual Momentous Material jumbos will be booklets with just 30 of those each limited to just five copies. Rounding out the jumbos are Jumbo Lumber Relic booklets, Jumbo Patch Relics (each limited to five apiece) and Museum Memorabilia — all 1/1s.
Ten different sets will make up the quad Relic offerings — all numbered to 99 or less.
The base set will consist of just 100 cards — a mix of Hall of Famers, retired and current stars — all of which will be paralleled four times with Red 1/1s being the rarest.
Some of the signers tentatively lined up for this one? Koufax, Mays, Aaron, Ryan Braun, Albert Pujols. Nolan Ryan, Matt Kemp, Reggie Jackson, Prince Fielder, Stan Musial, Josh Hamilton, Cal Ripken Jr. Eric Hosmer, Jesus Montero, Mike Trout and Tony Gwynn just to name a few.
Chris Olds is the editor of Beckett Baseball magazine. Have a comment, question or idea? Send an email to him at colds@beckett.com. Follow him on Twitter by clicking here.
(Click on the images for an unobstructed view.)