FIRST LOOK: 2012 Topps Magic Football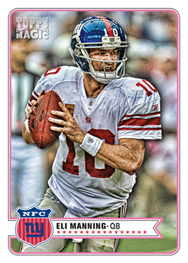 By Susan Lulgjuraj | Beckett Football Editor
The next installment of Topps Magic Football is coming to hobby and retail stores.
After being an online-only product last year, the company has decided to make Magic more widely available as its popularity has risen.
Magic was created to pay tribute to the first Topps football cards, and Topps will continue honoring that tradition.
Magic releases in January with 220 cards in a base set and 55 short prints (1-in-3 packs).
All cards will have mini parallels and 55 of them of will also be short-printed. All cards will also have black-bordered parallels, however, these are just one per box – which will have 24 packs. In addition, pigskin parallels are numbered to just 50 of each subject.
Each pack will contain seven cards with one mini parallel.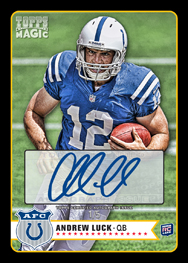 The hits include three autographs per box. The autograph checklist will be more than 100 names, which includes many of the top rookies from this upcoming season. The base autographs will have black-bordered parallels numbered to just five.
In addition to single autos, collectors can find dual (numbered to 25) and triple (numbered to 25) autos. Some of the cards will also include six signatures on one card, which are numbered to five.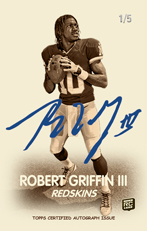 Insert autographs include '48 Magic Autographs, which is a throwback to the Topps Magic Photos that came out that year. Back then, the photos included all sports, but this is a football-only product. On these designs the players are posed in a sepia tone. These cards are numbered to five.
There will also be mini autos in the original 1948 size (2.075"x 2.905") that are numbered to 10, and mini autograph books with two players (numbered to five).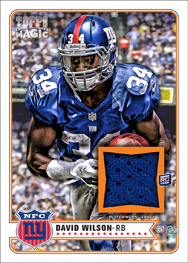 Any relics in the box are additional hits and are limited. Magic Relics are numbered to just 25 are hobby exclusive. Rookie Patches will be 1-of-1.
Maybe coin collectors can get into the fun with Magic.
Gridiron Coins will feature an actual coin embedded into the card with a picture of an NFL veteran or rookie star (numbered to 10). Historical coins will be matched with historical figures (numbered to 25).
For collectors who enjoy inserts, Magic will not be lacking in that department. There will be at least 18 inserts in every box: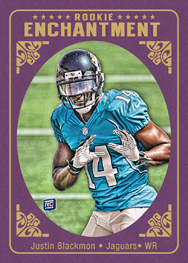 ・ Magical Moments: Milestones and career moments from the 2011 season (1-in-8 packs)
・ Supernatural Stars: Up to 40 of the NFL's top veterans (1:4)
・ Rookie Enchantment: Top rookies of 2012 class
・ Charismatic Combos: Best quarterbacks and wide receivers in football (1:12)
・ '48 Magic: Veterans and rookies on '48 design (1:12)
Susan Lulgjuraj is the editor of Beckett Football magazine. You can email Susan here with ideas, comments and questions. Follow her on Twitter here.