First Look: 2012 Topps Inception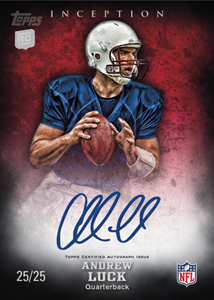 By Andrew Tolentino | Football Editor
Topps just added yet another release to its early-season production schedule. Sandwiched between 2012 Bowman Signatures and 2012 (basic) Topps, Inception will make its sophomore debut in the high-end realm.
Slated for an early-July arrival, 2012 Topps Inception returns with a three-hit-per-box guarantee. Images and more details after the jump.
Headlined by Andrew Luck, Robert Griffin III, Justin Blackmon, and Trent Richardson, the stated hit promise indicates that the three box hits will be comprised of  two autograph or autograph Relic cards and one Jumbo Jersey or Patch Relic card. Collectors can also expect to find two base parallel cards and two veteran base cards on 72-point stock inside each box.
Hard-signed Rookie Cards include 35 rookie autograph base cards with blue, gold, green, red and Inception parallels limited in the following fashions:
Blue (numbered to 150)
Gold (numbered to 99)
Green (numbered to 50)
Red (numbered to 25)
Inception (1/1)
Other on-card rookie hits include:
Rookie Silver Signings (nubmered to 25)
Dual Rookie Autographs (numbered to 25)
Triple Rookie Autograph Cards (numbered to 10)
Quad Rookie Autograph Cards (numbered to 5)
This year, Inception will also feature 1/1 Autograph Relic Logo parallels and numbered-to-25 Rookie Gold Autograph patch cards. Topps has also amped up the Relic Card mix with green patch parallels (numbered to 25), red patch parallels (numbered to 10), and 1/1 Inception patch parallels.
Stay tuned to Beckett.com for more information and images as we reach the second inception of Topps Inception.