2012 Topps Gypsy Queen Baseball Details
One of Topps' most popular retro card lines of the year returns with 2012 Topps Gypsy Queen Baseball.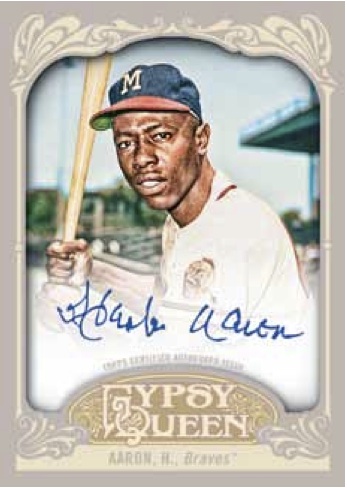 The company revealed the basic product information and preview images for the second edition of the cards modeled after the 1880s tobacco cards on Thursday, and it looks like it will once again include two autographs and two Relics per hobby box when it arrives on April 18.
Next year's edition will include a 350-card base set with 50 short-prints as well as standard and mini versions. There also will be mini exclusives again, too, as each 24-pack hobby box will contain a 10-card mini box-topper. That set will consist of 91 players with autographs — a new inclusion– and other inserts also included in the box-toppers.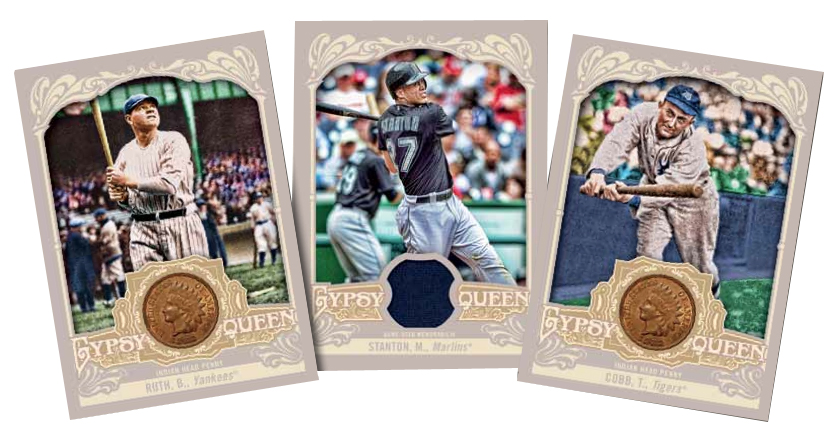 Parallels for 2012 will include Blue Paper cards limited to 599, Black Paper cards limited to just one copy apiece and printing plates. Minis will have GQ backs, straight cut backs, black parallels, green parallels, sepia tone parallels and printing plates.
The autograph lineup will include autographed Relics, dual autographed Relics and triple autographed Relics with all cards signed directly on the cards.
Meanwhile, the Relic lineup will include Indian Penny Relics, standard Relics, framed mini Relics, a new round of game-used patch sketch cards and stadium seat Relics.
The insert card lineup will include Moonshots, which feature home run hitters, Glove Stories (strong fielders), Slide Show (base stealers) and —  all also with mini framed printing plate versions. There also will be a 12-card set of Gypsy Kings, a "famed mythical 1887 Barnstorming team," which will also include autograph and bat Relic cards.
Among the signers on the preliminary checklist for on-card autograph set include: Hank Aaron, Sandy Koufax, Willie Mays, Albert Belle, Allen Craig, Bob Gibson, Carlton Fisk, Clayton Kershaw, Felix Hernandez, Frank Robinson, Frank Thomas,  John Smoltz, Robinson Cano and Ryne Sandberg, among others. That set will include at least 40 players.
The mini autograph preliminary checklist is much smaller. It will include only 15 players and, thus far, only  Thomas, ALCS hero Nelson Cruz and Matt Kemp have been announced.
For the autographed Relics, there will be at least 20 players featured, including Hall of Famers Reggie Jackson and Carl Yastrzemski as well as Ryan Braun, Carlos Gonzalez, Cruz and Jesus Montero thus far. Players slated to appear on multi-player autographed Relics include Jackson, Montero, Yaz, Ralph Kiner, Dustin Pedroia, Andrew McCutchen, Ernie Banks, Starlin Castro, Chipper Jones and Evan Longoria.