First look: 2012 Topps Five Star Football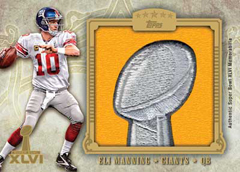 By Susan Lulgjuraj | Beckett Football Editor
New York Giants fans might want to start saving their money.
Topps Five Star comes out in February with its typical high-end cards, but memorabilia from Super Bowl XLVI is also included.
Two specific Super Bowl relic cards are a Pylon Super Bowl Patch card and a Super Bowl MVP Pigskin Relic, which is numbered to just 20 cards.
Five Star will contain eight cards per box with three base cards, an autographed Rookie Card, autographed rookie patch card, autographed veteran/retired or veteran/retired patch, an autographed relic book or dual autograph or jumbo jersey patch relic.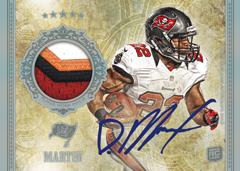 There will be at least one base Rookie Autographed Patch card in every box, which come in three parallels: Gold Jumbo Patch (numbered to 55), Rainbow Jumbo Patch (/25) and Five Star Jumbo Patch (1-of-1). Autograph Rookie Cards are also one per box and will come in Rainbow (/25) and Five Star (1/1) parallels.
In addition to these autographs, collectors can find Five Star Futures Quotable Autographs.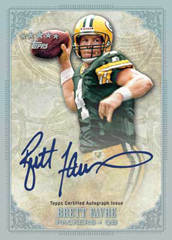 Veterans and retired players will make up a big part of Five Star with up to 25 subjects including former Green Bay quarterback Brett Favre. These cards will come in Gold, Rainbow and Five Star parallels along with Five Star Signature Patch cards with the same variations.
There will also be up to 25 Five Star Cut Signatures.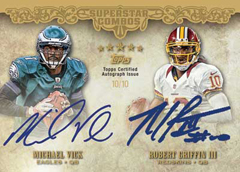 At least one booklet card or dual autograph will appear in each box.
Five Star Signatures Books and Five Star Futures Autograph Books contain three relics, including three different levels of patch cards.  There will also be autographed book cards with four pieces of relics and three levels of patch cards.
The dual cards will feature a mixture of rookies and veterans. One example of a dual card is combination of quarterbacks Michael Vick and Robert Griffin III. The Five Star Dual Autographs checklist features 26 subjects, with each issued in two parallel versions: Rainbow (numbered to 5) and Five Star (1-of-1). Some of the cards will also have patch cards.
But two can never be enough. Topps Five Star Football will also include autograph booklets (featuring up to eight different signatures) numbered to 10 or fewer.
Some of the dual cards will have shields (1/1) and laundry tags (/10).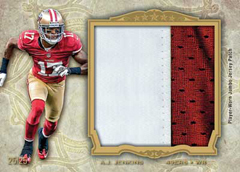 At least one Jumbo Jersey or Patch Card will be in each Five Star box.
Jumbo Jersey Relics will have to 50 subjects and feature three different parallels: Gold Patch (/25), Rainbow Patch (/5) and Five Star Patch (1/1). Some of the different types of relic cards collectors can get include Letters, Dual Patches, Triple Patches, Quad Patches, Octo Patch Books and Pylon NFL Patches.
Cards aren't the only thing in Five Star.
Collectors can pull a redemption for an autographed Rookie Jersey, a Rookie Yearbook Card, or Five Star Giants – 10.5″ x 8.5″ cards – signed by Andrew Luck and Griffin.
The Yearbook will be a giant-sized card with a group picture from the NFLPA Rookie Premiere and patch relic from each player on the right panel of the book. There are just five of these books.
The Five Star Giants cards are framed and autographed, featuring full-bleed color photos taken at the Rookie Premiere.
Susan Lulgjuraj is the editor of Beckett Football magazine. You can email Susan here with ideas, comments and questions. Follow her on Twitter here.