First look: 2012 Topps Finest Baseball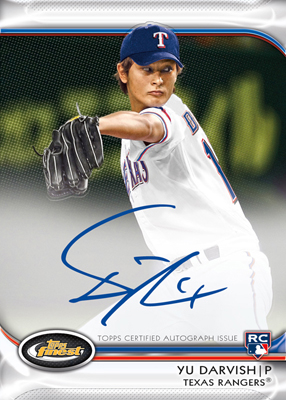 By Chris Olds | Beckett Baseball Editor
With Yu Darvish under wraps, now it's time for the newest product.
Topps unveiled its latest forthcoming 2012 baseball card line of the year on Monday as it pulled back the curtain on 2012 Topps Finest, which will arrive on Aug. 8 with the Japanese star — and plenty more.
Each master box of the product (two six-pack mini boxes) will include one serial-numbered autographed rookie Refractor as well as an autographed jumbo rookie Relic, while there are three new insert card sets to chase — ornately diecut Faces of the Franchise, Faces of the Franchise autographs and autographed rookie redemptions.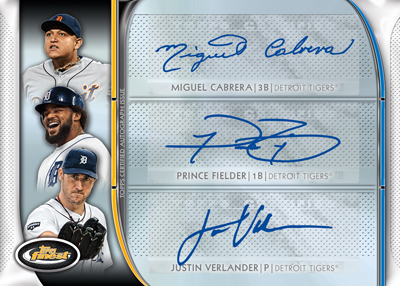 The base set will consist of 95 cards — a mix of veterans and rookies (Darvish included) — with parallels that include Refractors, X-Fractors, printing plates, SuperFractors and a rainbow of colors (Green, Orange,  Gold Red, Atomic) as in past years. New this year will be Hot Boxes — one in four cases — where every base card is a Refractor.
There will be plenty of color available for the autographed Rookies as well as the jumbo Relics as each will have the same array of parallels as the base cards with the most-plentiful version being the X-Fractors at 299 per.
Also to be found will be dual and triple auto cards — each quite limited. Only five copies of each triple will be made, while the doubles will be limited to 10.
The Faces of the Franchise inserts will be found one per master box with the autographs on  those limited to 15 — or fewer — copies. The same will apply for the Finest Moments inserts, though they will be found two per master box and those autographs will be limited to 25 or less.
Lastly, there is a new Game-changers insert set with 15 top stars found one per master box also to be found with autograph and autographed Relic versions all of those cards will be limited to 10 or fewer copies.
At least 20 rookies will be signing for Finest with Darvish the headliner. Others will include Jesus Montero, Matt Moore, Drew Pomeranz and Brad Peacock. For the Faces of the Franchise autos, one can expect, according to the preliminary checklist, to find Eric Hosmer, Dustin Pedroia, Matt Kemp, Joe Mauer, Justin Verlander, Buster Posey, Felix Hernandez, Evan Longoria, Chipper Jones and Albert Pujols to name a few.
For the Finest Moments sigs, you can look for Darvish, Robinson Cano, Clayton Kershaw, Brett Lawrie and Michael Pineda to name a few, while Game-changers will include Mike Trout, Prince Fielder, Ryan Braun, Mike Stanton and Jose Bautista for starters.
For the duals? Watch out as there will be a Darvish-Moore auto as well as a Pujols-Trout card, while triples will include a Darvish-Moore-Montero and a Verlander-Miguel Cabrera-Fielder for starters.
Lastly, Darvish also will have an auto jumbo Relic as well Montero, Moore and Pomeranz.
Chris Olds is the editor of Beckett Baseball magazine. Have a comment, question or idea? Send an email to him at colds@beckett.com. Follow him on Twitter by clicking here.