First look: 2012 Topps Chrome Football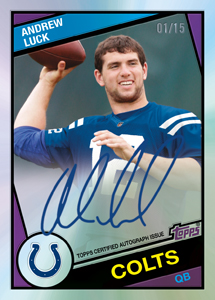 By Susan Lulgjuraj | Contributing Editor
On the heels of the NFL Players Rookie Premiere, Topps is readying one of its most popular football products.
Topps Chrome is coming back with all on-card rookie autographs. The product is scheduled to come out in early November.
There will be at least 45 different rookies in the product with autographs. But what makes the set fun for many collectors is all the Refractors. The 24-pack hobby boxes – with four cards in each pack – will have eight different refractors. With a 220-base card set – 110 veterans and 110 rookies – that's a lot of cards to chase.
Here's a breakdown of the types of refractors in Topps Chrome:
・ Refractor, numbered to 150
・ Military Refractor, numbered to 99 (new for 2012)
・ BCA (breast cancer awareness) Refractor, numbered to 75 (new for 2012)
・ Prism Refractor, numbered to 50 (new for 2012; Hobby only)
・ Black Refractor, numbered to 25
・ Gold Refractor, numbered to 10
・ Red Refractor, numbered to 5 (hobby-only)
・ Superfractor, numbered to 1 (hobby-only)
Single-player rookie autographs aren't the only features of Topps Chrome. Up to 40 rookies will also have autographs with jersey patches. In addition, there are dual and triple rookie autographs. Some of the autographs will have also photo variations.
Topps is reaching in to the vault pulling out old designs for many of the autographs and inserts.
Autos will be on designs from 1957, 1965 and 1984 Topps.
The 1984 design insert (35 subjects) will fall on average of one in every six packs. There will be three types of Refractors (regular, Gold, Prism). Also 15 subjects will be featured with on-card autographs, which are numbered to 15.
The '57 and '65 inserts fall at an average of one in every 12 packs. The '57 design will feature 30 rookies and have a regular Refractor. But the autograph version of the '57 cards are hobby-exclusives.
The '65 design will also have 30 rookies and have Refractor, Red Refractor, Prism Refractor and autographed versions.
Topps isn't done there. What else is coming to 2012 Topps Chrome?
Die cuts.
Red Zone Rookie Die Cut cards to be specific. There will be 35 subjects on these cards (1:24) and come in several Refractor types as well: blue (/50), Gold (/25), Superfractor (1/1; Hobby only) and Refractor autographs (1/1), which are hobby-exclusive.
Susan Lulgjuraj is a contributing editor for Beckett Media. You can email Susan here. Follow her on Twitter here.