First look: 2012 Topps Chrome baseball cards
If Bowman is the home of the Rookie Card, then Topps Chrome might be the home of the diecut card. Topps unveiled the basic product information and preview images for 2012 Topps Chrome on Wednesday, and there is not one but two new diecut insert sets to chase with autographed versions in tow, too.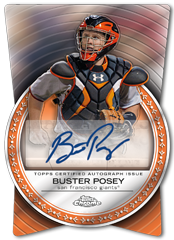 Oh, and there will be two autographed cards per box as well as Refractor Hot Boxes to be chase, too — one in every three cases — when it arrives on Aug. 22.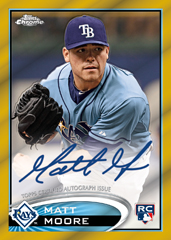 The base set will consist of 220 base cards each with autographed patch variations limited to just 10 copies as well as redemption cards good for uncut sheets. Each card will be found with Refractors and Xfractors as well as Blue, Black, Sepia, Gold, Red and Atomic Refractors, too. Hobby-only 1/1s include Superfractors and printing plates as well.
On the autographed side, the constant in Chrome is the autograph and this year's autographed Rookie Cards will showcase at least 25 players, each signing directly on the card. Rays rookie Matt Moore and a Seattle Mariners Jesus Montero are the headliners here with the same lineup of Refractors available. The standard Refractors will be limited to 499, while the Atomics will be limited to 10.
But diecuts are not all that's new with Chrome this year.
A new inclusion here is the Cut From the Same Cloth Autographs set — a double-sided, double-autographed card limited to just five copies apiece. One pairing, for example, will have Buster Posey and Joe Mauer, while another will have Dustin Pedroia and Robinson Cano.
Also new — and also diecut — are the Dynamic Diecuts cards. There will be 50 stars showcased here in this ornate, one-per-box find. Autographed versions of these cards will be limited to 25 or fewer copies.
Also new are dual autos and autographed Chrome buybacks — each limited to just 10 copies. The Buybacks will feature Rookie Cards of players who never had a signed Topps Chrome RC — notables there will include Jose Bautista, Joe Mauer, Robinson Cano, Miguel Cabrera and Prince Fielder among others. The last new inclusion for ink are the Chrome Encounters autos, which are hobby-only and all limited to just 10 copies or less.
Some of the other autographed rookies tentatively lined up for this one include Brett Lawrie, Brad Peacock and Drew Pomeranz, while players on other autograph cards will include Albert Pujols, Lawrie, Michael Pineda, Matt Kemp, Jay Bruce, Mike Trout, Robinson Cano, Jose Bautista, Fielder, Justin Verlander, Ryan Braun, Eric Hosmer, Clayton Kershaw, Paul Goldschmidt and Ubaldo Jimenez to name a few.