First look: 2012 Topps baseball (updated)
By Chris Olds | Beckett Baseball Editor
Topps unveiled the design for its 2012 flagship baseball card set on Thursday — the first look at what the company promised would be a "game-changer" of a year for the company's products.
It looks like it will first attempt that with gold.
New this year is the Golden Giveaway, a successor to the Diamond Giveaway, which will allow collectors to unlock, you guessed it, cards with gold embedded into them. Code cards call one every six packs and will have a chance to unlock Golden Moments die-cut cards, Chrome parallels of those cards and virtual coins that can add up to win prizes. Also to be found are autographed gold coin cards, which will be limited to just five copies apiece along with 1/1 gold-embedded Golden Moments die-cut Chromes.
Series 1 will include one autograph or Relic in every 36-pack hobby box when it arrives on Feb. 1, while each HTA Jumbo box will include autograph and two Relics in each.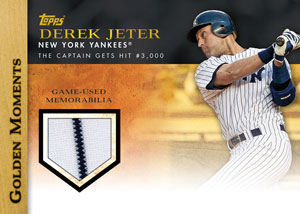 There will be a series of Golden Relics as well, with Golden Greats coin cards limited to the jersey numbers of 15 legends, Retired Rings cards, World Series Champion pin cards, 1/1 Solid Golden Greats (printed on real gold) and Golden Moments 24k Gold Leaf cards.
The insert card lineup will include 1987 Topps Minis, Golden Moments, Golden Greats, Gold Standard, Gold Futures and Generations cards. These are all found at 1:8 packs or less.
The autograph lineup will include 1/1 Golden Moments Cut Signatures, Golden Moments autographs, Golden Greats autographs, Epic Walk-offs, Gold Standard, Gold Futures, Generations Duals and World Champions cards. These will all be limited to 50 copies or less save for the Golden Moments, whose quantities were not disclosed.
The Relics will include the sets mentioned above along with In the Name Relics — cards made from this year's All-Star Game workout jerseys and a 1967 Mickey Mantle reprint Relic.
Finally, there will be autographed Relic cards — all limited to 10 or fewer copies for the sets mentioned here except for the World Champions cards, which will be numbered to 50 — along with 1/1 sketch cards also to be found.
The base set will consist of 330 cards, comprised of 265 veterans, 30 rookies, 10 league leaders, four award-winners, five record-breakers, four World Series highlight cards and 10 career statistical leaders.
Also new are 1/1 Wood parallels, while the 2011 Diamond parallels return this time as Gold parallels while Platinum 1/1s also will be found. Other parallels will include Blacks, printing plates and a partial parallel of the set on silk.
Chris Olds is the editor of Beckett Baseball magazine. Have a comment, question or idea? Send an email to him at colds@beckett.com. Follow him on Twitter by clicking here.
Check out the images below and tell us what you think in a comment below or take the poll.
Loading ...
(Click on the images for an unobstructed look.)