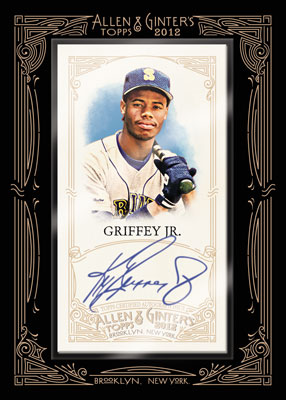 By Chris Olds | Beckett Baseball Editor
Mark your calendars, collectors — you know now precisely when you can get your Ginter on.
Topps released the basic set information and a full selection of preview images for the seventh installment of its most popular baseball card lines on Friday as it teased 2012 Allen & Ginter.

The tobacco card-styled set arrives on July 11 with eccentric autograph inclusions and always-anticipated mini cards that have been a prime drawing card in the product since its Topps revival in 2006.
Each 24-pack box will include three hits — a mix of autographs, Relics cuts, buybacks and Rip Cards. Oh and among this year's notable signers? Arnold Palmer, Roger Federer, Bob Knight and Ken Griffey Jr. — but there are plenty more where that came from. (Keep reading.)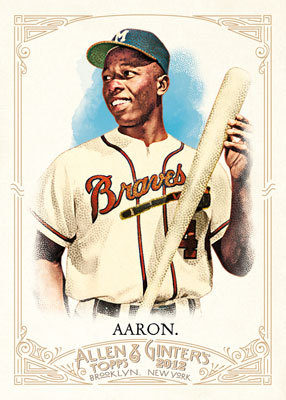 Each pack will include seven standard cards and one mini parallel or insert as has been tradition with the set, while a Ginter Code promo card will be included as an extra card in every sixth pack — so, yes, Codebusters, the challenge is back. The base set will include 350 cards — MLB vets and rookies along with a selection of "world's champions" and public figures as has also been the norm. The final 50 cards will be short-printed and found in every other pack. Some of the notables on that part of the checklist include Ryan Howard, Cal Ripken Jr., Bob Gibson, Prince Fielder and Nolan Ryan.
The mini parallel lineup is unchanged — standard minis, Allen & Ginter backs, black-bordered, no-numbers, Woods, printing plates and cloth cards return. New this year is an Allen & Ginter Baseball Back, which is numbered to 25 and takes the place of the Bazooka backs.  Quantities remain the same as well with the no-numbers limited to 50, Woods and plates 1/1s and cloth limited to 10.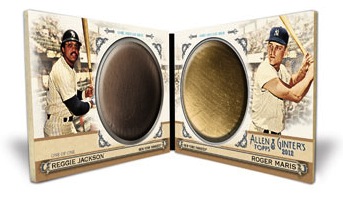 Relics
The always popular framed Relics return with more than 50 MLB players from the past and present to get, well, framed, while there also will be 10 DNA Relics from historical figures. Those will be 1/1s.
New will be Lepidoptery Cards — a card that has a pressed butterfly inside a shadowbox card (a redemption). They will only be found in hobby packs. The same goes for Allen & Ginter Book Cards (25 cards) that will pair players, autographs and Relics in booklet form. Lastly, the framed original buybacks will be inside packs, too. All 100 of those will be 1/1s.
For the hobby box-toppers, there will be N43s as usual — also with autographs, Relics and historic artifacts — along with  Cabinet cards focusing on baseball players' highlights (Derek Jeter's 3,000th hit off David Price among them). Other cabinet sets include Rollercoasters (five notable rides), Cabinet Relics (10 MLB players) and 30 Currency of the World Relics, which will include coins from around the world embedded into the cards.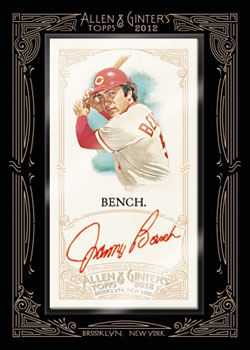 Autographs
On the autograph side, more than 30 MLB players will be signing along with others who make the cut in the Ginter base set. The Cut Signatures set will consist of 20 1/1s — one Topps touted being mathematician John Nash.
Time for some notable autographs. Among the signers on the deep preliminary baseball checklist are Albert Pujols, Sandy Koufax, Willie Mays, Hank Aaron, Cal Ripken Jr., Stan Musial, Reggie Jackson, Frank Robinson, Tony Gwynn, Don Mattingly, Prince Feidler, Al Kaline, Mike Trout and Michael Pineda — a list mixed with Hall of Famers, veterans and younger stars.
Among the world's champions signers? Olympian Michael Phelps, Notre Dame legend Ara Parseghian, Curly Neal and Meadowlark Lemon of Harlem Globetrotters fame, Erin Andrews of ESPN, billiards star Ewa Mataya, broadcaster Greg Gumbel, golf star Colin Montgomerie, 2011 Sports Illustrated Swimsuit Issue Rookie of the Year Kate Upton, ESPN's Kirk Herbstreit, women's basketball star Swin Cash and boxing voice Michael Buffer to name a few. They, too, will have Relics.
Some of the MLB names on the Relic checklist include Ty Cobb, Joe DiMaggio, Lou Gehrig, Mickey Mantle, Roger Maris, Jackie Robinson, Ichiro Suzuki, Pujols, Aaron, Griffey, Koufax, Mays and more.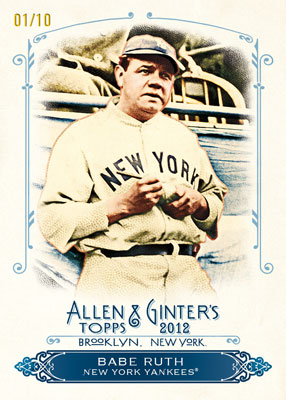 Inserts
Rip Cards will fall one per case once again with 30 1/1 Originals paintings found inside along with Red autographs (/10), 50 mini exclusives, 1/1 Wood minis and a new inclusion — Rip Card Reserves, which are redemptions for full pieces of signed memorabilia. Among the players on mini exclusives are Jeter, Roy Halladay, Griffey, Ryan, Koufax, Justin Verlander, Stephen Strasburg, Alex Rodriguez, Ichiro, Pujols and Mays to name a few.
Among the regular-size insert cards will be What's in a Name? — a 100-card set focusing on MLB players — 20 Historical Turning Points (memorable moments, speeches and battles) and 15 You've Gotta Be Kidding Me! cards that will note unbelievable stories from the past. Also to be found is a 10-card set of World's Tallest Buildings, 25 Baseball Highlights Sketches and a one-per-case Colony in a Card — cards that include living organisms inside if you dare to tear and add water … think Sea Monkeys.
Over on the mini insert side, there are six inserts to be found — 15 People of the Bible (yep, David, Goliath, etc.), Man's Best Friend (20 dog breeds), 20 of the World's Greatest Military Leaders (think Julius Caesar, Napoleon, etc.), Giants of the Deep (15 whale breeds), 16 Musical Masters (Bach, Mozart, Beethoven, etc.) and 10 Culinary Curiosities (unusual delicacies).
Now that you know more about Ginter, let us know with the polls below — and in the comments.
Chris Olds is the editor of Beckett Baseball magazine. Have a comment, question or idea? Send an email to him at colds@beckett.com. Follow him on Twitter by clicking here.
—
—
—
Click on the images (twice) for a full-size, unobstructed view. (New, larger images have been attached since original posting.)
Chris Olds is the editor of Beckett Baseball magazine. Have a comment, question or idea? Send an email to him at colds@beckett.com. Follow him on Twitter by clicking here.