First look: 2012 Prime Signatures football cards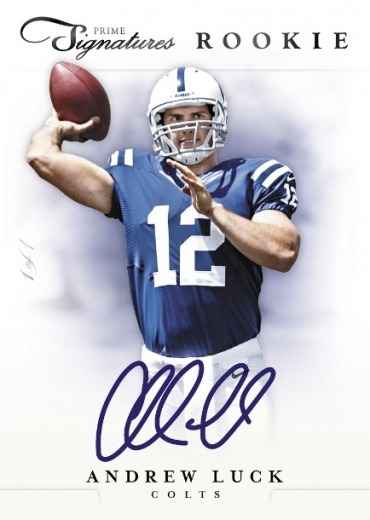 By Susan Lulgjuraj | Contributing Editor
The sophomore campaign of Prime Signatures Football is getting a few upgrades from Panini America.
The configuration will remain the same with one autograph in every four-card pack, and just one pack per box.
Panini has added new elements to 2012 Prime Signatures, including rare jumbo prime materials rookie-signed inserts and Pen Pals, a multi-autograph insert set.
Many of these new pieces will feature the most-hyped rookies of the coming season: Andrew Luck, Robert Griffin III and Justin Blackmon.
The Rookie Card autographs will be numbered to 199 or less.
One of the highlights seems to be Greatest Combo Signatures. These are dual autographs of some of the NFL's greatest players numbered to 10 or less. While these cards will be a tough pull, think about getting Bo Jackson and Tim Brown on the same card (as pictured).
Here's a look at some of the other inclusions in Prime Signatures:
・ Rookie Prime Materials – On-card autographs and swatches of event-worn jerseys numbered to 99 or less. There are also 1/1 printing plate parallels of these cards.
・ Rookie Extreme Prime Materials Jumbo – On-card autos of with a jumbo swatch of an event-worn jersey, numbered to 99 or less. There are event-worn NFL Shield versions that are 1/1.
・ Combo Rookie Signatures – Dual signed cards with some of the top 2012 rookies numbered to 25 or less. Triple Rookie Signatures will also be numbered to 25 or less.
The Pen Pals insert was shown off during the NFLPA Rookie Premiere. Some of the 35 rookies there signed different versions of these cards that will feature two, three, four, six or eight signatures. There are 18 different cards in the Pen Pals insert set.
Prime Signatures is scheduled to come out in October, which is different than last year's release, which only came out in early Spring. The product was developed as a re-imagined upgrade of the 2002 Playoff Prime Signatures.
While there is not more information available for this year's set, last year's Prime Signatures included a 261-base set and 86 rookies (Need a 2011 Prime Signatures OPG or checklist? Click here).
We'll update information on 2012 Prime Signatures as it becomes available.
Susan Lulgjuraj is a contributing editor for Beckett Media. You can email Susan here. Follow her on Twitter here.