2012 Leaf Legends of Sport Details
Bringing together an iconic group of athletes to sign for a product is an ambitious task, but one Leaf has taken on again. In 2012 Legends of Sport, Leaf has assembled popular athletes and pop culture figures to fill out the set, including international baseball stars, Olympic athletes and even a former Vice Presidential hopeful.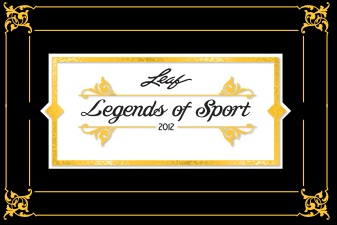 The set includes more than 150 subjects.
Each box contains three autograph cards.
The base set of autographs includes names such as soccer star Hope Solo, baseball's Ichiro Suzuki and football's Robert Griffin III. There is even a Sarah Palin autograph thrown in the mix.
There is a large focus on Olympic athletes. However, maybe none greater than a booklet card featuring 16 autographs from members of the 1980 men's hockey Olympic goal medal team – the men who brought the country the "Miracle on Ice." Autographs on the booklet include Mike Eruzione and Jim Craig.
The autograph subsets include nickname cards, cards numbered to a player's respective jersey number, Award Winner Autographs and We are the Champions Autographs.
In addition, there are Signature Swatches Autographs featuring gear used by the athlete.
Here's a sample of the names included in this product:
Boxing
– Mike Tyson
– Roy Jones Jr.
Basketball
– Damian Lillard
– Bill Russell
– Scottie Pippen
– Karl Malone
Baseball
– Ichiro
– Albert Pujols
– Greg Maddux
– Cal Ripken Jr.
Football
– Doug Martin
– Robert Griffin III
– Deion Sanders
Olympics
– Lolo Jones
– Hope Solo
– Nancy Kerrigan