First Look: 2012 Certified Football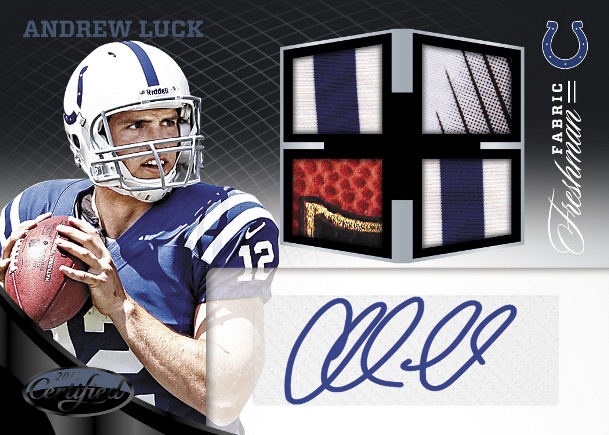 By Andrew Tolentino | Football Editor
As hype and hullabaloo continues to swell over today's 2012 Prestige release, Panini made sure to add another anticipation maker to the hobby hot list.
As the manufacturer noted, "2012 Certified Football doesn't arrive for another 11 weeks or so," but there's never any harm in having a look behind the curtain.  Shall we?
The September-dropping (Sept. 12, that is) football brand will arrive with plenty of pieces from the 350-card base set and hits from the following per-box formula:
Four autograph or memorabilia cards
Three Mirror parallels
One Immortal card
One New Generation Rookie Card
One additional insert or parallel
Said 350-card base set is comprised of:
150 current stars
50 Immortals
50 Immortals Materials
65 New Generation Rookie Cards
35 Freshman Fabric (autograph memorabilia cards numbered to 499 or less)
Usual suspects from the brand like Certified Skills and Fabric of the Game will be part of the mix, but Panini isn't playing any games when it comes to reviving and innovating with this line. Essential Signatures, for instance, is a new autographed insert addition that includes signatures (obviously) from 15 top newcomers and "jaw-dropping Rookie Combo NFL Shields. Mirror Material Gold, Emerald and Black cards will come numbered to 25 or less, primed with either prime materials or autographs. Fabric of the Game cards have been refined with die-cuts, oversized game-worn memorabilia and autograph versions — all with varying levels of rarity.
Reflecting on its past, the card maker also revealed something special about a certain No. 7. "For the first time since 1999 Rookies & Stars, the John Elway Collection returns to honor some of the greatest achievements by one of the greatest quarterbacks of all time." This special set will include large game-worn memorabilia swatches and autographed variations numbered to 10 or less.
All this being said, 2012 Certified doesn't hit shelves until September, so there's plenty more to come in the coming months. In the meanwhile, enjoy the preview gallery and let us know how those brand-spankin' new Prestige packs are treating you.