First Look: 2012 Bowman Platinum baseball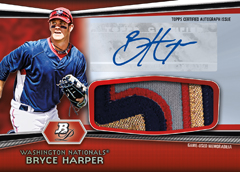 By Chris Olds | Beckett Baseball Editor
The third time's the charm — at least in some boxes — for Bowman Platinum.
Topps unveiled the basic product information and preview images for 2012 Bowman Platinum on Thursday, and new this year — the third for the brand — will be redemption cards good for full game-used items from the Arizona Fall League.
As in memorabilia pieces, game-used caps, game-used baseballs, bases and more. In all, there are 53 redemption cards to be found for items — including at least one for Bryce Harper.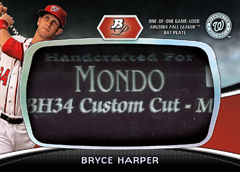 Set to arrive on July 25, Platinum will include two Refractor autographs and one autographed Refractor Relic card in every box. As many as 35 prospects will be signing for the product, each with 1/1 printing plates and SuperFractors, while there will also be Atomic Refractors numbered to five and Red, Gold, Blue and Green Refractors numbered to 399 or less. Two of the most notable names here? Anthony Rendon and Gerrit Cole.
Over on the signed Relics side, the same parallels will exist — but the most-plentiful cards will be limited to just 199 copies. Notables here? Harper and Mike Trout for starters.
For non-prospect sigs, there will be 35 Purely Platinum autos — 1/1s signed in gold ink only found in hobby packs — 10 dual auto cards limited to 50, 10 triple autos limited to 10. Want something even bigger? Try a Hexagraph book card — six autos in tow — or one of 35 Jumbo Patch Relics. The first Hexagraph teased this year? A card with Trevor Bauer, Danny Hultzen, Gerrit Cole, Felix Hernandez, Justin Verlander and Clayton Kershaw sigs — that's a lot of firepower from the mound.
Continuing something that will debut with 2012 Bowman will be the Bowman Black program — there will be 25 players signing cards to be found here, each limited to 25 copies.  The biggest chase? A 1/1 Harper game-used bat nameplate card from one of his Arizona Fall League gamers.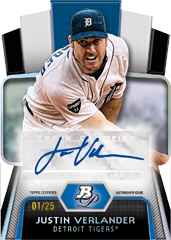 On the insert card side, there will be a line of Cutting Edge Stars — diecut cards that have autograph and Relic versions to be found as well — for MLB veterans as well as some prospects.
The base set will consist of 100 MLB veterans and rookies, while there also will be a 100-card prospect set printed on Chrome stock to chase.  These cards will be found with parallels — X-Fractors, Greens, Blues, Golds, Reds, Atomic and Supers  for the prospects — and parallels for the standard set comprised of Gold, Emerabls and Ruby cards as was done last year.
Some of the notable signers for this one? Bubba Starling, Dylan Bundy, Justin Verlander, Matt Moore, Brett Lawrie, Michael Pineda, Robinson Cano, Jesus Montero, Albert Pujols, Prince Fielder, Eric Hosmer, Paul Goldschmidt, Felix Hernandez and Ryan Zimmerman to name a few.
Chris Olds is the editor of Beckett Baseball magazine. Have a comment, question or idea? Send an email to him at colds@beckett.com. Follow him on Twitter by clicking here.