First look: 2012-13 Upper Deck The Cup Hockey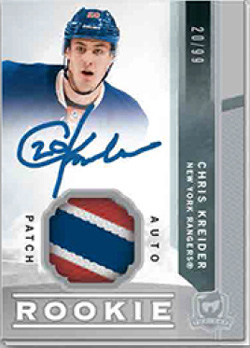 By Susan Lulgjuraj | Beckett Hockey Editor
The Cup is coming after all.
The hockey season couldn't end for Upper Deck without one of its signature products – 2012-13 The Cup will be released featuring Rookie Cards of Chris Kreider, Sven Baertschi and Torey Krug.
Each tin will come with two autographed patch cards with one of them being a Rookie Card. There will be five Cup cards in every tin.
The different types of hits in The Cup are exactly what collectors have expected from Upper Deck. They could find Autographed Laundry Tags, Limited Logos, Property Of memorabilia cards, Program of Excellence cards and much more.
UD is adding a new subset called Brilliance that will feature autographs from stars over logos. In addition, there are Autographed Monumental Patch cards with jumbo-sized unique patches with an autograph cutout.
One of the top cards out of The Cup ever year are the shield cards. This time collectors will find them in booklet versions of up to three players.
Upper Deck will include a two-card bonus pack of Ultimate in every tin. There will be an autograph or memorabilia card in every bonus pack. Collectors can find hits from Ultimate Collection Auto Rookies, Ultimate Signatures, 1997 Legend Autos, Ultimate Rookie Patches, Ultimate Auto Rookie Shield Variation and more.
The Cup is scheduled to come out Oct. 22.
Susan Lulgjuraj is an editor at Beckett Media. You can email her here with questions, comments or ideas. Follow her on Twitter here. Follow Beckett Media on Facebook and Twitter.