First look: 2012-13 SP Authentic hockey cards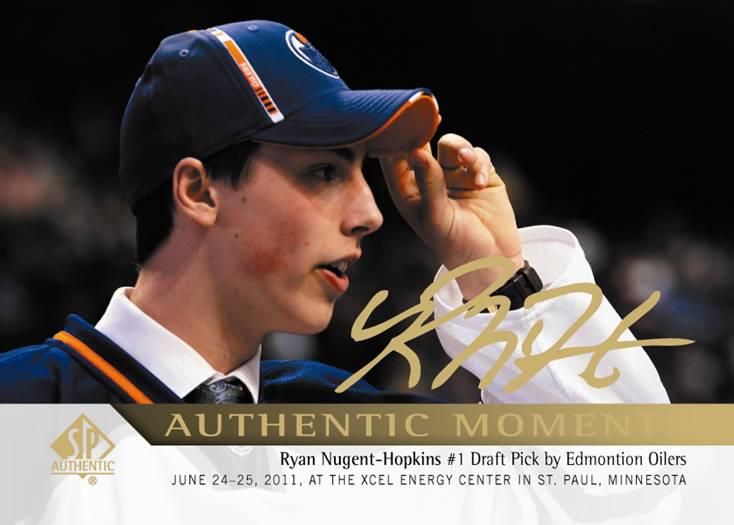 By Susan Lulgjuraj | Beckett Hockey Editor
Collectors will get more than just the title cards in SP Authentic hockey this season.
When Upper Deck canceled a number of its hockey products earlier this year, the company didn't want to do away with many of the cards it already worked on. It decided to insert the items from SPx and Upper Deck Series 2 as content in 2012-13 SP Authentic.
SPA is scheduled to come in June with three autographs in every box, on average.
The autos can come from a number of subsets such as Future Watch, Signs of the Times, Team Canada Moments and more.
If looking for cards from the now-canceled products, collectors can find SPx bonus packs, which could include Rookie Cards and hits from many of the top players this season. UD is also adding Upper Deck Update, which would have normally been found in Series 2. These cards will feature traded players, free agents and stars who didn't get in Series 1.
It seems as though UD is attempting to make SPA timeless considering the unusual circumstances. One insert that showcases this idea is the Authentic Moment Autographs. These cards will feature moments throughout a player's career with autograph versions signed in a gold paint pen.
Other highlights include:
– Team Canada Moments – includes multi-player and autographed variations
– 94-95 SP Retro with die-cut autograph versions
– UD Exclusives
– MVP Rookie updates
Each box will contain 24 packs with five cards in each pack.
Susan Lulgjuraj is an editor of Beckett Hockey. You can email her here with questions, comments or ideas. Follow her on Twitter here. Follow Beckett Media on Facebook.
---
SP Authentic Checklist
1 Carey Price Montreal Canadiens
SP Authentic 2 Claude Giroux Philadelphia Flyers
SP Authentic 3 Bobby Ryan Anaheim Ducks
SP Authentic 4 Jaroslav Halak St. Louis Blues
SP Authentic 5 Jamie Benn Dallas Stars
SP Authentic 6 James Neal Pittsburgh Penguins
SP Authentic 7 Jordan Eberle Edmonton Oilers
SP Authentic 8 Braden Holtby Washington Capitals
SP Authentic 9 Adam Henrique New Jersey Devils
SP Authentic 10 Simon Gagne Los Angeles Kings
SP Authentic 11 Brad Marchand Boston Bruins
SP Authentic 12 Gabriel Landeskog Colorado Avalanche
SP Authentic 13 Sean Couturier Philadelphia Flyers
SP Authentic 14 Ryan Kesler Vancouver Canucks
SP Authentic 15 Taylor Hall Edmonton Oilers
SP Authentic 16 Pekka Rinne Nashville Predators
SP Authentic 17 Milan Hejduk Colorado Avalanche
SP Authentic 18 Ales Hemsky Edmonton Oilers
SP Authentic 19 Derek Roy Dallas Stars
SP Authentic 20 P.K. Subban Montreal Canadiens
SP Authentic 21 Ryan Nugent-Hopkins Edmonton Oilers
SP Authentic 22 Anze Kopitar Los Angeles Kings
SP Authentic 23 Patrice Bergeron Boston Bruins
SP Authentic 24 Ed Belfour Florida Panthers
SP Authentic 25 Dino Ciccarelli Detroit Red Wings
SP Authentic 26 Drew Doughty Los Angeles Kings
SP Authentic 27 Brett Hull Detroit Red Wings
SP Authentic 28 Alexander Ovechkin Washington Capitals
SP Authentic 29 Henrik Lundqvist New York Rangers
SP Authentic 30 Evgeni Malkin Pittsburgh Penguins
SP Authentic 31 Pavel Datsyuk Detroit Red Wings
SP Authentic 32 Curtis Joseph St. Louis Blues
SP Authentic 33 Jordan Staal Carolina Hurricanes
SP Authentic 34 Ryan Getzlaf Anaheim Ducks
SP Authentic 35 Ray Bourque Boston Bruins
SP Authentic 36 Mats Sundin Toronto Maple Leafs
SP Authentic 37 Eric Lindros New York Rangers
SP Authentic 38 Mark Messier New York Rangers
SP Authentic 39 Martin Brodeur New Jersey Devils
SP Authentic 40 Jaromir Jagr Dallas Stars
SP Authentic 41 Joe Sakic Colorado Avalanche
SP Authentic 42 Mario Lemieux Pittsburgh Penguins
SP Authentic 43 Bryan Trottier New York Islanders
SP Authentic 44 Wayne Gretzky Edmonton Oilers
SP Authentic 45 Brendan Shanahan St. Louis Blues
SP Authentic 46 Henrik Zetterberg Detroit Red Wings
SP Authentic 47 Zdeno Chara Boston Bruins
SP Authentic 48 Jason Spezza Ottawa Senators
SP Authentic 49 Ilya Kovalchuk New Jersey Devils
SP Authentic 50 Zach Parise Minnesota Wild
SP Authentic 51 Bobby Orr Boston Bruins
SP Authentic 52 Andrew Shaw Chicago Blackhawks
SP Authentic 53 Devin Setoguchi Minnesota Wild
SP Authentic 54 Cam Ward Carolina Hurricanes
SP Authentic 55 Bobby Hull Chicago Blackhawks
SP Authentic 56 Lars Eller Montreal Canadiens
SP Authentic 57 Mark Scheifele Winnipeg Jets
SP Authentic 58 Jean Beliveau Montreal Canadiens
SP Authentic 59 Carl Hagelin New York Rangers
SP Authentic 60 Bernie Parent Philadelphia Flyers
SP Authentic 61 Zack Kassian Vancouver Canucks
SP Authentic 62 Saku Koivu Anaheim Ducks
SP Authentic 63 Tony Esposito Chicago Blackhawks
SP Authentic 64 Ron Hextall Philadelphia Flyers
SP Authentic 65 Patrick Roy Montreal Canadiens
SP Authentic 66 Wendel Clark Toronto Maple Leafs
SP Authentic 67 Tyler Seguin Boston Bruins
SP Authentic 68 Steve Mason Columbus Blue Jackets
SP Authentic 69 Nicklas Backstrom Washington Capitals
SP Authentic 70 Matt Read Philadelphia Flyers
SP Authentic 71 Oliver Ekman-Larsson Phoenix Coyotes
SP Authentic 72 Guy Lafleur Montreal Canadiens
SP Authentic 73 Erik Karlsson Ottawa Senators
SP Authentic 74 Clark Gillies New York Islanders
SP Authentic 75 Brayden Schenn Philadelphia Flyers
SP Authentic 76 Dustin Byfuglien Winnipeg Jets
SP Authentic 77 Gilbert Perreault Buffalo Sabres
SP Authentic 78 Cam Fowler Anaheim Ducks
SP Authentic 79 Alex Pietrangelo St. Louis Blues
SP Authentic 80 Bill Ranford Edmonton Oilers
SP Authentic 81 Marc Staal New York Rangers
SP Authentic 82 Logan Couture San Jose Sharks
SP Authentic 83 Joe Thornton San Jose Sharks
SP Authentic 84 Jonas Hiller Anaheim Ducks
SP Authentic 85 Evander Kane Winnipeg Jets
SP Authentic 86 Brad Park New York Rangers
SP Authentic 87 Brandon Dubinsky Columbus Blue Jackets
SP Authentic 88 Doug Gilmour Calgary Flames
SP Authentic 89 David Backes St. Louis Blues
SP Authentic 90 Alexander Burmistrov Winnipeg Jets
SP Authentic 91 Andrew Ladd Winnipeg Jets
SP Authentic 92 Derek Stepan New York Rangers
SP Authentic 93 Dany Heatley Minnesota Wild
SP Authentic 94 Antti Niemi San Jose Sharks
SP Authentic 95 Marian Hossa Chicago Blackhawks
SP Authentic 96 Steven Stamkos Tampa Bay Lightning
SP Authentic 97 Shane Doan Phoenix Coyotes
SP Authentic 98 Patric Hornqvist Nashville Predators
SP Authentic 99 Magnus Paajarvi Edmonton Oilers
SP Authentic 100 Dion Phaneuf Toronto Maple Leafs
SP Authentic 101 Stephen Weiss Florida Panthers
SP Authentic 102 Luc Robitaille Los Angeles Kings
SP Authentic 103 Trevor Linden Vancouver Canucks
SP Authentic 104 Marc-Andre Fleury Pittsburgh Penguins
SP Authentic 105 Kris Versteeg Florida Panthers
SP Authentic 106 Paul Stastny Colorado Avalanche
SP Authentic 107 Josh Gorges Montreal Canadiens
SP Authentic 108 Nick Foligno Columbus Blue Jackets
SP Authentic 109 Nikolai Kulemin Toronto Maple Leafs
SP Authentic 110 Jean-Sebastien Giguere Colorado Avalanche
SP Authentic 111 Tuukka Rask Boston Bruins
SP Authentic 112 Mike Ribeiro Washington Capitals
SP Authentic 113 John Tavares New York Islanders
SP Authentic 114 Marcel Dionne Los Angeles Kings
SP Authentic 115 Mike Bossy New York Islanders
SP Authentic 116 Kevin Shattenkirk St. Louis Blues
SP Authentic 117 Marian Gaborik New York Rangers
SP Authentic 118 Patrick Marleau San Jose Sharks
SP Authentic 119 Dale Hawerchuk Winnipeg Jets
SP Authentic 120 Scott Niedermayer New Jersey Devils
SP Authentic 121 Jonathan Toews Chicago Blackhawks
SP Authentic 122 Dominik Hasek Buffalo Sabres
SP Authentic 123 Nicklas Lidstrom Detroit Red Wings
SP Authentic 124 Louis Leblanc Montreal Canadiens
SP Authentic 125 Martin St. Louis Tampa Bay Lightning
SP Authentic 126 Jeff Carter Los Angeles Kings
SP Authentic 127 Cody Hodgson Buffalo Sabres
SP Authentic 128 Peter Stastny Quebec Nordiques
SP Authentic 129 Patrick Kane Chicago Blackhawks
SP Authentic 130 Jonathan Quick Los Angeles Kings
SP Authentic 131 Rick Nash New York Rangers
SP Authentic 132 Eric Staal Carolina Hurricanes
SP Authentic 133 Ryan Miller Buffalo Sabres
SP Authentic 134 Tomas Vokoun Pittsburgh Penguins
SP Authentic 135 Mikkel Boedker Phoenix Coyotes
SP Authentic 136 Markus Naslund New York Rangers
SP Authentic 137 Matt Duchene Colorado Avalanche
SP Authentic 138 Jarome Iginla Calgary Flames
SP Authentic 139 Luke Adam Buffalo Sabres
SP Authentic 140 Dustin Brown Los Angeles Kings
SP Authentic 141 Mike Richards Los Angeles Kings
SP Authentic 142 Ryan Callahan New York Rangers
SP Authentic 143 James van Riemsdyk Toronto Maple Leafs
SP Authentic 144 Shea Weber Nashville Predators
SP Authentic 145 Phil Esposito Chicago Blackhawks
SP Authentic 146 Jeff Skinner Carolina Hurricanes
SP Authentic 147 Nathan Horton Boston Bruins
SP Authentic 148 Vincent Lecavalier Tampa Bay Lightning
SP Authentic 149 Phil Kessel Toronto Maple Leafs
SP Authentic 150 Sidney Crosby Pittsburgh Penguins
Authentic Moments 151 Zdeno Chara Boston Bruins 1:6
Authentic Moments 152 Bobby Orr Boston Bruins 1:6
Authentic Moments 153 Tyler Seguin Boston Bruins 1:6
Authentic Moments 154 Jeff Skinner Carolina Hurricanes 1:6
Authentic Moments 155 Jonathan Toews Chicago Blackhawks 1:6
Authentic Moments 156 Gabriel Landeskog Colorado Avalanche 1:6
Authentic Moments 157 Ryan Nugent-Hopkins Edmonton Oilers 1:6
Authentic Moments 158 Jordan Eberle Edmonton Oilers 1:6
Authentic Moments 159 Sam Gagner Edmonton Oilers 1:6
Authentic Moments 160 Taylor Hall Edmonton Oilers 1:6
Authentic Moments 161 Ron Francis Hartford Whalers 1:6
Authentic Moments 162 Wayne Gretzky Los Angeles Kings 1:6
Authentic Moments 163 Jonathan Quick Los Angeles Kings 1:6
Authentic Moments 164 Dustin Brown Los Angeles Kings 1:6
Authentic Moments 165 Drew Doughty Los Angeles Kings 1:6
Authentic Moments 166 Anze Kopitar Los Angeles Kings 1:6
Authentic Moments 167 Patrick Roy Montreal Canadiens 1:6
Authentic Moments 168 Pekka Rinne Nashville Predators 1:6
Authentic Moments 169 Martin Brodeur New Jersey Devils 1:6
Authentic Moments 170 Chris Kreider New York Rangers Rookie 1:6
Authentic Moments 171 Mats Sundin Toronto Maple Leafs 1:6
Authentic Moments 172 Pavel Bure Vancouver Canucks 1:6
Authentic Moments 173 Erik Karlsson Ottawa Senators 1:6
Authentic Moments 174 Sidney Crosby Pittsburgh Penguins 1:6
Authentic Moments 175 Evgeni Malkin Pittsburgh Penguins 1:6
Authentic Moments 176 James Neal Pittsburgh Penguins 1:6
Authentic Moments 177 Mario Lemieux Pittsburgh Penguins 1:6
Authentic Moments 178 Brett Hull St. Louis Blues 1:6
Authentic Moments 179 Cory Schneider Vancouver Canucks 1:6
Authentic Moments 180 Alexander Ovechkin Washington Capitals 1:6
Authentic Moments – Multi Player 181 Joe Sakic/Mats Sundin/Pavel Bure/Adam Oates Colorado/Toronto/Vancouver/St. Louis Avalanche/Maple Leafs/Canucks/Blues 1:18
Authentic Moments – Multi Player 182 Wayne Gretzky/Patrick Roy Los Angeles/Montreal Kings/Canadiens 1:18
Authentic Moments – Multi Player 183 Taylor Hall/Jordan Eberle Edmonton/Edmonton Oilers/Oilers 1:18
Authentic Moments – Multi Player 184 Mats Sundin/Joe Sakic Quebec/Quebec Nordiques/Nordiques 1:18
Authentic Moments – Multi Player 185 Bobby Orr/Phil Esposito Boston/Boston Bruins/Bruins 1:18
Authentic Moments – Multi Player 186 Mario Lemieux/Jaromir Jagr Pittsburgh/Pittsburgh Penguins/Penguins 1:18
Authentic Moments – Multi Player 187 Chris Kreider/Martin Brodeur New York/New Jersey Rangers/Devils Rookie 1:18
Authentic Moments – Multi Player 188 Brett Hull/Bobby Hull St. Louis/Chicago Blues/Blackhawks 1:18
Authentic Moments – Multi Player 189 Taylor Hall/Tyler Seguin Edmonton/Boston Oilers/Bruins 1:18
Authentic Moments – Multi Player 190 Jaroslav Halak/Alex Pietrangelo St. Louis/St. Louis Blues/Blues 1:18
Team Canada Moments 191 Theoren Fleury Team Canada 1:12
Team Canada Moments 192 Brayden Schenn Team Canada 1:12
Team Canada Moments 193 Carey Price Team Canada 1:12
Team Canada Moments 194 Sidney Crosby Team Canada 1:12
Team Canada Moments 195 Adam Henrique Team Canada 1:12
Team Canada Moments 196 Jordan Eberle Team Canada 1:12
Team Canada Moments 197 Jeff Skinner Team Canada 1:12
Team Canada Moments 198 John Tavares Team Canada 1:12
Team Canada Moments 199 Bobby Orr Team Canada 1:12
Team Canada Moments 200 Mario Lemieux Team Canada 1:12
Team Canada Moments 201 P.K. Subban Team Canada 1:12
Team Canada Moments 202 Martin Brodeur Team Canada 1:12
Team Canada Moments 203 Joe Sakic Team Canada 1:12
Team Canada Moments 204 Jonathan Toews Team Canada 1:12
Team Canada Moments 205 Wayne Gretzky Team Canada 1:12
Team Canada Moments – Multi Player 206 John Tavares/Jordan Eberle Team Canada/Team Canada 1:36
Team Canada Moments – Multi Player 207 P.K. Subban/Jordan Eberle Team Canada/Team Canada 1:36
Team Canada Moments – Multi Player 208 Wayne Gretzky/Mario Lemieux Team Canada/Team Canada 1:36
Team Canada Moments – Multi Player 209 Mario Lemieux/Joe Sakic Team Canada/Team Canada 1:36
Team Canada Moments – Multi Player 210 Cody Hodgson/Matt Duchene Team Canada/Team Canada 1:36
Autographed Future Watch 211 Maxime Sauve Boston Bruins Rookie Auto 999
Autographed Future Watch 212 Sven Baertschi Calgary Flames Rookie Auto 999
Autographed Future Watch 213 Akim Aliu Calgary Flames Rookie Auto 999
Autographed Future Watch 214 Brandon Bollig Chicago Blackhawks Rookie Auto 999
Autographed Future Watch 215 Tyson Barrie Colorado Avalanche Rookie Auto 999
Autographed Future Watch 216 Cody Goloubef Columbus Blue Jackets Rookie Auto 999
Autographed Future Watch 217 Reilly Smith Dallas Stars Rookie Auto 999
Autographed Future Watch 218 Brenden Dillon Dallas Stars Rookie Auto 999
Autographed Future Watch 219 Scott Glennie Dallas Stars Rookie Auto 999
Autographed Future Watch 220 Riley Sheahan Detroit Red Wings Rookie Auto 999
Autographed Future Watch 221 Jordan Nolan Los Angeles Kings Rookie Auto 999
Autographed Future Watch 222 Jason Zucker Minnesota Wild Rookie Auto 999
Autographed Future Watch 223 Tyler Cuma Minnesota Wild Rookie Auto 999
Autographed Future Watch 224 Gabriel Dumont Montreal Canadiens Rookie Auto 999
Autographed Future Watch 225 Chet Pickard Nashville Predators Rookie Auto 999
Autographed Future Watch 226 Casey Cizikas New York Islanders Rookie Auto 999
Autographed Future Watch 227 Chris Kreider New York Rangers Rookie Auto 999
Autographed Future Watch 228 Jakob Silfverberg Ottawa Senators Rookie Auto 999
Autographed Future Watch 229 Mark Stone Ottawa Senators Rookie Auto 999
Autographed Future Watch 230 Michael Stone Phoenix Coyotes Rookie Auto 999
Autographed Future Watch 231 Jake Allen St. Louis Blues Rookie Auto 999
Autographed Future Watch 232 Jaden Schwartz St. Louis Blues Rookie Auto 999
Autographed Future Watch 233 J.T. Brown Tampa Bay Lightning Rookie Auto 999
Autographed Future Watch 234 Carter Ashton Toronto Maple Leafs Rookie Auto 999
Autographed Future Watch 235 Jussi Rynnas Toronto Maple Leafs Rookie Auto 999