First look: 2012-13 Panini National Treasures (w/ checklist)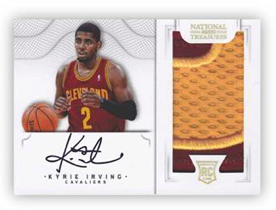 By Chris Olds | Beckett Basketball Editor
National Treasures is coming back — with a double rookie class — and it's coming on July 31.
Panini America released the basics on NT Thursday, and it includes a whopping 10 cards per wooden box and just one of those being a base card.
Yep, that's nine autographs, mem cards or press plates per box of this high-end brand.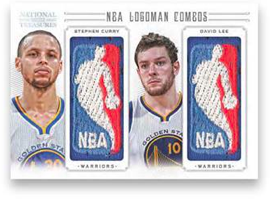 The basic set will include 100 base cards capped by 66 rookie patch autos and 34 rookie autographs.
Also among the inked offerings will be Springfield Bound Signatures for future Hall of Famers in today's game, Notable Nicknames with added inscriptions and Timeline Signatures, which combine autographs and mem with windows over the swatches.
Also back will be Colossal cards with jumbo pieces — as well as patches — along with dual Logoman cards that pair teammates and notable others together while showcasing the one-of-a-kind (per jersey) patch that many collectors covet.
Panini also noted that there will be laundry tag cards as well as triple and quadruple autographs in the Champions Signatures set.
Lastly, there will be 10 ABA Legends autos showcasing the greatest from the era of the red, white and blue ball.
Chris Olds is the editor of Beckett Basketball magazine. Have a comment, question or idea? Send an email to him at colds@beckett.com. Follow him on Twitter by clicking here.
---
Base 1 Kobe Bryant Los Angeles Lakers 99
Base 2 Marc Gasol Memphis Grizzlies 99
Base 3 Tony Parker San Antonio Spurs 99
Base 4 Joe Johnson Brooklyn Nets 99
Base 5 Josh Smith Atlanta Hawks 99
Base 6 Kevin Garnett Boston Celtics 99
Base 7 LaMarcus Aldridge Portland Trail Blazers 99
Base 8 Ray Allen Miami Heat 99
Base 9 Rajon Rondo Boston Celtics 99
Base 10 Raymond Felton New York Knicks 99
Base 11 Luol Deng Chicago Bulls 99
Base 12 Ben Gordon Charlotte Bobcats 99
Base 13 Joakim Noah Chicago Bulls 99
Base 14 LeBron James Miami Heat 99
Base 15 Anderson Varejao Cleveland Cavaliers 99
Base 16 Jason Kidd New York Knicks 99
Base 17 Dirk Nowitzki Dallas Mavericks 99
Base 18 Jason Terry Boston Celtics 99
Base 19 Carmelo Anthony New York Knicks 99
Base 20 Nen�?�ª Washington Wizards 99
Base 21 Tim Duncan San Antonio Spurs 99
Base 22 Monta Ellis Milwaukee Bucks 99
Base 23 Goran Dragic Phoenix Suns 99
Base 24 Kyle Lowry Toronto Raptors 99
Base 25 Jameer Nelson Orlando Magic 99
Base 26 Nikola Pekovic Minnesota Timberwolves 99
Base 27 Roy Hibbert Indiana Pacers 99
Base 28 Jarrett Jack Golden State Warriors 99
Base 29 Chris Kaman Dallas Mavericks 99
Base 30 Greivis Vasquez New Orleans Hornets 99
Base 31 Pau Gasol Los Angeles Lakers 99
Base 32 Mike Conley Memphis Grizzlies 99
Base 33 Rudy Gay Toronto Raptors 99
Base 34 Paul Pierce Boston Celtics 99
Base 35 Kevin Durant Oklahoma City Thunder 99
Base 36 Andrew Bogut Golden State Warriors 99
Base 37 Ramon Sessions Charlotte Bobcats 99
Base 38 Al Jefferson Utah Jazz 99
Base 39 Kevin Love Minnesota Timberwolves 99
Base 40 Ryan Anderson New Orleans Hornets 99
Base 41 Brook Lopez Brooklyn Nets 99
Base 42 Tyson Chandler New York Knicks 99
Base 43 Chris Paul Los Angeles Clippers 99
Base 44 Danilo Gallinari Denver Nuggets 99
Base 45 J.R. Smith New York Knicks 99
Base 46 David Lee Golden State Warriors 99
Base 47 Dwyane Wade Miami Heat 99
Base 48 Russell Westbrook Oklahoma City Thunder 99
Base 49 Marcin Gortat Phoenix Suns 99
Base 50 Dwight Howard Los Angeles Lakers 99
Base 51 Andre Iguodala Denver Nuggets 99
Base 52 Louis Williams Atlanta Hawks 99
Base 53 Grant Hill Los Angeles Clippers 99
Base 54 Steve Nash Los Angeles Lakers 99
Base 55 Jason Richardson Philadelphia 76ers 99
Base 56 Amar'e Stoudemire New York Knicks 99
Base 57 Mario Chalmers Miami Heat 99
Base 58 Nicolas Batum Portland Trail Blazers 99
Base 59 Zach Randolph Memphis Grizzlies 99
Base 60 Kevin Martin Oklahoma City Thunder 99
Base 61 Rodney Stuckey Detroit Pistons 99
Base 62 Manu Ginobili San Antonio Spurs 99
Base 63 Derrick Rose Chicago Bulls 99
Base 64 Andrea Bargnani Toronto Raptors 99
Base 65 Chris Bosh Miami Heat 99
Base 66 Jose Calderon Detroit Pistons 99
Base 67 Kris Humphries Brooklyn Nets 99
Base 68 Shawn Marion Dallas Mavericks 99
Base 69 Carlos Boozer Chicago Bulls 99
Base 70 Paul Millsap Utah Jazz 99
Base 71 Deron Williams Brooklyn Nets 99
Base 72 Caron Butler Los Angeles Clippers 99
Base 73 Antawn Jamison Los Angeles Lakers 99
Base 74 JaVale McGee Denver Nuggets 99
Base 75 Nick Young Philadelphia 76ers 99
Base 76 Blake Griffin Los Angeles Clippers 99
Base 77 Ricky Rubio Minnesota Timberwolves 99
Base 78 Jrue Holiday Philadelphia 76ers 99
Base 79 Ty Lawson Denver Nuggets 99
Base 80 Jeff Teague Atlanta Hawks 99
Base 81 Darren Collison Dallas Mavericks 99
Base 82 James Harden Houston Rockets 99
Base 83 Tyreke Evans Sacramento Kings 99
Base 84 Jeremy Lin Houston Rockets 99
Base 85 Stephen Curry Golden State Warriors 99
Base 86 DeMar DeRozan Toronto Raptors 99
Base 87 Brandon Jennings Milwaukee Bucks 99
Base 88 Gerald Henderson Charlotte Bobcats 99
Base 89 Serge Ibaka Oklahoma City Thunder 99
Base 90 Wesley Matthews Portland Trail Blazers 99
Base 91 John Wall Washington Wizards 99
Base 92 Evan Turner Philadelphia 76ers 99
Base 93 DeMarcus Cousins Sacramento Kings 99
Base 94 Greg Monroe Detroit Pistons 99
Base 95 Gordon Hayward Utah Jazz 99
Base 96 Paul George Indiana Pacers 99
Base 97 Jordan Crawford Boston Celtics 99
Base 98 Marcus Thornton Sacramento Kings 99
Base 99 Danny Granger Indiana Pacers 99
Base 100 Damian Lillard Portland Trail Blazers 99
Group I Rookies 2011 Rookies 101 Kyrie Irving Cleveland Cavaliers 199
Group I Rookies 2011 Rookies 102 Derrick Williams Minnesota Timberwolves 199
Group I Rookies 2011 Rookies 103 Enes Kanter Utah Jazz 99
Group I Rookies 2011 Rookies 104 Tristan Thompson Cleveland Cavaliers 199
Group I Rookies 2011 Rookies 105 Jan Vesely Washington Wizards 99
Group I Rookies 2011 Rookies 106 Bismack Biyombo Charlotte Bobcats 199
Group I Rookies 2011 Rookies 107 Brandon Knight Detroit Pistons 199
Group I Rookies 2011 Rookies 108 Kemba Walker Charlotte Bobcats 199
Group I Rookies 2011 Rookies 109 Jimmer Fredette Sacramento Kings 199
Group I Rookies 2011 Rookies 110 Klay Thompson Golden State Warriors 199
Group I Rookies 2011 Rookies 111 Alec Burks Utah Jazz 99
Group I Rookies 2011 Rookies 112 Markieff Morris Phoenix Suns 99
Group I Rookies 2011 Rookies 113 Marcus Morris Phoenix Suns 99
Group I Rookies 2011 Rookies 114 Kawhi Leonard San Antonio Spurs 199
Group I Rookies 2011 Rookies 115 Nikola Vucevic Orlando Magic 199
Group I Rookies 2011 Rookies 116 Iman Shumpert New York Knicks 199
Group I Rookies 2011 Rookies 117 Chris Singleton Washington Wizards 99
Group I Rookies 2011 Rookies 118 Tobias Harris Orlando Magic 199
Group I Rookies 2011 Rookies 119 Nolan Smith Portland Trail Blazers 99
Group I Rookies 2011 Rookies 120 Kenneth Faried Denver Nuggets 199
Group I Rookies 2011 Rookies 121 Reggie Jackson Oklahoma City Thunder 99
Group I Rookies 2011 Rookies 122 MarShon Brooks Brooklyn Nets 199
Group I Rookies 2011 Rookies 123 Jordan Hamilton Denver Nuggets 99
Group I Rookies 2011 Rookies 124 Lavoy Allen Philadelphia 76ers 99
Group I Rookies 2011 Rookies 125 Norris Cole Miami Heat 199
Group I Rookies 2011 Rookies 126 Cory Joseph San Antonio Spurs 99
Group I Rookies 2011 Rookies 127 Jimmy Butler Chicago Bulls 199
Group I Rookies 2011 Rookies 128 Ivan Johnson Atlanta Hawks 99
Group I Rookies 2011 Rookies 129 Chandler Parsons Houston Rockets 199
Group I Rookies 2011 Rookies 130 Jonas Valanciunas Toronto Raptors 199
Group I Rookies 2011 Rookies 131 Gustavo Ayon Milwaukee Bucks 99
Group I Rookies 2011 Rookies 132 Isaiah Thomas Sacramento Kings 199
Group I Rookies 2011 Rookies 133 Chris Copeland New York Knicks 99
Group I Rookies Autographs 134 Charles Jenkins Philadelphia 76ers 99
Group I Rookies Autographs 135 DeQuan Jones Orlando Magic 99
Group I Rookies Autographs 136 Donatas Motiejunas Houston Rockets 99
Group I Rookies Autographs 137 Julyan Stone Denver Nuggets 99
Group I Rookies Autographs 138 Malcolm Lee Minnesota Timberwolves 99
Group I Rookies Autographs 139 Jon Leuer Memphis Grizzlies 99
Group I Rookies Autographs 140 E'Twaun Moore Orlando Magic 99
Group I Rookies Autographs 141 Darius Morris Los Angeles Lakers 99
Group I Rookies Autographs 142 Viacheslav Kravtsov Detroit Pistons 99
Group I Rookies Autographs 143 Victor Claver Portland Trail Blazers 99
Group I Rookies Autographs 144 Kyle O'Quinn Orlando Magic 99
Group I Rookies Autographs 145 Maurice Harkless Orlando Magic 99
Group I Rookies Autographs 146 Brian Roberts New Orleans Hornets 99
Group I Rookies Autographs 147 Mirza Teletovic Brooklyn Nets 99
Group I Rookies Autographs 148 Greg Stiemsma Minnesota Timberwolves 99
Group I Rookies Autographs 149 DeAndre Liggins Oklahoma City Thunder 99
Group I Rookies Autographs 150 Kent Bazemore Golden State Warriors 99
Group II Rookies 2012 Rookies 151 Anthony Davis New Orleans Hornets 199
Group II Rookies 2012 Rookies 152 Michael Kidd-Gilchrist Charlotte Bobcats 199
Group II Rookies 2012 Rookies 153 Bradley Beal Washington Wizards 199
Group II Rookies 2012 Rookies 154 Dion Waiters Cleveland Cavaliers 199
Group II Rookies 2012 Rookies 155 Thomas Robinson Houston Rockets 199
Group II Rookies 2012 Rookies 156 Draymond Green Golden State Warriors 99
Group II Rookies 2012 Rookies 157 Harrison Barnes Golden State Warriors 199
Group II Rookies 2012 Rookies 158 Terrence Ross Toronto Raptors 99
Group II Rookies 2012 Rookies 159 Andre Drummond Detroit Pistons 199
Group II Rookies 2012 Rookies 160 Austin Rivers New Orleans Hornets 199
Group II Rookies 2012 Rookies 161 Meyers Leonard Portland Trail Blazers 99
Group II Rookies 2012 Rookies 162 Jeremy Lamb Oklahoma City Thunder 99
Group II Rookies 2012 Rookies 163 Kendall Marshall Phoenix Suns 99
Group II Rookies 2012 Rookies 164 John Henson Milwaukee Bucks 199
Group II Rookies 2012 Rookies 165 Kyle Singler Detroit Pistons 99
Group II Rookies 2012 Rookies 166 Jae Crowder Dallas Mavericks 99
Group II Rookies 2012 Rookies 167 Tyler Zeller Cleveland Cavaliers 99
Group II Rookies 2012 Rookies 168 Terrence Jones Houston Rockets 99
Group II Rookies 2012 Rookies 169 Andrew Nicholson Orlando Magic 99
Group II Rookies 2012 Rookies 170 Evan Fournier Denver Nuggets 99
Group II Rookies 2012 Rookies 171 Jared Sullinger Boston Celtics 199
Group II Rookies 2012 Rookies 172 Fab Melo Boston Celtics 99
Group II Rookies 2012 Rookies 173 John Jenkins Atlanta Hawks 99
Group II Rookies 2012 Rookies 174 Jared Cunningham Dallas Mavericks 99
Group II Rookies 2012 Rookies 175 Tony Wroten Memphis Grizzlies 99
Group II Rookies 2012 Rookies 176 Miles Plumlee Indiana Pacers 99
Group II Rookies 2012 Rookies 177 Arnett Moultrie Philadelphia 76ers 99
Group II Rookies 2012 Rookies 178 Perry Jones Oklahoma City Thunder 99
Group II Rookies 2012 Rookies 179 Marquis Teague Chicago Bulls 99
Group II Rookies 2012 Rookies 180 Festus Ezeli Golden State Warriors 99
Group II Rookies 2012 Rookies 181 Alexey Shved Minnesota Timberwolves 25
Group II Rookies 2012 Rookies 182 Quincy Acy Toronto Raptors 99
Group II Rookies 2012 Rookies 183 Doron Lamb Orlando Magic 99
Group II Rookies Autographs 184 Jeff Taylor Charlotte Bobcats 99
Group II Rookies Autographs 185 Royce White Houston Rockets 99
Group II Rookies Autographs 186 Draymond Green Golden State Warriors 99
Group II Rookies Autographs 187 Orlando Johnson Indiana Pacers 99
Group II Rookies Autographs 188 Quincy Miller Denver Nuggets 99
Group II Rookies Autographs 189 Khris Middleton Detroit Pistons 99
Group II Rookies Autographs 190 Will Barton Portland Trail Blazers 99
Group II Rookies Autographs 191 Tyshawn Taylor Brooklyn Nets 99
Group II Rookies Autographs 192 Mike Scott Atlanta Hawks 99
Group II Rookies Autographs 193 Kim English Detroit Pistons 99
Group II Rookies Autographs 194 Darius Miller New Orleans Hornets 99
Group II Rookies Autographs 195 Kevin Murphy Utah Jazz 99
Group II Rookies Autographs 196 Nando De Colo San Antonio Spurs 99
Group II Rookies Autographs 197 Tornike Shengelia Brooklyn Nets 99
Group II Rookies Autographs 198 Bernard James Dallas Mavericks 99
Group II Rookies Autographs 199 Robert Sacre Los Angeles Lakers 99
Group II Rookies Autographs 200 Lance Thomas New Orleans Hornets 99
Gold 1 Kobe Bryant Los Angeles Lakers 10
Gold 2 Marc Gasol Memphis Grizzlies 10
Gold 3 Tony Parker San Antonio Spurs 10
Gold 4 Joe Johnson Brooklyn Nets 10
Gold 5 Josh Smith Atlanta Hawks 10
Gold 6 Kevin Garnett Boston Celtics 10
Gold 7 LaMarcus Aldridge Portland Trail Blazers 10
Gold 8 Ray Allen Miami Heat 10
Gold 9 Rajon Rondo Boston Celtics 10
Gold 10 Raymond Felton New York Knicks 10
Gold 11 Luol Deng Chicago Bulls 10
Gold 12 Ben Gordon Charlotte Bobcats 10
Gold 13 Joakim Noah Chicago Bulls 10
Gold 14 LeBron James Miami Heat 10
Gold 15 Anderson Varejao Cleveland Cavaliers 10
Gold 16 Jason Kidd New York Knicks 10
Gold 17 Dirk Nowitzki Dallas Mavericks 10
Gold 18 Jason Terry Boston Celtics 10
Gold 19 Carmelo Anthony New York Knicks 10
Gold 20 Nen�?�ª Washington Wizards 10
Gold 21 Tim Duncan San Antonio Spurs 10
Gold 22 Monta Ellis Milwaukee Bucks 10
Gold 23 Goran Dragic Phoenix Suns 10
Gold 24 Kyle Lowry Toronto Raptors 10
Gold 25 Jameer Nelson Orlando Magic 10
Gold 26 Nikola Pekovic Minnesota Timberwolves 10
Gold 27 Roy Hibbert Indiana Pacers 10
Gold 28 Jarrett Jack Golden State Warriors 10
Gold 29 Chris Kaman Dallas Mavericks 10
Gold 30 Greivis Vasquez New Orleans Hornets 10
Gold 31 Pau Gasol Los Angeles Lakers 10
Gold 32 Mike Conley Memphis Grizzlies 10
Gold 33 Rudy Gay Toronto Raptors 10
Gold 34 Paul Pierce Boston Celtics 10
Gold 35 Kevin Durant Oklahoma City Thunder 10
Gold 36 Andrew Bogut Golden State Warriors 10
Gold 37 Ramon Sessions Charlotte Bobcats 10
Gold 38 Al Jefferson Utah Jazz 10
Gold 39 Kevin Love Minnesota Timberwolves 10
Gold 40 Ryan Anderson New Orleans Hornets 10
Gold 41 Brook Lopez Brooklyn Nets 10
Gold 42 Tyson Chandler New York Knicks 10
Gold 43 Chris Paul Los Angeles Clippers 10
Gold 44 Danilo Gallinari Denver Nuggets 10
Gold 45 J.R. Smith New York Knicks 10
Gold 46 David Lee Golden State Warriors 10
Gold 47 Dwyane Wade Miami Heat 10
Gold 48 Russell Westbrook Oklahoma City Thunder 10
Gold 49 Marcin Gortat Phoenix Suns 10
Gold 50 Dwight Howard Los Angeles Lakers 10
Gold 51 Andre Iguodala Denver Nuggets 10
Gold 52 Louis Williams Atlanta Hawks 10
Gold 53 Grant Hill Los Angeles Clippers 10
Gold 54 Steve Nash Los Angeles Lakers 10
Gold 55 Jason Richardson Philadelphia 76ers 10
Gold 56 Amar'e Stoudemire New York Knicks 10
Gold 57 Mario Chalmers Miami Heat 10
Gold 58 Nicolas Batum Portland Trail Blazers 10
Gold 59 Zach Randolph Memphis Grizzlies 10
Gold 60 Kevin Martin Oklahoma City Thunder 10
Gold 61 Rodney Stuckey Detroit Pistons 10
Gold 62 Manu Ginobili San Antonio Spurs 10
Gold 63 Derrick Rose Chicago Bulls 10
Gold 64 Andrea Bargnani Toronto Raptors 10
Gold 65 Chris Bosh Miami Heat 10
Gold 66 Jose Calderon Detroit Pistons 10
Gold 67 Kris Humphries Brooklyn Nets 10
Gold 68 Shawn Marion Dallas Mavericks 10
Gold 69 Carlos Boozer Chicago Bulls 10
Gold 70 Paul Millsap Utah Jazz 10
Gold 71 Deron Williams Brooklyn Nets 10
Gold 72 Caron Butler Los Angeles Clippers 10
Gold 73 Antawn Jamison Los Angeles Lakers 10
Gold 74 JaVale McGee Denver Nuggets 10
Gold 75 Nick Young Philadelphia 76ers 10
Gold 76 Blake Griffin Los Angeles Clippers 10
Gold 77 Ricky Rubio Minnesota Timberwolves 10
Gold 78 Jrue Holiday Philadelphia 76ers 10
Gold 79 Ty Lawson Denver Nuggets 10
Gold 80 Jeff Teague Atlanta Hawks 10
Gold 81 Darren Collison Dallas Mavericks 10
Gold 82 James Harden Houston Rockets 10
Gold 83 Tyreke Evans Sacramento Kings 10
Gold 84 Jeremy Lin Houston Rockets 10
Gold 85 Stephen Curry Golden State Warriors 10
Gold 86 DeMar DeRozan Toronto Raptors 10
Gold 87 Brandon Jennings Milwaukee Bucks 10
Gold 88 Gerald Henderson Charlotte Bobcats 10
Gold 89 Serge Ibaka Oklahoma City Thunder 10
Gold 90 Wesley Matthews Portland Trail Blazers 10
Gold 91 John Wall Washington Wizards 10
Gold 92 Evan Turner Philadelphia 76ers 10
Gold 93 DeMarcus Cousins Sacramento Kings 10
Gold 94 Greg Monroe Detroit Pistons 10
Gold 95 Gordon Hayward Utah Jazz 10
Gold 96 Paul George Indiana Pacers 10
Gold 97 Jordan Crawford Boston Celtics 10
Gold 98 Marcus Thornton Sacramento Kings 10
Gold 99 Danny Granger Indiana Pacers 10
Gold 100 Damian Lillard Portland Trail Blazers 10
Group I Rookies Gold Horizontal 2011 Rookies 101 Kyrie Irving Cleveland Cavaliers 5
Group I Rookies Gold Horizontal 2011 Rookies 102 Derrick Williams Minnesota Timberwolves 5
Group I Rookies Gold Horizontal 2011 Rookies 103 Enes Kanter Utah Jazz 5
Group I Rookies Gold Horizontal 2011 Rookies 104 Tristan Thompson Cleveland Cavaliers 5
Group I Rookies Gold Horizontal 2011 Rookies 105 Jan Vesely Washington Wizards 5
Group I Rookies Gold Horizontal 2011 Rookies 106 Bismack Biyombo Charlotte Bobcats 5
Group I Rookies Gold Horizontal 2011 Rookies 107 Brandon Knight Detroit Pistons 5
Group I Rookies Gold Horizontal 2011 Rookies 108 Kemba Walker Charlotte Bobcats 5
Group I Rookies Gold Horizontal 2011 Rookies 109 Jimmer Fredette Sacramento Kings 5
Group I Rookies Gold Horizontal 2011 Rookies 110 Klay Thompson Golden State Warriors 5
Group I Rookies Gold Horizontal 2011 Rookies 111 Alec Burks Utah Jazz 5
Group I Rookies Gold Horizontal 2011 Rookies 112 Markieff Morris Phoenix Suns 5
Group I Rookies Gold Horizontal 2011 Rookies 113 Marcus Morris Phoenix Suns 5
Group I Rookies Gold Horizontal 2011 Rookies 114 Kawhi Leonard San Antonio Spurs 5
Group I Rookies Gold Horizontal 2011 Rookies 115 Nikola Vucevic Orlando Magic 5
Group I Rookies Gold Horizontal 2011 Rookies 116 Iman Shumpert New York Knicks 5
Group I Rookies Gold Horizontal 2011 Rookies 117 Chris Singleton Washington Wizards 5
Group I Rookies Gold Horizontal 2011 Rookies 118 Tobias Harris Orlando Magic 5
Group I Rookies Gold Horizontal 2011 Rookies 119 Nolan Smith Portland Trail Blazers 5
Group I Rookies Gold Horizontal 2011 Rookies 120 Kenneth Faried Denver Nuggets 5
Group I Rookies Gold Horizontal 2011 Rookies 121 Reggie Jackson Oklahoma City Thunder 5
Group I Rookies Gold Horizontal 2011 Rookies 122 MarShon Brooks Brooklyn Nets 5
Group I Rookies Gold Horizontal 2011 Rookies 123 Jordan Hamilton Denver Nuggets 5
Group I Rookies Gold Horizontal 2011 Rookies 124 Lavoy Allen Philadelphia 76ers 5
Group I Rookies Gold Horizontal 2011 Rookies 125 Norris Cole Miami Heat 5
Group I Rookies Gold Horizontal 2011 Rookies 126 Cory Joseph San Antonio Spurs 5
Group I Rookies Gold Horizontal 2011 Rookies 127 Jimmy Butler Chicago Bulls 5
Group I Rookies Gold Horizontal 2011 Rookies 128 Ivan Johnson Atlanta Hawks 5
Group I Rookies Gold Horizontal 2011 Rookies 129 Chandler Parsons Houston Rockets 5
Group I Rookies Gold Horizontal 2011 Rookies 130 Jonas Valanciunas Toronto Raptors 5
Group I Rookies Gold Horizontal 2011 Rookies 131 Gustavo Ayon Milwaukee Bucks 0
Group I Rookies Gold Horizontal 2011 Rookies 132 Isaiah Thomas Sacramento Kings 5
Group I Rookies Gold Horizontal 2011 Rookies 133 Chris Copeland New York Knicks 0
Group I Rookies Jersey Numbers 2011 Rookies 101 Kyrie Irving Cleveland Cavaliers 25
Group I Rookies Jersey Numbers 2011 Rookies 102 Derrick Williams Minnesota Timberwolves 25
Group I Rookies Jersey Numbers 2011 Rookies 103 Enes Kanter Utah Jazz 25
Group I Rookies Jersey Numbers 2011 Rookies 104 Tristan Thompson Cleveland Cavaliers 25
Group I Rookies Jersey Numbers 2011 Rookies 105 Jan Vesely Washington Wizards 25
Group I Rookies Jersey Numbers 2011 Rookies 106 Bismack Biyombo Charlotte Bobcats 25
Group I Rookies Jersey Numbers 2011 Rookies 107 Brandon Knight Detroit Pistons 25
Group I Rookies Jersey Numbers 2011 Rookies 108 Kemba Walker Charlotte Bobcats 25
Group I Rookies Jersey Numbers 2011 Rookies 109 Jimmer Fredette Sacramento Kings 25
Group I Rookies Jersey Numbers 2011 Rookies 110 Klay Thompson Golden State Warriors 25
Group I Rookies Jersey Numbers 2011 Rookies 111 Alec Burks Utah Jazz 25
Group I Rookies Jersey Numbers 2011 Rookies 112 Markieff Morris Phoenix Suns 25
Group I Rookies Jersey Numbers 2011 Rookies 113 Marcus Morris Phoenix Suns 25
Group I Rookies Jersey Numbers 2011 Rookies 114 Kawhi Leonard San Antonio Spurs 25
Group I Rookies Jersey Numbers 2011 Rookies 115 Nikola Vucevic Orlando Magic 25
Group I Rookies Jersey Numbers 2011 Rookies 116 Iman Shumpert New York Knicks 25
Group I Rookies Jersey Numbers 2011 Rookies 117 Chris Singleton Washington Wizards 25
Group I Rookies Jersey Numbers 2011 Rookies 118 Tobias Harris Orlando Magic 25
Group I Rookies Jersey Numbers 2011 Rookies 119 Nolan Smith Portland Trail Blazers 25
Group I Rookies Jersey Numbers 2011 Rookies 120 Kenneth Faried Denver Nuggets 25
Group I Rookies Jersey Numbers 2011 Rookies 121 Reggie Jackson Oklahoma City Thunder 25
Group I Rookies Jersey Numbers 2011 Rookies 122 MarShon Brooks Brooklyn Nets 25
Group I Rookies Jersey Numbers 2011 Rookies 123 Jordan Hamilton Denver Nuggets 25
Group I Rookies Jersey Numbers 2011 Rookies 124 Lavoy Allen Philadelphia 76ers 25
Group I Rookies Jersey Numbers 2011 Rookies 125 Norris Cole Miami Heat 25
Group I Rookies Jersey Numbers 2011 Rookies 126 Cory Joseph San Antonio Spurs 25
Group I Rookies Jersey Numbers 2011 Rookies 127 Jimmy Butler Chicago Bulls 25
Group I Rookies Jersey Numbers 2011 Rookies 128 Ivan Johnson Atlanta Hawks 25
Group I Rookies Jersey Numbers 2011 Rookies 129 Chandler Parsons Houston Rockets 25
Group I Rookies Jersey Numbers 2011 Rookies 130 Jonas Valanciunas Toronto Raptors 25
Group I Rookies Jersey Numbers 2011 Rookies 131 Gustavo Ayon Milwaukee Bucks 10
Group I Rookies Jersey Numbers 2011 Rookies 132 Isaiah Thomas Sacramento Kings 25
Group I Rookies Jersey Numbers 2011 Rookies 133 Chris Copeland New York Knicks 10
Group I Rookies Logoman 2011 Rookies 101 Kyrie Irving Cleveland Cavaliers 1
Group I Rookies Logoman 2011 Rookies 102 Derrick Williams Minnesota Timberwolves 1
Group I Rookies Logoman 2011 Rookies 103 Enes Kanter Utah Jazz 1
Group I Rookies Logoman 2011 Rookies 104 Tristan Thompson Cleveland Cavaliers 1
Group I Rookies Logoman 2011 Rookies 105 Jan Vesely Washington Wizards 1
Group I Rookies Logoman 2011 Rookies 106 Bismack Biyombo Charlotte Bobcats 1
Group I Rookies Logoman 2011 Rookies 107 Brandon Knight Detroit Pistons 1
Group I Rookies Logoman 2011 Rookies 108 Kemba Walker Charlotte Bobcats 1
Group I Rookies Logoman 2011 Rookies 109 Jimmer Fredette Sacramento Kings 1
Group I Rookies Logoman 2011 Rookies 110 Klay Thompson Golden State Warriors 1
Group I Rookies Logoman 2011 Rookies 111 Alec Burks Utah Jazz 1
Group I Rookies Logoman 2011 Rookies 112 Markieff Morris Phoenix Suns 1
Group I Rookies Logoman 2011 Rookies 113 Marcus Morris Phoenix Suns 1
Group I Rookies Logoman 2011 Rookies 114 Kawhi Leonard San Antonio Spurs 1
Group I Rookies Logoman 2011 Rookies 115 Nikola Vucevic Orlando Magic 1
Group I Rookies Logoman 2011 Rookies 116 Iman Shumpert New York Knicks 1
Group I Rookies Logoman 2011 Rookies 117 Chris Singleton Washington Wizards 1
Group I Rookies Logoman 2011 Rookies 118 Tobias Harris Orlando Magic 1
Group I Rookies Logoman 2011 Rookies 119 Nolan Smith Portland Trail Blazers 1
Group I Rookies Logoman 2011 Rookies 120 Kenneth Faried Denver Nuggets 1
Group I Rookies Logoman 2011 Rookies 121 Reggie Jackson Oklahoma City Thunder 1
Group I Rookies Logoman 2011 Rookies 122 MarShon Brooks Brooklyn Nets 1
Group I Rookies Logoman 2011 Rookies 123 Jordan Hamilton Denver Nuggets 1
Group I Rookies Logoman 2011 Rookies 124 Lavoy Allen Philadelphia 76ers 1
Group I Rookies Logoman 2011 Rookies 125 Norris Cole Miami Heat 1
Group I Rookies Logoman 2011 Rookies 126 Cory Joseph San Antonio Spurs 1
Group I Rookies Logoman 2011 Rookies 127 Jimmy Butler Chicago Bulls 1
Group I Rookies Logoman 2011 Rookies 128 Ivan Johnson Atlanta Hawks 1
Group I Rookies Logoman 2011 Rookies 129 Chandler Parsons Houston Rockets 1
Group I Rookies Logoman 2011 Rookies 130 Jonas Valanciunas Toronto Raptors 1
Group I Rookies Logoman 2011 Rookies 131 Gustavo Ayon Milwaukee Bucks 1
Group I Rookies Logoman 2011 Rookies 132 Isaiah Thomas Sacramento Kings 1
Group I Rookies Logoman 2011 Rookies 133 Chris Copeland New York Knicks 1
Group II Rookies Gold Horizontal 2012 Rookies 151 Anthony Davis New Orleans Hornets 5
Group II Rookies Gold Horizontal 2012 Rookies 152 Michael Kidd-Gilchrist Charlotte Bobcats 5
Group II Rookies Gold Horizontal 2012 Rookies 153 Bradley Beal Washington Wizards 5
Group II Rookies Gold Horizontal 2012 Rookies 154 Dion Waiters Cleveland Cavaliers 5
Group II Rookies Gold Horizontal 2012 Rookies 155 Thomas Robinson Houston Rockets 5
Group II Rookies Gold Horizontal 2012 Rookies 156 Draymond Green Golden State Warriors 5
Group II Rookies Gold Horizontal 2012 Rookies 157 Harrison Barnes Golden State Warriors 5
Group II Rookies Gold Horizontal 2012 Rookies 158 Terrence Ross Toronto Raptors 5
Group II Rookies Gold Horizontal 2012 Rookies 159 Andre Drummond Detroit Pistons 5
Group II Rookies Gold Horizontal 2012 Rookies 160 Austin Rivers New Orleans Hornets 5
Group II Rookies Gold Horizontal 2012 Rookies 161 Meyers Leonard Portland Trail Blazers 5
Group II Rookies Gold Horizontal 2012 Rookies 162 Jeremy Lamb Oklahoma City Thunder 5
Group II Rookies Gold Horizontal 2012 Rookies 163 Kendall Marshall Phoenix Suns 5
Group II Rookies Gold Horizontal 2012 Rookies 164 John Henson Milwaukee Bucks 5
Group II Rookies Gold Horizontal 2012 Rookies 165 Kyle Singler Detroit Pistons 5
Group II Rookies Gold Horizontal 2012 Rookies 166 Jae Crowder Dallas Mavericks 5
Group II Rookies Gold Horizontal 2012 Rookies 167 Tyler Zeller Cleveland Cavaliers 5
Group II Rookies Gold Horizontal 2012 Rookies 168 Terrence Jones Houston Rockets 5
Group II Rookies Gold Horizontal 2012 Rookies 169 Andrew Nicholson Orlando Magic 5
Group II Rookies Gold Horizontal 2012 Rookies 170 Evan Fournier Denver Nuggets 5
Group II Rookies Gold Horizontal 2012 Rookies 171 Jared Sullinger Boston Celtics 5
Group II Rookies Gold Horizontal 2012 Rookies 172 Fab Melo Boston Celtics 5
Group II Rookies Gold Horizontal 2012 Rookies 173 John Jenkins Atlanta Hawks 5
Group II Rookies Gold Horizontal 2012 Rookies 174 Jared Cunningham Dallas Mavericks 5
Group II Rookies Gold Horizontal 2012 Rookies 175 Tony Wroten Memphis Grizzlies 5
Group II Rookies Gold Horizontal 2012 Rookies 176 Miles Plumlee Indiana Pacers 5
Group II Rookies Gold Horizontal 2012 Rookies 177 Arnett Moultrie Philadelphia 76ers 5
Group II Rookies Gold Horizontal 2012 Rookies 178 Perry Jones Oklahoma City Thunder 5
Group II Rookies Gold Horizontal 2012 Rookies 179 Marquis Teague Chicago Bulls 5
Group II Rookies Gold Horizontal 2012 Rookies 180 Festus Ezeli Golden State Warriors 5
Group II Rookies Gold Horizontal 2012 Rookies 181 Alexey Shved Minnesota Timberwolves 5
Group II Rookies Gold Horizontal 2012 Rookies 182 Quincy Acy Toronto Raptors 5
Group II Rookies Gold Horizontal 2012 Rookies 183 Doron Lamb Orlando Magic 5
Group II Rookies Jersey Numbers 2012 Rookies 151 Anthony Davis New Orleans Hornets 25
Group II Rookies Jersey Numbers 2012 Rookies 152 Michael Kidd-Gilchrist Charlotte Bobcats 25
Group II Rookies Jersey Numbers 2012 Rookies 153 Bradley Beal Washington Wizards 25
Group II Rookies Jersey Numbers 2012 Rookies 154 Dion Waiters Cleveland Cavaliers 25
Group II Rookies Jersey Numbers 2012 Rookies 155 Thomas Robinson Houston Rockets 25
Group II Rookies Jersey Numbers 2012 Rookies 156 Draymond Green Golden State Warriors 25
Group II Rookies Jersey Numbers 2012 Rookies 157 Harrison Barnes Golden State Warriors 25
Group II Rookies Jersey Numbers 2012 Rookies 158 Terrence Ross Toronto Raptors 25
Group II Rookies Jersey Numbers 2012 Rookies 159 Andre Drummond Detroit Pistons 25
Group II Rookies Jersey Numbers 2012 Rookies 160 Austin Rivers New Orleans Hornets 25
Group II Rookies Jersey Numbers 2012 Rookies 161 Meyers Leonard Portland Trail Blazers 25
Group II Rookies Jersey Numbers 2012 Rookies 162 Jeremy Lamb Oklahoma City Thunder 25
Group II Rookies Jersey Numbers 2012 Rookies 163 Kendall Marshall Phoenix Suns 25
Group II Rookies Jersey Numbers 2012 Rookies 164 John Henson Milwaukee Bucks 25
Group II Rookies Jersey Numbers 2012 Rookies 165 Kyle Singler Detroit Pistons 25
Group II Rookies Jersey Numbers 2012 Rookies 166 Jae Crowder Dallas Mavericks 25
Group II Rookies Jersey Numbers 2012 Rookies 167 Tyler Zeller Cleveland Cavaliers 25
Group II Rookies Jersey Numbers 2012 Rookies 168 Terrence Jones Houston Rockets 25
Group II Rookies Jersey Numbers 2012 Rookies 169 Andrew Nicholson Orlando Magic 25
Group II Rookies Jersey Numbers 2012 Rookies 170 Evan Fournier Denver Nuggets 25
Group II Rookies Jersey Numbers 2012 Rookies 171 Jared Sullinger Boston Celtics 25
Group II Rookies Jersey Numbers 2012 Rookies 172 Fab Melo Boston Celtics 25
Group II Rookies Jersey Numbers 2012 Rookies 173 John Jenkins Atlanta Hawks 25
Group II Rookies Jersey Numbers 2012 Rookies 174 Jared Cunningham Dallas Mavericks 25
Group II Rookies Jersey Numbers 2012 Rookies 175 Tony Wroten Memphis Grizzlies 25
Group II Rookies Jersey Numbers 2012 Rookies 176 Miles Plumlee Indiana Pacers 25
Group II Rookies Jersey Numbers 2012 Rookies 177 Arnett Moultrie Philadelphia 76ers 25
Group II Rookies Jersey Numbers 2012 Rookies 178 Perry Jones Oklahoma City Thunder 25
Group II Rookies Jersey Numbers 2012 Rookies 179 Marquis Teague Chicago Bulls 25
Group II Rookies Jersey Numbers 2012 Rookies 180 Festus Ezeli Golden State Warriors 25
Group II Rookies Jersey Numbers 2012 Rookies 181 Alexey Shved Minnesota Timberwolves 10
Group II Rookies Jersey Numbers 2012 Rookies 182 Quincy Acy Toronto Raptors 25
Group II Rookies Jersey Numbers 2012 Rookies 183 Doron Lamb Orlando Magic 25
Group II Rookies Logoman 2012 Rookies 151 Anthony Davis New Orleans Hornets 1
Group II Rookies Logoman 2012 Rookies 152 Michael Kidd-Gilchrist Charlotte Bobcats 1
Group II Rookies Logoman 2012 Rookies 153 Bradley Beal Washington Wizards 1
Group II Rookies Logoman 2012 Rookies 154 Dion Waiters Cleveland Cavaliers 1
Group II Rookies Logoman 2012 Rookies 155 Thomas Robinson Houston Rockets 1
Group II Rookies Logoman 2012 Rookies 156 Draymond Green Golden State Warriors 1
Group II Rookies Logoman 2012 Rookies 157 Harrison Barnes Golden State Warriors 1
Group II Rookies Logoman 2012 Rookies 158 Terrence Ross Toronto Raptors 1
Group II Rookies Logoman 2012 Rookies 159 Andre Drummond Detroit Pistons 1
Group II Rookies Logoman 2012 Rookies 160 Austin Rivers New Orleans Hornets 1
Group II Rookies Logoman 2012 Rookies 161 Meyers Leonard Portland Trail Blazers 1
Group II Rookies Logoman 2012 Rookies 162 Jeremy Lamb Oklahoma City Thunder 1
Group II Rookies Logoman 2012 Rookies 163 Kendall Marshall Phoenix Suns 1
Group II Rookies Logoman 2012 Rookies 164 John Henson Milwaukee Bucks 1
Group II Rookies Logoman 2012 Rookies 165 Kyle Singler Detroit Pistons 1
Group II Rookies Logoman 2012 Rookies 166 Jae Crowder Dallas Mavericks 1
Group II Rookies Logoman 2012 Rookies 167 Tyler Zeller Cleveland Cavaliers 1
Group II Rookies Logoman 2012 Rookies 168 Terrence Jones Houston Rockets 1
Group II Rookies Logoman 2012 Rookies 169 Andrew Nicholson Orlando Magic 1
Group II Rookies Logoman 2012 Rookies 170 Evan Fournier Denver Nuggets 1
Group II Rookies Logoman 2012 Rookies 171 Jared Sullinger Boston Celtics 1
Group II Rookies Logoman 2012 Rookies 172 Fab Melo Boston Celtics 1
Group II Rookies Logoman 2012 Rookies 173 John Jenkins Atlanta Hawks 1
Group II Rookies Logoman 2012 Rookies 174 Jared Cunningham Dallas Mavericks 1
Group II Rookies Logoman 2012 Rookies 175 Tony Wroten Memphis Grizzlies 1
Group II Rookies Logoman 2012 Rookies 176 Miles Plumlee Indiana Pacers 1
Group II Rookies Logoman 2012 Rookies 177 Arnett Moultrie Philadelphia 76ers 1
Group II Rookies Logoman 2012 Rookies 178 Perry Jones Oklahoma City Thunder 1
Group II Rookies Logoman 2012 Rookies 179 Marquis Teague Chicago Bulls 1
Group II Rookies Logoman 2012 Rookies 180 Festus Ezeli Golden State Warriors 1
Group II Rookies Logoman 2012 Rookies 181 Alexey Shved Minnesota Timberwolves 1
Group II Rookies Logoman 2012 Rookies 182 Quincy Acy Toronto Raptors 1
Group II Rookies Logoman 2012 Rookies 183 Doron Lamb Orlando Magic 1
Platinum 1 Kobe Bryant Los Angeles Lakers 1
Platinum 2 Marc Gasol Memphis Grizzlies 1
Platinum 3 Tony Parker San Antonio Spurs 1
Platinum 4 Joe Johnson Brooklyn Nets 1
Platinum 5 Josh Smith Atlanta Hawks 1
Platinum 6 Kevin Garnett Boston Celtics 1
Platinum 7 LaMarcus Aldridge Portland Trail Blazers 1
Platinum 8 Ray Allen Miami Heat 1
Platinum 9 Rajon Rondo Boston Celtics 1
Platinum 10 Raymond Felton New York Knicks 1
Platinum 11 Luol Deng Chicago Bulls 1
Platinum 12 Ben Gordon Charlotte Bobcats 1
Platinum 13 Joakim Noah Chicago Bulls 1
Platinum 14 LeBron James Miami Heat 1
Platinum 15 Anderson Varejao Cleveland Cavaliers 1
Platinum 16 Jason Kidd New York Knicks 1
Platinum 17 Dirk Nowitzki Dallas Mavericks 1
Platinum 18 Jason Terry Boston Celtics 1
Platinum 19 Carmelo Anthony New York Knicks 1
Platinum 20 Nen�?�ª Washington Wizards 1
Platinum 21 Tim Duncan San Antonio Spurs 1
Platinum 22 Monta Ellis Milwaukee Bucks 1
Platinum 23 Goran Dragic Phoenix Suns 1
Platinum 24 Kyle Lowry Toronto Raptors 1
Platinum 25 Jameer Nelson Orlando Magic 1
Platinum 26 Nikola Pekovic Minnesota Timberwolves 1
Platinum 27 Roy Hibbert Indiana Pacers 1
Platinum 28 Jarrett Jack Golden State Warriors 1
Platinum 29 Chris Kaman Dallas Mavericks 1
Platinum 30 Greivis Vasquez New Orleans Hornets 1
Platinum 31 Pau Gasol Los Angeles Lakers 1
Platinum 32 Mike Conley Memphis Grizzlies 1
Platinum 33 Rudy Gay Toronto Raptors 1
Platinum 34 Paul Pierce Boston Celtics 1
Platinum 35 Kevin Durant Oklahoma City Thunder 1
Platinum 36 Andrew Bogut Golden State Warriors 1
Platinum 37 Ramon Sessions Charlotte Bobcats 1
Platinum 38 Al Jefferson Utah Jazz 1
Platinum 39 Kevin Love Minnesota Timberwolves 1
Platinum 40 Ryan Anderson New Orleans Hornets 1
Platinum 41 Brook Lopez Brooklyn Nets 1
Platinum 42 Tyson Chandler New York Knicks 1
Platinum 43 Chris Paul Los Angeles Clippers 1
Platinum 44 Danilo Gallinari Denver Nuggets 1
Platinum 45 J.R. Smith New York Knicks 1
Platinum 46 David Lee Golden State Warriors 1
Platinum 47 Dwyane Wade Miami Heat 1
Platinum 48 Russell Westbrook Oklahoma City Thunder 1
Platinum 49 Marcin Gortat Phoenix Suns 1
Platinum 50 Dwight Howard Los Angeles Lakers 1
Platinum 51 Andre Iguodala Denver Nuggets 1
Platinum 52 Louis Williams Atlanta Hawks 1
Platinum 53 Grant Hill Los Angeles Clippers 1
Platinum 54 Steve Nash Los Angeles Lakers 1
Platinum 55 Jason Richardson Philadelphia 76ers 1
Platinum 56 Amar'e Stoudemire New York Knicks 1
Platinum 57 Mario Chalmers Miami Heat 1
Platinum 58 Nicolas Batum Portland Trail Blazers 1
Platinum 59 Zach Randolph Memphis Grizzlies 1
Platinum 60 Kevin Martin Oklahoma City Thunder 1
Platinum 61 Rodney Stuckey Detroit Pistons 1
Platinum 62 Manu Ginobili San Antonio Spurs 1
Platinum 63 Derrick Rose Chicago Bulls 1
Platinum 64 Andrea Bargnani Toronto Raptors 1
Platinum 65 Chris Bosh Miami Heat 1
Platinum 66 Jose Calderon Detroit Pistons 1
Platinum 67 Kris Humphries Brooklyn Nets 1
Platinum 68 Shawn Marion Dallas Mavericks 1
Platinum 69 Carlos Boozer Chicago Bulls 1
Platinum 70 Paul Millsap Utah Jazz 1
Platinum 71 Deron Williams Brooklyn Nets 1
Platinum 72 Caron Butler Los Angeles Clippers 1
Platinum 73 Antawn Jamison Los Angeles Lakers 1
Platinum 74 JaVale McGee Denver Nuggets 1
Platinum 75 Nick Young Philadelphia 76ers 1
Platinum 76 Blake Griffin Los Angeles Clippers 1
Platinum 77 Ricky Rubio Minnesota Timberwolves 1
Platinum 78 Jrue Holiday Philadelphia 76ers 1
Platinum 79 Ty Lawson Denver Nuggets 1
Platinum 80 Jeff Teague Atlanta Hawks 1
Platinum 81 Darren Collison Dallas Mavericks 1
Platinum 82 James Harden Houston Rockets 1
Platinum 83 Tyreke Evans Sacramento Kings 1
Platinum 84 Jeremy Lin Houston Rockets 1
Platinum 85 Stephen Curry Golden State Warriors 1
Platinum 86 DeMar DeRozan Toronto Raptors 1
Platinum 87 Brandon Jennings Milwaukee Bucks 1
Platinum 88 Gerald Henderson Charlotte Bobcats 1
Platinum 89 Serge Ibaka Oklahoma City Thunder 1
Platinum 90 Wesley Matthews Portland Trail Blazers 1
Platinum 91 John Wall Washington Wizards 1
Platinum 92 Evan Turner Philadelphia 76ers 1
Platinum 93 DeMarcus Cousins Sacramento Kings 1
Platinum 94 Greg Monroe Detroit Pistons 1
Platinum 95 Gordon Hayward Utah Jazz 1
Platinum 96 Paul George Indiana Pacers 1
Platinum 97 Jordan Crawford Boston Celtics 1
Platinum 98 Marcus Thornton Sacramento Kings 1
Platinum 99 Danny Granger Indiana Pacers 1
Platinum 100 Damian Lillard Portland Trail Blazers 1
Silver 1 Kobe Bryant Los Angeles Lakers 25
Silver 2 Marc Gasol Memphis Grizzlies 25
Silver 3 Tony Parker San Antonio Spurs 25
Silver 4 Joe Johnson Brooklyn Nets 25
Silver 5 Josh Smith Atlanta Hawks 25
Silver 6 Kevin Garnett Boston Celtics 25
Silver 7 LaMarcus Aldridge Portland Trail Blazers 25
Silver 8 Ray Allen Miami Heat 25
Silver 9 Rajon Rondo Boston Celtics 25
Silver 10 Raymond Felton New York Knicks 25
Silver 11 Luol Deng Chicago Bulls 25
Silver 12 Ben Gordon Charlotte Bobcats 25
Silver 13 Joakim Noah Chicago Bulls 25
Silver 14 LeBron James Miami Heat 25
Silver 15 Anderson Varejao Cleveland Cavaliers 25
Silver 16 Jason Kidd New York Knicks 25
Silver 17 Dirk Nowitzki Dallas Mavericks 25
Silver 18 Jason Terry Boston Celtics 25
Silver 19 Carmelo Anthony New York Knicks 25
Silver 20 Nen�?�ª Washington Wizards 25
Silver 21 Tim Duncan San Antonio Spurs 25
Silver 22 Monta Ellis Milwaukee Bucks 25
Silver 23 Goran Dragic Phoenix Suns 25
Silver 24 Kyle Lowry Toronto Raptors 25
Silver 25 Jameer Nelson Orlando Magic 25
Silver 26 Nikola Pekovic Minnesota Timberwolves 25
Silver 27 Roy Hibbert Indiana Pacers 25
Silver 28 Jarrett Jack Golden State Warriors 25
Silver 29 Chris Kaman Dallas Mavericks 25
Silver 30 Greivis Vasquez New Orleans Hornets 25
Silver 31 Pau Gasol Los Angeles Lakers 25
Silver 32 Mike Conley Memphis Grizzlies 25
Silver 33 Rudy Gay Toronto Raptors 25
Silver 34 Paul Pierce Boston Celtics 25
Silver 35 Kevin Durant Oklahoma City Thunder 25
Silver 36 Andrew Bogut Golden State Warriors 25
Silver 37 Ramon Sessions Charlotte Bobcats 25
Silver 38 Al Jefferson Utah Jazz 25
Silver 39 Kevin Love Minnesota Timberwolves 25
Silver 40 Ryan Anderson New Orleans Hornets 25
Silver 41 Brook Lopez Brooklyn Nets 25
Silver 42 Tyson Chandler New York Knicks 25
Silver 43 Chris Paul Los Angeles Clippers 25
Silver 44 Danilo Gallinari Denver Nuggets 25
Silver 45 J.R. Smith New York Knicks 25
Silver 46 David Lee Golden State Warriors 25
Silver 47 Dwyane Wade Miami Heat 25
Silver 48 Russell Westbrook Oklahoma City Thunder 25
Silver 49 Marcin Gortat Phoenix Suns 25
Silver 50 Dwight Howard Los Angeles Lakers 25
Silver 51 Andre Iguodala Denver Nuggets 25
Silver 52 Louis Williams Atlanta Hawks 25
Silver 53 Grant Hill Los Angeles Clippers 25
Silver 54 Steve Nash Los Angeles Lakers 25
Silver 55 Jason Richardson Philadelphia 76ers 25
Silver 56 Amar'e Stoudemire New York Knicks 25
Silver 57 Mario Chalmers Miami Heat 25
Silver 58 Nicolas Batum Portland Trail Blazers 25
Silver 59 Zach Randolph Memphis Grizzlies 25
Silver 60 Kevin Martin Oklahoma City Thunder 25
Silver 61 Rodney Stuckey Detroit Pistons 25
Silver 62 Manu Ginobili San Antonio Spurs 25
Silver 63 Derrick Rose Chicago Bulls 25
Silver 64 Andrea Bargnani Toronto Raptors 25
Silver 65 Chris Bosh Miami Heat 25
Silver 66 Jose Calderon Detroit Pistons 25
Silver 67 Kris Humphries Brooklyn Nets 25
Silver 68 Shawn Marion Dallas Mavericks 25
Silver 69 Carlos Boozer Chicago Bulls 25
Silver 70 Paul Millsap Utah Jazz 25
Silver 71 Deron Williams Brooklyn Nets 25
Silver 72 Caron Butler Los Angeles Clippers 25
Silver 73 Antawn Jamison Los Angeles Lakers 25
Silver 74 JaVale McGee Denver Nuggets 25
Silver 75 Nick Young Philadelphia 76ers 25
Silver 76 Blake Griffin Los Angeles Clippers 25
Silver 77 Ricky Rubio Minnesota Timberwolves 25
Silver 78 Jrue Holiday Philadelphia 76ers 25
Silver 79 Ty Lawson Denver Nuggets 25
Silver 80 Jeff Teague Atlanta Hawks 25
Silver 81 Darren Collison Dallas Mavericks 25
Silver 82 James Harden Houston Rockets 25
Silver 83 Tyreke Evans Sacramento Kings 25
Silver 84 Jeremy Lin Houston Rockets 25
Silver 85 Stephen Curry Golden State Warriors 25
Silver 86 DeMar DeRozan Toronto Raptors 25
Silver 87 Brandon Jennings Milwaukee Bucks 25
Silver 88 Gerald Henderson Charlotte Bobcats 25
Silver 89 Serge Ibaka Oklahoma City Thunder 25
Silver 90 Wesley Matthews Portland Trail Blazers 25
Silver 91 John Wall Washington Wizards 25
Silver 92 Evan Turner Philadelphia 76ers 25
Silver 93 DeMarcus Cousins Sacramento Kings 25
Silver 94 Greg Monroe Detroit Pistons 25
Silver 95 Gordon Hayward Utah Jazz 25
Silver 96 Paul George Indiana Pacers 25
Silver 97 Jordan Crawford Boston Celtics 25
Silver 98 Marcus Thornton Sacramento Kings 25
Silver 99 Danny Granger Indiana Pacers 25
Silver 100 Damian Lillard Portland Trail Blazers 25
11 vs. 12 Signatures 1 Kyrie Irving Cleveland Cavaliers 49
11 vs. 12 Signatures 1 Anthony Davis New Orleans Hornets
11 vs. 12 Signatures 2 Derrick Williams Minnesota Timberwolves 49
11 vs. 12 Signatures 2 Michael Kidd-Gilchrist Charlotte Bobcats
11 vs. 12 Signatures 3 Bradley Beal Washington Wizards
11 vs. 12 Signatures 3 Iman Shumpert New York Knicks 49
11 vs. 12 Signatures 4 Tristan Thompson Cleveland Cavaliers 99
11 vs. 12 Signatures 4 Dion Waiters Cleveland Cavaliers
11 vs. 12 Signatures 5 Thomas Robinson Houston Rockets
11 vs. 12 Signatures 5 Kenneth Faried Denver Nuggets 49
11 vs. 12 Signatures 6 Meyers Leonard Portland Trail Blazers
11 vs. 12 Signatures 6 Jan Vesely Washington Wizards 99
11 vs. 12 Signatures 7 Bismack Biyombo Charlotte Bobcats 49
11 vs. 12 Signatures 7 Harrison Barnes Golden State Warriors
11 vs. 12 Signatures 8 Brandon Knight Detroit Pistons 99
11 vs. 12 Signatures 8 Terrence Ross Toronto Raptors
11 vs. 12 Signatures 9 Kemba Walker Charlotte Bobcats 49
11 vs. 12 Signatures 9 Andre Drummond Detroit Pistons
11 vs. 12 Signatures 10 Jimmer Fredette Sacramento Kings 99
11 vs. 12 Signatures 10 Austin Rivers New Orleans Hornets
11 vs. 12 Signatures 11 Klay Thompson Golden State Warriors 99
11 vs. 12 Signatures 11 Meyers Leonard Portland Trail Blazers
11 vs. 12 Signatures 12 Alec Burks Utah Jazz 99
11 vs. 12 Signatures 12 Chris Copeland New York Knicks
11 vs. 12 Signatures 13 Markieff Morris Phoenix Suns 99
11 vs. 12 Signatures 13 Kendall Marshall Phoenix Suns
11 vs. 12 Signatures 14 Marcus Morris Phoenix Suns 99
11 vs. 12 Signatures 14 John Henson Milwaukee Bucks
11 vs. 12 Signatures 15 Kyrie Irving Cleveland Cavaliers 49
11 vs. 12 Signatures 15 Austin Rivers New Orleans Hornets
11 vs. 12 Signatures 16 Enes Kanter Utah Jazz 49
11 vs. 12 Signatures 16 Anthony Davis New Orleans Hornets
11 vs. 12 Signatures 17 Chandler Parsons Houston Rockets 49
11 vs. 12 Signatures 17 Bradley Beal Washington Wizards
11 vs. 12 Signatures 18 Marcus Morris Phoenix Suns 49
11 vs. 12 Signatures 18 Thomas Robinson Houston Rockets
11 vs. 12 Signatures 19 Brandon Knight Detroit Pistons 49
11 vs. 12 Signatures 19 Anthony Davis New Orleans Hornets
11 vs. 12 Signatures 20 Kemba Walker Charlotte Bobcats 99
11 vs. 12 Signatures 20 Jeremy Lamb Oklahoma City Thunder
11 vs. 12 Signatures 21 Nolan Smith Portland Trail Blazers 99
11 vs. 12 Signatures 21 Austin Rivers New Orleans Hornets
11 vs. 12 Signatures 22 Enes Kanter Utah Jazz 49
11 vs. 12 Signatures 22 Michael Kidd-Gilchrist Charlotte Bobcats
11 vs. 12 Signatures 23 Thomas Robinson Houston Rockets
11 vs. 12 Signatures 23 Chandler Parsons Houston Rockets 49
11 vs. 12 Signatures 24 Tristan Thompson Cleveland Cavaliers 99
11 vs. 12 Signatures 24 Harrison Barnes Golden State Warriors
11 vs. 12 Signatures 25 Kawhi Leonard San Antonio Spurs 99
11 vs. 12 Signatures 25 Maurice Harkless Orlando Magic
11 vs. 12 Signatures 26 Kenneth Faried Denver Nuggets 49
11 vs. 12 Signatures 26 Tyler Zeller Cleveland Cavaliers
11 vs. 12 Signatures 27 Tobias Harris Orlando Magic 99
11 vs. 12 Signatures 27 Jared Sullinger Boston Celtics
11 vs. 12 Signatures 28 Marquis Teague Chicago Bulls
11 vs. 12 Signatures 28 Norris Cole Miami Heat 99
11 vs. 12 Signatures 29 MarShon Brooks Brooklyn Nets 99
11 vs. 12 Signatures 29 John Jenkins Atlanta Hawks
11 vs. 12 Signatures 30 Quincy Acy Toronto Raptors
11 vs. 12 Signatures 30 Nikola Vucevic Orlando Magic 99
11 vs. 12 Signatures 31 Kenneth Faried Denver Nuggets 49
11 vs. 12 Signatures 31 Jae Crowder Dallas Mavericks
11 vs. 12 Signatures 32 Chandler Parsons Houston Rockets 99
11 vs. 12 Signatures 32 Harrison Barnes Golden State Warriors
11 vs. 12 Signatures 33 Chris Singleton Washington Wizards 99
11 vs. 12 Signatures 33 Bernard James Dallas Mavericks
11 vs. 12 Signatures 34 Chandler Parsons Houston Rockets 49
11 vs. 12 Signatures 34 Anthony Davis New Orleans Hornets
11 vs. 12 Signatures 35 Nolan Smith Portland Trail Blazers 99
11 vs. 12 Signatures 35 Tyler Zeller Cleveland Cavaliers
11 vs. 12 Signatures 36 Draymond Green Golden State Warriors
11 vs. 12 Signatures 36 Kemba Walker Charlotte Bobcats 99
11 vs. 12 Signatures 37 Isaiah Thomas Sacramento Kings 99
11 vs. 12 Signatures 37 Terrence Ross Toronto Raptors
11 vs. 12 Signatures 38 Marcus Morris Phoenix Suns 99
11 vs. 12 Signatures 38 Royce White Houston Rockets
11 vs. 12 Signatures 39 Thomas Robinson Houston Rockets
11 vs. 12 Signatures 39 Jonas Valanciunas Toronto Raptors 49
11 vs. 12 Signatures 40 Kent Bazemore Golden State Warriors
11 vs. 12 Signatures 40 Jimmer Fredette Sacramento Kings 49
11 vs. 12 Signatures 41 Enes Kanter Utah Jazz 49
11 vs. 12 Signatures 41 Terrence Jones Houston Rockets
11 vs. 12 Signatures 42 Jared Sullinger Boston Celtics
11 vs. 12 Signatures 42 Tristan Thompson Cleveland Cavaliers 49
11 vs. 12 Signatures 43 Alexey Shved Minnesota Timberwolves
11 vs. 12 Signatures 43 E'Twaun Moore Orlando Magic 49
11 vs. 12 Signatures 44 Klay Thompson Golden State Warriors 49
11 vs. 12 Signatures 44 Terrence Ross Toronto Raptors
11 vs. 12 Signatures 45 Derrick Williams Minnesota Timberwolves 49
11 vs. 12 Signatures 45 Alexey Shved Minnesota Timberwolves
11 vs. 12 Signatures 46 Alec Burks Utah Jazz 99
11 vs. 12 Signatures 46 Terrence Ross Toronto Raptors
11 vs. 12 Signatures 47 Nolan Smith Portland Trail Blazers 99
11 vs. 12 Signatures 47 Miles Plumlee Indiana Pacers
11 vs. 12 Signatures 48 Fab Melo Boston Celtics
11 vs. 12 Signatures 48 Nikola Vucevic Orlando Magic 99
11 vs. 12 Signatures 49 Reggie Jackson Oklahoma City Thunder 99
11 vs. 12 Signatures 49 Marquis Teague Chicago Bulls
11 vs. 12 Signatures 50 Meyers Leonard Portland Trail Blazers
11 vs. 12 Signatures 50 Enes Kanter Utah Jazz 99
11 vs. 12 Signatures 51 Brandon Knight Detroit Pistons 49
11 vs. 12 Signatures 51 Doron Lamb Orlando Magic
11 vs. 12 Signatures 52 Bismack Biyombo Charlotte Bobcats 49
11 vs. 12 Signatures 52 Andre Drummond Detroit Pistons
11 vs. 12 Signatures 53 Jordan Hamilton Denver Nuggets 99
11 vs. 12 Signatures 53 Maurice Harkless Orlando Magic
11 vs. 12 Signatures 54 Marcus Morris Phoenix Suns 99
11 vs. 12 Signatures 54 Andrew Nicholson Orlando Magic
11 vs. 12 Signatures 55 Marquis Teague Chicago Bulls
11 vs. 12 Signatures 55 Kemba Walker Charlotte Bobcats 49
11 vs. 12 Signatures 56 MarShon Brooks Brooklyn Nets 49
11 vs. 12 Signatures 56 Bradley Beal Washington Wizards
11 vs. 12 Signatures 57 Kyrie Irving Cleveland Cavaliers 49
11 vs. 12 Signatures 57 Bradley Beal Washington Wizards
11 vs. 12 Signatures 58 Brandon Knight Detroit Pistons 49
11 vs. 12 Signatures 58 Michael Kidd-Gilchrist Charlotte Bobcats
11 vs. 12 Signatures 59 Kawhi Leonard San Antonio Spurs 49
11 vs. 12 Signatures 59 Jared Sullinger Boston Celtics
11 vs. 12 Signatures 60 Kenneth Faried Denver Nuggets 49
11 vs. 12 Signatures 60 Arnett Moultrie Philadelphia 76ers
11 vs. 12 Signatures 61 Iman Shumpert New York Knicks 49
11 vs. 12 Signatures 61 Kendall Marshall Phoenix Suns
11 vs. 12 Signatures 62 Jimmer Fredette Sacramento Kings 49
11 vs. 12 Signatures 62 Thomas Robinson Houston Rockets
11 vs. 12 Signatures 63 Anthony Davis New Orleans Hornets
11 vs. 12 Signatures 63 Tristan Thompson Cleveland Cavaliers 49
11 vs. 12 Signatures 64 Tobias Harris Orlando Magic 49
11 vs. 12 Signatures 64 Alexey Shved Minnesota Timberwolves
11 vs. 12 Signatures 65 Kyrie Irving Cleveland Cavaliers 49
11 vs. 12 Signatures 65 Dion Waiters Cleveland Cavaliers
11 vs. 12 Signatures 66 Andre Drummond Detroit Pistons
11 vs. 12 Signatures 66 Jonas Valanciunas Toronto Raptors 49
11 vs. 12 Signatures 67 Reggie Jackson Oklahoma City Thunder 99
11 vs. 12 Signatures 67 Kendall Marshall Phoenix Suns
11 vs. 12 Signatures 68 Nolan Smith Portland Trail Blazers 99
11 vs. 12 Signatures 68 Chris Copeland New York Knicks
11 vs. 12 Signatures 69 Kim English Detroit Pistons
11 vs. 12 Signatures 69 Brandon Knight Detroit Pistons 49
11 vs. 12 Signatures 70 Lavoy Allen Philadelphia 76ers 99
11 vs. 12 Signatures 70 Quincy Acy Toronto Raptors
11 vs. 12 Signatures 71 Draymond Green Golden State Warriors
11 vs. 12 Signatures 71 Jimmer Fredette Sacramento Kings 99
11 vs. 12 Signatures 72 Alec Burks Utah Jazz 99
11 vs. 12 Signatures 72 Evan Fournier Denver Nuggets
11 vs. 12 Signatures 73 Festus Ezeli Golden State Warriors
11 vs. 12 Signatures 73 Jonas Valanciunas Toronto Raptors 99
11 vs. 12 Signatures 74 Chris Singleton Washington Wizards 99
11 vs. 12 Signatures 74 Terrence Jones Houston Rockets
11 vs. 12 Signatures 75 Jan Vesely Washington Wizards 99
11 vs. 12 Signatures 75 John Henson Milwaukee Bucks
11 vs. 12 Signatures 76 MarShon Brooks Brooklyn Nets 99
11 vs. 12 Signatures 76 Jared Cunningham Dallas Mavericks
11 vs. 12 Signatures 77 Bernard James Dallas Mavericks
11 vs. 12 Signatures 77 Kyle Singler Detroit Pistons 99
11 vs. 12 Signatures 78 Derrick Williams Minnesota Timberwolves 49
11 vs. 12 Signatures 78 Thomas Robinson Houston Rockets
11 vs. 12 Signatures 79 Michael Kidd-Gilchrist Charlotte Bobcats
11 vs. 12 Signatures 79 Tristan Thompson Cleveland Cavaliers 49
11 vs. 12 Signatures 80 Jimmer Fredette Sacramento Kings 99
11 vs. 12 Signatures 80 Evan Fournier Denver Nuggets
11 vs. 12 Signatures 81 Jan Vesely Washington Wizards 49
11 vs. 12 Signatures 81 Harrison Barnes Golden State Warriors
11 vs. 12 Signatures 82 Klay Thompson Golden State Warriors 49
11 vs. 12 Signatures 82 Kent Bazemore Golden State Warriors
11 vs. 12 Signatures 83 Miles Plumlee Indiana Pacers
11 vs. 12 Signatures 83 Lavoy Allen Philadelphia 76ers 99
11 vs. 12 Signatures 84 Will Barton Portland Trail Blazers
11 vs. 12 Signatures 84 Reggie Jackson Oklahoma City Thunder 99
11 vs. 12 Signatures 85 Kawhi Leonard San Antonio Spurs 49
11 vs. 12 Signatures 85 Jeff Taylor Charlotte Bobcats
11 vs. 12 Signatures 86 Isaiah Thomas Sacramento Kings 99
11 vs. 12 Signatures 86 Doron Lamb Orlando Magic
11 vs. 12 Signatures 87 Tobias Harris Orlando Magic 49
11 vs. 12 Signatures 87 Festus Ezeli Golden State Warriors
11 vs. 12 Signatures 88 Gustavo Ayon Milwaukee Bucks 99
11 vs. 12 Signatures 88 Andrew Nicholson Orlando Magic
11 vs. 12 Signatures 89 Bradley Beal Washington Wizards
11 vs. 12 Signatures 89 Brandon Knight Detroit Pistons 49
11 vs. 12 Signatures 90 Kendall Marshall Phoenix Suns
11 vs. 12 Signatures 90 Alec Burks Utah Jazz 99
11 vs. 12 Signatures 91 Nolan Smith Portland Trail Blazers 99
11 vs. 12 Signatures 91 Jared Cunningham Dallas Mavericks
11 vs. 12 Signatures 92 Ivan Johnson Atlanta Hawks 99
11 vs. 12 Signatures 92 Royce White Houston Rockets
11 vs. 12 Signatures 93 Tornike Shengelia Brooklyn Nets
11 vs. 12 Signatures 93 Jonas Valanciunas Toronto Raptors 99
11 vs. 12 Signatures 94 E'Twaun Moore Orlando Magic 99
11 vs. 12 Signatures 94 Kim English Detroit Pistons
11 vs. 12 Signatures 95 Jordan Hamilton Denver Nuggets 99
11 vs. 12 Signatures 95 Jared Cunningham Dallas Mavericks
11 vs. 12 Signatures 96 Klay Thompson Golden State Warriors 49
11 vs. 12 Signatures 96 Dion Waiters Cleveland Cavaliers
11 vs. 12 Signatures 97 Fab Melo Boston Celtics
11 vs. 12 Signatures 97 Bismack Biyombo Charlotte Bobcats 99
11 vs. 12 Signatures 98 Mike Scott Atlanta Hawks
11 vs. 12 Signatures 98 Tobias Harris Orlando Magic 99
11 vs. 12 Signatures 99 Orlando Johnson Indiana Pacers
11 vs. 12 Signatures 99 Iman Shumpert New York Knicks 49
11 vs. 12 Signatures 100 Kenneth Faried Denver Nuggets 49
11 vs. 12 Signatures 100 Draymond Green Golden State Warriors
11 vs. 12 Signatures Emerald 1 Kyrie Irving Cleveland Cavaliers 10
11 vs. 12 Signatures Emerald 1 Anthony Davis New Orleans Hornets
11 vs. 12 Signatures Emerald 2 Derrick Williams Minnesota Timberwolves 10
11 vs. 12 Signatures Emerald 2 Michael Kidd-Gilchrist Charlotte Bobcats
11 vs. 12 Signatures Emerald 3 Bradley Beal Washington Wizards
11 vs. 12 Signatures Emerald 3 Iman Shumpert New York Knicks 10
11 vs. 12 Signatures Emerald 4 Tristan Thompson Cleveland Cavaliers 10
11 vs. 12 Signatures Emerald 4 Dion Waiters Cleveland Cavaliers
11 vs. 12 Signatures Emerald 5 Thomas Robinson Houston Rockets
11 vs. 12 Signatures Emerald 5 Kenneth Faried Denver Nuggets 10
11 vs. 12 Signatures Emerald 6 Meyers Leonard Portland Trail Blazers
11 vs. 12 Signatures Emerald 6 Jan Vesely Washington Wizards 10
11 vs. 12 Signatures Emerald 7 Bismack Biyombo Charlotte Bobcats 10
11 vs. 12 Signatures Emerald 7 Harrison Barnes Golden State Warriors
11 vs. 12 Signatures Emerald 8 Brandon Knight Detroit Pistons 10
11 vs. 12 Signatures Emerald 8 Terrence Ross Toronto Raptors
11 vs. 12 Signatures Emerald 9 Kemba Walker Charlotte Bobcats 10
11 vs. 12 Signatures Emerald 9 Andre Drummond Detroit Pistons
11 vs. 12 Signatures Emerald 10 Jimmer Fredette Sacramento Kings 10
11 vs. 12 Signatures Emerald 10 Austin Rivers New Orleans Hornets
11 vs. 12 Signatures Emerald 11 Klay Thompson Golden State Warriors 10
11 vs. 12 Signatures Emerald 11 Meyers Leonard Portland Trail Blazers
11 vs. 12 Signatures Emerald 12 Alec Burks Utah Jazz 10
11 vs. 12 Signatures Emerald 12 Chris Copeland New York Knicks
11 vs. 12 Signatures Emerald 13 Markieff Morris Phoenix Suns 10
11 vs. 12 Signatures Emerald 13 Kendall Marshall Phoenix Suns
11 vs. 12 Signatures Emerald 14 Marcus Morris Phoenix Suns 10
11 vs. 12 Signatures Emerald 14 John Henson Milwaukee Bucks
11 vs. 12 Signatures Emerald 15 Kyrie Irving Cleveland Cavaliers 10
11 vs. 12 Signatures Emerald 15 Austin Rivers New Orleans Hornets
11 vs. 12 Signatures Emerald 16 Enes Kanter Utah Jazz 10
11 vs. 12 Signatures Emerald 16 Anthony Davis New Orleans Hornets
11 vs. 12 Signatures Emerald 17 Chandler Parsons Houston Rockets 10
11 vs. 12 Signatures Emerald 17 Bradley Beal Washington Wizards
11 vs. 12 Signatures Emerald 18 Marcus Morris Phoenix Suns 10
11 vs. 12 Signatures Emerald 18 Thomas Robinson Houston Rockets
11 vs. 12 Signatures Emerald 19 Brandon Knight Detroit Pistons 10
11 vs. 12 Signatures Emerald 19 Anthony Davis New Orleans Hornets
11 vs. 12 Signatures Emerald 20 Kemba Walker Charlotte Bobcats 10
11 vs. 12 Signatures Emerald 20 Jeremy Lamb Oklahoma City Thunder
11 vs. 12 Signatures Emerald 21 Nolan Smith Portland Trail Blazers 10
11 vs. 12 Signatures Emerald 21 Austin Rivers New Orleans Hornets
11 vs. 12 Signatures Emerald 22 Enes Kanter Utah Jazz 10
11 vs. 12 Signatures Emerald 22 Michael Kidd-Gilchrist Charlotte Bobcats
11 vs. 12 Signatures Emerald 23 Thomas Robinson Houston Rockets
11 vs. 12 Signatures Emerald 23 Chandler Parsons Houston Rockets 10
11 vs. 12 Signatures Emerald 24 Tristan Thompson Cleveland Cavaliers 10
11 vs. 12 Signatures Emerald 24 Harrison Barnes Golden State Warriors
11 vs. 12 Signatures Emerald 25 Kawhi Leonard San Antonio Spurs 10
11 vs. 12 Signatures Emerald 25 Maurice Harkless Orlando Magic
11 vs. 12 Signatures Emerald 26 Kenneth Faried Denver Nuggets 10
11 vs. 12 Signatures Emerald 26 Tyler Zeller Cleveland Cavaliers
11 vs. 12 Signatures Emerald 27 Tobias Harris Orlando Magic 10
11 vs. 12 Signatures Emerald 27 Jared Sullinger Boston Celtics
11 vs. 12 Signatures Emerald 28 Marquis Teague Chicago Bulls
11 vs. 12 Signatures Emerald 28 Norris Cole Miami Heat 10
11 vs. 12 Signatures Emerald 29 MarShon Brooks Brooklyn Nets 10
11 vs. 12 Signatures Emerald 29 John Jenkins Atlanta Hawks
11 vs. 12 Signatures Emerald 30 Quincy Acy Toronto Raptors
11 vs. 12 Signatures Emerald 30 Nikola Vucevic Orlando Magic 10
11 vs. 12 Signatures Emerald 31 Kenneth Faried Denver Nuggets 10
11 vs. 12 Signatures Emerald 31 Jae Crowder Dallas Mavericks
11 vs. 12 Signatures Emerald 32 Chandler Parsons Houston Rockets 10
11 vs. 12 Signatures Emerald 32 Harrison Barnes Golden State Warriors
11 vs. 12 Signatures Emerald 33 Chris Singleton Washington Wizards 10
11 vs. 12 Signatures Emerald 33 Bernard James Dallas Mavericks
11 vs. 12 Signatures Emerald 34 Chandler Parsons Houston Rockets 10
11 vs. 12 Signatures Emerald 34 Anthony Davis New Orleans Hornets
11 vs. 12 Signatures Emerald 35 Nolan Smith Portland Trail Blazers 10
11 vs. 12 Signatures Emerald 35 Tyler Zeller Cleveland Cavaliers
11 vs. 12 Signatures Emerald 36 Draymond Green Golden State Warriors
11 vs. 12 Signatures Emerald 36 Kemba Walker Charlotte Bobcats 10
11 vs. 12 Signatures Emerald 37 Isaiah Thomas Sacramento Kings 10
11 vs. 12 Signatures Emerald 37 Terrence Ross Toronto Raptors
11 vs. 12 Signatures Emerald 38 Marcus Morris Phoenix Suns 10
11 vs. 12 Signatures Emerald 38 Royce White Houston Rockets
11 vs. 12 Signatures Emerald 39 Thomas Robinson Houston Rockets
11 vs. 12 Signatures Emerald 39 Jonas Valanciunas Toronto Raptors 10
11 vs. 12 Signatures Emerald 40 Kent Bazemore Golden State Warriors
11 vs. 12 Signatures Emerald 40 Jimmer Fredette Sacramento Kings 10
11 vs. 12 Signatures Emerald 41 Enes Kanter Utah Jazz 10
11 vs. 12 Signatures Emerald 41 Terrence Jones Houston Rockets
11 vs. 12 Signatures Emerald 42 Jared Sullinger Boston Celtics
11 vs. 12 Signatures Emerald 42 Tristan Thompson Cleveland Cavaliers 10
11 vs. 12 Signatures Emerald 43 Alexey Shved Minnesota Timberwolves
11 vs. 12 Signatures Emerald 43 E'Twaun Moore Orlando Magic 10
11 vs. 12 Signatures Emerald 44 Klay Thompson Golden State Warriors 10
11 vs. 12 Signatures Emerald 44 Terrence Ross Toronto Raptors
11 vs. 12 Signatures Emerald 45 Derrick Williams Minnesota Timberwolves 10
11 vs. 12 Signatures Emerald 45 Alexey Shved Minnesota Timberwolves
11 vs. 12 Signatures Emerald 46 Alec Burks Utah Jazz 10
11 vs. 12 Signatures Emerald 46 Terrence Ross Toronto Raptors
11 vs. 12 Signatures Emerald 47 Nolan Smith Portland Trail Blazers 10
11 vs. 12 Signatures Emerald 47 Miles Plumlee Indiana Pacers
11 vs. 12 Signatures Emerald 48 Fab Melo Boston Celtics
11 vs. 12 Signatures Emerald 48 Nikola Vucevic Orlando Magic 10
11 vs. 12 Signatures Emerald 49 Reggie Jackson Oklahoma City Thunder 10
11 vs. 12 Signatures Emerald 49 Marquis Teague Chicago Bulls
11 vs. 12 Signatures Emerald 50 Meyers Leonard Portland Trail Blazers
11 vs. 12 Signatures Emerald 50 Enes Kanter Utah Jazz 10
11 vs. 12 Signatures Emerald 51 Brandon Knight Detroit Pistons 10
11 vs. 12 Signatures Emerald 51 Doron Lamb Orlando Magic
11 vs. 12 Signatures Emerald 52 Bismack Biyombo Charlotte Bobcats 10
11 vs. 12 Signatures Emerald 52 Andre Drummond Detroit Pistons
11 vs. 12 Signatures Emerald 53 Jordan Hamilton Denver Nuggets 10
11 vs. 12 Signatures Emerald 53 Maurice Harkless Orlando Magic
11 vs. 12 Signatures Emerald 54 Marcus Morris Phoenix Suns 10
11 vs. 12 Signatures Emerald 54 Andrew Nicholson Orlando Magic
11 vs. 12 Signatures Emerald 55 Marquis Teague Chicago Bulls
11 vs. 12 Signatures Emerald 55 Kemba Walker Charlotte Bobcats 10
11 vs. 12 Signatures Emerald 56 MarShon Brooks Brooklyn Nets 10
11 vs. 12 Signatures Emerald 56 Bradley Beal Washington Wizards
11 vs. 12 Signatures Emerald 57 Kyrie Irving Cleveland Cavaliers 10
11 vs. 12 Signatures Emerald 57 Bradley Beal Washington Wizards
11 vs. 12 Signatures Emerald 58 Brandon Knight Detroit Pistons 10
11 vs. 12 Signatures Emerald 58 Michael Kidd-Gilchrist Charlotte Bobcats
11 vs. 12 Signatures Emerald 59 Kawhi Leonard San Antonio Spurs 10
11 vs. 12 Signatures Emerald 59 Jared Sullinger Boston Celtics
11 vs. 12 Signatures Emerald 60 Kenneth Faried Denver Nuggets 10
11 vs. 12 Signatures Emerald 60 Arnett Moultrie Philadelphia 76ers
11 vs. 12 Signatures Emerald 61 Iman Shumpert New York Knicks 10
11 vs. 12 Signatures Emerald 61 Kendall Marshall Phoenix Suns
11 vs. 12 Signatures Emerald 62 Jimmer Fredette Sacramento Kings 10
11 vs. 12 Signatures Emerald 62 Thomas Robinson Houston Rockets
11 vs. 12 Signatures Emerald 63 Anthony Davis New Orleans Hornets
11 vs. 12 Signatures Emerald 63 Tristan Thompson Cleveland Cavaliers 10
11 vs. 12 Signatures Emerald 64 Tobias Harris Orlando Magic 10
11 vs. 12 Signatures Emerald 64 Alexey Shved Minnesota Timberwolves
11 vs. 12 Signatures Emerald 65 Kyrie Irving Cleveland Cavaliers 10
11 vs. 12 Signatures Emerald 65 Dion Waiters Cleveland Cavaliers
11 vs. 12 Signatures Emerald 66 Andre Drummond Detroit Pistons
11 vs. 12 Signatures Emerald 66 Jonas Valanciunas Toronto Raptors 10
11 vs. 12 Signatures Emerald 67 Reggie Jackson Oklahoma City Thunder 10
11 vs. 12 Signatures Emerald 67 Kendall Marshall Phoenix Suns
11 vs. 12 Signatures Emerald 68 Nolan Smith Portland Trail Blazers 10
11 vs. 12 Signatures Emerald 68 Chris Copeland New York Knicks
11 vs. 12 Signatures Emerald 69 Kim English Detroit Pistons
11 vs. 12 Signatures Emerald 69 Brandon Knight Detroit Pistons 10
11 vs. 12 Signatures Emerald 70 Lavoy Allen Philadelphia 76ers 10
11 vs. 12 Signatures Emerald 70 Quincy Acy Toronto Raptors
11 vs. 12 Signatures Emerald 71 Draymond Green Golden State Warriors
11 vs. 12 Signatures Emerald 71 Jimmer Fredette Sacramento Kings 10
11 vs. 12 Signatures Emerald 72 Alec Burks Utah Jazz 10
11 vs. 12 Signatures Emerald 72 Evan Fournier Denver Nuggets
11 vs. 12 Signatures Emerald 73 Festus Ezeli Golden State Warriors
11 vs. 12 Signatures Emerald 73 Jonas Valanciunas Toronto Raptors 10
11 vs. 12 Signatures Emerald 74 Chris Singleton Washington Wizards 10
11 vs. 12 Signatures Emerald 74 Terrence Jones Houston Rockets
11 vs. 12 Signatures Emerald 75 Jan Vesely Washington Wizards 10
11 vs. 12 Signatures Emerald 75 John Henson Milwaukee Bucks
11 vs. 12 Signatures Emerald 76 MarShon Brooks Brooklyn Nets 10
11 vs. 12 Signatures Emerald 76 Jared Cunningham Dallas Mavericks
11 vs. 12 Signatures Emerald 77 Bernard James Dallas Mavericks
11 vs. 12 Signatures Emerald 77 Kyle Singler Detroit Pistons 10
11 vs. 12 Signatures Emerald 78 Derrick Williams Minnesota Timberwolves 10
11 vs. 12 Signatures Emerald 78 Thomas Robinson Houston Rockets
11 vs. 12 Signatures Emerald 79 Michael Kidd-Gilchrist Charlotte Bobcats
11 vs. 12 Signatures Emerald 79 Tristan Thompson Cleveland Cavaliers 10
11 vs. 12 Signatures Emerald 80 Jimmer Fredette Sacramento Kings 10
11 vs. 12 Signatures Emerald 80 Evan Fournier Denver Nuggets
11 vs. 12 Signatures Emerald 81 Jan Vesely Washington Wizards 10
11 vs. 12 Signatures Emerald 81 Harrison Barnes Golden State Warriors
11 vs. 12 Signatures Emerald 82 Klay Thompson Golden State Warriors 10
11 vs. 12 Signatures Emerald 82 Kent Bazemore Golden State Warriors
11 vs. 12 Signatures Emerald 83 Miles Plumlee Indiana Pacers
11 vs. 12 Signatures Emerald 83 Lavoy Allen Philadelphia 76ers 10
11 vs. 12 Signatures Emerald 84 Will Barton Portland Trail Blazers
11 vs. 12 Signatures Emerald 84 Reggie Jackson Oklahoma City Thunder 10
11 vs. 12 Signatures Emerald 85 Kawhi Leonard San Antonio Spurs 10
11 vs. 12 Signatures Emerald 85 Jeff Taylor Charlotte Bobcats
11 vs. 12 Signatures Emerald 86 Isaiah Thomas Sacramento Kings 10
11 vs. 12 Signatures Emerald 86 Doron Lamb Orlando Magic
11 vs. 12 Signatures Emerald 87 Festus Ezeli Golden State Warriors
11 vs. 12 Signatures Emerald 87 Tobias Harris Orlando Magic 10
11 vs. 12 Signatures Emerald 88 Gustavo Ayon Milwaukee Bucks 10
11 vs. 12 Signatures Emerald 88 Andrew Nicholson Orlando Magic
11 vs. 12 Signatures Emerald 89 Bradley Beal Washington Wizards
11 vs. 12 Signatures Emerald 89 Brandon Knight Detroit Pistons 10
11 vs. 12 Signatures Emerald 90 Alec Burks Utah Jazz 10
11 vs. 12 Signatures Emerald 90 Kendall Marshall Phoenix Suns
11 vs. 12 Signatures Emerald 91 Nolan Smith Portland Trail Blazers 10
11 vs. 12 Signatures Emerald 91 Jared Cunningham Dallas Mavericks
11 vs. 12 Signatures Emerald 92 Ivan Johnson Atlanta Hawks 10
11 vs. 12 Signatures Emerald 92 Royce White Houston Rockets
11 vs. 12 Signatures Emerald 93 Tornike Shengelia Brooklyn Nets
11 vs. 12 Signatures Emerald 93 Jonas Valanciunas Toronto Raptors 10
11 vs. 12 Signatures Emerald 94 E'Twaun Moore Orlando Magic 10
11 vs. 12 Signatures Emerald 94 Kim English Detroit Pistons
11 vs. 12 Signatures Emerald 95 Jordan Hamilton Denver Nuggets 10
11 vs. 12 Signatures Emerald 95 Jared Cunningham Dallas Mavericks
11 vs. 12 Signatures Emerald 96 Klay Thompson Golden State Warriors 10
11 vs. 12 Signatures Emerald 96 Dion Waiters Cleveland Cavaliers
11 vs. 12 Signatures Emerald 97 Fab Melo Boston Celtics
11 vs. 12 Signatures Emerald 97 Bismack Biyombo Charlotte Bobcats 10
11 vs. 12 Signatures Emerald 98 Mike Scott Atlanta Hawks
11 vs. 12 Signatures Emerald 98 Tobias Harris Orlando Magic 10
11 vs. 12 Signatures Emerald 99 Orlando Johnson Indiana Pacers
11 vs. 12 Signatures Emerald 99 Iman Shumpert New York Knicks 10
11 vs. 12 Signatures Emerald 100 Kenneth Faried Denver Nuggets 10
11 vs. 12 Signatures Emerald 100 Draymond Green Golden State Warriors
11 vs. 12 Signatures Gold 1 Kyrie Irving Cleveland Cavaliers 25
11 vs. 12 Signatures Gold 1 Anthony Davis New Orleans Hornets
11 vs. 12 Signatures Gold 2 Derrick Williams Minnesota Timberwolves 25
11 vs. 12 Signatures Gold 2 Michael Kidd-Gilchrist Charlotte Bobcats
11 vs. 12 Signatures Gold 3 Bradley Beal Washington Wizards
11 vs. 12 Signatures Gold 3 Iman Shumpert New York Knicks 25
11 vs. 12 Signatures Gold 4 Tristan Thompson Cleveland Cavaliers 25
11 vs. 12 Signatures Gold 4 Dion Waiters Cleveland Cavaliers
11 vs. 12 Signatures Gold 5 Thomas Robinson Houston Rockets
11 vs. 12 Signatures Gold 5 Kenneth Faried Denver Nuggets 25
11 vs. 12 Signatures Gold 6 Meyers Leonard Portland Trail Blazers
11 vs. 12 Signatures Gold 6 Jan Vesely Washington Wizards 25
11 vs. 12 Signatures Gold 7 Bismack Biyombo Charlotte Bobcats 25
11 vs. 12 Signatures Gold 7 Harrison Barnes Golden State Warriors
11 vs. 12 Signatures Gold 8 Brandon Knight Detroit Pistons 25
11 vs. 12 Signatures Gold 8 Terrence Ross Toronto Raptors
11 vs. 12 Signatures Gold 9 Kemba Walker Charlotte Bobcats 25
11 vs. 12 Signatures Gold 9 Andre Drummond Detroit Pistons
11 vs. 12 Signatures Gold 10 Jimmer Fredette Sacramento Kings 25
11 vs. 12 Signatures Gold 10 Austin Rivers New Orleans Hornets
11 vs. 12 Signatures Gold 11 Klay Thompson Golden State Warriors 25
11 vs. 12 Signatures Gold 11 Meyers Leonard Portland Trail Blazers
11 vs. 12 Signatures Gold 12 Alec Burks Utah Jazz 25
11 vs. 12 Signatures Gold 12 Chris Copeland New York Knicks
11 vs. 12 Signatures Gold 13 Markieff Morris Phoenix Suns 25
11 vs. 12 Signatures Gold 13 Kendall Marshall Phoenix Suns
11 vs. 12 Signatures Gold 14 Marcus Morris Phoenix Suns 25
11 vs. 12 Signatures Gold 14 John Henson Milwaukee Bucks
11 vs. 12 Signatures Gold 15 Kyrie Irving Cleveland Cavaliers 25
11 vs. 12 Signatures Gold 15 Austin Rivers New Orleans Hornets
11 vs. 12 Signatures Gold 16 Enes Kanter Utah Jazz 25
11 vs. 12 Signatures Gold 16 Anthony Davis New Orleans Hornets
11 vs. 12 Signatures Gold 17 Chandler Parsons Houston Rockets 25
11 vs. 12 Signatures Gold 17 Bradley Beal Washington Wizards
11 vs. 12 Signatures Gold 18 Marcus Morris Phoenix Suns 25
11 vs. 12 Signatures Gold 18 Thomas Robinson Houston Rockets
11 vs. 12 Signatures Gold 19 Brandon Knight Detroit Pistons 25
11 vs. 12 Signatures Gold 19 Anthony Davis New Orleans Hornets
11 vs. 12 Signatures Gold 20 Kemba Walker Charlotte Bobcats 25
11 vs. 12 Signatures Gold 20 Jeremy Lamb Oklahoma City Thunder
11 vs. 12 Signatures Gold 21 Nolan Smith Portland Trail Blazers 25
11 vs. 12 Signatures Gold 21 Austin Rivers New Orleans Hornets
11 vs. 12 Signatures Gold 22 Enes Kanter Utah Jazz 25
11 vs. 12 Signatures Gold 22 Michael Kidd-Gilchrist Charlotte Bobcats
11 vs. 12 Signatures Gold 23 Thomas Robinson Houston Rockets
11 vs. 12 Signatures Gold 23 Chandler Parsons Houston Rockets 25
11 vs. 12 Signatures Gold 24 Tristan Thompson Cleveland Cavaliers 25
11 vs. 12 Signatures Gold 24 Harrison Barnes Golden State Warriors
11 vs. 12 Signatures Gold 25 Kawhi Leonard San Antonio Spurs 25
11 vs. 12 Signatures Gold 25 Maurice Harkless Orlando Magic
11 vs. 12 Signatures Gold 26 Kenneth Faried Denver Nuggets 25
11 vs. 12 Signatures Gold 26 Tyler Zeller Cleveland Cavaliers
11 vs. 12 Signatures Gold 27 Tobias Harris Orlando Magic 25
11 vs. 12 Signatures Gold 27 Jared Sullinger Boston Celtics
11 vs. 12 Signatures Gold 28 Marquis Teague Chicago Bulls
11 vs. 12 Signatures Gold 28 Norris Cole Miami Heat 25
11 vs. 12 Signatures Gold 29 MarShon Brooks Brooklyn Nets 25
11 vs. 12 Signatures Gold 29 John Jenkins Atlanta Hawks
11 vs. 12 Signatures Gold 30 Quincy Acy Toronto Raptors
11 vs. 12 Signatures Gold 30 Nikola Vucevic Orlando Magic 25
11 vs. 12 Signatures Gold 31 Jae Crowder Dallas Mavericks
11 vs. 12 Signatures Gold 31 Kenneth Faried Denver Nuggets 25
11 vs. 12 Signatures Gold 32 Chandler Parsons Houston Rockets 25
11 vs. 12 Signatures Gold 32 Harrison Barnes Golden State Warriors
11 vs. 12 Signatures Gold 33 Chris Singleton Washington Wizards 25
11 vs. 12 Signatures Gold 33 Bernard James Dallas Mavericks
11 vs. 12 Signatures Gold 34 Chandler Parsons Houston Rockets 25
11 vs. 12 Signatures Gold 34 Anthony Davis New Orleans Hornets
11 vs. 12 Signatures Gold 35 Nolan Smith Portland Trail Blazers 25
11 vs. 12 Signatures Gold 35 Tyler Zeller Cleveland Cavaliers
11 vs. 12 Signatures Gold 36 Draymond Green Golden State Warriors
11 vs. 12 Signatures Gold 36 Kemba Walker Charlotte Bobcats 25
11 vs. 12 Signatures Gold 37 Isaiah Thomas Sacramento Kings 25
11 vs. 12 Signatures Gold 37 Terrence Ross Toronto Raptors
11 vs. 12 Signatures Gold 38 Marcus Morris Phoenix Suns 25
11 vs. 12 Signatures Gold 38 Royce White Houston Rockets
11 vs. 12 Signatures Gold 39 Thomas Robinson Houston Rockets
11 vs. 12 Signatures Gold 39 Jonas Valanciunas Toronto Raptors 25
11 vs. 12 Signatures Gold 40 Kent Bazemore Golden State Warriors
11 vs. 12 Signatures Gold 40 Jimmer Fredette Sacramento Kings 25
11 vs. 12 Signatures Gold 41 Enes Kanter Utah Jazz 25
11 vs. 12 Signatures Gold 41 Terrence Jones Houston Rockets
11 vs. 12 Signatures Gold 42 Tristan Thompson Cleveland Cavaliers 25
11 vs. 12 Signatures Gold 42 Jared Sullinger Boston Celtics
11 vs. 12 Signatures Gold 43 E'Twaun Moore Orlando Magic 25
11 vs. 12 Signatures Gold 43 Alexey Shved Minnesota Timberwolves
11 vs. 12 Signatures Gold 44 Klay Thompson Golden State Warriors 25
11 vs. 12 Signatures Gold 44 Terrence Ross Toronto Raptors
11 vs. 12 Signatures Gold 45 Derrick Williams Minnesota Timberwolves 25
11 vs. 12 Signatures Gold 45 Alexey Shved Minnesota Timberwolves
11 vs. 12 Signatures Gold 46 Alec Burks Utah Jazz 25
11 vs. 12 Signatures Gold 46 Terrence Ross Toronto Raptors
11 vs. 12 Signatures Gold 47 Nolan Smith Portland Trail Blazers 25
11 vs. 12 Signatures Gold 47 Miles Plumlee Indiana Pacers
11 vs. 12 Signatures Gold 48 Fab Melo Boston Celtics
11 vs. 12 Signatures Gold 48 Nikola Vucevic Orlando Magic 25
11 vs. 12 Signatures Gold 49 Reggie Jackson Oklahoma City Thunder 25
11 vs. 12 Signatures Gold 49 Marquis Teague Chicago Bulls
11 vs. 12 Signatures Gold 50 Meyers Leonard Portland Trail Blazers
11 vs. 12 Signatures Gold 50 Enes Kanter Utah Jazz 25
11 vs. 12 Signatures Gold 51 Brandon Knight Detroit Pistons 25
11 vs. 12 Signatures Gold 51 Doron Lamb Orlando Magic
11 vs. 12 Signatures Gold 52 Bismack Biyombo Charlotte Bobcats 25
11 vs. 12 Signatures Gold 52 Andre Drummond Detroit Pistons
11 vs. 12 Signatures Gold 53 Jordan Hamilton Denver Nuggets 25
11 vs. 12 Signatures Gold 53 Maurice Harkless Orlando Magic
11 vs. 12 Signatures Gold 54 Marcus Morris Phoenix Suns 25
11 vs. 12 Signatures Gold 54 Andrew Nicholson Orlando Magic
11 vs. 12 Signatures Gold 55 Marquis Teague Chicago Bulls
11 vs. 12 Signatures Gold 55 Kemba Walker Charlotte Bobcats 25
11 vs. 12 Signatures Gold 56 MarShon Brooks Brooklyn Nets 25
11 vs. 12 Signatures Gold 56 Bradley Beal Washington Wizards
11 vs. 12 Signatures Gold 57 Kyrie Irving Cleveland Cavaliers 25
11 vs. 12 Signatures Gold 57 Bradley Beal Washington Wizards
11 vs. 12 Signatures Gold 58 Brandon Knight Detroit Pistons 25
11 vs. 12 Signatures Gold 58 Michael Kidd-Gilchrist Charlotte Bobcats
11 vs. 12 Signatures Gold 59 Kawhi Leonard San Antonio Spurs 25
11 vs. 12 Signatures Gold 59 Jared Sullinger Boston Celtics
11 vs. 12 Signatures Gold 60 Kenneth Faried Denver Nuggets 25
11 vs. 12 Signatures Gold 60 Arnett Moultrie Philadelphia 76ers
11 vs. 12 Signatures Gold 61 Iman Shumpert New York Knicks 25
11 vs. 12 Signatures Gold 61 Kendall Marshall Phoenix Suns
11 vs. 12 Signatures Gold 62 Jimmer Fredette Sacramento Kings 25
11 vs. 12 Signatures Gold 62 Thomas Robinson Houston Rockets
11 vs. 12 Signatures Gold 63 Anthony Davis New Orleans Hornets
11 vs. 12 Signatures Gold 63 Tristan Thompson Cleveland Cavaliers 25
11 vs. 12 Signatures Gold 64 Tobias Harris Orlando Magic 25
11 vs. 12 Signatures Gold 64 Alexey Shved Minnesota Timberwolves
11 vs. 12 Signatures Gold 65 Kyrie Irving Cleveland Cavaliers 25
11 vs. 12 Signatures Gold 65 Dion Waiters Cleveland Cavaliers
11 vs. 12 Signatures Gold 66 Andre Drummond Detroit Pistons
11 vs. 12 Signatures Gold 66 Jonas Valanciunas Toronto Raptors 25
11 vs. 12 Signatures Gold 67 Reggie Jackson Oklahoma City Thunder 25
11 vs. 12 Signatures Gold 67 Kendall Marshall Phoenix Suns
11 vs. 12 Signatures Gold 68 Nolan Smith Portland Trail Blazers 25
11 vs. 12 Signatures Gold 68 Chris Copeland New York Knicks
11 vs. 12 Signatures Gold 69 Kim English Detroit Pistons
11 vs. 12 Signatures Gold 69 Brandon Knight Detroit Pistons 25
11 vs. 12 Signatures Gold 70 Lavoy Allen Philadelphia 76ers 25
11 vs. 12 Signatures Gold 70 Quincy Acy Toronto Raptors
11 vs. 12 Signatures Gold 71 Draymond Green Golden State Warriors
11 vs. 12 Signatures Gold 71 Jimmer Fredette Sacramento Kings 25
11 vs. 12 Signatures Gold 72 Alec Burks Utah Jazz 25
11 vs. 12 Signatures Gold 72 Evan Fournier Denver Nuggets
11 vs. 12 Signatures Gold 73 Festus Ezeli Golden State Warriors
11 vs. 12 Signatures Gold 73 Jonas Valanciunas Toronto Raptors 25
11 vs. 12 Signatures Gold 74 Chris Singleton Washington Wizards 25
11 vs. 12 Signatures Gold 74 Terrence Jones Houston Rockets
11 vs. 12 Signatures Gold 75 Jan Vesely Washington Wizards 25
11 vs. 12 Signatures Gold 75 John Henson Milwaukee Bucks
11 vs. 12 Signatures Gold 76 MarShon Brooks Brooklyn Nets 25
11 vs. 12 Signatures Gold 76 Jared Cunningham Dallas Mavericks
11 vs. 12 Signatures Gold 77 Bernard James Dallas Mavericks
11 vs. 12 Signatures Gold 77 Kyle Singler Detroit Pistons 25
11 vs. 12 Signatures Gold 78 Derrick Williams Minnesota Timberwolves 25
11 vs. 12 Signatures Gold 78 Thomas Robinson Houston Rockets
11 vs. 12 Signatures Gold 79 Michael Kidd-Gilchrist Charlotte Bobcats
11 vs. 12 Signatures Gold 79 Tristan Thompson Cleveland Cavaliers 25
11 vs. 12 Signatures Gold 80 Jimmer Fredette Sacramento Kings 25
11 vs. 12 Signatures Gold 80 Evan Fournier Denver Nuggets
11 vs. 12 Signatures Gold 81 Jan Vesely Washington Wizards 25
11 vs. 12 Signatures Gold 81 Harrison Barnes Golden State Warriors
11 vs. 12 Signatures Gold 82 Klay Thompson Golden State Warriors 25
11 vs. 12 Signatures Gold 82 Kent Bazemore Golden State Warriors
11 vs. 12 Signatures Gold 83 Miles Plumlee Indiana Pacers
11 vs. 12 Signatures Gold 83 Lavoy Allen Philadelphia 76ers 25
11 vs. 12 Signatures Gold 84 Will Barton Portland Trail Blazers
11 vs. 12 Signatures Gold 84 Reggie Jackson Oklahoma City Thunder 25
11 vs. 12 Signatures Gold 85 Kawhi Leonard San Antonio Spurs 25
11 vs. 12 Signatures Gold 85 Jeff Taylor Charlotte Bobcats
11 vs. 12 Signatures Gold 86 Isaiah Thomas Sacramento Kings 25
11 vs. 12 Signatures Gold 86 Doron Lamb Orlando Magic
11 vs. 12 Signatures Gold 87 Tobias Harris Orlando Magic 25
11 vs. 12 Signatures Gold 87 Festus Ezeli Golden State Warriors
11 vs. 12 Signatures Gold 88 Gustavo Ayon Milwaukee Bucks 25
11 vs. 12 Signatures Gold 88 Andrew Nicholson Orlando Magic
11 vs. 12 Signatures Gold 89 Bradley Beal Washington Wizards
11 vs. 12 Signatures Gold 89 Brandon Knight Detroit Pistons 25
11 vs. 12 Signatures Gold 90 Kendall Marshall Phoenix Suns
11 vs. 12 Signatures Gold 90 Alec Burks Utah Jazz 25
11 vs. 12 Signatures Gold 91 Nolan Smith Portland Trail Blazers 25
11 vs. 12 Signatures Gold 91 Jared Cunningham Dallas Mavericks
11 vs. 12 Signatures Gold 92 Ivan Johnson Atlanta Hawks 25
11 vs. 12 Signatures Gold 92 Royce White Houston Rockets
11 vs. 12 Signatures Gold 93 Tornike Shengelia Brooklyn Nets
11 vs. 12 Signatures Gold 93 Jonas Valanciunas Toronto Raptors 25
11 vs. 12 Signatures Gold 94 E'Twaun Moore Orlando Magic 25
11 vs. 12 Signatures Gold 94 Kim English Detroit Pistons
11 vs. 12 Signatures Gold 95 Jordan Hamilton Denver Nuggets 25
11 vs. 12 Signatures Gold 95 Jared Cunningham Dallas Mavericks
11 vs. 12 Signatures Gold 96 Klay Thompson Golden State Warriors 25
11 vs. 12 Signatures Gold 96 Dion Waiters Cleveland Cavaliers
11 vs. 12 Signatures Gold 97 Fab Melo Boston Celtics
11 vs. 12 Signatures Gold 97 Bismack Biyombo Charlotte Bobcats 25
11 vs. 12 Signatures Gold 98 Mike Scott Atlanta Hawks
11 vs. 12 Signatures Gold 98 Tobias Harris Orlando Magic 25
11 vs. 12 Signatures Gold 99 Orlando Johnson Indiana Pacers
11 vs. 12 Signatures Gold 99 Iman Shumpert New York Knicks 25
11 vs. 12 Signatures Gold 100 Kenneth Faried Denver Nuggets 25
11 vs. 12 Signatures Gold 100 Draymond Green Golden State Warriors
11 vs. 12 Signatures Platinum 1 Kyrie Irving Cleveland Cavaliers 1
11 vs. 12 Signatures Platinum 1 Anthony Davis New Orleans Hornets
11 vs. 12 Signatures Platinum 2 Derrick Williams Minnesota Timberwolves 1
11 vs. 12 Signatures Platinum 2 Michael Kidd-Gilchrist Charlotte Bobcats
11 vs. 12 Signatures Platinum 3 Bradley Beal Washington Wizards
11 vs. 12 Signatures Platinum 3 Iman Shumpert New York Knicks 1
11 vs. 12 Signatures Platinum 4 Tristan Thompson Cleveland Cavaliers 1
11 vs. 12 Signatures Platinum 4 Dion Waiters Cleveland Cavaliers
11 vs. 12 Signatures Platinum 5 Thomas Robinson Houston Rockets
11 vs. 12 Signatures Platinum 5 Kenneth Faried Denver Nuggets 1
11 vs. 12 Signatures Platinum 6 Meyers Leonard Portland Trail Blazers
11 vs. 12 Signatures Platinum 6 Jan Vesely Washington Wizards 1
11 vs. 12 Signatures Platinum 7 Bismack Biyombo Charlotte Bobcats 1
11 vs. 12 Signatures Platinum 7 Harrison Barnes Golden State Warriors
11 vs. 12 Signatures Platinum 8 Brandon Knight Detroit Pistons 1
11 vs. 12 Signatures Platinum 8 Terrence Ross Toronto Raptors
11 vs. 12 Signatures Platinum 9 Kemba Walker Charlotte Bobcats 1
11 vs. 12 Signatures Platinum 9 Andre Drummond Detroit Pistons
11 vs. 12 Signatures Platinum 10 Jimmer Fredette Sacramento Kings 1
11 vs. 12 Signatures Platinum 10 Austin Rivers New Orleans Hornets
11 vs. 12 Signatures Platinum 11 Klay Thompson Golden State Warriors 1
11 vs. 12 Signatures Platinum 11 Meyers Leonard Portland Trail Blazers
11 vs. 12 Signatures Platinum 12 Alec Burks Utah Jazz 1
11 vs. 12 Signatures Platinum 12 Chris Copeland New York Knicks
11 vs. 12 Signatures Platinum 13 Markieff Morris Phoenix Suns 1
11 vs. 12 Signatures Platinum 13 Kendall Marshall Phoenix Suns
11 vs. 12 Signatures Platinum 14 Marcus Morris Phoenix Suns 1
11 vs. 12 Signatures Platinum 14 John Henson Milwaukee Bucks
11 vs. 12 Signatures Platinum 15 Kyrie Irving Cleveland Cavaliers 1
11 vs. 12 Signatures Platinum 15 Austin Rivers New Orleans Hornets
11 vs. 12 Signatures Platinum 16 Enes Kanter Utah Jazz 1
11 vs. 12 Signatures Platinum 16 Anthony Davis New Orleans Hornets
11 vs. 12 Signatures Platinum 17 Chandler Parsons Houston Rockets 1
11 vs. 12 Signatures Platinum 17 Bradley Beal Washington Wizards
11 vs. 12 Signatures Platinum 18 Marcus Morris Phoenix Suns 1
11 vs. 12 Signatures Platinum 18 Thomas Robinson Houston Rockets
11 vs. 12 Signatures Platinum 19 Brandon Knight Detroit Pistons 1
11 vs. 12 Signatures Platinum 19 Anthony Davis New Orleans Hornets
11 vs. 12 Signatures Platinum 20 Kemba Walker Charlotte Bobcats 1
11 vs. 12 Signatures Platinum 20 Jeremy Lamb Oklahoma City Thunder
11 vs. 12 Signatures Platinum 21 Nolan Smith Portland Trail Blazers 1
11 vs. 12 Signatures Platinum 21 Austin Rivers New Orleans Hornets
11 vs. 12 Signatures Platinum 22 Enes Kanter Utah Jazz 1
11 vs. 12 Signatures Platinum 22 Michael Kidd-Gilchrist Charlotte Bobcats
11 vs. 12 Signatures Platinum 23 Thomas Robinson Houston Rockets
11 vs. 12 Signatures Platinum 23 Chandler Parsons Houston Rockets 1
11 vs. 12 Signatures Platinum 24 Tristan Thompson Cleveland Cavaliers 1
11 vs. 12 Signatures Platinum 24 Harrison Barnes Golden State Warriors
11 vs. 12 Signatures Platinum 25 Kawhi Leonard San Antonio Spurs 1
11 vs. 12 Signatures Platinum 25 Maurice Harkless Orlando Magic
11 vs. 12 Signatures Platinum 26 Kenneth Faried Denver Nuggets 1
11 vs. 12 Signatures Platinum 26 Tyler Zeller Cleveland Cavaliers
11 vs. 12 Signatures Platinum 27 Tobias Harris Orlando Magic 1
11 vs. 12 Signatures Platinum 27 Jared Sullinger Boston Celtics
11 vs. 12 Signatures Platinum 28 Marquis Teague Chicago Bulls
11 vs. 12 Signatures Platinum 28 Norris Cole Miami Heat 1
11 vs. 12 Signatures Platinum 29 MarShon Brooks Brooklyn Nets 1
11 vs. 12 Signatures Platinum 29 John Jenkins Atlanta Hawks
11 vs. 12 Signatures Platinum 30 Quincy Acy Toronto Raptors
11 vs. 12 Signatures Platinum 30 Nikola Vucevic Orlando Magic 1
11 vs. 12 Signatures Platinum 31 Kenneth Faried Denver Nuggets 1
11 vs. 12 Signatures Platinum 31 Jae Crowder Dallas Mavericks
11 vs. 12 Signatures Platinum 32 Chandler Parsons Houston Rockets 1
11 vs. 12 Signatures Platinum 32 Harrison Barnes Golden State Warriors
11 vs. 12 Signatures Platinum 33 Chris Singleton Washington Wizards 1
11 vs. 12 Signatures Platinum 33 Bernard James Dallas Mavericks
11 vs. 12 Signatures Platinum 34 Chandler Parsons Houston Rockets 1
11 vs. 12 Signatures Platinum 34 Anthony Davis New Orleans Hornets
11 vs. 12 Signatures Platinum 35 Nolan Smith Portland Trail Blazers 1
11 vs. 12 Signatures Platinum 35 Tyler Zeller Cleveland Cavaliers
11 vs. 12 Signatures Platinum 36 Draymond Green Golden State Warriors
11 vs. 12 Signatures Platinum 36 Kemba Walker Charlotte Bobcats 1
11 vs. 12 Signatures Platinum 37 Isaiah Thomas Sacramento Kings 1
11 vs. 12 Signatures Platinum 37 Terrence Ross Toronto Raptors
11 vs. 12 Signatures Platinum 38 Marcus Morris Phoenix Suns 1
11 vs. 12 Signatures Platinum 38 Royce White Houston Rockets
11 vs. 12 Signatures Platinum 39 Thomas Robinson Houston Rockets
11 vs. 12 Signatures Platinum 39 Jonas Valanciunas Toronto Raptors 1
11 vs. 12 Signatures Platinum 40 Kent Bazemore Golden State Warriors
11 vs. 12 Signatures Platinum 40 Jimmer Fredette Sacramento Kings 1
11 vs. 12 Signatures Platinum 41 Enes Kanter Utah Jazz 1
11 vs. 12 Signatures Platinum 41 Terrence Jones Houston Rockets
11 vs. 12 Signatures Platinum 42 Tristan Thompson Cleveland Cavaliers 1
11 vs. 12 Signatures Platinum 42 Jared Sullinger Boston Celtics
11 vs. 12 Signatures Platinum 43 E'Twaun Moore Orlando Magic 1
11 vs. 12 Signatures Platinum 43 Alexey Shved Minnesota Timberwolves
11 vs. 12 Signatures Platinum 44 Klay Thompson Golden State Warriors 1
11 vs. 12 Signatures Platinum 44 Terrence Ross Toronto Raptors
11 vs. 12 Signatures Platinum 45 Derrick Williams Minnesota Timberwolves 1
11 vs. 12 Signatures Platinum 45 Alexey Shved Minnesota Timberwolves
11 vs. 12 Signatures Platinum 46 Alec Burks Utah Jazz 1
11 vs. 12 Signatures Platinum 46 Terrence Ross Toronto Raptors
11 vs. 12 Signatures Platinum 47 Nolan Smith Portland Trail Blazers 1
11 vs. 12 Signatures Platinum 47 Miles Plumlee Indiana Pacers
11 vs. 12 Signatures Platinum 48 Fab Melo Boston Celtics
11 vs. 12 Signatures Platinum 48 Nikola Vucevic Orlando Magic 1
11 vs. 12 Signatures Platinum 49 Reggie Jackson Oklahoma City Thunder 1
11 vs. 12 Signatures Platinum 49 Marquis Teague Chicago Bulls
11 vs. 12 Signatures Platinum 50 Meyers Leonard Portland Trail Blazers
11 vs. 12 Signatures Platinum 50 Enes Kanter Utah Jazz 1
11 vs. 12 Signatures Platinum 51 Brandon Knight Detroit Pistons 1
11 vs. 12 Signatures Platinum 51 Doron Lamb Orlando Magic
11 vs. 12 Signatures Platinum 52 Bismack Biyombo Charlotte Bobcats 1
11 vs. 12 Signatures Platinum 52 Andre Drummond Detroit Pistons
11 vs. 12 Signatures Platinum 53 Jordan Hamilton Denver Nuggets 1
11 vs. 12 Signatures Platinum 53 Maurice Harkless Orlando Magic
11 vs. 12 Signatures Platinum 54 Marcus Morris Phoenix Suns 1
11 vs. 12 Signatures Platinum 54 Andrew Nicholson Orlando Magic
11 vs. 12 Signatures Platinum 55 Marquis Teague Chicago Bulls
11 vs. 12 Signatures Platinum 55 Kemba Walker Charlotte Bobcats 1
11 vs. 12 Signatures Platinum 56 MarShon Brooks Brooklyn Nets 1
11 vs. 12 Signatures Platinum 56 Bradley Beal Washington Wizards
11 vs. 12 Signatures Platinum 57 Kyrie Irving Cleveland Cavaliers 1
11 vs. 12 Signatures Platinum 57 Bradley Beal Washington Wizards
11 vs. 12 Signatures Platinum 58 Brandon Knight Detroit Pistons 1
11 vs. 12 Signatures Platinum 58 Michael Kidd-Gilchrist Charlotte Bobcats
11 vs. 12 Signatures Platinum 59 Kawhi Leonard San Antonio Spurs 1
11 vs. 12 Signatures Platinum 59 Jared Sullinger Boston Celtics
11 vs. 12 Signatures Platinum 60 Kenneth Faried Denver Nuggets 1
11 vs. 12 Signatures Platinum 60 Arnett Moultrie Philadelphia 76ers
11 vs. 12 Signatures Platinum 61 Iman Shumpert New York Knicks 1
11 vs. 12 Signatures Platinum 61 Kendall Marshall Phoenix Suns
11 vs. 12 Signatures Platinum 62 Jimmer Fredette Sacramento Kings 1
11 vs. 12 Signatures Platinum 62 Thomas Robinson Houston Rockets
11 vs. 12 Signatures Platinum 63 Anthony Davis New Orleans Hornets
11 vs. 12 Signatures Platinum 63 Tristan Thompson Cleveland Cavaliers 1
11 vs. 12 Signatures Platinum 64 Tobias Harris Orlando Magic 1
11 vs. 12 Signatures Platinum 64 Alexey Shved Minnesota Timberwolves
11 vs. 12 Signatures Platinum 65 Kyrie Irving Cleveland Cavaliers 1
11 vs. 12 Signatures Platinum 65 Dion Waiters Cleveland Cavaliers
11 vs. 12 Signatures Platinum 66 Andre Drummond Detroit Pistons
11 vs. 12 Signatures Platinum 66 Jonas Valanciunas Toronto Raptors 1
11 vs. 12 Signatures Platinum 67 Reggie Jackson Oklahoma City Thunder 1
11 vs. 12 Signatures Platinum 67 Kendall Marshall Phoenix Suns
11 vs. 12 Signatures Platinum 68 Nolan Smith Portland Trail Blazers 1
11 vs. 12 Signatures Platinum 68 Chris Copeland New York Knicks
11 vs. 12 Signatures Platinum 69 Brandon Knight Detroit Pistons 1
11 vs. 12 Signatures Platinum 69 Kim English Detroit Pistons
11 vs. 12 Signatures Platinum 70 Lavoy Allen Philadelphia 76ers 1
11 vs. 12 Signatures Platinum 70 Quincy Acy Toronto Raptors
11 vs. 12 Signatures Platinum 71 Draymond Green Golden State Warriors
11 vs. 12 Signatures Platinum 71 Jimmer Fredette Sacramento Kings 1
11 vs. 12 Signatures Platinum 72 Alec Burks Utah Jazz 1
11 vs. 12 Signatures Platinum 72 Evan Fournier Denver Nuggets
11 vs. 12 Signatures Platinum 73 Festus Ezeli Golden State Warriors
11 vs. 12 Signatures Platinum 73 Jonas Valanciunas Toronto Raptors 1
11 vs. 12 Signatures Platinum 74 Chris Singleton Washington Wizards 1
11 vs. 12 Signatures Platinum 74 Terrence Jones Houston Rockets
11 vs. 12 Signatures Platinum 75 Jan Vesely Washington Wizards 1
11 vs. 12 Signatures Platinum 75 John Henson Milwaukee Bucks
11 vs. 12 Signatures Platinum 76 MarShon Brooks Brooklyn Nets 1
11 vs. 12 Signatures Platinum 76 Jared Cunningham Dallas Mavericks
11 vs. 12 Signatures Platinum 77 Bernard James Dallas Mavericks
11 vs. 12 Signatures Platinum 77 Kyle Singler Detroit Pistons 1
11 vs. 12 Signatures Platinum 78 Derrick Williams Minnesota Timberwolves 1
11 vs. 12 Signatures Platinum 78 Thomas Robinson Houston Rockets
11 vs. 12 Signatures Platinum 79 Michael Kidd-Gilchrist Charlotte Bobcats
11 vs. 12 Signatures Platinum 79 Tristan Thompson Cleveland Cavaliers 1
11 vs. 12 Signatures Platinum 80 Jimmer Fredette Sacramento Kings 1
11 vs. 12 Signatures Platinum 80 Evan Fournier Denver Nuggets
11 vs. 12 Signatures Platinum 81 Jan Vesely Washington Wizards 1
11 vs. 12 Signatures Platinum 81 Harrison Barnes Golden State Warriors
11 vs. 12 Signatures Platinum 82 Klay Thompson Golden State Warriors 1
11 vs. 12 Signatures Platinum 82 Kent Bazemore Golden State Warriors
11 vs. 12 Signatures Platinum 83 Miles Plumlee Indiana Pacers
11 vs. 12 Signatures Platinum 83 Lavoy Allen Philadelphia 76ers 1
11 vs. 12 Signatures Platinum 84 Will Barton Portland Trail Blazers
11 vs. 12 Signatures Platinum 84 Reggie Jackson Oklahoma City Thunder 1
11 vs. 12 Signatures Platinum 85 Kawhi Leonard San Antonio Spurs 1
11 vs. 12 Signatures Platinum 85 Jeff Taylor Charlotte Bobcats
11 vs. 12 Signatures Platinum 86 Isaiah Thomas Sacramento Kings 1
11 vs. 12 Signatures Platinum 86 Doron Lamb Orlando Magic
11 vs. 12 Signatures Platinum 87 Tobias Harris Orlando Magic 1
11 vs. 12 Signatures Platinum 87 Festus Ezeli Golden State Warriors
11 vs. 12 Signatures Platinum 88 Gustavo Ayon Milwaukee Bucks 1
11 vs. 12 Signatures Platinum 88 Andrew Nicholson Orlando Magic
11 vs. 12 Signatures Platinum 89 Bradley Beal Washington Wizards
11 vs. 12 Signatures Platinum 89 Brandon Knight Detroit Pistons 1
11 vs. 12 Signatures Platinum 90 Alec Burks Utah Jazz 1
11 vs. 12 Signatures Platinum 90 Kendall Marshall Phoenix Suns
11 vs. 12 Signatures Platinum 91 Nolan Smith Portland Trail Blazers 1
11 vs. 12 Signatures Platinum 91 Jared Cunningham Dallas Mavericks
11 vs. 12 Signatures Platinum 92 Ivan Johnson Atlanta Hawks 1
11 vs. 12 Signatures Platinum 92 Royce White Houston Rockets
11 vs. 12 Signatures Platinum 93 Tornike Shengelia Brooklyn Nets
11 vs. 12 Signatures Platinum 93 Jonas Valanciunas Toronto Raptors 1
11 vs. 12 Signatures Platinum 94 E'Twaun Moore Orlando Magic 1
11 vs. 12 Signatures Platinum 94 Kim English Detroit Pistons
11 vs. 12 Signatures Platinum 95 Jordan Hamilton Denver Nuggets 1
11 vs. 12 Signatures Platinum 95 Jared Cunningham Dallas Mavericks
11 vs. 12 Signatures Platinum 96 Klay Thompson Golden State Warriors 1
11 vs. 12 Signatures Platinum 96 Dion Waiters Cleveland Cavaliers
11 vs. 12 Signatures Platinum 97 Fab Melo Boston Celtics
11 vs. 12 Signatures Platinum 97 Bismack Biyombo Charlotte Bobcats 1
11 vs. 12 Signatures Platinum 98 Mike Scott Atlanta Hawks
11 vs. 12 Signatures Platinum 98 Tobias Harris Orlando Magic 1
11 vs. 12 Signatures Platinum 99 Orlando Johnson Indiana Pacers
11 vs. 12 Signatures Platinum 99 Iman Shumpert New York Knicks 1
11 vs. 12 Signatures Platinum 100 Kenneth Faried Denver Nuggets 1
11 vs. 12 Signatures Platinum 100 Draymond Green Golden State Warriors
11 vs. 12 Signatures Silver 1 Kyrie Irving Cleveland Cavaliers 25
11 vs. 12 Signatures Silver 1 Anthony Davis New Orleans Hornets
11 vs. 12 Signatures Silver 2 Derrick Williams Minnesota Timberwolves 25
11 vs. 12 Signatures Silver 2 Michael Kidd-Gilchrist Charlotte Bobcats
11 vs. 12 Signatures Silver 3 Bradley Beal Washington Wizards
11 vs. 12 Signatures Silver 3 Iman Shumpert New York Knicks 25
11 vs. 12 Signatures Silver 4 Tristan Thompson Cleveland Cavaliers 49
11 vs. 12 Signatures Silver 4 Dion Waiters Cleveland Cavaliers
11 vs. 12 Signatures Silver 5 Thomas Robinson Houston Rockets
11 vs. 12 Signatures Silver 5 Kenneth Faried Denver Nuggets 25
11 vs. 12 Signatures Silver 6 Jan Vesely Washington Wizards 49
11 vs. 12 Signatures Silver 6 Meyers Leonard Portland Trail Blazers
11 vs. 12 Signatures Silver 7 Bismack Biyombo Charlotte Bobcats 25
11 vs. 12 Signatures Silver 7 Harrison Barnes Golden State Warriors
11 vs. 12 Signatures Silver 8 Brandon Knight Detroit Pistons 49
11 vs. 12 Signatures Silver 8 Terrence Ross Toronto Raptors
11 vs. 12 Signatures Silver 9 Kemba Walker Charlotte Bobcats 25
11 vs. 12 Signatures Silver 9 Andre Drummond Detroit Pistons
11 vs. 12 Signatures Silver 10 Jimmer Fredette Sacramento Kings 49
11 vs. 12 Signatures Silver 10 Austin Rivers New Orleans Hornets
11 vs. 12 Signatures Silver 11 Klay Thompson Golden State Warriors 49
11 vs. 12 Signatures Silver 11 Meyers Leonard Portland Trail Blazers
11 vs. 12 Signatures Silver 12 Alec Burks Utah Jazz 49
11 vs. 12 Signatures Silver 12 Chris Copeland New York Knicks
11 vs. 12 Signatures Silver 13 Markieff Morris Phoenix Suns 49
11 vs. 12 Signatures Silver 13 Kendall Marshall Phoenix Suns
11 vs. 12 Signatures Silver 14 Marcus Morris Phoenix Suns 49
11 vs. 12 Signatures Silver 14 John Henson Milwaukee Bucks
11 vs. 12 Signatures Silver 15 Kyrie Irving Cleveland Cavaliers 25
11 vs. 12 Signatures Silver 15 Austin Rivers New Orleans Hornets
11 vs. 12 Signatures Silver 16 Enes Kanter Utah Jazz 25
11 vs. 12 Signatures Silver 16 Anthony Davis New Orleans Hornets
11 vs. 12 Signatures Silver 17 Chandler Parsons Houston Rockets 25
11 vs. 12 Signatures Silver 17 Bradley Beal Washington Wizards
11 vs. 12 Signatures Silver 18 Marcus Morris Phoenix Suns 25
11 vs. 12 Signatures Silver 18 Thomas Robinson Houston Rockets
11 vs. 12 Signatures Silver 19 Brandon Knight Detroit Pistons 25
11 vs. 12 Signatures Silver 19 Anthony Davis New Orleans Hornets
11 vs. 12 Signatures Silver 20 Kemba Walker Charlotte Bobcats 49
11 vs. 12 Signatures Silver 20 Jeremy Lamb Oklahoma City Thunder
11 vs. 12 Signatures Silver 21 Nolan Smith Portland Trail Blazers 49
11 vs. 12 Signatures Silver 21 Austin Rivers New Orleans Hornets
11 vs. 12 Signatures Silver 22 Enes Kanter Utah Jazz 25
11 vs. 12 Signatures Silver 22 Michael Kidd-Gilchrist Charlotte Bobcats
11 vs. 12 Signatures Silver 23 Thomas Robinson Houston Rockets
11 vs. 12 Signatures Silver 23 Chandler Parsons Houston Rockets 25
11 vs. 12 Signatures Silver 24 Tristan Thompson Cleveland Cavaliers 49
11 vs. 12 Signatures Silver 24 Harrison Barnes Golden State Warriors
11 vs. 12 Signatures Silver 25 Kawhi Leonard San Antonio Spurs 49
11 vs. 12 Signatures Silver 25 Maurice Harkless Orlando Magic
11 vs. 12 Signatures Silver 26 Kenneth Faried Denver Nuggets 49
11 vs. 12 Signatures Silver 26 Tyler Zeller Cleveland Cavaliers
11 vs. 12 Signatures Silver 27 Tobias Harris Orlando Magic 49
11 vs. 12 Signatures Silver 27 Jared Sullinger Boston Celtics
11 vs. 12 Signatures Silver 28 Marquis Teague Chicago Bulls
11 vs. 12 Signatures Silver 28 Norris Cole Miami Heat 49
11 vs. 12 Signatures Silver 29 MarShon Brooks Brooklyn Nets 49
11 vs. 12 Signatures Silver 29 John Jenkins Atlanta Hawks
11 vs. 12 Signatures Silver 30 Quincy Acy Toronto Raptors
11 vs. 12 Signatures Silver 30 Nikola Vucevic Orlando Magic 49
11 vs. 12 Signatures Silver 31 Jae Crowder Dallas Mavericks
11 vs. 12 Signatures Silver 31 Kenneth Faried Denver Nuggets 49
11 vs. 12 Signatures Silver 32 Chandler Parsons Houston Rockets 49
11 vs. 12 Signatures Silver 32 Harrison Barnes Golden State Warriors
11 vs. 12 Signatures Silver 33 Chris Singleton Washington Wizards 49
11 vs. 12 Signatures Silver 33 Bernard James Dallas Mavericks
11 vs. 12 Signatures Silver 34 Chandler Parsons Houston Rockets 25
11 vs. 12 Signatures Silver 34 Anthony Davis New Orleans Hornets
11 vs. 12 Signatures Silver 35 Nolan Smith Portland Trail Blazers 49
11 vs. 12 Signatures Silver 35 Tyler Zeller Cleveland Cavaliers
11 vs. 12 Signatures Silver 36 Draymond Green Golden State Warriors
11 vs. 12 Signatures Silver 36 Kemba Walker Charlotte Bobcats 49
11 vs. 12 Signatures Silver 37 Isaiah Thomas Sacramento Kings 49
11 vs. 12 Signatures Silver 37 Terrence Ross Toronto Raptors
11 vs. 12 Signatures Silver 38 Marcus Morris Phoenix Suns 49
11 vs. 12 Signatures Silver 38 Royce White Houston Rockets
11 vs. 12 Signatures Silver 39 Thomas Robinson Houston Rockets
11 vs. 12 Signatures Silver 39 Jonas Valanciunas Toronto Raptors 25
11 vs. 12 Signatures Silver 40 Kent Bazemore Golden State Warriors
11 vs. 12 Signatures Silver 40 Jimmer Fredette Sacramento Kings 25
11 vs. 12 Signatures Silver 41 Enes Kanter Utah Jazz 25
11 vs. 12 Signatures Silver 41 Terrence Jones Houston Rockets
11 vs. 12 Signatures Silver 42 Tristan Thompson Cleveland Cavaliers 25
11 vs. 12 Signatures Silver 42 Jared Sullinger Boston Celtics
11 vs. 12 Signatures Silver 43 E'Twaun Moore Orlando Magic 25
11 vs. 12 Signatures Silver 43 Alexey Shved Minnesota Timberwolves
11 vs. 12 Signatures Silver 44 Klay Thompson Golden State Warriors 25
11 vs. 12 Signatures Silver 44 Terrence Ross Toronto Raptors
11 vs. 12 Signatures Silver 45 Derrick Williams Minnesota Timberwolves 25
11 vs. 12 Signatures Silver 45 Alexey Shved Minnesota Timberwolves
11 vs. 12 Signatures Silver 46 Alec Burks Utah Jazz 49
11 vs. 12 Signatures Silver 46 Terrence Ross Toronto Raptors
11 vs. 12 Signatures Silver 47 Nolan Smith Portland Trail Blazers 49
11 vs. 12 Signatures Silver 47 Miles Plumlee Indiana Pacers
11 vs. 12 Signatures Silver 48 Fab Melo Boston Celtics
11 vs. 12 Signatures Silver 48 Nikola Vucevic Orlando Magic 49
11 vs. 12 Signatures Silver 49 Reggie Jackson Oklahoma City Thunder 49
11 vs. 12 Signatures Silver 49 Marquis Teague Chicago Bulls
11 vs. 12 Signatures Silver 50 Meyers Leonard Portland Trail Blazers
11 vs. 12 Signatures Silver 50 Enes Kanter Utah Jazz 49
11 vs. 12 Signatures Silver 51 Brandon Knight Detroit Pistons 25
11 vs. 12 Signatures Silver 51 Doron Lamb Orlando Magic
11 vs. 12 Signatures Silver 52 Bismack Biyombo Charlotte Bobcats 25
11 vs. 12 Signatures Silver 52 Andre Drummond Detroit Pistons
11 vs. 12 Signatures Silver 53 Jordan Hamilton Denver Nuggets 49
11 vs. 12 Signatures Silver 53 Maurice Harkless Orlando Magic
11 vs. 12 Signatures Silver 54 Marcus Morris Phoenix Suns 49
11 vs. 12 Signatures Silver 54 Andrew Nicholson Orlando Magic
11 vs. 12 Signatures Silver 55 Marquis Teague Chicago Bulls
11 vs. 12 Signatures Silver 55 Kemba Walker Charlotte Bobcats 25
11 vs. 12 Signatures Silver 56 MarShon Brooks Brooklyn Nets 25
11 vs. 12 Signatures Silver 56 Bradley Beal Washington Wizards
11 vs. 12 Signatures Silver 57 Kyrie Irving Cleveland Cavaliers 49
11 vs. 12 Signatures Silver 57 Bradley Beal Washington Wizards
11 vs. 12 Signatures Silver 58 Brandon Knight Detroit Pistons 25
11 vs. 12 Signatures Silver 58 Michael Kidd-Gilchrist Charlotte Bobcats
11 vs. 12 Signatures Silver 59 Kawhi Leonard San Antonio Spurs 25
11 vs. 12 Signatures Silver 59 Jared Sullinger Boston Celtics
11 vs. 12 Signatures Silver 60 Kenneth Faried Denver Nuggets 25
11 vs. 12 Signatures Silver 60 Arnett Moultrie Philadelphia 76ers
11 vs. 12 Signatures Silver 61 Iman Shumpert New York Knicks 25
11 vs. 12 Signatures Silver 61 Kendall Marshall Phoenix Suns
11 vs. 12 Signatures Silver 62 Jimmer Fredette Sacramento Kings 25
11 vs. 12 Signatures Silver 62 Thomas Robinson Houston Rockets
11 vs. 12 Signatures Silver 63 Anthony Davis New Orleans Hornets
11 vs. 12 Signatures Silver 63 Tristan Thompson Cleveland Cavaliers 25
11 vs. 12 Signatures Silver 64 Tobias Harris Orlando Magic 49
11 vs. 12 Signatures Silver 64 Alexey Shved Minnesota Timberwolves
11 vs. 12 Signatures Silver 65 Kyrie Irving Cleveland Cavaliers 25
11 vs. 12 Signatures Silver 65 Dion Waiters Cleveland Cavaliers
11 vs. 12 Signatures Silver 66 Andre Drummond Detroit Pistons
11 vs. 12 Signatures Silver 66 Jonas Valanciunas Toronto Raptors 25
11 vs. 12 Signatures Silver 67 Reggie Jackson Oklahoma City Thunder 49
11 vs. 12 Signatures Silver 67 Kendall Marshall Phoenix Suns
11 vs. 12 Signatures Silver 68 Nolan Smith Portland Trail Blazers 49
11 vs. 12 Signatures Silver 68 Chris Copeland New York Knicks
11 vs. 12 Signatures Silver 69 Brandon Knight Detroit Pistons 49
11 vs. 12 Signatures Silver 69 Kim English Detroit Pistons
11 vs. 12 Signatures Silver 70 Lavoy Allen Philadelphia 76ers 49
11 vs. 12 Signatures Silver 70 Quincy Acy Toronto Raptors
11 vs. 12 Signatures Silver 71 Draymond Green Golden State Warriors
11 vs. 12 Signatures Silver 71 Jimmer Fredette Sacramento Kings 49
11 vs. 12 Signatures Silver 72 Alec Burks Utah Jazz 49
11 vs. 12 Signatures Silver 72 Evan Fournier Denver Nuggets
11 vs. 12 Signatures Silver 73 Festus Ezeli Golden State Warriors
11 vs. 12 Signatures Silver 73 Jonas Valanciunas Toronto Raptors 49
11 vs. 12 Signatures Silver 74 Chris Singleton Washington Wizards 49
11 vs. 12 Signatures Silver 74 Terrence Jones Houston Rockets
11 vs. 12 Signatures Silver 75 Jan Vesely Washington Wizards 49
11 vs. 12 Signatures Silver 75 John Henson Milwaukee Bucks
11 vs. 12 Signatures Silver 76 MarShon Brooks Brooklyn Nets 49
11 vs. 12 Signatures Silver 76 Jared Cunningham Dallas Mavericks
11 vs. 12 Signatures Silver 77 Bernard James Dallas Mavericks
11 vs. 12 Signatures Silver 77 Kyle Singler Detroit Pistons 49
11 vs. 12 Signatures Silver 78 Derrick Williams Minnesota Timberwolves 25
11 vs. 12 Signatures Silver 78 Thomas Robinson Houston Rockets
11 vs. 12 Signatures Silver 79 Michael Kidd-Gilchrist Charlotte Bobcats
11 vs. 12 Signatures Silver 79 Tristan Thompson Cleveland Cavaliers 25
11 vs. 12 Signatures Silver 80 Jimmer Fredette Sacramento Kings 49
11 vs. 12 Signatures Silver 80 Evan Fournier Denver Nuggets
11 vs. 12 Signatures Silver 81 Jan Vesely Washington Wizards 49
11 vs. 12 Signatures Silver 81 Harrison Barnes Golden State Warriors
11 vs. 12 Signatures Silver 82 Klay Thompson Golden State Warriors 49
11 vs. 12 Signatures Silver 82 Kent Bazemore Golden State Warriors
11 vs. 12 Signatures Silver 83 Lavoy Allen Philadelphia 76ers 49
11 vs. 12 Signatures Silver 83 Miles Plumlee Indiana Pacers
11 vs. 12 Signatures Silver 84 Will Barton Portland Trail Blazers
11 vs. 12 Signatures Silver 84 Reggie Jackson Oklahoma City Thunder 49
11 vs. 12 Signatures Silver 85 Kawhi Leonard San Antonio Spurs 49
11 vs. 12 Signatures Silver 85 Jeff Taylor Charlotte Bobcats
11 vs. 12 Signatures Silver 86 Isaiah Thomas Sacramento Kings 49
11 vs. 12 Signatures Silver 86 Doron Lamb Orlando Magic
11 vs. 12 Signatures Silver 87 Tobias Harris Orlando Magic 49
11 vs. 12 Signatures Silver 87 Festus Ezeli Golden State Warriors
11 vs. 12 Signatures Silver 88 Gustavo Ayon Milwaukee Bucks 49
11 vs. 12 Signatures Silver 88 Andrew Nicholson Orlando Magic
11 vs. 12 Signatures Silver 89 Bradley Beal Washington Wizards
11 vs. 12 Signatures Silver 89 Brandon Knight Detroit Pistons 49
11 vs. 12 Signatures Silver 90 Alec Burks Utah Jazz 49
11 vs. 12 Signatures Silver 90 Kendall Marshall Phoenix Suns
11 vs. 12 Signatures Silver 91 Nolan Smith Portland Trail Blazers 49
11 vs. 12 Signatures Silver 91 Jared Cunningham Dallas Mavericks
11 vs. 12 Signatures Silver 92 Ivan Johnson Atlanta Hawks 49
11 vs. 12 Signatures Silver 92 Royce White Houston Rockets
11 vs. 12 Signatures Silver 93 Tornike Shengelia Brooklyn Nets
11 vs. 12 Signatures Silver 93 Jonas Valanciunas Toronto Raptors 49
11 vs. 12 Signatures Silver 94 E'Twaun Moore Orlando Magic 49
11 vs. 12 Signatures Silver 94 Kim English Detroit Pistons
11 vs. 12 Signatures Silver 95 Jordan Hamilton Denver Nuggets 49
11 vs. 12 Signatures Silver 95 Jared Cunningham Dallas Mavericks
11 vs. 12 Signatures Silver 96 Klay Thompson Golden State Warriors 25
11 vs. 12 Signatures Silver 96 Dion Waiters Cleveland Cavaliers
11 vs. 12 Signatures Silver 97 Fab Melo Boston Celtics
11 vs. 12 Signatures Silver 97 Bismack Biyombo Charlotte Bobcats 49
11 vs. 12 Signatures Silver 98 Mike Scott Atlanta Hawks
11 vs. 12 Signatures Silver 98 Tobias Harris Orlando Magic 49
11 vs. 12 Signatures Silver 99 Orlando Johnson Indiana Pacers
11 vs. 12 Signatures Silver 99 Iman Shumpert New York Knicks 25
11 vs. 12 Signatures Silver 100 Kenneth Faried Denver Nuggets 25
11 vs. 12 Signatures Silver 100 Draymond Green Golden State Warriors
ABA Legends Signatures 1 Julius Erving Virginia Squires (ABA) 25
ABA Legends Signatures 2 Louie Dampier Kentucky Colonels (ABA) 99
ABA Legends Signatures 3 Dan Issel Kentucky Colonels (ABA) 99
ABA Legends Signatures 4 Mel Daniels Indiana Pacers (ABA) 75
ABA Legends Signatures 5 George Gervin San Antonio Spurs 75
ABA Legends Signatures 6 Ron Boone Texas Chaparrals (ABA) 75
ABA Legends Signatures 7 Freddie Lewis Indiana Pacers (ABA) 75
ABA Legends Signatures 8 Rick Barry Oakland Oaks (ABA) 75
ABA Legends Signatures 9 George Karl San Antonio Spurs 75
ABA Legends Signatures 10 Jimmy Jones Utah Stars (ABA) 75
Champions Signature Combos 1 Jason Kidd Dallas Mavericks 25
Champions Signature Combos 1 Dirk Nowitzki Dallas Mavericks
Champions Signature Combos 2 Ray Allen Boston Celtics 0
Champions Signature Combos 2 Rajon Rondo Boston Celtics 0
Champions Signature Combos 3 Julius Erving Philadelphia 76ers 25
Champions Signature Combos 3 Maurice Cheeks Philadelphia 76ers
Champions Signature Combos 4 Scottie Pippen Chicago Bulls 25
Champions Signature Combos 4 Phil Jackson Chicago Bulls
Champions Signature Combos 5 Isiah Thomas Detroit Pistons 25
Champions Signature Combos 5 Joe Dumars Detroit Pistons
Champions Signature Combos 6 Tony Parker San Antonio Spurs 25
Champions Signature Combos 6 David Robinson San Antonio Spurs
Champions Signature Combos 7 Julius Erving Philadelphia 76ers 25
Champions Signature Combos 7 Magic Johnson Los Angeles Lakers
Champions Signature Combos 8 Bill Laimbeer Detroit Pistons 25
Champions Signature Combos 8 Dennis Rodman Detroit Pistons
Champions Signature Combos 9 Bob Pettit St. Louis Hawks
Champions Signature Combos 9 Tom Heinsohn Boston Celtics 25
Champions Signature Combos 10 Gary Payton Miami Heat 25
Champions Signature Combos 10 Alonzo Mourning Miami Heat
Champions Signature Combos 11 Michael Cooper Los Angeles Lakers 25
Champions Signature Combos 11 Byron Scott Los Angeles Lakers
Champions Signature Combos 12 Dirk Nowitzki Dallas Mavericks 25
Champions Signature Combos 12 Larry Bird Boston Celtics
Champions Signature Combos 13 Robert Horry Houston Rockets 25
Champions Signature Combos 13 Mario Elie Houston Rockets
Champions Signature Combos 14 Andrew Bynum Los Angeles Lakers 25
Champions Signature Combos 14 Metta World Peace Los Angeles Lakers
Champions Signature Combos 15 Richard Hamilton Detroit Pistons 25
Champions Signature Combos 15 Chauncey Billups Detroit Pistons
Champions Signature Combos 16 Cedric Maxwell Boston Celtics 25
Champions Signature Combos 16 Wes Unseld Washington Bullets
Champions Signature Combos 17 Paul Westphal Boston Celtics 25
Champions Signature Combos 17 Dave Cowens Boston Celtics
Champions Signature Combos 18 Robert Parish Boston Celtics 25
Champions Signature Combos 18 Nate Archibald Boston Celtics
Champions Signature Combos 19 B.J. Armstrong Chicago Bulls 25
Champions Signature Combos 19 Bill Cartwright Chicago Bulls
Champions Signature Combos 20 Kobe Bryant Los Angeles Lakers
Champions Signature Combos 20 Shaquille O'Neal Los Angeles Lakers 15
Champions Signature Quads 1 Magic Johnson Los Angeles Lakers
Champions Signature Quads 1 Pat Riley Los Angeles Lakers 5
Champions Signature Quads 1 Kareem Abdul-Jabbar Los Angeles Lakers
Champions Signature Quads 1 James Worthy Los Angeles Lakers
Champions Signature Quads 2 Phil Jackson New York Knicks 5
Champions Signature Quads 2 Earl Monroe New York Knicks
Champions Signature Quads 2 Walt Frazier New York Knicks
Champions Signature Quads 2 Willis Reed New York Knicks
Champions Signature Quads 3 Cedric Maxwell Boston Celtics
Champions Signature Quads 3 Bill Walton Boston Celtics 5
Champions Signature Quads 3 Kevin McHale Boston Celtics
Champions Signature Quads 3 Larry Bird Boston Celtics
Champions Signature Quads 4 Elvin Hayes Washington Bullets 5
Champions Signature Quads 4 Bill Walton Portland Trail Blazers
Champions Signature Quads 4 Dave Cowens Boston Celtics
Champions Signature Quads 4 Rick Barry Golden State Warriors
Champions Signature Quads 5 Earl Monroe New York Knicks 5
Champions Signature Quads 5 Jerry West Los Angeles Lakers
Champions Signature Quads 5 Gail Goodrich Los Angeles Lakers
Champions Signature Quads 5 Oscar Robertson Milwaukee Bucks
Champions Signature Quads 6 Kobe Bryant Los Angeles Lakers 5
Champions Signature Quads 6 Ray Allen Boston Celtics
Champions Signature Quads 6 Tony Parker San Antonio Spurs
Champions Signature Quads 6 Dwyane Wade Miami Heat
Champions Signature Quads 7 Scottie Pippen Chicago Bulls 5
Champions Signature Quads 7 Ron Harper Chicago Bulls
Champions Signature Quads 7 Dennis Rodman Chicago Bulls
Champions Signature Quads 7 Toni Kukoc Chicago Bulls
Champions Signature Quads 8 David Robinson San Antonio Spurs 5
Champions Signature Quads 8 Hakeem Olajuwon Houston Rockets
Champions Signature Quads 8 Bill Russell Boston Celtics
Champions Signature Quads 8 Robert Parish Boston Celtics
Champions Signature Quads 9 Sean Elliott San Antonio Spurs 5
Champions Signature Quads 9 Tony Parker San Antonio Spurs
Champions Signature Quads 9 Robert Horry San Antonio Spurs
Champions Signature Quads 9 David Robinson San Antonio Spurs
Champions Signature Quads 10 Bill Laimbeer Detroit Pistons 5
Champions Signature Quads 10 Joe Dumars Detroit Pistons
Champions Signature Quads 10 Mark Aguirre Detroit Pistons
Champions Signature Quads 10 Isiah Thomas Detroit Pistons
Champions Signature Trios 1 Robert Parish Boston Celtics 10
Champions Signature Trios 1 Larry Bird Boston Celtics
Champions Signature Trios 1 Kevin McHale Boston Celtics
Champions Signature Trios 2 Kareem Abdul-Jabbar Los Angeles Lakers 10
Champions Signature Trios 2 Kobe Bryant Los Angeles Lakers
Champions Signature Trios 2 James Worthy Los Angeles Lakers
Champions Signature Trios 3 Willis Reed New York Knicks
Champions Signature Trios 3 Walt Frazier New York Knicks
Champions Signature Trios 3 Cazzie Russell New York Knicks 10
Champions Signature Trios 4 Bob Dandridge Washington Bullets
Champions Signature Trios 4 Elvin Hayes Washington Bullets 10
Champions Signature Trios 4 Wes Unseld Washington Bullets
Champions Signature Trios 5 Oscar Robertson Milwaukee Bucks 10
Champions Signature Trios 5 Bob Dandridge Milwaukee Bucks
Champions Signature Trios 5 Kareem Abdul-Jabbar Milwaukee Bucks
Champions Signature Trios 6 Bill Russell Boston Celtics 10
Champions Signature Trios 6 K.C. Jones Boston Celtics
Champions Signature Trios 6 John Havlicek Boston Celtics
Champions Signature Trios 7 Dennis Rodman Chicago Bulls 10
Champions Signature Trios 7 Steve Kerr Chicago Bulls
Champions Signature Trios 7 Ron Harper Chicago Bulls
Champions Signature Trios 8 Sam Cassell Houston Rockets
Champions Signature Trios 8 Clyde Drexler Houston Rockets
Champions Signature Trios 8 Hakeem Olajuwon Houston Rockets 10
Champions Signature Trios 9 Cedric Maxwell Boston Celtics 10
Champions Signature Trios 9 Maurice Cheeks Philadelphia 76ers
Champions Signature Trios 9 Michael Cooper Los Angeles Lakers
Champions Signature Trios 10 Arnie Risen Boston Celtics
Champions Signature Trios 10 Frank Ramsey Boston Celtics 10
Champions Signature Trios 10 Tom Heinsohn Boston Celtics
Champions Signature Trios 11 Kobe Bryant Los Angeles Lakers
Champions Signature Trios 11 Tony Parker San Antonio Spurs
Champions Signature Trios 11 Jason Kidd Dallas Mavericks 10
Champions Signature Trios 12 Isiah Thomas Detroit Pistons 10
Champions Signature Trios 12 Joe Dumars Detroit Pistons
Champions Signature Trios 12 Chauncey Billups Detroit Pistons
Champions Signature Trios 13 Alonzo Mourning Miami Heat 10
Champions Signature Trios 13 David Robinson San Antonio Spurs
Champions Signature Trios 13 Hakeem Olajuwon Houston Rockets
Champions Signature Trios 14 James Worthy Los Angeles Lakers 10
Champions Signature Trios 14 Bob McAdoo Los Angeles Lakers
Champions Signature Trios 14 Byron Scott Los Angeles Lakers
Champions Signature Trios 15 Mario Chalmers Miami Heat 10
Champions Signature Trios 15 Chris Bosh Miami Heat
Champions Signature Trios 15 Shane Battier Miami Heat
Champions Signatures 1 Walt Frazier New York Knicks 49
Champions Signatures 2 Magic Johnson Los Angeles Lakers 49
Champions Signatures 3 Larry Bird Boston Celtics 49
Champions Signatures 4 Julius Erving Philadelphia 76ers 25
Champions Signatures 5 Clyde Drexler Houston Rockets 25
Champions Signatures 6 John Havlicek Boston Celtics 25
Champions Signatures 7 Shaquille O'Neal Los Angeles Lakers 25
Champions Signatures 8 Chris Bosh Miami Heat 49
Champions Signatures 9 Mark Aguirre Detroit Pistons 49
Champions Signatures 10 Rick Barry Golden State Warriors 49
Champions Signatures 11 Toni Kukoc Chicago Bulls 49
Champions Signatures 12 Bill Walton Portland Trail Blazers 49
Champions Signatures 13 Bob McAdoo Los Angeles Lakers 49
Champions Signatures 14 Gail Goodrich Los Angeles Lakers 49
Champions Signatures 15 Peja Stojakovic Dallas Mavericks 25
Champions Signatures 16 Kobe Bryant Los Angeles Lakers 49
Champions Signatures 17 Willis Reed New York Knicks 49
Champions Signatures 18 Paul Westphal Boston Celtics 49
Champions Signatures 19 Hakeem Olajuwon Houston Rockets 49
Champions Signatures 20 Nate Archibald Boston Celtics 49
Champions Signatures 21 Bill Russell Boston Celtics 49
Champions Signatures 22 Kenny Smith Houston Rockets 49
Champions Signatures 23 Glen Rice Los Angeles Lakers 49
Champions Signatures 24 Jason Kidd Dallas Mavericks 25
Champions Signatures 25 Jerry West Los Angeles Lakers 49
Colossal 1 Carmelo Anthony New York Knicks 99
Colossal 2 Carlos Boozer Chicago Bulls 99
Colossal 3 Rajon Rondo Boston Celtics 49
Colossal 4 Serge Ibaka Oklahoma City Thunder 99
Colossal 5 LeBron James Miami Heat 99
Colossal 6 Ty Lawson Denver Nuggets 99
Colossal 7 Tony Parker San Antonio Spurs 99
Colossal 8 Dwyane Wade Miami Heat 49
Colossal 9 Kevin Johnson Phoenix Suns 49
Colossal 10 DeMarcus Cousins Sacramento Kings 99
Colossal 11 Russell Westbrook Oklahoma City Thunder 99
Colossal 12 Joakim Noah Chicago Bulls 49
Colossal 13 Kevin Garnett Boston Celtics 49
Colossal 14 Moses Malone Milwaukee Bucks 49
Colossal 15 Ricky Rubio Minnesota Timberwolves 25
Colossal 16 Deron Williams Brooklyn Nets 99
Colossal 17 Michael Cooper Los Angeles Lakers 49
Colossal 18 Larry Johnson Charlotte Hornets 49
Colossal 19 John Starks New York Knicks 99
Colossal 20 Chris Webber Sacramento Kings 49
Colossal Jersey Number 1 Paul Pierce Boston Celtics 49
Colossal Jersey Number 2 Dirk Nowitzki Dallas Mavericks 49
Colossal Jersey Number 3 Rudy Gay Toronto Raptors 99
Colossal Jersey Number 4 Dennis Rodman Chicago Bulls 49
Colossal Jersey Number 5 Kobe Bryant Los Angeles Lakers 49
Colossal Jersey Number 6 Marcus Thornton Sacramento Kings 99
Colossal Jersey Number 7 Bill Cartwright New York Knicks 49
Colossal Jersey Number 8 Patrick Ewing New York Knicks 99
Colossal Jersey Number 9 Thaddeus Young Philadelphia 76ers 99
Colossal Jersey Number 10 David Lee Golden State Warriors 99
Colossal Jersey Number 11 Greg Monroe Detroit Pistons 99
Colossal Jersey Number 12 Karl Malone Utah Jazz 49
Colossal Jersey Number 13 Tim Duncan San Antonio Spurs 99
Colossal Jersey Number 14 Jason Terry Boston Celtics 99
Colossal Jersey Number 15 Jordan Crawford Boston Celtics 49
Colossal Jersey Number 16 Pau Gasol Los Angeles Lakers 99
Colossal Jersey Number 17 Artis Gilmore Chicago Bulls 49
Colossal Jersey Number 18 Steve Nash Los Angeles Lakers 99
Colossal Jersey Number 19 Nicolas Batum Portland Trail Blazers 49
Colossal Jersey Number 20 Manu Ginobili San Antonio Spurs 99
Colossal Jersey Number Signatures 1 Kevin Durant Oklahoma City Thunder 25
Colossal Jersey Number Signatures 2 Kobe Bryant Los Angeles Lakers 25
Colossal Jersey Number Signatures 3 Blake Griffin Los Angeles Clippers 25
Colossal Jersey Number Signatures 4 Vince Carter Dallas Mavericks 25
Colossal Jersey Number Signatures 5 D.J. Augustin Indiana Pacers 49
Colossal Jersey Number Signatures 6 Kevin Love Minnesota Timberwolves 49
Colossal Jersey Number Signatures 7 Andre Iguodala Denver Nuggets 49
Colossal Jersey Number Signatures 8 Larry Bird Boston Celtics 25
Colossal Jersey Number Signatures 9 Kevin Martin Oklahoma City Thunder 49
Colossal Jersey Number Signatures 10 Stephen Curry Golden State Warriors 49
Colossal Jersey Number Signatures 11 Jordan Crawford Boston Celtics 49
Colossal Jersey Number Signatures 12 LaMarcus Aldridge Portland Trail Blazers 25
Colossal Jersey Number Signatures 13 Tyreke Evans Sacramento Kings 25
Colossal Jersey Number Signatures 14 James Harden Houston Rockets 25
Colossal Jersey Number Signatures 15 Hakeem Olajuwon Houston Rockets 25
Colossal Jersey Number Signatures 16 Grant Hill Los Angeles Clippers 25
Colossal Jersey Number Signatures 17 Andrew Bynum Philadelphia 76ers 10
Colossal Jersey Number Signatures 18 Al Jefferson Utah Jazz 25
Colossal Jersey Number Signatures 19 Dikembe Mutombo Denver Nuggets 25
Colossal Jersey Number Signatures 20 Zach Randolph Memphis Grizzlies 25
Colossal NBA Logoman 1 JaVale McGee Denver Nuggets 5
Colossal NBA Logoman 2 Jason Kidd New York Knicks 2
Colossal NBA Logoman 3 Dirk Nowitzki Dallas Mavericks 2
Colossal NBA Logoman 4 Dennis Rodman Chicago Bulls 1
Colossal NBA Logoman 5 Ekpe Udoh Milwaukee Bucks 4
Colossal NBA Logoman 6 Russell Westbrook Oklahoma City Thunder 2
Colossal NBA Logoman 7 Carmelo Anthony New York Knicks 4
Colossal NBA Logoman 8 Andrew Bynum Philadelphia 76ers 2
Colossal NBA Logoman 9 Deron Williams Brooklyn Nets 3
Colossal NBA Logoman 10 Jeremy Lin Houston Rockets 2
Colossal NBA Logoman 11 Damian Lillard Portland Trail Blazers 2
Colossal NBA Logoman 12 Paul Pierce Boston Celtics 3
Colossal NBA Logoman 13 Dwight Howard Los Angeles Lakers 4
Colossal NBA Logoman 14 Ricky Rubio Minnesota Timberwolves 3
Colossal NBA Logoman 15 Amar'e Stoudemire New York Knicks 3
Colossal NBA Logoman 16 Tim Duncan San Antonio Spurs 4
Colossal NBA Logoman 17 Drew Gooden Milwaukee Bucks 3
Colossal NBA Logoman 18 Marc Gasol Memphis Grizzlies 3
Colossal NBA Logoman 19 DeMar DeRozan Toronto Raptors 5
Colossal NBA Logoman 20 Ed Davis Memphis Grizzlies 5
Colossal NBA Logoman Signatures 1 Blake Griffin Los Angeles Clippers 2
Colossal NBA Logoman Signatures 2 Kevin Durant Oklahoma City Thunder 1
Colossal NBA Logoman Signatures 3 Beno Udrih Orlando Magic 2
Colossal NBA Logoman Signatures 4 Dwyane Wade Miami Heat 4
Colossal NBA Logoman Signatures 5 Eric Gordon New Orleans Hornets 2
Colossal NBA Logoman Signatures 6 Shaquille O'Neal Los Angeles Lakers 3
Colossal NBA Logoman Signatures 7 David Robinson San Antonio Spurs 1
Colossal NBA Logoman Signatures 8 Kevin Love Minnesota Timberwolves 3
Colossal NBA Logoman Signatures 9 Grant Hill Los Angeles Clippers 3
Colossal NBA Logoman Signatures 10 Gerald Wallace Brooklyn Nets 5
Colossal NBA Logoman Signatures 11 Kobe Bryant Los Angeles Lakers 2
Colossal NBA Logoman Signatures 12 Stephen Curry Golden State Warriors 1
Colossal NBA Logoman Signatures 13 Danny Manning Los Angeles Clippers 2
Colossal NBA Logoman Signatures 14 Mitch Richmond Sacramento Kings 2
Colossal NBA Logoman Signatures 15 Juwan Howard Miami Heat 2
Colossal NBA Logoman Signatures 16 Vince Carter Dallas Mavericks 5
Colossal NBA Logoman Signatures 17 Trevor Booker Washington Wizards 3
Colossal NBA Logoman Signatures 18 James Harden Houston Rockets 3
Colossal NBA Logoman Signatures 19 Timofey Mozgov Denver Nuggets 3
Colossal NBA Logoman Signatures 20 Larry Bird Boston Celtics 1
Colossal Prime 1 Carmelo Anthony New York Knicks 25
Colossal Prime 2 Carlos Boozer Chicago Bulls 25
Colossal Prime 3 Rajon Rondo Boston Celtics 25
Colossal Prime 4 Serge Ibaka Oklahoma City Thunder 25
Colossal Prime 5 LeBron James Miami Heat 25
Colossal Prime 6 Ty Lawson Denver Nuggets 25
Colossal Prime 7 Tony Parker San Antonio Spurs 25
Colossal Prime 8 Dwyane Wade Miami Heat 25
Colossal Prime 9 Kevin Johnson Phoenix Suns 25
Colossal Prime 10 DeMarcus Cousins Sacramento Kings 25
Colossal Prime 11 Russell Westbrook Oklahoma City Thunder 25
Colossal Prime 12 Joakim Noah Chicago Bulls 25
Colossal Prime 13 Kevin Garnett Boston Celtics 25
Colossal Prime 14 Moses Malone Milwaukee Bucks 25
Colossal Prime 15 Ricky Rubio Minnesota Timberwolves 10
Colossal Prime 16 Deron Williams Brooklyn Nets 25
Colossal Prime 17 Michael Cooper Los Angeles Lakers 25
Colossal Prime 18 Larry Johnson Charlotte Hornets 25
Colossal Prime 19 John Starks New York Knicks 25
Colossal Prime 20 Chris Webber Sacramento Kings 25
Colossal Prime Jersey Number 1 Paul Pierce Boston Celtics 25
Colossal Prime Jersey Number 2 Dirk Nowitzki Dallas Mavericks 15
Colossal Prime Jersey Number 3 Rudy Gay Toronto Raptors 25
Colossal Prime Jersey Number 4 Dennis Rodman Chicago Bulls 25
Colossal Prime Jersey Number 5 Kobe Bryant Los Angeles Lakers 25
Colossal Prime Jersey Number 6 Marcus Thornton Sacramento Kings 25
Colossal Prime Jersey Number 7 Bill Cartwright New York Knicks 25
Colossal Prime Jersey Number 8 Patrick Ewing New York Knicks 25
Colossal Prime Jersey Number 9 Thaddeus Young Philadelphia 76ers 25
Colossal Prime Jersey Number 10 David Lee Golden State Warriors 25
Colossal Prime Jersey Number 11 Greg Monroe Detroit Pistons 15
Colossal Prime Jersey Number 12 Karl Malone Utah Jazz 25
Colossal Prime Jersey Number 13 Tim Duncan San Antonio Spurs 25
Colossal Prime Jersey Number 14 Jason Terry Boston Celtics 10
Colossal Prime Jersey Number 15 Jordan Crawford Boston Celtics 25
Colossal Prime Jersey Number 16 Pau Gasol Los Angeles Lakers 10
Colossal Prime Jersey Number 17 Artis Gilmore Chicago Bulls 15
Colossal Prime Jersey Number 18 Steve Nash Los Angeles Lakers 25
Colossal Prime Jersey Number 19 Nicolas Batum Portland Trail Blazers 25
Colossal Prime Jersey Number 20 Manu Ginobili San Antonio Spurs 25
Colossal Prime Jersey Number Signatures 1 Kevin Durant Oklahoma City Thunder 25
Colossal Prime Jersey Number Signatures 2 Kobe Bryant Los Angeles Lakers 25
Colossal Prime Jersey Number Signatures 3 Blake Griffin Los Angeles Clippers 25
Colossal Prime Jersey Number Signatures 4 Vince Carter Dallas Mavericks 25
Colossal Prime Jersey Number Signatures 5 D.J. Augustin Indiana Pacers 25
Colossal Prime Jersey Number Signatures 6 Kevin Love Minnesota Timberwolves 15
Colossal Prime Jersey Number Signatures 7 Andre Iguodala Denver Nuggets 25
Colossal Prime Jersey Number Signatures 8 Larry Bird Boston Celtics 15
Colossal Prime Jersey Number Signatures 9 Kevin Martin Oklahoma City Thunder 25
Colossal Prime Jersey Number Signatures 10 Stephen Curry Golden State Warriors 15
Colossal Prime Jersey Number Signatures 11 Jordan Crawford Boston Celtics 15
Colossal Prime Jersey Number Signatures 12 LaMarcus Aldridge Portland Trail Blazers 15
Colossal Prime Jersey Number Signatures 13 Tyreke Evans Sacramento Kings 25
Colossal Prime Jersey Number Signatures 14 James Harden Houston Rockets 10
Colossal Prime Jersey Number Signatures 15 Hakeem Olajuwon Houston Rockets 15
Colossal Prime Jersey Number Signatures 16 Grant Hill Los Angeles Clippers 10
Colossal Prime Jersey Number Signatures 17 Andrew Bynum Philadelphia 76ers 5
Colossal Prime Jersey Number Signatures 18 Al Jefferson Utah Jazz 25
Colossal Prime Jersey Number Signatures 19 Dikembe Mutombo Denver Nuggets 15
Colossal Prime Jersey Number Signatures 20 Zach Randolph Memphis Grizzlies 25
Colossal Prime Signatures 1 Marcin Gortat Phoenix Suns 25
Colossal Prime Signatures 2 Deron Williams Brooklyn Nets 5
Colossal Prime Signatures 3 Serge Ibaka Oklahoma City Thunder 10
Colossal Prime Signatures 4 LaMarcus Aldridge Portland Trail Blazers 5
Colossal Prime Signatures 5 Steve Nash Los Angeles Lakers 5
Colossal Prime Signatures 6 Alonzo Mourning Miami Heat 10
Colossal Prime Signatures 7 Jeff Teague Atlanta Hawks 25
Colossal Prime Signatures 8 Luol Deng Chicago Bulls 10
Colossal Prime Signatures 9 Brook Lopez Brooklyn Nets 10
Colossal Prime Signatures 10 Mike Conley Memphis Grizzlies 25
Colossal Prime Signatures 11 Danilo Gallinari Denver Nuggets 10
Colossal Prime Signatures 12 Greg Monroe Detroit Pistons 10
Colossal Prime Signatures 13 Anderson Varejao Cleveland Cavaliers 10
Colossal Prime Signatures 14 Tyreke Evans Sacramento Kings 10
Colossal Prime Signatures 15 Wesley Matthews Portland Trail Blazers 10
Colossal Prime Signatures 16 Chris Bosh Miami Heat 10
Colossal Prime Signatures 17 Amar'e Stoudemire New York Knicks 0
Colossal Prime Signatures 18 Jrue Holiday Philadelphia 76ers 25
Colossal Prime Signatures 19 Evan Turner Philadelphia 76ers 5
Colossal Prime Signatures 20 Dwight Howard Los Angeles Lakers 10
Colossal Signatures 1 Marcin Gortat Phoenix Suns 49
Colossal Signatures 2 Deron Williams Brooklyn Nets 25
Colossal Signatures 3 Serge Ibaka Oklahoma City Thunder 49
Colossal Signatures 4 LaMarcus Aldridge Portland Trail Blazers 25
Colossal Signatures 5 Steve Nash Los Angeles Lakers 25
Colossal Signatures 6 Alonzo Mourning Miami Heat 25
Colossal Signatures 7 Jeff Teague Atlanta Hawks 49
Colossal Signatures 8 Luol Deng Chicago Bulls 49
Colossal Signatures 9 Brook Lopez Brooklyn Nets 25
Colossal Signatures 10 Mike Conley Memphis Grizzlies 49
Colossal Signatures 11 Danilo Gallinari Denver Nuggets 25
Colossal Signatures 12 Greg Monroe Detroit Pistons 49
Colossal Signatures 13 Anderson Varejao Cleveland Cavaliers 49
Colossal Signatures 14 Tyreke Evans Sacramento Kings 25
Colossal Signatures 15 Wesley Matthews Portland Trail Blazers 49
Colossal Signatures 16 Chris Bosh Miami Heat 25
Colossal Signatures 17 Amar'e Stoudemire New York Knicks 0
Colossal Signatures 18 Jrue Holiday Philadelphia 76ers 25
Colossal Signatures 19 Evan Turner Philadelphia 76ers 10
Colossal Signatures 20 Dwight Howard Los Angeles Lakers 25
Gold Proof Autographs 1 Kobe Bryant Los Angeles Lakers 20
Gold Proof Autographs 2 Grant Hill Los Angeles Clippers 53
Gold Proof Autographs 2 Kobe Bryant Los Angeles Lakers 10
Gold Proof Autographs 2 Kareem Abdul-Jabbar Los Angeles Lakers 10
Gold Proof Autographs 2 James Worthy Los Angeles Lakers 10
Gold Proof Autographs 5 Jason Kidd New York Knicks 54
Gold Proof Autographs 9 Kevin Durant Oklahoma City Thunder 49
Gold Proof Autographs 10 Dwyane Wade Miami Heat 49
Gold Proof Autographs 11 Walt Frazier New York Knicks 46
Gold Proof Autographs 17 Kevin Durant Oklahoma City Thunder 49
Gold Proof Autographs 19 Mark Aguirre Detroit Pistons 47
Gold Proof Autographs 25 Blake Griffin Los Angeles Clippers 49
Kobe Anthology Header Card 1 Kobe Bryant Los Angeles Lakers
Matchups 1 Kobe Bryant Los Angeles Lakers 49
Matchups 1 Kevin Durant Oklahoma City Thunder
Matchups 2 Dirk Nowitzki Dallas Mavericks
Matchups 2 Kevin Love Minnesota Timberwolves 49
Matchups 3 Pau Gasol Los Angeles Lakers 99
Matchups 3 Marc Gasol Memphis Grizzlies
Matchups 4 Derrick Rose Chicago Bulls 49
Matchups 4 John Wall Washington Wizards
Matchups 5 Rajon Rondo Boston Celtics 49
Matchups 5 Chris Paul Los Angeles Clippers
Matchups 6 Russell Westbrook Oklahoma City Thunder 49
Matchups 6 Rajon Rondo Boston Celtics
Matchups 7 Andrea Bargnani Toronto Raptors 99
Matchups 7 Brook Lopez Brooklyn Nets
Matchups 8 DeMarcus Cousins Sacramento Kings 49
Matchups 8 DeAndre Jordan Los Angeles Clippers
Matchups 9 Serge Ibaka Oklahoma City Thunder 49
Matchups 9 Emeka Okafor Washington Wizards
Matchups 10 Raymond Felton New York Knicks 99
Matchups 10 Mike Conley Memphis Grizzlies
Matchups 11 Jrue Holiday Philadelphia 76ers 99
Matchups 11 Brandon Jennings Milwaukee Bucks
Matchups 12 Dwight Howard Los Angeles Lakers
Matchups 12 Tim Duncan San Antonio Spurs 99
Matchups 13 Luol Deng Chicago Bulls 99
Matchups 13 Andre Iguodala Denver Nuggets
Matchups 14 Blake Griffin Los Angeles Clippers 49
Matchups 14 Josh Smith Atlanta Hawks
Matchups 15 Steve Nash Los Angeles Lakers 49
Matchups 15 Jason Kidd New York Knicks
Matchups 16 Tyson Chandler New York Knicks 49
Matchups 16 Joakim Noah Chicago Bulls
Matchups 17 Greg Monroe Detroit Pistons
Matchups 17 Roy Hibbert Indiana Pacers 99
Matchups 18 Kevin Garnett Boston Celtics 49
Matchups 18 Dirk Nowitzki Dallas Mavericks
Matchups 19 Russell Westbrook Oklahoma City Thunder 49
Matchups 19 Derrick Rose Chicago Bulls
Matchups 20 Kobe Bryant Los Angeles Lakers 99
Matchups 20 Dwyane Wade Miami Heat
Matchups 21 Kevin Durant Oklahoma City Thunder 49
Matchups 21 LeBron James Miami Heat
Matchups 22 Paul Pierce Boston Celtics 99
Matchups 22 Manu Ginobili San Antonio Spurs
Matchups 23 Chris Paul Los Angeles Clippers 49
Matchups 23 Derrick Rose Chicago Bulls
Matchups 24 Tim Duncan San Antonio Spurs 49
Matchups 24 Kevin Garnett Boston Celtics
Matchups 25 Blake Griffin Los Angeles Clippers 49
Matchups 25 Kevin Love Minnesota Timberwolves
Matchups 26 Tony Parker San Antonio Spurs 49
Matchups 26 Ricky Rubio Minnesota Timberwolves
Matchups 27 Deron Williams Brooklyn Nets
Matchups 27 Steve Nash Los Angeles Lakers 49
Matchups 28 Kevin Durant Oklahoma City Thunder 49
Matchups 28 Carmelo Anthony New York Knicks
Matchups 29 Amar'e Stoudemire New York Knicks 99
Matchups 29 Chris Bosh Miami Heat
Matchups 30 Kobe Bryant Los Angeles Lakers 49
Matchups 30 LeBron James Miami Heat
Matchups 31 Tyreke Evans Sacramento Kings 99
Matchups 31 John Wall Washington Wizards
Matchups 32 Ricky Rubio Minnesota Timberwolves 49
Matchups 32 Steve Nash Los Angeles Lakers
Matchups 33 Deron Williams Brooklyn Nets 49
Matchups 33 Dwyane Wade Miami Heat
Matchups 34 Carlos Boozer Chicago Bulls 99
Matchups 34 David West Indiana Pacers
Matchups 35 Joakim Noah Chicago Bulls 99
Matchups 35 Al Horford Atlanta Hawks
Matchups 36 Brandon Jennings Milwaukee Bucks 99
Matchups 36 Joe Johnson Brooklyn Nets
Matchups 37 Joel Anthony Miami Heat
Matchups 37 Tyler Hansbrough Indiana Pacers 99
Matchups 38 Rudy Gay Toronto Raptors 99
Matchups 38 Danny Granger Indiana Pacers
Matchups 39 David Lee Golden State Warriors 49
Matchups 39 LaMarcus Aldridge Portland Trail Blazers
Matchups 40 Kevin Martin Oklahoma City Thunder 99
Matchups 40 DeMar DeRozan Toronto Raptors
Matchups 41 Ray Allen Miami Heat
Matchups 41 James Harden Houston Rockets 49
Matchups 42 Vince Carter Dallas Mavericks 99
Matchups 42 DeMar DeRozan Toronto Raptors
Matchups 43 Al Jefferson Utah Jazz 99
Matchups 43 Marc Gasol Memphis Grizzlies
Matchups 44 Zach Randolph Memphis Grizzlies 49
Matchups 44 LaMarcus Aldridge Portland Trail Blazers
Matchups 45 Paul Pierce Boston Celtics 99
Matchups 45 Kobe Bryant Los Angeles Lakers
Matchups 46 Shawn Marion Dallas Mavericks 99
Matchups 46 Tayshaun Prince Memphis Grizzlies
Matchups 47 Elton Brand Dallas Mavericks 99
Matchups 47 Carlos Boozer Chicago Bulls
Matchups 48 DeMar DeRozan Toronto Raptors 99
Matchups 48 O.J. Mayo Dallas Mavericks
Matchups 49 Raymond Felton New York Knicks 99
Matchups 49 Ty Lawson Denver Nuggets
Matchups 50 Gordon Hayward Utah Jazz 99
Matchups 50 Trevor Booker Washington Wizards
Matchups 51 Paul Pierce Boston Celtics
Matchups 51 LeBron James Miami Heat 99
Matchups 52 Goran Dragic Phoenix Suns 99
Matchups 52 Beno Udrih Orlando Magic
Matchups 53 Tim Duncan San Antonio Spurs 99
Matchups 53 Dirk Nowitzki Dallas Mavericks
Matchups 54 Anderson Varejao Cleveland Cavaliers
Matchups 54 Chris Andersen Miami Heat 99
Matchups 55 Kevin Durant Oklahoma City Thunder 49
Matchups 55 Danilo Gallinari Denver Nuggets
Matchups 56 Julius Erving Philadelphia 76ers 49
Matchups 56 Dominique Wilkins Atlanta Hawks
Matchups 57 Eric Gordon New Orleans Hornets
Matchups 57 DeMar DeRozan Toronto Raptors 99
Matchups 58 Kevin Garnett Boston Celtics 49
Matchups 58 Pau Gasol Los Angeles Lakers
Matchups 59 Danilo Gallinari Denver Nuggets
Matchups 59 Andrea Bargnani Toronto Raptors 99
Matchups 60 Kevin Martin Oklahoma City Thunder 49
Matchups 60 Ray Allen Miami Heat
Matchups 61 DeAndre Jordan Los Angeles Clippers 99
Matchups 61 Channing Frye Phoenix Suns
Matchups 62 Jrue Holiday Philadelphia 76ers 99
Matchups 62 Jeff Teague Atlanta Hawks
Matchups 63 Chris Andersen Miami Heat 99
Matchups 63 Joakim Noah Chicago Bulls
Matchups 64 Blake Griffin Los Angeles Clippers 49
Matchups 64 DeMarcus Cousins Sacramento Kings
Matchups 65 Luol Deng Chicago Bulls 49
Matchups 65 Carmelo Anthony New York Knicks
Matchups 66 Antawn Jamison Los Angeles Lakers 49
Matchups 66 Vince Carter Dallas Mavericks
Matchups 67 Marvin Williams Utah Jazz 99
Matchups 67 Tyler Hansbrough Indiana Pacers
Matchups 68 Shane Battier Miami Heat 99
Matchups 68 J.J. Redick Milwaukee Bucks
Matchups 69 Rajon Rondo Boston Celtics 49
Matchups 69 John Wall Washington Wizards
Matchups 70 Jason Terry Boston Celtics 49
Matchups 70 Manu Ginobili San Antonio Spurs
Matchups 71 Tyreke Evans Sacramento Kings 49
Matchups 71 Derrick Rose Chicago Bulls
Matchups 72 Marcus Thornton Sacramento Kings 25
Matchups 72 Wesley Matthews Portland Trail Blazers
Matchups 73 Gordon Hayward Utah Jazz 99
Matchups 73 Carl Landry Golden State Warriors
Matchups 74 Dirk Nowitzki Dallas Mavericks 49
Matchups 74 Pau Gasol Los Angeles Lakers
Matchups 75 Andre Iguodala Denver Nuggets 49
Matchups 75 Rudy Gay Toronto Raptors
Matchups 76 LaMarcus Aldridge Portland Trail Blazers 49
Matchups 76 Chris Bosh Miami Heat
Matchups 77 Danny Granger Indiana Pacers 99
Matchups 77 Joe Johnson Brooklyn Nets
Matchups 78 DeMarcus Cousins Sacramento Kings 49
Matchups 78 Derrick Favors Utah Jazz
Matchups 79 Ryan Anderson New Orleans Hornets 75
Matchups 79 Channing Frye Phoenix Suns
Matchups 80 Antawn Jamison Los Angeles Lakers 99
Matchups 80 Dorell Wright Philadelphia 76ers
Matchups 81 Jose Calderon Detroit Pistons
Matchups 81 Ricky Rubio Minnesota Timberwolves 99
Matchups 82 Hedo Turkoglu Orlando Magic 99
Matchups 82 Trevor Ariza Washington Wizards
Matchups 83 Stephen Curry Golden State Warriors 49
Matchups 83 Tyreke Evans Sacramento Kings
Matchups 84 Brook Lopez Brooklyn Nets 99
Matchups 84 Robin Lopez New Orleans Hornets
Matchups 85 J.J. Barea Minnesota Timberwolves 99
Matchups 85 Jose Calderon Detroit Pistons
Matchups 86 Metta World Peace Los Angeles Lakers 99
Matchups 86 Paul Pierce Boston Celtics
Matchups 87 Carmelo Anthony New York Knicks 49
Matchups 87 LeBron James Miami Heat
Matchups 88 Amar'e Stoudemire New York Knicks 49
Matchups 88 Dwight Howard Los Angeles Lakers
Matchups 89 Brook Lopez Brooklyn Nets 49
Matchups 89 Roy Hibbert Indiana Pacers
Matchups 90 Dwight Howard Los Angeles Lakers 49
Matchups 90 Kevin Garnett Boston Celtics
Matchups 91 Ty Lawson Denver Nuggets 99
Matchups 91 Mike Conley Memphis Grizzlies
Matchups 92 Jason Kidd New York Knicks 49
Matchups 92 Grant Hill Los Angeles Clippers
Matchups 93 Moses Malone Atlanta Hawks 25
Matchups 93 Hakeem Olajuwon Houston Rockets
Matchups 94 Yao Ming Houston Rockets 49
Matchups 94 Shawn Bradley Dallas Mavericks
Matchups 95 Shaquille O'Neal Los Angeles Lakers 49
Matchups 95 Tim Duncan San Antonio Spurs
Matchups 96 Shaquille O'Neal Los Angeles Lakers 25
Matchups 96 Yao Ming Houston Rockets
Matchups 97 Dennis Rodman Chicago Bulls 25
Matchups 97 Karl Malone Utah Jazz
Matchups 98 David Robinson San Antonio Spurs
Matchups 98 Patrick Ewing New York Knicks 49
Matchups 99 Hakeem Olajuwon Houston Rockets 25
Matchups 99 Shaquille O'Neal Orlando Magic
Matchups 100 Patrick Ewing New York Knicks
Matchups 100 Alonzo Mourning Miami Heat 49
Matchups Prime 1 Kobe Bryant Los Angeles Lakers 10
Matchups Prime 1 Kevin Durant Oklahoma City Thunder
Matchups Prime 2 Dirk Nowitzki Dallas Mavericks
Matchups Prime 2 Kevin Love Minnesota Timberwolves 10
Matchups Prime 3 Pau Gasol Los Angeles Lakers 25
Matchups Prime 3 Marc Gasol Memphis Grizzlies
Matchups Prime 4 Derrick Rose Chicago Bulls 25
Matchups Prime 4 John Wall Washington Wizards
Matchups Prime 5 Rajon Rondo Boston Celtics 25
Matchups Prime 5 Chris Paul Los Angeles Clippers
Matchups Prime 6 Russell Westbrook Oklahoma City Thunder 25
Matchups Prime 6 Rajon Rondo Boston Celtics
Matchups Prime 7 Andrea Bargnani Toronto Raptors 10
Matchups Prime 7 Brook Lopez Brooklyn Nets
Matchups Prime 8 DeMarcus Cousins Sacramento Kings 10
Matchups Prime 8 DeAndre Jordan Los Angeles Clippers
Matchups Prime 9 Serge Ibaka Oklahoma City Thunder 10
Matchups Prime 9 Emeka Okafor Washington Wizards
Matchups Prime 10 Raymond Felton New York Knicks 25
Matchups Prime 10 Mike Conley Memphis Grizzlies
Matchups Prime 11 Jrue Holiday Philadelphia 76ers 10
Matchups Prime 11 Brandon Jennings Milwaukee Bucks
Matchups Prime 12 Dwight Howard Los Angeles Lakers
Matchups Prime 12 Tim Duncan San Antonio Spurs 25
Matchups Prime 13 Luol Deng Chicago Bulls 25
Matchups Prime 13 Andre Iguodala Denver Nuggets
Matchups Prime 14 Blake Griffin Los Angeles Clippers 10
Matchups Prime 14 Josh Smith Atlanta Hawks
Matchups Prime 15 Steve Nash Los Angeles Lakers 5
Matchups Prime 15 Jason Kidd New York Knicks
Matchups Prime 16 Tyson Chandler New York Knicks 10
Matchups Prime 16 Joakim Noah Chicago Bulls
Matchups Prime 17 Roy Hibbert Indiana Pacers 10
Matchups Prime 17 Greg Monroe Detroit Pistons
Matchups Prime 18 Kevin Garnett Boston Celtics 10
Matchups Prime 18 Dirk Nowitzki Dallas Mavericks
Matchups Prime 19 Russell Westbrook Oklahoma City Thunder 25
Matchups Prime 19 Derrick Rose Chicago Bulls
Matchups Prime 20 Kobe Bryant Los Angeles Lakers 10
Matchups Prime 20 Dwyane Wade Miami Heat
Matchups Prime 21 Kevin Durant Oklahoma City Thunder 25
Matchups Prime 21 LeBron James Miami Heat
Matchups Prime 22 Paul Pierce Boston Celtics 25
Matchups Prime 22 Manu Ginobili San Antonio Spurs
Matchups Prime 23 Chris Paul Los Angeles Clippers 10
Matchups Prime 23 Derrick Rose Chicago Bulls
Matchups Prime 24 Tim Duncan San Antonio Spurs 25
Matchups Prime 24 Kevin Garnett Boston Celtics
Matchups Prime 25 Blake Griffin Los Angeles Clippers 10
Matchups Prime 25 Kevin Love Minnesota Timberwolves
Matchups Prime 26 Tony Parker San Antonio Spurs 10
Matchups Prime 26 Ricky Rubio Minnesota Timberwolves
Matchups Prime 27 Steve Nash Los Angeles Lakers 25
Matchups Prime 27 Deron Williams Brooklyn Nets
Matchups Prime 28 Kevin Durant Oklahoma City Thunder 25
Matchups Prime 28 Carmelo Anthony New York Knicks
Matchups Prime 29 Amar'e Stoudemire New York Knicks 25
Matchups Prime 29 Chris Bosh Miami Heat
Matchups Prime 30 Kobe Bryant Los Angeles Lakers 10
Matchups Prime 30 LeBron James Miami Heat
Matchups Prime 31 Tyreke Evans Sacramento Kings 10
Matchups Prime 31 John Wall Washington Wizards
Matchups Prime 32 Ricky Rubio Minnesota Timberwolves 10
Matchups Prime 32 Steve Nash Los Angeles Lakers
Matchups Prime 33 Deron Williams Brooklyn Nets 25
Matchups Prime 33 Dwyane Wade Miami Heat
Matchups Prime 34 Carlos Boozer Chicago Bulls 25
Matchups Prime 34 David West Indiana Pacers
Matchups Prime 35 Al Horford Atlanta Hawks 25
Matchups Prime 35 Joakim Noah Chicago Bulls
Matchups Prime 36 Brandon Jennings Milwaukee Bucks 25
Matchups Prime 36 Joe Johnson Brooklyn Nets
Matchups Prime 37 Joel Anthony Miami Heat
Matchups Prime 37 Tyler Hansbrough Indiana Pacers 25
Matchups Prime 38 Rudy Gay Toronto Raptors 25
Matchups Prime 38 Danny Granger Indiana Pacers
Matchups Prime 39 David Lee Golden State Warriors 25
Matchups Prime 39 LaMarcus Aldridge Portland Trail Blazers
Matchups Prime 40 Kevin Martin Oklahoma City Thunder 25
Matchups Prime 40 DeMar DeRozan Toronto Raptors
Matchups Prime 41 James Harden Houston Rockets 25
Matchups Prime 41 Ray Allen Miami Heat
Matchups Prime 42 Vince Carter Dallas Mavericks 25
Matchups Prime 42 DeMar DeRozan Toronto Raptors
Matchups Prime 43 Al Jefferson Utah Jazz 25
Matchups Prime 43 Marc Gasol Memphis Grizzlies
Matchups Prime 44 Zach Randolph Memphis Grizzlies 25
Matchups Prime 44 LaMarcus Aldridge Portland Trail Blazers
Matchups Prime 45 Paul Pierce Boston Celtics 10
Matchups Prime 45 Kobe Bryant Los Angeles Lakers
Matchups Prime 46 Shawn Marion Dallas Mavericks 10
Matchups Prime 46 Tayshaun Prince Memphis Grizzlies
Matchups Prime 47 Elton Brand Dallas Mavericks 25
Matchups Prime 47 Carlos Boozer Chicago Bulls
Matchups Prime 48 DeMar DeRozan Toronto Raptors 25
Matchups Prime 48 O.J. Mayo Dallas Mavericks
Matchups Prime 49 Raymond Felton New York Knicks 25
Matchups Prime 49 Ty Lawson Denver Nuggets
Matchups Prime 50 Gordon Hayward Utah Jazz 25
Matchups Prime 50 Trevor Booker Washington Wizards
Matchups Prime 51 Paul Pierce Boston Celtics 25
Matchups Prime 51 LeBron James Miami Heat
Matchups Prime 52 Goran Dragic Phoenix Suns 10
Matchups Prime 52 Beno Udrih Orlando Magic
Matchups Prime 53 Dirk Nowitzki Dallas Mavericks
Matchups Prime 53 Tim Duncan San Antonio Spurs 25
Matchups Prime 54 Anderson Varejao Cleveland Cavaliers
Matchups Prime 54 Chris Andersen Miami Heat 25
Matchups Prime 55 Kevin Durant Oklahoma City Thunder 10
Matchups Prime 55 Danilo Gallinari Denver Nuggets
Matchups Prime 56 Julius Erving Philadelphia 76ers 25
Matchups Prime 56 Dominique Wilkins Atlanta Hawks
Matchups Prime 57 DeMar DeRozan Toronto Raptors
Matchups Prime 57 Eric Gordon New Orleans Hornets 25
Matchups Prime 58 Kevin Garnett Boston Celtics 25
Matchups Prime 58 Pau Gasol Los Angeles Lakers
Matchups Prime 59 Danilo Gallinari Denver Nuggets 10
Matchups Prime 59 Andrea Bargnani Toronto Raptors
Matchups Prime 60 Kevin Martin Oklahoma City Thunder 25
Matchups Prime 60 Ray Allen Miami Heat
Matchups Prime 61 DeAndre Jordan Los Angeles Clippers 10
Matchups Prime 61 Channing Frye Phoenix Suns
Matchups Prime 62 Jrue Holiday Philadelphia 76ers 25
Matchups Prime 62 Jeff Teague Atlanta Hawks
Matchups Prime 63 Chris Andersen Miami Heat 25
Matchups Prime 63 Joakim Noah Chicago Bulls
Matchups Prime 64 Blake Griffin Los Angeles Clippers 10
Matchups Prime 64 DeMarcus Cousins Sacramento Kings
Matchups Prime 65 Luol Deng Chicago Bulls 25
Matchups Prime 65 Carmelo Anthony New York Knicks
Matchups Prime 66 Antawn Jamison Los Angeles Lakers 25
Matchups Prime 66 Vince Carter Dallas Mavericks
Matchups Prime 67 Marvin Williams Utah Jazz 25
Matchups Prime 67 Tyler Hansbrough Indiana Pacers
Matchups Prime 68 Shane Battier Miami Heat 25
Matchups Prime 68 J.J. Redick Milwaukee Bucks
Matchups Prime 69 Rajon Rondo Boston Celtics 25
Matchups Prime 69 John Wall Washington Wizards
Matchups Prime 70 Jason Terry Boston Celtics 5
Matchups Prime 70 Manu Ginobili San Antonio Spurs
Matchups Prime 71 Tyreke Evans Sacramento Kings 10
Matchups Prime 71 Derrick Rose Chicago Bulls
Matchups Prime 72 Marcus Thornton Sacramento Kings 10
Matchups Prime 72 Wesley Matthews Portland Trail Blazers
Matchups Prime 73 Gordon Hayward Utah Jazz 25
Matchups Prime 73 Carl Landry Golden State Warriors
Matchups Prime 74 Dirk Nowitzki Dallas Mavericks 10
Matchups Prime 74 Pau Gasol Los Angeles Lakers
Matchups Prime 75 Andre Iguodala Denver Nuggets 10
Matchups Prime 75 Rudy Gay Toronto Raptors
Matchups Prime 76 LaMarcus Aldridge Portland Trail Blazers 10
Matchups Prime 76 Chris Bosh Miami Heat
Matchups Prime 77 Danny Granger Indiana Pacers 10
Matchups Prime 77 Joe Johnson Brooklyn Nets
Matchups Prime 78 DeMarcus Cousins Sacramento Kings 10
Matchups Prime 78 Derrick Favors Utah Jazz
Matchups Prime 79 Ryan Anderson New Orleans Hornets 25
Matchups Prime 79 Channing Frye Phoenix Suns
Matchups Prime 80 Antawn Jamison Los Angeles Lakers 25
Matchups Prime 80 Dorell Wright Philadelphia 76ers
Matchups Prime 81 Jose Calderon Detroit Pistons
Matchups Prime 81 Ricky Rubio Minnesota Timberwolves 25
Matchups Prime 82 Hedo Turkoglu Orlando Magic 25
Matchups Prime 82 Trevor Ariza Washington Wizards
Matchups Prime 83 Stephen Curry Golden State Warriors 10
Matchups Prime 83 Tyreke Evans Sacramento Kings
Matchups Prime 84 Brook Lopez Brooklyn Nets 25
Matchups Prime 84 Robin Lopez New Orleans Hornets
Matchups Prime 85 J.J. Barea Minnesota Timberwolves 25
Matchups Prime 85 Jose Calderon Detroit Pistons
Matchups Prime 86 Metta World Peace Los Angeles Lakers 25
Matchups Prime 86 Paul Pierce Boston Celtics
Matchups Prime 87 Carmelo Anthony New York Knicks 10
Matchups Prime 87 LeBron James Miami Heat
Matchups Prime 88 Amar'e Stoudemire New York Knicks 25
Matchups Prime 88 Dwight Howard Los Angeles Lakers
Matchups Prime 89 Brook Lopez Brooklyn Nets 25
Matchups Prime 89 Roy Hibbert Indiana Pacers
Matchups Prime 90 Dwight Howard Los Angeles Lakers 25
Matchups Prime 90 Kevin Garnett Boston Celtics
Matchups Prime 91 Ty Lawson Denver Nuggets 25
Matchups Prime 91 Mike Conley Memphis Grizzlies
Matchups Prime 92 Jason Kidd New York Knicks 10
Matchups Prime 92 Grant Hill Los Angeles Clippers
Matchups Prime 93 Moses Malone Atlanta Hawks 10
Matchups Prime 93 Hakeem Olajuwon Houston Rockets
Matchups Prime 94 Yao Ming Houston Rockets 10
Matchups Prime 94 Shawn Bradley Dallas Mavericks
Matchups Prime 95 Shaquille O'Neal Los Angeles Lakers 25
Matchups Prime 95 Tim Duncan San Antonio Spurs
Matchups Prime 96 Shaquille O'Neal Los Angeles Lakers 10
Matchups Prime 96 Yao Ming Houston Rockets
Matchups Prime 97 Dennis Rodman Chicago Bulls 10
Matchups Prime 97 Karl Malone Utah Jazz
Matchups Prime 98 David Robinson San Antonio Spurs 25
Matchups Prime 98 Patrick Ewing New York Knicks
Matchups Prime 99 Shaquille O'Neal Orlando Magic 10
Matchups Prime 99 Hakeem Olajuwon Houston Rockets
Matchups Prime 100 Patrick Ewing New York Knicks 10
Matchups Prime 100 Alonzo Mourning Miami Heat
Material Treasures 1 Kobe Bryant Los Angeles Lakers 49
Material Treasures 2 Kyrie Irving Cleveland Cavaliers 99
Material Treasures 3 Pau Gasol Los Angeles Lakers 49
Material Treasures 4 Blake Griffin Los Angeles Clippers 49
Material Treasures 5 Chris Paul Los Angeles Clippers 49
Material Treasures 6 Caron Butler Los Angeles Clippers 99
Material Treasures 7 Kevin Durant Oklahoma City Thunder 49
Material Treasures 8 Russell Westbrook Oklahoma City Thunder 49
Material Treasures 9 James Harden Houston Rockets 49
Material Treasures 10 Serge Ibaka Oklahoma City Thunder 49
Material Treasures 11 Derrick Rose Chicago Bulls 49
Material Treasures 12 Luol Deng Chicago Bulls 49
Material Treasures 13 Joakim Noah Chicago Bulls 49
Material Treasures 14 Carlos Boozer Chicago Bulls 49
Material Treasures 15 Dirk Nowitzki Dallas Mavericks 49
Material Treasures 16 Jason Terry Boston Celtics 49
Material Treasures 17 Jeremy Lin Houston Rockets 49
Material Treasures 18 Jason Kidd New York Knicks 49
Material Treasures 19 Kevin Garnett Boston Celtics 49
Material Treasures 20 Paul Pierce Boston Celtics 49
Material Treasures 21 Rajon Rondo Boston Celtics 49
Material Treasures 22 Ray Allen Miami Heat 49
Material Treasures 23 Dwight Howard Los Angeles Lakers 49
Material Treasures 24 Hedo Turkoglu Orlando Magic 99
Material Treasures 25 J.J. Redick Milwaukee Bucks 99
Material Treasures 26 Josh Smith Atlanta Hawks 49
Material Treasures 27 Joe Johnson Brooklyn Nets 49
Material Treasures 28 Al Horford Atlanta Hawks 49
Material Treasures 29 Danny Granger Indiana Pacers 49
Material Treasures 30 Tyler Hansbrough Indiana Pacers 99
Material Treasures 31 Darren Collison Dallas Mavericks 99
Material Treasures 32 David West Indiana Pacers 49
Material Treasures 33 Tim Duncan San Antonio Spurs 49
Material Treasures 34 Tony Parker San Antonio Spurs 49
Material Treasures 35 Manu Ginobili San Antonio Spurs 49
Material Treasures 36 Tiago Splitter San Antonio Spurs 99
Material Treasures 37 Jrue Holiday Philadelphia 76ers 99
Material Treasures 38 Thaddeus Young Philadelphia 76ers 99
Material Treasures 39 Evan Turner Philadelphia 76ers 99
Material Treasures 40 Elton Brand Dallas Mavericks 99
Material Treasures 41 John Wall Washington Wizards 49
Material Treasures 42 Andray Blatche Brooklyn Nets 99
Material Treasures 43 Jordan Crawford Boston Celtics 10
Material Treasures 44 Gordon Hayward Utah Jazz 99
Material Treasures 45 Al Jefferson Utah Jazz 49
Material Treasures 46 Devin Harris Atlanta Hawks 99
Material Treasures 47 Derrick Favors Utah Jazz 99
Material Treasures 48 Carmelo Anthony New York Knicks 49
Material Treasures 49 Amar'e Stoudemire New York Knicks 49
Material Treasures 50 Damian Lillard Portland Trail Blazers 99
Material Treasures 51 Landry Fields Toronto Raptors 99
Material Treasures 52 Ricky Rubio Minnesota Timberwolves 49
Material Treasures 53 Kevin Love Minnesota Timberwolves 49
Material Treasures 54 Wesley Johnson Phoenix Suns 99
Material Treasures 55 Luke Ridnour Minnesota Timberwolves 99
Material Treasures 56 D.J. Augustin Indiana Pacers 99
Material Treasures 57 Tyrus Thomas Charlotte Bobcats 99
Material Treasures 58 Antawn Jamison Los Angeles Lakers 99
Material Treasures 59 Anderson Varejao Cleveland Cavaliers 99
Material Treasures 60 Daniel Gibson Cleveland Cavaliers 99
Material Treasures 61 Tyreke Evans Sacramento Kings 49
Material Treasures 62 Marcus Thornton Sacramento Kings 49
Material Treasures 63 DeMarcus Cousins Sacramento Kings 99
Material Treasures 64 John Salmons Sacramento Kings 99
Material Treasures 65 Dwyane Wade Miami Heat 49
Material Treasures 66 LeBron James Miami Heat 49
Material Treasures 67 Chris Bosh Miami Heat 49
Material Treasures 68 Shane Battier Miami Heat 99
Material Treasures 69 Marc Gasol Memphis Grizzlies 49
Material Treasures 70 Rudy Gay Toronto Raptors 49
Material Treasures 71 Zach Randolph Memphis Grizzlies 49
Material Treasures 72 Mike Conley Memphis Grizzlies 99
Material Treasures 73 Trevor Ariza Washington Wizards 99
Material Treasures 74 Andrea Bargnani Toronto Raptors 49
Material Treasures 75 DeMar DeRozan Toronto Raptors 99
Material Treasures 76 Stephen Curry Golden State Warriors 99
Material Treasures 77 Brandon Jennings Milwaukee Bucks 49
Material Treasures 78 Drew Gooden Milwaukee Bucks 99
Material Treasures 79 Carlos Delfino Houston Rockets 99
Material Treasures 80 Kevin Martin Oklahoma City Thunder 99
Material Treasures 81 Luis Scola Phoenix Suns 99
Material Treasures 82 Goran Dragic Phoenix Suns 99
Material Treasures 83 Channing Frye Phoenix Suns 99
Material Treasures 84 Steve Nash Los Angeles Lakers 49
Material Treasures 85 Jared Dudley Phoenix Suns 49
Material Treasures 86 Grant Hill Los Angeles Clippers 49
Material Treasures 87 Chris Kaman Dallas Mavericks 99
Material Treasures 88 Deron Williams Brooklyn Nets 49
Material Treasures 89 Brook Lopez Brooklyn Nets 49
Material Treasures 90 Kris Humphries Brooklyn Nets 99
Material Treasures 91 LaMarcus Aldridge Portland Trail Blazers 49
Material Treasures 92 Carl Landry Golden State Warriors 99
Material Treasures 93 Raymond Felton New York Knicks 99
Material Treasures 94 Ty Lawson Denver Nuggets 49
Material Treasures 95 Chris Andersen Miami Heat 99
Material Treasures 96 Danilo Gallinari Denver Nuggets 99
Material Treasures 97 Greg Monroe Detroit Pistons 49
Material Treasures 98 Tayshaun Prince Memphis Grizzlies 99
Material Treasures 99 George Hill Indiana Pacers 99
Material Treasures 100 David Lee Golden State Warriors 49
Material Treasures Prime 1 Kobe Bryant Los Angeles Lakers 25
Material Treasures Prime 2 Kyrie Irving Cleveland Cavaliers 25
Material Treasures Prime 3 Pau Gasol Los Angeles Lakers 25
Material Treasures Prime 4 Blake Griffin Los Angeles Clippers 10
Material Treasures Prime 5 Chris Paul Los Angeles Clippers 10
Material Treasures Prime 6 Caron Butler Los Angeles Clippers 25
Material Treasures Prime 7 Kevin Durant Oklahoma City Thunder 25
Material Treasures Prime 8 Russell Westbrook Oklahoma City Thunder 25
Material Treasures Prime 9 James Harden Houston Rockets 10
Material Treasures Prime 10 Serge Ibaka Oklahoma City Thunder 10
Material Treasures Prime 11 Derrick Rose Chicago Bulls 25
Material Treasures Prime 12 Luol Deng Chicago Bulls 25
Material Treasures Prime 13 Joakim Noah Chicago Bulls 25
Material Treasures Prime 14 Carlos Boozer Chicago Bulls 25
Material Treasures Prime 15 Dirk Nowitzki Dallas Mavericks 10
Material Treasures Prime 16 Jason Terry Boston Celtics 25
Material Treasures Prime 17 Jeremy Lin Houston Rockets 10
Material Treasures Prime 18 Jason Kidd New York Knicks 25
Material Treasures Prime 19 Kevin Garnett Boston Celtics 10
Material Treasures Prime 20 Paul Pierce Boston Celtics 25
Material Treasures Prime 21 Rajon Rondo Boston Celtics 25
Material Treasures Prime 22 Ray Allen Miami Heat 25
Material Treasures Prime 23 Dwight Howard Los Angeles Lakers 10
Material Treasures Prime 24 Hedo Turkoglu Orlando Magic 25
Material Treasures Prime 25 J.J. Redick Milwaukee Bucks 25
Material Treasures Prime 26 Josh Smith Atlanta Hawks 25
Material Treasures Prime 27 Joe Johnson Brooklyn Nets 25
Material Treasures Prime 28 Al Horford Atlanta Hawks 25
Material Treasures Prime 29 Danny Granger Indiana Pacers 25
Material Treasures Prime 30 Tyler Hansbrough Indiana Pacers 25
Material Treasures Prime 31 Darren Collison Dallas Mavericks 25
Material Treasures Prime 32 David West Indiana Pacers 25
Material Treasures Prime 33 Tim Duncan San Antonio Spurs 25
Material Treasures Prime 34 Tony Parker San Antonio Spurs 25
Material Treasures Prime 35 Manu Ginobili San Antonio Spurs 25
Material Treasures Prime 36 Tiago Splitter San Antonio Spurs 10
Material Treasures Prime 37 Jrue Holiday Philadelphia 76ers 10
Material Treasures Prime 38 Thaddeus Young Philadelphia 76ers 25
Material Treasures Prime 39 Evan Turner Philadelphia 76ers 25
Material Treasures Prime 40 Elton Brand Dallas Mavericks 25
Material Treasures Prime 41 John Wall Washington Wizards 25
Material Treasures Prime 42 Andray Blatche Brooklyn Nets 10
Material Treasures Prime 43 Jordan Crawford Boston Celtics 5
Material Treasures Prime 44 Gordon Hayward Utah Jazz 25
Material Treasures Prime 45 Al Jefferson Utah Jazz 25
Material Treasures Prime 46 Devin Harris Atlanta Hawks 25
Material Treasures Prime 47 Derrick Favors Utah Jazz 25
Material Treasures Prime 48 Carmelo Anthony New York Knicks 25
Material Treasures Prime 49 Amar'e Stoudemire New York Knicks 25
Material Treasures Prime 50 Damian Lillard Portland Trail Blazers 25
Material Treasures Prime 51 Landry Fields Toronto Raptors 25
Material Treasures Prime 52 Ricky Rubio Minnesota Timberwolves 5
Material Treasures Prime 53 Kevin Love Minnesota Timberwolves 25
Material Treasures Prime 54 Wesley Johnson Phoenix Suns 10
Material Treasures Prime 55 Luke Ridnour Minnesota Timberwolves 25
Material Treasures Prime 56 D.J. Augustin Indiana Pacers 10
Material Treasures Prime 57 Tyrus Thomas Charlotte Bobcats 25
Material Treasures Prime 58 Antawn Jamison Los Angeles Lakers 10
Material Treasures Prime 59 Anderson Varejao Cleveland Cavaliers 10
Material Treasures Prime 60 Daniel Gibson Cleveland Cavaliers 25
Material Treasures Prime 61 Tyreke Evans Sacramento Kings 5
Material Treasures Prime 62 Marcus Thornton Sacramento Kings 10
Material Treasures Prime 63 DeMarcus Cousins Sacramento Kings 10
Material Treasures Prime 64 John Salmons Sacramento Kings 25
Material Treasures Prime 65 Dwyane Wade Miami Heat 10
Material Treasures Prime 66 LeBron James Miami Heat 10
Material Treasures Prime 67 Chris Bosh Miami Heat 10
Material Treasures Prime 68 Shane Battier Miami Heat 25
Material Treasures Prime 69 Marc Gasol Memphis Grizzlies 25
Material Treasures Prime 70 Rudy Gay Toronto Raptors 25
Material Treasures Prime 71 Zach Randolph Memphis Grizzlies 25
Material Treasures Prime 72 Mike Conley Memphis Grizzlies 10
Material Treasures Prime 73 Trevor Ariza Washington Wizards 25
Material Treasures Prime 74 Andrea Bargnani Toronto Raptors 25
Material Treasures Prime 75 DeMar DeRozan Toronto Raptors 25
Material Treasures Prime 76 Stephen Curry Golden State Warriors 5
Material Treasures Prime 77 Brandon Jennings Milwaukee Bucks 10
Material Treasures Prime 78 Drew Gooden Milwaukee Bucks 10
Material Treasures Prime 79 Carlos Delfino Houston Rockets 25
Material Treasures Prime 80 Kevin Martin Oklahoma City Thunder 25
Material Treasures Prime 81 Luis Scola Phoenix Suns 10
Material Treasures Prime 82 Goran Dragic Phoenix Suns 10
Material Treasures Prime 83 Channing Frye Phoenix Suns 25
Material Treasures Prime 84 Steve Nash Los Angeles Lakers 25
Material Treasures Prime 85 Jared Dudley Phoenix Suns 10
Material Treasures Prime 86 Grant Hill Los Angeles Clippers 25
Material Treasures Prime 87 Chris Kaman Dallas Mavericks 10
Material Treasures Prime 88 Deron Williams Brooklyn Nets 25
Material Treasures Prime 89 Brook Lopez Brooklyn Nets 25
Material Treasures Prime 90 Kris Humphries Brooklyn Nets 25
Material Treasures Prime 91 LaMarcus Aldridge Portland Trail Blazers 25
Material Treasures Prime 92 Carl Landry Golden State Warriors 10
Material Treasures Prime 93 Raymond Felton New York Knicks 10
Material Treasures Prime 94 Ty Lawson Denver Nuggets 25
Material Treasures Prime 95 Chris Andersen Miami Heat 10
Material Treasures Prime 96 Danilo Gallinari Denver Nuggets 10
Material Treasures Prime 97 Greg Monroe Detroit Pistons 10
Material Treasures Prime 98 Tayshaun Prince Memphis Grizzlies 25
Material Treasures Prime 99 George Hill Indiana Pacers 10
Material Treasures Prime 100 David Lee Golden State Warriors 10
NBA Gear Combos 1 J.J. Hickson Portland Trail Blazers 99
NBA Gear Combos 1 J.J. Hickson Portland Trail Blazers
NBA Gear Combos 2 LeBron James Miami Heat
NBA Gear Combos 2 LeBron James Miami Heat 99
NBA Gear Combos 3 John Wall Washington Wizards 99
NBA Gear Combos 3 John Wall Washington Wizards
NBA Gear Combos 4 Serge Ibaka Oklahoma City Thunder 99
NBA Gear Combos 4 Serge Ibaka Oklahoma City Thunder
NBA Gear Combos 5 Paul Pierce Boston Celtics 49
NBA Gear Combos 5 Paul Pierce Boston Celtics
NBA Gear Combos 6 Jordan Crawford Boston Celtics 49
NBA Gear Combos 6 Jordan Crawford Boston Celtics
NBA Gear Combos 7 Dwyane Wade Miami Heat 99
NBA Gear Combos 7 Dwyane Wade Miami Heat
NBA Gear Combos 8 Derrick Rose Chicago Bulls 99
NBA Gear Combos 8 Derrick Rose Chicago Bulls
NBA Gear Combos 9 Caron Butler Los Angeles Clippers 99
NBA Gear Combos 9 Caron Butler Los Angeles Clippers
NBA Gear Combos 10 Brandon Jennings Milwaukee Bucks 99
NBA Gear Combos 10 Brandon Jennings Milwaukee Bucks
NBA Gear Combos 11 Andrew Bynum Philadelphia 76ers 49
NBA Gear Combos 11 Andrew Bynum Philadelphia 76ers
NBA Gear Combos 12 James Harden Houston Rockets 99
NBA Gear Combos 12 James Harden Houston Rockets
NBA Gear Combos 13 Chris Andersen Miami Heat 99
NBA Gear Combos 13 Chris Andersen Miami Heat
NBA Gear Combos 14 Chris Kaman Dallas Mavericks 25
NBA Gear Combos 14 Chris Kaman Dallas Mavericks
NBA Gear Combos 15 Dirk Nowitzki Dallas Mavericks 49
NBA Gear Combos 15 Dirk Nowitzki Dallas Mavericks
NBA Gear Combos 16 Andrea Bargnani Toronto Raptors 49
NBA Gear Combos 16 Andrea Bargnani Toronto Raptors
NBA Gear Combos 17 Mo Williams Utah Jazz 99
NBA Gear Combos 17 Mo Williams Utah Jazz
NBA Gear Combos 18 Jeremy Lin Houston Rockets 99
NBA Gear Combos 18 Jeremy Lin Houston Rockets
NBA Gear Combos 19 Jeff Teague Atlanta Hawks 99
NBA Gear Combos 19 Jeff Teague Atlanta Hawks
NBA Gear Combos 20 DeJuan Blair San Antonio Spurs 49
NBA Gear Combos 20 DeJuan Blair San Antonio Spurs
NBA Gear Combos 21 Pau Gasol Los Angeles Lakers 99
NBA Gear Combos 21 Pau Gasol Los Angeles Lakers
NBA Gear Combos 22 Tyler Hansbrough Indiana Pacers 99
NBA Gear Combos 22 Tyler Hansbrough Indiana Pacers
NBA Gear Combos 23 Raymond Felton New York Knicks 49
NBA Gear Combos 23 Raymond Felton New York Knicks
NBA Gear Combos 24 Russell Westbrook Oklahoma City Thunder 49
NBA Gear Combos 24 Russell Westbrook Oklahoma City Thunder
NBA Gear Combos 25 Kris Humphries Brooklyn Nets 99
NBA Gear Combos 25 Kris Humphries Brooklyn Nets
NBA Gear Combos 26 Andre Iguodala Denver Nuggets 99
NBA Gear Combos 26 Andre Iguodala Denver Nuggets
NBA Gear Combos 27 Rodrigue Beaubois Dallas Mavericks 99
NBA Gear Combos 27 Rodrigue Beaubois Dallas Mavericks
NBA Gear Combos 28 Andre Miller Denver Nuggets 99
NBA Gear Combos 28 Andre Miller Denver Nuggets
NBA Gear Combos 29 Al Jefferson Utah Jazz 49
NBA Gear Combos 29 Al Jefferson Utah Jazz
NBA Gear Combos 30 Tim Duncan San Antonio Spurs 99
NBA Gear Combos 30 Tim Duncan San Antonio Spurs
NBA Gear Combos 31 David Lee Golden State Warriors 49
NBA Gear Combos 31 David Lee Golden State Warriors
NBA Gear Combos 32 Jrue Holiday Philadelphia 76ers 99
NBA Gear Combos 32 Jrue Holiday Philadelphia 76ers
NBA Gear Combos 33 Dwight Howard Los Angeles Lakers 99
NBA Gear Combos 33 Dwight Howard Los Angeles Lakers
NBA Gear Combos 34 Kevin Durant Oklahoma City Thunder 99
NBA Gear Combos 34 Kevin Durant Oklahoma City Thunder
NBA Gear Combos 35 DeMar DeRozan Toronto Raptors 99
NBA Gear Combos 35 DeMar DeRozan Toronto Raptors
NBA Gear Combos 36 O.J. Mayo Dallas Mavericks 99
NBA Gear Combos 36 O.J. Mayo Dallas Mavericks
NBA Gear Combos 37 Kevin Martin Oklahoma City Thunder 99
NBA Gear Combos 37 Kevin Martin Oklahoma City Thunder
NBA Gear Combos 38 Ben Gordon Charlotte Bobcats 99
NBA Gear Combos 38 Ben Gordon Charlotte Bobcats
NBA Gear Combos 39 Vince Carter Dallas Mavericks 49
NBA Gear Combos 39 Vince Carter Dallas Mavericks
NBA Gear Combos 40 Darren Collison Dallas Mavericks 99
NBA Gear Combos 40 Darren Collison Dallas Mavericks
NBA Gear Combos 41 Carmelo Anthony New York Knicks 99
NBA Gear Combos 41 Carmelo Anthony New York Knicks
NBA Gear Combos 42 Rajon Rondo Boston Celtics 49
NBA Gear Combos 42 Rajon Rondo Boston Celtics
NBA Gear Combos 43 Al Horford Atlanta Hawks 99
NBA Gear Combos 43 Al Horford Atlanta Hawks
NBA Gear Combos 44 Greg Monroe Detroit Pistons 99
NBA Gear Combos 44 Greg Monroe Detroit Pistons
NBA Gear Combos 45 Kevin Garnett Boston Celtics 49
NBA Gear Combos 45 Kevin Garnett Boston Celtics
NBA Gear Combos 46 Trevor Ariza Washington Wizards 99
NBA Gear Combos 46 Trevor Ariza Washington Wizards
NBA Gear Combos 47 J.J. Barea Minnesota Timberwolves 99
NBA Gear Combos 47 J.J. Barea Minnesota Timberwolves
NBA Gear Combos 48 Luis Scola Phoenix Suns 99
NBA Gear Combos 48 Luis Scola Phoenix Suns
NBA Gear Combos 49 Jason Kidd New York Knicks 49
NBA Gear Combos 49 Jason Kidd New York Knicks
NBA Gear Combos 50 Landry Fields Toronto Raptors 99
NBA Gear Combos 50 Landry Fields Toronto Raptors
NBA Gear Combos Signatures 1 Marcin Gortat Phoenix Suns 49
NBA Gear Combos Signatures 1 Marcin Gortat Phoenix Suns
NBA Gear Combos Signatures 2 Steve Nash Los Angeles Lakers 25
NBA Gear Combos Signatures 2 Steve Nash Los Angeles Lakers
NBA Gear Combos Signatures 3 Ray Allen Miami Heat 25
NBA Gear Combos Signatures 3 Ray Allen Miami Heat
NBA Gear Combos Signatures 4 Blake Griffin Los Angeles Clippers 25
NBA Gear Combos Signatures 4 Blake Griffin Los Angeles Clippers
NBA Gear Combos Signatures 5 Tyreke Evans Sacramento Kings 25
NBA Gear Combos Signatures 5 Tyreke Evans Sacramento Kings
NBA Gear Combos Signatures 6 Chris Kaman Dallas Mavericks 25
NBA Gear Combos Signatures 6 Chris Kaman Dallas Mavericks
NBA Gear Combos Signatures 7 Josh Smith Atlanta Hawks 25
NBA Gear Combos Signatures 7 Josh Smith Atlanta Hawks
NBA Gear Combos Signatures 8 James Harden Houston Rockets 25
NBA Gear Combos Signatures 8 James Harden Houston Rockets
NBA Gear Combos Signatures 9 Ben Gordon Charlotte Bobcats 25
NBA Gear Combos Signatures 9 Ben Gordon Charlotte Bobcats
NBA Gear Combos Signatures 10 Joakim Noah Chicago Bulls 49
NBA Gear Combos Signatures 10 Joakim Noah Chicago Bulls
NBA Gear Combos Signatures 11 Marcus Thornton Sacramento Kings 49
NBA Gear Combos Signatures 11 Marcus Thornton Sacramento Kings
NBA Gear Combos Signatures 12 Mike Conley Memphis Grizzlies 25
NBA Gear Combos Signatures 12 Mike Conley Memphis Grizzlies
NBA Gear Combos Signatures 13 Chris Bosh Miami Heat 25
NBA Gear Combos Signatures 13 Chris Bosh Miami Heat
NBA Gear Combos Signatures 14 Evan Turner Philadelphia 76ers 25
NBA Gear Combos Signatures 14 Evan Turner Philadelphia 76ers
NBA Gear Combos Signatures 15 Gordon Hayward Utah Jazz 99
NBA Gear Combos Signatures 15 Gordon Hayward Utah Jazz
NBA Gear Combos Signatures 16 Andre Iguodala Denver Nuggets 25
NBA Gear Combos Signatures 16 Andre Iguodala Denver Nuggets
NBA Gear Combos Signatures 17 Hedo Turkoglu Orlando Magic 99
NBA Gear Combos Signatures 17 Hedo Turkoglu Orlando Magic
NBA Gear Combos Signatures 18 Vince Carter Dallas Mavericks 25
NBA Gear Combos Signatures 18 Vince Carter Dallas Mavericks
NBA Gear Combos Signatures 19 Danilo Gallinari Denver Nuggets 49
NBA Gear Combos Signatures 19 Danilo Gallinari Denver Nuggets
NBA Gear Combos Signatures 20 Andre Miller Denver Nuggets 49
NBA Gear Combos Signatures 20 Andre Miller Denver Nuggets
NBA Gear Combos Signatures 21 Devin Harris Atlanta Hawks 25
NBA Gear Combos Signatures 21 Devin Harris Atlanta Hawks
NBA Gear Combos Signatures 22 Wesley Johnson Phoenix Suns 99
NBA Gear Combos Signatures 22 Wesley Johnson Phoenix Suns
NBA Gear Combos Signatures 23 Deron Williams Brooklyn Nets 25
NBA Gear Combos Signatures 23 Deron Williams Brooklyn Nets
NBA Gear Combos Signatures 24 Kobe Bryant Los Angeles Lakers 49
NBA Gear Combos Signatures 24 Kobe Bryant Los Angeles Lakers
NBA Gear Combos Signatures 25 Kevin Durant Oklahoma City Thunder 49
NBA Gear Combos Signatures 25 Kevin Durant Oklahoma City Thunder
NBA Gear Combos Signatures 26 Emeka Okafor Washington Wizards 25
NBA Gear Combos Signatures 26 Emeka Okafor Washington Wizards
NBA Gear Combos Signatures 27 Tyson Chandler New York Knicks 49
NBA Gear Combos Signatures 27 Tyson Chandler New York Knicks
NBA Gear Combos Signatures 28 Tony Parker San Antonio Spurs 25
NBA Gear Combos Signatures 28 Tony Parker San Antonio Spurs
NBA Gear Combos Signatures 29 Mario Chalmers Miami Heat 10
NBA Gear Combos Signatures 29 Mario Chalmers Miami Heat
NBA Gear Combos Signatures 30 Kevin Martin Oklahoma City Thunder 25
NBA Gear Combos Signatures 30 Kevin Martin Oklahoma City Thunder
NBA Gear Combos Signatures 31 Richard Hamilton Chicago Bulls 49
NBA Gear Combos Signatures 31 Richard Hamilton Chicago Bulls
NBA Gear Combos Signatures 32 Kevin Love Minnesota Timberwolves 49
NBA Gear Combos Signatures 32 Kevin Love Minnesota Timberwolves
NBA Gear Combos Signatures 33 Al Jefferson Utah Jazz 49
NBA Gear Combos Signatures 33 Al Jefferson Utah Jazz
NBA Gear Combos Signatures 34 Monta Ellis Milwaukee Bucks 49
NBA Gear Combos Signatures 34 Monta Ellis Milwaukee Bucks
NBA Gear Combos Signatures 35 Brandon Jennings Milwaukee Bucks 49
NBA Gear Combos Signatures 35 Brandon Jennings Milwaukee Bucks
NBA Gear Combos Signatures 36 Ty Lawson Denver Nuggets 49
NBA Gear Combos Signatures 36 Ty Lawson Denver Nuggets
NBA Gear Combos Signatures 37 Trevor Booker Washington Wizards 99
NBA Gear Combos Signatures 37 Trevor Booker Washington Wizards
NBA Gear Combos Signatures 38 Andrea Bargnani Toronto Raptors 25
NBA Gear Combos Signatures 38 Andrea Bargnani Toronto Raptors
NBA Gear Combos Signatures 39 Jeff Teague Atlanta Hawks 99
NBA Gear Combos Signatures 39 Jeff Teague Atlanta Hawks
NBA Gear Combos Signatures 40 Antawn Jamison Los Angeles Lakers 49
NBA Gear Combos Signatures 40 Antawn Jamison Los Angeles Lakers
NBA Gear Combos Signatures 41 Eric Gordon New Orleans Hornets 25
NBA Gear Combos Signatures 41 Eric Gordon New Orleans Hornets
NBA Gear Combos Signatures 42 Joe Johnson Brooklyn Nets 49
NBA Gear Combos Signatures 42 Joe Johnson Brooklyn Nets
NBA Gear Combos Signatures 43 Carlos Boozer Chicago Bulls 49
NBA Gear Combos Signatures 43 Carlos Boozer Chicago Bulls
NBA Gear Combos Signatures 44 Anderson Varejao Cleveland Cavaliers 49
NBA Gear Combos Signatures 44 Anderson Varejao Cleveland Cavaliers
NBA Gear Combos Signatures 45 Derrick Favors Utah Jazz 49
NBA Gear Combos Signatures 45 Derrick Favors Utah Jazz
NBA Gear Combos Signatures 46 Greg Monroe Detroit Pistons 49
NBA Gear Combos Signatures 46 Greg Monroe Detroit Pistons
NBA Gear Combos Signatures 47 J.R. Smith New York Knicks 49
NBA Gear Combos Signatures 47 J.R. Smith New York Knicks
NBA Gear Combos Signatures 48 Zach Randolph Memphis Grizzlies 25
NBA Gear Combos Signatures 48 Zach Randolph Memphis Grizzlies
NBA Gear Combos Signatures 49 Grant Hill Los Angeles Clippers 25
NBA Gear Combos Signatures 49 Grant Hill Los Angeles Clippers
NBA Gear Combos Signatures 50 LaMarcus Aldridge Portland Trail Blazers 25
NBA Gear Combos Signatures 50 LaMarcus Aldridge Portland Trail Blazers
NBA Gear Laundry Tag Combos 1 J.J. Hickson Portland Trail Blazers 4
NBA Gear Laundry Tag Combos 1 J.J. Hickson Portland Trail Blazers
NBA Gear Laundry Tag Combos 2 LeBron James Miami Heat 8
NBA Gear Laundry Tag Combos 2 LeBron James Miami Heat
NBA Gear Laundry Tag Combos 3 John Wall Washington Wizards
NBA Gear Laundry Tag Combos 3 John Wall Washington Wizards 2
NBA Gear Laundry Tag Combos 4 Serge Ibaka Oklahoma City Thunder 2
NBA Gear Laundry Tag Combos 4 Serge Ibaka Oklahoma City Thunder
NBA Gear Laundry Tag Combos 5 Paul Pierce Boston Celtics 8
NBA Gear Laundry Tag Combos 5 Paul Pierce Boston Celtics
NBA Gear Laundry Tag Combos 6 Jordan Crawford Boston Celtics
NBA Gear Laundry Tag Combos 6 Jordan Crawford Boston Celtics 3
NBA Gear Laundry Tag Combos 7 Dwyane Wade Miami Heat 10
NBA Gear Laundry Tag Combos 7 Dwyane Wade Miami Heat
NBA Gear Laundry Tag Combos 8 Derrick Rose Chicago Bulls 8
NBA Gear Laundry Tag Combos 8 Derrick Rose Chicago Bulls
NBA Gear Laundry Tag Combos 9 Caron Butler Los Angeles Clippers 6
NBA Gear Laundry Tag Combos 9 Caron Butler Los Angeles Clippers
NBA Gear Laundry Tag Combos 10 Brandon Jennings Milwaukee Bucks 5
NBA Gear Laundry Tag Combos 10 Brandon Jennings Milwaukee Bucks
NBA Gear Laundry Tag Combos 11 Andrew Bynum Philadelphia 76ers 5
NBA Gear Laundry Tag Combos 11 Andrew Bynum Philadelphia 76ers
NBA Gear Laundry Tag Combos 12 James Harden Houston Rockets 3
NBA Gear Laundry Tag Combos 12 James Harden Houston Rockets
NBA Gear Laundry Tag Combos 13 Chris Andersen Miami Heat 5
NBA Gear Laundry Tag Combos 13 Chris Andersen Miami Heat
NBA Gear Laundry Tag Combos 14 Chris Kaman Dallas Mavericks 8
NBA Gear Laundry Tag Combos 14 Chris Kaman Dallas Mavericks
NBA Gear Laundry Tag Combos 15 Dirk Nowitzki Dallas Mavericks 6
NBA Gear Laundry Tag Combos 15 Dirk Nowitzki Dallas Mavericks
NBA Gear Laundry Tag Combos 16 Andrea Bargnani Toronto Raptors 8
NBA Gear Laundry Tag Combos 16 Andrea Bargnani Toronto Raptors
NBA Gear Laundry Tag Combos 17 Mo Williams Utah Jazz 6
NBA Gear Laundry Tag Combos 17 Mo Williams Utah Jazz
NBA Gear Laundry Tag Combos 18 Jeremy Lin Houston Rockets 3
NBA Gear Laundry Tag Combos 18 Jeremy Lin Houston Rockets
NBA Gear Laundry Tag Combos 19 Jeff Teague Atlanta Hawks 2
NBA Gear Laundry Tag Combos 19 Jeff Teague Atlanta Hawks
NBA Gear Laundry Tag Combos 20 DeJuan Blair San Antonio Spurs 2
NBA Gear Laundry Tag Combos 20 DeJuan Blair San Antonio Spurs
NBA Gear Laundry Tag Combos 21 Pau Gasol Los Angeles Lakers 8
NBA Gear Laundry Tag Combos 21 Pau Gasol Los Angeles Lakers
NBA Gear Laundry Tag Combos 22 Tyler Hansbrough Indiana Pacers 6
NBA Gear Laundry Tag Combos 22 Tyler Hansbrough Indiana Pacers
NBA Gear Laundry Tag Combos 23 Raymond Felton New York Knicks 8
NBA Gear Laundry Tag Combos 23 Raymond Felton New York Knicks
NBA Gear Laundry Tag Combos 24 Russell Westbrook Oklahoma City Thunder 8
NBA Gear Laundry Tag Combos 24 Russell Westbrook Oklahoma City Thunder
NBA Gear Laundry Tag Combos 25 Kris Humphries Brooklyn Nets 1
NBA Gear Laundry Tag Combos 25 Kris Humphries Brooklyn Nets
NBA Gear Laundry Tag Combos 26 Andre Iguodala Denver Nuggets 8
NBA Gear Laundry Tag Combos 26 Andre Iguodala Denver Nuggets
NBA Gear Laundry Tag Combos 27 Rodrigue Beaubois Dallas Mavericks 5
NBA Gear Laundry Tag Combos 27 Rodrigue Beaubois Dallas Mavericks
NBA Gear Laundry Tag Combos 28 Andre Miller Denver Nuggets 8
NBA Gear Laundry Tag Combos 28 Andre Miller Denver Nuggets
NBA Gear Laundry Tag Combos 29 Al Jefferson Utah Jazz 10
NBA Gear Laundry Tag Combos 29 Al Jefferson Utah Jazz
NBA Gear Laundry Tag Combos 30 Tim Duncan San Antonio Spurs 10
NBA Gear Laundry Tag Combos 30 Tim Duncan San Antonio Spurs
NBA Gear Laundry Tag Combos 31 David Lee Golden State Warriors 10
NBA Gear Laundry Tag Combos 31 David Lee Golden State Warriors
NBA Gear Laundry Tag Combos 32 Jrue Holiday Philadelphia 76ers 6
NBA Gear Laundry Tag Combos 32 Jrue Holiday Philadelphia 76ers
NBA Gear Laundry Tag Combos 33 Dwight Howard Los Angeles Lakers 10
NBA Gear Laundry Tag Combos 33 Dwight Howard Los Angeles Lakers
NBA Gear Laundry Tag Combos 34 Kevin Durant Oklahoma City Thunder 6
NBA Gear Laundry Tag Combos 34 Kevin Durant Oklahoma City Thunder
NBA Gear Laundry Tag Combos 35 DeMar DeRozan Toronto Raptors 8
NBA Gear Laundry Tag Combos 35 DeMar DeRozan Toronto Raptors
NBA Gear Laundry Tag Combos 36 O.J. Mayo Dallas Mavericks 8
NBA Gear Laundry Tag Combos 36 O.J. Mayo Dallas Mavericks
NBA Gear Laundry Tag Combos 37 Kevin Martin Oklahoma City Thunder 6
NBA Gear Laundry Tag Combos 37 Kevin Martin Oklahoma City Thunder
NBA Gear Laundry Tag Combos 38 Ben Gordon Charlotte Bobcats 6
NBA Gear Laundry Tag Combos 38 Ben Gordon Charlotte Bobcats
NBA Gear Laundry Tag Combos 39 Vince Carter Dallas Mavericks 10
NBA Gear Laundry Tag Combos 39 Vince Carter Dallas Mavericks
NBA Gear Laundry Tag Combos 40 Darren Collison Dallas Mavericks 4
NBA Gear Laundry Tag Combos 40 Darren Collison Dallas Mavericks
NBA Gear Laundry Tag Combos 41 Carmelo Anthony New York Knicks 6
NBA Gear Laundry Tag Combos 41 Carmelo Anthony New York Knicks
NBA Gear Laundry Tag Combos 42 Rajon Rondo Boston Celtics 2
NBA Gear Laundry Tag Combos 42 Rajon Rondo Boston Celtics
NBA Gear Laundry Tag Combos 43 Al Horford Atlanta Hawks 8
NBA Gear Laundry Tag Combos 43 Al Horford Atlanta Hawks
NBA Gear Laundry Tag Combos 44 Greg Monroe Detroit Pistons 5
NBA Gear Laundry Tag Combos 44 Greg Monroe Detroit Pistons
NBA Gear Laundry Tag Combos 45 Kevin Garnett Boston Celtics 8
NBA Gear Laundry Tag Combos 45 Kevin Garnett Boston Celtics
NBA Gear Laundry Tag Combos 46 Trevor Ariza Washington Wizards 4
NBA Gear Laundry Tag Combos 46 Trevor Ariza Washington Wizards
NBA Gear Laundry Tag Combos 47 J.J. Barea Minnesota Timberwolves 6
NBA Gear Laundry Tag Combos 47 J.J. Barea Minnesota Timberwolves
NBA Gear Laundry Tag Combos 48 Luis Scola Phoenix Suns 4
NBA Gear Laundry Tag Combos 48 Luis Scola Phoenix Suns
NBA Gear Laundry Tag Combos 49 Jason Kidd New York Knicks 10
NBA Gear Laundry Tag Combos 49 Jason Kidd New York Knicks
NBA Gear Laundry Tag Combos 50 Landry Fields Toronto Raptors 4
NBA Gear Laundry Tag Combos 50 Landry Fields Toronto Raptors
NBA Gear Laundry Tag Combos Signatures 1 Marcin Gortat Phoenix Suns 6
NBA Gear Laundry Tag Combos Signatures 1 Marcin Gortat Phoenix Suns
NBA Gear Laundry Tag Combos Signatures 2 Steve Nash Los Angeles Lakers 5
NBA Gear Laundry Tag Combos Signatures 2 Steve Nash Los Angeles Lakers
NBA Gear Laundry Tag Combos Signatures 3 Ray Allen Miami Heat 5
NBA Gear Laundry Tag Combos Signatures 3 Ray Allen Miami Heat
NBA Gear Laundry Tag Combos Signatures 4 Blake Griffin Los Angeles Clippers 5
NBA Gear Laundry Tag Combos Signatures 4 Blake Griffin Los Angeles Clippers
NBA Gear Laundry Tag Combos Signatures 5 Tyreke Evans Sacramento Kings 3
NBA Gear Laundry Tag Combos Signatures 5 Tyreke Evans Sacramento Kings
NBA Gear Laundry Tag Combos Signatures 6 Chris Kaman Dallas Mavericks 4
NBA Gear Laundry Tag Combos Signatures 6 Chris Kaman Dallas Mavericks
NBA Gear Laundry Tag Combos Signatures 7 Josh Smith Atlanta Hawks 1
NBA Gear Laundry Tag Combos Signatures 7 Josh Smith Atlanta Hawks
NBA Gear Laundry Tag Combos Signatures 8 James Harden Houston Rockets 2
NBA Gear Laundry Tag Combos Signatures 8 James Harden Houston Rockets
NBA Gear Laundry Tag Combos Signatures 9 Ben Gordon Charlotte Bobcats 4
NBA Gear Laundry Tag Combos Signatures 9 Ben Gordon Charlotte Bobcats
NBA Gear Laundry Tag Combos Signatures 10 Joakim Noah Chicago Bulls 4
NBA Gear Laundry Tag Combos Signatures 10 Joakim Noah Chicago Bulls
NBA Gear Laundry Tag Combos Signatures 11 Marcus Thornton Sacramento Kings 1
NBA Gear Laundry Tag Combos Signatures 11 Marcus Thornton Sacramento Kings
NBA Gear Laundry Tag Combos Signatures 12 Mike Conley Memphis Grizzlies 3
NBA Gear Laundry Tag Combos Signatures 12 Mike Conley Memphis Grizzlies
NBA Gear Laundry Tag Combos Signatures 13 Chris Bosh Miami Heat 6
NBA Gear Laundry Tag Combos Signatures 13 Chris Bosh Miami Heat
NBA Gear Laundry Tag Combos Signatures 14 Evan Turner Philadelphia 76ers 4
NBA Gear Laundry Tag Combos Signatures 14 Evan Turner Philadelphia 76ers
NBA Gear Laundry Tag Combos Signatures 15 Gordon Hayward Utah Jazz 2
NBA Gear Laundry Tag Combos Signatures 15 Gordon Hayward Utah Jazz
NBA Gear Laundry Tag Combos Signatures 16 Andre Iguodala Denver Nuggets 7
NBA Gear Laundry Tag Combos Signatures 16 Andre Iguodala Denver Nuggets
NBA Gear Laundry Tag Combos Signatures 17 Hedo Turkoglu Orlando Magic 5
NBA Gear Laundry Tag Combos Signatures 17 Hedo Turkoglu Orlando Magic
NBA Gear Laundry Tag Combos Signatures 18 Vince Carter Dallas Mavericks 8
NBA Gear Laundry Tag Combos Signatures 18 Vince Carter Dallas Mavericks
NBA Gear Laundry Tag Combos Signatures 19 Danilo Gallinari Denver Nuggets 6
NBA Gear Laundry Tag Combos Signatures 19 Danilo Gallinari Denver Nuggets
NBA Gear Laundry Tag Combos Signatures 20 Andre Miller Denver Nuggets 6
NBA Gear Laundry Tag Combos Signatures 20 Andre Miller Denver Nuggets
NBA Gear Laundry Tag Combos Signatures 21 Devin Harris Atlanta Hawks 8
NBA Gear Laundry Tag Combos Signatures 21 Devin Harris Atlanta Hawks
NBA Gear Laundry Tag Combos Signatures 22 Wesley Johnson Phoenix Suns 5
NBA Gear Laundry Tag Combos Signatures 22 Wesley Johnson Phoenix Suns
NBA Gear Laundry Tag Combos Signatures 23 Deron Williams Brooklyn Nets 6
NBA Gear Laundry Tag Combos Signatures 23 Deron Williams Brooklyn Nets
NBA Gear Laundry Tag Combos Signatures 24 Kobe Bryant Los Angeles Lakers 8
NBA Gear Laundry Tag Combos Signatures 24 Kobe Bryant Los Angeles Lakers
NBA Gear Laundry Tag Combos Signatures 25 Kevin Durant Oklahoma City Thunder 4
NBA Gear Laundry Tag Combos Signatures 25 Kevin Durant Oklahoma City Thunder
NBA Gear Laundry Tag Combos Signatures 26 Emeka Okafor Washington Wizards 5
NBA Gear Laundry Tag Combos Signatures 26 Emeka Okafor Washington Wizards
NBA Gear Laundry Tag Combos Signatures 27 Tyson Chandler New York Knicks 4
NBA Gear Laundry Tag Combos Signatures 27 Tyson Chandler New York Knicks
NBA Gear Laundry Tag Combos Signatures 28 Tony Parker San Antonio Spurs 8
NBA Gear Laundry Tag Combos Signatures 28 Tony Parker San Antonio Spurs
NBA Gear Laundry Tag Combos Signatures 29 Mario Chalmers Miami Heat 3
NBA Gear Laundry Tag Combos Signatures 29 Mario Chalmers Miami Heat
NBA Gear Laundry Tag Combos Signatures 30 Kevin Martin Oklahoma City Thunder
NBA Gear Laundry Tag Combos Signatures 30 Kevin Martin Oklahoma City Thunder 5
NBA Gear Laundry Tag Combos Signatures 31 Richard Hamilton Chicago Bulls 3
NBA Gear Laundry Tag Combos Signatures 31 Richard Hamilton Chicago Bulls
NBA Gear Laundry Tag Combos Signatures 32 Kevin Love Minnesota Timberwolves 10
NBA Gear Laundry Tag Combos Signatures 32 Kevin Love Minnesota Timberwolves
NBA Gear Laundry Tag Combos Signatures 33 Al Jefferson Utah Jazz 6
NBA Gear Laundry Tag Combos Signatures 33 Al Jefferson Utah Jazz
NBA Gear Laundry Tag Combos Signatures 34 Monta Ellis Milwaukee Bucks 5
NBA Gear Laundry Tag Combos Signatures 34 Monta Ellis Milwaukee Bucks
NBA Gear Laundry Tag Combos Signatures 35 Brandon Jennings Milwaukee Bucks 2
NBA Gear Laundry Tag Combos Signatures 35 Brandon Jennings Milwaukee Bucks
NBA Gear Laundry Tag Combos Signatures 36 Ty Lawson Denver Nuggets 8
NBA Gear Laundry Tag Combos Signatures 36 Ty Lawson Denver Nuggets
NBA Gear Laundry Tag Combos Signatures 37 Trevor Booker Washington Wizards 4
NBA Gear Laundry Tag Combos Signatures 37 Trevor Booker Washington Wizards
NBA Gear Laundry Tag Combos Signatures 38 Andrea Bargnani Toronto Raptors 2
NBA Gear Laundry Tag Combos Signatures 38 Andrea Bargnani Toronto Raptors
NBA Gear Laundry Tag Combos Signatures 39 Jeff Teague Atlanta Hawks 1
NBA Gear Laundry Tag Combos Signatures 39 Jeff Teague Atlanta Hawks
NBA Gear Laundry Tag Combos Signatures 40 Antawn Jamison Los Angeles Lakers 6
NBA Gear Laundry Tag Combos Signatures 40 Antawn Jamison Los Angeles Lakers
NBA Gear Laundry Tag Combos Signatures 41 Eric Gordon New Orleans Hornets 3
NBA Gear Laundry Tag Combos Signatures 41 Eric Gordon New Orleans Hornets
NBA Gear Laundry Tag Combos Signatures 42 Joe Johnson Brooklyn Nets 8
NBA Gear Laundry Tag Combos Signatures 42 Joe Johnson Brooklyn Nets
NBA Gear Laundry Tag Combos Signatures 43 Carlos Boozer Chicago Bulls 7
NBA Gear Laundry Tag Combos Signatures 43 Carlos Boozer Chicago Bulls
NBA Gear Laundry Tag Combos Signatures 44 Anderson Varejao Cleveland Cavaliers 1
NBA Gear Laundry Tag Combos Signatures 44 Anderson Varejao Cleveland Cavaliers
NBA Gear Laundry Tag Combos Signatures 45 Derrick Favors Utah Jazz 4
NBA Gear Laundry Tag Combos Signatures 45 Derrick Favors Utah Jazz
NBA Gear Laundry Tag Combos Signatures 46 Greg Monroe Detroit Pistons 5
NBA Gear Laundry Tag Combos Signatures 46 Greg Monroe Detroit Pistons
NBA Gear Laundry Tag Combos Signatures 47 J.R. Smith New York Knicks 4
NBA Gear Laundry Tag Combos Signatures 47 J.R. Smith New York Knicks
NBA Gear Laundry Tag Combos Signatures 48 Zach Randolph Memphis Grizzlies 6
NBA Gear Laundry Tag Combos Signatures 48 Zach Randolph Memphis Grizzlies
NBA Gear Laundry Tag Combos Signatures 49 Grant Hill Los Angeles Clippers 6
NBA Gear Laundry Tag Combos Signatures 49 Grant Hill Los Angeles Clippers
NBA Gear Laundry Tag Combos Signatures 50 LaMarcus Aldridge Portland Trail Blazers 6
NBA Gear Laundry Tag Combos Signatures 50 LaMarcus Aldridge Portland Trail Blazers
NBA Gear Prime Combos 1 J.J. Hickson Portland Trail Blazers 25
NBA Gear Prime Combos 1 J.J. Hickson Portland Trail Blazers
NBA Gear Prime Combos 2 LeBron James Miami Heat 25
NBA Gear Prime Combos 2 LeBron James Miami Heat
NBA Gear Prime Combos 3 John Wall Washington Wizards 25
NBA Gear Prime Combos 3 John Wall Washington Wizards
NBA Gear Prime Combos 4 Serge Ibaka Oklahoma City Thunder 5
NBA Gear Prime Combos 4 Serge Ibaka Oklahoma City Thunder
NBA Gear Prime Combos 5 Paul Pierce Boston Celtics 25
NBA Gear Prime Combos 5 Paul Pierce Boston Celtics
NBA Gear Prime Combos 6 Jordan Crawford Boston Celtics
NBA Gear Prime Combos 6 Jordan Crawford Boston Celtics 5
NBA Gear Prime Combos 7 Dwyane Wade Miami Heat
NBA Gear Prime Combos 7 Dwyane Wade Miami Heat 25
NBA Gear Prime Combos 8 Derrick Rose Chicago Bulls 25
NBA Gear Prime Combos 8 Derrick Rose Chicago Bulls
NBA Gear Prime Combos 9 Caron Butler Los Angeles Clippers 25
NBA Gear Prime Combos 9 Caron Butler Los Angeles Clippers
NBA Gear Prime Combos 10 Brandon Jennings Milwaukee Bucks
NBA Gear Prime Combos 10 Brandon Jennings Milwaukee Bucks 25
NBA Gear Prime Combos 11 Andrew Bynum Philadelphia 76ers 10
NBA Gear Prime Combos 11 Andrew Bynum Philadelphia 76ers
NBA Gear Prime Combos 12 James Harden Houston Rockets 25
NBA Gear Prime Combos 12 James Harden Houston Rockets
NBA Gear Prime Combos 13 Chris Andersen Miami Heat 25
NBA Gear Prime Combos 13 Chris Andersen Miami Heat
NBA Gear Prime Combos 14 Chris Kaman Dallas Mavericks 25
NBA Gear Prime Combos 14 Chris Kaman Dallas Mavericks
NBA Gear Prime Combos 15 Dirk Nowitzki Dallas Mavericks 25
NBA Gear Prime Combos 15 Dirk Nowitzki Dallas Mavericks
NBA Gear Prime Combos 16 Andrea Bargnani Toronto Raptors 10
NBA Gear Prime Combos 16 Andrea Bargnani Toronto Raptors
NBA Gear Prime Combos 17 Mo Williams Utah Jazz 25
NBA Gear Prime Combos 17 Mo Williams Utah Jazz
NBA Gear Prime Combos 18 Jeremy Lin Houston Rockets 25
NBA Gear Prime Combos 18 Jeremy Lin Houston Rockets
NBA Gear Prime Combos 19 Jeff Teague Atlanta Hawks 25
NBA Gear Prime Combos 19 Jeff Teague Atlanta Hawks
NBA Gear Prime Combos 20 DeJuan Blair San Antonio Spurs 10
NBA Gear Prime Combos 20 DeJuan Blair San Antonio Spurs
NBA Gear Prime Combos 21 Pau Gasol Los Angeles Lakers 25
NBA Gear Prime Combos 21 Pau Gasol Los Angeles Lakers
NBA Gear Prime Combos 22 Tyler Hansbrough Indiana Pacers 25
NBA Gear Prime Combos 22 Tyler Hansbrough Indiana Pacers
NBA Gear Prime Combos 23 Raymond Felton New York Knicks 25
NBA Gear Prime Combos 23 Raymond Felton New York Knicks
NBA Gear Prime Combos 24 Russell Westbrook Oklahoma City Thunder 25
NBA Gear Prime Combos 24 Russell Westbrook Oklahoma City Thunder
NBA Gear Prime Combos 25 Kris Humphries Brooklyn Nets 25
NBA Gear Prime Combos 25 Kris Humphries Brooklyn Nets
NBA Gear Prime Combos 26 Andre Iguodala Denver Nuggets 25
NBA Gear Prime Combos 26 Andre Iguodala Denver Nuggets
NBA Gear Prime Combos 27 Rodrigue Beaubois Dallas Mavericks 25
NBA Gear Prime Combos 27 Rodrigue Beaubois Dallas Mavericks
NBA Gear Prime Combos 28 Andre Miller Denver Nuggets 25
NBA Gear Prime Combos 28 Andre Miller Denver Nuggets
NBA Gear Prime Combos 29 Al Jefferson Utah Jazz 25
NBA Gear Prime Combos 29 Al Jefferson Utah Jazz
NBA Gear Prime Combos 30 Tim Duncan San Antonio Spurs 25
NBA Gear Prime Combos 30 Tim Duncan San Antonio Spurs
NBA Gear Prime Combos 31 David Lee Golden State Warriors 25
NBA Gear Prime Combos 31 David Lee Golden State Warriors
NBA Gear Prime Combos 32 Jrue Holiday Philadelphia 76ers 25
NBA Gear Prime Combos 32 Jrue Holiday Philadelphia 76ers
NBA Gear Prime Combos 33 Dwight Howard Los Angeles Lakers 25
NBA Gear Prime Combos 33 Dwight Howard Los Angeles Lakers
NBA Gear Prime Combos 34 Kevin Durant Oklahoma City Thunder 25
NBA Gear Prime Combos 34 Kevin Durant Oklahoma City Thunder
NBA Gear Prime Combos 35 DeMar DeRozan Toronto Raptors 10
NBA Gear Prime Combos 35 DeMar DeRozan Toronto Raptors
NBA Gear Prime Combos 36 O.J. Mayo Dallas Mavericks 25
NBA Gear Prime Combos 36 O.J. Mayo Dallas Mavericks
NBA Gear Prime Combos 37 Kevin Martin Oklahoma City Thunder 25
NBA Gear Prime Combos 37 Kevin Martin Oklahoma City Thunder
NBA Gear Prime Combos 38 Ben Gordon Charlotte Bobcats 25
NBA Gear Prime Combos 38 Ben Gordon Charlotte Bobcats
NBA Gear Prime Combos 39 Vince Carter Dallas Mavericks 25
NBA Gear Prime Combos 39 Vince Carter Dallas Mavericks
NBA Gear Prime Combos 40 Darren Collison Dallas Mavericks 25
NBA Gear Prime Combos 40 Darren Collison Dallas Mavericks
NBA Gear Prime Combos 41 Carmelo Anthony New York Knicks 25
NBA Gear Prime Combos 41 Carmelo Anthony New York Knicks
NBA Gear Prime Combos 42 Rajon Rondo Boston Celtics 25
NBA Gear Prime Combos 42 Rajon Rondo Boston Celtics
NBA Gear Prime Combos 43 Al Horford Atlanta Hawks 25
NBA Gear Prime Combos 43 Al Horford Atlanta Hawks
NBA Gear Prime Combos 44 Greg Monroe Detroit Pistons 25
NBA Gear Prime Combos 44 Greg Monroe Detroit Pistons
NBA Gear Prime Combos 45 Kevin Garnett Boston Celtics 10
NBA Gear Prime Combos 45 Kevin Garnett Boston Celtics
NBA Gear Prime Combos 46 Trevor Ariza Washington Wizards 5
NBA Gear Prime Combos 46 Trevor Ariza Washington Wizards
NBA Gear Prime Combos 47 J.J. Barea Minnesota Timberwolves 10
NBA Gear Prime Combos 47 J.J. Barea Minnesota Timberwolves
NBA Gear Prime Combos 48 Luis Scola Phoenix Suns 25
NBA Gear Prime Combos 48 Luis Scola Phoenix Suns
NBA Gear Prime Combos 49 Jason Kidd New York Knicks 10
NBA Gear Prime Combos 49 Jason Kidd New York Knicks
NBA Gear Prime Combos 50 Landry Fields Toronto Raptors 25
NBA Gear Prime Combos 50 Landry Fields Toronto Raptors
NBA Gear Prime Combos Signatures 1 Marcin Gortat Phoenix Suns 25
NBA Gear Prime Combos Signatures 1 Marcin Gortat Phoenix Suns
NBA Gear Prime Combos Signatures 2 Steve Nash Los Angeles Lakers 10
NBA Gear Prime Combos Signatures 2 Steve Nash Los Angeles Lakers
NBA Gear Prime Combos Signatures 3 Ray Allen Miami Heat 10
NBA Gear Prime Combos Signatures 3 Ray Allen Miami Heat
NBA Gear Prime Combos Signatures 4 Blake Griffin Los Angeles Clippers 10
NBA Gear Prime Combos Signatures 4 Blake Griffin Los Angeles Clippers
NBA Gear Prime Combos Signatures 5 Tyreke Evans Sacramento Kings 10
NBA Gear Prime Combos Signatures 5 Tyreke Evans Sacramento Kings
NBA Gear Prime Combos Signatures 6 Chris Kaman Dallas Mavericks 10
NBA Gear Prime Combos Signatures 6 Chris Kaman Dallas Mavericks
NBA Gear Prime Combos Signatures 7 Josh Smith Atlanta Hawks 10
NBA Gear Prime Combos Signatures 7 Josh Smith Atlanta Hawks
NBA Gear Prime Combos Signatures 8 James Harden Houston Rockets 10
NBA Gear Prime Combos Signatures 8 James Harden Houston Rockets
NBA Gear Prime Combos Signatures 9 Ben Gordon Charlotte Bobcats 10
NBA Gear Prime Combos Signatures 9 Ben Gordon Charlotte Bobcats
NBA Gear Prime Combos Signatures 10 Joakim Noah Chicago Bulls 10
NBA Gear Prime Combos Signatures 10 Joakim Noah Chicago Bulls
NBA Gear Prime Combos Signatures 11 Marcus Thornton Sacramento Kings 10
NBA Gear Prime Combos Signatures 11 Marcus Thornton Sacramento Kings
NBA Gear Prime Combos Signatures 12 Mike Conley Memphis Grizzlies 10
NBA Gear Prime Combos Signatures 12 Mike Conley Memphis Grizzlies
NBA Gear Prime Combos Signatures 13 Chris Bosh Miami Heat 10
NBA Gear Prime Combos Signatures 13 Chris Bosh Miami Heat
NBA Gear Prime Combos Signatures 14 Evan Turner Philadelphia 76ers 10
NBA Gear Prime Combos Signatures 14 Evan Turner Philadelphia 76ers
NBA Gear Prime Combos Signatures 15 Gordon Hayward Utah Jazz 25
NBA Gear Prime Combos Signatures 15 Gordon Hayward Utah Jazz
NBA Gear Prime Combos Signatures 16 Andre Iguodala Denver Nuggets 10
NBA Gear Prime Combos Signatures 16 Andre Iguodala Denver Nuggets
NBA Gear Prime Combos Signatures 17 Hedo Turkoglu Orlando Magic 25
NBA Gear Prime Combos Signatures 17 Hedo Turkoglu Orlando Magic
NBA Gear Prime Combos Signatures 18 Vince Carter Dallas Mavericks 10
NBA Gear Prime Combos Signatures 18 Vince Carter Dallas Mavericks
NBA Gear Prime Combos Signatures 19 Danilo Gallinari Denver Nuggets 10
NBA Gear Prime Combos Signatures 19 Danilo Gallinari Denver Nuggets
NBA Gear Prime Combos Signatures 20 Andre Miller Denver Nuggets 10
NBA Gear Prime Combos Signatures 20 Andre Miller Denver Nuggets
NBA Gear Prime Combos Signatures 21 Devin Harris Atlanta Hawks 10
NBA Gear Prime Combos Signatures 21 Devin Harris Atlanta Hawks
NBA Gear Prime Combos Signatures 22 Wesley Johnson Phoenix Suns 25
NBA Gear Prime Combos Signatures 22 Wesley Johnson Phoenix Suns
NBA Gear Prime Combos Signatures 23 Deron Williams Brooklyn Nets 10
NBA Gear Prime Combos Signatures 23 Deron Williams Brooklyn Nets
NBA Gear Prime Combos Signatures 24 Kobe Bryant Los Angeles Lakers 10
NBA Gear Prime Combos Signatures 24 Kobe Bryant Los Angeles Lakers
NBA Gear Prime Combos Signatures 25 Kevin Durant Oklahoma City Thunder 10
NBA Gear Prime Combos Signatures 25 Kevin Durant Oklahoma City Thunder
NBA Gear Prime Combos Signatures 26 Emeka Okafor Washington Wizards 10
NBA Gear Prime Combos Signatures 26 Emeka Okafor Washington Wizards
NBA Gear Prime Combos Signatures 27 Tyson Chandler New York Knicks
NBA Gear Prime Combos Signatures 27 Tyson Chandler New York Knicks 10
NBA Gear Prime Combos Signatures 28 Tony Parker San Antonio Spurs 25
NBA Gear Prime Combos Signatures 28 Tony Parker San Antonio Spurs
NBA Gear Prime Combos Signatures 29 Mario Chalmers Miami Heat 10
NBA Gear Prime Combos Signatures 29 Mario Chalmers Miami Heat
NBA Gear Prime Combos Signatures 30 Kevin Martin Oklahoma City Thunder
NBA Gear Prime Combos Signatures 30 Kevin Martin Oklahoma City Thunder 10
NBA Gear Prime Combos Signatures 31 Richard Hamilton Chicago Bulls 25
NBA Gear Prime Combos Signatures 31 Richard Hamilton Chicago Bulls
NBA Gear Prime Combos Signatures 32 Kevin Love Minnesota Timberwolves 5
NBA Gear Prime Combos Signatures 32 Kevin Love Minnesota Timberwolves
NBA Gear Prime Combos Signatures 33 Al Jefferson Utah Jazz 25
NBA Gear Prime Combos Signatures 33 Al Jefferson Utah Jazz
NBA Gear Prime Combos Signatures 34 Monta Ellis Milwaukee Bucks 10
NBA Gear Prime Combos Signatures 34 Monta Ellis Milwaukee Bucks
NBA Gear Prime Combos Signatures 35 Brandon Jennings Milwaukee Bucks 10
NBA Gear Prime Combos Signatures 35 Brandon Jennings Milwaukee Bucks
NBA Gear Prime Combos Signatures 36 Ty Lawson Denver Nuggets 25
NBA Gear Prime Combos Signatures 36 Ty Lawson Denver Nuggets
NBA Gear Prime Combos Signatures 37 Trevor Booker Washington Wizards 25
NBA Gear Prime Combos Signatures 37 Trevor Booker Washington Wizards
NBA Gear Prime Combos Signatures 38 Andrea Bargnani Toronto Raptors 10
NBA Gear Prime Combos Signatures 38 Andrea Bargnani Toronto Raptors
NBA Gear Prime Combos Signatures 39 Jeff Teague Atlanta Hawks 25
NBA Gear Prime Combos Signatures 39 Jeff Teague Atlanta Hawks
NBA Gear Prime Combos Signatures 40 Antawn Jamison Los Angeles Lakers 25
NBA Gear Prime Combos Signatures 40 Antawn Jamison Los Angeles Lakers
NBA Gear Prime Combos Signatures 41 Eric Gordon New Orleans Hornets 10
NBA Gear Prime Combos Signatures 41 Eric Gordon New Orleans Hornets
NBA Gear Prime Combos Signatures 42 Joe Johnson Brooklyn Nets 10
NBA Gear Prime Combos Signatures 42 Joe Johnson Brooklyn Nets
NBA Gear Prime Combos Signatures 43 Carlos Boozer Chicago Bulls 10
NBA Gear Prime Combos Signatures 43 Carlos Boozer Chicago Bulls
NBA Gear Prime Combos Signatures 44 Anderson Varejao Cleveland Cavaliers 25
NBA Gear Prime Combos Signatures 44 Anderson Varejao Cleveland Cavaliers
NBA Gear Prime Combos Signatures 45 Derrick Favors Utah Jazz 25
NBA Gear Prime Combos Signatures 45 Derrick Favors Utah Jazz
NBA Gear Prime Combos Signatures 46 Greg Monroe Detroit Pistons 25
NBA Gear Prime Combos Signatures 46 Greg Monroe Detroit Pistons
NBA Gear Prime Combos Signatures 47 J.R. Smith New York Knicks 10
NBA Gear Prime Combos Signatures 47 J.R. Smith New York Knicks
NBA Gear Prime Combos Signatures 48 Zach Randolph Memphis Grizzlies 10
NBA Gear Prime Combos Signatures 48 Zach Randolph Memphis Grizzlies
NBA Gear Prime Combos Signatures 49 Grant Hill Los Angeles Clippers 10
NBA Gear Prime Combos Signatures 49 Grant Hill Los Angeles Clippers
NBA Gear Prime Combos Signatures 50 LaMarcus Aldridge Portland Trail Blazers 10
NBA Gear Prime Combos Signatures 50 LaMarcus Aldridge Portland Trail Blazers
NBA Gear Prime Trios 1 Joakim Noah Chicago Bulls 25
NBA Gear Prime Trios 1 Joakim Noah Chicago Bulls
NBA Gear Prime Trios 1 Joakim Noah Chicago Bulls
NBA Gear Prime Trios 2 LeBron James Miami Heat 25
NBA Gear Prime Trios 2 LeBron James Miami Heat
NBA Gear Prime Trios 2 LeBron James Miami Heat
NBA Gear Prime Trios 3 Jason Terry Boston Celtics 10
NBA Gear Prime Trios 3 Jason Terry Boston Celtics
NBA Gear Prime Trios 3 Jason Terry Boston Celtics
NBA Gear Prime Trios 4 Al Jefferson Utah Jazz 25
NBA Gear Prime Trios 4 Al Jefferson Utah Jazz
NBA Gear Prime Trios 4 Al Jefferson Utah Jazz
NBA Gear Prime Trios 5 Paul Pierce Boston Celtics 25
NBA Gear Prime Trios 5 Paul Pierce Boston Celtics
NBA Gear Prime Trios 5 Paul Pierce Boston Celtics
NBA Gear Prime Trios 6 Tim Duncan San Antonio Spurs 25
NBA Gear Prime Trios 6 Tim Duncan San Antonio Spurs
NBA Gear Prime Trios 6 Tim Duncan San Antonio Spurs
NBA Gear Prime Trios 7 Dwyane Wade Miami Heat 25
NBA Gear Prime Trios 7 Dwyane Wade Miami Heat
NBA Gear Prime Trios 7 Dwyane Wade Miami Heat
NBA Gear Prime Trios 8 Ty Lawson Denver Nuggets 25
NBA Gear Prime Trios 8 Ty Lawson Denver Nuggets
NBA Gear Prime Trios 8 Ty Lawson Denver Nuggets
NBA Gear Prime Trios 9 Beno Udrih Orlando Magic 25
NBA Gear Prime Trios 9 Beno Udrih Orlando Magic
NBA Gear Prime Trios 9 Beno Udrih Orlando Magic
NBA Gear Prime Trios 10 Kevin Garnett Boston Celtics 25
NBA Gear Prime Trios 10 Kevin Garnett Boston Celtics
NBA Gear Prime Trios 10 Kevin Garnett Boston Celtics
NBA Gear Prime Trios 11 Andrea Bargnani Toronto Raptors 25
NBA Gear Prime Trios 11 Andrea Bargnani Toronto Raptors
NBA Gear Prime Trios 11 Andrea Bargnani Toronto Raptors
NBA Gear Prime Trios 12 DeMar DeRozan Toronto Raptors 25
NBA Gear Prime Trios 12 DeMar DeRozan Toronto Raptors
NBA Gear Prime Trios 12 DeMar DeRozan Toronto Raptors
NBA Gear Prime Trios 13 Shawn Marion Dallas Mavericks 5
NBA Gear Prime Trios 13 Shawn Marion Dallas Mavericks
NBA Gear Prime Trios 13 Shawn Marion Dallas Mavericks
NBA Gear Prime Trios 14 Manu Ginobili San Antonio Spurs 25
NBA Gear Prime Trios 14 Manu Ginobili San Antonio Spurs
NBA Gear Prime Trios 14 Manu Ginobili San Antonio Spurs
NBA Gear Prime Trios 15 Kobe Bryant Los Angeles Lakers 25
NBA Gear Prime Trios 15 Kobe Bryant Los Angeles Lakers
NBA Gear Prime Trios 15 Kobe Bryant Los Angeles Lakers
NBA Gear Prime Trios 16 Ricky Rubio Minnesota Timberwolves 5
NBA Gear Prime Trios 16 Ricky Rubio Minnesota Timberwolves
NBA Gear Prime Trios 16 Ricky Rubio Minnesota Timberwolves
NBA Gear Prime Trios 17 Jose Calderon Detroit Pistons 25
NBA Gear Prime Trios 17 Jose Calderon Detroit Pistons
NBA Gear Prime Trios 17 Jose Calderon Detroit Pistons
NBA Gear Prime Trios 18 Zach Randolph Memphis Grizzlies 25
NBA Gear Prime Trios 18 Zach Randolph Memphis Grizzlies
NBA Gear Prime Trios 18 Zach Randolph Memphis Grizzlies
NBA Gear Prime Trios 19 Amar'e Stoudemire New York Knicks 25
NBA Gear Prime Trios 19 Amar'e Stoudemire New York Knicks
NBA Gear Prime Trios 19 Amar'e Stoudemire New York Knicks
NBA Gear Prime Trios 20 Rudy Gay Toronto Raptors 10
NBA Gear Prime Trios 20 Rudy Gay Toronto Raptors
NBA Gear Prime Trios 20 Rudy Gay Toronto Raptors
NBA Gear Prime Trios 21 Kevin Martin Oklahoma City Thunder 25
NBA Gear Prime Trios 21 Kevin Martin Oklahoma City Thunder
NBA Gear Prime Trios 21 Kevin Martin Oklahoma City Thunder
NBA Gear Prime Trios 22 Danny Granger Indiana Pacers 25
NBA Gear Prime Trios 22 Danny Granger Indiana Pacers
NBA Gear Prime Trios 22 Danny Granger Indiana Pacers
NBA Gear Prime Trios 23 Joe Johnson Brooklyn Nets 25
NBA Gear Prime Trios 23 Joe Johnson Brooklyn Nets
NBA Gear Prime Trios 23 Joe Johnson Brooklyn Nets
NBA Gear Prime Trios 24 Russell Westbrook Oklahoma City Thunder 25
NBA Gear Prime Trios 24 Russell Westbrook Oklahoma City Thunder
NBA Gear Prime Trios 24 Russell Westbrook Oklahoma City Thunder
NBA Gear Prime Trios 25 Evan Turner Philadelphia 76ers 25
NBA Gear Prime Trios 25 Evan Turner Philadelphia 76ers
NBA Gear Prime Trios 25 Evan Turner Philadelphia 76ers
NBA Gear Prime Trios Signatures 1 Greg Monroe Detroit Pistons 10
NBA Gear Prime Trios Signatures 1 Greg Monroe Detroit Pistons
NBA Gear Prime Trios Signatures 1 Greg Monroe Detroit Pistons
NBA Gear Prime Trios Signatures 2 Kobe Bryant Los Angeles Lakers 25
NBA Gear Prime Trios Signatures 2 Kobe Bryant Los Angeles Lakers
NBA Gear Prime Trios Signatures 2 Kobe Bryant Los Angeles Lakers
NBA Gear Prime Trios Signatures 3 Tony Parker San Antonio Spurs 25
NBA Gear Prime Trios Signatures 3 Tony Parker San Antonio Spurs
NBA Gear Prime Trios Signatures 3 Tony Parker San Antonio Spurs
NBA Gear Prime Trios Signatures 4 Kevin Durant Oklahoma City Thunder 25
NBA Gear Prime Trios Signatures 4 Kevin Durant Oklahoma City Thunder
NBA Gear Prime Trios Signatures 4 Kevin Durant Oklahoma City Thunder
NBA Gear Prime Trios Signatures 5 Chris Bosh Miami Heat 10
NBA Gear Prime Trios Signatures 5 Chris Bosh Miami Heat
NBA Gear Prime Trios Signatures 5 Chris Bosh Miami Heat
NBA Gear Prime Trios Signatures 6 Josh Smith Atlanta Hawks 25
NBA Gear Prime Trios Signatures 6 Josh Smith Atlanta Hawks
NBA Gear Prime Trios Signatures 6 Josh Smith Atlanta Hawks
NBA Gear Prime Trios Signatures 7 Blake Griffin Los Angeles Clippers 25
NBA Gear Prime Trios Signatures 7 Blake Griffin Los Angeles Clippers
NBA Gear Prime Trios Signatures 7 Blake Griffin Los Angeles Clippers
NBA Gear Prime Trios Signatures 8 John Wall Washington Wizards 5
NBA Gear Prime Trios Signatures 8 John Wall Washington Wizards
NBA Gear Prime Trios Signatures 8 John Wall Washington Wizards
NBA Gear Prime Trios Signatures 9 Grant Hill Los Angeles Clippers
NBA Gear Prime Trios Signatures 9 Grant Hill Los Angeles Clippers
NBA Gear Prime Trios Signatures 9 Grant Hill Los Angeles Clippers 25
NBA Gear Prime Trios Signatures 10 DeMarcus Cousins Sacramento Kings 10
NBA Gear Prime Trios Signatures 10 DeMarcus Cousins Sacramento Kings
NBA Gear Prime Trios Signatures 10 DeMarcus Cousins Sacramento Kings
NBA Gear Prime Trios Signatures 11 Andre Iguodala Denver Nuggets 25
NBA Gear Prime Trios Signatures 11 Andre Iguodala Denver Nuggets
NBA Gear Prime Trios Signatures 11 Andre Iguodala Denver Nuggets
NBA Gear Prime Trios Signatures 12 Kevin Love Minnesota Timberwolves 5
NBA Gear Prime Trios Signatures 12 Kevin Love Minnesota Timberwolves
NBA Gear Prime Trios Signatures 12 Kevin Love Minnesota Timberwolves
NBA Gear Prime Trios Signatures 13 Brook Lopez Brooklyn Nets 25
NBA Gear Prime Trios Signatures 13 Brook Lopez Brooklyn Nets
NBA Gear Prime Trios Signatures 13 Brook Lopez Brooklyn Nets
NBA Gear Prime Trios Signatures 14 Stephen Curry Golden State Warriors 10
NBA Gear Prime Trios Signatures 14 Stephen Curry Golden State Warriors
NBA Gear Prime Trios Signatures 14 Stephen Curry Golden State Warriors
NBA Gear Prime Trios Signatures 15 Tyson Chandler New York Knicks 10
NBA Gear Prime Trios Signatures 15 Tyson Chandler New York Knicks
NBA Gear Prime Trios Signatures 15 Tyson Chandler New York Knicks
NBA Gear Prime Trios Signatures 16 LaMarcus Aldridge Portland Trail Blazers 25
NBA Gear Prime Trios Signatures 16 LaMarcus Aldridge Portland Trail Blazers
NBA Gear Prime Trios Signatures 16 LaMarcus Aldridge Portland Trail Blazers
NBA Gear Prime Trios Signatures 17 Danny Granger Indiana Pacers 25
NBA Gear Prime Trios Signatures 17 Danny Granger Indiana Pacers
NBA Gear Prime Trios Signatures 17 Danny Granger Indiana Pacers
NBA Gear Prime Trios Signatures 18 Zach Randolph Memphis Grizzlies 25
NBA Gear Prime Trios Signatures 18 Zach Randolph Memphis Grizzlies
NBA Gear Prime Trios Signatures 18 Zach Randolph Memphis Grizzlies
NBA Gear Prime Trios Signatures 19 Wesley Matthews Portland Trail Blazers 10
NBA Gear Prime Trios Signatures 19 Wesley Matthews Portland Trail Blazers
NBA Gear Prime Trios Signatures 19 Wesley Matthews Portland Trail Blazers
NBA Gear Prime Trios Signatures 20 Serge Ibaka Oklahoma City Thunder 10
NBA Gear Prime Trios Signatures 20 Serge Ibaka Oklahoma City Thunder
NBA Gear Prime Trios Signatures 20 Serge Ibaka Oklahoma City Thunder
NBA Gear Prime Trios Signatures 21 Gordon Hayward Utah Jazz
NBA Gear Prime Trios Signatures 21 Gordon Hayward Utah Jazz
NBA Gear Prime Trios Signatures 21 Gordon Hayward Utah Jazz 25
NBA Gear Prime Trios Signatures 22 Eric Gordon New Orleans Hornets 25
NBA Gear Prime Trios Signatures 22 Eric Gordon New Orleans Hornets
NBA Gear Prime Trios Signatures 22 Eric Gordon New Orleans Hornets
NBA Gear Prime Trios Signatures 23 Dwight Howard Los Angeles Lakers 10
NBA Gear Prime Trios Signatures 23 Dwight Howard Los Angeles Lakers
NBA Gear Prime Trios Signatures 23 Dwight Howard Los Angeles Lakers
NBA Gear Prime Trios Signatures 24 Al Horford Atlanta Hawks 25
NBA Gear Prime Trios Signatures 24 Al Horford Atlanta Hawks
NBA Gear Prime Trios Signatures 24 Al Horford Atlanta Hawks
NBA Gear Prime Trios Signatures 25 Metta World Peace Los Angeles Lakers 25
NBA Gear Prime Trios Signatures 25 Metta World Peace Los Angeles Lakers
NBA Gear Prime Trios Signatures 25 Metta World Peace Los Angeles Lakers
NBA Gear Trios 1 Joakim Noah Chicago Bulls 99
NBA Gear Trios 1 Joakim Noah Chicago Bulls
NBA Gear Trios 1 Joakim Noah Chicago Bulls
NBA Gear Trios 2 LeBron James Miami Heat
NBA Gear Trios 2 LeBron James Miami Heat 49
NBA Gear Trios 2 LeBron James Miami Heat
NBA Gear Trios 3 Jason Terry Boston Celtics 49
NBA Gear Trios 3 Jason Terry Boston Celtics
NBA Gear Trios 3 Jason Terry Boston Celtics
NBA Gear Trios 4 Al Jefferson Utah Jazz 99
NBA Gear Trios 4 Al Jefferson Utah Jazz
NBA Gear Trios 4 Al Jefferson Utah Jazz
NBA Gear Trios 5 Paul Pierce Boston Celtics 49
NBA Gear Trios 5 Paul Pierce Boston Celtics
NBA Gear Trios 5 Paul Pierce Boston Celtics
NBA Gear Trios 6 Tim Duncan San Antonio Spurs 99
NBA Gear Trios 6 Tim Duncan San Antonio Spurs
NBA Gear Trios 6 Tim Duncan San Antonio Spurs
NBA Gear Trios 7 Dwyane Wade Miami Heat
NBA Gear Trios 7 Dwyane Wade Miami Heat
NBA Gear Trios 7 Dwyane Wade Miami Heat 49
NBA Gear Trios 8 Ty Lawson Denver Nuggets 99
NBA Gear Trios 8 Ty Lawson Denver Nuggets
NBA Gear Trios 8 Ty Lawson Denver Nuggets
NBA Gear Trios 9 Beno Udrih Orlando Magic 99
NBA Gear Trios 9 Beno Udrih Orlando Magic
NBA Gear Trios 9 Beno Udrih Orlando Magic
NBA Gear Trios 10 Kevin Garnett Boston Celtics 49
NBA Gear Trios 10 Kevin Garnett Boston Celtics
NBA Gear Trios 10 Kevin Garnett Boston Celtics
NBA Gear Trios 11 Andrea Bargnani Toronto Raptors 99
NBA Gear Trios 11 Andrea Bargnani Toronto Raptors
NBA Gear Trios 11 Andrea Bargnani Toronto Raptors
NBA Gear Trios 12 DeMar DeRozan Toronto Raptors 99
NBA Gear Trios 12 DeMar DeRozan Toronto Raptors
NBA Gear Trios 12 DeMar DeRozan Toronto Raptors
NBA Gear Trios 13 Shawn Marion Dallas Mavericks 49
NBA Gear Trios 13 Shawn Marion Dallas Mavericks
NBA Gear Trios 13 Shawn Marion Dallas Mavericks
NBA Gear Trios 14 Manu Ginobili San Antonio Spurs 49
NBA Gear Trios 14 Manu Ginobili San Antonio Spurs
NBA Gear Trios 14 Manu Ginobili San Antonio Spurs
NBA Gear Trios 15 Kobe Bryant Los Angeles Lakers 49
NBA Gear Trios 15 Kobe Bryant Los Angeles Lakers
NBA Gear Trios 15 Kobe Bryant Los Angeles Lakers
NBA Gear Trios 16 Ricky Rubio Minnesota Timberwolves 49
NBA Gear Trios 16 Ricky Rubio Minnesota Timberwolves
NBA Gear Trios 16 Ricky Rubio Minnesota Timberwolves
NBA Gear Trios 17 Jose Calderon Detroit Pistons 99
NBA Gear Trios 17 Jose Calderon Detroit Pistons
NBA Gear Trios 17 Jose Calderon Detroit Pistons
NBA Gear Trios 18 Zach Randolph Memphis Grizzlies 99
NBA Gear Trios 18 Zach Randolph Memphis Grizzlies
NBA Gear Trios 18 Zach Randolph Memphis Grizzlies
NBA Gear Trios 19 Amar'e Stoudemire New York Knicks 49
NBA Gear Trios 19 Amar'e Stoudemire New York Knicks
NBA Gear Trios 19 Amar'e Stoudemire New York Knicks
NBA Gear Trios 20 Rudy Gay Toronto Raptors 99
NBA Gear Trios 20 Rudy Gay Toronto Raptors
NBA Gear Trios 20 Rudy Gay Toronto Raptors
NBA Gear Trios 21 Kevin Martin Oklahoma City Thunder 99
NBA Gear Trios 21 Kevin Martin Oklahoma City Thunder
NBA Gear Trios 21 Kevin Martin Oklahoma City Thunder
NBA Gear Trios 22 Danny Granger Indiana Pacers 99
NBA Gear Trios 22 Danny Granger Indiana Pacers
NBA Gear Trios 22 Danny Granger Indiana Pacers
NBA Gear Trios 23 Joe Johnson Brooklyn Nets 99
NBA Gear Trios 23 Joe Johnson Brooklyn Nets
NBA Gear Trios 23 Joe Johnson Brooklyn Nets
NBA Gear Trios 24 Russell Westbrook Oklahoma City Thunder 99
NBA Gear Trios 24 Russell Westbrook Oklahoma City Thunder
NBA Gear Trios 24 Russell Westbrook Oklahoma City Thunder
NBA Gear Trios 25 Evan Turner Philadelphia 76ers 99
NBA Gear Trios 25 Evan Turner Philadelphia 76ers
NBA Gear Trios 25 Evan Turner Philadelphia 76ers
NBA Gear Trios Signatures 1 Greg Monroe Detroit Pistons
NBA Gear Trios Signatures 1 Greg Monroe Detroit Pistons 99
NBA Gear Trios Signatures 1 Greg Monroe Detroit Pistons
NBA Gear Trios Signatures 2 Kobe Bryant Los Angeles Lakers 99
NBA Gear Trios Signatures 2 Kobe Bryant Los Angeles Lakers
NBA Gear Trios Signatures 2 Kobe Bryant Los Angeles Lakers
NBA Gear Trios Signatures 3 Tony Parker San Antonio Spurs 49
NBA Gear Trios Signatures 3 Tony Parker San Antonio Spurs
NBA Gear Trios Signatures 3 Tony Parker San Antonio Spurs
NBA Gear Trios Signatures 4 Kevin Durant Oklahoma City Thunder
NBA Gear Trios Signatures 4 Kevin Durant Oklahoma City Thunder 49
NBA Gear Trios Signatures 4 Kevin Durant Oklahoma City Thunder
NBA Gear Trios Signatures 5 Chris Bosh Miami Heat 49
NBA Gear Trios Signatures 5 Chris Bosh Miami Heat
NBA Gear Trios Signatures 5 Chris Bosh Miami Heat
NBA Gear Trios Signatures 6 Josh Smith Atlanta Hawks 49
NBA Gear Trios Signatures 6 Josh Smith Atlanta Hawks
NBA Gear Trios Signatures 6 Josh Smith Atlanta Hawks
NBA Gear Trios Signatures 7 Blake Griffin Los Angeles Clippers 49
NBA Gear Trios Signatures 7 Blake Griffin Los Angeles Clippers
NBA Gear Trios Signatures 7 Blake Griffin Los Angeles Clippers
NBA Gear Trios Signatures 8 John Wall Washington Wizards 25
NBA Gear Trios Signatures 8 John Wall Washington Wizards
NBA Gear Trios Signatures 8 John Wall Washington Wizards
NBA Gear Trios Signatures 9 Grant Hill Los Angeles Clippers 49
NBA Gear Trios Signatures 9 Grant Hill Los Angeles Clippers
NBA Gear Trios Signatures 9 Grant Hill Los Angeles Clippers
NBA Gear Trios Signatures 10 DeMarcus Cousins Sacramento Kings 49
NBA Gear Trios Signatures 10 DeMarcus Cousins Sacramento Kings
NBA Gear Trios Signatures 10 DeMarcus Cousins Sacramento Kings
NBA Gear Trios Signatures 11 Andre Iguodala Denver Nuggets 49
NBA Gear Trios Signatures 11 Andre Iguodala Denver Nuggets
NBA Gear Trios Signatures 11 Andre Iguodala Denver Nuggets
NBA Gear Trios Signatures 12 Kevin Love Minnesota Timberwolves 49
NBA Gear Trios Signatures 12 Kevin Love Minnesota Timberwolves
NBA Gear Trios Signatures 12 Kevin Love Minnesota Timberwolves
NBA Gear Trios Signatures 13 Brook Lopez Brooklyn Nets 49
NBA Gear Trios Signatures 13 Brook Lopez Brooklyn Nets
NBA Gear Trios Signatures 13 Brook Lopez Brooklyn Nets
NBA Gear Trios Signatures 14 Stephen Curry Golden State Warriors 99
NBA Gear Trios Signatures 14 Stephen Curry Golden State Warriors
NBA Gear Trios Signatures 14 Stephen Curry Golden State Warriors
NBA Gear Trios Signatures 15 Tyson Chandler New York Knicks 49
NBA Gear Trios Signatures 15 Tyson Chandler New York Knicks
NBA Gear Trios Signatures 15 Tyson Chandler New York Knicks
NBA Gear Trios Signatures 16 LaMarcus Aldridge Portland Trail Blazers 49
NBA Gear Trios Signatures 16 LaMarcus Aldridge Portland Trail Blazers
NBA Gear Trios Signatures 16 LaMarcus Aldridge Portland Trail Blazers
NBA Gear Trios Signatures 17 Danny Granger Indiana Pacers 49
NBA Gear Trios Signatures 17 Danny Granger Indiana Pacers
NBA Gear Trios Signatures 17 Danny Granger Indiana Pacers
NBA Gear Trios Signatures 18 Zach Randolph Memphis Grizzlies 49
NBA Gear Trios Signatures 18 Zach Randolph Memphis Grizzlies
NBA Gear Trios Signatures 18 Zach Randolph Memphis Grizzlies
NBA Gear Trios Signatures 19 Wesley Matthews Portland Trail Blazers 99
NBA Gear Trios Signatures 19 Wesley Matthews Portland Trail Blazers
NBA Gear Trios Signatures 19 Wesley Matthews Portland Trail Blazers
NBA Gear Trios Signatures 20 Serge Ibaka Oklahoma City Thunder 99
NBA Gear Trios Signatures 20 Serge Ibaka Oklahoma City Thunder
NBA Gear Trios Signatures 20 Serge Ibaka Oklahoma City Thunder
NBA Gear Trios Signatures 21 Gordon Hayward Utah Jazz 99
NBA Gear Trios Signatures 21 Gordon Hayward Utah Jazz
NBA Gear Trios Signatures 21 Gordon Hayward Utah Jazz
NBA Gear Trios Signatures 22 Eric Gordon New Orleans Hornets 49
NBA Gear Trios Signatures 22 Eric Gordon New Orleans Hornets
NBA Gear Trios Signatures 22 Eric Gordon New Orleans Hornets
NBA Gear Trios Signatures 23 Dwight Howard Los Angeles Lakers 25
NBA Gear Trios Signatures 23 Dwight Howard Los Angeles Lakers
NBA Gear Trios Signatures 23 Dwight Howard Los Angeles Lakers
NBA Gear Trios Signatures 24 Al Horford Atlanta Hawks 49
NBA Gear Trios Signatures 24 Al Horford Atlanta Hawks
NBA Gear Trios Signatures 24 Al Horford Atlanta Hawks
NBA Gear Trios Signatures 25 Metta World Peace Los Angeles Lakers 49
NBA Gear Trios Signatures 25 Metta World Peace Los Angeles Lakers
NBA Gear Trios Signatures 25 Metta World Peace Los Angeles Lakers
NBA Logoman 1 Paul Pierce Boston Celtics 2
NBA Logoman 2 O.J. Mayo Dallas Mavericks 5
NBA Logoman 3 Jason Terry Boston Celtics 5
NBA Logoman 4 Vince Carter Dallas Mavericks 3
NBA Logoman 5 Rudy Gay Toronto Raptors 4
NBA Logoman 6 Dwight Howard Los Angeles Lakers 3
NBA Logoman 7 Chris Paul Los Angeles Clippers 6
NBA Logoman 8 Kobe Bryant Los Angeles Lakers 2
NBA Logoman 9 Dwyane Wade Miami Heat 4
NBA Logoman 10 Richard Jefferson Golden State Warriors 3
NBA Logoman 11 LeBron James Miami Heat 5
NBA Logoman 12 Pau Gasol Los Angeles Lakers 5
NBA Logoman 13 Manu Ginobili San Antonio Spurs 1
NBA Logoman 14 Dirk Nowitzki Dallas Mavericks 4
NBA Logoman 15 David West Indiana Pacers 5
NBA Logoman 16 Luol Deng Chicago Bulls 5
NBA Logoman 17 Al-Farouq Aminu New Orleans Hornets 5
NBA Logoman 18 Josh Smith Atlanta Hawks 4
NBA Logoman 19 Andre Iguodala Denver Nuggets 2
NBA Logoman 20 Ricky Rubio Minnesota Timberwolves 4
NBA Logoman 21 Damian Lillard Portland Trail Blazers 1
NBA Logoman 22 Deron Williams Brooklyn Nets 2
NBA Logoman 23 Al Horford Atlanta Hawks 2
NBA Logoman 24 Carmelo Anthony New York Knicks 2
NBA Logoman 25 J.J. Barea Minnesota Timberwolves 4
NBA Logoman 26 Leandro Barbosa Washington Wizards 4
NBA Logoman 27 Kirk Hinrich Chicago Bulls 4
NBA Logoman 28 Ramon Sessions Charlotte Bobcats 2
NBA Logoman 29 Marc Gasol Memphis Grizzlies 2
NBA Logoman 30 John Salmons Sacramento Kings 5
NBA Logoman 31 Jason Richardson Philadelphia 76ers 4
NBA Logoman 32 Jrue Holiday Philadelphia 76ers 4
NBA Logoman 33 Ben Gordon Charlotte Bobcats 3
NBA Logoman 34 Michael Beasley Phoenix Suns 5
NBA Logoman 35 LaMarcus Aldridge Portland Trail Blazers 2
NBA Logoman 36 Brandon Jennings Milwaukee Bucks 5
NBA Logoman 37 Rashard Lewis Miami Heat 4
NBA Logoman 38 Jose Calderon Detroit Pistons 3
NBA Logoman 39 Kevin Martin Oklahoma City Thunder 4
NBA Logoman 40 Elton Brand Dallas Mavericks 5
NBA Logoman 41 David Lee Golden State Warriors 2
NBA Logoman 42 Mo Williams Utah Jazz 5
NBA Logoman 43 Tayshaun Prince Memphis Grizzlies 5
NBA Logoman 44 Ty Lawson Denver Nuggets 4
NBA Logoman 45 Danilo Gallinari Denver Nuggets 5
NBA Logoman 46 Derrick Rose Chicago Bulls 3
NBA Logoman 47 Monta Ellis Milwaukee Bucks 2
NBA Logoman 48 Kevin Love Minnesota Timberwolves 2
NBA Logoman 49 Gerald Wallace Brooklyn Nets 4
NBA Logoman 50 Paul George Indiana Pacers 1
NBA Logoman 51 Brook Lopez Brooklyn Nets 3
NBA Logoman 52 Eric Gordon New Orleans Hornets 3
NBA Logoman 53 Chris Kaman Dallas Mavericks 3
NBA Logoman 54 Wesley Johnson Phoenix Suns 4
NBA Logoman 55 Serge Ibaka Oklahoma City Thunder 4
NBA Logoman 56 Russell Westbrook Oklahoma City Thunder 2
NBA Logoman 57 Andrea Bargnani Toronto Raptors 3
NBA Logoman 58 Gordon Hayward Utah Jazz 2
NBA Logoman 59 Al Jefferson Utah Jazz 2
NBA Logoman 60 Antawn Jamison Los Angeles Lakers 5
NBA Logoman 61 Nen�?�ª Washington Wizards 5
NBA Logoman 62 Jordan Crawford Boston Celtics 2
NBA Logoman 63 Landry Fields Toronto Raptors 4
NBA Logoman 64 Marcus Camby New York Knicks 5
NBA Logoman 65 Derek Fisher Oklahoma City Thunder 5
NBA Logoman 66 Raymond Felton New York Knicks 5
NBA Logoman 67 Zach Randolph Memphis Grizzlies 3
NBA Logoman 68 Carl Landry Golden State Warriors 5
NBA Logoman 69 Jeff Teague Atlanta Hawks 3
NBA Logoman 70 Jeff Hornacek Utah Jazz 2
NBA Logoman 71 Toni Kukoc Chicago Bulls 2
NBA Logoman 72 Hakeem Olajuwon Houston Rockets 1
NBA Logoman 73 Alex English Denver Nuggets 1
NBA Logoman 74 John Wall Washington Wizards 5
NBA Logoman 75 Isiah Thomas Detroit Pistons 1
NBA Logoman Combos 1 Kevin Durant Oklahoma City Thunder 2
NBA Logoman Combos 1 Russell Westbrook Oklahoma City Thunder
NBA Logoman Combos 2 Derrick Rose Chicago Bulls 3
NBA Logoman Combos 2 Scottie Pippen Chicago Bulls
NBA Logoman Combos 3 Dirk Nowitzki Dallas Mavericks 4
NBA Logoman Combos 3 Shawn Marion Dallas Mavericks
NBA Logoman Combos 4 Thaddeus Young Philadelphia 76ers 5
NBA Logoman Combos 4 Elton Brand Dallas Mavericks
NBA Logoman Combos 5 Paul Pierce Boston Celtics 3
NBA Logoman Combos 5 Rajon Rondo Boston Celtics
NBA Logoman Combos 6 Nick Young Philadelphia 76ers
NBA Logoman Combos 6 Evan Turner Philadelphia 76ers 3
NBA Logoman Combos 7 Ray Allen Miami Heat 3
NBA Logoman Combos 7 Kevin Garnett Boston Celtics
NBA Logoman Combos 8 Grant Hill Los Angeles Clippers 4
NBA Logoman Combos 8 Steve Nash Los Angeles Lakers
NBA Logoman Combos 9 Shaquille O'Neal Orlando Magic 2
NBA Logoman Combos 9 Anfernee Hardaway Orlando Magic
NBA Logoman Combos 10 Derrick Favors Utah Jazz 4
NBA Logoman Combos 10 Al Jefferson Utah Jazz
NBA Logoman Combos 11 Stephen Curry Golden State Warriors 4
NBA Logoman Combos 11 David Lee Golden State Warriors
NBA Logoman Combos 12 Tim Duncan San Antonio Spurs 3
NBA Logoman Combos 12 David Robinson San Antonio Spurs
NBA Logoman Combos 13 Kobe Bryant Los Angeles Lakers 3
NBA Logoman Combos 13 Steve Nash Los Angeles Lakers
NBA Logoman Combos 14 Chris Paul Los Angeles Clippers 2
NBA Logoman Combos 14 Blake Griffin Los Angeles Clippers
NBA Logoman Combos 15 Dwyane Wade Miami Heat 5
NBA Logoman Combos 15 LeBron James Miami Heat
NBA Logoman Combos 16 Kevin Martin Oklahoma City Thunder 4
NBA Logoman Combos 16 Luis Scola Phoenix Suns
NBA Logoman Combos 17 Amar'e Stoudemire New York Knicks 4
NBA Logoman Combos 17 Carmelo Anthony New York Knicks
NBA Logoman Combos 18 Danny Granger Indiana Pacers 5
NBA Logoman Combos 18 Darren Collison Dallas Mavericks
NBA Logoman Combos 19 Gary Payton Seattle Supersonics 2
NBA Logoman Combos 19 Shawn Kemp Seattle Supersonics
NBA Logoman Combos 20 Damian Lillard Portland Trail Blazers
NBA Logoman Combos 20 Kyrie Irving Cleveland Cavaliers 2
NBA Logoman Combos 21 Karl Malone Utah Jazz 2
NBA Logoman Combos 21 John Stockton Utah Jazz
NBA Logoman Combos 22 Andre Iguodala Denver Nuggets 4
NBA Logoman Combos 22 Kenneth Faried Denver Nuggets
NBA Logoman Combos 23 Marc Gasol Memphis Grizzlies 3
NBA Logoman Combos 23 Zach Randolph Memphis Grizzlies
NBA Logoman Combos 24 Joakim Noah Chicago Bulls
NBA Logoman Combos 24 Carlos Boozer Chicago Bulls 5
NBA Logoman Combos 25 Tony Parker San Antonio Spurs 4
NBA Logoman Combos 25 Manu Ginobili San Antonio Spurs
NBA Logoman Signatures 1 Raymond Felton New York Knicks 3
NBA Logoman Signatures 2 Ty Lawson Denver Nuggets 3
NBA Logoman Signatures 3 Kevin Durant Oklahoma City Thunder 3
NBA Logoman Signatures 4 Kevin Love Minnesota Timberwolves 4
NBA Logoman Signatures 5 Steve Nash Los Angeles Lakers 3
NBA Logoman Signatures 6 Kobe Bryant Los Angeles Lakers 5
NBA Logoman Signatures 7 Greg Monroe Detroit Pistons 5
NBA Logoman Signatures 8 LaMarcus Aldridge Portland Trail Blazers 3
NBA Logoman Signatures 9 Chris Kaman Dallas Mavericks 3
NBA Logoman Signatures 10 Andre Iguodala Denver Nuggets 4
NBA Logoman Signatures 11 Tyreke Evans Sacramento Kings 5
NBA Logoman Signatures 12 Vince Carter Dallas Mavericks 5
NBA Logoman Signatures 13 Tyson Chandler New York Knicks 4
NBA Logoman Signatures 14 Nick Van Exel Los Angeles Lakers 2
NBA Logoman Signatures 15 Julius Erving Philadelphia 76ers 2
NBA Logoman Signatures 16 Shaquille O'Neal Los Angeles Lakers 2
NBA Logoman Signatures 17 Joe Johnson Brooklyn Nets 5
NBA Logoman Signatures 18 Kevin Martin Oklahoma City Thunder 4
NBA Logoman Signatures 19 DeMarcus Cousins Sacramento Kings 5
NBA Logoman Signatures 20 Tony Parker San Antonio Spurs 3
NBA Logoman Signatures 21 Kevin McHale Boston Celtics 2
NBA Logoman Signatures 22 Shane Battier Miami Heat 3
NBA Logoman Signatures 23 Antawn Jamison Los Angeles Lakers 3
NBA Logoman Signatures 24 Chris Bosh Miami Heat 3
NBA Logoman Signatures 25 Yao Ming Houston Rockets 2
Notable Nicknames 1 Kyrie Irving Cleveland Cavaliers 49
Notable Nicknames 2 Walt Frazier New York Knicks 99
Notable Nicknames 3 James Worthy Los Angeles Lakers 49
Notable Nicknames 4 Robert Horry San Antonio Spurs 99
Notable Nicknames 5 Bill Walton Boston Celtics 49
Notable Nicknames 6 Kobe Bryant Los Angeles Lakers 49
Notable Nicknames 7 Clyde Drexler Houston Rockets 49
Notable Nicknames 8 Anthony Davis New Orleans Hornets 25
Notable Nicknames 9 Nick Van Exel Los Angeles Lakers 99
Notable Nicknames 10 Anfernee Hardaway Orlando Magic 49
Notable Nicknames 11 Kenny Smith Houston Rockets 99
Notable Nicknames 12 Harrison Barnes Golden State Warriors 49
Notable Nicknames 13 Kevin Durant Oklahoma City Thunder 49
Notable Nicknames 14 Toni Kukoc Chicago Bulls 99
Notable Nicknames 15 Cedric Maxwell Boston Celtics 99
Notable Nicknames 16 Dikembe Mutombo Denver Nuggets 49
Notable Nicknames 17 Kenneth Faried Denver Nuggets 99
Notable Nicknames 18 Julius Erving Philadelphia 76ers 25
Notable Nicknames 19 Larry Johnson New York Knicks 49
Notable Nicknames 20 Marcin Gortat Phoenix Suns 99
Notable Nicknames 21 Dominique Wilkins Atlanta Hawks 49
Notable Nicknames 22 Shaquille O'Neal Orlando Magic 25
Notable Nicknames 23 Jerry West Los Angeles Lakers 25
Notable Nicknames 24 Serge Ibaka Oklahoma City Thunder 49
Notable Nicknames 25 Blake Griffin Los Angeles Clippers 49
Springfield Bound Signatures 1 Kobe Bryant Los Angeles Lakers 49
Springfield Bound Signatures 2 Grant Hill Los Angeles Clippers 49
Springfield Bound Signatures 3 Vince Carter Dallas Mavericks 99
Springfield Bound Signatures 4 Tony Parker San Antonio Spurs 49
Springfield Bound Signatures 5 Jason Kidd New York Knicks 49
Springfield Bound Signatures 6 Steve Nash Los Angeles Lakers 49
Springfield Bound Signatures 7 Yao Ming Houston Rockets 49
Springfield Bound Signatures 8 Chris Bosh Miami Heat 99
Springfield Bound Signatures 9 Kevin Durant Oklahoma City Thunder 49
Springfield Bound Signatures 10 Dwyane Wade Miami Heat 49
Timeline Materials Custom Names 1 Kevin Durant Oklahoma City Thunder 49
Timeline Materials Custom Names 2 Jrue Holiday Philadelphia 76ers 99
Timeline Materials Custom Names 3 Dirk Nowitzki Dallas Mavericks 49
Timeline Materials Custom Names 4 Emeka Okafor Washington Wizards 99
Timeline Materials Custom Names 5 Andre Iguodala Denver Nuggets 99
Timeline Materials Custom Names 6 Deron Williams Brooklyn Nets 99
Timeline Materials Custom Names 7 Nick Collison Oklahoma City Thunder 99
Timeline Materials Custom Names 8 Gordon Hayward Utah Jazz 49
Timeline Materials Custom Names 9 DeMarcus Cousins Sacramento Kings 49
Timeline Materials Custom Names 10 Joe Johnson Brooklyn Nets 99
Timeline Materials Custom Names 11 Kris Humphries Brooklyn Nets 99
Timeline Materials Custom Names 12 Kevin Garnett Boston Celtics 25
Timeline Materials Custom Names 13 Darren Collison Dallas Mavericks 99
Timeline Materials Custom Names 14 Tony Parker San Antonio Spurs 49
Timeline Materials Custom Names 15 Dwight Howard Los Angeles Lakers 99
Timeline Materials Custom Names 16 Damian Lillard Portland Trail Blazers 99
Timeline Materials Custom Names 17 Carlos Boozer Chicago Bulls 49
Timeline Materials Custom Names 18 Carmelo Anthony New York Knicks 49
Timeline Materials Custom Names 19 Russell Westbrook Oklahoma City Thunder 99
Timeline Materials Custom Names 20 Metta World Peace Los Angeles Lakers 99
Timeline Materials Custom Names 21 Manu Ginobili San Antonio Spurs 43
Timeline Materials Custom Names 22 Andrew Bynum Philadelphia 76ers 99
Timeline Materials Custom Names 23 Zach Randolph Memphis Grizzlies 99
Timeline Materials Custom Names 24 Shane Battier Miami Heat 99
Timeline Materials Custom Names 25 Trevor Booker Washington Wizards 99
Timeline Materials Custom Team Nicknames 1 LeBron James Miami Heat 99
Timeline Materials Custom Team Nicknames 2 Ben Gordon Charlotte Bobcats 99
Timeline Materials Custom Team Nicknames 3 Derrick Rose Chicago Bulls 99
Timeline Materials Custom Team Nicknames 4 Russell Westbrook Oklahoma City Thunder 49
Timeline Materials Custom Team Nicknames 5 Kobe Bryant Los Angeles Lakers 49
Timeline Materials Custom Team Nicknames 6 Antawn Jamison Los Angeles Lakers 99
Timeline Materials Custom Team Nicknames 7 LaMarcus Aldridge Portland Trail Blazers 99
Timeline Materials Custom Team Nicknames 8 Pau Gasol Los Angeles Lakers 99
Timeline Materials Custom Team Nicknames 9 Blake Griffin Los Angeles Clippers 49
Timeline Materials Custom Team Nicknames 10 Tony Parker San Antonio Spurs 49
Timeline Materials Custom Team Nicknames 11 Paul Pierce Boston Celtics 49
Timeline Materials Custom Team Nicknames 12 Dwyane Wade Miami Heat 49
Timeline Materials Custom Team Nicknames 13 Amar'e Stoudemire New York Knicks 99
Timeline Materials Custom Team Nicknames 14 Andrea Bargnani Toronto Raptors 99
Timeline Materials Custom Team Nicknames 15 David Lee Golden State Warriors 49
Timeline Materials Custom Team Nicknames 16 Tim Duncan San Antonio Spurs 99
Timeline Materials Custom Team Nicknames 17 Eric Gordon New Orleans Hornets 99
Timeline Materials Custom Team Nicknames 18 Brook Lopez Brooklyn Nets 99
Timeline Materials Custom Team Nicknames 19 Ty Lawson Denver Nuggets 99
Timeline Materials Custom Team Nicknames 20 Josh Smith Atlanta Hawks 99
Timeline Materials Custom Team Nicknames 21 David West Indiana Pacers 99
Timeline Materials Custom Team Nicknames 22 Steve Nash Los Angeles Lakers 49
Timeline Materials Custom Team Nicknames 23 Kirk Hinrich Chicago Bulls 15
Timeline Materials Custom Team Nicknames 24 Jeremy Lin Houston Rockets 99
Timeline Materials Custom Team Nicknames 25 Marc Gasol Memphis Grizzlies 99
Timeline Materials Prime Custom Names 1 Kevin Durant Oklahoma City Thunder 10
Timeline Materials Prime Custom Names 2 Jrue Holiday Philadelphia 76ers 10
Timeline Materials Prime Custom Names 3 Dirk Nowitzki Dallas Mavericks 10
Timeline Materials Prime Custom Names 4 Emeka Okafor Washington Wizards 25
Timeline Materials Prime Custom Names 5 Andre Iguodala Denver Nuggets 10
Timeline Materials Prime Custom Names 6 Deron Williams Brooklyn Nets 10
Timeline Materials Prime Custom Names 7 Nick Collison Oklahoma City Thunder 10
Timeline Materials Prime Custom Names 8 Gordon Hayward Utah Jazz 10
Timeline Materials Prime Custom Names 9 DeMarcus Cousins Sacramento Kings 10
Timeline Materials Prime Custom Names 10 Joe Johnson Brooklyn Nets 25
Timeline Materials Prime Custom Names 11 Kris Humphries Brooklyn Nets 25
Timeline Materials Prime Custom Names 12 Kevin Garnett Boston Celtics 10
Timeline Materials Prime Custom Names 13 Darren Collison Dallas Mavericks 25
Timeline Materials Prime Custom Names 14 Tony Parker San Antonio Spurs 10
Timeline Materials Prime Custom Names 15 Dwight Howard Los Angeles Lakers 25
Timeline Materials Prime Custom Names 16 Damian Lillard Portland Trail Blazers 25
Timeline Materials Prime Custom Names 17 Carlos Boozer Chicago Bulls 25
Timeline Materials Prime Custom Names 18 Carmelo Anthony New York Knicks 25
Timeline Materials Prime Custom Names 19 Russell Westbrook Oklahoma City Thunder 10
Timeline Materials Prime Custom Names 20 Metta World Peace Los Angeles Lakers 10
Timeline Materials Prime Custom Names 21 Manu Ginobili San Antonio Spurs 25
Timeline Materials Prime Custom Names 22 Andrew Bynum Philadelphia 76ers 10
Timeline Materials Prime Custom Names 23 Zach Randolph Memphis Grizzlies 25
Timeline Materials Prime Custom Names 24 Shane Battier Miami Heat 10
Timeline Materials Prime Custom Names 25 Trevor Booker Washington Wizards 10
Timeline Materials Prime Custom Team Nicknames 1 LeBron James Miami Heat 10
Timeline Materials Prime Custom Team Nicknames 2 Ben Gordon Charlotte Bobcats 10
Timeline Materials Prime Custom Team Nicknames 3 Derrick Rose Chicago Bulls 10
Timeline Materials Prime Custom Team Nicknames 4 Russell Westbrook Oklahoma City Thunder 10
Timeline Materials Prime Custom Team Nicknames 5 Kobe Bryant Los Angeles Lakers 10
Timeline Materials Prime Custom Team Nicknames 6 Antawn Jamison Los Angeles Lakers 10
Timeline Materials Prime Custom Team Nicknames 7 LaMarcus Aldridge Portland Trail Blazers 25
Timeline Materials Prime Custom Team Nicknames 8 Pau Gasol Los Angeles Lakers 10
Timeline Materials Prime Custom Team Nicknames 9 Blake Griffin Los Angeles Clippers 10
Timeline Materials Prime Custom Team Nicknames 10 Tony Parker San Antonio Spurs 25
Timeline Materials Prime Custom Team Nicknames 11 Paul Pierce Boston Celtics 10
Timeline Materials Prime Custom Team Nicknames 12 Dwyane Wade Miami Heat 10
Timeline Materials Prime Custom Team Nicknames 13 Amar'e Stoudemire New York Knicks 25
Timeline Materials Prime Custom Team Nicknames 14 Andrea Bargnani Toronto Raptors 25
Timeline Materials Prime Custom Team Nicknames 15 David Lee Golden State Warriors 15
Timeline Materials Prime Custom Team Nicknames 16 Tim Duncan San Antonio Spurs 25
Timeline Materials Prime Custom Team Nicknames 17 Eric Gordon New Orleans Hornets 10
Timeline Materials Prime Custom Team Nicknames 18 Brook Lopez Brooklyn Nets 10
Timeline Materials Prime Custom Team Nicknames 19 Ty Lawson Denver Nuggets 25
Timeline Materials Prime Custom Team Nicknames 20 Josh Smith Atlanta Hawks 25
Timeline Materials Prime Custom Team Nicknames 21 David West Indiana Pacers 25
Timeline Materials Prime Custom Team Nicknames 22 Steve Nash Los Angeles Lakers 10
Timeline Materials Prime Custom Team Nicknames 23 Kirk Hinrich Chicago Bulls 10
Timeline Materials Prime Custom Team Nicknames 24 Jeremy Lin Houston Rockets 10
Timeline Materials Prime Custom Team Nicknames 25 Marc Gasol Memphis Grizzlies 25
Timeline Signature Materials Custom Names 1 Kevin Durant Oklahoma City Thunder 49
Timeline Signature Materials Custom Names 2 LaMarcus Aldridge Portland Trail Blazers 49
Timeline Signature Materials Custom Names 3 Dirk Nowitzki Dallas Mavericks 49
Timeline Signature Materials Custom Names 4 Emeka Okafor Washington Wizards 49
Timeline Signature Materials Custom Names 5 Andre Iguodala Denver Nuggets 99
Timeline Signature Materials Custom Names 6 Tyson Chandler New York Knicks 49
Timeline Signature Materials Custom Names 7 Michael Kidd-Gilchrist Charlotte Bobcats 49
Timeline Signature Materials Custom Names 8 Gordon Hayward Utah Jazz 49
Timeline Signature Materials Custom Names 9 Derrick Favors Utah Jazz 30
Timeline Signature Materials Custom Names 10 Joe Johnson Brooklyn Nets 99
Timeline Signature Materials Custom Names 11 Andre Miller Denver Nuggets 99
Timeline Signature Materials Custom Names 12 Kobe Bryant Los Angeles Lakers 49
Timeline Signature Materials Custom Names 13 Richard Hamilton Chicago Bulls 49
Timeline Signature Materials Custom Names 14 Julius Erving Philadelphia 76ers 25
Timeline Signature Materials Custom Names 15 Shaquille O'Neal Los Angeles Lakers 25
Timeline Signature Materials Custom Names 16 Anderson Varejao Cleveland Cavaliers 49
Timeline Signature Materials Custom Names 17 Zach Randolph Memphis Grizzlies 99
Timeline Signature Materials Custom Names 18 David Robinson San Antonio Spurs 49
Timeline Signature Materials Custom Names 19 Jerry West Los Angeles Lakers 25
Timeline Signature Materials Custom Names 20 John Stockton Utah Jazz 25
Timeline Signature Materials Custom Names 21 Alex English Denver Nuggets 49
Timeline Signature Materials Custom Names 22 Elgin Baylor Los Angeles Lakers 25
Timeline Signature Materials Custom Names 23 Nick Van Exel Los Angeles Lakers 25
Timeline Signature Materials Custom Names 24 Kareem Abdul-Jabbar Los Angeles Lakers 25
Timeline Signature Materials Custom Names 25 Yao Ming Houston Rockets 25
Timeline Signature Materials Custom Team Nicknames 1 Ray Allen Miami Heat 49
Timeline Signature Materials Custom Team Nicknames 2 Ben Gordon Charlotte Bobcats 99
Timeline Signature Materials Custom Team Nicknames 3 Kyrie Irving Cleveland Cavaliers 49
Timeline Signature Materials Custom Team Nicknames 4 James Harden Houston Rockets 49
Timeline Signature Materials Custom Team Nicknames 5 Kobe Bryant Los Angeles Lakers 49
Timeline Signature Materials Custom Team Nicknames 6 Harrison Barnes Golden State Warriors 49
Timeline Signature Materials Custom Team Nicknames 7 LaMarcus Aldridge Portland Trail Blazers 49
Timeline Signature Materials Custom Team Nicknames 8 Kevin Love Minnesota Timberwolves 49
Timeline Signature Materials Custom Team Nicknames 9 Blake Griffin Los Angeles Clippers 49
Timeline Signature Materials Custom Team Nicknames 10 Tony Parker San Antonio Spurs 49
Timeline Signature Materials Custom Team Nicknames 11 Jared Sullinger Boston Celtics 49
Timeline Signature Materials Custom Team Nicknames 12 Mike Conley Memphis Grizzlies 99
Timeline Signature Materials Custom Team Nicknames 13 DeMarcus Cousins Sacramento Kings 49
Timeline Signature Materials Custom Team Nicknames 14 Ersan Ilyasova Milwaukee Bucks 99
Timeline Signature Materials Custom Team Nicknames 15 Andre Drummond Detroit Pistons 49
Timeline Signature Materials Custom Team Nicknames 16 Chris Kaman Dallas Mavericks 99
Timeline Signature Materials Custom Team Nicknames 17 Deron Williams Brooklyn Nets 49
Timeline Signature Materials Custom Team Nicknames 18 Stephen Curry Golden State Warriors 49
Timeline Signature Materials Custom Team Nicknames 19 Al Jefferson Utah Jazz 49
Timeline Signature Materials Custom Team Nicknames 20 Brandon Jennings Milwaukee Bucks 49
Timeline Signature Materials Custom Team Nicknames 21 Grant Hill Los Angeles Clippers 49
Timeline Signature Materials Custom Team Nicknames 22 Raymond Felton New York Knicks 49
Timeline Signature Materials Custom Team Nicknames 23 Steve Nash Los Angeles Lakers 49
Timeline Signature Materials Custom Team Nicknames 24 J.J. Hickson Portland Trail Blazers 99
Timeline Signature Materials Custom Team Nicknames 25 Chris Bosh Miami Heat 49
Timeline Signature Prime Materials Custom Names 1 Kevin Durant Oklahoma City Thunder 10
Timeline Signature Prime Materials Custom Names 2 LaMarcus Aldridge Portland Trail Blazers 10
Timeline Signature Prime Materials Custom Names 3 Dirk Nowitzki Dallas Mavericks 10
Timeline Signature Prime Materials Custom Names 4 Emeka Okafor Washington Wizards 25
Timeline Signature Prime Materials Custom Names 5 Andre Iguodala Denver Nuggets 25
Timeline Signature Prime Materials Custom Names 6 Tyson Chandler New York Knicks 10
Timeline Signature Prime Materials Custom Names 7 Michael Kidd-Gilchrist Charlotte Bobcats 10
Timeline Signature Prime Materials Custom Names 8 Gordon Hayward Utah Jazz 25
Timeline Signature Prime Materials Custom Names 9 Derrick Favors Utah Jazz 25
Timeline Signature Prime Materials Custom Names 10 Joe Johnson Brooklyn Nets 25
Timeline Signature Prime Materials Custom Names 11 Andre Miller Denver Nuggets 10
Timeline Signature Prime Materials Custom Names 12 Kobe Bryant Los Angeles Lakers 10
Timeline Signature Prime Materials Custom Names 13 Richard Hamilton Chicago Bulls 10
Timeline Signature Prime Materials Custom Names 14 Julius Erving Philadelphia 76ers 10
Timeline Signature Prime Materials Custom Names 15 Shaquille O'Neal Los Angeles Lakers 10
Timeline Signature Prime Materials Custom Names 16 Anderson Varejao Cleveland Cavaliers 25
Timeline Signature Prime Materials Custom Names 17 Zach Randolph Memphis Grizzlies 25
Timeline Signature Prime Materials Custom Names 18 David Robinson San Antonio Spurs 25
Timeline Signature Prime Materials Custom Names 19 Jerry West Los Angeles Lakers 10
Timeline Signature Prime Materials Custom Names 20 John Stockton Utah Jazz 25
Timeline Signature Prime Materials Custom Names 21 Alex English Denver Nuggets 25
Timeline Signature Prime Materials Custom Names 22 Elgin Baylor Los Angeles Lakers 10
Timeline Signature Prime Materials Custom Names 23 Nick Van Exel Los Angeles Lakers 25
Timeline Signature Prime Materials Custom Names 24 Kareem Abdul-Jabbar Los Angeles Lakers 10
Timeline Signature Prime Materials Custom Names 25 Yao Ming Houston Rockets 10
Timeline Signature Prime Materials Custom Team Nicknames 1 Ray Allen Miami Heat 10
Timeline Signature Prime Materials Custom Team Nicknames 2 Ben Gordon Charlotte Bobcats 25
Timeline Signature Prime Materials Custom Team Nicknames 3 Kyrie Irving Cleveland Cavaliers 10
Timeline Signature Prime Materials Custom Team Nicknames 4 James Harden Houston Rockets 10
Timeline Signature Prime Materials Custom Team Nicknames 5 Kobe Bryant Los Angeles Lakers 10
Timeline Signature Prime Materials Custom Team Nicknames 6 Harrison Barnes Golden State Warriors 10
Timeline Signature Prime Materials Custom Team Nicknames 7 LaMarcus Aldridge Portland Trail Blazers 10
Timeline Signature Prime Materials Custom Team Nicknames 8 Kevin Love Minnesota Timberwolves 10
Timeline Signature Prime Materials Custom Team Nicknames 9 Blake Griffin Los Angeles Clippers 25
Timeline Signature Prime Materials Custom Team Nicknames 10 Tony Parker San Antonio Spurs 25
Timeline Signature Prime Materials Custom Team Nicknames 11 Jared Sullinger Boston Celtics 25
Timeline Signature Prime Materials Custom Team Nicknames 12 Mike Conley Memphis Grizzlies 25
Timeline Signature Prime Materials Custom Team Nicknames 13 DeMarcus Cousins Sacramento Kings 10
Timeline Signature Prime Materials Custom Team Nicknames 14 Ersan Ilyasova Milwaukee Bucks 15
Timeline Signature Prime Materials Custom Team Nicknames 15 Andre Drummond Detroit Pistons 10
Timeline Signature Prime Materials Custom Team Nicknames 16 Chris Kaman Dallas Mavericks 25
Timeline Signature Prime Materials Custom Team Nicknames 17 Deron Williams Brooklyn Nets 10
Timeline Signature Prime Materials Custom Team Nicknames 18 Stephen Curry Golden State Warriors 10
Timeline Signature Prime Materials Custom Team Nicknames 19 Al Jefferson Utah Jazz 25
Timeline Signature Prime Materials Custom Team Nicknames 20 Brandon Jennings Milwaukee Bucks 10
Timeline Signature Prime Materials Custom Team Nicknames 21 Grant Hill Los Angeles Clippers 10
Timeline Signature Prime Materials Custom Team Nicknames 22 Raymond Felton New York Knicks 25
Timeline Signature Prime Materials Custom Team Nicknames 23 Steve Nash Los Angeles Lakers 10
Timeline Signature Prime Materials Custom Team Nicknames 24 J.J. Hickson Portland Trail Blazers 25
Timeline Signature Prime Materials Custom Team Nicknames 25 Chris Bosh Miami Heat 10