First look: 2012-13 Leaf Metal basketball cards (with checklist)
When you click on links to various merchants on this site, like eBay, and make a purchase, this can result in this site earning a commission.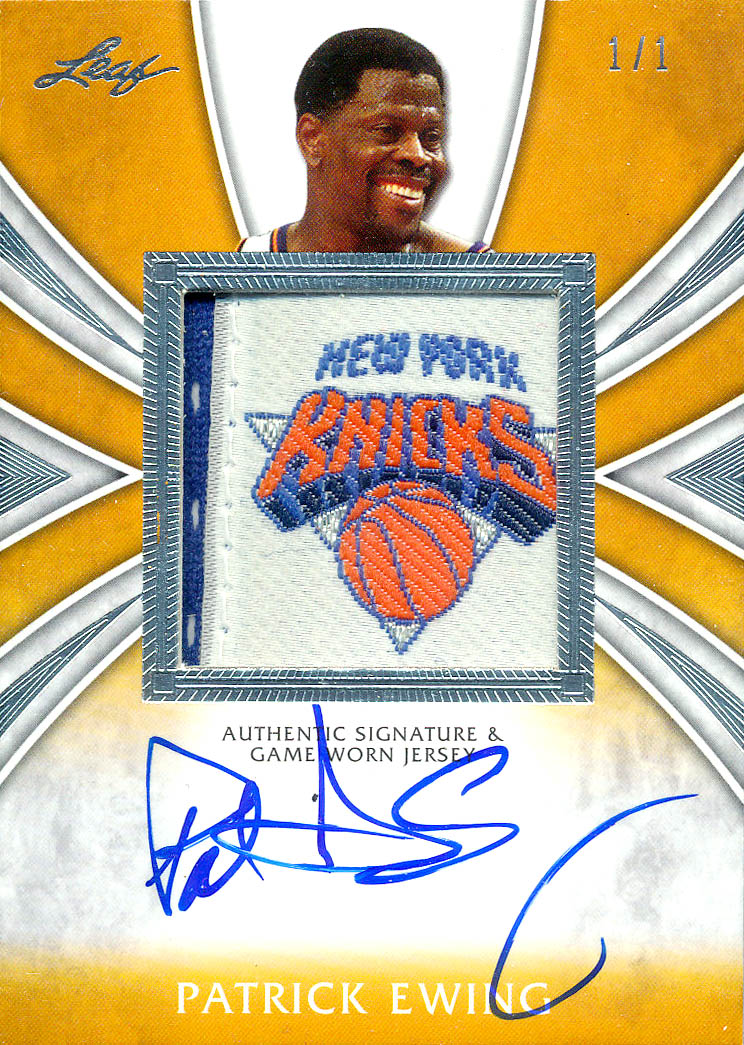 By Chris Olds | Beckett Basketball Editor
Aiming to fill an apparent void in the "under-served basketball market," Leaf Trading Cards unveiled 2012-13 Leaf Metal on Tuesday, and it's a product it says has features which "all companies are sure to imitate once unveiled."
The product will include one autograph and one insert card per pack and five packs per box when it arrives in May, featuring on-card autographs of stars from the past as well as a few from the present.
Among the signers will be Patrick Ewing (click here for OPG & checklist), the former Knicks star and Hall of Famer who simply doesn't like signing. He has signed jumbo patch cards for this one. Ewing has just 18 certified autographs made in the past with the most-recent cards coming in 2003-04 Upper Deck products.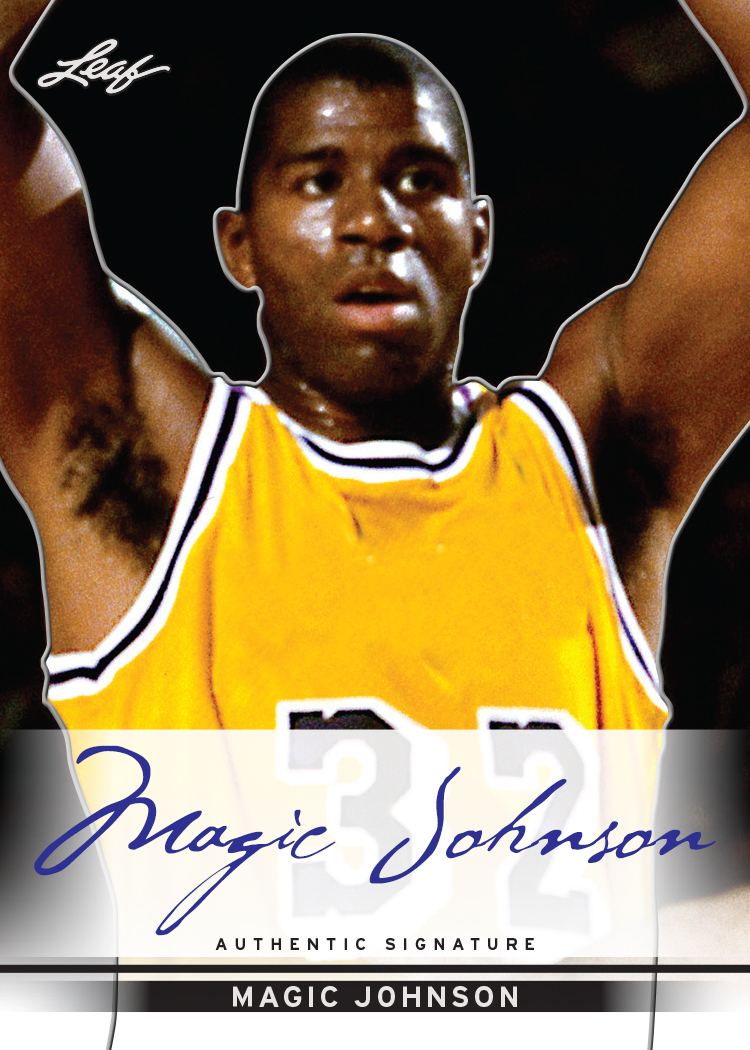 Also among the signers are Magic Johnson, Pat Riley, John Stockton, Bob Cousy, Larry Bird, Bill Russell and NBA Rookie of the Year Contender Damian Lillard.
Other features in this one will include Hoop Matrix cards and Valiant inserts among the offerings.
A preliminary checklist for this one was not released. Each case of this non-NBA licensed product (no logos) will have eight boxes inside.
Chris Olds is the editor of Beckett Basketball magazine. Have a comment, question or idea? Send an email to him at colds@beckett.com. Follow him on Twitter by clicking here.
PARALLEL BREAKDOWN
Autographed Inserts: Base Auto, Faces of the Game, Inductions, Nicknames, & Unsung Heroes
Holo – #'d to 50
Holo Blue – #'d to 25
Holo Green – #'d to 10
Holo Red – #'d to 5
Gold – 1/1
Patrick Ewing Autographed Game Worn Patch Cards
Blue – #'to 99
Orange – #'d to 20
Red – #'d to 5
Gold – 1/1
Un- Autographed Hoop Matrix
Green – #'d to 99
Pink – #'d to 25
Orange  – 1/1
Un-Autographed 1960 Style Common
Green  #'d to 25
Blue #'d to 10
Red #'d to 5
Purple 1/1
CHECKLIST
BA-AD2 Adrian Dantley Base Auto
BA-AM3 Ann Meyers Base Auto
BA-AD3 Anne Donovan Base Auto
BA-AG1 Artis Gilmore Base Auto
BA-BA1 B.J. Armstrong Base Auto
BA-BH1 Bailey Howell Base Auto
BA-BR1 Bill Russell Base Auto
BA-BW1 Bill Walton Base Auto
BA-BM1 Billie Moore Base Auto
BA-BC1 Bob Cousy Base Auto
BA-BH2 Bob Houbregs Base Auto
BA-BM1 Bob McAdoo Base Auto
BA-BK1 Bobby Knight Base Auto
BA-CB1 Carol Blazejowski Base Auto
BA-CO1 Charles Oakley Base Auto
BA-CW2 Charlie Ward Base Auto
BA-CW1 Chet Walker Base Auto
BA-CM1 Chris Mullin Base Auto
BA-CH1 Cliff Hagan Base Auto
BA-CL2 Clyde Lovellette Base Auto
BA-DL1 Damian Lillard Base Auto
BA-DI1 Dan Issel Base Auto
BA-DD1 Darryl Dawkins Base Auto
BA-DB1 Dave Bing Base Auto
BA-DR3 David Robinson Base Auto
BA-DR2 Dennis Rodman Base Auto
BA-DC1 Denny Crum Base Auto
BA-DS1 Dolph Schayes Base Auto
BA-DW1 Dominique Wilkins Base Auto
BA-DN1 Don Nelson Base Auto
BA-EL1 Earl Lloyd Base Auto
BA-EH1 Elvin Hayes Base Auto
BA-GG2 Gail Goodrich Base Auto
BA-GA1 Geno Auriemma Base Auto
BA-GG1 George Gervin Base Auto
BA-HG1 Hal Greer Base Auto
BA-HG3 Horace Grant Base Auto
BA-JW2 Jamaal Wilkes Base Auto
BA-JW1 James Worthy Base Auto
BA-JC2 Joan Crawford Base Auto
BA-JC3 Jody Conradt Base Auto
BA-JC4 John Chaney Base Auto
BA-JH2 John Havlicek Base Auto
BA-JS2 John Salley Base Auto
BA-JS4 John Stockton Base Auto
BA-KM1 Karl Malone Base Auto
BA-KA1 Kenny Anderson Base Auto
BA-LB1 Larry Bird Base Auto
BA-LJ1 Larry Johnson Base Auto
BA-LW1 Lenny Wilkens Base Auto
BA-LB2 Leon Barmore Base Auto
BA-LC1 Lou Carnesecca Base Auto
BA-LO1 Lute Olson Base Auto
BA-LW1 Lynette Woodard Base Auto
BA-MJ1 Magic Johnson Base Auto
BA-MH1 Marques Haynes Base Auto
BA-MD3 Mel Daniels Base Auto
BA-NA1 Nate Archibald Base Auto
BA-OB1 Otis Birdsong Base Auto
BA-PR1 Pat Riley Base Auto
BA-PK1 Phil Knight Base Auto
BA-RB1 Rick Barry Base Auto
BA-RR1 Ricky Rubio Base Auto
BA-RH1 Robert Horry Base Auto
BA-RP1 Robert Parish Base Auto
BA-RW2 Roy Williams Base Auto
BA-SJ1 Sam Jones Base Auto
BA-SS3 Satch Sanders Base Auto
BA-SP1 Scottie Pippen Base Auto
BA-SO1 Shaquille O'Neal Base Auto
BA-SK1 Shawn Kemp Base Auto
BA-SS1 Sheryl Swoopes Base Auto
BA-SW1 Spud Webb Base Auto
BA-TH2 Tom Heinsohn Base Auto
BA-TK1 Toni Kukoc Base Auto
BA-VC1 Van Chancellor Base Auto
BA-XM1 Xavier McDaniel Base Auto
80 FG-BR1 Bill Russell Faces of the Game
81 FG-CM1 Chris Mullin Faces of the Game
82 FG-DL1 Damian Lillard Faces of the Game
83 FG-DR1 David Robinson Faces of the Game
84 FG-DR2 Dennis Rodman Faces of the Game
85 FG-GG1 George Gervin Faces of the Game
86 FG-JS4 John Stockton Faces of the Game
87 FG-KM1 Karl Malone Faces of the Game
88 FG-LB1 Larry Bird Faces of the Game
89 FG-MJ1 Magic Johnson Faces of the Game
90 FG-RR1 Ricky Rubio Faces of the Game
91 FG-SJ1 Sam Jones Faces of the Game
92 FG-SP1 Scottie Pippen Faces of the Game
93 FG-SO1 Shaquille O'Neal Faces of the Game
94 FG-SK1 Shawn Kemp Faces of the Game
95 FG-SS1 Sheryl Swoopes Faces of the Game
96
97 I-BH1 Bailey Howell Inductions
98 I-BR1 Bill Russell Inductions
99 I-BW1 Bill Walton Inductions
100 I-CM1 Chris Mullin Inductions
101 I-DI1 Dan Issel Inductions
102 I-DR1 David Robinson Inductions
103 I-DW1 Dominique Wilkins Inductions
104 I-GG2 Gail Goodrich Inductions
105 I-JW1 James Worthy Inductions
106 I-KM1 Karl Malone Inductions
107 I-LB1 Larry Bird Inductions
108 I-MJ1 Magic Johnson Inductions
109 I-MH1 Marques Haynes Inductions
110 I-RB1 Rick Barry Inductions
111 I-SJ1 Sam Jones Inductions
112 I-SP1 Scottie Pippen Inductions
113
114 NN-DR1 David Robinson Nicknames
115 NN-DR2 Dennis Rodman Nicknames
116 NN-DW1 Dominique Wilkins Nicknames
117 NN-KM1 Karl Malone Nicknames
118 NN-LB1 Larry Bird Nicknames
119 NN-LJ1 Larry Johnson Nicknames
120
121 UH-BA1 B.J. Armstrong Unsung Heroes
122 UH-DD1 Darryl Dawkins Unsung Heroes
123 UH-KA1 Kenny Anderson Unsung Heroes
124 UH-LJ1 Larry Johnson Unsung Heroes
125 UH-RH1 Robert Horry Unsung Heroes
126 UH-SK1 Shawn Kemp Unsung Heroes
127 UH-TK1 Toni Kukoc Unsung Heroes
128
129 PE-2 Patrick Ewing Patch Auto
130
131 HM-BR1 Bill Russell Hoop Matrix
132 HM-BC1 Bob Cousy Hoop Matrix
133 HM-BB1 Bradley Beal Hoop Matrix
134 HM-DL1 Damian Lillard Hoop Matrix
135 HM-DL2 Damian Lillard Hoop Matrix
136 HM-DL3 Damian Lillard Hoop Matrix
137 HM-DR1 David Robinson Hoop Matrix
138 HM-DR2 Dennis Rodman Hoop Matrix
139 HM-DW1 Dion Waiters Hoop Matrix
140 HM-GP1 Gary Payton Hoop Matrix
141 HM-JL1 Jeremy Lamb Hoop Matrix
142 HM-JH1 John Havlicek Hoop Matrix
143 HM-JS1 John Stockton Hoop Matrix
144 HM-KM1 Karl Malone Hoop Matrix
145 HM-KM2 Kendall Marshall Hoop Matrix
146 HM-LB1 Larry Bird Hoop Matrix
147 HM-MJ1 Magic Johnson Hoop Matrix
148 HM-MH1 Moe Harkless Hoop Matrix
149 HM-PR1 Pat Riley Hoop Matrix
150 HM-RR1 Ricky Rubio Hoop Matrix
151 HM-SP1 Scottie Pippen Hoop Matrix
152 HM-SO1 Shaquille O'Neal Hoop Matrix
153 HM-SK1 Shawn Kemp Hoop Matrix
154 HM-TR1 Terrence Ross Hoop Matrix
155 HM-TZ1 Tyler Zeller Hoop Matrix
156
157 1 Bill Russell Base Common – 1960 Leaf Design
158 2 Bradley Beal Base Common – 1960 Leaf Design
159 4 Damian Lillard Base Common – 1960 Leaf Design
160 5 Dion Waiters Base Common – 1960 Leaf Design
161 6 Gary Payton Base Common – 1960 Leaf Design
162 7 Larry Bird Base Common – 1960 Leaf Design
163 8 Magic Johnson Base Common – 1960 Leaf Design
164 9 Moe Harkless Base Common – 1960 Leaf Design
165 10 Ricky Rubio Base Common – 1960 Leaf Design
166 11 Shaquille O'Neal Base Common – 1960 Leaf Design
167 12 Tyler Zeller Base Common – 1960 Leaf Design