First look: 2012-13 ITG's Between the Pipes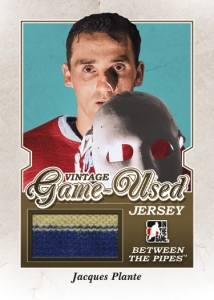 By Susan Lulgjuraj | Beckett Hockey Editor
Between the Pipes has been part of In The Game's roster for a decade.
ITG's popular set is back for another round with more hits. 2012-13 Between the Pipes will have Goaliegraphs fall at a rate of one in every seven packs while memorabilia cards fall at a rate of one in every eight packs.
Between the Pipes will have 18 nine-card packs, which will include inserts such as Masked Men 5 and the He Shoots, He Saves program.
Autographs will include past and current NHL goalies such as Ed Giacomin and Kirk McLean. However, CHL goalie prospects will also be included such as Spencer Martin.
The Masked Men 5 insert will use chrome-like technology, but just don't call it that.
"Masked Men 5 Feature "call it what you want" technology," ITG wrote in a release. "Some call it Refractor, some call it Chromium, some call it Metal, and some call it Prism. In The Game just calls it "fabulous". This year's Masked Men 5 cards will simply be "fabulous"."
Some of the subsets for the game-used memorabilia will include Aspire (a prospect and star goalie), Rivals and Vintage Game-Used Jersey.
Between the Pipes is scheduled to be released on April 18.
Susan Lulgjuraj is an editor of Beckett Hockey. You can email her here with questions, comments or ideas. Follow her on Twitter here. Follow Beckett Media on Facebook.