First Look: 2011 Topps Gridiron Legends Football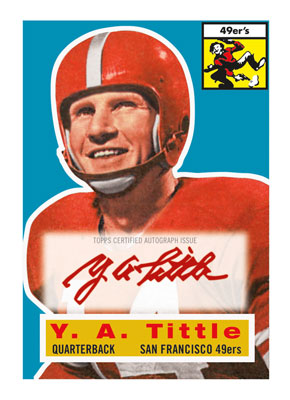 By Andrew Tolentino | Football Editor
If we can't look forward to a season this year, we can certainly look back.
Wait, what's this? Did we happen upon Doc's flux capacitor?
Unfortunately not, but we did happen upon what could be the next best thing — an announcement from Topps detailing the release of its all-new 2011 Topps Gridiron Legends line.
Slated to hit shelves in mid October, Gridiron Legends will stand as a blast from the past, even if there isn't a present by then. According to the manufacturer, the new brand "salutes the NFL's cherished past heroes, vibrant stars and this year's freshmen."
The eight-card-per-pack product appears to be a nod to the greats and a commitment to the contemporaries with the company's signature features. Collectors can expect to land four hits per  18-card box, falling in the forms of multiple-autograph cards, jumbo patches,  and combo and Stamp Relics.
Among the autograph cards 1956 Topps Reprint Autograph Cards — featuring NFL stars who appeared in the original 1956 Topps Football set — stand out as the most interesting historical hits from the product.
Other autographs include:
Autograph Rookie Cards

Legends Autographs
Canton Hopefuls Autographs
Future Legends Autographs
Dual Autographs
Triple Autographs
Stamp of Approval
Relics from 2011 Gridiron Legends include:
Gridiron Legacies
Aspiring Legacies
Legendary Combo Relics
Parallels in the product are limited in the following quantities:
Black (1/1)
Purple (numbered to 10)
Orange (numbered to 50)
Red (numbered to 75)
Gold (numbered to 99)
Green (numbered to 150)
Bronze (numbered to 299)
Blue (one per pack)
Stay tuned to Beckett.com for more information on Topps' forthcoming retrospective release.