First Look: 2011 Threads Football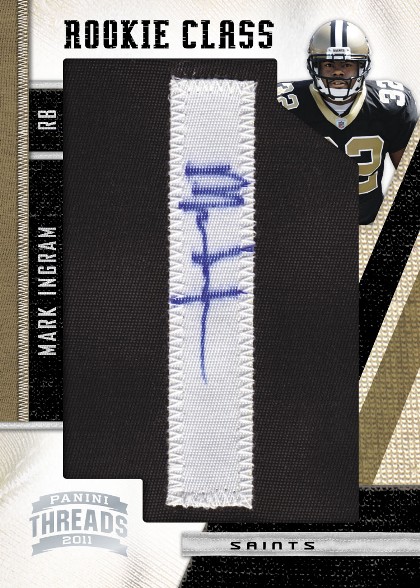 By Andrew Tolentino | Football Editor
Panini America unveiled today a few details about its forthcoming cloth-laden line 2011 Threads.
The late-summer brand, slated for an Aug. 17 shelving date, should arrive with the usual fan favorites and some new twists.
Each box promises four autograph or memorabilia cards (one autograph guaranteed), 24 Rookie Cards and an additional 13 inserts or parallels. New Rookie Class Gold autographed letters should fall favorably among the brand's familiar offerings Rookie Class autographed letters and Pro Gridiron Kings cards.
"The Rookie Class Gold autos are a unique twist on an established concept and will be among the most sought after singles in 2011 Threads; the Pro Gridiron Kings, with their proud lineage dating back to the early 2000s, tend to speak for themselves," said Panini America NFL Brand Manager Carlos Torrez.
More details and eye candy after the jump.
Also headlining in 2011 Threads are:
Autographed Rookie Class Nameplates (numbered to 499 or less)
Rookie Signature Combos (Triples and Quads, numbered to 50 or less)
Gridiron Kings Signature Materials (numbered to 25 or less)
Franchise Fabrics Signature Materials (numbered to 10 or less)
Torrez adds, "[2011 Threads] comes out right before the season and, like its name suggests, is loaded with NFL threads in the form of captivating game-worn memorabilia from veteran NFL stars and a healthy dose of event-worn memorabilia from the top 2011 rookies who attended the 2011 NFL PLAYERS Rookie Premiere."