2011 Absolute Memorabilia Football Details
Earlier this week, Panini America unveiled a seven-card preview of 2011 Absolute Memorabilia Football. Drawing positive comments and praise in the Knight's Lance post, the manufacturer seems to be building generally joyous suspense for its September release.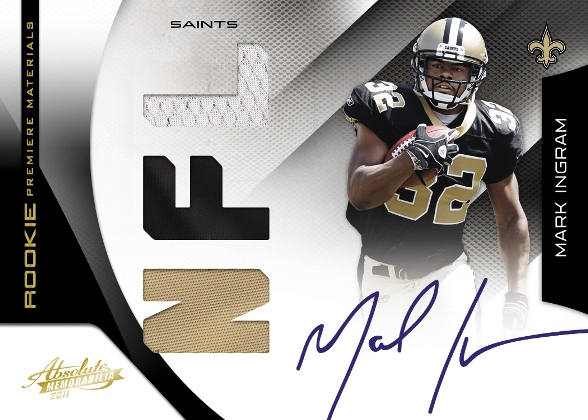 Speaking to the most praiseworthy components of the brand, Panini's Ben Ecklar noted, "It's no secret that last year's Absolute Jumbo Patch insert was one of the most stunningly good-looking game-worn memorabilia sets of all time. Well, it returns in all its glory in 2011, but with added levels of collectability and cool with the Jumbo NFL Shield version." NFL Shields and NFL Shield Signatures are limited to five or less.
Other touted treasures in 2011 Absolute Memorabilia include:
Brand Logos and Brand Signatures (limited to five or less)
War Room inserts
Star Gazing inserts
Tools of the Trade inserts
Rookie Jersey Collection (retail exclusive)
On-card autographs from the likes of Cam Newton, Mark Ingram and more big names
Prepare for product odds  and a picture show after the break.
About the box
Four packs per box
One autograph (numbered to 299 or less) or one memorabilia card (numbered to 100 or less) per pack
The per-box hit formula
Two autographs
Two memorabilia cards
Two Rookies
Two parallels or other inserts
The gallery