First Look: 2011-12 SPx Hockey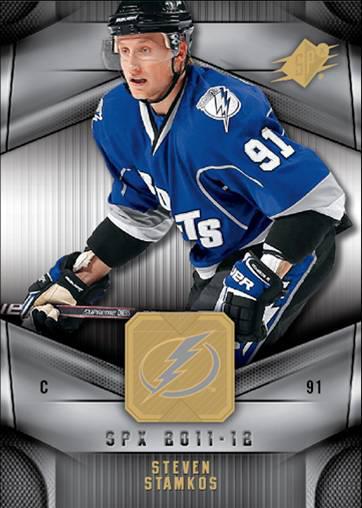 By Andrew Tolentino | Hockey Editor
Leaking more details about its upcoming lineup, Upper Deck recently divulged details about 2011-12 SPx Hockey.
Collectors will have to wait until late January – early February to break the updated brand, but the specs and highlights should suffice for now.
Before the box odds, there are a few new, and re-tweaked features to note:
New Shadow Box Programme of Excellence cards
Team Canada Superstars
Dual-swatch memorabilia cards
Ice / Ice Premieres cards
Spectrum base parallels, now numbered to 15 with patches
Boxes come with 18 packs with four cards each,  plus a bonus pack (likely Ice) and should yield the following, on average:
One Autographed Rookie Jersey
One Rookie Jersey or Winning Materials
One Winning Materials dual-swatch card
One Winning Combos dual-swatch card
One Ice Premieres Rookie Card
Two numbered inserts
Stay tuned to Beckett.com as more information about 2011-12 SPx Hockey becomes available.