First look: 2011-12 Pinnacle Hockey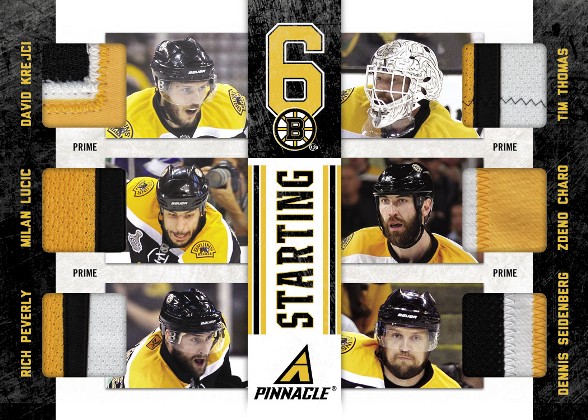 By Andrew Tolentino | Hockey Editor
Busy primping its pinnacle 2010-11 product (Dominion), Panini America managed to deliver details about its actual Pinnacle brand.
The manufacturer previewed 2011-12 Pinnacle, noting that "the longstanding staple will pack several new enhancements when it release[s] to the hobby." In addition to the staples that make the staple, the forthcoming release will also include an Ice Breakers Rookie Card aesthetic with a Nufex twist, six-piece memorabilia cards dubbed "Starting 6 Threads" and rare-how-rare?-one-per-case-rare Pinnacle Black hits.
Each box of Panini's sophomore-year Pinnacle product will yield:
Four Ice Breakers Rookie Cards
One Home Game Materials memorabilia card
One Pinnacle Threads memorabilia card
Two Tough Times inserts
Three Breakthroughs inserts
One Rink Collection parallel
Ice Breakers, Tough Times and Fans of the Game cards all fall in autograph form, and are critical components to the following Pinnacle case odds:
Six Team Pinnacle cards
Six Canvas Creations
Three prime memorabilia cards
Two Pinnacle Revolution inserts
Three Pinnacle Captains cards
Four Ice Breakers autographs
One Home Game Signatures autograph
One (hard-signed) Tough Times autograph
Two (hard-signed) Private Signings autographs
One Fans of the Game autograph
This time around for Fans of the Game cards, Panini has apparently traded teen heartthrob Justin Bieber for Alyssa Milano, Jamie Pressley, and used-to-be-teen-heartthrobs the Hanson Brothers.
f
2011-12 Pinnacle MMMDrops on hobby shelves in late November. Stay tuned to Beckett.com for further details.