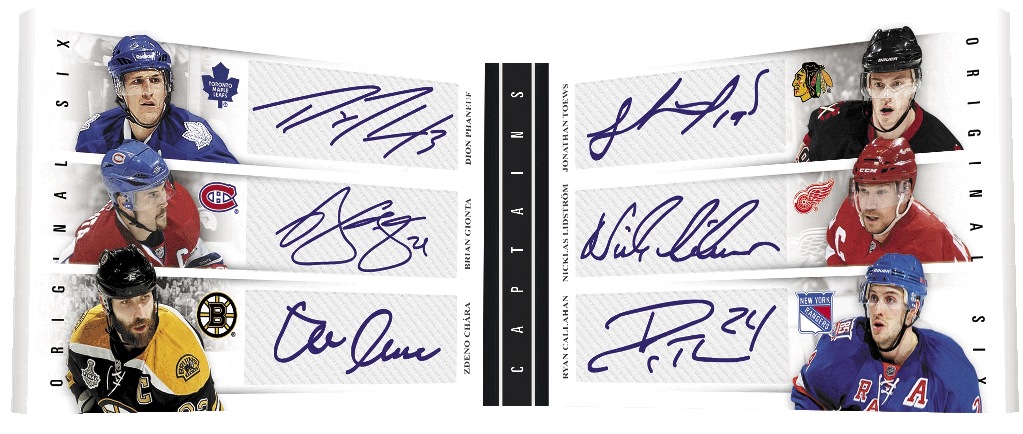 By Susan Lulgjuraj | Contributing Editor
As the second installment of Panini Contenders Hockey nears its release, a closer look at the product seems as though there is something for every type of collector.
Set collectors get chase elements, those looking for big hits can find rare booklet autographs and other low-numbered hit cards. Player collectors could find on-card autographs of their favorites, while team collectors will find an assortment of base cards and inserts.
Panini has also included new content for the 2011-12 edition, which is set to be released mid-February.
Those looking for the big-time hits will see Panini has incorporated booklet cards into Contenders, seeded one per case. The picture in the preview shows one of the subsets – Original Six. This one features six autographs, current captains of the Original Six teams: Dion Phaneuk, Brian Gionta, Zdeno Chara, Jonathan Toews, Nicklas Lidstrom and Ryan Callahan.
Other booklet inserts cards are Contenders Match-ups and Starting Lineups. The cards will have up to six autographs on each.
While booklets are rare, Contenders still offers something in every box. Every autograph – except for the booklet cards – will be on card.
"The Contenders brand remains entrenched in autograph roots," Panini said in a release, "and 2011-12 Panini Contenders Hockey will deliver between three and four of them per box, including at least one hard-signed Rookie Card."
Panini included two short-printed, serial-numbered subsets – Contenders Legacies and Cup Contenders – for those who love the chase.
There is also a number of different autograph subsets that highlight the rookies in this year's class such as Calder Cup Contenders Gold Auto Patches, Calder Cup Contenders Patches and Calder Contenders Signatures.
Susan Lulgjuraj is a contributing editor for Beckett Media. You can email Susan here. Follow her on Twitter here.