First (in-depth) Look: 2010-11 Dominion Hockey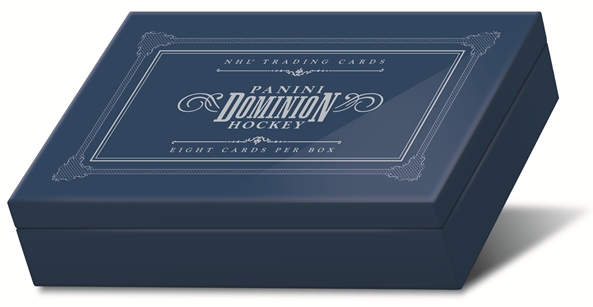 By Andrew Tolentino | Hockey Editor
As promised in the previous glimpse of 2010-11 Dominion, Panini America just supplemented its product tease with more information and eye candy.
Falling from the same family tree as the revered National Treasures brand, Dominion is a high-end line with an eight-card box break and a $350 suggested retail price. It's definitely not stickered for the feint of heart, but it's filled with the hits that fuel the highbrow hobby.
Panini's NHL Brand Manager Al Muir explained, "Dominion isn't a product for the masses. This is for the high-end hobbyists, the whales. Even they'll have to fight among themselves for it with these quantities. Should make for a dynamic secondary market for Dominion."
Aside from being a collectible container, each box should yield six autograph or memorabilia cards (three autographs guaranteed, one a hard-signed Rookie Card) and presumably two base cards.
Other Dominion delights include:

Kindest Cuts: 1/1 cut signatures, showcasing legendary players
Pen Pals: The hockey version of Panini's popular multiple-player autograph cards

Duals (Numbered to 50)
Triples (Numbered to 25)
Quads (Numbered to five)

Peerless Patches Duals and Quads: Booklet cards featuring premium player memorabilia
Engravatures: Cards showcasing embedded pieces of real silver engraved with the names of former Stanley Cup Winners (Numbered to 100)
Nifty 50: An insert set, complete with on-card autographs from single-season 50-goal greats
Brass Bonanza: Hard-signed autographs in an homage to the Hartford Whalers (Numbered to 50 or less)
Tape to Tape: Inserts with autographs on the actual tape from players' game-used sticks
Stay tuned to Beckett.com for more updates on the late-July release of 2010-11 Dominion.